6 best motion control running shoes
Updated August 2018
Based on 1,041 reviews
Loading please wait...
Why are motion control shoes recommended?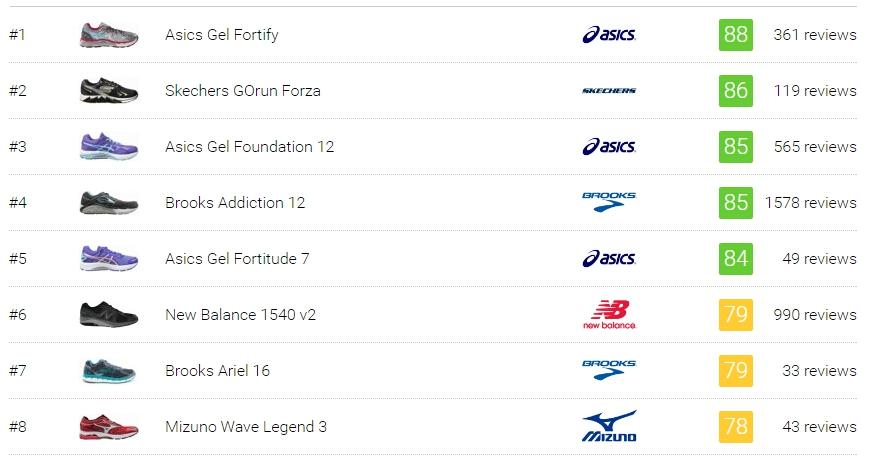 Over pronation can lead to foot fatigue or accidents when left untreated. This biomechanical issue is usually experienced by flat-footed runners. Having motion control shoes will likely help them improve running performance while facilitating a stable and cushioned ride. Motion control shoes have stiffer heels than support-focused shoes for better pronation control or correction.
Motion control shoes have premium cushioning technologies to provide a firmer midsole for better support, but less flexibility. It also has Teutonic support features and eases the stress in the quadriceps while running.
What makes motion control shoes great for flat-footed runners?
Medial support. Opt for a firmer midsole construction since it features better medial support to help control over pronation. The medial or arch support will make the shoe heavier, but greatly compensates by improving torsional rigidity and stability while running.
Stiff Heel. A stiffer heel is likely to hold the foot in place while running. This prevents the inward leaning of the foot, which is a sign of over pronation. Runners with low arches can rely on a stiff heel to support them throughout the run.
Straight Shape. While some shoes feature a semi-curved shape, over pronators are less likely to appreciate them. Their low arches result in a straighter foot shape, so a straight motion control shoe should be on top of their buying list.
Finding the best motion control running shoes
Effective medial support. The main feature of the best motion control shoe is the medial support that supports the inner foot and reduces inward rolling.
Avoid extra cushioning. Motion control shoes does not offer added cushioning because it increases flexibility and only encourages the foot to overpornate.
Get the correct fit and size. To enhance running performance and avoid injuries, pay attention to correct sizing and fit. Make sure to have a roomy toe box and consider that type of socks you intend to wear when you purchase a new pair of motion control running shoe.
This shoe has recently been added to RunRepeat. There are still not enough reviews for us to assign it a
Corescore
.
Corescore
A score from 1 to 100 that summarizes opinions from users and experts. The average Corescore is 78.
More...