Japanese company, Mizuno, is a global corporation that manufactures a wide selection of sportswear, athletic equipment and accessories for running, football, golf, skiing, tennis, badminton and baseball among others. Founded in 1906, the shoe brand remains a top choice for running beginners and professionals. Most of their shoes are focused on bringing a unique blend of performance and comfort in a sleek and stylish platform. In fact, Mizuno running shoes are constant favorites among those who pursue track racing, performance training, trail running, cross training, speed workouts and even casual activities, like traveling and jogging. Among their shoe models that continually receive great reviews and ratings are the Mizuno Wave Rider, Mizuno Wave Universe, Mizuno Wave Hitogami, Mizuno Wave Evo Ferus and Mizuno Wave Prophecy.
Mizuno Running Shoes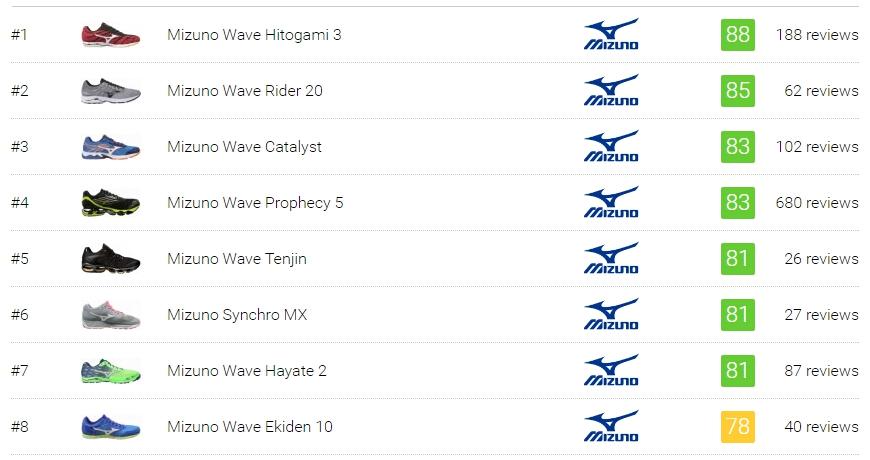 Mizuno running shoes are designed to provide advancement in performance, as well as ensure comfort and support when conquering miles. Whether you are a supinator, neutral pronator or over pronator, you will surely find the right pair to keep you steady and stable on the road or trail. The wide selection of men's and women's sports shoes will also help runners define their athletics personality and contribute to making a statement. The brand's strong commitment to promote sports through top quality running shoes is determined by the number of casual runners and professional athletes that trust them.
Improve your shoe collection with the best running shoes from Mizuno, the shoe brand that is frequently highlighted in over 100, 000 shoe reviews. The brand is focused on improving their athletic line of footwear, especially their running range. From speed workouts to casual activities, read our reviews to know more about Mizuno's reputation in the running industry.
Why should you purchase Mizuno running shoes?
Pronation control is present in Mizuno motion control shoes and Mizuno stability shoes. Over pronators are likely to develop an efficient gait cycle if they choose these two types of shoes for their running needs. Mizuno neutral shoes do not have structured arch units, making them great alternatives for neutral pronators. Considered as a hybrid type, even supinators or under pronators could use neutral shoes to enjoy cushioning and flexibility at the same time.
Mizuno shoes are manufactured to fare well on even and uneven terrain. Mizuno road shoes are designed with a non-aggressive treading pattern and shock attenuation properties, so they can be used on the track, pavement and gravel with no problems. The debris protection and aggressive outsoles present in Mizuno trail shoes will help runners facilitate a stable and well-cushioned ride on rugged terrains and off-roads.
Barefoot running seems to be a popular choice of activity among advanced runners. If you wish to transition from neutral running to a barefoot-like experience, the Mizuno low drop shoes and Mizuno minimalist shoes can help you.
If speed is your game, choose Mizuno race shoes with features that are light yet efficient for racing.
What determines the popularity of the best Mizuno shoes?
Popularity. The shoe brand, Mizuno, certainly has its share of great years, as well as amazing reviews and high ratings. Its performance shoe collections are indeed a hit among runners, from newbies, enthusiasts and hardcore athletes. Runner's World, Outside Magazine, Trail Runner and other running authorities have awarded the best Mizuno shoes with recognitions like "Best Debut", "Best Update" and "Best Fitness Shoe" among others.
Footwear technologies. In their effort to merge performance and comfort with style and fit, Mizuno has come up with the best shoe technologies that are exclusive to their range of running footwear. Some of these are incorporated in the best Mizuno shoes, so expect top-notch running performance on the track or trail. Their list of footwear tech and features includes the Wave technology, U4ic midsole, X10 outsole, Dynamotion Fit, Intercool technology, Flex Controllers, SR Touch cushioning, G3 Sole and Smooth Ride technology among others.
Pricing. Mizuno is already known for its performance line of shoes, especially their running shoe range. In an effort to bring a combination of comfort and performance in stylish platforms, many runners have observed that the best Mizuno shoes are fairly expensive for the average runner. The most affordable models range between the prices of $100-$120. Their most expensive ones could reach up to $210, which is already out of the budget range of runners, even professional ones. However, the quality and performance offered by the brand are above-average, making every purchase worth it.
This shoe has recently been added to RunRepeat. There are still not enough reviews for us to assign it a
Corescore
.
Corescore
A score from 1 to 100 that summarizes opinions from users and experts. The average Corescore is 78.
More...