10 Best Mizuno Running Shoes in 2021
Mizuno has always been known for its durable, long-distance running shoes. But because we know that different runners need different shoes, we've selected some of the best choices from different categories.
Whether it's for flat feet, premium cushioning, or just the best Mizuno shoe overall, we've got our top picks ready for you. To ensure we only give you the best, we have tested nearly 70 Mizuno running models.
Overview of this guide
How we test Mizuno running shoes
Because we're geeks over everything running shoes, we've tested tens of Mizuno shoes to pick the greatest. And to do so, we have done the following:
We pay for the shoes with our own money for transparency.
For each shoe, we run at least 30-50 miles in varying conditions.
They then get cut into pieces, so we can measure them with 30+ parameters like softness, breathability, durability, and more.
Through our own system, we gather multiple expert and user reviews to come up with a CoreScore (from 0-100), which is integral in the shoe's ranking.
Best overall
Now on its 25th version, the Mizuno Wave Rider continues to win over runners. And after miles in it, it's won our hearts and feet too!
We've always loved the Wave Rider series, but if there's a king among all the iterations we've tried, it's clearly the Wave Rider 25. Not only is it lighter, but it's also much peppier.
Even more, it's also more comfortable. The upper is soft and breathable, and the midsole is well-cushioned. It may not be the "plush" type of foam, but it has enough give to keep the feet happy.
In our lab tests, we have gathered that this shoe only takes 24.8N force to flex. The average shoes require 37.5N. What does this mean? It will allow your feet to move as freely as possible.
At 9.5 oz, it's not the lightest daily trainer. But with all the stack it has (38.4mm), we were more than impressed! It doesn't tip the scales, and it surely doesn't feel heavy on the run.
Like a true Mizuno, it's built like a tank! The outsole is 81HC tough (80HC average), we expect it to rake 500 miles before retiring.
If you're new to running, or have been a long-time runner looking for that classic feel, nothing does it better than the Mizuno Wave Rider 25.
See our full review and facts
Best for flat feet
Looking for a stability workhorse? We just can't recommend the Mizuno Wave Inspire 17 enough.
The Wave Inspire has got support written all over it. The upper is very secure, we had NO issues with slips. But what really took our breath away was how good it felt. Unlike other stability shoes in our arsenal, it's not the rigid type.
It's got a very balanced cushion that has enough stiffness to keep the feet's motions in check, while having some give for a comfortable sensation. Ultimately, it's been one of THE most comfortable support shoes we've ever put on!
Whether you're running easy, or tempo, or just clocking up miles, this shoe has got you covered. It's feet-friendly for both slow and long runs, and when you pick up the pace, it shows some serious pep. And to be completely honest, we weren't expecting it to go fast.
At 11 oz, it's one heft of a shoe! But because of its lively ride, we totally forgot about the load.
Durability? This shoe is made for that. Hello? It's a Mizuno. What else can you expect? After 30 miles in it, the midsole remained bouncy, and the outsole almost untouched.
Speaking of the outsole, it makes stability out of this world! On grass, dirt, gravel, and asphalt, it gripped like claws!
See our full review and facts
Seriously, choosing between the Horizon 5 and the Inspire 17 has been one of the hardest decisions we had to make. They're both so good. And where they reign kings are in stability and responsiveness.
Yes, the Wave Horizon put a dent on the stability shoe stereotype of being rigid. It's very supportive, but it's got some plushness and bounce underneath too. And it mixes everything so well, we just wanted to run in it all day long!
And the lockdown was just as great. The upper is plenty flexible, it follows the shape of the feet, keeping it tucked in place.
Even more, its traction is what we consider top-tier. On wet and slippery surfaces, this shoe bit its way through! Even on quick turns, we didn't feel like we were slipping. If anything, the ride has been confidence-inspiring.
We love to abuse our shoes to really see how they stack up against other shoes. And 100 miles in, its sturdiness is beyond amazing. No wear, no tear.
Overall, if you're looking for a stability shoe that's very subtle in giving support to the feet, nothing can beat the Mizuno Horizon 5
See our full review and facts
Best cushioning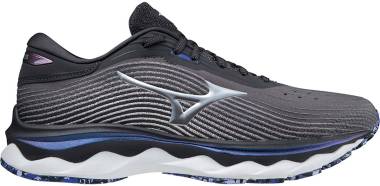 Top pick
If there's one thing that makes the Mizuno Wave Sky 5 a standout, it's the ride. It's so soft and feet-pampering, we didn't want to take it off!
And that's not the only reason why it tops this category. It's also very stable, responsive, and protective, making it the best of the best when it comes to cushioning! For one shoe, it packs so much goodness.
The upper is also one of the features that makes the Wave Sky an exceptional shoe. It's very snug and form-fitting, it does one heck of a job at keeping the feet free from slips.
Add in the gusseted tongue and impressive lacing system, your feet can't get more secure than this!
Through our test runs, we were able to log 25 miles in this shoe. And we weren't even surprised that the outsole remained unscathed. Mizuno, throughout the years, has always proven itself supreme in the durability department, and in the Wave Sky, it remains the case.
To seal the deal, all of these perks are packed in one stunning shoe. Seriously, the Mizuno Wave Sky 5 is quite a looker. It's very stylish, but it's not the kind that's loud or flashy.
See our full review and facts
The Mizuno Wave Sky WaveKnit 3 is a max-cushioned shoe we'd pick any day if we want a spa-day comfort.
Upon step-in, the instant sensation is plush. It's like pillows to the feet! Even better, the toe box is very spacious, you don't have to worry about feeling restrained especially when the feet start to swell.
And because the forefoot sits on a wide platform, the WaveKnit 3 provides ample stability. Our feet felt very planted on the ground, we had NO issues with missteps at all.
On road, grass, and light trails, the shoe clung extremely well.
Taking support a step further, the upper hugged our feet throughout our strides. Not once did we experience heel slips or any in-shoe wobbling. We were just breezing through our runs.
What makes the Mizuno Wave Sky WaveKnit 3 a runner-up to the Wave Sky 5 is the lack of breathability. It's the price to pay for all the padding you get from the bottom up. But it's not one that we'd consider a deal-breaker.
See our full review and facts
Other buying guides