Overall ranking lists
Similar ranking lists
Through decades of research and development, the Altra brand is already a well-known name in the Zero Drop niche. This American company may have started in a store backroom, but its wide array of performance footwear is already being distributed worldwide. Its product collections consist of trail shoes, road shoes and general footwear. In fact, men/ women's Altra running shoes already have proven their worth in the running community with their shoe innovations developed by elite athletes, running store managers and runners. Despite being a young company, the brand is ranked highly in run-related lists, proving that they are doing well in the performance category.
Altra Running Shoes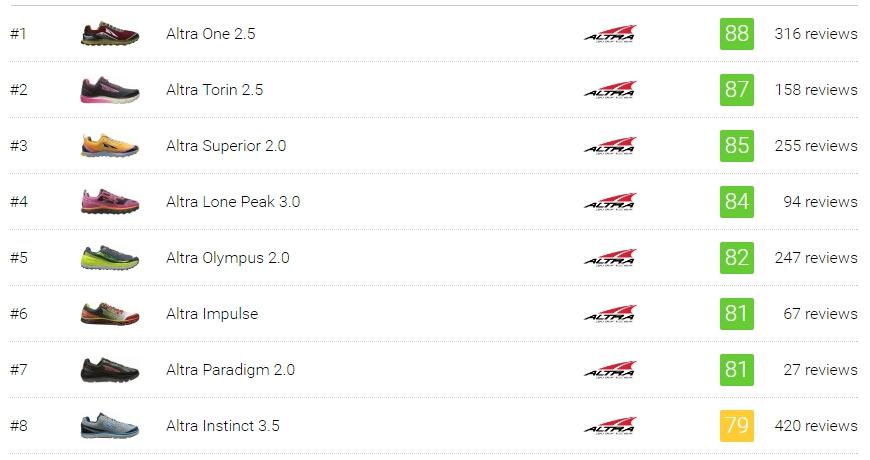 Altra running shoes have been altered to provide comfort to runners. In fact, the brand started to take form when the founders were trying to solve foot pains and other running problems. The shoe alterations are now in the form of award-winning shoes that have attained great reviews and high ratings. Some of the Altra running shoes that have been acknowledged by Runner's World, Outside Magazine  and other running authorities are the Altra Instinct, Altra Superior, Altra One and Altra Lone Peak among others. Altra running shoes continue to be highlighted in shoe reviews because the team behind the brand aims to provide the best footwear for every type of runner there is.
Altra is a company that prides itself for the innovation of the weight balance from shoes' heels to forefoot. They began to modify the entire shoe structure norm by radically designing shoes in accordance with the actual shape of the human foot. The concern of Altra for the anatomical shape of a person's foot greatly assisted in their current molds for their line of footwear. Over 100, 000 reviews online provide great feedback to Altra's contributions to sports.
How can Altra shoes improve your running experience?
Aiming for a more natural running movement is one of the main goals for any running enthusiast. The Altra brand creates shoes that would fully accommodate the entire foot and they don't shift their designs in such ways that would squeeze the foot out of its natural shape and position.
Company founder Golden Harper innovated on shoes by removing excess outsoles to provide a level of cushioning that would ultimately benefit the athlete. This proprietary cushioning balance mechanic gives wearers proper foot stance and body balance. This mechanic also strengthens the Achilles heel and lower calf muscles over time.
Altra's aim is to improve people's running technique and mold their stances to assume a more natural position. With their shoes, wearers can have full access to these benefits. Not only do they make runners feel more comfortable with their shoes, they also physiologically assist their feet to be more complementary to the structure of their lower extremities.
The best Altra shoes are filled with combos of the best shoe technologies the brand always puts inside and outside their footwear. In due course, these internal tools help the casual runner or the more experienced athlete become more accustomed to running with a natural and easier gait.
Why should you choose the best Altra running shoes?
Popularity. Altra has a great following of athlete references and brand enthusiasts that are impressed by their innovation and grace in terms of their products' overall performance. For years, they have brought products that have assisted performance buffs to fully manage their strength and speed with the use of the best Altra shoes. Men's Health and Wired Magazine are some of the media that lauded Altra shoes. Runner's World, among others, gave multiple awards to this company for their innovation to the world of shoe construction.
Shoe Technologies. The best Altra shoes are installed with the brand's trademark Zero Drop heel-toe technology. This balancing of the entire foot to ground distance would help wearers to give out a proper, low-impact form throughout their run. Foot Shape permits the foot frame and the toes some natural space to breathe and be flexible. A slew of other technologies makes up the best Altra shoes, including the InnerFlex Grooves, Abound Energy-return Compound and the Foot Pod Tech.
Price. The prices of the best Altra shoes range from 70$ to 150$. This is a very affordable brand, considering the amount of technologies and innovations they have to push the boundaries of human foot performance.
This shoe has recently been added to RunRepeat. There are still not enough reviews for us to assign it a
Corescore
.
Corescore
A score from 1 to 100 that summarizes opinions from users and experts. The average Corescore is 78.
More...