What seems like it might be set to be Altra's new flagship shoe, definitely by name at least, packs a lot of promise. With a peppy and support midsole, that also provides rigidity and propulsion, is this zero-drop trail shoe going to have what it takes?
Pros
Phenomenal very bouncy ride
Excellent grip
Healthy 0mm drop
Looks great
Breathable
2 pull tabs
Velcro for gaiters
Cons
Painful lacing
No heel lock
Altra Mont Blanc Review and Lab Test
This is a serious-looking shoe for the serious zero-drop trail runner, otherwise, they wouldn't name it after the world's most famous trail ultramarathon. Unfortunately, this may not be the most reliable option for long-distance zero-droppers.
Don't get me wrong, there are loads of great things about the shoe, it just might not be ready for your race days.
Who should buy the Altra Mont Blanc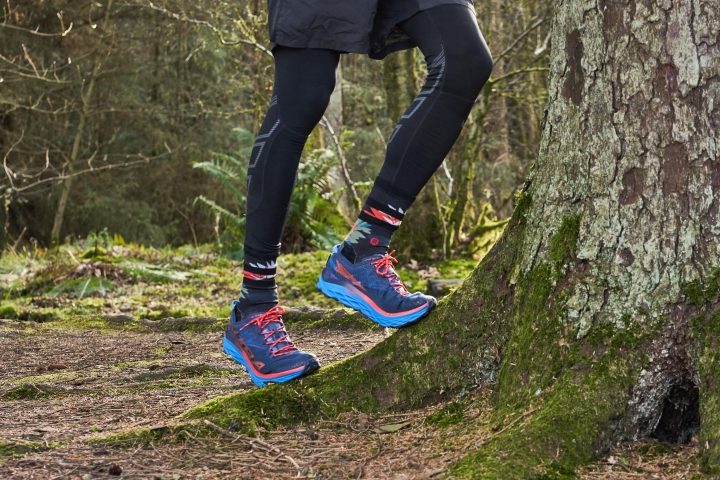 The Altra Mont Blanc have made a fierce-looking shoe for your races, with great tractions and a bouncy midsole to keep runners going for the long long miles, we're talking 50km plus. Just make sure you have a strong base to counter some stability issues.
Who should NOT buy them
You may want to look for alternatives if you:
The Altra Mont Blanc is insecure
It's fair to say that I had a few problems with the Mont Blanc and they all come down to the fit. Firstly it's quite long, probably half a size, maybe even more.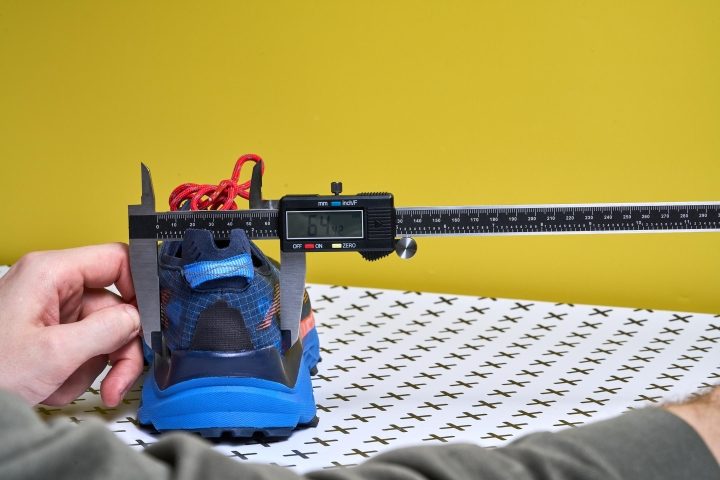 That's not where it stops though and going half a size down might not fix the problem for a number of reasons.
The upper is a lightweight, see-through mesh that's elastic all over. When I say all over, I mean everywhere, even in places it shouldn't be. Usually these days, you'll get a stretchy mesh in the upper with firmer over (or under) lays that create a secure fit.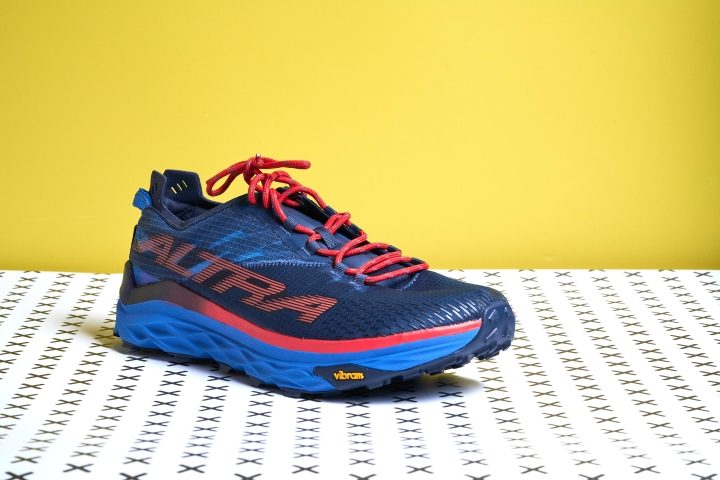 For some reason, these overlays are also stretchy, meaning that you have to tie the laces incredibly tight to get a solid lock in the forefoot. This in turn causes another problem thanks to a stretchy, 3.9mm thick tongue and really thin lacing. Once tightened the laces caused pretty significant pain through the top of my foot.
No heel lock
Sadly, it doesn't stop there. There's a ton of padding in the heel, with cushioning all the way around the Achilles. While that in itself isn't necessarily a problem, it makes the heel to one place that is not stretchy.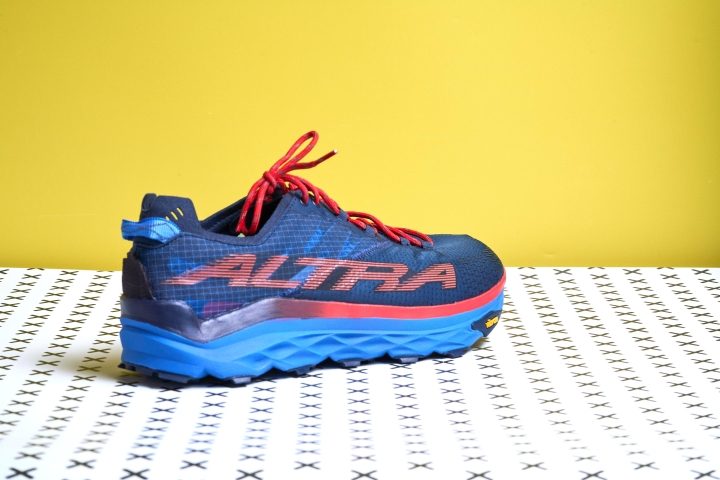 The result? Thanks to the long shoe, difficulty getting a lock across the top of the foot, there was very little for my heel to grab onto, and it slid around all over the place.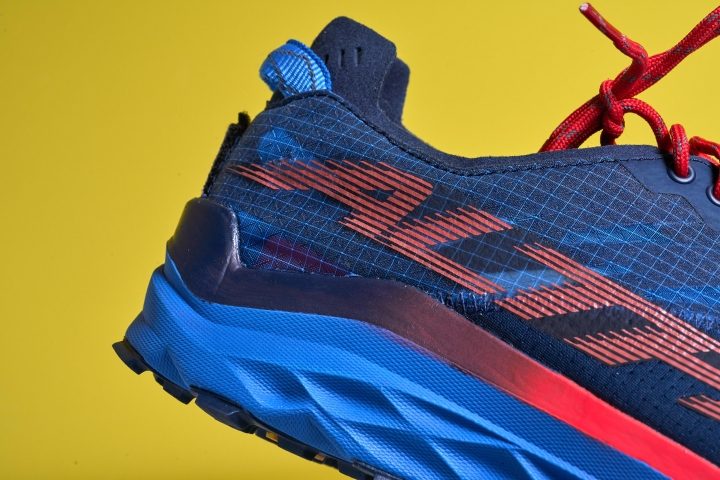 Luckily the midsole is wider than Altras usually are at 96.9mm, which stopped it from being a serious ankle-twister. Either way, the Mont Blanc is definitely not race-ready in its current form.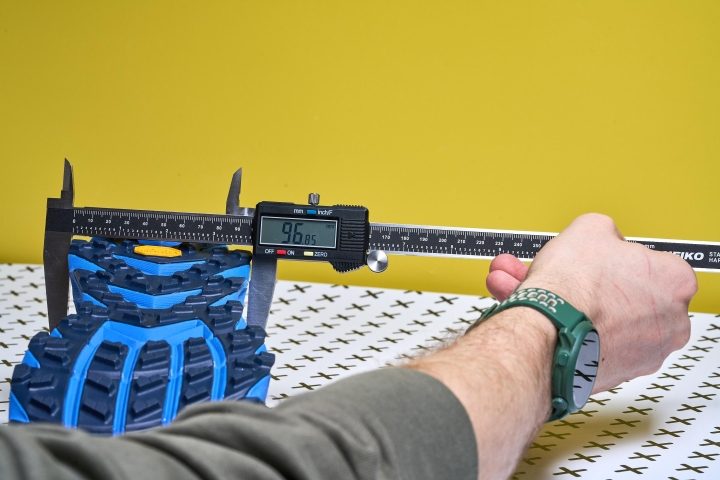 I tried getting a heel lock using the extra lace loops, but the laces weren't long enough to get a proper knot and rode further over the tongue making it less comfortable.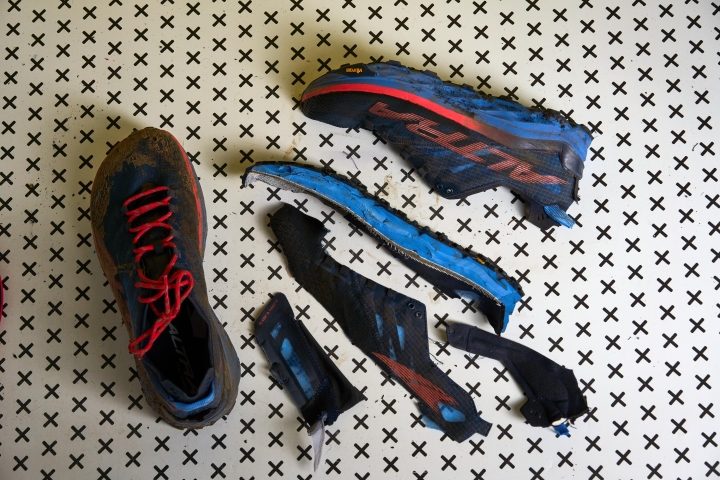 While you can change the laces, for a shoe at this price point I would never have expected to.
The Altra Mont Blanc is made for rocks, but has no rock plate
This is just a bit of a surprise for me, even after feeling the shoe I thought that there was going to be a rockplate in there somewhere, but no.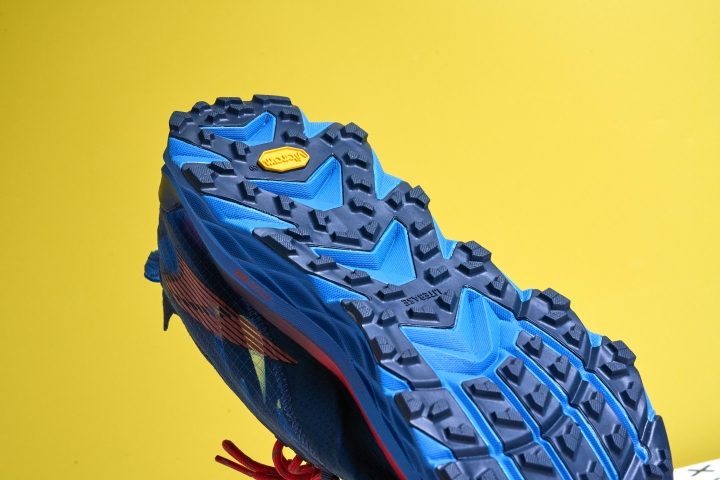 For a $180 trail running shoe made for race days in hard conditions, it's a real shock that there's nothing to protect your feet from miles upon miles of sharp, uneven surfaces.
A zero drop shoe with spring in the midsole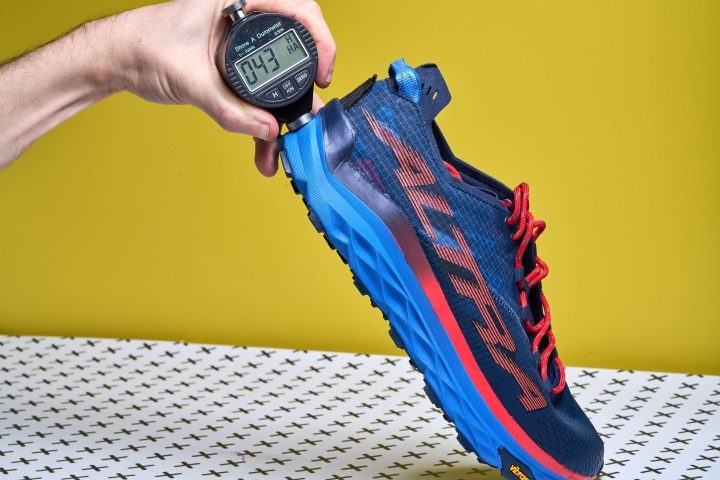 Okay, negatives out of the way, what's good about the shoe? The new midsole from Altra is a really comfortable 43HA durometer foam with 33.8mm heel and forefoot stack underneath, the average duro for running shoes is 41.4HA.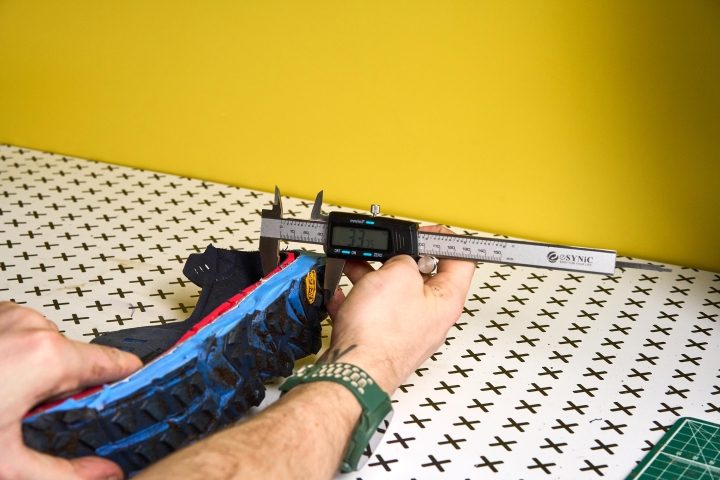 When the shoe felt okay, I could really feel the comfort of the midsole and it provides loads of bounce with every strike.
The Altra Mont Blanc is surprisingly firm
The reason I was so surprised by the lack of rockplate is that the Altra Mont Blanc felt quite firm and springy. The shoe scored 43N (average 29.0N) in the lab flex test, which is a bit above average, but quite surprising for just foam.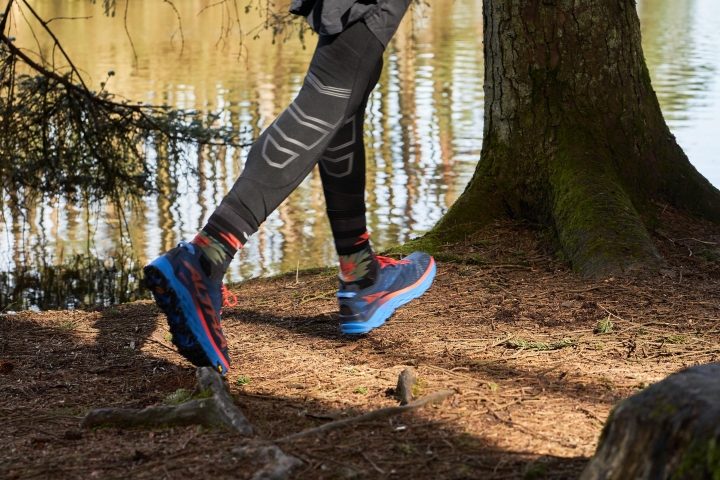 I initially thought that there was a carbon, or just fiber rockplate hidden in the midsole somewhere because it really made me want to go fast. I think it's probably one of the best built midsoles that Altra has put out there. Thanks to the stiffness and the comfort of it, I found it really suits the strike patterns of a zero drop shoe.
The Altra Mont Blanc are super grippy
The outsole of the Altra Mont Blanc is a pretty typical scene from the zero-drop company and it's one of my favorite parts of any shoe that they produce.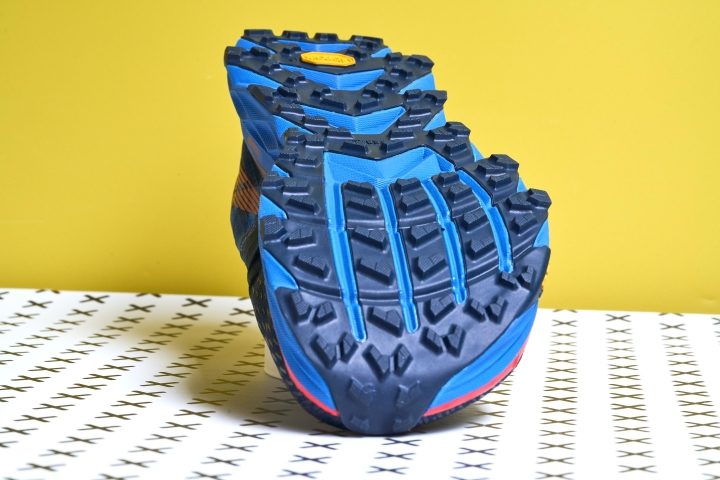 With 4.8mm of Vibram rubber, it's a bit more minimalistic than others, but the lug spacing and style are really well thought out.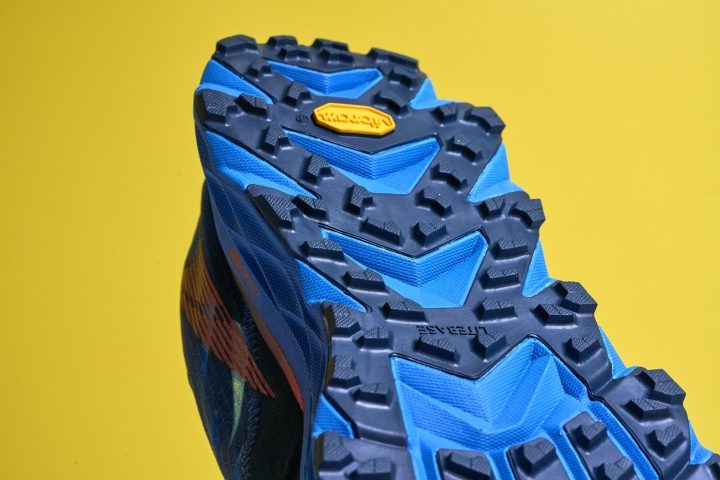 I found very little issue with it even on wetter terrain.
Extra features with the Altra Lone Peak 6
Being a usability-led shoe brand, Altra often has a few nice features in their shoes. Here it's the velcro gaiter attachment on the heel, which helps you really waterproof your runs alongside the lacing attachment on the forefoot.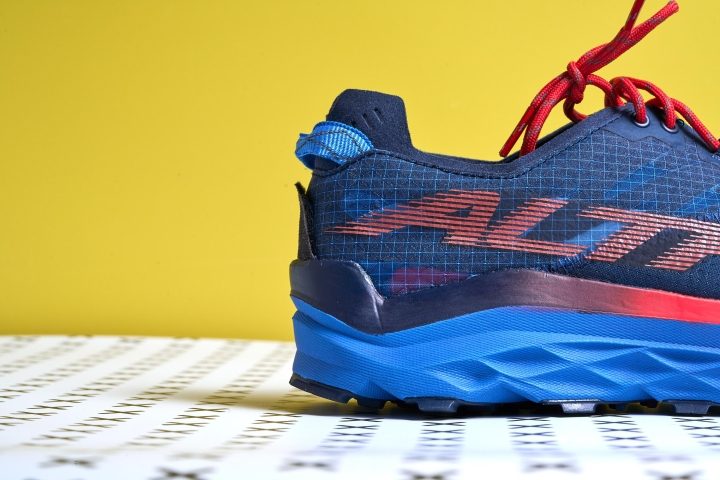 There's also a tiny pull tab on the heel and a slightly larger one on the tongue. Anyone who knows me knows that a shoe (especially a trail shoe) without a pull tab is a deal breaker so it's great to see one.
Conclusion
It's really unfortunate, the Altra Mont Blanc is a let down in my eyes. With poor sizing and bad use of upper materials, there's very little that would encourage me to pick these up for anything but a casual jog in the woods, but then there's the price tag.
There are some hugely encouraging features like the absolutely excellent midsole, the usual benefits from zero-drop shoes and the bells and whistles that come with Altra. I can't wait to see the second iteration of the Mont Blanc.