Adidas high-top sneakers
Adidas, a brand renowned for its wide selection of footwear, has been offering show-stopping high-top footwear to add statement style to their wearer's bold look. The brand offers these kicks in the vast range of colorways - red, green, blue, gold, silver, white, yellow, and purple to keep the brand on top of the game when it comes to the fashionable footwear.
While styling high top sneakers can be an overwhelming task for some, many still prefer wearing it as it delivers eternal coolness that can elevate one's casual attire. The majority also enjoyed the retro look of some high-top kicks inserted with modernized details giving their overall ensembles daringly different appeal - futuristic retro.
Our squad has come up with a list of some of the most notable Adidas high-top sneakers offered in the market. Buyers can choose from our sweet list of kicks with different colors and materials and with cut extended up to the ankle that will make your overall ensemble look cool and chic.
Men's Adidas high top shoes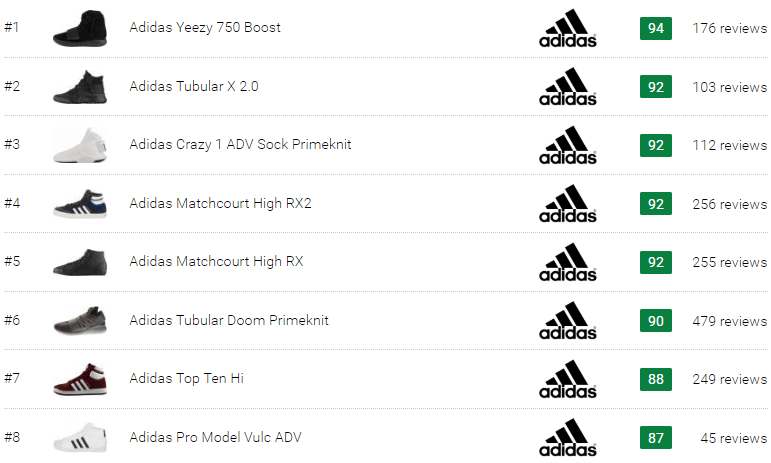 There are many high top kicks from the arsenal of Three Stripes that are exclusively offered in men's sizing. Although these sneakers are presented in the range of the gents, women can also enjoy these masculine kicks by ordering a size or two sizes down their regular shoe sizes.
Adidas Matchcourt High RX
These Adidas high-top sneakers display minimalist design that were engineered to pay homage to the skate culture. The brand inserted a few durable features to make these sneakers apt for skate use, such as the canvas quarter, suede toe and lace region, and the double-wrapped midsole.
Adidas offers this at $70.
Other versions of Matchcourt kicks are the Adidas Matchcourt ADV, Adidas Matchcourt Mid, and Adidas Matchcourt RX2.
Adidas Tubular Instinct
This kick was introduced in August 2015 that displayed the classic tube tire-like sole with suede upper with mesh details on various parts for added style and breathability. Adidas upgraded the Tubular Instinct iteration and unveiled the Primeknit version in 2016.
The Adidas Tubular Instinct Primeknit is dressed in the advanced tech Primeknit that delivers superb comfort and breathability while providing an adaptable fit. It was seen worn by Damian Lillard, an NBA star, which helped in advancing its popularity in the market.
This iteration has a $120 price tag.
Few other variations of Tubular Adidas Tubular Instinct are the Adidas Tubular Instinct Low, Adidas Tubular Instinct JC, Adidas Tubular Instinct Boost.
Adidas AF 1.3 Primeknit Boots
The Three Stripes launched the AF 1.3 Primeknit Boots as the brand's answer to the Sneakerboots of Nike. This kick was inspired from the tactical footwear of the Germans called GSG-9 and was engineered to work for the wet and the cold weather conditions.
This model was incorporated with the Dellinger webbing on its midsole to intensify the shock absorbing mechanism of this kick. The extra-high top cut dressed in Primeknit material was designed with a waterproof coating to make this model stylish at the same time suitable for the wet conditions.
Adidas presents this at $200.
Another variant is the Adidas AF 1.4 Primeknit.
This iteration is also tagged as the Adidas H.F/1.3 Primeknit Boots.
Adidas Crazy 1 ADV Sock Primeknit
The Adidas Crazy 1 ADV Sock PK was born from the collaboration of Kobe Bryant and the Three Stripes. The brand revived the archived basketball silhouette of Kobe and tweaked to work as lifestyle footwear. This iteration was introduced in 2017 and got its moniker for its weird and futuristic look.
This shoe displays a monochromatic, sock-like high-top Primeknit upper that resembles the pricey Balenciaga Speed Trainer.
This kick's price point is at $140.
Few other variations are the Adidas Crazy 1 ADV Primeknit, and the Adidas Crazy 8 ADV Primeknit.
Adidas EQT Support ADV Winter
Debuted in 2017, this iteration was conceived as an upgrade to its basketball-inspired predecessor. This winterized version highlights its lightness, comfort, and supportive details to withstand any weather condition.
The Three Stripes offers this at $150.
Few renowned alterations of this kick are the Adidas EQT Support ADV CNY, Adidas EQT Support ADV Parley, Adidas EQT Support ADV Primeknit.
Adidas Forum Hi Crafted
This special release iteration is launched in tonal gray, premium suede upper tanned by Charles F. Stead. This 80s basketball-inspired sneaker has the signature 3-Stripe branding on the sidewalls and Bounce midsole for luxurious aesthetics and superb cushioning. This kick is finished off with the herringbone-pattern outsole for reliable traction on various surfaces.
Adidas offers this at a hefty price point of $270.
The Adidas Forum Hi Moc, Adidas Forum Low, Adidas Forum Primeknit Winter, and the Adidas Forum Refined are the alternative versions.
Adidas NMD_XR1 Winter
Because of the success of their NMD series, Adidas pushed their way to conceive an NMD version apt for the colder days. The NMD_R1 Winter features winter-ready elements keeping their wearers comfy and stylish while enduring the chilly seasons.
Offered in the market at $170.
Other versions of the Adidas NMD_XR1 are the Adidas NMD_XR1 Primeknit and the Mastermind x Adidas NMD_XR1.
Adidas Pro Model Vulc ADV
This modernized version of the classic Pro Model features skate-appropriate elements to keep its wearers cozy and secured with executing few spine-tingling board tricks. This model displays a street-ready design that can be matched up with virtually any laidback attire.
This model is presented at a budget-friendly range of $95.
Another version of the Adidas Pro Model is the Adidas Pro Model 80s DLX.
Adidas Top Ten Hi
This basketball-inspired sneaker was first seen sported by DJ Clark Kent, Stalley, and Danny Brown in 2014 which paved the way to its popularity in the lifestyle scene. It displays basic design with clean and versatile hues that can match any casual attire.
This model has a $90 price tag.
Adidas launched the Top Ten Hi to pay homage to the ten key basketball players in the 70s namely Doug Collins, Marques Johnson, Kermit Washington, Adrian Dantley, Bob Lanier, Bobby Jones, Billy Knight, Sidney Wicks, Mitch Kupchak, and Kevin Grevey.
Adidas Tubular Doom Primeknit
The sock-like upper of this model keeps the feet warm and dry during the chilly days. It is reinforced with elastic straps on the forefoot and quarter keeping the feet secured and enhances the balmy temperature.
The model has a $160 price tag.
Other notable variations are Adidas Tubular Doom Primeknit GID and Adidas Tubular Doom Sock Primeknit.
This kick bears a resemblance to the prominent Adidas Y-3 Qasa High.
Women's Adidas high top sneakers
These Adidas high top sneakers for women are presented exclusively in the ladies' sizes. Just like the men's, gents can also enjoy these kicks buy purchasing a size or two up their regular shoe sizes for cozier fit.
Adidas Superstar UP Strap
These women-exclusive Adidas high top shoes were stirred from the low-top basketball kick from the 60s called the Adidas Superstar. Its popularity soared when it crossed the lifestyle fashion seen worn by various personalities.
Several variants were unveiled since it debuted in the market, and one of it is the high-top Adidas Superstar UP and the Adidas Superstar UP Strap. These models display a chic design that looks great when paired with skinnies and oversized hoodies.
Adidas Extaball
This pair's classic look and the vast range of colorways provide an attractive element to the majority of ladies. It displays sporty details combined with the stylish appeal that works great with skinny pants or leggings.
This budget-friendly kick is offered at $70.
Other reasonably priced high-top Adidas sneakers are Adidas Nizza Hi, Adidas Pro Model Vulc ADV, and Adidas Top Ten Hi.
Unisex Adidas high top sneakers
These sneakers are designed to suit both sexes and are offered in both men's and women's sizing.
Adidas Nizza Hi
First introduced in 1975 as basketball footwear, this silhouette has undergone countless revamping to suit as a casual kick. The Adidas Originals re-issued this look and kept the retro features, using the same materials, hues, and the profile. It displays canvas upper with vintage white and blue 3-Stripe design.
Price Range is $80.
Other variations are Adidas Nizza Hi Classic 78, and the Adidas Nizza Low.
Adidas Tubular X 2.0
Unsuccessful at first, the Adidas Tubular sneakers were first introduced as footwear for the hard courts in the 80s. It was unearthed from the archives in 2014 by Nick Galway, Adidas' Vice President for Global Design, and re-introduced as modern lifestyle kick.
Adidas effectively re-introduced the Tubular silhouette to the modern market and spawned countless re-modeling over the years to suit a wide range of consumers. One of it is the Adidas Tubular X 2.0 which is the follow-up of the Adidas Tubular X unveiled in August 2015. The version 2.0 has a slimmer profile and lighter overall weight compared to its predecessor.
Remarkable Adidas collaborations with high top profile
Consistent with keeping their models significant to the endless streetwear fashion, Adidas partnered with various names in the lifestyle world to reinvent their existing silhouette from the Three Stripes' library. Here are some of the remarkable ones:
Adidas Y-3 Qasa High
Adidas and Yohji Yamamoto, a Japanese fashion designer, teamed up in 2002 to release utterly fashion-forward sneaker designs and called the line as the Y-3. Contained within the Y-3 brand is the high-cut Adidas Y-3 Qasa High that is made of a mixture of various materials on its upper seated atop a tubular rubber outsole.
This kick has a price range of $400.
Adidas Y-3 Qasa Boot is another high-top Y-3 sneaker.
Adidas Yeezy 750 Boost
Coming fresh from the archrival of the Adidas, music icon Kanye West teamed up with Adidas in 2013 and unveiled the Yeezy 750 Boost two years after. This high-top sneaker is dressed in a suede upper with white Boost sole. This kick has gained popularity for its distinctive midfoot strap, perforations on the vamp, and the lateral zipper closure.
Mastermind Japan x Adidas Tubular Instinct
The renowned Mastermind Japan, a high-end Japanese fashion label, partnered with Adidas in 2016 to launch their take of the Adidas Tubular Instinct silhouette. This all-black iteration highlights the signature graphic branding of Mastermind with full-leather upper and zipper entry on its heel.
This kick is tendered at $220.
The Adidas EQT Support Ultra MMW is another Adidas x Mastermind Japan collaboration.
Adidas Jake Blauvelt Boot
Jake Blauvelt, a renowned backcountry snowboarder, became a part of the Adidas family in 2011. His first ever signature snowboarding boot was unveiled a year after and called the Jake Blauvelt Boot.
This sneaker displays classic hiking boot look incorporated with modern materials. This model highlights its amply comfortable features while delivering sufficient protection just like traditional boots.
This model is offered at $150.
Adidas recently released the updated version called the Jake Blauvelt Boot 2.0.
Frequently Asked Questions
1. How to tie high top shoes from Adidas?
Lacing up your sneakers must first be functional and at the same time stylish. Fastening the high-top sneakers is the same as the low profile, but the laces are extended up to the ankle. Sometimes, people secure their kicks up to the ankle while some leave them unlaced keeping the shoe tongue stuck out for more flair and statement. There are very easy and helpful lacing techniques found here.
2. Where to buy Adidas high top shoes?
Adidas sneakers can be bought from the physical stores of Adidas and its retailers. Numerous online retailers also sell Adidas kicks such as Amazon, Zappos, eBay, Eastbay, Caliroot, JD Sports, Zalando, Footlocker, and many more.
3. How much are the Adidas high-top sneakers?
The Adidas high-top sneakers are offered from as low as $70 (the Adidas Extaball) to as pricey as $400 (Adidas Y-3 Qasa High.)
4. Where are Adidas shoes made?
To cut the overall expenses, Adidas outsourced their production outside of Germany. In 2012, it was reported that the Three Stripes has over 1,000 factories all over the world, and the majority of them found in China, Turkey, India, Indonesia, and Thailand.
5. Do high-top sneakers prevent ankle injuries?
Most of the high-top sneakers are constructed to work as fashionable street sneakers and disregarded the ankle support features. Therefore, the lifestyle sneakers do not prevent the injuries on the ankle. Meanwhile, for high-performance shoes, such as basketball and skate shoes, the high collar height delivers sufficient protection against some kinds of injuries.
6. Do high tops shoes make its wearers look short?
Depending on how you wear your high-top sneaker, this kind of profile will make you look shorter than your usual height. If you choose to pair this kick with flared pants that fall over the shoe and conceal the shoe shaft, the look of your height will not change. Meanwhile, if you pair this high-top sneaker with skinny or tapered pants that fully displays the shaft, this profile will make the leg look shorter than its usual appeal.
7. How to wear high top Adidas shoes?
There are few suggestions on how to stand out in the crowd while wearing the Adidas high-top sneakers:
Baggy Pants - This ensemble looks great when paired with high-top kicks to deliver relaxed, laidback, and stylish look.
Skinny Jeans - The high-cut sneakers will certainly standout with this kind of jeans giving a real statement piece.
Antagonistic Colors - Styling high-top sneakers with contrasting colored attire will enhance its appeal. For colorful sneakers, some would suggest pairing it with monochromatic ensembles. Meanwhile, mono-toned sneakers will surely fit colorful attire.
8. How to spot fake Adidas high-top sneakers?
Differentiating real and fake Adidas sneakers can be an unnerving task for some, especially in a domain that is subjected to counterfeit products. Here are some techniques checking if the shoe you are eyeing is a fake or not:
Check the shoe box for errors in its logo, alignment, spelling, the overall quality, and craftsmanship.
The tongue label on the shoe must be consistent with the number indicated on the box label.
Carefully check the stitching on the shoe, it should be straight and neatly finished.
The unique pattern of the rubber outsole should have a consistent groove and line shapes.
9. Are there Adidas high-top sneakers with Boost technology?
Yes, the Adidas Tubular Instinct Boost and the Yeezy 750 Boost are both high-top sneakers with the ultra-responsive Boost technology.
10. Are Adidas high top shoes heavy?
Depends on the materials used, the Adidas high top shoes can be heavy or light. There are high top shoes made of leather which can be considered tad heavy while there are sneakers made of Primeknit that is deemed to be light and breathable.
12 best Adidas high top sneakers
Adidas Pro Model Vulc ADV
Adidas Forum Primeknit Winter
Adidas Yeezy 750 Boost
Adidas Matchcourt High RX2
Adidas Crazy 1 ADV Sock Primeknit
Adidas Climacool 2.0
Adidas EQT Support ADV Winter
Adidas Tubular Doom Primeknit
Adidas Top Ten Hi
Adidas Tubular Instinct Boost
Adidas NMD_XR1 Winter
Adidas Tubular X Primeknit
This shoe has recently been added to RunRepeat. There are still not enough reviews for us to assign it a
CoreScore
.
CoreScore
A score from 1 to 100 that summarizes opinions from users and experts. The average CoreScore is 78.
More...