This is an 80 km review of what is clearly the most proven model of running shoe in modern history.
The Nike Pegasus was designed with the goal of building an accessibly priced shoe that every runner could afford. The first Pegasus was made largely of leather and sold for $50 on its release in 1983.
The Nike Pegasus has been used by both professional and amateur runners. Its favored by both neighborhood joggers and marathoners alike.
Today, the Pegasus 34 demonstrates that the designer's original vision is still alive even after 34 years.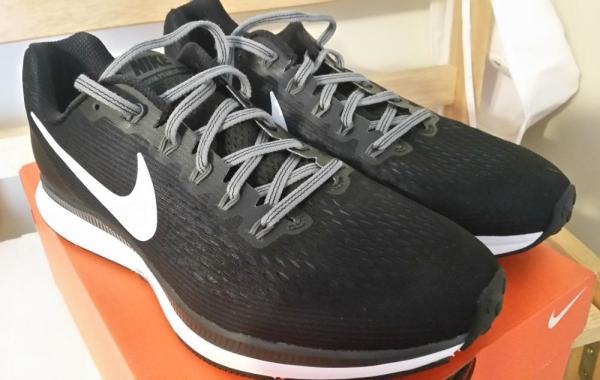 Outsole
The outsole has Duralon rubber that provides excellent traction and BRS 1000 (Blue Ribbon Sports) carbon rubber in high abrasion areas, providing added durability.
The traditional waffle outsole design is used on the majority of the outsole to assure excellent traction. A full-length Rubber Crash Rail on the lateral (outer side) of the sole provides for a smooth transition from landing to toe-off.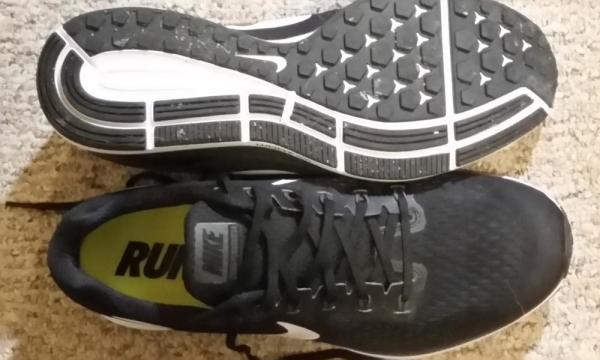 Midsole
The midsole is the heart of every running shoe. The Pegasus 34's midsole starts with a full-length Cushlon foam, into which are built two low-profile airbags; one for the forefoot and, one for the heel area.
These airbags are not token half-inch size pockets but are nearly full width and fully functional. Cushlon starts as NIKE's Phylon foam, with rubber additives, giving the Pegasus a nimble liveliness.
Upper
Flymesh, a seamless engineered mesh with interwoven monofilament lines (fishing line tensile-strength) are added for durability.
Flywires provide support and enhances fit at the midfoot; the Flywires go from just above the midfoot Cushlon foam and rise upward to meet the laces.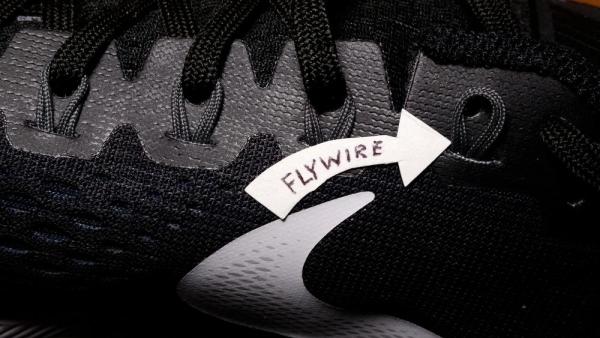 The laces then complete the top of the arc, making a comfortable and secure wrap around your foot that can be adjusted with lace tension or patterns for a more personal fit.
A partial mesh bootie, on the inside, wraps the foot for added comfort and the lightly padded tongue is attached along its sides; with no irritating stitches or excess material to rub the top of your foot.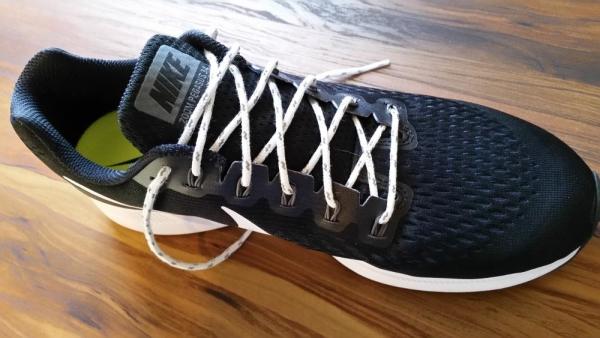 There is no need for a lace loop on the tongue either, as it cannot slip due to how it is cleverly attached. There is a very effective reflective area on the rear of each shoe.
There is no external toe box stitched onto the front end and no big plastic exoskeleton on the rear as a heel counter.
There is no need for a bunch of overlays to give the uppers shape and support either as the Flymesh, Flywires, lacing and the big NIKE Swoosh logo take care of that. It is a truly a well thought out and functional design!
The Running
After working all night and being aware of an approaching ice/snow storm, I woke up my wife and somehow convinced her that we needed to drive 130 miles to get these new miracle shoes!
We did this and managed to get back home before the worst storm in years rolled over our little Indiana town with a barrage of ice, and then a thick blanket of snow.
My first run was as soon as the streets were slightly cleared of snow, at -10 degrees C. (13 F); it was windy at 4:00 a.m. in the predawn morning; limiting my first outing to only 5 km.
These shoes are superb on snow… the waffle soles acted like actual snow tires!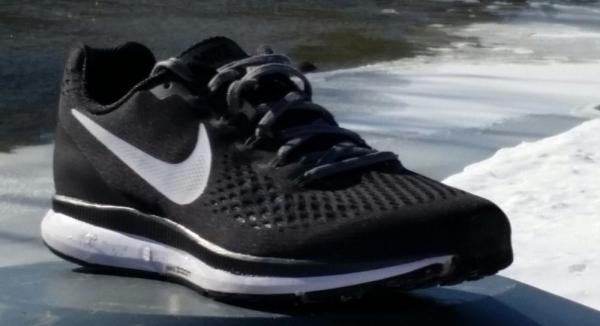 Amazingly, at 40 miles, with my 145 lbs. weight, and easy midfoot landing style, the shoes showed almost no wear.
The Pegasus is a robust shoe that can handle a much heavier passenger than I, perhaps even 200 lbs.
I did manage to find some easy (very easy) trails at the local university, and the Pegasus was right at home with its waffle outsole providing good grip on the damp grass and loose dirt.
Back on the road, I got to like the Cushlon Foam-Air combination, running every day in this shoe doesn't seem to be tiring.
I had expected the Nike Pegasus 34, with its full-length Cushlon foam midsole, to be more flexible.
Overall, flexibility was a little bit too stiff, at first. However, the more I ran in the Pegasus the more comfortable they became.
I have been seeking out more flat ground with fewer hills, in preparation for the Southern Illinois Spring Classic Half Marathon; I believe the Pegasus will be a perfect shoe for that race.
A word of caution, the laces did not stay tied, but they are long enough to be tucked in or double knotted. Personally, I chose to replace them with Brooks Adrenaline GTS 18 laces.
I did take an occasional break to run in my Brooks Launch 4's, simply for a change and to enjoy the easy gait that I could not find in the Nike Pegasus.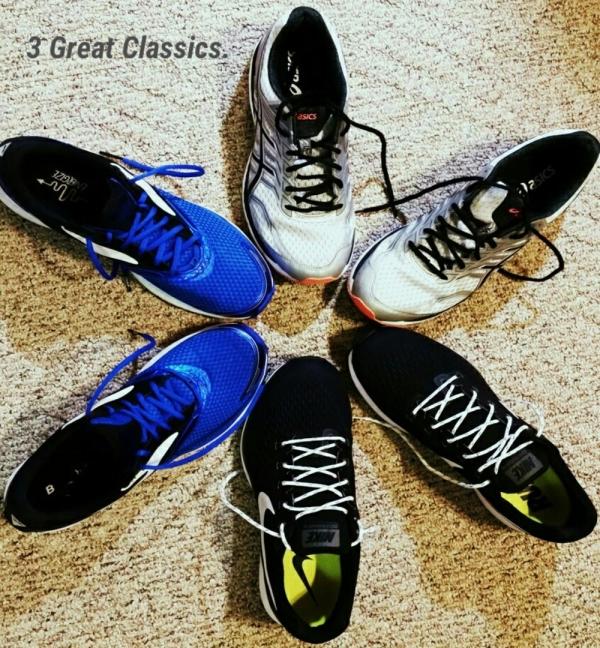 The GT 2000 5, Pegasus 34 and the Launch 4 are similar in many ways.
The Asics GT 2000 blurs the distinction between Neutral and Stability, I have always been at home in the Asics GT series.
I was surprised to find that the Launch was so much easier to run in than the other three models. I think that is due to the fact that the Launch is so much more flexible than the Pegasus and the GT.
The Asics GT 2000-5 is more cushioned, with Gel…making it the "Comfort Champion" of these three models.
Key Points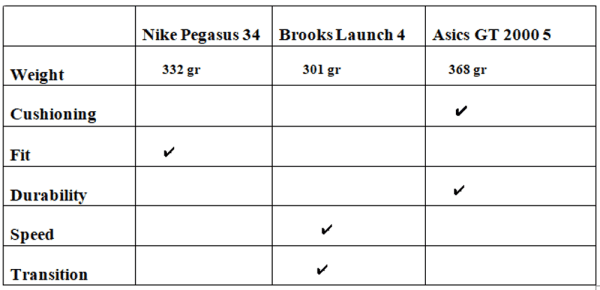 Quality
NIKE, like some other manufacturers, seems to be having a difficult time getting the patterns of their engineered mesh uppers to line up.
I had to look at three different pairs of the Pegasus before I got one that was correctly lined up…other than this, there were no other quality issues.
Specifications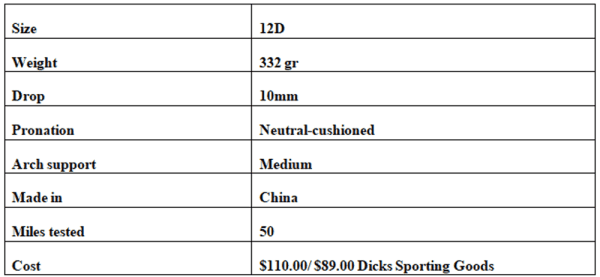 Gender Specifics
Runningwarehouse.com claims that there are no gender-specific changes in the women's version of the Pegasus, only color and size selection differ from the men's version.
Pros
Terrific design…less is often more
Functionality
Durability
Price
Style
Cons
Laces did not stay tied
Could use a little more toe box height
Maybe a little stiff at first
A Thought
In the 1970s, I enjoyed the advice of Albert Byrd, a 1936 Olympic Cyclist (Road and Track) from Chicago, when I was living in Tampa, Florida.
His advice to me was always the same…just "go out and work up a good sweat." Al always rode a 45-year-old Schwinn that Frank Schwinn had personally built for him, prior to the Olympic Games.
We were 30 years younger than Al, back then, and he could almost always beat us. Not even our new Columbus and Reynolds tubing bicycles from Milano and Leeds could make a difference!
Those days taught me at least one lesson..." the biggest part of the equation is always the athlete."
Conclusion
The Nike Pegasus 34 is a very good blend of old and new technologies that all work very well together. There are no painted on Gel inserts and no simulated reflective stripes.
The Pegasus 34 is not a shoe that pretends to be anything other than what it is. I sometimes wonder, has technology passed the Pegasus by, and the answer is always, not if it fits.
"Thanks, Al…Now, Let's Go Out and Work up a Good Sweat."