The
Nike
Renew Ride 3 is a budget-friendly
daily trainer
perfect for runners seeking a comfortable experience. While it may feel somewhat firm and lack significant bounce, we still found the shoe to be cushy and protective. Moreover, the Nike Renew Ride 3 offers lasting support for your foot without adding unnecessary weight, and it's really durable.
Pros
Comfy all-day
Swallows all the impact
Supportive underfoot
Puts a spring in your step
Budget-friendly
Lightweight
Ready for warm days
Cons
A no-no for wide feet
Firm if you love soft midsoles
Midsole lacks energy return
Who should buy the Nike Renew Ride 3
If you're any of the following, the Renew Ride 3 is a great pick:
a long-distance runner looking for comfort and support in a lightweight package
a road runner who wants a good low-cost and durable daily trainer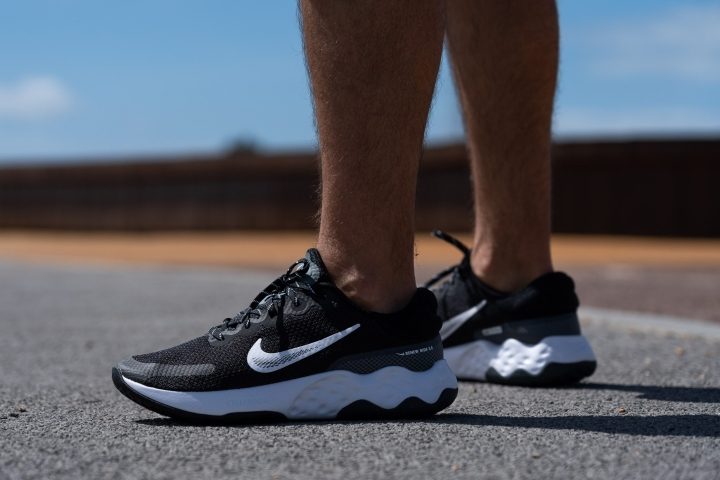 Who should NOT buy it
If you have wide feet, you'll find better comfort for your toes in the wide version of the Nike Pegasus 40. And if you want a snug heel fit, the Nike Revolution 5 will keep you locked in. Also, don't choose this one if you're expecting a premium soft-and-bouncy midsole; it's quite far from that!
Unconventional combo: Wallet-friendly + great ventilation!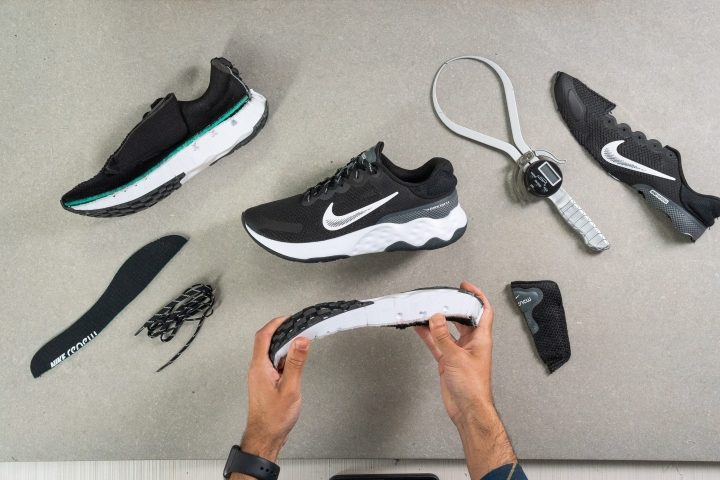 Based on our wear tests of the Renew Ride 3, the shoe's mesh upper breathes really well; you don't have to worry about the toasty weather.
We rated this shoe a 4 out of 5 in our breathability test. This is an impressive result that surpasses the average shoe and pricier options like the Pegasus 40 or the Hoka Clifton 9.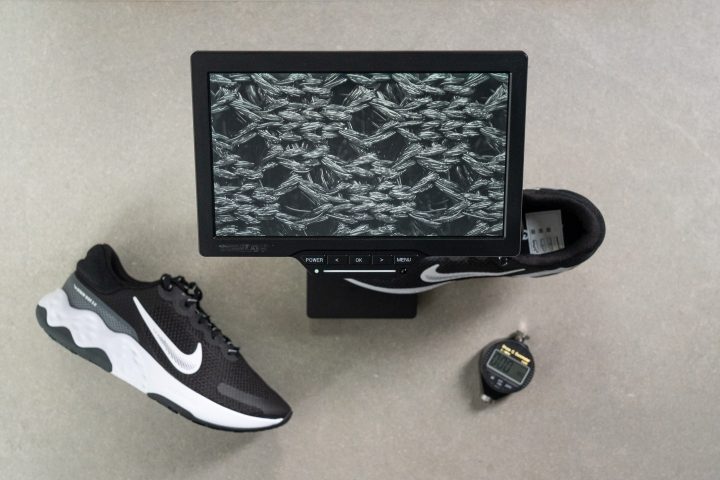 Upon closer examination under our microscope, it's evident that this shoe breathes well thanks to its ventilated mesh.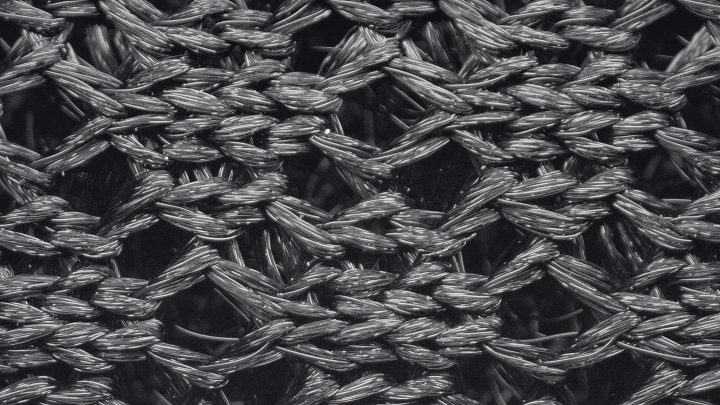 If you need further proof of the top-notch airflow this shoe offers to your feet, the light test makes it quite evident.
Unfortunately, the thin mesh is not very resistant. Our signature Dremel test looks pretty evident.
If you often find your big toe or pinky toe wearing holes through your shoes, you might want to be cautious with this shoe.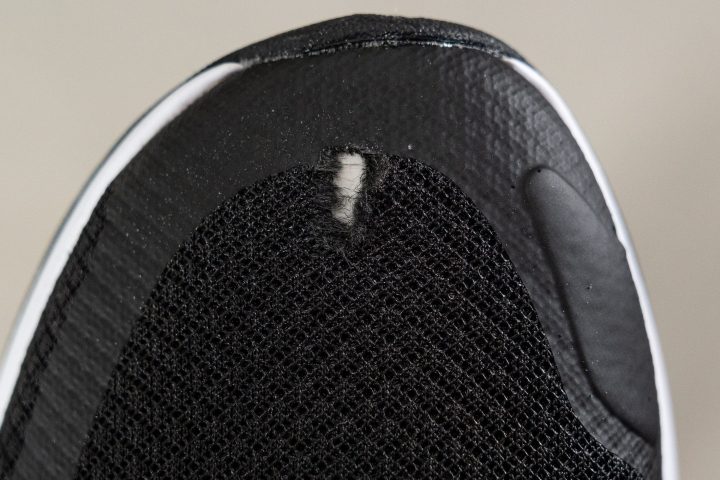 Soft experience, but firm structure
There's no doubt about it, the Nike Renew Ride 3 has its eyes set on comfort and it feels like a bedroom slipper from the get-go!
It's so dang cushy, that we can see it quickly becoming one's go-to shoe for recovery and walking around.
Although it falls below the average result in our 90º bend test, it's also stiffer than most of its competitors. For example, the New Balance Fresh Foam X More v4 is 62% more flexible, while the Saucony Kinvara 14 is 87% less stiff.
The same trend continues in our manual evaluation, where we awarded a 3 out of 5 for both tests: longitudinal and torsional flexibility.
Adds some flavor to the ride
Although it's meant for easy days, the Nike Renew Ride 3 maintains a slightly bouncy ride.
It feels like the cheaper version of the Nike React. It has some spring into it but nothing too pronounced.
On top of this, the shoe has enough foam—36.4 mm in the heel, 26.2 in the forefoot—to keep the foot cushioned from impact. But it's also important to know that for a lower price tag, you also get an older tech—React is TPE-based and Renew is a plain EVA—so you shouldn't expect the same energy return.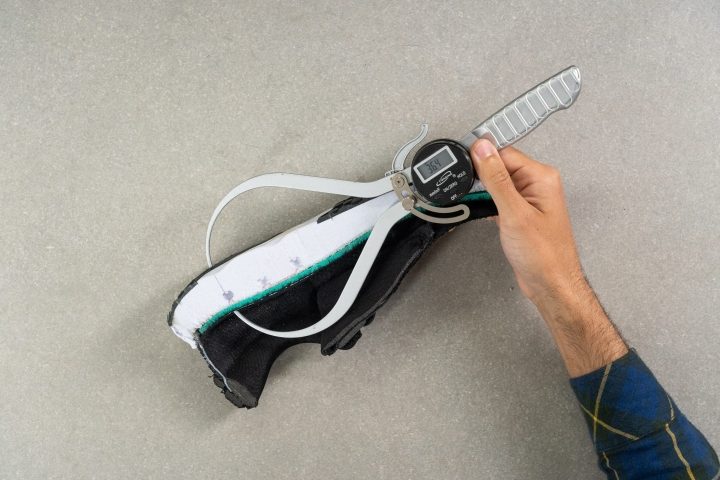 Disclaimer: We always measure stack with the insole included.
When it comes to softness, there is a game-changing difference between the Nike Renew Ride 3 and its previous model, the Renew Brick Ride. With our durometer showing 23.5 HA, the Ride 3 turns out to be impressively softer than its predecessor.
But make no mistake, the shoe is not among the softest, it sits right at the average of road running shoes.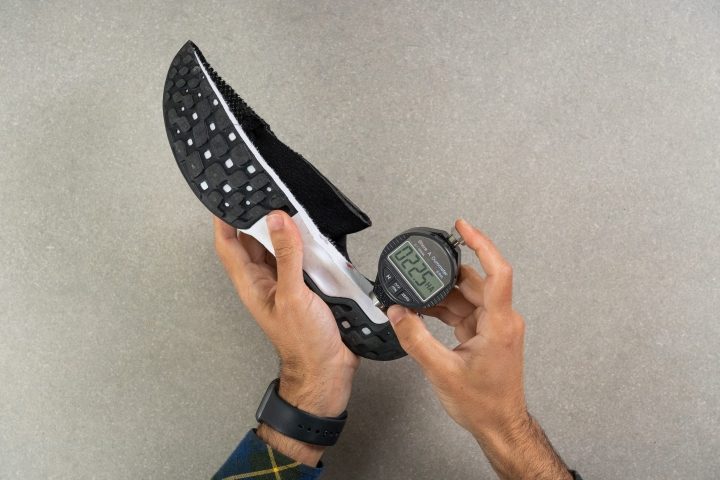 Disclaimer: We take an average of 4 measurements and eliminate any outliers. This image portrays only one of our four measurements.
Winter running? No problem
The Renew Ride 3, despite having an EVA-based midsole—which is renowned for its poor performance under cold temperatures—outperforms the average shoe in our freezer test.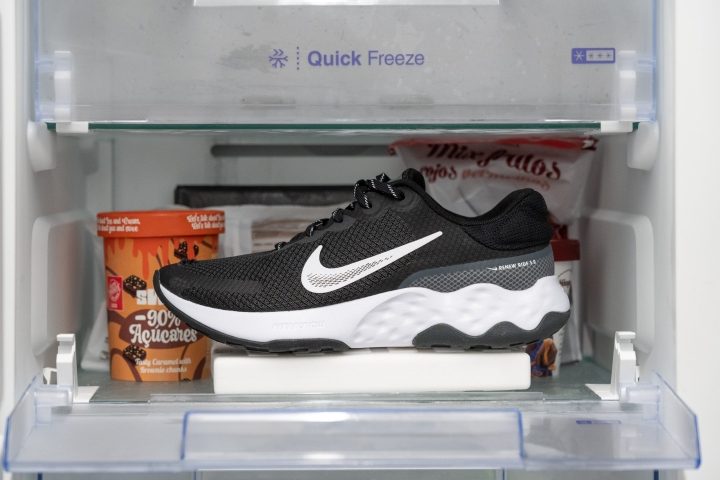 While the average midsole becomes 26.7% harder and 45.1% firmer under cold temperatures, the RR3 does so by only 21.8% and 19.2%, respectively. That's quite impressive.
Don't worry, the Renew Ride 3 also offers support
Although the shoe is very comfy, it still has some firmness to keep the arch support optimal.
As we expected, being a Nike entry-level daily trainer, there's no rocker incorporated in this shoe's design, which we applaud since this particular shoe wouldn't benefit from one. The difference with the New Balance SuperComp Trainer is striking!
The Nike Renew Ride 3 has a reeeally narrow toe box
Like most Nike running shoes, if not all, the shoe's toe box is better suited for narrow feet. Wide footers will most likely want more breathing room in their daily trainers.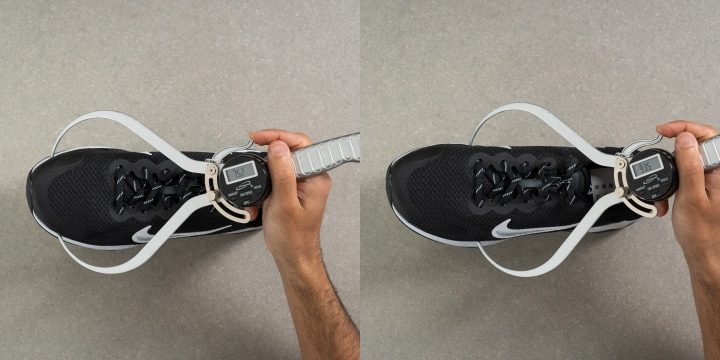 In fact, the shoe's toebox width (93.5 mm) falls between two of the narrowest racing shoes, the Nike Vaporfly Next% 2 (93.8 mm) and the ASICS Metaspeed Sky+ (93.4 mm). That's incredibly narrow for a daily trainer.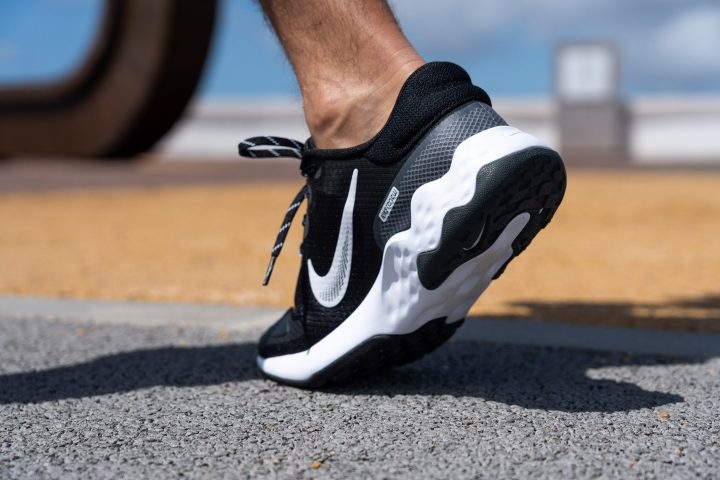 Need more of that? Well, the Renew Ride 3 ranks among the top 7% of the narrower shoes we've ever measured in our lab. That's N-A-R-R-O-W.
And because this trainer is not available in wide options, we recommend going for the Nike Winflo 10 for a more generous toe room.
And a weird shape
Did we mention earlier that the Ride 3 is narrow? I believe we did. But it's also narrow in the base! We measured its forefoot width at 105.5 mm and its heel width at 90.2 mm.
This makes the shoe one of the narrowest we've ever measured in the forefoot area. However, Nike took a more conservative approach with the heel, likely to accommodate heel strikers, and it's even wider than the average running shoe.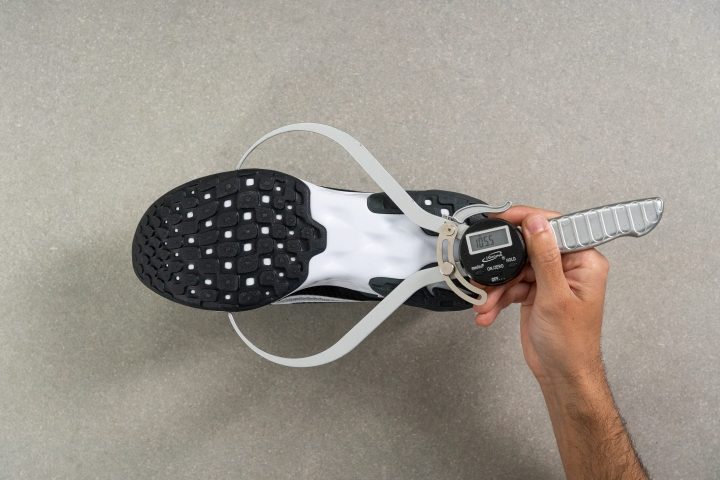 Well, to put this into context, these are 4 shoes that have a wider forefoot than this Nike: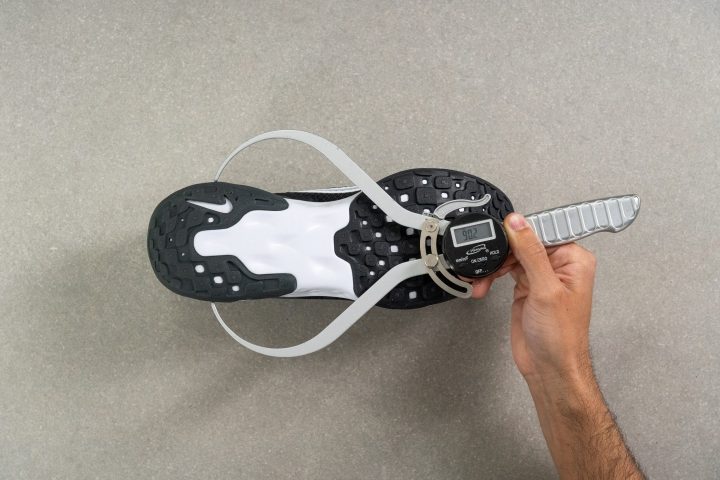 All four shoes are typically suitable for racing or speedwork, not exactly for everyday training. So, if you're seeking a broad platform and you're a forefoot-to-midfoot striker, this option may not be the best for you.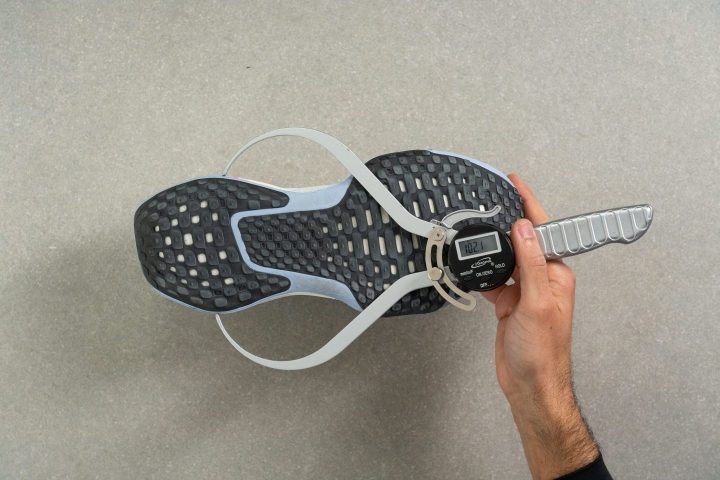 This is the Nike Invincible 3, which boasts a totally different platform. Can you spot the difference in shape from the heel to the forefoot? It's much more pronounced in this model, whereas in the Renew Ride 3, it's the opposite.
It won't hold you back
...because the Renew Ride is relatively light. And what impressed us even more is that this running shoe has lots of cushion for its lightweight build.
The Renew Ride 3 is 14g lighter than version 2, which is definitely an improvement. However, should we consider it a lightweight shoe per se? Weighing in at 290g, this shoe is 9% heavier than the average running shoe.
Nicely padded but non-gusseted tongue
As a comfort-oriented shoe, it's logical that Nike opted to sacrifice weight in favor of additional padding in the tongue. This is a great feature that helps prevent lace bites.
We measured the tongue's thickness at 8.8 mm, which is awesome—and also 44% thicker than the previous model.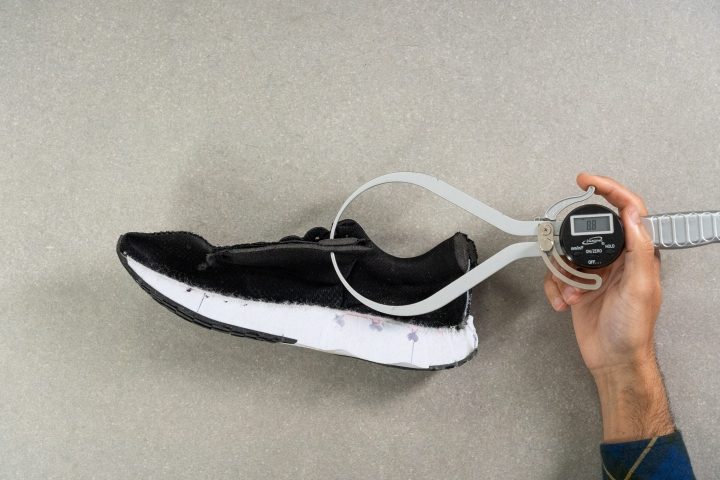 But there is some bad news. The tongue tends to shift when running.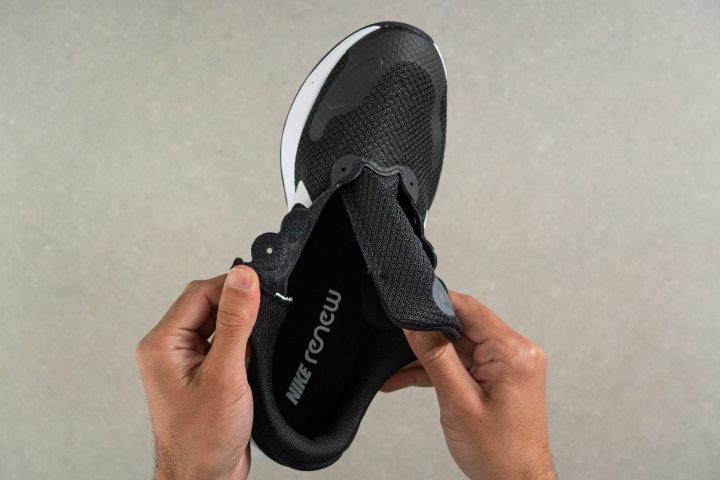 Upon inspection, we confirmed that this shoe has a non-gusseted tongue, meaning it's not fixed to the sides and can move freely.
Robust rubber paired with exposed foam
Shoes are usually made durable by employing unique strategies. However, for Renew Ride 3, rubber is removed from less frequently used areas and an ultra-hard compound—15% harder than average—is added in more heavily used areas.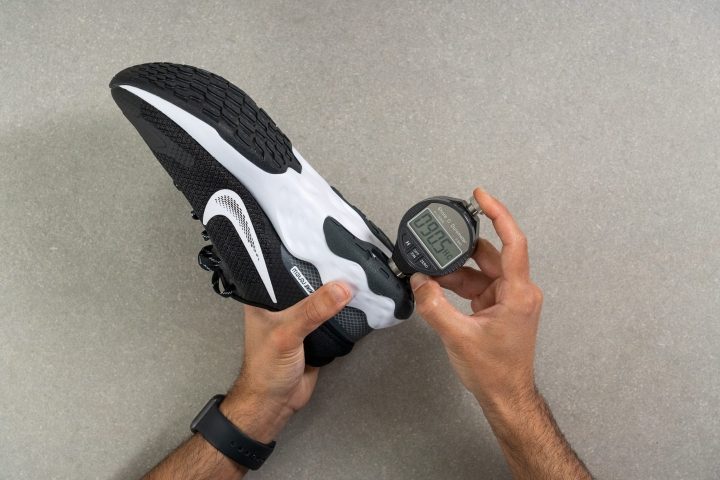 Disclaimer: We calculate an average of 4 measurements and disregard any outliers. This image portrays just one of those.
Let's see how it changed: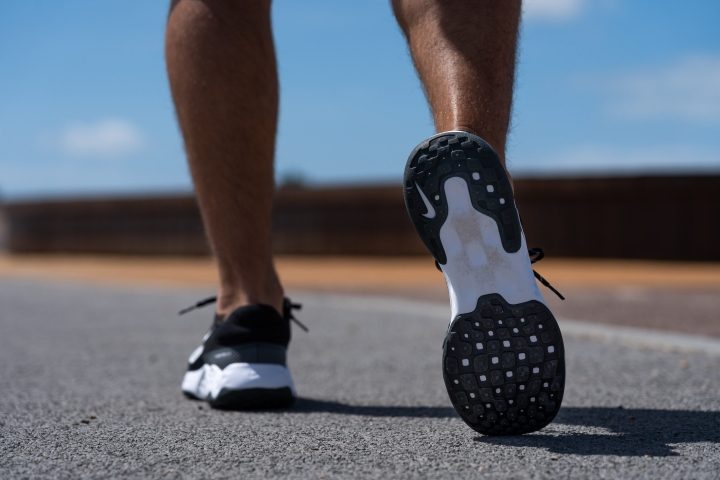 The outsole of the Renew Ride 3 has a lot of exposed foam but also features a second-to-none hard rubber.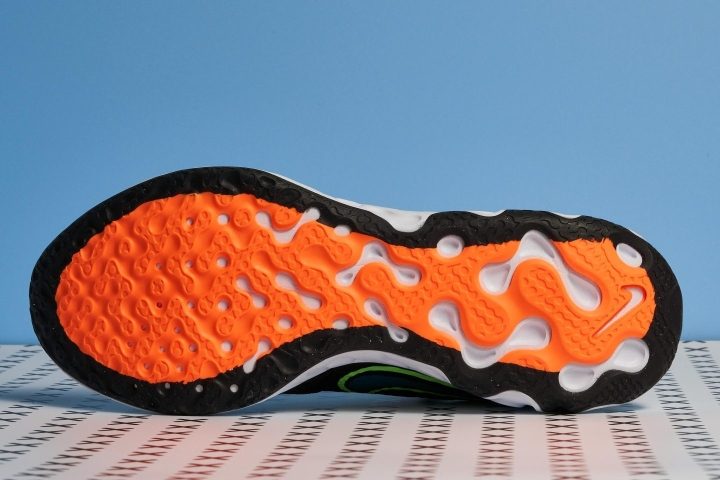 This is the outsole of the Renew Ride 2. Although it has some exposed foam, it's a totally different approach!
The rubber is not only harder, but it's also thicker than average, measuring 3.9 mm.