10 Best High Arch Running Shoes (Buyer's Guide)
The high-arched feet, or cavus feet, have arches (soles) that are higher than normal. This leads to uneven pressure distribution in the feet, which might lead to pain and balance issues. Not every high-arched condition should be treated, it depends on how you experience the symptoms, if at all.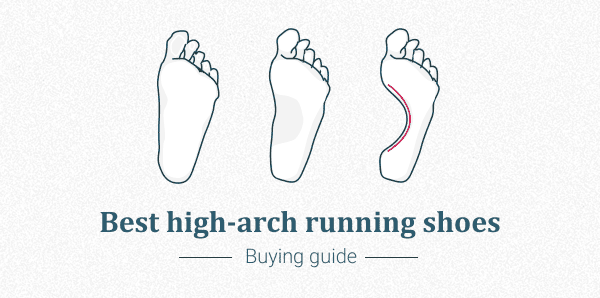 If you're experiencing severe pain caused by high arches, consult a physiotherapist or podiatrist instead of reading this guide.
Disclaimer: The purpose of this guide is to educate, not to make any medical diagnosis or recommendation.
How we review high-arch running shoes
We've researched and ranked more than 1,800 high-arch running shoes based on
Reviews from 8,865 experts and 838,453 users, so you can
Apply filters that match your personal preferences.
Each shoe is represented by the CoreScore: a number in the 1-100 range. The higher the number, the better the shoe is, according to the users' reviews. Here's the list of 1,869 high-arch running shoes you can filter and rank so they match your criteria.
Ranking of the 10 best high arch running shoes
Based on 5,185,308 user ratings 9,703 expert reviews
Here is a list of all 1727 high arch running shoes, where you can sort by "best rated" and apply filters.
Popular running shoes aren't the better rated ones
74
76
78
80
82
84
86
88
90
92
94
96
98
100
A 3-step guide to buying high-arch running shoes
High arches need your attention if you're experiencing pain, instability, soreness. Here, we'll focus on what running shoes, and not other forms of arch support, can do for your high arches.
1. Do you have high arches?
First things first: discover your arch type. It doesn't hurt to be sure, given that runners have poor knowledge of their foot type. You can check this visually and by scanning your overall condition and looking for symptoms. Visual confirmation is the best, especially when done with a specialist who observes your movement. Symptoms might appear or you might be lucky enough not to experience them.
Visual test: discover your arch type
The easiest and quickest way to check your arch type is the so-called wet test. You should: wet the sole of your foot (ideally both of them, one at a time), stand onto a piece of paper while allowing the moisture from your feet to sink into the paper, and step off.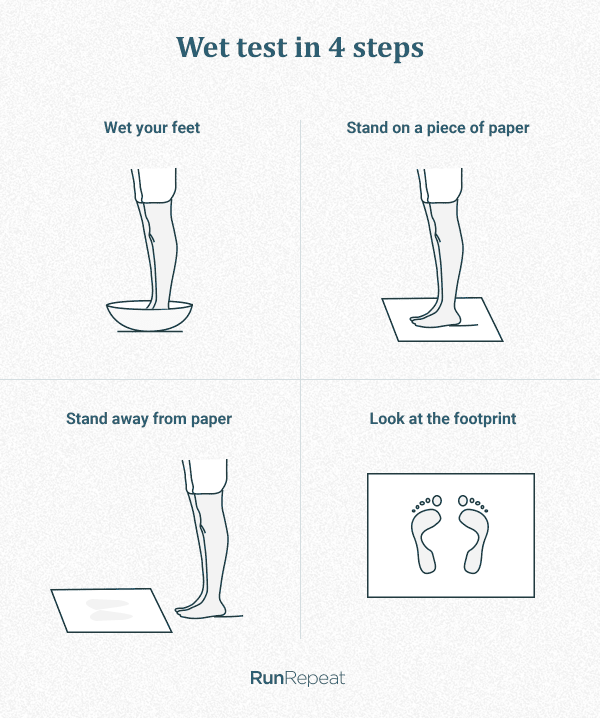 If you have a high arch, the footprint will show only the front and heel of your foot with nothing in between. If there's a thin line connecting them, you have a moderately high arch - better than the extreme.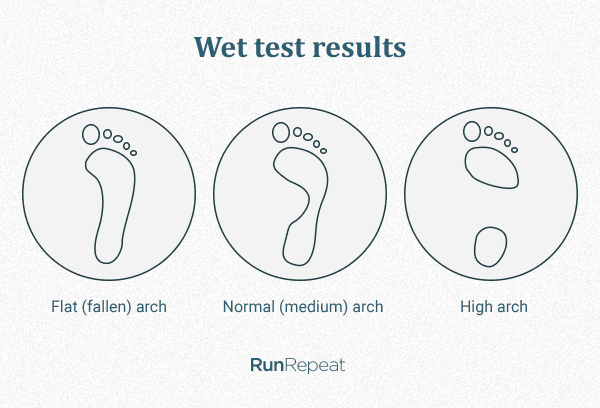 If you're not sure after doing this test or feel your feet need more attention, the best thing is to consult a podiatrist on this. They up the ante and use a dynamic approach which entails looking at your barefoot movement, pronation, tibia rotation, and heel deviation.
Symptoms of high arches
Can you feel the pain? Immediately stop your activities and rest. Look for professional help if the pain doesn't go away or if it reappears.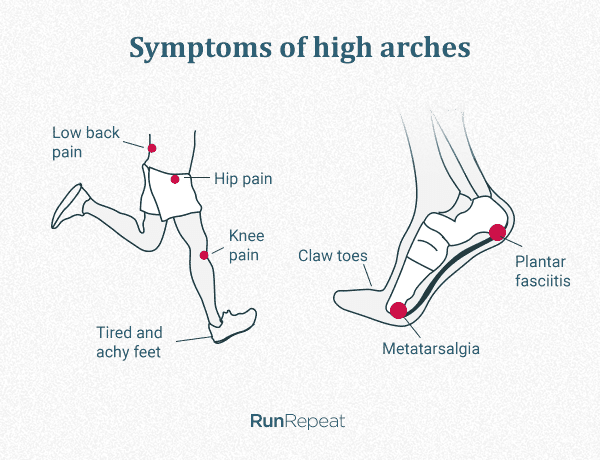 If you've discovered that you have high arches based on the test, it's also valuable to know how they feel. Cross-reference your experience to get a confirmation.
High arches can be asymptomatic or pain-free. However, your feet can get tired and achy easily. You also might have difficulties finding the shoes that are comfortable.
High arches don't necessarily cause pain, though your feet can feel more tired and achy when you have them, and your legs stiffer. Highly arched feet can make it difficult to fit into regular shoes. Trying to wear shoes without enough room or support to accommodate a high arch can be painful because more stress is placed on the metatarsals. In this way, high arches can be instrumental in causing or worsening plantar fasciitis and metatarsalgia.
Other known symptoms are knee, hip and low back pain, plantar fasciitis, metatarsalgia, hammertoes (bent toes) or claw toes (clenched like a fist), calluses on the ball, side or heel of the foot, instability of the foot.
2. Do you need arch support?
Not all high arches need support. If you aren't experiencing pain or problems during running, there is probably no need to look for arch support. Just because you have a certain arch or pronation type, it doesn't mean it's something that should be fixed.
However, if you have a visual confirmation that you have high arches and you're experiencing some of the symptoms, arch support is recommended.
3. Features to look for in high-arch running shoes
The imperative is to look for comfort. Then, take into account other features. The end goal is to lessen or prevent pain caused by high arches.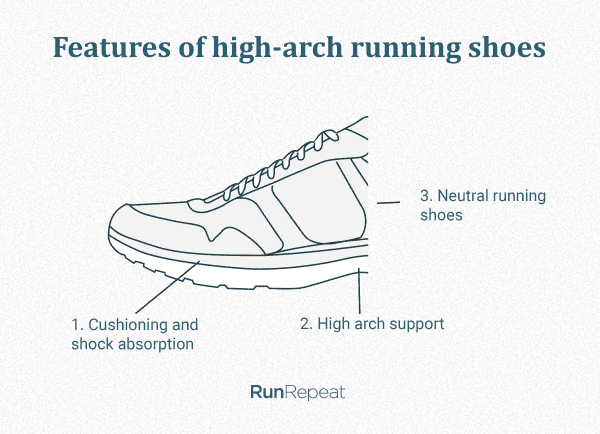 In the pursuit of high-arch support, these are the features of running shoes you should focus on:
Well-cushioned running shoes, especially in the ball and heel of the foot. They should offer good to maximum shock absorption to compensate for the decreased foot's ability to absorb the shock
High arch support to help with the pressure distribution and pain by preventing the arch from collapsing too much
Neutral running shoes which help with supination through the cushion that supports the arch.
Bonus tip: look for shoes with a removable insole, just in case you decide to go for special arch-support insoles or orthotics. Also, we analyzed 183,911 running shoes and discovered that the more arch support you request, the more expensive they become.
Treatment for high arches
Depending on the cause and severity of high-arches symptoms you're experiencing, types of treatment may vary significantly. Leaving serious conditions that usually ask for surgical interventions aside, the most common treatments are:
High-arch running shoes. Covered in detail in this guide - these shoes should improve your overall running-with-high-arches experience.
Physical therapy. Great way to learn more about your body and be aware of how certain parts move and why. Stretching and strengthening techniques can go a long way in improving your muscle tone and tendon flexibility. These techniques can also be a part of your prevention plan.
Over-the-counter orthotics and insoles (shoe inserts). They might help at first. If the issue is gone, good. However, if the pain comes back in the same or another area, it means you probably started putting more strain on other body parts. The sooner you look for professional help, the better.
Custom orthotics and insoles. These have a great success rate (can result in a 74% reduction in foot pain) and are highly recommended, especially because they are made for your feet only and might differ for the left and right foot.
Ankle braces. Their purpose is to support the ankle and prevent over supination.
The best high arch running shoes in every category
Which high arch running shoes brand has better reviews?
Other buying guides
Now, are you ready to buy high arch running shoes?