The Nike Air Zoom Pegasus 34 is a running shoe that wants to satisfy every need.
This shoe is light and brilliant, it can be used to perform repetitive workouts & long miles of running. It is an all-in-one shoe.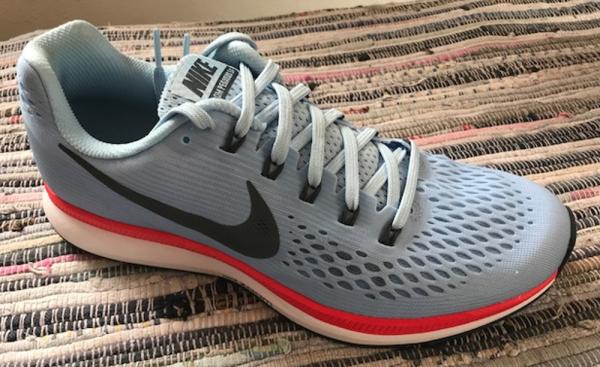 Upper
I find this shoe to be an improvement over the previous version, the Pegasus 33. At the very same time, it fully reflects the tradition of this shoe.
Compared to the previous version, the midsole and sole unit, side laces (Flywire) are masked by a breathable mesh.The Flywire is now incorporated in the mesh.
This makes the shoes less enveloping, the feet are freer to move. This detail, in my opinion, makes the shoes less for racing. It's more suitable to be used in workouts for runners who love the feeling of a wrapped foot.
With the Nike Pegasus 33, the flywire placed on the mesh presses and wraps the foot more. Thus, restricting the foot somehow.
We can notice another small change in the mesh. The Pegasus 34 is more perforated, ensuring greater breathability & greater lightness of the upper.
Outsole
The outsole remains unchanged, I've tested it on every surface (asphalt, gravel, underbrush) & I remained excited about the outsole grip. I used them in a 500D+ Skyrunning Race and I was very satisfied with this shoes. I didn't have any problem during downhill running.
The presence of the Nike air zoom units from Nike Pegasus 33 makes the shoe pleasantly cushioned, but no less reactive.
Nike Air Zoom Pegasus 33/34 compared to the previous versions have two Air Zoom units, one under the forefoot and one under the rearfoot.
In the 32nd version of Nike Pegasus, there was only one Air Zoom unit placed under the rearfoot.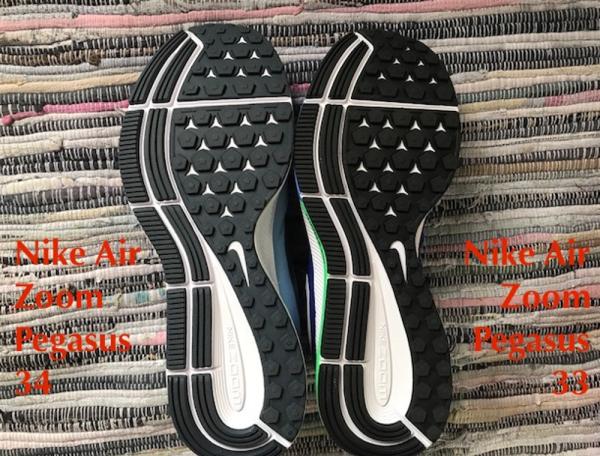 This detail makes the latest 2 versions (33/34) more cushioned. When you push it with your feet, you definitely feel the plush cushioning.
In the first run, I did with the Pegasus 34, I definitely felt the presence of the air zoom under the forefoot. At first, it was annoying because it felt like an air bubble, but then the sensation disappeared. What remains only is the pleasure of running.
Conclusion
I love the Nike Pegasus 34 because they are the same, the same ones I learned to love during each ride, the same shoes I used to run anywhere & in any condition.