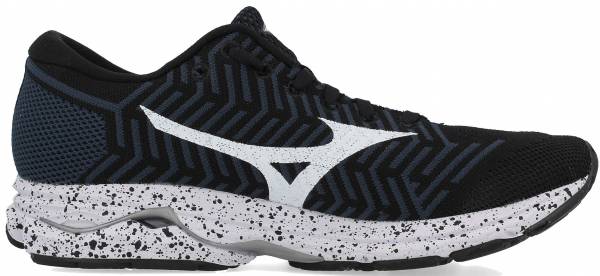 The Mizuno WaveKnit R2 was able to receive welcoming reviews from consumers who desired a road shoe that offered form-fitting support and lightweight performance. The upper unit and the midsole were elements that were focused as they apparently did what was expected of a neutral shoe. The negative comments were few, and only focused on some fit issues.
---
Verdict from 10 experts and 100+ user reviews
5 reasons to buy
Most testers felt that the Mizuno WaveKnit R2 had a lightweight build that was suitable for long-running sessions.
Many people liked the eye-catching design and colorways of this road companion.
The heel and forefoot cushioning were deemed highly effective by several running enthusiasts.
Some consumers welcomed the knitted upper, stating that it was flexible and breathable.
The flexibility of the midsole unit was lauded as it accommodated the natural movement capacity of the foot.
2 reasons not to buy
Some reviewers feel the midsole of the shoe lacks bounce.
A few users have observed that the shoe does not offer a secure fit as expected.
Bottom line
The Mizuno WaveKnit R2 was able to receive welcoming reviews from consumers who desired a road shoe that offered form-fitting support and lightweight performance. The upper unit and the midsole were elements that were focused as they apparently did what was expected of a neutral shoe. The negative comments were few, and only focused on some fit issues.
Best price from 50 shops
We earn affiliate commissions at no extra cost to you when you buy through us.
27% say it's too small, 73% say it's true to size.


Our reviews
Running Warehouse summarized the Mizuno WaveKnit R1 – the initial version of this shoe as, "An everyday running shoe that offers firm yet reliable cushioning."
Does this summary of the R1 model also hold true for R2 (version 2)? See the verdict below.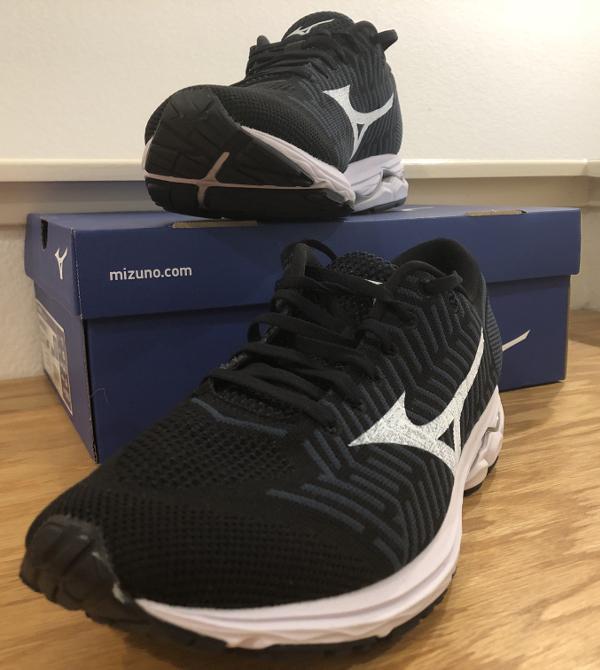 What is the WaveKnit R2?
As the Mizuno WaveKnit R1 was an alternate version of the Wave Rider 21 – the same shoe but with a modified upper, so the WaveKnit R2 is the Wave Rider 22 with a different upper. In the words of the manufacturer, "Mizuno introduces WAVEKNIT R2."
With performance enhancing knitted wave construction on the upper, this innovative material provides a breathable, natural yet dynamic sock-like fit thanks to its unique stretch and hold ability."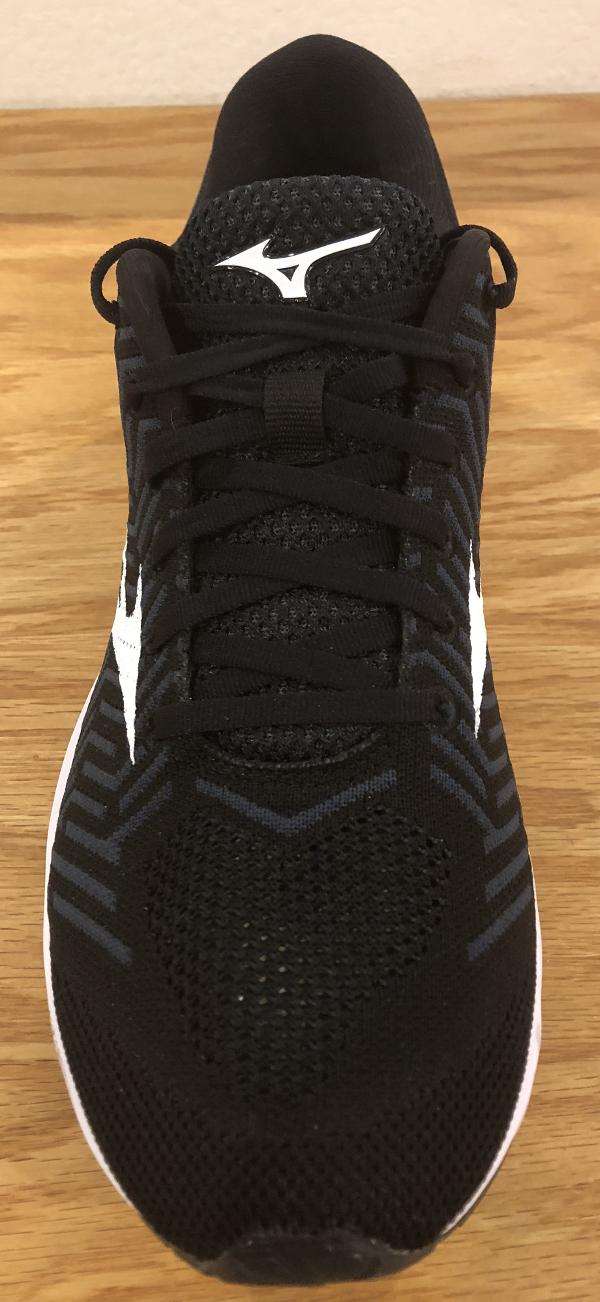 The WaveKnit R2 weighs 10 ounces in the men's version – slightly lighter than the 10.3 ounces for version R1, and 8.7 ounces in the women's version. Both versions have a 12mm ramp or heel drop.
The men's and women's versions both come in four colorways. I received the Black and Ombre Blue sample, which is stylishly attractive. So much so that's it's quite tempting to keep the shoe on while going about the day after completing a run or two.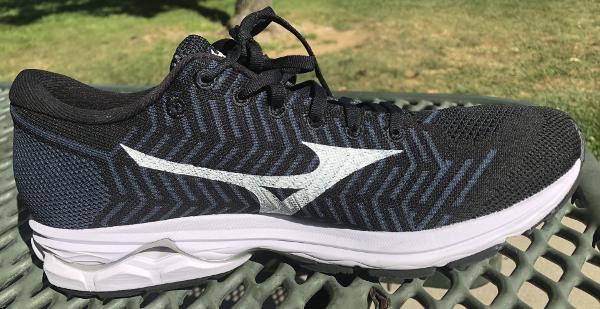 As a close relative of the Wave Rider 22, the WaveKnit R2 uses the Mizuno Wave plate system that "combines cushioning and stability." The R2 also utilizes the U4icX "performance midsole with [an] exaggerated lateral crash pad for a smoother ride."
The heel counter is quite firm, but it's relatively straight and vertical so it does not disturb or rub against the Achilles tendon. (A few models from other manufacturers have produced strangely angled heel counters which are irritating.) And there's plush cushioning around the ankles to enhance the comfort.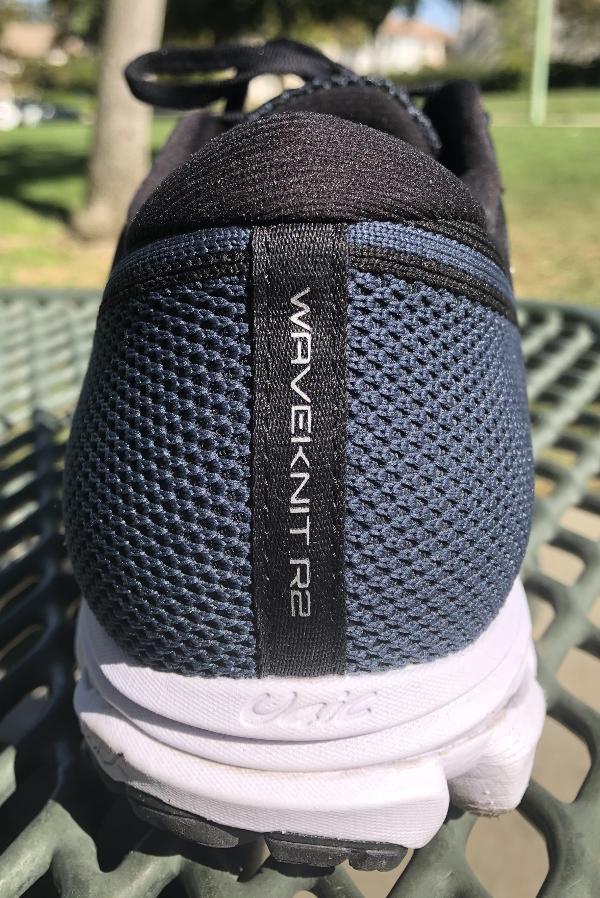 The name
The shoe is the WaveKnit R2. It says so right on the heel counter. This is the name used by Mizuno and Fleet Feet Sports.
Presumably, Running Warehouse will also use this name since it listed the original version as the WaveKnit R1. But here's the strange part… Zappos, Foot Locker, Eastbay, and other retailers list this model online as the Wave Rider 22 Knit. This will no doubt lead to some unnecessary confusion for buyers.
Mizuno, work it out.
The fit
If the WaveKnit R2 provides a sock-like fit, it's a sock that fits snuggly.
This is not a problem if you keep in mind that this new model fits a half-size smaller than normal Mizuno sizing. For most this will mean ordering the shoe in a full size up from one's walking shoe size.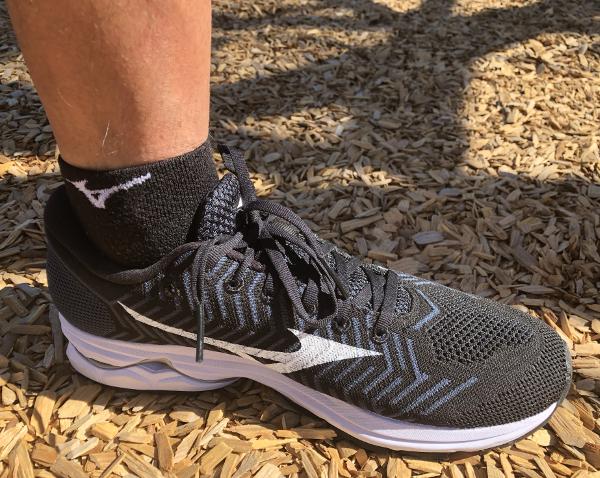 When one first puts on the R2, it may feel just a tad tight, especially over the top of the foot. But the knit upper has some give to it, which is felt after putting some miles on it.
At that point, the shoe's fit feels close to perfect – as if it had been created just for your foot. That's when you realize that, yes, the R2 is unique in the ability to both hold and stretch.
Another point is that the shoe fits in a comfortably snug fashion, especially around the mid-foot, as you pick your feet up. But when your feet hit the surface, you will notice that the knit upper expands away from the toes, both laterally and medially. It results in a unique but extremely workable fit.
The WaveKnit R2 is wider in the forefoot than some comparable shoes, such as the Adidas Adizero Boston 7, and this combines with a flared sole to enhance a stable platform.
The tongue
We appear to be entering an era when overly thin and mobile tongues on running shoes are becoming an issue.
This is not a big concern with the WaveKnit R2, but the tongue does slide down when you remove the shoe. When you put the shoe on, you need to make sure to pull the tongue all the way up before securing the laces.
On the road
Regardless of the surface, the WaveKnit R2 provides sufficient stability for very mild, borderline to moderate pronators.
But the stability provided by the patented Mizuno Wave Plate system does not interfere with a runner's natural foot strike. And it permits one's feet to move straight ahead – the feet are not pushed inward or outward.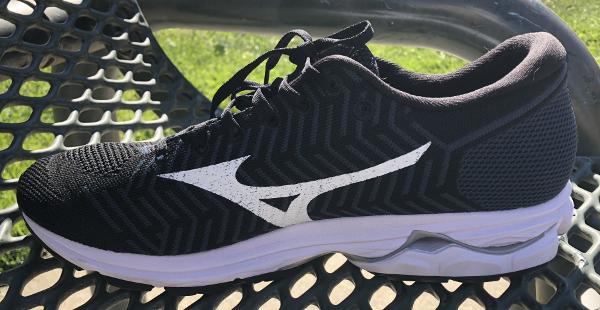 Because of the high ramp/heel drop, the R2 can be readily used by heel strikers. And it does not present difficulties for mid-foot strikers. However, running on one's toes in this shoe is problematic. So I doubt that pure forefoot landers will place this model on their holiday shopping list.
On a rubberized track, the R2 provides a nice smooth ride, and the shoe feels lighter than its listed weight. The interesting thing is how different the shoe feels initially, and after a period of break-in and wear.
The two natures of the WaveKnit R2
At first, the WaveKnit R2 seemed to offer a soft but supportive feeling while walking. However, it provided a firmer ride than the Wave Rider 21 while running.
Specifically, the shoe felt firmer in the forefoot. But this was not the case many miles later. It appears that the R2 requires a break-in period for its true nature to show itself.
The more you wear and run in the R2 the better it feels underfoot. A somewhat stiff and perhaps overly firm shoe transforms itself into a very responsive shoe with excellent bounce-back (energy return) on almost all surfaces, especially hard ones. So a shoe that feels "Just OK, but…" becomes a "This feels great!" shoe.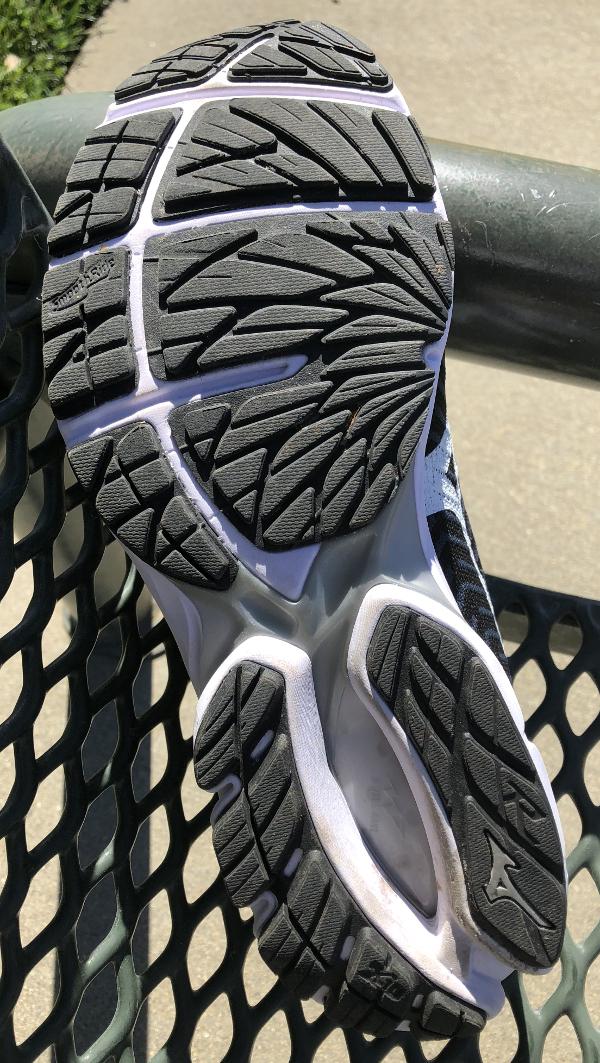 The heel drop issue
The Wave Rider series has, of course, been Mizuno's most popular and successful line.
But while using the WaveKnit R2 I could not help but ponder whether the 12mm drop is too high. This does not mean that I'd like to see Mizuno drop the ramp to 4mm, as they did on the Wave Sonic.
But I think it's intriguing to consider what would happen if Mizuno offered the Wave Rider/WaveKnit in an alternate drop – say 6, 8 or 10mms. Frankly, I'd love to see an 8mm ramp version which I think would quickly broaden the shoe's appeal to those who will never ever consider a shoe with a 12mm drop.
Mizuno, by the way, uses an 8mm drop on its excellent Wave Shadow performance trainer, so the company would not have to experiment with something completely new.
The verdict
At $130.00, the Mizuno WaveKnit R2 is not an inexpensive trainer. And it is not a shoe that works its magic during a test run at a specialty running store.
Run down the block in a new pair and you may be concerned that it feels clunky, somewhat heavy, and a bit stiff – especially up front. But all potential issues disappear with use. Then it becomes, yes, an everyday running shoe.
The WaveKnit R2 is not just a functional daily trainer. It is also an attractive shoe that some strangers will assume is a "lifestyle" (non-running fashion) shoe. Well, it is definitely a running shoe; one that becomes an old friend quite quickly.
The R2 grows on you like a popular song. It's a shoe that one does not rush to take off after a satisfying run. Go ahead, wear it to the grocery store, the coffee shop, and the local pub!
Like most Mizuno shoes, the WaveKnit R2 appears to be highly durable and protective. So the price is not unreasonable when you consider what it offers and delivers.
Highly recommended.
The Mizuno Waveknit R2 comes in 4 colorways - Black-Ombre Blue, Flash-Maize, Folkstone Gray-Black, and Nautical Blue-Red Orange. The entire upper of the shoe is comprised of the Waveknit material featuring geometric designs along the sides.
What I like about the look of the shoes is that they weren't flashy or exotic looking. They looked like a pair of regular running shoes, and they don't draw attention.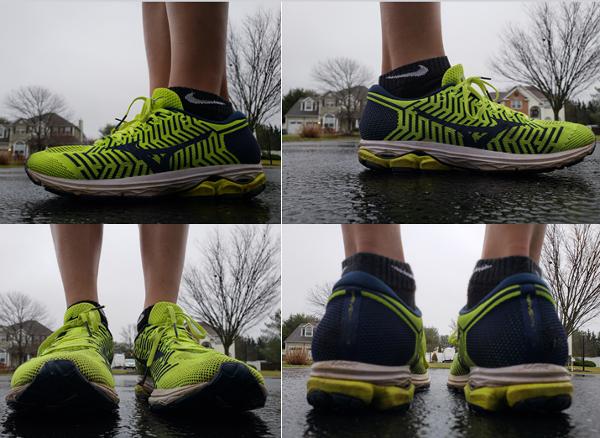 Comfort
By far the most comfortable thing about this shoe is the knit upper. The knit upper made it feel like I was wearing a pair of socks.
The upper also formed to my foot and had enough stretch not to squeeze my foot too hard. I've haven't used these shoes in hot weather yet, but I haven't noticed any breathability issues with the upper.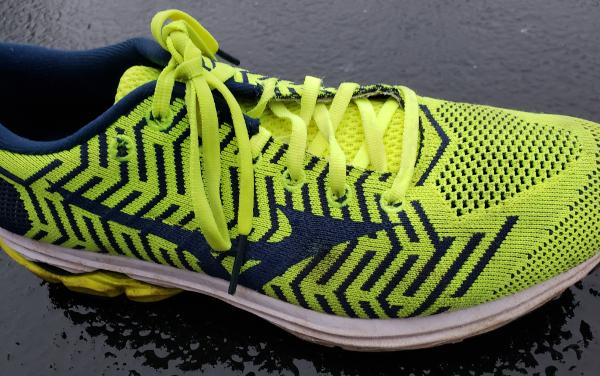 Fit
For the fit of the shoe, I had no issues with it at all. The Waveknit R2 fit true to size and comfortable. For the fit, there was no need to break in the shoe. Right out of the box, the upper was comfortable and my feet fit perfectly.
The shoes also came with extra eyelets for a runners knot. I didn't experience any heel slipping, so I didn't need those extra holes. I did, however, have to break in the cushioning of the shoe. I'll elaborate on that in my performance part of my review.
Durability
The surfaces I used the Waveknit R2 were on road and track. I also had to mostly use these shoes when it was raining because it's been raining a lot recently where I live.
With all these conditions in mind, I would say the WaveKnit R2 will last a very long time. I used these shoes for a bunch of intervals and road running, and I don't see any physical damage or feel like the cushioning is losing its spring.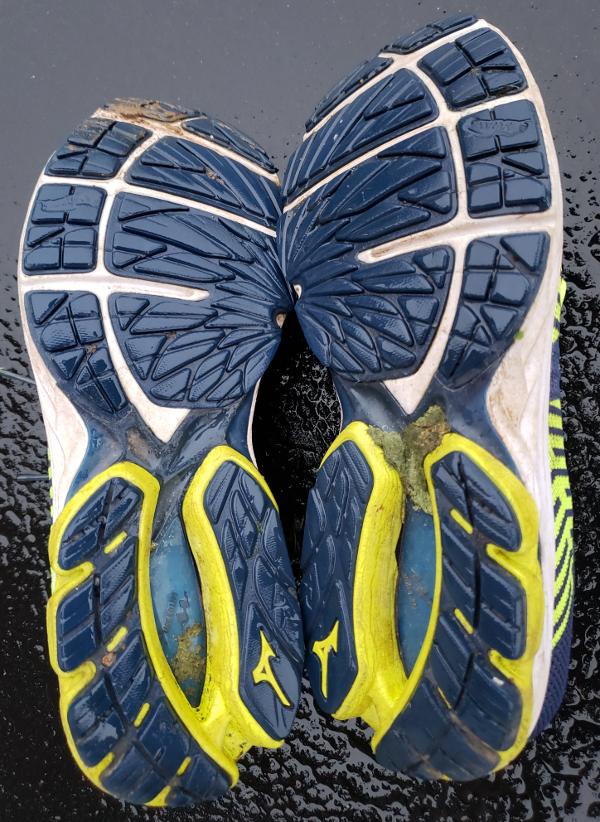 Performance
The cushioning is pretty firm, but that added to the responsive feel of the shoe. For easy runs, the cushioning was soft enough for about four to five miles but any more than that I started to hate the firm cushioning.
On longer distance runs, the cushioning just felt too blocky and stiff. I tried getting used to it, but eventually, I developed some forefoot pain so I gave up on using the shoes for long-distance running.
The tradeoff for the firm cushioning is that the shoe is very responsive. Each step felt like I was being propelled forward. That type of feeling was perfect when I used these shoes for tempo runs and intervals. It just felt easy and natural to go fast in these shoes.
I had to use the Waveknit R2 a lot in the rain and noticed that the traction was pretty good. I was doing a tempo in the pouring rain and even when going fast I didn't notice any slipping or any issues with the road being slippery.
My complaint about the shoe is that when I first used them, it felt awkward to run in. It felt like the midsole was really blocky. The combination of the high drop and blocky feeling made the ride at first feel weird. I can't really explain it, but it just didn't feel right.
The feeling was also exaggerated when I tried walking in the shoes. It just felt like the heel was way too high up. After running in the shoes for a couple of days, the ride of the shoe felt OK.
My next complaint is that the cushioning is going to be really firm before you break it in. Even after breaking the cushioning in, it's still a little too firm to use on long distance runs.
Pros
Comfortable knit upper
Fits true to size
Colorways look nice
Responsive cushioning
Good for faster-paced efforts
Durable
Cons
Cushioning is too firm for runs longer than five miles
The blocky feeling when first running in them
A high heel to toe drop
Recommended Use
The Mizuno Waveknit would be the greatest pair of everyday trainers if it weren't for cushioning being too firm and the high heel to toe drop. The shoe is comfortable, looks good and has a great responsive feeling, but the ride for me is just a little too awkward and firm.
Where this shoe is going to excel is for fast-paced efforts; the responsiveness of the shoe makes it a no brainer to use it for fast things. On that same note, due to its firm cushioning, I'll only be using them for short easy runs.
As a fairly new contributor to RunRepeat, my initial reviews were in line with my typical preferences: lightweight, ten to six-millimeter heel-toe offset, and springy.
Therefore, when I had the opportunity to try out the Mizuno Waveknit R2, I felt like I could give an unbiased review. Due to the 12mm heel-toe offset and a relatively high amount of cushioning, I thought that the shoe might feel a bit too cumbersome.
However, due to the high quality knit upper, durability, seamless design, and overall unity of the shoe, I enjoyed the shoe a lot more than I anticipated. With that said, there are still some drawbacks for me with regard to the high heel-toe offset and overall rigidity of the shoe.
Ride
Back in November, I had a minor hip injury as I was training for the Philadelphia marathon. When I began to ease back into running in December, the Mizuno Waveknit R2 was my shoe of choice. I knew the shoe was well cushioned, stable, and smooth.
My first several runs were done on the treadmill during physical therapy. The shoe had a smooth ride and glided seamlessly from heel-to-forefoot. However, this is one of the issues I had with the Waveknit R2.
I typically run on my midfoot rather than my heel, and I feel like the heel on this shoe often hit the ground before I wanted it to. It caused a slight hiccup in my stride, but the cushioning felt nice and soft but not too soft.
Mizuno's U4icX midsole is designed for "optimal shock attenuation, durability, and a superior ride" seemed to do a great job. After 60 miles, the ride still feels fresh, and I do not think it will breakdown anytime soon. The shoe felt good even as I came back from injury and did not cause me any issues.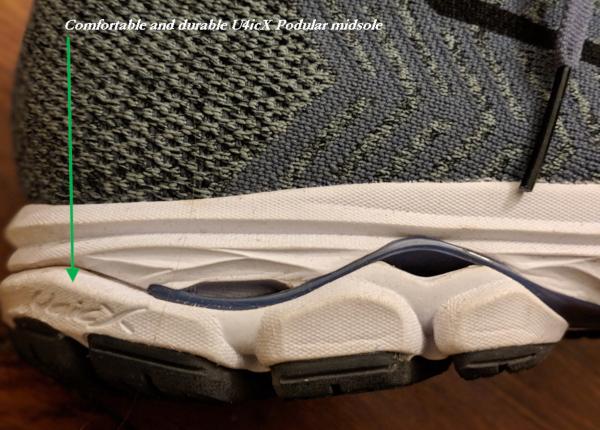 Quality
Perhaps the most impressive thing about the Mizuno Waveknit R2 and something that sets this shoe apart from many other Mizuno shoes is its premium touches and streamlines upper at a modest price point of $129. This is the best upper that I have ever tried on a shoe.
At first, I felt like it may be a little heavy, but I was never bothered on my runs. The upper is made out of a cozy knit material that feels clean, durable, and suitable for most runs. There are no plastic overlays or irritating stitches that may cause discomfort over a long run.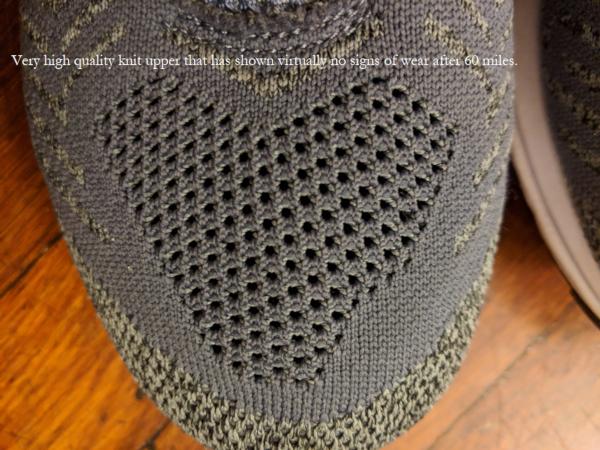 The upper makes this shoe incredibly comfortable, and beyond that, the midsole and outsole seem to be made of high-quality materials as well.
As you can see in the pictures, the upper and outsole of each shoe are in near perfect shape after a little more than 60 miles. I'm not sure if this is because most of my runs have been on the treadmill, but it's still impressive.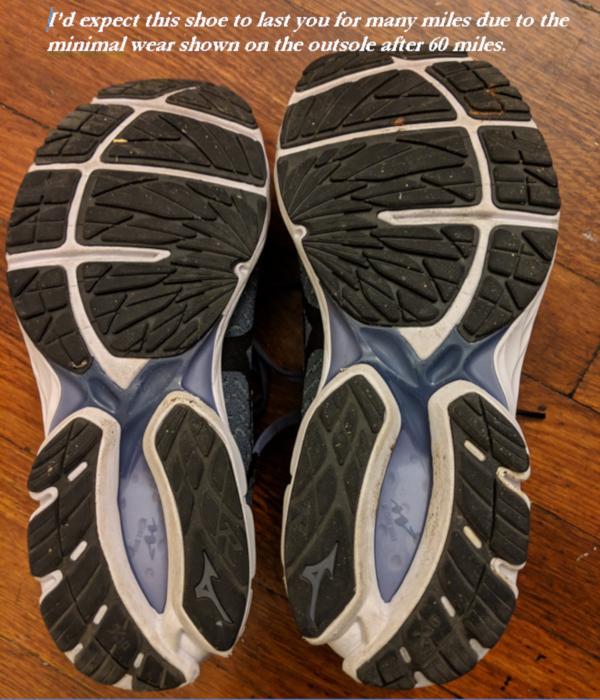 Sizing
The shoes fit my foot perfectly (9.5 men's). They did not pinch near my pinky toes where I usually have some discomfort, and they had the perfect amount of space between my big toe and the end of the shoe (1/2 inch). I would recommend buyers to follow their usual size for running shoes.
Looks
This is one of the first Mizuno shoes that I have truly loved the look of since the Mizuno Sayonara 2. The knit looks premium and streamlined.
Many Mizuno shoes still have thick logos and heavy overlays, but the company abandoned that practice on the Waveknit R2, and it was very successful. Knitting is beautiful- well done, Mizuno.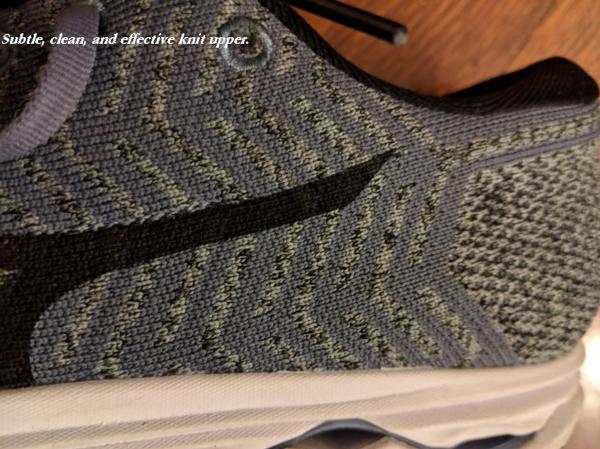 Conclusion
The Mizuno Waveknit R2 is a solid shoe without any major flaws. However, it lacked some excitement. I never wanted to pick up the pace or loved how the shoe felt. But it did its job, and it did it well.
The upper makes it an extremely comfortable shoe, and the durable midsole and outsole should last you for a long time. This shoe would work very well as a reliable daily trainer that works especially well for heel strikers.
Over the past several years, knit uppers have been popping up on athletic shoes from a variety of different brands. Not to be outdone in this category of athletic technology is Mizuno.
Their offering of the Waveknit 2 running shoe certainly catches the eye, but does it hit the right marks?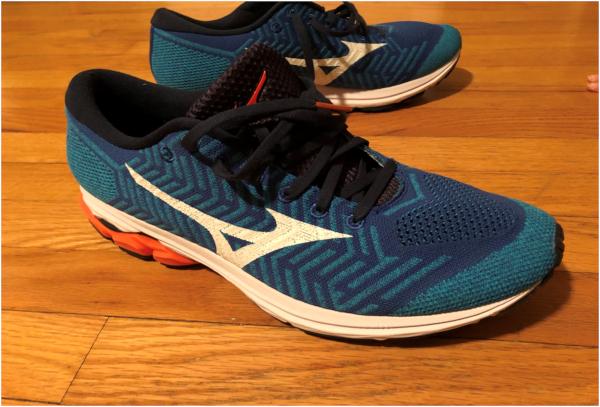 First take
The first thing that pops out upon seeing the shoe is it's seamless upper. The varied-tension knit pattern elicits a forward motion aesthetic, as a herringbone pattern makes its way from the heel counter to the toe-box.
Teamed up with the Mizuno logo and the Wave Rider 22 tooling, it looks like a shoe that is made to cruise. Clean lines make up the Waveknit 2, allowing for a very cool look overall.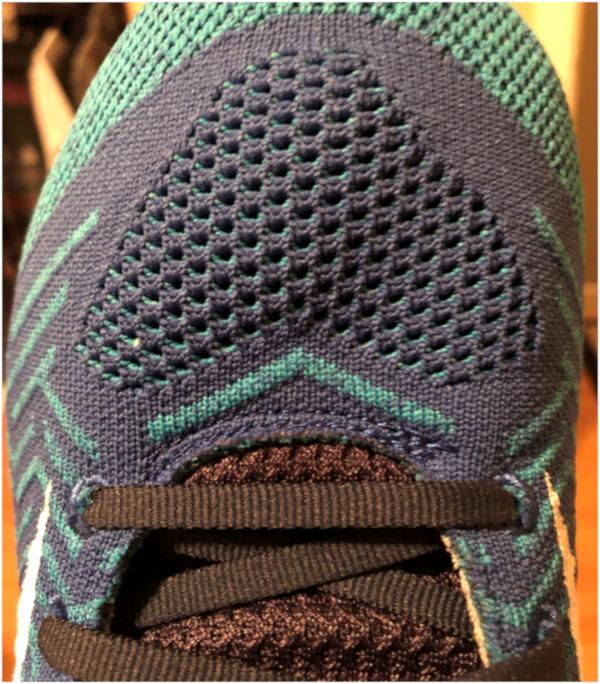 Fit & feels
Upon putting these on my feet for the first time, I noticed how well the knit upper conformed to and supported my foot. There was no buckling of the material at all, and there was enough space in the toe-box to wiggle my toes without slippage.
One aspect about Waveknit 2's upper is the tongue that was traditional, rather than gusseted like other knit trainers I've worn. This made for a comfortable lacing set-up, as the tongue was padded to reduce lace pressure.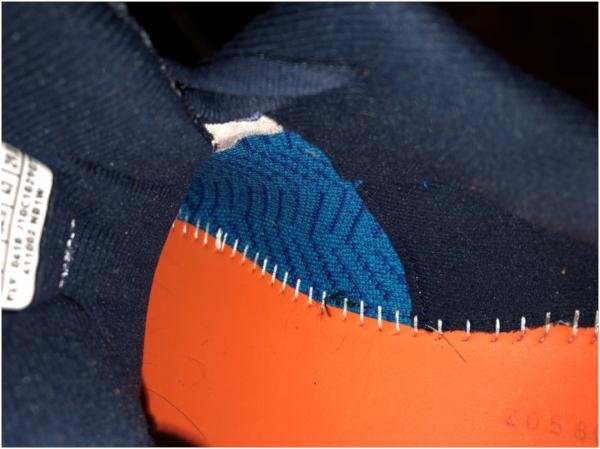 Another comfort feature is the padded collar, which helps hold the heel firmly in place. With the traditional aspects of running shoes blended with supportive knit technology, Mizuno nailed the fit.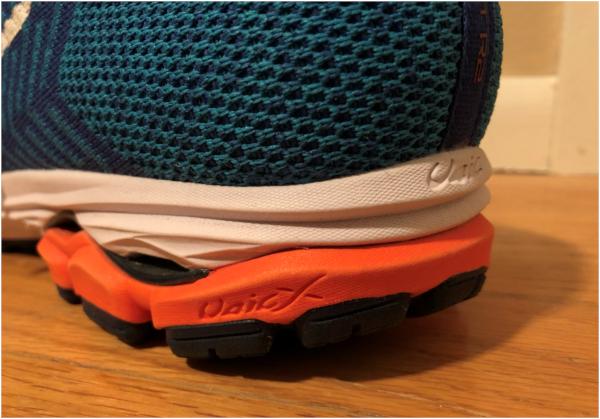 Cush
The sole of the Waveknit 2 is the same as the Wave Rider 22. The midsole is a variation of EVA material called U4ia, which is responsive and fairly lightweight.
Wave technology is implemented in the transition zone from mid-heel to the front of the arch, serving as a sort of springboard and torsional stability shank in one.
The heel strike crash pad is comprised of a softer compound called U4ia-X. Having a dual density midsole is rarely a bad thing, and in the Waveknit 2's case, offers a forward moving cushion that rivals most of Mizuno's competitors.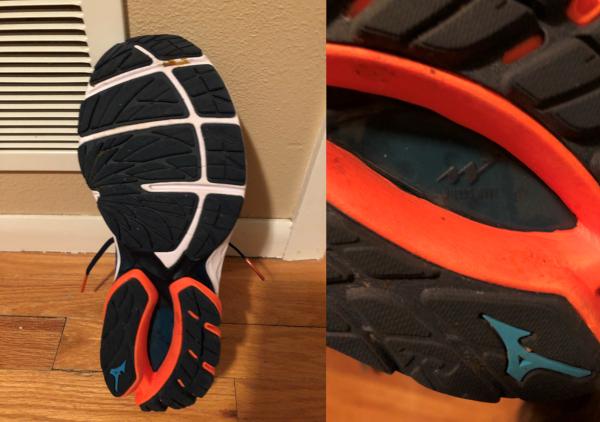 On the Road
Time to run. After the first few miles, the Waveknit 2 felt very good. Lightweight, cushioned, and comfortable.
After deciding to kick up my tempo a bit, I noticed a change — it responds like a sports car. When you're just going a normal speed on residential streets, it feels like a normal car. But when you have a chance to open it up on a freeway, it's a different story - that's what the Waveknit 2 felt like.
Something became more active in the sole like it wanted me to keep going faster. The exact performance features of the shoe only became fully realized when I was kicking in high gear. Now I know why the Smoothride rubber outsole has a wing-inspired traction pattern. These babies were made to fly.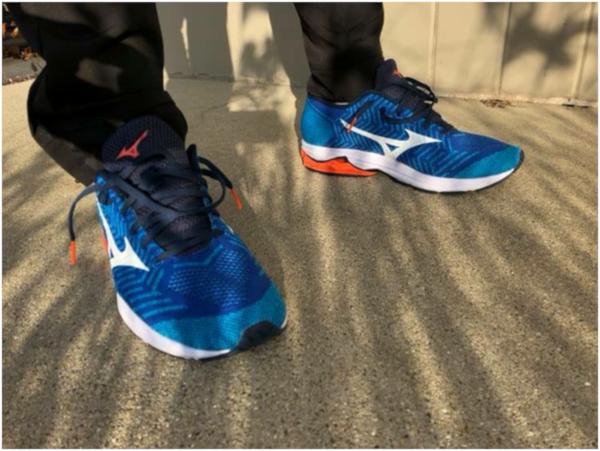 At no point in any of my runs did the upper feel loose or hinder me with hot-spots. It's true to size and almost feels like a running sock. Cornering was a little dicey, but that's likely because running shoes are meant only to move forward.
Security after the lace-up is key, and I didn't have to mess with the tension of the laces, due to the flexibility of the knit upper. The stitched perimeter around each eyelet was a nice touch, too, and the laces stayed tied throughout.
For the better part of my time running in the Waveknit 2, things went very smoothly. My tempo was comfortably quicker. However, after a few weeks, it felt almost as if there was a gradual collapse in the forefoot cushioning.
What support was initially there decreased, and the ball of my foot felt fatigued. My knee also started to feel mild pain and discomfort, but I don't know if the shoe itself is to blame, or the increase of my intensity.
Last Take
All in all, I would view the Mizuno Waveknit 2 a successful entry in the realm of running shoes. It's always cool to try out new brands and models, and this particular model was a breath of fresh air.
Though I didn't experience a revelational run as I have with perennial favorites like the Brooks Ghost or the Saucony Kinvara, I am eager to see what else Mizuno is coming for us in the future.
Through my years of running, I have often heard that Mizuno is one of the best running shoe brands, but somehow, I never got around to trying out a pair.
Why? Well, first of all, they are quite expensive. They are also not easy to come by, and their design seems a bit off compared to some other brands—they are not easy to combine with nicer casual clothes.
As years went by, I kind of crossed out Mizuno. But, last year, while walking around a sporting goods store, from all the shoes displayed, one stood out: te\he WaveKnit R2.
After seeing that shoe, I just knew I had to try it out. A couple of months later, as if destiny wanted it, they were 50% off, so I just went ahead and bought them.
Usually, I wouldn't recommend making a blind buy when it comes to running shoes. But, this time, it was a bullseye.
Design
The design of the shoe is simple, but its simplicity makes it is beautiful. There is nothing to add and nothing to subtract.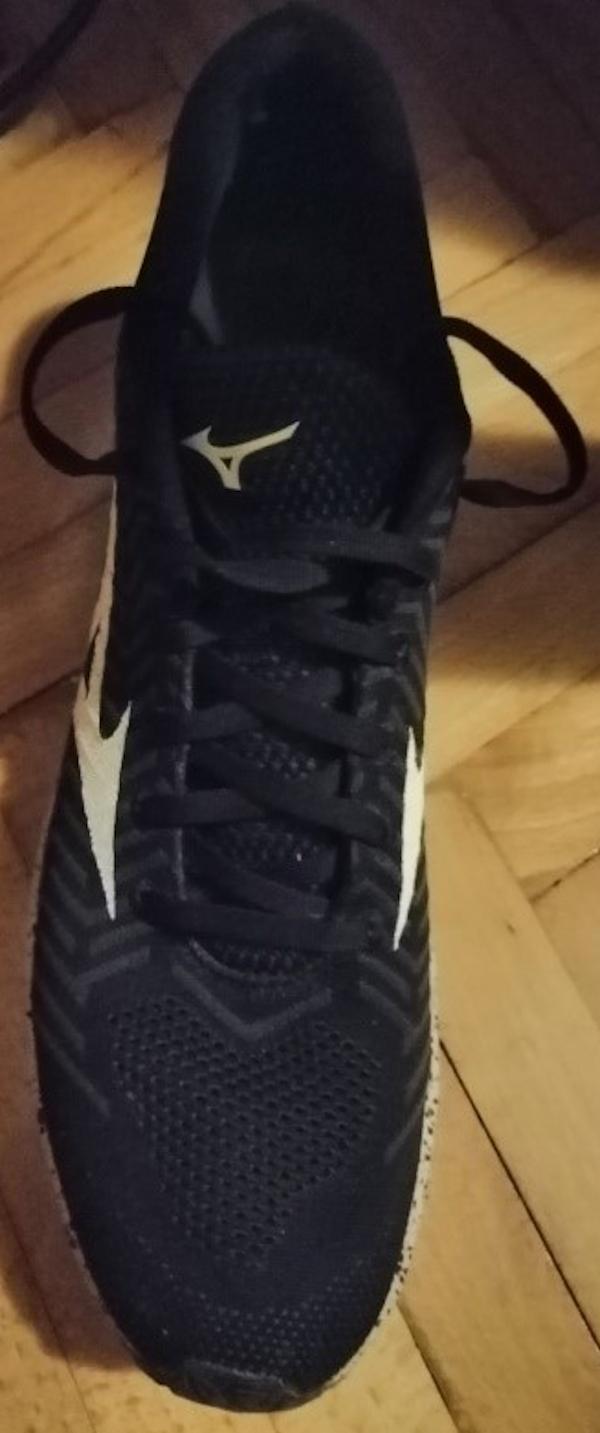 They come in one colour, but when you look closely, some cool patterns break the monotony. The sole is white with little black specs, a mixture of old school and modern.
Sole
It is excellent, very bouncy, and soft. It has the right amount of cushioning.
It also uses Mizuno's wave plate Technology. It is not a new technology, but that does not mean that it's bad.
Quite contrary, it keeps your feet nice and safe from impacts. A lesson for other brands: "if it is not broke, don't fix it."
Fit
The fit is excellent and the knit upper works like your favourite sock. There is plenty of room and air for your toes.
However, the heel cup is old fashioned and could use a bit more cushioning to secure the foot from moving around
Traction
R2 is great on road but not so good off-road. I would use them on pavements since there is a hole where the plate is that tends to pick up rocks.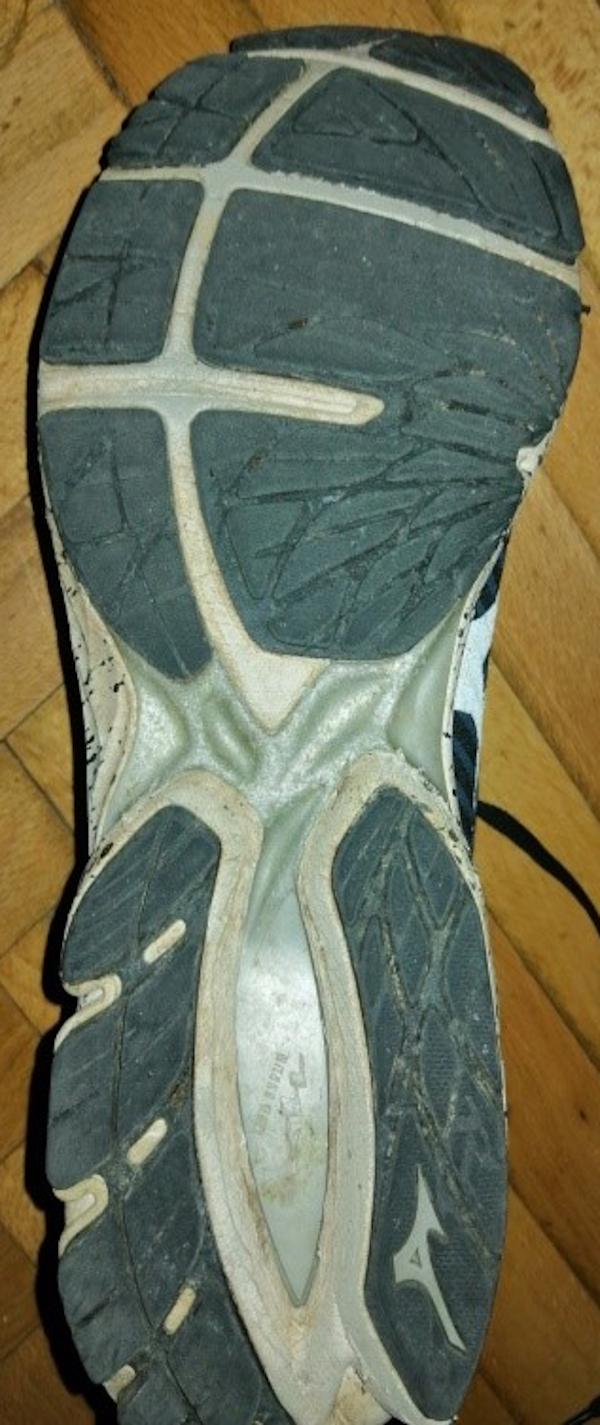 Ride
The heel to toe offset is 12 mm. That is a little high in today's standards. It's one of the things that bothered me the most.
It made me feel a bit insecure during the runs. Also, I would feel slight discomfort in my Achilles tendons
Quality
The quality is excellent. I did over 500 km, and they are still going strong. I believe that they can put up to 800 km, and bear in mind that I am not a light runner.
All in all, Mizuno did a great job but not perfect. The minor issues are that you can't use them off-road.
The heel cup could be better, and the engineers did not find the right amount of stability versus cushioning.
I would not recommend this shoe to runners that do not have a neutral gait cycle. The heel to toe ratio is quite high at12 mm, so they feel a bit wobbly.
Runners who pronate and have problems with ankles might find this a problem, all others who decide to buy them are in for a treat—it is a "workhorse" for neutral runners.
Pros
Excellent design
Great upper
Toebox is just right
Mizuno Wave technology with foam protects the feet from impacts
Durable
Cons
They can be quite expensive
Heel to toe ratio is a bit high, contributing to instability (it would be perfect if the offset were 10 mm)
The hole in the sole that tends to pick up rocks
Heel cup could be better
Usage
Best used for practices and recovery days
Could be used for races also
For neutral runners and heavier runners
Running on pavements
The WaveKnit R2 provides plenty of support and cushioning for larger runners without sacrificing speed, comfort, or style. After putting about 400 miles on my last pair of trainers, I knew it was time to get some new daily runners.
It's been a while since I was professionally fitted, so I went to my local shop where we did a full fitting, plus video gait analysis. No surprise here, I'm a neutral runner with a moderate heel strike. After trying on about a dozen pair of shoes, I settled on the WaveKnit R2, and I'm definitely glad I did.
Precisely what I'm looking for. A daily runner with plenty of cushioning and support as I train for my next marathon.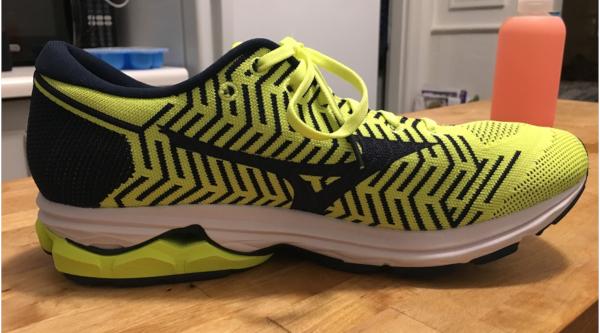 I'm in my late 30's, and I usually put in 20-30 miles a week. It's a combination of a track, street, and trail. I'm 6'2" and 200+ pounds. This body is built for comfort, not for speed.
As a bigger guy who's putting in decent mileage while training for a marathon, I wanted to make sure that I'd have a shoe that supportive and comfortable for longer runs. I wasn't looking for a stability shoe, just something that would help my feet and knees to deal with some extra pounding.
Get to the shoes already
Ok, ok, ok. Here's what I love I love about these shoes. Over the last few years, a lot of the "modern" flagship running shoes have moved to sort of a sock on top of the padding, lightweight minimalist model.
I want to love these shoes. I even own a few pairs. The problem for me, as a bigger guy, is that they feel really "squishy," and while I don't feel like I'm going to bottom out, I don't feel like my joints are supported while putting a bunch of miles on shoes like that.
The Cloadwave is a piece of thermoplastic separating two densities of foam, providing some structure and spring. You can see it here on the lower right.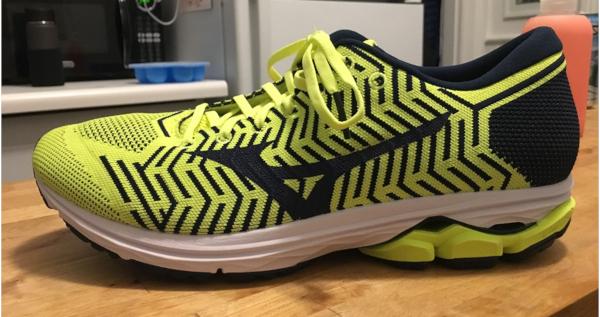 This is where the WaveKnit R2 really excels. The WaveKnit still has a super comfortable, lightweight woven upper, but gives a little more support underfoot with their thermoplastic Cloudwave in the heel portion of the shoe.
Overall, this adds some structure to the heel of the shoe without really being a "structure" or "stability" shoe.
The Cloudwave sole
I find that the Cloudwave feature keeps me from feeling like I'm going to "bottom out" when running aggressively during a track workout and gives a nice springy, but stable feel. On long runs, the Cloudwave helps keep my ankles and knees from fatigue, while still providing a nice glide and plenty of cushioning as the miles add up.
Again, I'd never call this a stability shoe like the Brooks Adrenaline line, but it has more structure than something like an Adidas UltraBoost. All in all, the WaveKnit R2 gives me a very comfortable ride, whether I'm doing 800 repeats on the track or pounding out 10+ miles around the city.
Nice traction and durable sole.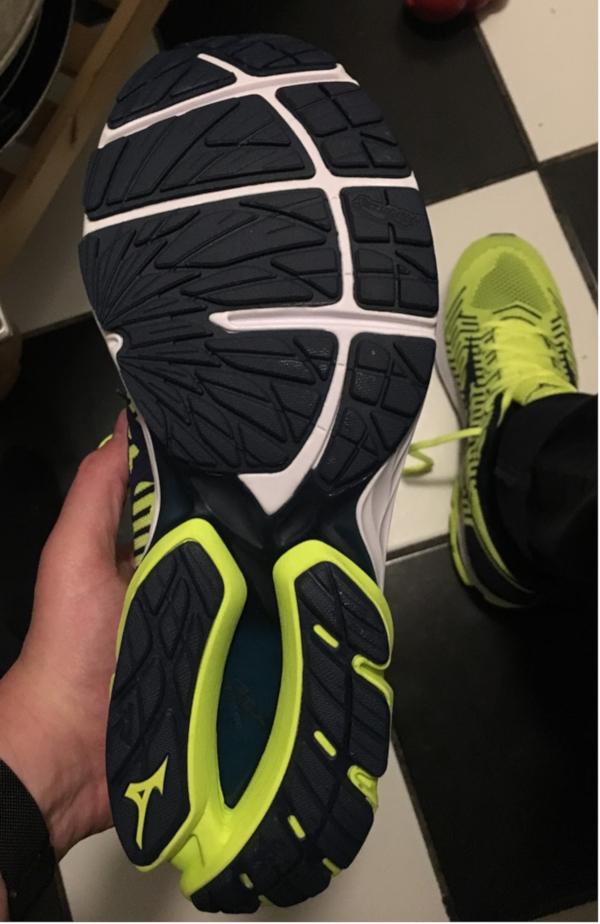 Woven WaveKnit upper
The first shoe that I tried with the Cloudwave feature was the Mizuno Wave Rider 22. While the Wave Rider has basically the exact same sole as the WaveKnit, it has a more "traditional" upper instead of the knit.
Unfortunately for me, the classic upper of the Wave Rider puckered in a weird way that caused it to rub across the top of my feet and toes. My feet are narrow, so if you've got wider feet, this may not be a huge issue for you, but it was a deal breaker for me.
I'm pretty happy with the woven upper of the WaveKnit though. It's very comfortable, breathable, modern, and comes in a variety of colorways. It's not as socklike as some woven uppers that I've tried and also has a tongue and traditional lacing system. This has been a slight drawback for me.
The upper is all a single weave (aside from the tongue), so there are few seams to rip or tear. It also seems more durable than other woven uppers that I've worn and doesn't feel like it will snag or rip.
It's well ventilated and my feet, which tend to run hot and sweaty, feel pretty cool in these runners. Finally, the colorways look great. Did I wait an extra day so I could get the Flash green? Oh yesiree.
You can see the sun pour through the top mesh — sweet, sweet ventilation.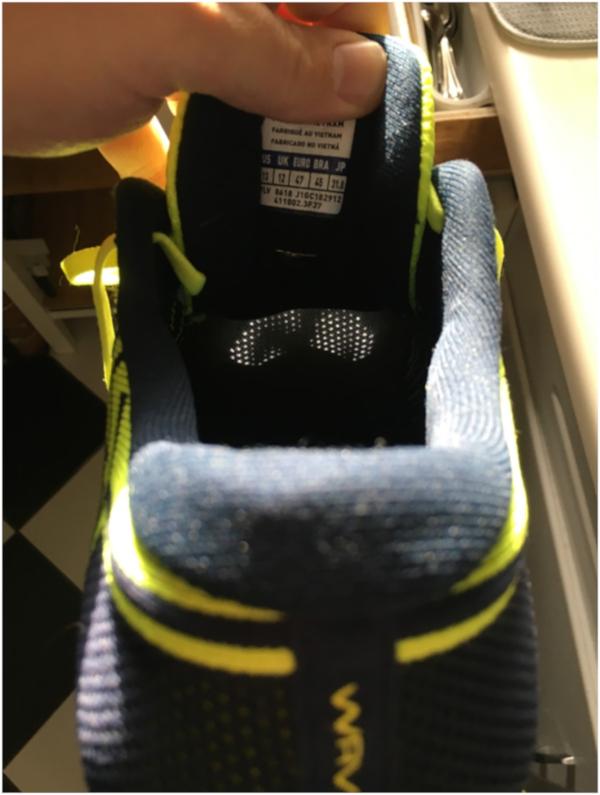 Room for improvement
If I were to improve on these shoes, I'd love to see them with a fully socklike liner and more of a cage lacing system. In their current configuration, I've struggled to find the right lacing tension to keep the shoe both secure but comfortable.
My first few runs ended early with numb feet as I'd laced up too tight. After a week or so, I finally got them dialed in. It seems like I wear these a little loose than I'm used to and the feel a little "sloshy" going down a steep hill.
Wish these babies had a caged lacing system instead of the more traditional system which creates uneven tension on the knit upper.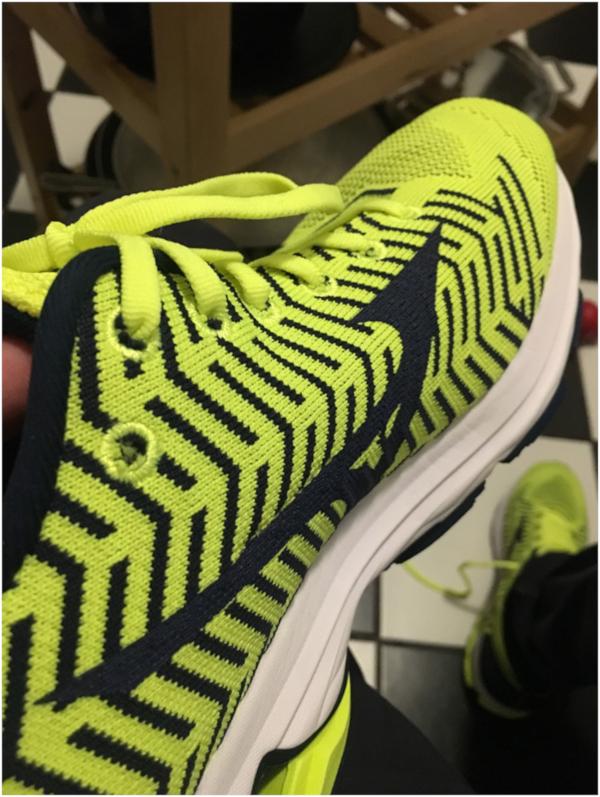 While this definitely is not a deal breaker on these shoes, it's the only drawback to a shoe that's almost perfect for me.
Pros
Really stable, a fast base that's great for Clydesdales or others who find other foam soles too "squishy"
Super light, airy, stylish upper that keeps feet cool and cozy
Stylish
Seem really durable
Overall a nice responsive ride
Cons
Would love to see a cage system for the laces instead of traditional construction for a more secure fit
Final verdict
Would I buy these shoes again? Yes.
Would I recommend to a friend? Yes.
While I struggled a little getting these dialed in, I still think they're a really great pair of shoes that fit my needs pretty darn well. They're comfortable, fun, seem durable, and I'm sure I'll be putting a bunch of miles on them!
Updates to Mizuno WaveKnit R2
The Mizuno WaveKnit R2 is a running shoe that's meant for neutral pronators. It is a road-specific companion that helps the wearer through the activities, attenuating impact shock with a responsive and tech-laden midsole and securing the foot with a soft and breathable upper.
Size and fit
Standard measurements were used when the Mizuno WaveKnit R2 was being made. The typical sizing expectations of runners can be utilized when shopping for a pair. Widthwise, the available variants are D – Medium for men and B – Medium for women. The semi-curved shape of this running shoe's last accommodates the curved outline of the human foot.
Outsole
The heel part of the Mizuno WaveKnit R2's outsole features X10, a highly abrasion-resistant compound that staves off the debilitating effects of continued use. This carbon rubber layer is also meant to provide grip over the surfaces.
The forefoot area has blown rubber, which is also a material that is traction-ready and protective against wear-and-tear. This feature is also ready to provide extra cushioning during the toe-off as it has a malleable nature.
Flex Controllers are placed in the forefoot section. These elements are a means of heightening flexibility and push-off energy, especially when gearing towards the toe-off phase of the gait cycle.
Midsole
The Mizuno WaveKnit R2 uses U4ic, a full-length foam that is meant to carry the foot throughout the running session. It is lightweight yet durable, shock-absorbing yet responsive. Its flexible construction adheres to the foot as it transitions from the heel to the toe.
A soft wedge called U4icX is added to the heel part of the midsole. The purpose of this component is to protect the back of the foot from the impact forces during the striking phase. This midsole technology is also used in the Wave Inspire 15 and other popular running shoes from Mizuno.
SmoothRide is a midsole configuration that involves anatomically-tuned curves and gender-optimized grooves. Such a design allows runners to experience a 'smooth ride' during the running session.
A thermoplastic piece called Cloudwave is placed in the heel part of the platform, sandwiched between the U4ic and U4icX. This proprietary technology is tasked with attenuating impact and adding a bit of spring to each step.
A Premium Anatomical Sockliner is placed right above the main midsole. The add-on provides a bit more support to the entire underside of the foot, including the curve of the arch and the gap between the toes and the ball of the foot.
Upper
Wave Knit is a fabric that is likened to woven cloth. It offers a form-fitting wrap that is also breathable. Pores on its façade are made to welcome air into the foot-chamber, thus ensuring a well-ventilated running experience.
Some parts of the upper (the sides and the heel) have a denser weave than the rest of the façade. The purpose of this construction is to create pseudo-overlays that would help in securing the foot and keeping it in place. The slightly dense patterns don't impede breathability.
Rankings
How Mizuno WaveKnit R2 ranks compared to all other shoes
Popularity
The current trend of Mizuno WaveKnit R2.