Prior to continuing my review, I would like to give some background information for you to better assess my view. I am a mild overpronator and the Mizuno Wave Shadow is the first shoe that I run which do not target overpronators.
As a comparison, I will refer other Mizuno models that I used; Wave Paradox 2 and Wave Inspire 12.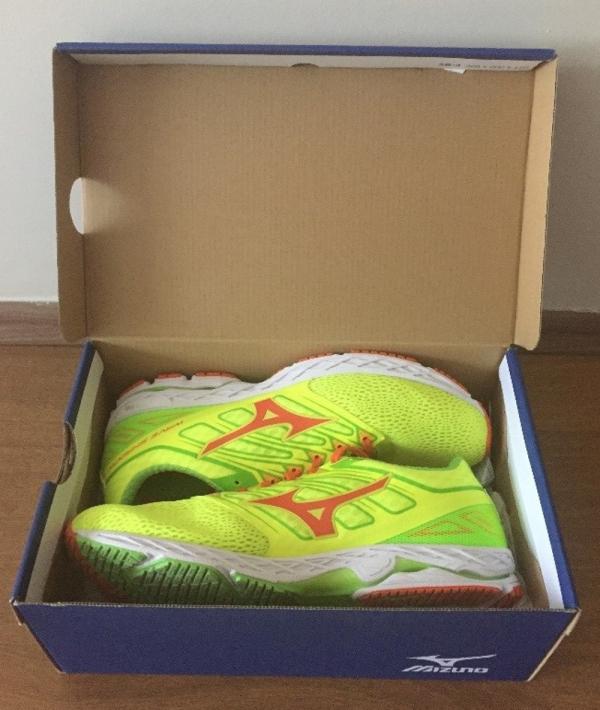 Personally, I like word games. I am not sure whether it is intentionally or not, but Mizuno did a good job on playing with words by calling it new line "Wave Shadow" and select bright colors for the shoe.
When I think about the "Wave Shadow", I am thinking about a very fast shoe, with some dark, neutral colors. When I open the box, I see the bright yellow, orange, and green. The official name of my shoe's color is "Safety Yellow / Red Orange / Jasmine Green".
The shoe is the next iteration of Wave Sayonara, being a lightweight daily trainer. In the near future, I am expecting to see a full black version of this model as well, maybe as a limited version to match the color with the name.
Since Wave Shadow is the replacement model of Wave Sayonara, it shares similar attributes, around 250gr and using similar wave plate. However, Wave Shadow has lower drop than Wave Sayonara, 8mm vs. 10mm, which I believe is one of the most commonly used drop height in performance shoes.
The Midsole
I am surprised with the performance of wave plate applied in the shoe. It is minimal when compared with that of other models; however, I did not feel discomfort with the lower support I received.

My first couple of runs were mid-distance, about 8-10km each, and the shoe responded very well to my support expectations. After the runs, I did not feel any pain in my knees or on my hip.
It is very clear that I felt the ground more, especially on the front part of my feet. This is a result of the lower drop of the shoe and this can create some disturbance if you would like to take the shoe for a trail run.
I ran on an asphalt surface, therefore, cannot comment about using it on concrete or any other surface.
Fit
The fit of the shoe is very predictable after I spent only a couple of minutes examining it. It gives you the feeling that it can provide you enough comfort.
I picked exactly same size as my other Mizuno models and the shoe fits very comfortably. It also fits secure and close enough to the feet that you do not really feel the shoe when you put them on.
The toe box is not narrow and provides enough space and comfort.
Responsiveness
In the midsole, Mizuno used a new material called U4icX, which creates a more bouncy feeling. I am not a material expert but I think this feeling is a result of the new material being softer than other materials in other models.
The wave plate used in Wave Shadow is broader than I expected from a performance shoe, and it created enough support and guidance to me. I did not feel the stiffness of the wave plate, which I felt in other models, and it provides increased responsiveness.
The Outsole
As an outsole material, Mizuno used X10 rubber.
The sole of the shoe surprises me. I cannot decide whether if it's in a positive or negative way.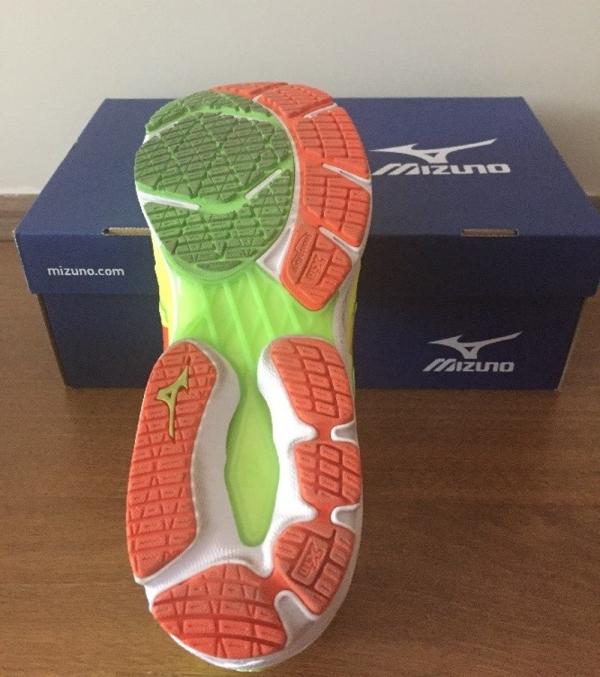 The outsole has the design of a trail shoe with its small pods of rubber. At first, I think that such a design has to provide additional traction. Therefore, I decided to test this on a wet surface. During this time of the year, it is difficult to find a rainy day where I live, so I looked for some wet surface to test the traction.
Even the test is limited of distance and repetition; I do not feel additional traction. However, to have a final verdict on this topic, I trust other people who have the chance to use the shoe on rainy days.
Durability
The durability of the outsole meets my expectation; after I cover approximately 50km, I did not see any wear.
Verdict
As a conclusion, I can easily say that Wave Shadow is the one, which I will pick for my tempo runs. Wave plate provides enough stability and guidance for me during middle distance training, and cushioning was very satisfactory.
The price level is very acceptable, 110 USD, for a brand which creates shoes that last up to 900-1000km.