People were generally receptive of the Mizuno Wave Shadow 2. They liked this neutral road shoe's lightweight construction, the vibrant colorways, and the traction-ready outsole. On the other hand, the width was considered to be a bit inconsistent; while some felt that it was just right, others deemed it a bit tight.
---
Verdict from 6 experts and 100+ user reviews
5 reasons to buy
The upper unit offered a snug yet accommodating fit, several people noted.
Most testers liked the color schemes of the Mizuno Wave Shadow 2.
The price of this product was deemed affordable by most purchasers.
Runners deemed the weight to be suitably light for long-term use.
The traction capacity of the outsole was dependable, according to a handful of testers.
1 reason not to buy
Some consumers felt that the forefoot section was a bit tight.
Bottom line
People were generally receptive of the Mizuno Wave Shadow 2. They liked this neutral road shoe's lightweight construction, the vibrant colorways, and the traction-ready outsole. On the other hand, the width was considered to be a bit inconsistent; while some felt that it was just right, others deemed it a bit tight.
Best price from 50 shops
We earn affiliate commissions at no extra cost to you when you buy through us.
74% say it's true to size.

Our reviews
The overall statement I have about this shoe is that it is everything I want in a shoe with no fluff. Just enough support, just enough tread, and a solid foundation that will stand against any rival whether you are talking function, fit, or life (how many miles this will last).
The Wave Shadow 2 is a neutral everyday kind of shoe that weighs in just shy of 9oz and has a heel to toe drop of 8mm.
The Wave Shadow 2 - glad someone has fun with the colors!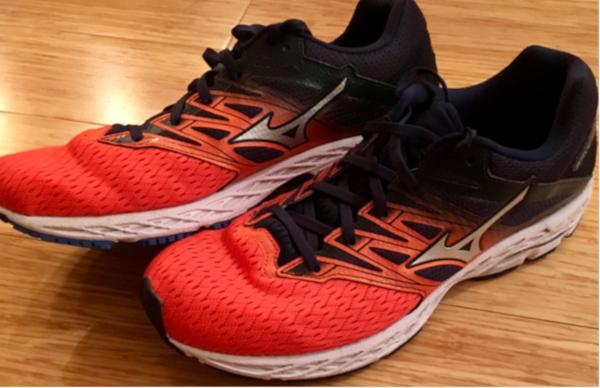 That means that this shoe is as light (or lighter) than its competitors. Unless you just prefer to heel strike and you land quite heavily (meaning you almost stomp when you land), then there is enough cushioning and supportive tread to allow for any type of runner to land in any way and not feel like their gait or pace is being hindered.
The Shadow 2 breathes decently while also wicking moisture away from the foot. The tongue stays in place without any tomfoolery and the heel never once rubbed me raw or created anything that distracted from my natural gait.
Reviewing from the ground up…
Tread
The tread of Shadow 2 is not overly stated nor is it too little. The design lends well to the rolling of the foot from front to back but it is not so soft that gravel, road, or brick bothered me in any way.
80 miles and the tread looks great!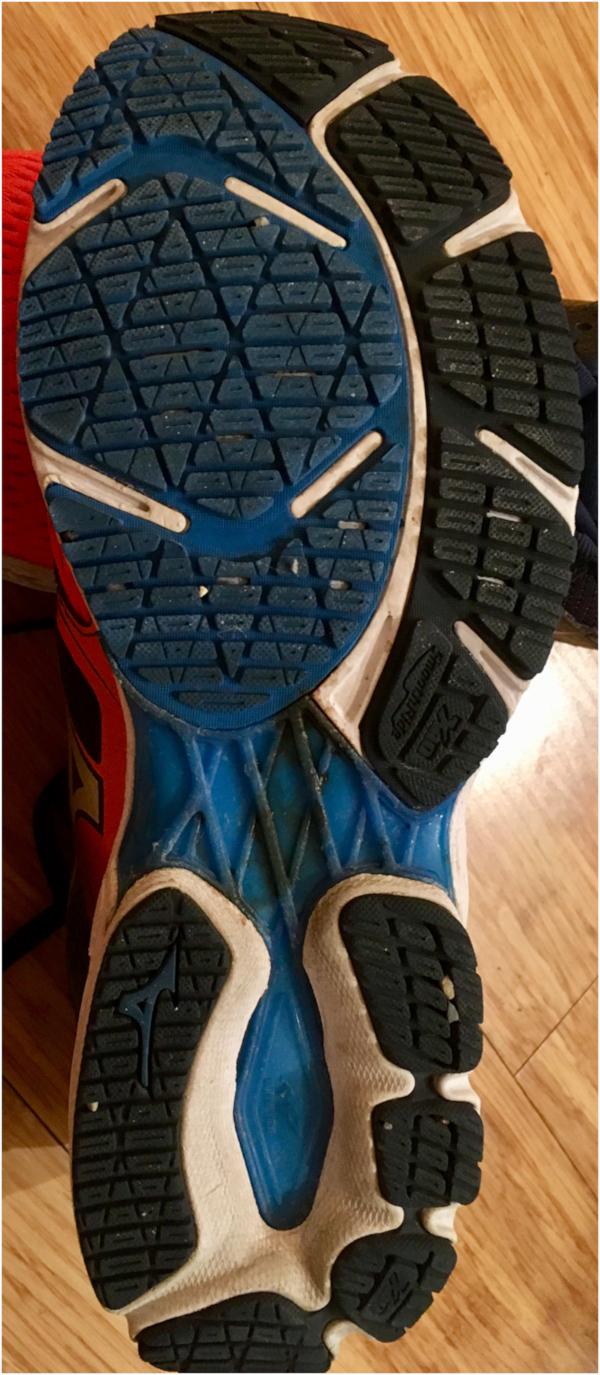 That smooth foot roll that I mentioned is known as the transition, and from the moment I wrapped my feet in these fun colored shoes, I was well aware that I was able to move naturally.
Notice the transition section in the midfoot area.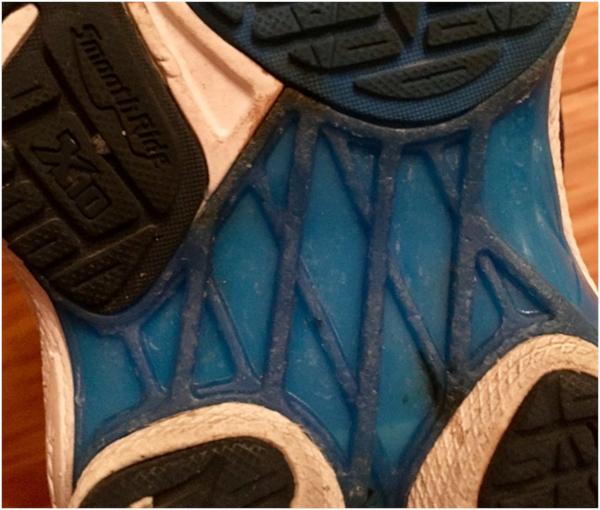 Notice the hard looking blue spot in the middle of the tread in the picture? That allows the smooth transition.
That same hard plastic actually goes into the foam area of the midsole to help protect for heel strikes and provide continued transition despite your landing area of the shoe (somewhat unique and creative for a shoemaker).
These shoes aren't overly treaded and are meant for a lighter and faster response. They seem to lose a bit of grip on some wet surfaces, namely brick.
Almost every shoe I ever ran in lost grip on a wet brick - this was a minimal issue and in no way kept me from running again in the rain or on wet surfaces.
The tread worked well for indoor activities that involved side to side movements, jumping around, or handling weights - thanks to that smaller heel to toe drop. These have become my go-to shoe for indoor non-running related workouts. The midsole also gets credit for this!
Midsole
The Wave Shadow 2's tread is well designed but the real meat and potatoes that make this a great shoe comes from the unique midsole setup.
The midsole is Mizuno's U4ic. I did some looking around and found that Mizuno began using this in 2013 as their main midsole. Combined with the U4icX Strobel Lining, these two midsole technologies are quite soft but highly responsive.
You can see that hard section from the tread goes into the foam area.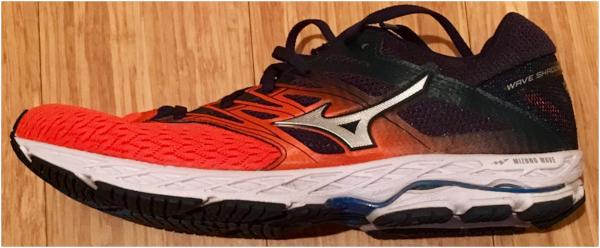 Before I go on lauding praise on Mizuno for this, I do need to mention my one real issue with this shoe. Around the 1 mile mark, my feet would get hot – very hot! This did go away within another mile or so, but boy was it annoying to deal with.
The cause was the same U4ic and U4icX setup that makes these shoes so great. I'm guessing it is actually that Strobel Lining part which creates a noticeably soft and cushioned feel inside the shoes combined with a not overly breathing upper (more on the upper later).
However, DO NOT let this keep you from getting these shoes. That same cushioned step quickly adapted to my feet in less than 20 miles of use and that hot feeling fully went away, but the nice cushioned step remained, euphoric indeed!
Now, with around 80 miles, the Shadow 2 feels not only soft and responsive but also more natural on my foot. Also contributing to this great feel is Mizuno's sock liner. Normally not worth mentioning but this shoe did feel nice and smooth on the inside which should and did prevent any blisters or rubbing issues.
Upper
The upper of the shoe is a redesign by Mizuno and because this was my first pair of their shoes, I can honestly not tell you what has changed.
I do know that while they breathe decently well, I never did quite feel a breeze on my foot, something I usually enjoy noticing while on runs. This might have also contributed to my feet getting hot early on a shoe.
The design of the upper seems to be a two-layered setup.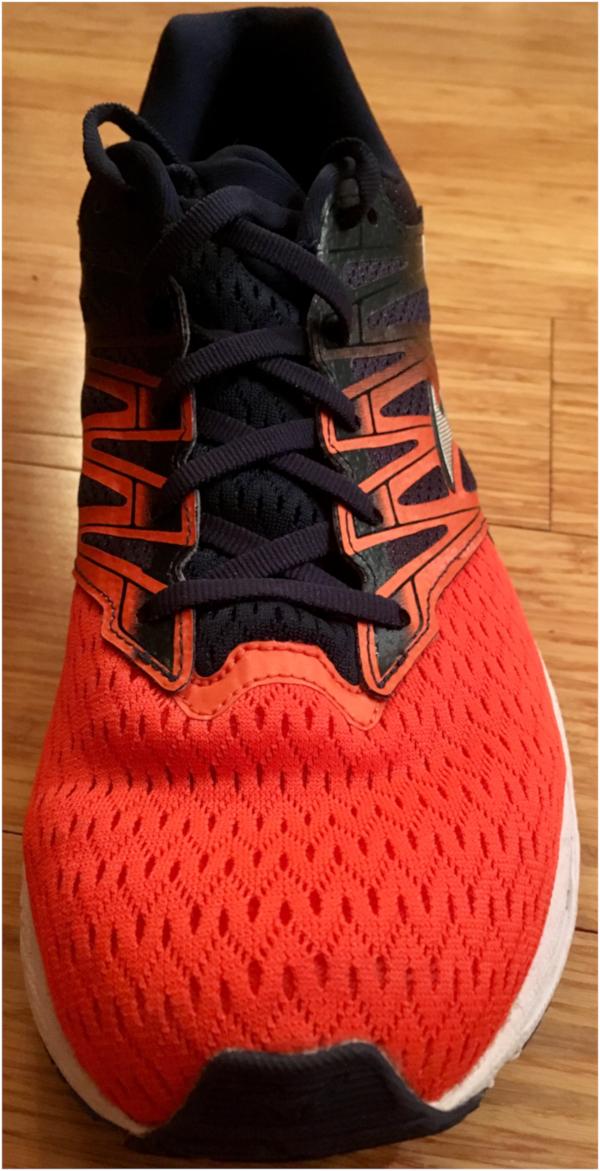 One which breaths quite well (outer) and the other which appears to wick the moisture out so the foot can be cool and not soaked in sweat (inner layer). Keeping the foot dry and cool at the same time.
Toe box
For a guy with narrow feet, I'm used to having way too much room in the toe box, both in height and width which is not the case for the Shadow 2.
While I still tightened them far beyond what most do, the toe box did not feel overly large in terms of height. I appreciate that. The width was still enough that I had a bit of wiggle room but not so much that I could splay my toes such as with a Topo or Altra.
For most anyone, this will not matter unless you need that extra width or height.
Heel to toe drop
Worried that you will hurt your heels with such a low drop? Don't be, unless you land heavy on your heels and absolutely do not want to change.
This drop is enough that the cushion is still there to help protect your heels (thanks to the U4ic & U4icX midsole design), but it almost creates a situation where it feels very natural to strike more midfoot and keep moving forward (good transition design on the tread).
These shoes didn't make me feel fast but danged if I didn't have some quick miles in them with what felt like a normal effort.
Overall
The Wave Shadow 2 is a good shoe. It is not an amazing or revolutionary great shoe but it is a good shoe.
With the tread and midsole still looking and responding like they do with around 80 miles I fully expect and have faith that these will last quite a long time. For a reliable neutral shoe, they would be a smart purchase.
Over the past few years, Mizuno has seen several changes to its lightweight trainer/racer categories. One of my all-time favorite racers, the Wave Hitogami, and a recent fan favorite, the Wave Sayonara having retired in recent years has left a void that the Wave Shadow seeks to fill.
As I was down on the last few miles prior to my marathon this fall, I was excited to do some speed work with a trainer that is a descendant of my all-time, go-fast shoes. What I found was an all-around solid pair with a good niche in my rotation and a little something for the average road runner looking for more speed and less squish in their stride.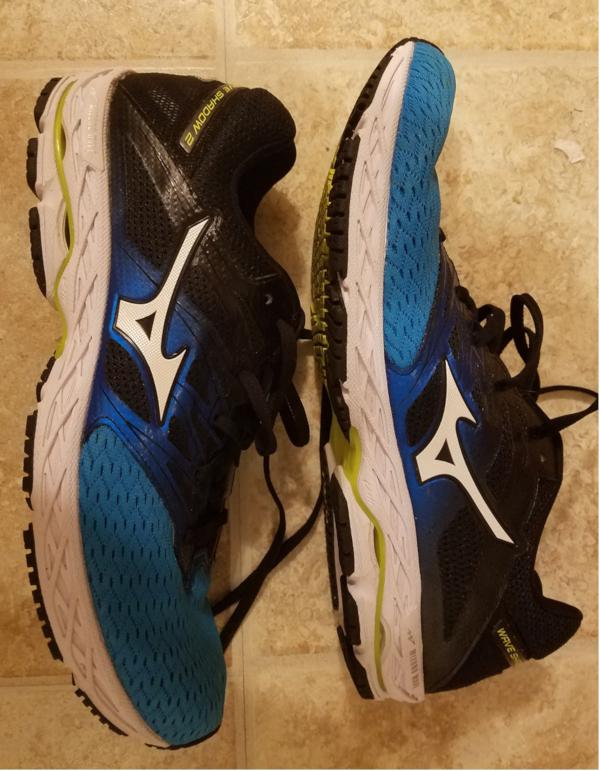 Upper & fit
One of the major updates to this shoe that is evident compared with the previous iteration is the pattern and thickness of the engineered mesh upper.
The toe box has a full mesh covering that feels more comfortable to bare skin for those of us that prefer to run sockless and seems lighter weight than the previous edition. Also, in lieu of a more aggressive amount of overlays in the midfoot area on the original Wave Shadow, the Wave Shadow 2 features a set of vents through the 3-D printed overlays and minimal stitching.
As seen below, this is combined with an inner layer of technical moisture wicking material in a booty-like construction down to the Strobel of the shoe. This makes for a roomy and comfortable fit in the forefoot, which is fairly open though still traditionally tapered and a firm grasp at the midfoot through the arch.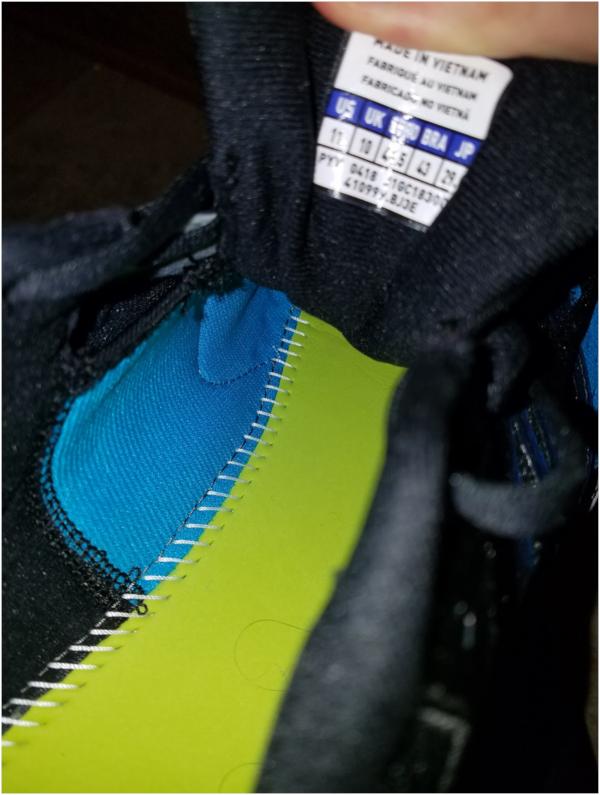 The heel counter is well-apportioned for a shoe more billed as a speed and tempo model, with a fair grip of the heel without feeling overly constricting or irritating right out of the box.
After the first two weeks of wear, this upper felt great during my final long run of 20 miles on the pavement and soft cinder trails I used to simulate race day conditions.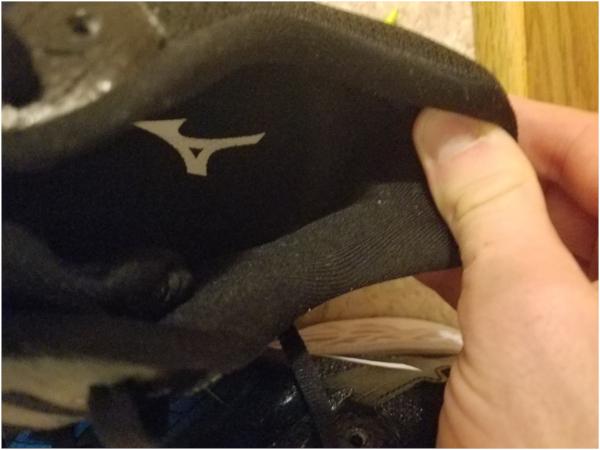 In addition, as a nice safety feature, the Wave shadow sports two reflective rear panels featuring the Mizuno bird logo for visibility at night and early morning jaunts.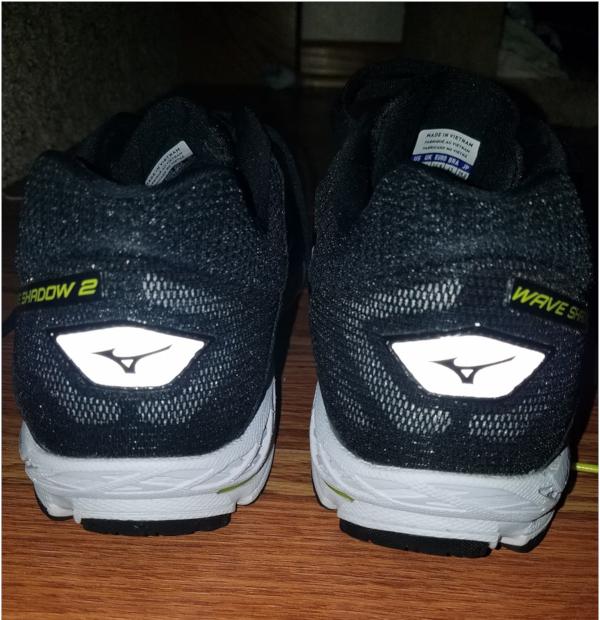 In terms of fit, I would say that the shoe runs fairly standard compared to other traditional trainers. While the upper is flexible in the forefoot, it certainly lacks the toe splay ability of an Altra One or even a Newton Distance.
I tend to size up a half size to remedy this situation, but if your foot prefers a more snug feel in the forefoot, it would run quite true to size. One small space in the upper that left some room for improvement is the toe cap.
While advantageous for those looking to save weight, a cap with fabric overlays, as opposed to a rubber extension from the outsole, does lend itself to wear spots, especially for Moms and Dads out on the roads hitting and releasing the foot brakes on most jogging strollers.
Insole cushioning systems & midsole
From a purely competitive standpoint, I enjoyed the responsiveness of the Wave Shadow 2 through the midsole. There is just enough bounce from the retooled and thinner U4icX foam and heel to arch wave plate to feel the road under your feet, with a lower heel to toe offset to decrease the angle on the Achilles to fight fatigue and discourage a heavy heel strike through your 5k all the way up to my preferred distance of the marathon.
In terms of flexibility, however, this shoe has some disparities when compared to both the Sayonara of recent years and the Hitogami and Mushas of old. While the Hitogami had a supple feel and fairly light toe spring and the sayonara in later years had more of a stiff trainer type of feel, the Wave Shadow 2 boasts an aggressively curved, relatively rigid toe spring with an interesting dearth of flex points across the outsole of the shoe through to the midsole.
For those who prefer the additional propulsive-type feel in their stride through toe-off, this may feel like a breath of fresh air, but for those who enjoy a more natural ride and smooth transition through the gait cycle, the toe spring may take some getting used to.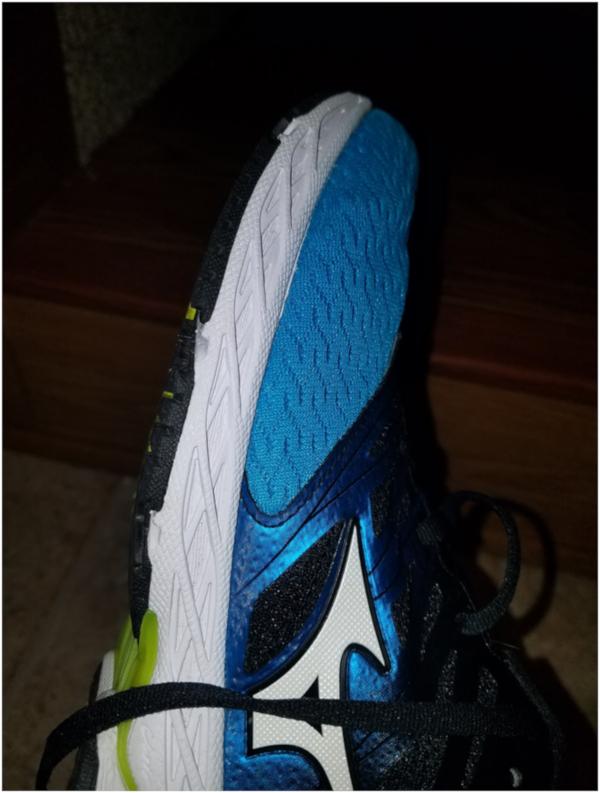 As mentioned in my previous review of the Wave Rider 22, Mizuno's standard insole comes equipped with a very cushy foam, and the velvety upper of the insole on the Wave Shadow hearkens back to the old school underfoot feel of the Wave Rider 13.
However, Mush, like its beefier cousin, the Wave Shadow 2's insole does tend to absorb and hold in moisture leading to some minor weight gain over the course of longer runs. While it may not seem like much, in a shoe that is already 9.3 oz. for a men's size 9, any additional weight for a shoe in which one is looking for speed can become an issue for anything beyond a 5k or 10k road race.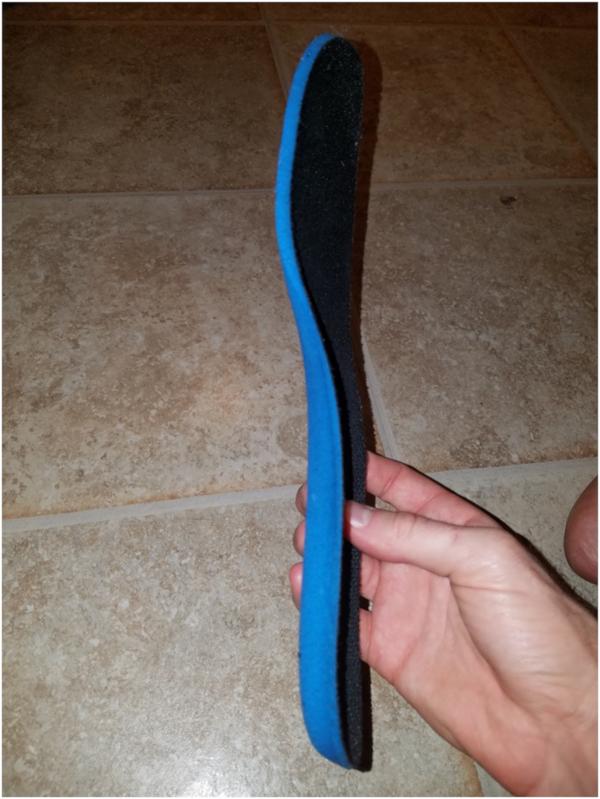 Outsole & durability
This is where the Wave Shadow truly shows its chops as a mileage maker. After over 65 miles of wear and several weeks used in rotation on my feet over hard concrete and thin board and carpeting of a physical therapy clinic, this shoe has shown no signs of being worse for wear.
The Wave Shadow 2 has well-apportioned carbon rubber X10 compound covering a standard decoupled heel with grippy SmoothRide has blown rubber in the forefoot. Design of flex points aside, the sole unit has performed admirably through treadmill, concrete, trail, and grass over the past month or so of usage.
In addition, while there is certainly the presence of some minor stitching in the overlays, nothing has felt irritating and everything looks almost new despite the mud and grime that have had to be cleaned and wiped away during a moderately damp late Iowa summer.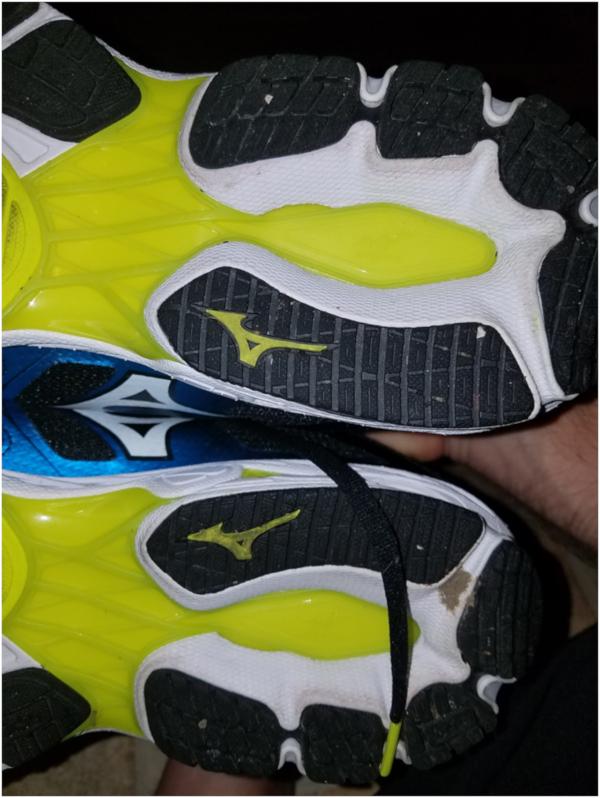 One ever-present caveat must always be addressed: while the wave plate technology does provide great responsiveness and firm arch support, it does lend itself to minor clogging of mown grass and debris in wet conditions adding weight to an otherwise speedy ride.
Style
Certainly, Mizuno has upped the ante with the styling cues of the Wave Shadow 2. While the shoe boasts two very flashy colorways, there is a third option of a grey/green combination that would fit well into a more work/casual-friendly usage one your track workout was finished for the day.
In addition, for being a more up-tempo and ventilated model, it still has a sleek design with great accents to complement a number of race day outfit tones.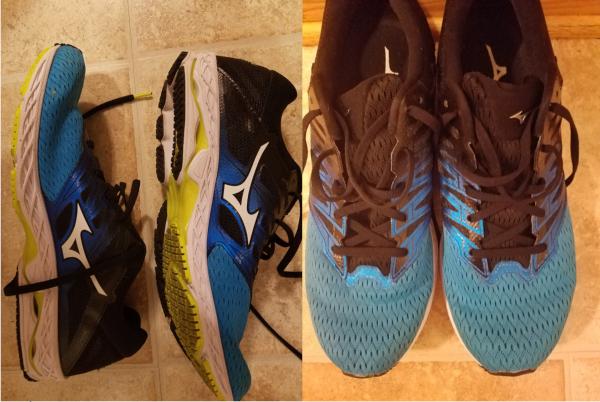 Pros
Fair room in the toe box for a traditionally lasted shoe
Above average feel and responsive cushioning built for speedier days
Limited overlays, especially in the forefoot and vents at the midfoot feel like music to the barefoot
Highly supportive Wave Plate arch and heel shank provide excellent stability without being overzealous
Cons
Rigid toe spring may turn off those with a more fluid stride
At 8mm heel to toe drop, it is still high for a speed trainer
At 9.3 oz. and with a more absorbent midsole, the shoe could still stand to shed some weight
Overall take
While Mizuno has seen some sweeping changes to their lightweight trainer line, the Wave Shadow 2 is a worthy successor for the average runner looking to find another gear in their training while retaining all the essentials of a solid, traditional training shoe.
While there is certainly room to grow in future models, it would be a solid addition to the rotation for tempo days and track work. However, if you are looking for a race day model for a PR in your next half or full, one might consider lighter fare.
Disclosure
For the purpose of review, I'd like to thank Mizuno for providing me with a pair of Wave Shadow 2 shoes. No additional compensation was provided and the review process objective over the course of a normal life cycle of my daily training shoes.
I will start off by saying that I personally have really enjoyed running in this shoe. I have not ran in a pair of Mizuno's in a number of years not because I don't like them but because I never felt that they were anything special.
However, I think Mizuno is starting to get that something special. The Mizuno Wave Shadow 2 is a lightweight neutral trainer with a fast, snappy ride.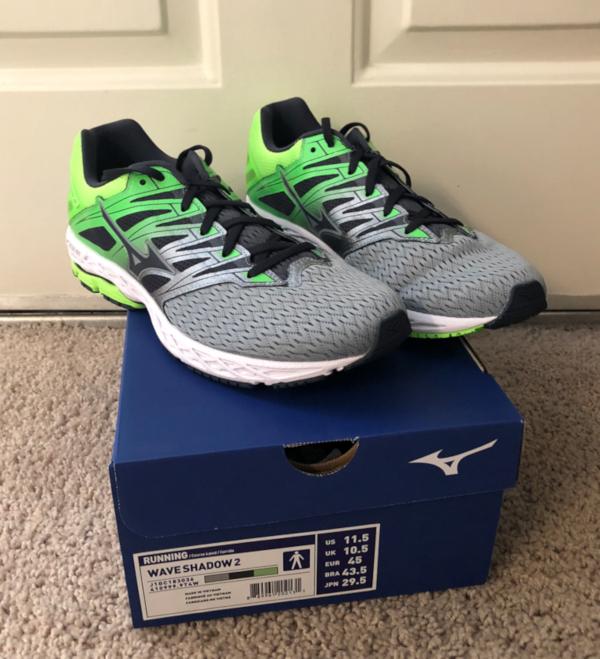 Unboxing the Wave Shadow 2
The Wave Shadow 2 weighs in at just around 9oz and has a heel drop of 8mm. This is the second iteration of this shoe that is the replacement shoe for the Mizuno Sayonara.
Upper & comfortability
The Wave Shadow 2 is an extremely comfortable shoe. The upper has been updated from the previous model with new mesh and redesigned overlays. Along with this, the use of Mizuno's Dynamotion Fit allowed me to get a very snug fit with the shoe.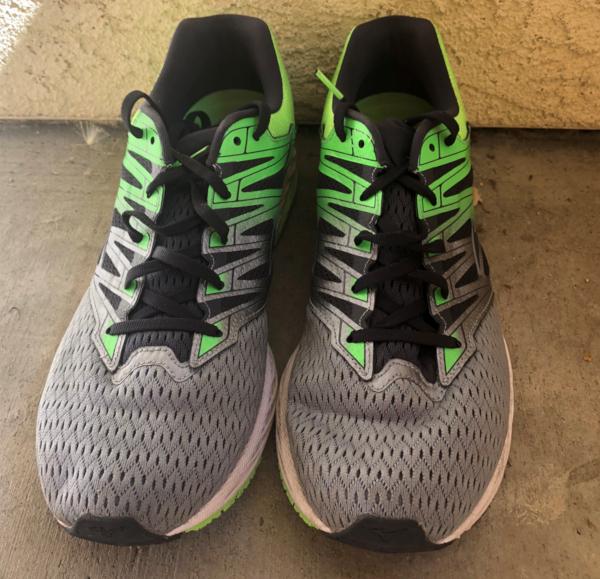 Nice snug fit
I have a rather narrow foot, so being able to get the upper nice and snug while still maintaining the comfort of the upper was great for me. While running, I found the upper to feel very sock-like, allowing for the natural splay of my foot and has very good breathability.
I did run with this shoe a few days while in Phoenix Arizona when it was over 100 degrees and had no issues with my feet feeling like they were overheating. I also wore this shoe for work and as a casual shoe because of how comfortable it is.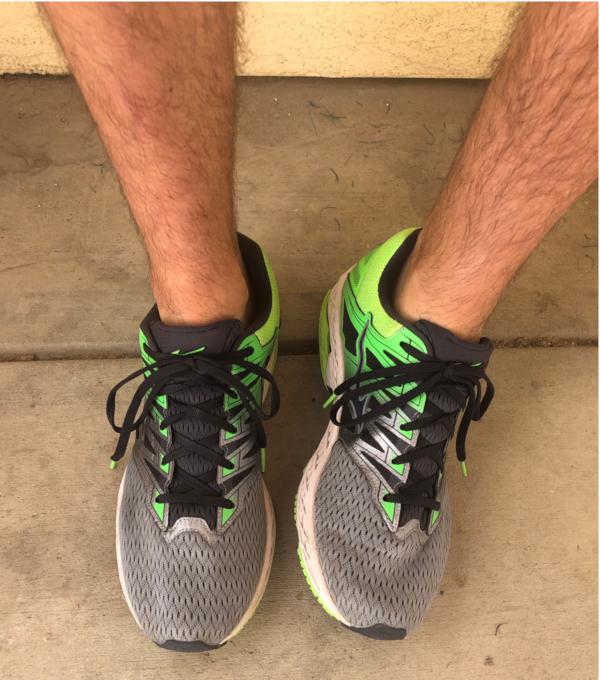 This shoe fits true to size
Midsole & cushioning
The Mizuno Wave Shadow 2 uses their responsive U4ic foam. I am a runner who would prefer a much more responsive shoe which is why I usually stay away from maximally cushioned shoes. However, with this shoe, I felt I got the best of both worlds.
I really enjoy the feel of this foam because it has enough cushion that my legs were happy on longer runs, yet is very responsive for speed work and holding faster paces with ease. One of the first runs I did in this shoe was a 1:17 half marathon, and when I was done, my legs still felt relatively fresh.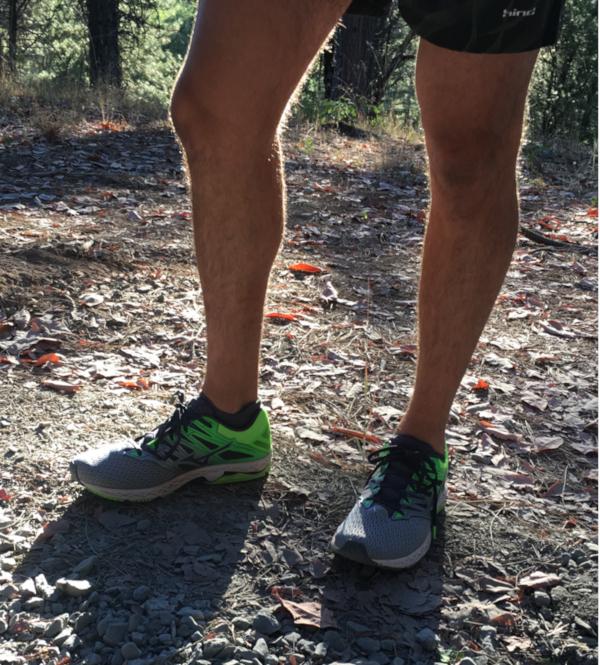 Running in Tahoe
The Wave Shadow 2 also uses a parallel wave plate that is placed closer to the midfoot allowing for a more efficient midfoot strike. The parallel wave plate is the neutral wave plate that allows for the natural motion of the foot.
I liked the feeling of the wave plate over longer distances because it provided some support in the later miles as my running form might not be as efficient.
The parallel wave plate
Outsole & durability
The outsole of this shoe uses the X10 carbon rubber with a zigzag pattern near the toe to allow for more grip during the toe off.
The outsole of this shoe is designed to be very durable and provide adequate grip. I have ran about 75 miles in these shoes, and so far, and it appears that there's not much wear on the outsole of this shoe.
I ran with this shoe on a variety of terrain including dirt, concrete, asphalt, gravel, and even wet surfaces and never even had a thought about the grip of the shoe not working for me. The added flexibility and zigzag pattern near the toe also make the toe-off feel very efficient.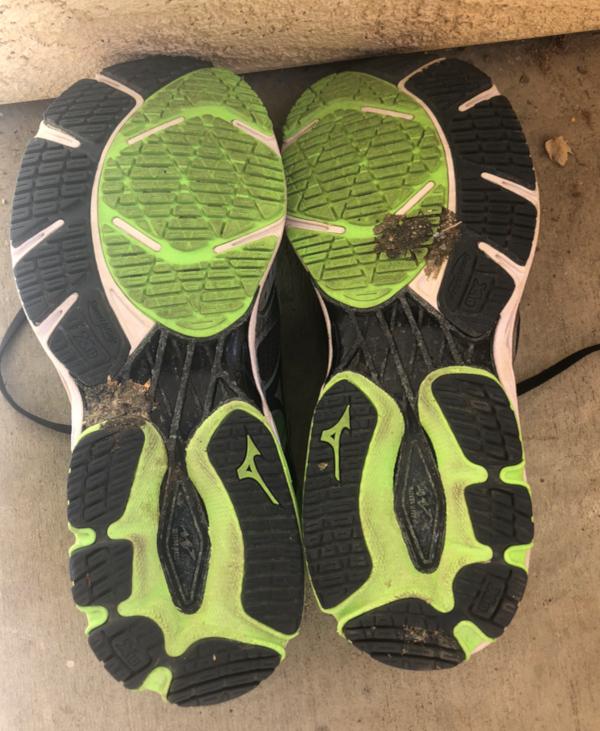 The outsole after 75 miles
Conclusion
All in all, I really like this running shoe. I found it to be extremely comfortable and a great shoe for longer races or training runs at any pace. It has enough cushion to be a daily trainer, yet is responsive and light enough for racing a half or even full marathon.
I do not know how well this shoe would fit someone with a wider foot. But if you have a narrow foot or a neutral runner, you should definitely give this shoe a try!
The only thing that I did not like about this shoe is the colorways offered. I do not mind the green and grey that I have, but I wish they had some options without to much color on them. Other than that, these shoes are great!
Updates to Mizuno Wave Shadow 2
The Mizuno Wave Shadow 2 is a running shoe that's designed for the roads. It is also optimized to accommodate neutral pronators because it has a cushioned midsole with no pronation-correcting mechanisms. A plastic wave unit is placed in the rear section for impact attenuation and overall foot steadiness.
X10 serves as the rubber compound of this road companion's outsole. It is meant to deliver traction over the surfaces. Zigzag grooves heighten grip while also encouraging flexibility.
Two variations of a mesh are used for the upper unit. The first one is an open-weave material on the forefoot section that's meant to accommodate airflow; the second one has a secure construction for a snug yet airy coverage.
Size and fit
This Mizuno running shoe was designed using the standard measurements. So runners are encouraged to get a pair that follows their usual sizing preferences. When it comes to width, the options are D – Medium for men and B – Medium for women. The curved structure of the last and the presence of a stretchy fabric on the upper help in accommodating the natural shape of the human foot.
Outsole
The external pad of the Wave Shadow 2 is composed of the X10 solid rubber, which is a sturdy compound that's designed to stave off abrasion while also doling out surface grip. It fundamentally preserves the midsole, keeping it from being damaged by being always in contact with the ground.
There are tiny rubber bits, patterns, and grooves that work together to heighten surface grip. These elements also allow the foot to move gracefully through the gait cycle.
Midsole
U4ic is a full-length foam that's designed to cushion each step and prevent the foot from getting hurt during the striking phase. It is flexible and responsive.
The Cloundwave is a thermoplastic layer in the back portion of the platform. It aims to receive the brunt of the landing strike, dispersing the impact forces and steadying the foot as it transitions toward the toe-off.
The anatomical sockliner is created to provide underfoot cushioning and extra support to the contours of the foot that don't usually get any attention.
Upper
An open-weave mesh is used for the forefoot section of the Mizuno Wave Shadow 2's upper. Its goal is to allow air into the interior chamber to the foot and keep it dry.
The midfoot and heel sections feature a tightly woven mesh that still has minute pores for ventilation. The job of this material is to hold the foot securely in place.
The Dynamotion Fit system is comprised of thin midfoot panels that are created to embrace the foot. These overlays are connected to the lacing system; so whenever the shoelaces are adjusted, they go along with the act.
Rankings
How Mizuno Wave Shadow 2 ranks compared to all other shoes
Popularity
The current trend of Mizuno Wave Shadow 2.