Formally, I find it important to mention that while performance has always been a top priority for me when it comes to running shoes, I must admit that I also enjoy training in a good-looking shoe. Something about the designs of the Nike Free RN & the Adidas Boost has always appealed to me.
Furthermore, training in Nike and Adidas provides a certain social clout. People tend to notice a fresh pair of Nike or Adidas shoes. These companies are, after all, the "big dogs" of athletic footwear and they command attention and garner compliments.
Aesthetics
At this point, you may be asking yourself "How does this translate to running?" Well, looking good in a pair of shoes makes me feel good. Feeling good boosts my training and my running performance. Unfortunately, this effect was absent while training in the Brooks Ghost 10.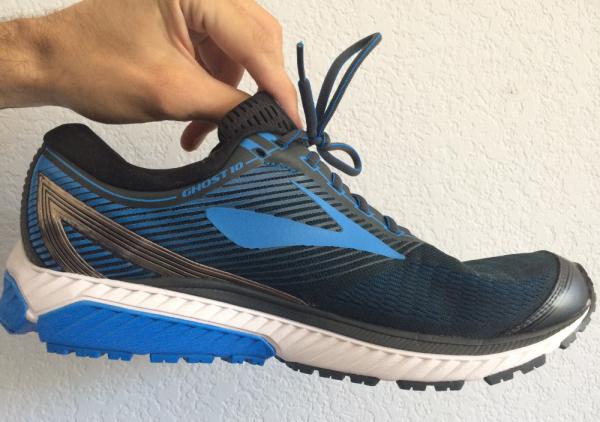 This isn't to say that the Brooks Ghost is an ugly shoe. After running in it for some time, I came to appreciate the design. However, there is no denying that the Brooks Ghost 10 is concerned mainly with running performance over design aesthetic.
It is a humble shoe. But as they say, beauty is in the eye of the beholder. While avid runners understand the value of Brooks shoes, the average gym-goer is not. For this reason, I find it necessary to discuss this now.
There is no denying the aesthetic of Nike and Adidas shoes. For some, an unappealing aesthetic is enough to diminish the desirability of a shoe. However, after months of testing, I have concluded that the Brooks Ghost 10 is a must-have shoe because of the quality of its construction.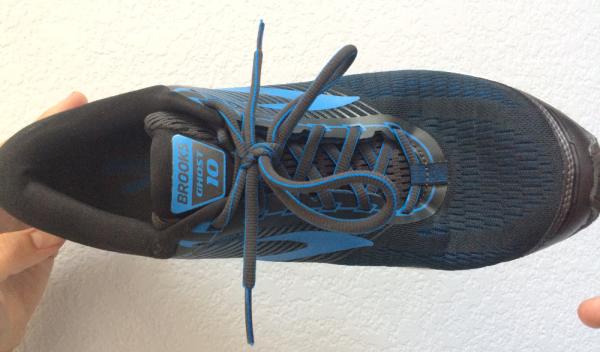 This is a shoe whose quality far exceeds its modest design. Especially considering its price point. At $120, the Ghost 10 easily competes with many $200 shoes. The following is my attempt at explaining why I feel the Brooks Ghost 10 is a shoe that is far more than meets the eye.
Pros
Price Point
Low Impact on joints
Relatively light weight
Adaptable DNA cushioning for secure fit
Flexibility from Segmented Crash Pad
Breathable upper
Support
Excellent toe room
Cushioning
The Brooks Ghost 10 is a neutral running shoe. As I have been running for some time now (15 years), I have developed good running form and tend to maintain this even on long runs.
This eliminates my need for shoes that provide overwhelming support and cushioning. However, the amount of cushioning provided by the Ghost was a welcomed surprise. The DNA midsole cushioning effectively absorbs the impact of my long strides on even my fastest and longest runs.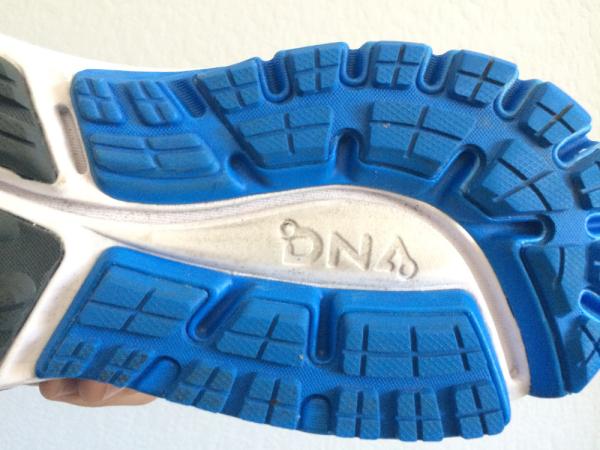 The Ghost manages this amount of cushion without heavily compromising on the weight of the shoe, weighing in at roughly 10.7 oz (size 14). From personal experience, shoes with such a heavy focus on cushioning tend to be heavier.
Furthermore, 1 month into training, the DNA midsole had fully adapted to my feet. When putting the shoe on now, I feel my foot slide into place comfortably into the grooves and dips that have been created after numerous runs. The Ghost has effectively become one of the most comfortable shoes I have ever owned.
Stability & Support
The outsole of the shoe is comprised of a full length, the segmented crash pad which provides excellent flexibility when transitioning from heel to toe.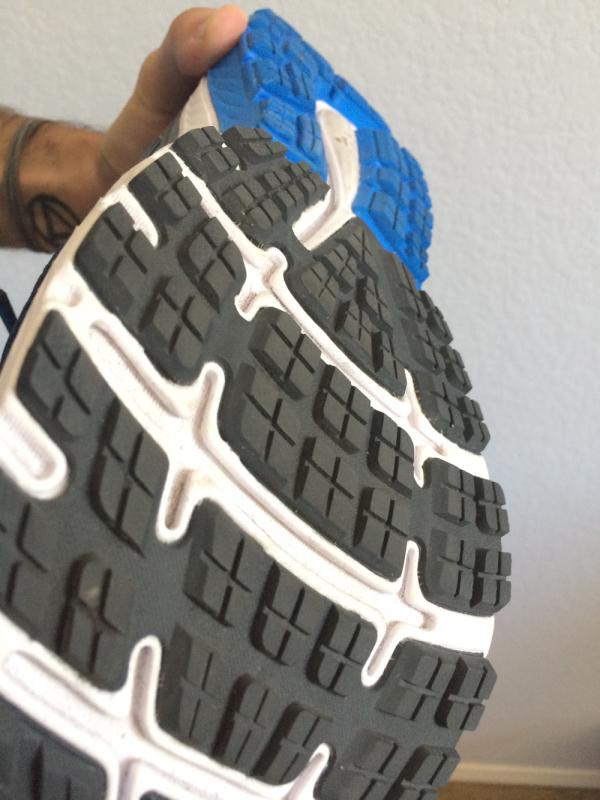 My strides feel efficient and transitions are smooth and comfortable. I am very impressed with how effectively the Ghost balances flexibility, comfort, and support. Regardless of how my foot falls during my strides, I never feel my stability compromised.
The material is also very durable. After running in the shoe almost every day for roughly 2 months, there are no signs of wear and tear. Furthermore, the tread has maintained its integrity. Even on wet terrain (and after 2 months of heavy use), the shoe still performs admirably and grips the road effectively.
Breathability & Flexibility
The Ghost upper is comprised of a breathable mesh (a staple of most modern running shoes), which provides excellent structure and breathability. My feet never feel overheated and the flexibility of the upper allows for a no-pinch fit.
While the mesh may appear flimsy at first glance, I assure you it provides excellent structure and maintains its shape surprisingly well. The shoe also provides a secure fit while providing this breathability and flexibility.
Fortunately, the toe box is roomy which allows for this secure fit, while still providing excellent toe room.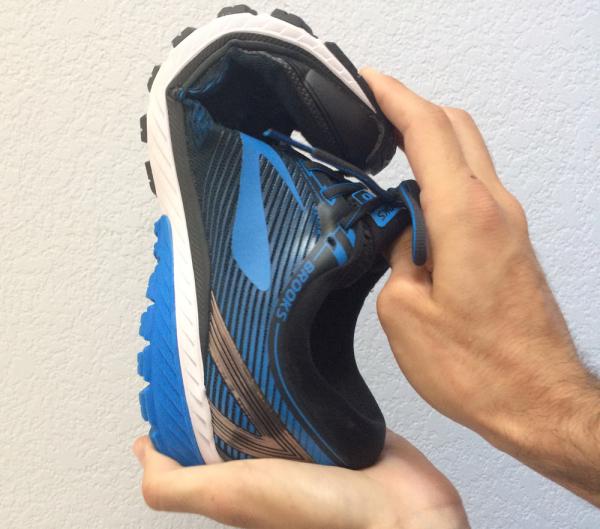 I have yet to encounter unwanted friction on my toes during any of my runs (the longest being 18 miles).
Cons
Rigid initial run
Clunky
Poor responsiveness
Not built for speed
Not particularly attractive
However, I find it necessary to mention that while I am now a huge fan of the DNA cushioning, when I first began training in the Ghost I was a little underwhelmed.
During my first couple of runs, I was turned off by how rigid the DNA cushioning seemed. I found it to be excessive, and the sheer amount of it made the shoe feel clunky. I couldn't help noticing that the amount of cushioning created a disconnect between my foot and the road.
This alienated me from the terrain, and I felt my balance compromised at faster speeds. I felt as though I might "fall off" of the shoe itself. However, as previously stated, after only a few runs the DNA cushioning adapted to my foot and provided both excellent comfort and stability.
Responsiveness
This excellent cushioning also comes at a price. The price is responsiveness.
This is especially noticeable in the forefoot, where I personally tend to appreciate a stiffer feel to ensure a firmer "toe-off." For this reason, I cannot recommend turning to the Ghost 10 if speed is necessary.
The Ghost 10 is not a racing shoe. I cannot stress this enough. However, if the goal is logging miles while remaining as comfortable as possible, then this shoe is your best bet.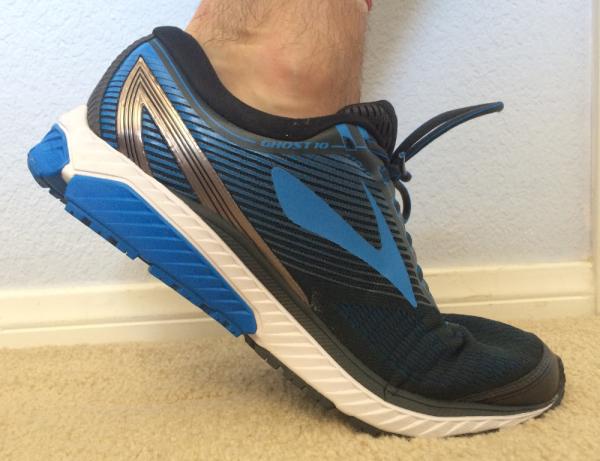 Also, as previously mentioned, the Brooks Ghost is not what I would call a "handsome" shoe. This issue is worsened by the lack of color options available. The existing color schemes also leave a lot to be desired.
While there is no denying the appealing aesthetic of a Nike or Adidas running shoe, the Brooks Ghost will grow on you. It is what I have affectionately dubbed a "personality shoe." However, once you get to know it you'll wonder what took you so long to come around.
Conclusion
Distance runners, go get this shoe!
Stop what you're doing right now and go get this shoe. Stop reading this review and go get this shoe. Go online, get in the car, mention it as a potential birthday present, Christmas present, or anniversary gift. If your focus is distance running and you value every dollar in your bank account, then go get this shoe.
If your focus is distance running and you value every dollar in your bank account, then go get this shoe. Speedrunners and racers, if you are looking for something to train in to build endurance and increase distance, then go get this shoe.
I have thoroughly enjoyed every mile spent in the Brooks Ghost 10 and would gladly recommend it to a friend. In fact, I'd gladly recommend it to a family member or loved one who was interested in running long distance.
In my opinion, this is a must-have shoe that will be appreciated by most (if not all) serious distance runners and trainers.