Do you believe in Ghosts?
Under certain circumstances, I hardly believe their existence because ghosts don't exist and they are all in the mind.
But somehow or the other, I do believe in Ghosts now.
When I started my running journey a few years back, I never heard of other brands such as Brooks. Call me whatever, maybe I'm too naïve but the only familiar brands are Adidas, Nike, and Asics at that time.
With a colorful, upside down of a running journey, I realized the importance of having the best & suitable running shoe not just to enhance your running power but to bring you more excitement by attaining greater mileages together.
I called it, the true "Soulmate".
I used to enjoy lightweight and minimal running shoes in 5km and 10km fast cruising races particularly in the Adidas Adizero family, Adios 3 and Boston 5. It's all changed when I started to pursue long distance running which is Half and Full Marathon.
Without proper knowledge of finding the right shoe, I was prone to injury cause a Marathon is a serious game changer.
To gain higher mileage at around 230-250 km per month, it was an obvious requirement to be equipped with a cushioned running shoe.
I learned that the cushioned running shoes make up one of the largest segments of the running shoe market.
I started with various brands and models, from Adidas Supernova 8 & 9, Mizuno Wave Rider 20, Asics Dynaflyte and later Asics Kayano 24. They all are well-distinguished models from reputable brands on the top range of cushioned running shoe in the market.
But the biggest question now is if these running shoes suit you?
Ghost 10: Cushioned Shoe with Wide Toe Box
From my earlier posting, Guide to Buying New Running Shoes, I did indicate that one of the criteria is foot type and pronation.
To runners with wide toe boxes like myself, there are several options in the market.
Some of the best shoes are :
Looking at the intricate list, I finally decided to pick the very unfamiliar Brooks Ghost 10 after a series of injuries due to the narrow type shoes I wore which naturally didn't suit me.
Ghost 10 Impression
My first impression of the wide toe box type: Big, Ugly and Hideous. But that didn't happen when I first meet the Brooks Ghost 10.
I always wonder, why did they call it a Ghost? What's so creepy about this Shoe?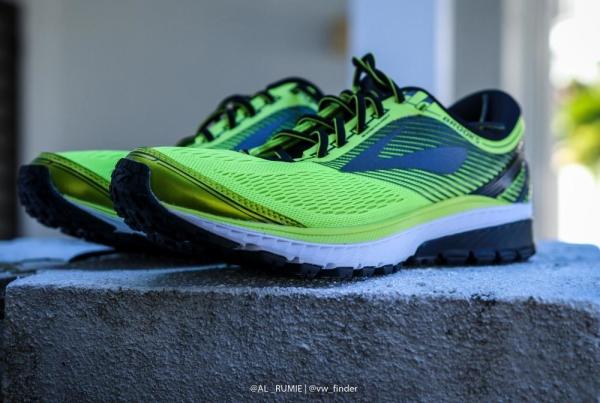 You don't have to think that way after you realize that it comes in various fancy and stylish colors. It has a sleek look with engineered mesh and high density printed layers together with stretch print applied over the midfoot and rearfoot.
I thoroughly checked the front and upper side the toe box area. Having the "D" width, I am so delighted with its extra wide angle accommodating forefoot and having ample toe box height.
My benchmark is Asics Dynaflyte, Kyano 24 and even Mizuno Wave Rider 20. This has been successfully implemented into the shoe without compromising the overall design, making it so awkward looking.
The shoelace also looks different in its slight oval knitted with a 3D stretch print leather layer, making it so stunning from up close.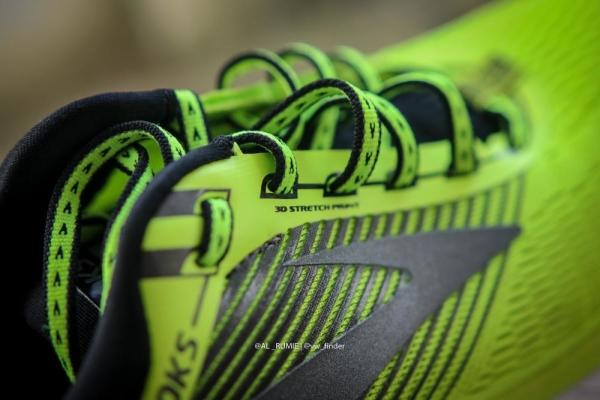 The key salient point of this model is the versatility, lightweight & comfortable fit for a cushioned shoe, 295gm (<300gm).
In addition, it's also applicable for most type of feet, neutral or even a high arch type (12mm heel drop).
It has worked tremendously well for any purpose from an easy run, speedwork, track and field, hill repeats, long runs or even to a Full Marathon race.
I think, Brooks made it in such way to replace the Legendary Ghost 9, be the perfect predecessor and to continue its legacy since October 2017.
The Spec & Technology
Let me recall some available technology in the market:
Adidas - Revolutionary Boost Foam Technology thermoplastic polyurethane (TPU).
Asics - Flytefoam midsole technology
Mizuno - Wave plate technology
They are all outstanding & aimed to provide the best shoe midsole.
Thus, Brooks came up with BioMogo DNA Midsole which is made up of a non-Newtonian material that adjusts to the force you apply to it, thanks to the resilient nanosprings. This technology is believed to provide adaptive cushioning and respond to your unique running stride.
This key selling point is vital to regular runners like me as the transition ride could vary depending on the conditions.
Test Run: The Wet, Hot, Humid & Sticky Climate
I suffered from metatarsalgia for the last 4 months and only realized it recently after being fully diagnosed by my orthopedic. One of the main reason is the narrow and tight usage of running shoe.
With an average of 220km mileage per month, this culprit developed and became my worst nightmare in every single long distance run, after I exceed approximately 2 hours.
The specialist suggested me to immediately change my running shoe to wide range toe box while undergoing rehab and treatment.
Now in my new Brooks Ghost 10, I trust.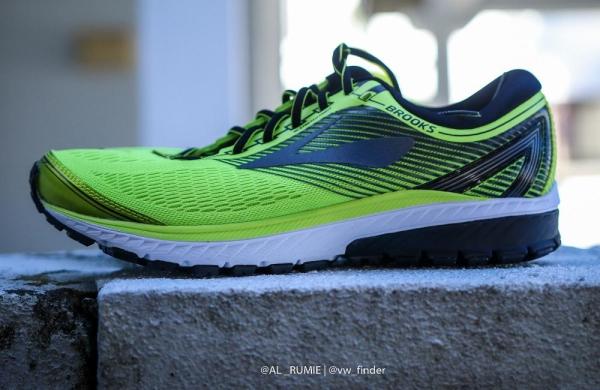 This time around I called her Hantu Kak Limah (named after a popular hilarious Malaysian ghost movie). The first time I wore it, it just feels amazing. When I insert my toe, it seems so easy and loose.
The edge of the ankle & heel collar gripped better even before I tie up the lace. The insole feel so comfy and touch every area of my foot to heel firmly.
The crucial part is the toe box.
Surprisingly, it feels like wearing nothing. I tried to compare with socks of different thickness and it still feels the same.
Like I said earlier, you don't have to look ugly to have a wider toe box. The combination of the overall structure and flexible high-quality midfoot mesh made this happen.
Just bear in mind, I live in the tropics with the hot, humid and sticky climate of Malaysia (in Asia) and the weather is so unpredictable. Most of the time, we had to run either in night time or very early in the morning for the official race.
In any given day, we had to deal with extreme heat or rain in between running despite the excessive sweat from the body to toe. This is not to forget of watery roadsides even when the rain had stopped. But this never stops us from enjoying and feeling great on every run.
I finally get to test my Ghost 10 on several different occasions. We marked some vital valuable mileage together from an easy run, hill repeats, speedwork and up to 25km long steady run.
The feeling is so remarkable, I didn't feel the pain or numbness at all from my metatarsalgia. And this is so amazing!
The feeling is just like you don't really wear a shoe.
Even in a very hard and fast pace of running, it's comfortably cushioned and grips decently. It responds very well especially during the 2 hours plus of running where your foot will slightly feel like jelly.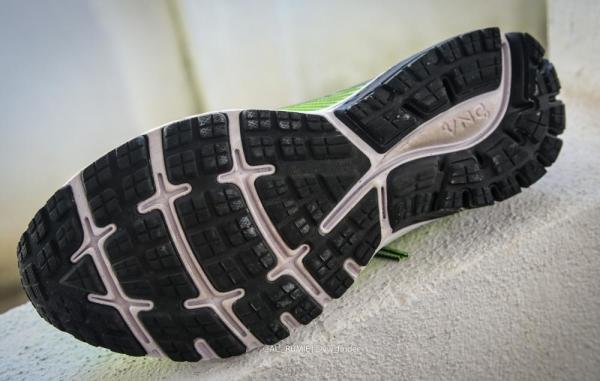 It appears that even with excessive sweat in the socks, the insole still stays steady without being slippery and losing friction. I must also thank the breathable upper material who made sweat just like no big deal.
This, I finally learned as to why the name Ghost was given.
Sometimes you just forget what you are wearing to run and what brought you this far, until you realized there is a spirit accompanying you strongly deep inside.
However, I may need furthermore running before I can conclude everything on the reliability, at least up to 35km long steady run.
Assessment
There is so much glorious talk about the previous Ghost 9 being one of the best cushioned and comfortable running shoe of all time.
This is where Brooks take it very seriously for the perfect replacement, with a lot of enhancements yet not jeopardizing the original design and quality.
Foot comfort is the greatest requirement and satisfaction in the world of running. Various manufacturers in the industry produce different shoes and this is what Ghost 10 offers you.
Some say that Beauty is Pain, but please don't adopt that cynical quote into your running gear.
Stability
Brooks Ghost 10 offers sufficient stability. Over time Brooks has really made the interior of their shoes significantly softer than any other running shoe including Asics.
Durability
This is what most long-distance runner required. Until I can hit further mileage, this area remains quo. But based on many authentic reviews, Ghost 9 is the champion in this section.
Comfort
The Ghost provides the comfiest, soft and smooth ride to most running occasions. Ghost 10 might be the universal running shoe ever.
Design
To be frank, the look is not really my taste at first.
I did not like the appearance of the bottom platform of the shoe, that with it's overlaying stripe-like Hoka One One sole looks more like Ultra/Trail running shoe than a road and marathon shoe.
But the upper knitted mesh and reflective part make it bit stunning.
Price
The original price when it arrived in Malaysia is RM650 and was lowered down to RM570.
But now Brooks Malaysia has widely offered up to 30% discount in conjunction with the upcoming KL Marathon 2018 this April.
This I feel is the best bargain and a must buy gear if you really into it.
Overall Insight
Last but not least, if you are looking for a supportive racing and robust training shoe with a relatively light weight and can offer you a smooth and soft ride, Brooks Ghost 10 might be just what you are looking for.
A true legend is not born, it has to be well manufactured, evolve timely and most importantly produced significant results.
And the legend continues…