RunRepeat...How about Shoe Repeat?
For this to happen, stability, cushioning and comfort are mandatory in distance running shoes. Truthfully, Brooks shoes were on my "do not buy again" list because years ago blisters developed while breaking them in.
Even after a friend told me Brooks is all she wears, I was extremely skeptical. Nonetheless, I gave them a try and started researching.
Brooks the Company
You can shop at Brooks "Trailhead retail store" and see their "Green-Living Global Headquarters" when visiting Seattle, Washington.
Check this building out!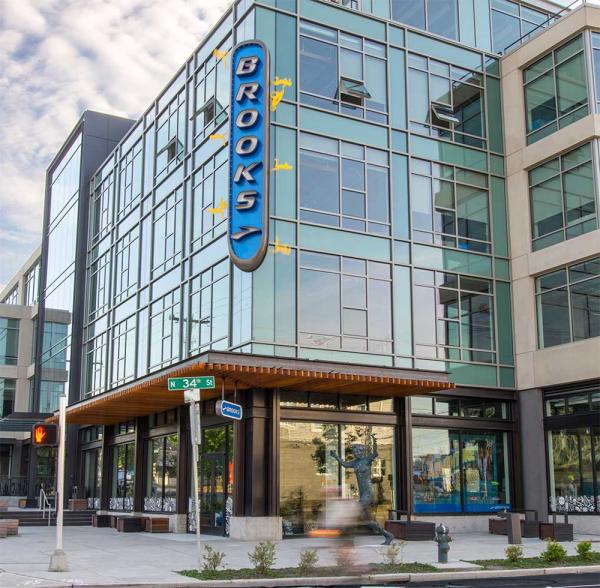 Even more impressive is how Brooks Company embraces their social and environmental responsibility.
Minimizing packaging waste is one of many ways they strive to conserve resources. Community and people are at the forefront because a personal connection is made with every customer.
For example, take a look at my shoebox to read my motivational greeting!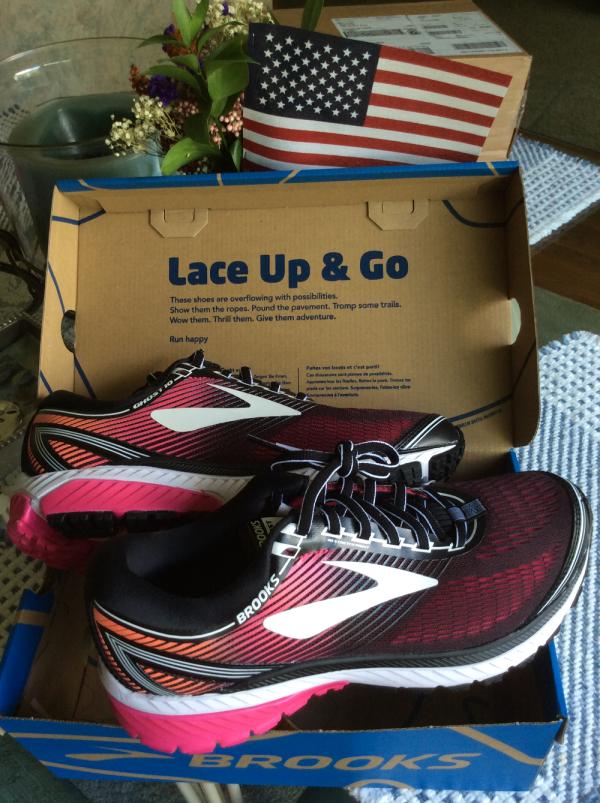 The Brooks Sports, Inc's "mission is to inspire everyone to run and be active" and my box says it all! However, before I "LACE UP & GO" I needed to know why all the Brooks Ghost 10 hype!
Facts
Weight = Men's 10.4 oz / Woman's 8.8 oz.
Drop = 12mm
Type = Neutral
Midsole
When buying running shoes, examine and compare midsoles because this absorbs the runners' impact and provides support. Walk around the store with different brands on each foot.
Soon you should be able to feel the Ghost 10 difference in comparison because of its spongy feel.
When my Ghost 10's were put to the 20-mile test, my knees felt no distress. Even after heavy training, the midsole shows minimal signs of breaking down. Brooks definitely competes with other brands when it comes to a cushioned, supportive midsole.
Take a close look at New Balance 860 v7, Brooks Ghost 10, and Mizuno Paradox side-by-side. (Brooks in the middle)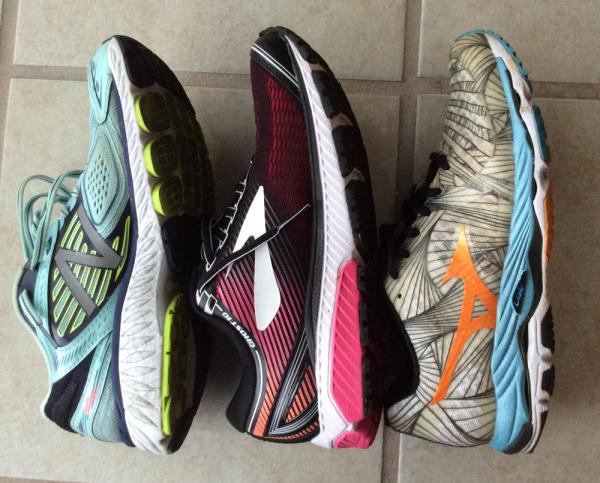 I'm not sure what their secret is, but when I "lace up and go" wearing Ghost 10, shoes are the least of my worries as I often forget I have them on.
Maybe that is how they created the "Ghost" name!
Outsole
The very bottom, called the outsole, gets the most beating as it continually hits the ground.
The shock and impact of the road surface are comfortably absorbed like no other running shoes I've tried. Therefore, I am confident Brooks Ghost 10 running shoes will not disappoint any customers.
The comfort level right out of the box was suburb and Brooks immediately became my favorite short distance running shoe. Even though they broke in nicely, I still had no intention of running long distance in Ghost 10's. For some reason, I felt a neutral shoe wasn't up for the challenge, but I was wrong.
When New Balance 860 v7's started hurting the bottoms of my feet so bad I started alternating shoe brands. I was constantly searching for a long distance running shoe to go extra miles.
Remarkably, I kept gravitating back to Ghost 10's for relief. Quickly, Brooks became my favorite distance shoe when my feet quit aching. Finally, I could focus on other important things like mileage and pacing!
I cannot say enough how super comfortable these shoes have been throughout some really tough long runs. If you have a marathon in the near future where you will be racking up some serious road miles, try Brooks Ghost 10.
Undoubtedly, Brooks engineered a durable, heavy-duty outsole to absorb extra shock. You would think there would be a huge wear pattern in the forefoot, but look, there really isn't much to see except for some dirt!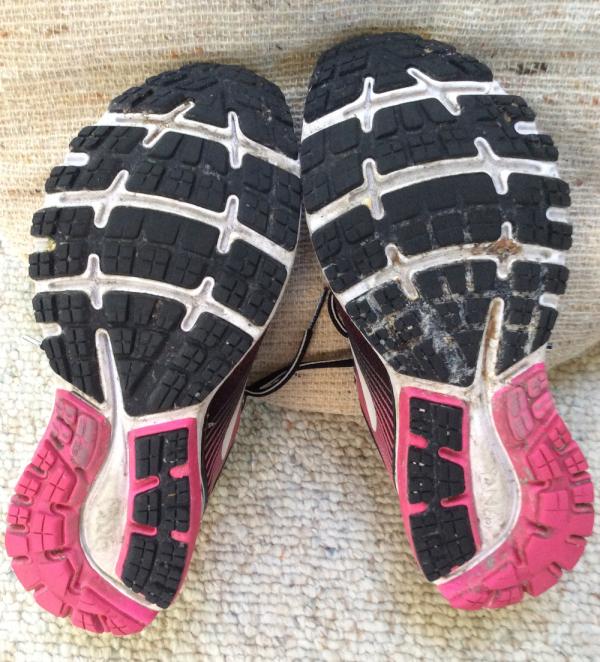 At this point, I had to confess to my loyal Brooks friend, how impressed I was.
Even though she is a Brooks Adrenaline fan, Ghost 10 cushioning, padding and overall design score an "A" in my grade book!
Collar & Tongue
Consumers will notice Ghost 10's high-quality construction all the way around.
The collar and tongue are above average and clearly surpass other brands. You can assess the difference in the store just by squeezing them. Once your foot slides in, the padding conforms to your foot and before long, you want to wear them all the time.
If look closely at this picture below, you can see minimal wear showing on the outside heel collar. This is nothing to be concerned about as I'm running these Brooks into the ground almost daily now.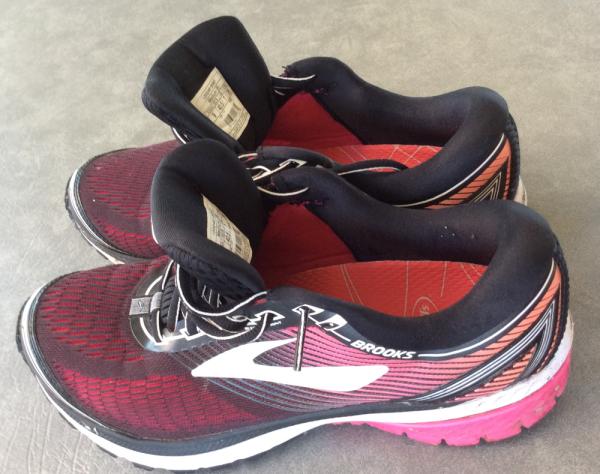 Overlays, Eyelets & Laces
It's awesome that USA Shoe Corporations, like Brooks Sports, Inc. are not afraid to roll out and pioneer new features. Runners notice and appreciate extra efforts and how detail oriented their designers are.
For instance, Ghost 10's have black rubber overlays which are uniquely positioned and tightly secured. Some are sewn proportionately with a tight, double stitch.
So far halfway through their life expectancy for a runner, the stitching hasn't unraveled one bit and in fact looks brand new after a good cleaning.
Notice the eyelets are unique, roomy and square and the shoestrings are extra wide, super strong and attractive. My only complaint is, many runners like me, double knot shoestrings and truthfully they could be a tad longer especially when in a hurry.
Nonetheless, my all time favorite upgrade is two loop holes uniquely placed near the top to keep shoelaces close intact. Having this new feature simply adds more security and provides a compact, snug fit around both ankles.
Here's a close-up picture to explain exactly what I mean!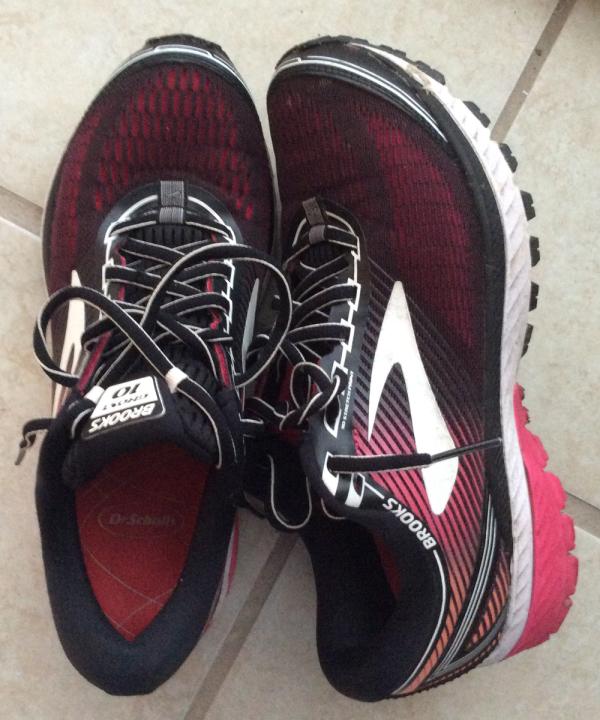 Insole
While some runners can get away with neutral support, I still felt something missing after many weeks of heavy mileage.
With the upcoming 40th Bank of America Chicago Marathon, I desperately need the perfect shoes. With a few weeks left, I switched out Ghost 10's sock liner for Dr. Scholl's running inserts.
Thankfully, during my 3-4 hour long runs Dr. Scholl made a world of difference and you can see why!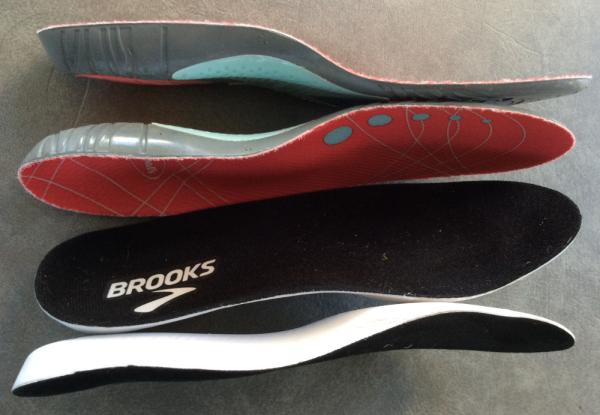 PRESTO, I'm officially attached to these Brooks Ghost 10's! Truthfully, they may very well be my Chicago Marathon shoe, but the verdict is still out.
Toe box
Runners will feel a roomy yet flexible toe box. The upper material allows air to flow freely especially during hot, humid days!
Normally I alternate shoe brands for speed work and shorter runs but honestly preferred Brooks. Unfortunately, I couldn't wear daily because if Ghost 10's were running Chicago I definitely needed to preserve a bit.
Some say the toebox and shoe, in general, is unattractive. However, when a friend walks in the gym debuting the same style and color as mine, obviously Ghost 10's are making a fashion statement among females.
Take a look for yourself to see what you think and notice the air vents in the upper mesh. I love this concept, but most impressive is no rips, tears or holes whatsoever in their durable material!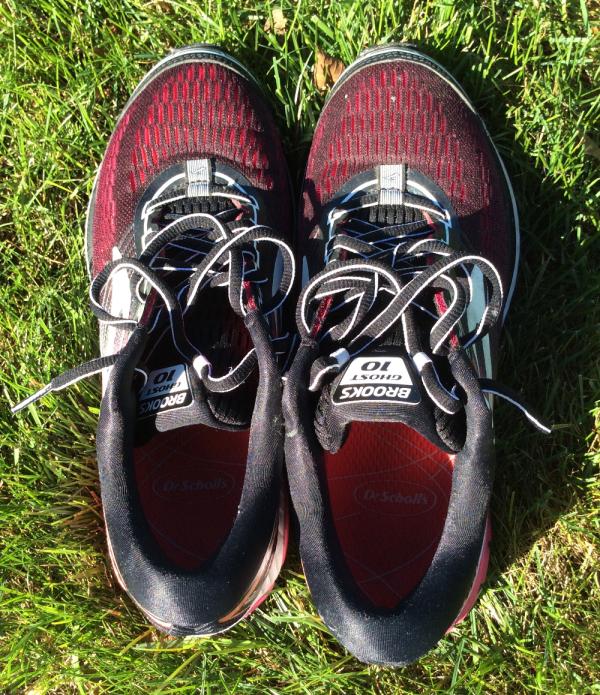 At this point, I know Brooks Ghost 10 will go down in history as my favorite summer training shoe!
Time will tell if Brooks can withstand the upcoming winter elements of rain, sleet, and snow. My guess is the insides will continue to absorb any and all moisture.
In fact, Ghost 10 soaks up more foot sweat than my New Balance 860 v7's, but I still place a tea bag in each shoe after a really long workout.
Heel Counter
Ghost 10's heel counter delivers one of the best I've ever run in. I love how snug my heels are yet remaining extremely comfortable.
When you squeeze Ghost 10's heel counter, you'll feel a difference in their unique design. The backs are sturdy and hold both heels firmly in place. This completely eliminates any annoying shoe slippage whatsoever.
As previously mentioned, when running in Brooks the last thing you'll think about is your shoes!
I wish I would've realized this sooner before purchasing new Mizuno Wave Rider 20's. Nonetheless, I am delighted with Brooks because 1 out of 3 shoe brands actually hit the jackpot, especially with heel counters staying in perfect form.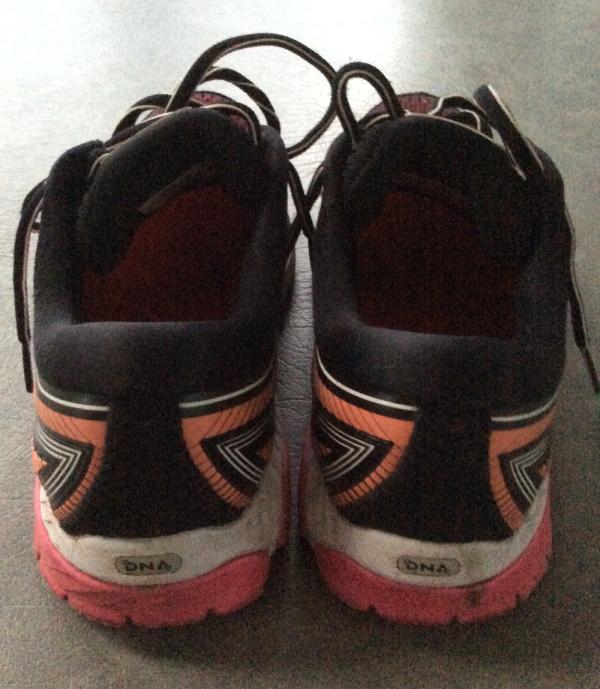 Heels
The first sign of heavy wear and tear is shown by my run down heels. The breakdown always tells me when it's time to buy new shoes.
No doubt, these shoes will withstand a couple hundred more miles which means they are definitely worth every penny. Cha-Ching!
Conclusion
Brooks running shoes are definitely worth a second chance!
Over time, the Ghost 10 completely won me over and I confidentially wore them during the Chicago, Illinois 40th Anniversary Marathon. As I looked around my start corral, it appeared Brooks Ghost 10 shoes were not worn by many runners. Nonetheless, I remained proud to represent Brooks's running shoes.
I learned Brooks, Inc, works hard to compete with top sellers while preserving our environment to the best of their ability.
Brooks is eager to listen and learn from wear-testers and strive to meet our stability, cushioning and comfort demands. No wonder Runners World Magazine named Brooks Ghost 10 as their "Editors Choice" in 2017 and I couldn't agree more!
With running shoe technology on the rise, many innovative ideas continue coming down the pike. Until then, I'm excited to see what the future holds for Brooks, Inc. and I will continue to RUN, RUN, RUN!
Happy Running!