I began running in the Ghost 10 in June and so far, I have logged 75 miles in them. Over the course of the 75 miles, I have mainly used them for speed works, a couple ten mile runs, and one trail half marathon.
While these are neutral running shoes made for the road, I found them surprisingly very comfortable and durable out on a very muddy trail race.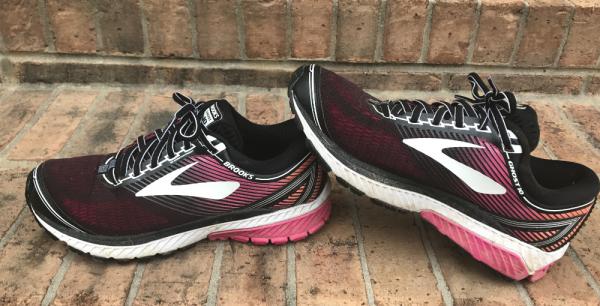 Also, a major plus- they cleaned up nicely afterwards and after washing looked brand new. This was the first pair of Brooks that I have ever run in, and I have been impressed with their quality and features.
My Favorite Feature: Cushioning
My favorite feature of the Ghost 10 is the cushioning.
I literally didn't have to spend any time breaking these shoes in. The day they arrived I took them straight out of the box and went running, which is not always possible with some shoes.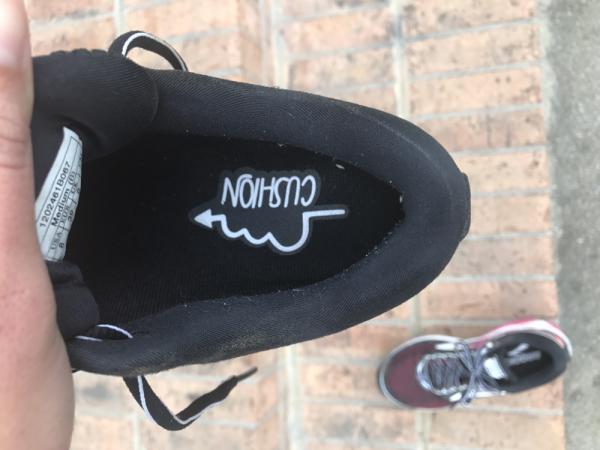 Brooks has designed these shoes with their BioMoGo DNA midsole cushioning, and it helps to reduce and evenly spread the impact that your feet and legs experience while running.
Since I began wearing these shoes, I haven't experienced any pain in my feet or legs due to running. Additionally, these shoes are very lightweight and flexible which also helps when doing speed workouts and when you have tired legs.
Another Favorite Feature: Soft Upper & Heel
Another one of my favorite feature of these shoes is soft and mesh upper. As soon as you lace these shoes up, you are experiencing total comfort from not only the soles but the top of your foot as well.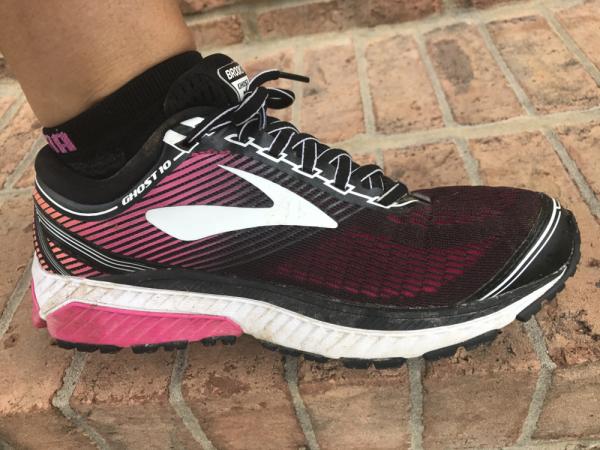 The upper cushioning adapts to your foot when tied, to offer a supportive and comfortable ride. These shoes never feel like they are tied too tight and my feet always feel secure when I'm running.
Lastly, the cushioning on the upper part of the heel of these shoes is very soft as well.
When I ran in the trail half marathon in these shoes, my feet were soaked when I finished. However, because of the cushioning in the heels, I never worried about getting blisters or my feet rubbing the wrong way.
A Variety of Color Options
A final favorite that I have of these shoes is the variety of color schemes that Brooks chose. The Ghost 10 can be purchased in five assorted color combinations and I feel like anyone can find a color scheme they prefer.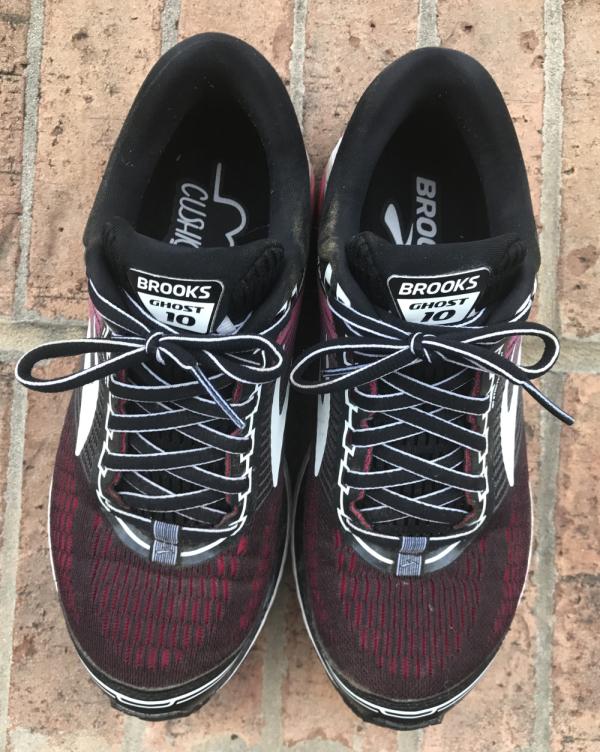 One option is a completely neutral shoe that is great for anyone looking for a shoe to wear to work or a shoe that will match anything.
Two of the shoes are semi-neutral in color but have splashes of vibrant blue and pink. The two other options are bright blue and pink which may be appealing to runners who enjoy having a little bit of color on their feet.
I have had the opportunity to run in the black and pink shoe and I really love that color scheme. It is the right amount of neutral with a splash of great color that looks great with all my running outfits.
Disadvantages
I don't know that there has or ever will be the perfect shoe for every person. Therefore, while these shoes offer many advantages that I enjoy there are a few things that I would change if I could.
One disadvantage that I found when first running in these shoes is that the toe box is much wider than what I am used to.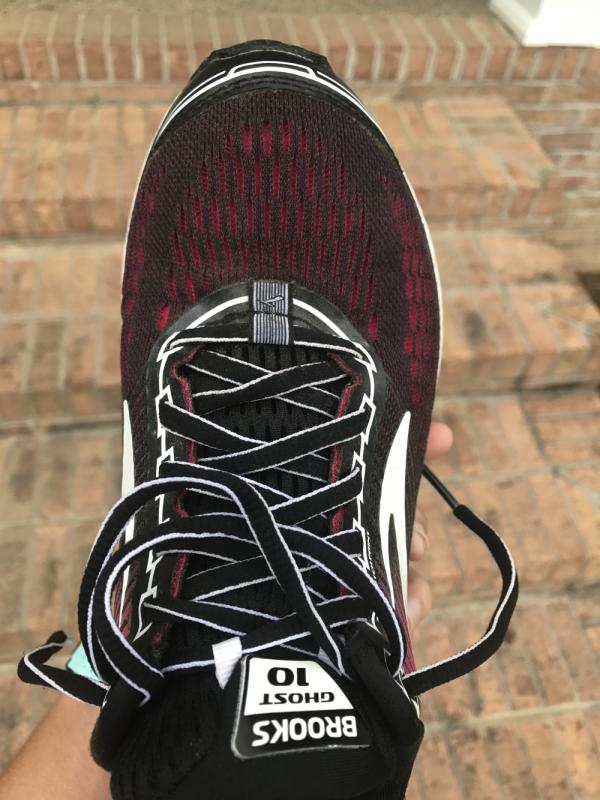 This probably isn't an issue for the runner with a wider foot or someone that prefers wider fit in the toe box. However, I haven't noticed the wider toe box to negatively influence my running or hinder the security of my foot while running.
Another disadvantage that I see with these shoes is that some individuals might find the price a little steep.
They retail for $120.00 which may not be feasible for some consumers. However, one notable thing about Brooks is they offer a 90-day trial on all their gear, so if you purchase their gear and aren't satisfied you can always get a refund.
Conclusion
In conclusion, I have enjoyed running my first 75 miles in the Ghost 10 and will continue to run in them for as long as possible.
I have found the Ghost 10 to offer a cushioned and stable ride that would satisfy any runner searching for a neutral running shoe. The upper and heel conform to your feet and offer security and while also providing comfort.
Additionally, the variety of color choices and design make these shoes appealing to a wide range of consumers. Furthermore, Brooks is a trusted brand among runners and as I mentioned before, stands behind its gear with a money back guarantee.