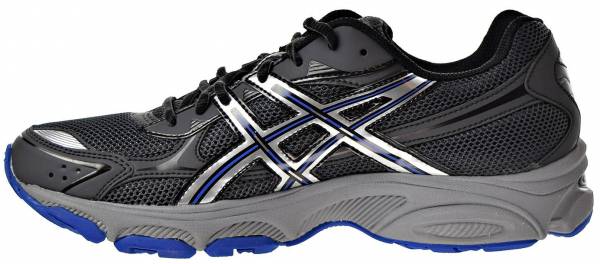 Majority of the reviews received by the Asics Gel Vanisher were favorable. Praises were directed to the shoe's craftsmanship and the efficiency of its features. Overall, many reviewers have claimed they liked the Asics Gel Vanisher so much that they are willing to purchase a second pair if the need arises.
---
Verdict from 1 expert and 100+ user reviews
9 reasons to buy
Several users applauded the comfort provided by the Asics Gel Vanisher. Some have also noted it did not require a break-in period.
The shoe was perfect for both short errand runs and long workout runs, according to a reviewer.
The Gel Vanisher has helped relieve foot and ankle pains, a wearer conveyed.
Many runners thought the shoe was lightweight.
The Gel cushioning was effective in absorbing shock and impact, mentioned a satisfied user.
A number of customers commented about the pleasing appearance of the Gel Vanisher.
Most wearers found the shoe to have an accurate fit.
The Asics Gel Vanisher was reasonably priced, some purchasers stated.
One user reported their stride felt effortless and their speed increased because of the shoe.
1 reason not to buy
One user said it was not as cushioned as expected.
Bottom line
Majority of the reviews received by the Asics Gel Vanisher were favorable. Praises were directed to the shoe's craftsmanship and the efficiency of its features. Overall, many reviewers have claimed they liked the Asics Gel Vanisher so much that they are willing to purchase a second pair if the need arises.
Best price from 54 shops
We earn affiliate commissions at no extra cost to you when you buy through us.
84% say it's true to size.
We earn affiliate commissions at no extra cost to you when you buy through us.
Our reviews
I was looking for a daily trainer to use in the gym and for walking on days when I don't run. I'm a low-mileage runner, and I also enjoy weight lifting and fitness walking.
I tend to save my running shoes (a pair of Brooks Launch 4) for days when I actually run, and I keep a second pair for other activities. From experience, I know that entry-level Asics are often an excellent value and work well for my foot type. These shoes were certainly no exception.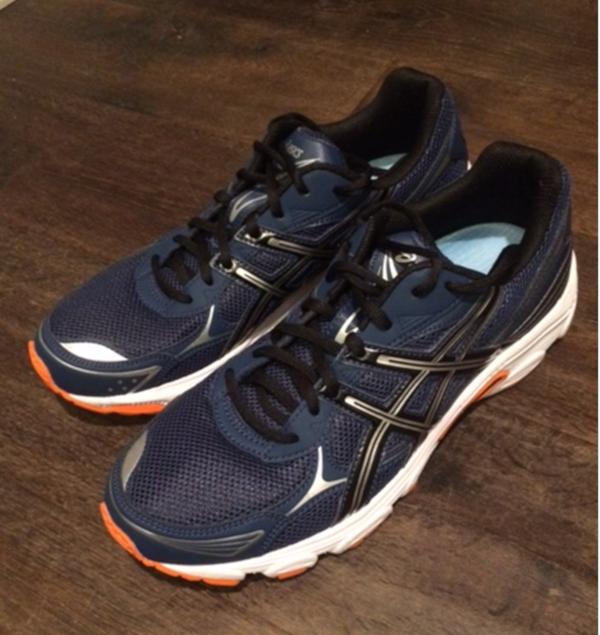 Who are these shoes for?
These shoes are designed for a neutral gait, where the foot does not rotate too far inwards (over-pronation) or outwards (over-supination) during the gait cycle.
There is a lot of science that goes into evaluating gait and selecting the appropriate type of shoe for the way you walk or run. That said, over time and through trial-and-error, you will be able to identify what works for your feet and what doesn't.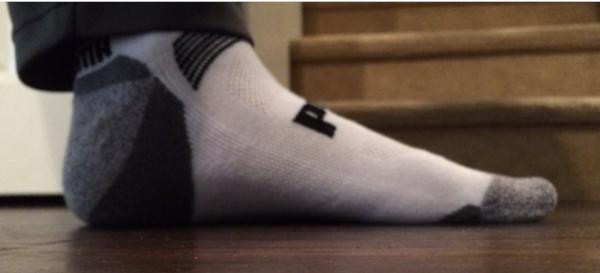 I have an average-width, medium arched foot (pictured above). Due to chronic issues with plantar fasciitis pain over the years, I wear an over-the-counter orthotic device which was prescribed to me by my podiatrist.
I find that for me, a neutral shoe combined with the orthotic inserts provides sufficient comfort for running and walking.
Product features
Aesthetics
The Gel Vanisher is a very traditional Asics running shoe which reminds me of some of the styles I used in the late 1990s and early 2000s. The Gel Vanisher foregoes the faster, lighter aesthetic seen on some current popular shoe models for a sturdier look and feel.
This design works well for me, as a middle-aged guy who began exercising decades ago in shoe styles like this one. However, I imagine that this model may not appeal to a younger consumer.
Fit
Like most Asics models, I had to go up a half size (from 9 to 9.5) to get the right fit. I found the shoes to be sufficiently roomy without being too wide for my medium-width feet.
I found the toe box to be just right, with enough room for toe splay without feeling loose. Generally, Asics shoes tend to fit me well while some other shoe brands can feel a bit narrow or wide in a medium width.
Upper
The upper is made from a perforated, highly breathable synthetic material.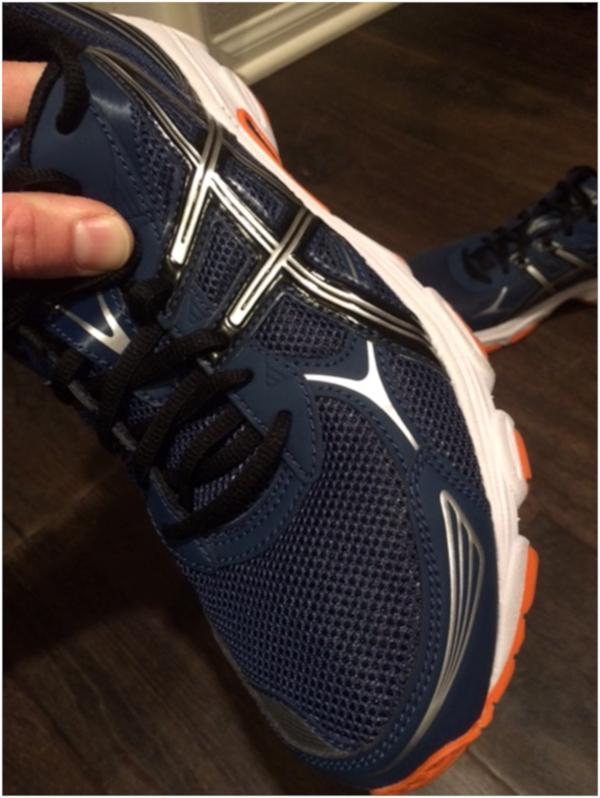 The midfoot area is built around a traditional striped Asics brand logo which is used in many Asics models to create a foot-hugging support cage.
This gives the shoe a snug feel and provides a surprising amount of lateral support. The heel counter is rigid and prevents unwanted side-to-side motion of the rearfoot during the gait cycle (see picture below).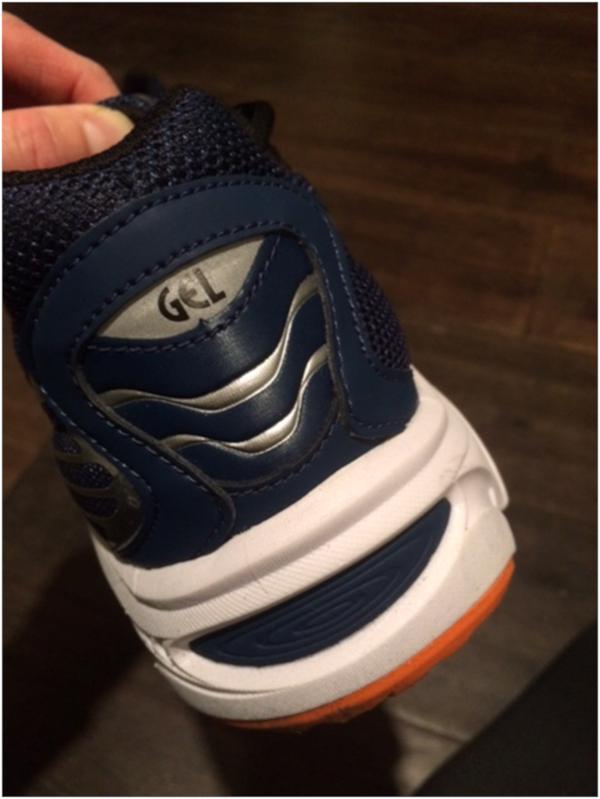 Midsole
The midsole is constructed from a foam material with Asics's trademark Gel cushioning system in the rearfoot. The midsole also includes a rubber arch plug which acts as a kind of torsion control bar in the midfoot area.
I like this feature, which provides added support around the arch. The overall feel of the shoe is firm rather than cushy, with a decent amount of heel bounce.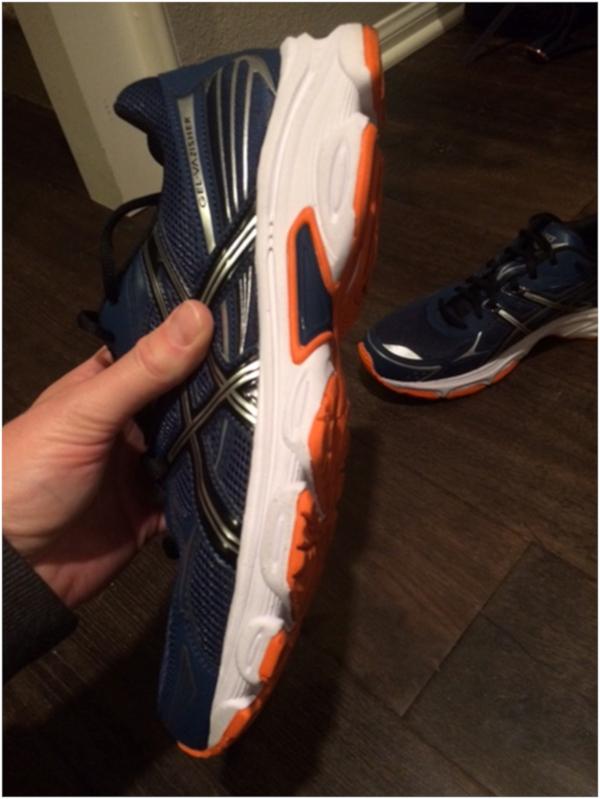 Insole
The shoe comes with a contoured stock insole that is easily removable. The stock insole is soft and provides a little cushion.
It appears to be designed around a neutral or medium arch. I replaced the stock insole with my doctor-prescribed orthotics with no issue.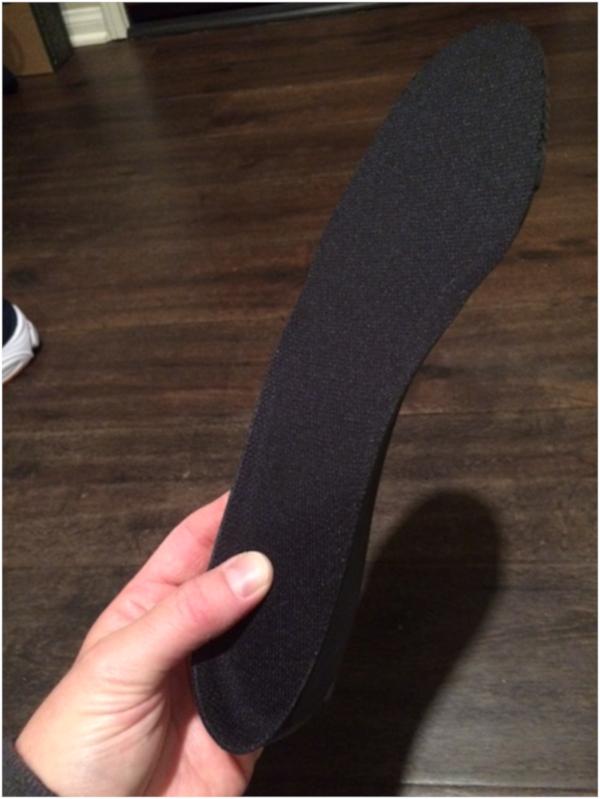 Outsole
The shoe's outsole is fairly rugged and very durable. The hard rubber provides enough traction to work for walking or light running on the road or even some trails.
The flex grooves in the forefoot allow the shoe to bend nicely around the toe area. Again, you can see the arch support around the midfoot, which wraps around the bottom of the shoe.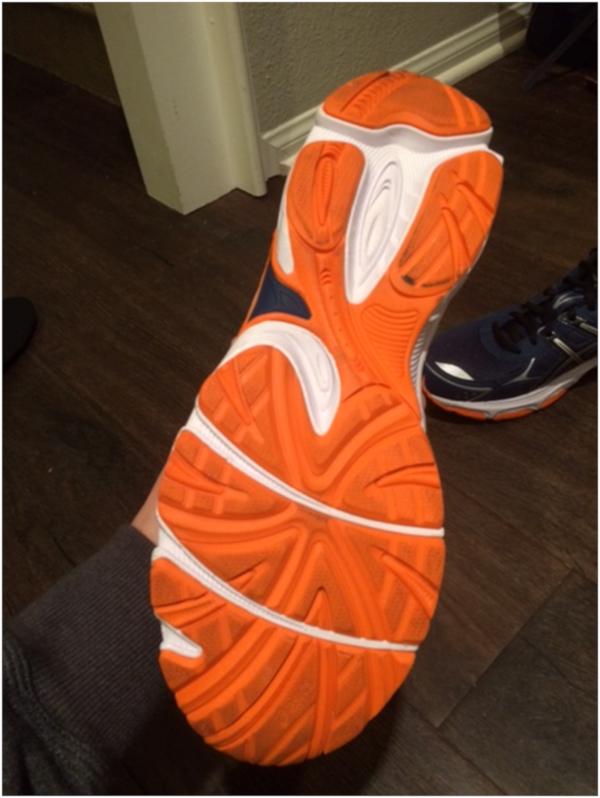 Pros
The Asics Gel Vanisher is designed with some excellent qualities.
A supportive upper with an extra lace hole that really holds the heel in place during exercise
Great support from the hard rubber midfoot plug that prevents the shoe from twisting and bending under the arch area
A firm yet cushioned midsole that provides solid and dependable underfoot support
An insole that can be easily removed to accommodate an orthotic
A durable outsole that provides a sure grip on the road, treadmill, or less challenging trails
An excellent fit in a medium width
Sold at a great value price point
Cons
The shoe does have a few drawbacks depending upon your intended use.
The cushioning does not feel responsive enough for running more than a couple of miles, as I would expect from an entry-level shoe
The shoe feels a bit heavy compared to some models
For me, neither of these issues were actually drawbacks. I bought this shoe for walking and cardio exercise, not for running. However, serious runners are advised to consider spending more on a higher quality running shoe that will be lighter and more cushioned.
Bottom line
The Asics Gel Vanisher is a supportive daily trainer at an excellent price point. While I don't recommend them for running more than a few miles at a time, these shoes will suit people whose workouts consist mainly of walking and cardio machines at the gym.
Their sturdy construction makes them durable, and the support they provide is exceptional. This is an excellent entry-level fitness shoe that many people should enjoy.
Updates to Asics Gel Vanisher
The Asics Gel Vanisher is a new road running shoe that caters to both beginners and experienced runners. With its durable design, the Gel Vanisher presents a smooth, soft, and comfortable platform that is built using classic Asics technology. The shoe's structure promises a durable and dependable ride for neutral pronators.
It has a breathable leather-and-mesh upper that offers the perfect balance of ventilation and coverage that is necessary for daily running. Beneath it is a well-cushioned footbed that is amplified by the brand's Gel cushioning in the heel area for shock absorption and smooth transition.
Size and fit
Following the standard running shoe construction, the Asics Gel Vanisher has a structure that most wearers would find is true-to-size. The shoe features an anatomically-correct silhouette, which caters to feet with low to moderate volumes. The Gel Vanisher is available in men's and women's version, both of which come in medium width.
Outsole
The outsole of the Gel Vanisher is a solid rubber compound that equips the shoe with durability and the necessary traction to handle various types of surfaces. The material is also crafted to protect the rest of the sole unit from abrasions.
There are flex grooves on the lateral and medial sides of the outsole. Together with a unique tread pattern, these elements enable an effortless flex during the toe-off phase.
Midsole
Same as in the popular Asics Gel Contend 4, the ethylene-vinyl acetate (EVA) foam midsole of the Asics Gel Vanisher effectively supplies the responsiveness needed by the runner to handle the roads with enough energy and rebound. Because of the level of response provided by the foam, the Gel Vanisher is able to help the user achieve more miles and longer distances.
At the rearfoot area of the midsole is a unit of Gel cushioning, which sits underneath the EVA foam. The Gel technology is known for its shock-absorbing capability that assists the foot during landing. This feature reduces the impact from a strike by dispersing it throughout the foot, therefore allowing more mobility.
Upper
A leather-and-mesh combination upper combines breathability, lightness, and protection to provide coverage that is simultaneously comfortable and reliable. The combination of leather and mesh is designed to enhance the performance and fit, compared to other upper materials.
Like many other Asics running shoes, the Gel Vanisher features the Asics logo on the lateral and medial sides, and these details also act as overlays that support the upper and provide structural integrity. The rest of the shoe is completed by the padded tongue and collar, which add comfort, and a traditional lace-up closure for a guaranteed secure fit.
Rankings
How Asics Gel Vanisher ranks compared to all other shoes
Popularity
The current trend of Asics Gel Vanisher.