Verdict from 2 experts and +100 user reviews
6 reasons to buy
Many applauded the lightweight construction of Asics Gel DS Racer 11.
Some found that this shoe offered impressive flexibility and natural freedom of motion.
The 11th version of the Gel DS Racer features the Open Mesh, which is responsible for the breathability and comfort.
It features the Solyte technology for added durability and responsive cushioning.
The mild over-pronation of the foot is handled by effective mid-sole components, such as the dual density DuoMax Support System, the Trusstic System, and the Guidance Line.
This is an affordable running shoe.
3 reasons not to buy
Some felt that this shoe fits too tight for them, particularly in the forefoot area.
Others felt that cushioning needs improvement.
A few testers felt that the shoelaces weren't able to stay secured and they irritatingly came loose frequently.
Bottom line
The Asics Gel DS Racer 11 is a lightweight, supportive running shoe ideal for road running. It is equipped with the necessary technologies that help runners survive long distance races and marathons. Some users were happy with the shoe's performance while others expressed disappointments. In summary, the shoe still needs improvement especially in terms of cushioning and fit.
Tip: see the best running shoes.
Our reviews
A long time ago, one coach told me that the best shoes for training are the ones for racing. Thus, he recommended me to try the Tiger Paw from Asics.
At that time, I loved those shoes. But after a few seasons, I could not find the same pair again and eventually tried other shoes along the way.
Last season, in a sports shop, I came across with the Gel DS Racer 11 from Asics. The shoe looked very light at first glance. I grabbed it and realized that indeed it was very lightweight.
I bought it without thinking any further.
Design
The Gel DS Racer 11 shoes have a very flashy and aggressive design. For regular runs, I rather wear shoes with neutral colors.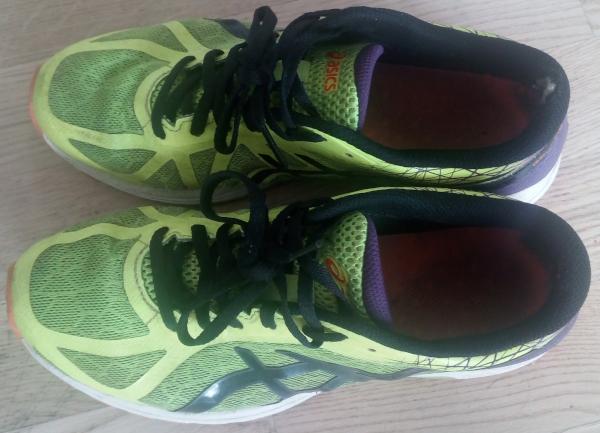 Nonetheless, for races, I guess flashy colors and aggressive design seem to be a good option.
Fit
I never felt super comfortable wearing these shoes. To me, these shoes are a bit narrow, and the upper layer is a bit stiff. It took me a few runs to get used to them.
It is also very recommended to cut your toenails whenever you want to run in these shoes. However, once I started sprinting with these, all of those problems seemed to go away.
Performance
Easy runs
These shoes have a drop of 8mm, which to me was a bit annoying. I normally land on the ball of my foot, and then I absorb the impact before taking the next step.
I guess my impact absorption during easy runs is a bit bigger than the 8mm. Therefore, I could hear a flapping noise on every step.
This noise to me was a bit disturbing. Hence, I avoided these shoes for easy runs.
Tempo runs
I hate tempo runs. However, these shoes make tempo runs a bit less hellish. They are fast. Thus, it is easier to run at the program speed.
And, because of the drop that I dislike for easy runs, it helps me move forward and put less tension on my calves during faster runs. Without a doubt, these are my favorite shoes for tempo runs.
Long runs
I have similar problems with easy runs. All the time, I hear this annoying flapping sound.
Nevertheless, I've done 25km runs with these shoes without feeling very sore the next day, which is something good.
Races
I never felt super comfortable enough with these shoes for me to wear them in a race. I already have some racing shoes that I love, which feel much more comfortable than the Racer 11.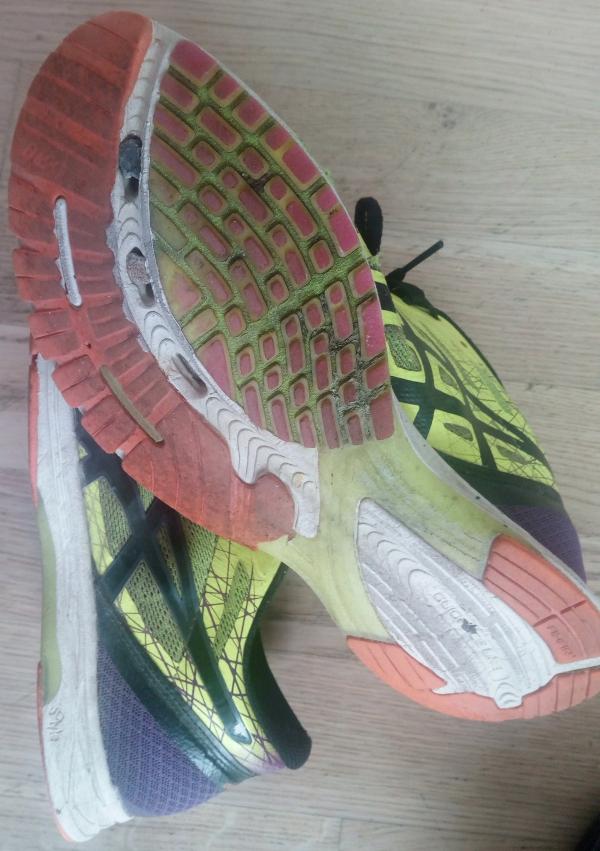 However, I've been lucky enough to participate in elite races. And, in these races, I have seen many elite athletes running 10km in under 29 minutes wearing these shoes.
Cross country
I've used the shoes in cross country. I did not find any significant problem with this pair. But definitely, these shoes have been designed for asphalt.
Durability
I've run in them more than 1300km. Amazingly, as you can see in the pictures, they are still in good shape.
Conclusion
I bought these shoes expecting to use them for all types of runs and workouts. However, I got a bit disappointed with them.
These shoes are not versatile. They are specifically designed for fast runs on pavement.
Plus Points
Lightweight
Durable
Very good for speed workouts, tempo runs, and races on track and pavement
Weak points
Not really versatile
A bit narrow
Annoying flapping sound
Nonetheless, with all the things I do not like about these shoes, they are still my favorite shoes for tempo runs.
Good to know
The Asics Gel DS Racer 11 comes with an enhanced upper. It is more breathable and provides secure fit. The update includes the perforated sockliner that optimizes moisture drainage for additional underfoot breathability and comfort.
Another update is the outsole. The DS Racer 11 used the notable and updated DuoSole technology that delivers reliable traction and added durability.
With the updates in the upper and outsole, the fit and sizing remains unchanged. It is still identical with the previous version. It is available in a standard running shoe length. The forefoot is a bit narrow and the heel and midfoot are in regular volume.
Expect durability and reliable traction with the shoe's DuoSole technology. This matches perfectly with the DuraSponge technology that offers flexibility and responsive cushioning. With the Asics high-abrasion rubber in the heel, durability is out of question.
The midsole utilizes the brand's Trusstic System, made from a lightweight thermal plastic midsole for torsional rigidity and reduced sole weight.
This Asic shoe also uses the rearfoot gel cushioning system for better shock absorption and smooth heel-to-toe transition. The dual midsole foam is strategically placed to enhance support and stability. The Solyte midsole material also gives added cushioning and durability.
For added midsole breathability, the shoe uses the brand's Magic Sole technology. It has ventilated holes that allow the foot to breathe efficiently.
The upper of the Asics Gel DS Racer 11 uses an open mesh that delivers an impressive breathable coverage. The seamless construction delivers a comfortable fit and keeps foot free from blisters and irritation. The new perforated sockliner gives underfoot comfort and added breathability.
Rankings
How Asics Gel DS Racer 11 ranks compared to all other shoes
Popularity
The current trend of Asics Gel DS Racer 11.