Verdict from 6 experts and +100 user reviews
8 reasons to buy
A tester wrote that they preferred the color schemes of the Gel Contend 3, which stood apart from the overly vibrant neon hues of most Asics shoes.
There were runners who thought that the fit was adequate, that the shoe didn't feel too tight.
Runners generally appreciated the lightly padded tongue and collar.
One runner who weighed 265lbs felt that the Asics Gel Contend 3 was able to handle their body weight, even after continued use.
The mid-sole unit became a highlight for runners because many of them were able to stay comfortable and well-cushioned throughout their activities.
The insole garnered recognition because it delivered contoured support to the curves of the underfoot.
Consumers were in agreement when they stated that this shoe had an affordable price.
Some runners wrote that it didn't easily get dirty.
2 reasons not to buy
The toe box was a bit narrow for a tester.
The rear section of the upper unit was a bit high for some testers and it rubbed uncomfortably against the Achilles tendon.
Bottom line
The Asics Gel Contend 3 received positive feedback from runners who enjoyed its agreeable underfoot experience, as well as its clean and comfortable upper. It felt strong and it didn't break down easily for many of those who tried it. On the other hand, some consumers felt that it was a bit narrow and small. Such concerns can be addressed easily, though. This road shoe quickly became a trusted model for a lot of neutral runners.
Tip: see the best running shoes.
Our reviews
The Asics Contend 3 is a neutral running shoe that might have you wondering (after a little while) why you paid three times as much for the more lavish models.
This shoe could be greatly improved by upgrading the sock liner.
A good shoe
Well done, a bit dated but well put together with tried and true materials and techniques, with no high-tech printed overlays and none of the latest state-of-the-art cushioning materials such as DNA or FlyteFoam.
This shoe performs well in all areas except one, cushioning!
Good Looking
Asics design. The heel counter and midfoot-uppers use some fine web material, very nice looking.
Durability
With just under 70 miles of easy running, I see no more wear on the outer soles of the Contend than with the Asics GT-2000, as a mid-foot striker.
The Asics GT series has AHAR (Asics High Abrasive Rubber) in the heel, the Contend does not, so some runners will see faster heel wear without this model.
White Arrows show that the Asics GT 2000 has an additional layer of density foam and added gel in the heel, the Contend has only simple white EVA and far less gel.
Weight is 348 grams for size 44.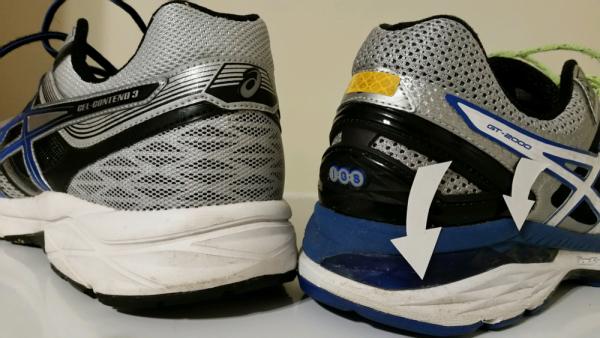 Safety
Not a great deal of after dark reflectors except on the rear.
These shoes are a candidate for reflective laces or some reflective material, however, the fact is that even if you had 20 reflectors and a big flashing light on your hat, it might not help at all because many drivers are simply not looking!
Bring your reflective laces just in case, they are moving as you run and this motion helps. And remember you simply must be ready to jump out of the way!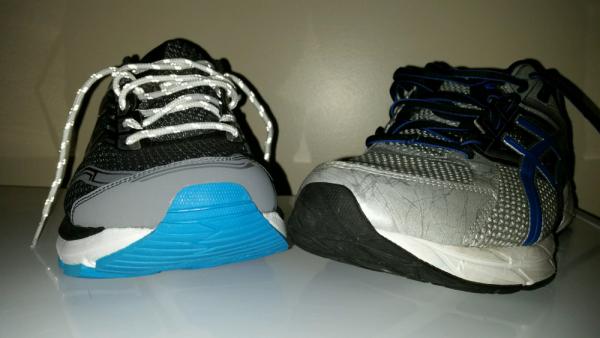 Not for the Novice
This is not a shoe for the beginner, a novice runner should be running in a more substantial shoe, such as the Asics GT, Cumulus or something like the Brooks Ghost to avoid injuries so common in the early years of running.
Once a runner has built up some miles and has become stronger and more durable, their shoe choices increase.
Conclusion
This shoe is best suited for a very lightweight, experienced runner on a tight budget, as an every other day trainer, leaving the Nike Pegasus or Asics GT for longer runs.
With that said, there seems to be no substitute for quality, we get what we pay for and after adding in the cost of upgrades it might be better to wait for a sale on a better shoe.
Run Happy. Run Safe!
Good to know
Asics gives a few slight changes to a shoe designed for entry level runners in the Contend 3. What is most significant in the changes is the use of overlays that are not as rigid and as stiff as before. One update that really sticks to the theme of removing the very stiff overlays of the past version is the new single rand that holds effectively the heel from any movements without being very stiff. Protection at the toes is not as substantial as before courtesy of the more flexible forefoot overlay. The overall fit is more forgiving and adapts rather nicely to the foot.
The outsole gets a slight reboot as well. There is now a new decoupled heel that helps with the shock-absorbing features of the shoe. Runners will also find more grooves for better flexibility and enhanced transition.
A medium-sized heel and forefoot are the main characteristics of the Gel Contend 3. It has good space in the toe box and a snug midfoot. This is a fit that is very similar to the previous model. Available widths are D and B. Sizes are on point featuring 7 to 14 for the men's and 5 to 11 for the women's.
A textured outsole provides decent grip and durability on the road and track. Flex grooves are located near the forefoot for better flexibility and smoother transitions.
A single layer of standard EVA acts as the main midsole cushioning component. The same high-quality EVA material is also used in the Asics Contende 4.
Asics' patented gel cushioning, which is a silicon-based material, is placed in the heel for proven shock-absorbing features.
Asics uses regular mesh for adequate breathability while synthetic overlays provide added support and structure. A contoured and removable sockliner offers enhanced comfort and arch support.
Rankings
How Asics Gel Contend 3 ranks compared to all other shoes
Popularity
The current trend of Asics Gel Contend 3.