If you need a versatile shoe, look no further than
the Adidas PureBoost
. With great cushioning, a responsive run, and impressive looks you can wear this thing for any occasion. Take it on a distance run, run to the coffee shop, or just hit the gym for a few hours. It does it all. Just make sure your back home before it rains!
Pros
True to size
Perfectly stable ride
Roomy toebox
Responsive
Lightweight
Breathable upper
Great as an everyday sneaker
Locked-in feel
You can feel the ground
Cons
Lack of insole
White midsole turns yellow
Pricey
Adidas Pureboost review
Adidas created this lightweight version of their famous Ultra Boost for city and roadrunners.
You won't choose to run in these for lengthy runs, but they are excellent for short runs or getting around town. The incredible comfort and stylish design will make sure you get where you need to go with comfort and style if you can swallow the heavy price tag.
Simple, versatile design
Adidas didn't fail with this iteration of Pure Boost. Its simple design allows you to wear it running, to the gym, or use it for casual use. You can slip this shoe on, run around town, and arrive in style.
I purchased the all-white variant, and even though I beat the shoe up, it never became that dirty. Now I wash my shoes regularly, but other than yellowing in the Boost material I couldn't find any issues with it.
That being said if you run in a muddy environment I would stick to one of the darker colors.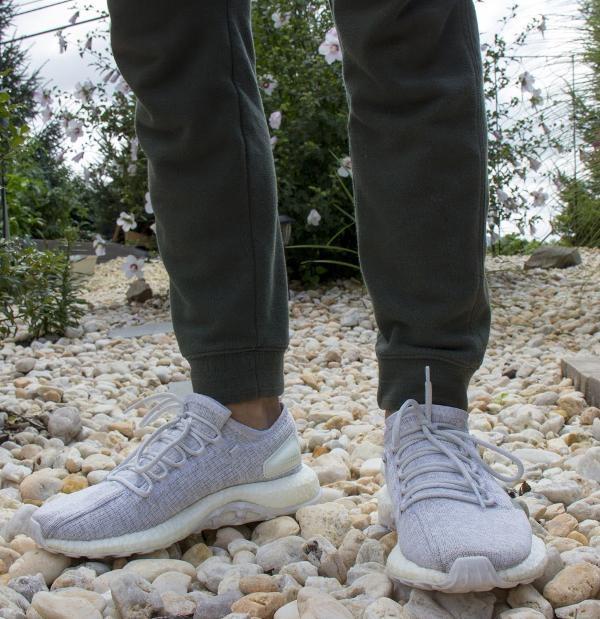 Breathable, supportive upper
The Adidas PureBoost comes with a supportive upper, that doesn't minimize breathability. Although great for long hot runs, running in the rain will not be an enjoyable experience. The Boost material gets wet quickly, and with the lack of an insole, your foot pounds the wet Boost with every stride. Learn from my experience, be home before the rain starts!
The tongue on the PureBoost is interesting. Adidas used a "taco" style folding tongue which at first made me worried.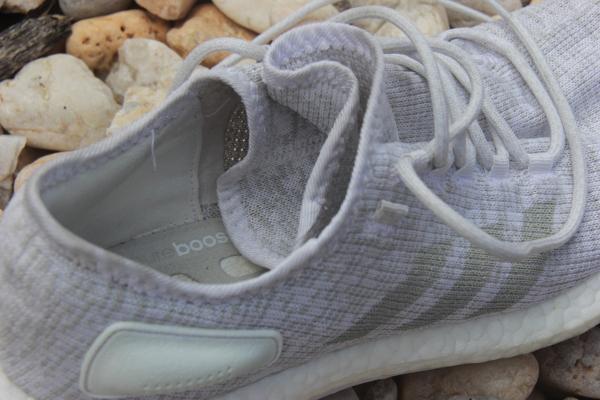 Three layers of any material covering your foot from fresh air is a bad idea, right? Well, somehow Adidas made this awkward tongue breathable and somewhat functional.
I can't say the tongue is poorly designed because it works fine, but I don't understand why they had to make it so difficult. There was one spot on the bottom of the tongue where all three layers are sewn together which caused irritation around the toe.
Nice roomy toebox
PureBoost fit true to size with me. The upper is less stretched than competitors like the UltraBoost, but this shoe has a wider toe box so you should be fine even with wider feet like me.
The upper is less stretchy than a PrimeKnit upper, but for a shoe made for the city, it works great. Your foot feels solid and doesn't slip around when making sharp city street corner turns.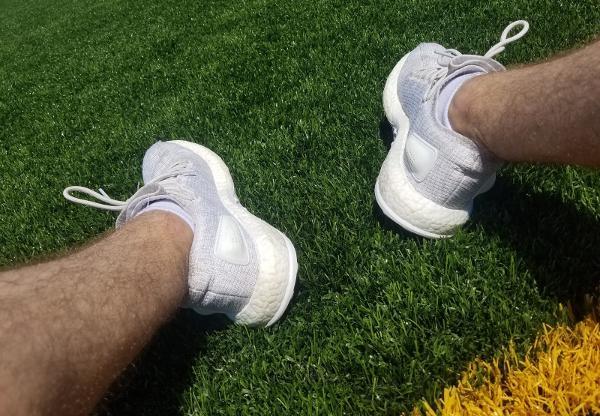 The mesh style upper covers most of the shoe, except the heel. The inner heel has a very comfortable soft material for a more comfortable fit. A taller pair of socks is almost necessary as the tall heel counter can cause irritation to most runners.
Comfortable and lightweight
Although this is a neutral and minimal shoe, it is still very comfortable while being lightweight. It doesn't offer as much cushioning as the Ultra Boost we have all come to love, but where it loses on cushioning, it gains in overall contact with the ground.
Don't count on running with these on anything but road surfaces. The thinner boost midsole means that your foot will take a larger impact of all the rocks and uneven terrain you run on. As an under-pronator, I enjoyed the wider Boost midsole in the forefoot. There was a lot of support and cushioning of the lateral side of the foot making it a much more comfortable run.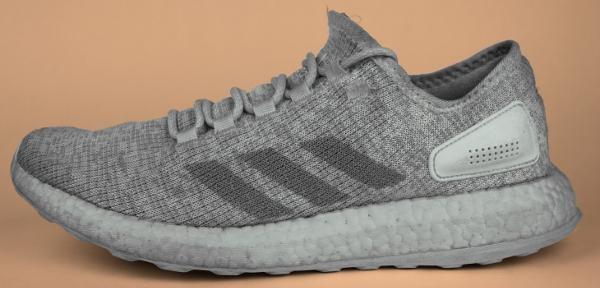 With this iteration of PureBoost, Adidas decided not to include an insole with the shoe. When you put the shoe on, you are stepping on the Boost foam itself. This places your foot closer to the ground, but as mentioned before running on rocks and other debris can cause pain in your foot.
What I recommend is going a half size up, if your current size is already tight, and putting in a thin insole. It changes the shoe from being a 10k max recommendation to a half marathon capable shoe.
It's crazy how much a good insole can do! While you're changing the insole, swap the laces too. The ones that come stock are nice and stylish but come untied making them a no-go for performance-based runs.
Great amount of cushioning
As with most Boost runners, this shoe still offers a great amount of cushioning without sacrificing energy return.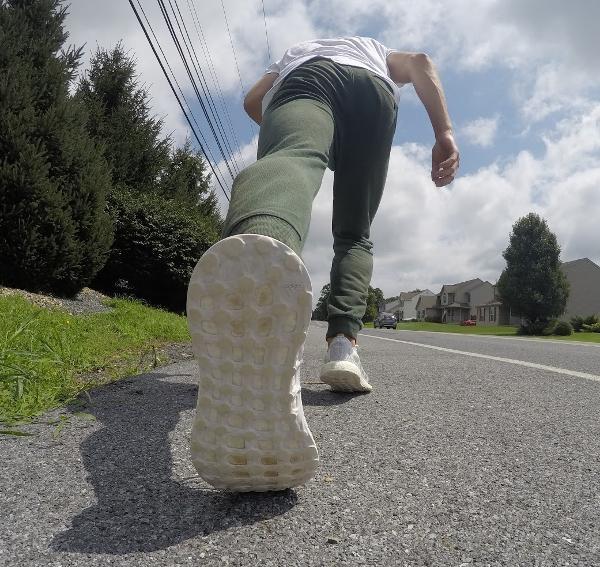 The 8mm heel-toe drop allows for a more responsive and neutral performance encouraging you to go fast. If you're looking for a sprinting shoe, look elsewhere. They make this shoe for those mid distances where you need a good balance between responsiveness and comfort.
Flexible
The stretchweb outsole was very flexible. It allowed for a comfortable run with easy transitions.
We did not see a return of the Continental rubber outsole on this shoe, but the rubber outsole was a bit thicker than its Continental branded counterpart.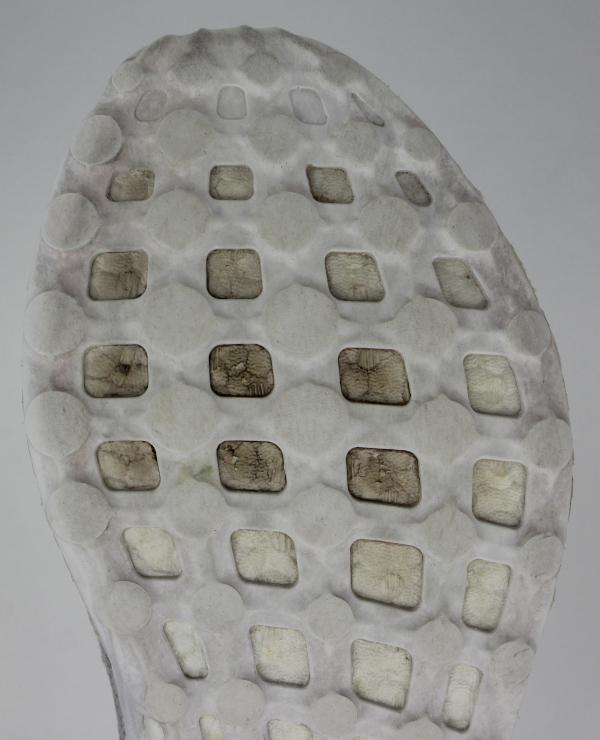 The outsole still has plenty of life left after about 100 miles of long recovery runs, tempo runs, and getting around campus.
Although not as durable and grippy as its Continental rubber counterpart, the EVA rubber outsole wears well and you can expect to get a few hundred miles of use.
Overall performance
I would recommend adding an insole to these shoes. It makes for a more comfortable ride without adding much weight or complexity. The responsiveness is about what you would expect if you have worn a Boost midsole shoe before. Great for running distance, not so great for super fast runs.