The Adidas Adizero Boston 10 is a maximalist daily trainer that delivers a firm and stable ride. If you're a long-time Boston fan, the Adizero Boston 10 might not be your cup of tea. It's no longer your trusty lightweight, do-it-all tempo shoe. It looks bulky and struggles in slow and faster paces but excels in medium-paced efforts, long runs, and marathon pace.
Pros
Stable platform
Well-cushioned
Durable outsole
Good midfoot lockdown
Gusseted tongue
Stylish
Cons
Narrow fit
Firm, not flexible
Poor laces
Warm upper
Adidas Adizero Boston 10 review
The Adidas Adizero Boston 10 is not for quick and fast runs. It is durable and stable but it does not give an explosive ride. It is not as flexible not as bouncy as the other running shoes in its category.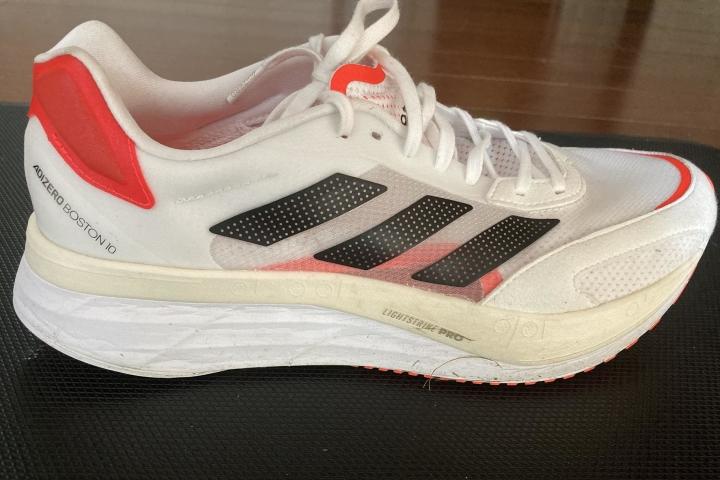 Who should buy it
The Adizero Boston 10 works best for someone looking for a firm and supportive shoe. The Adizero Boston 10 provides a good midfoot lockdown with a firm and durable outsole.
Who should NOT but it
The Adizero Boston 10 is not for someone looking for a:
flexible or plush daily trainer (in this case, the Ultraboost 21 is worth checking out)
breathable running shoe (the Alphabounce is praised for its breathability, even in warm weather)
stability shoe (the Adidas Duramo 10 is suitable for mild overpronators)
The Adizero Boston 10 is not flexible nor bouncy
The Adizero Boston 10 is stable and much stiffer and rigid than other neutral shoes on the market today. It is built on a large stack of soft Likestrike foam and very firm Lightstrike Pro foam.
The Adizero Boston 10 also includes black Energy Rods in the forefoot, which gives it a slight amount of spring.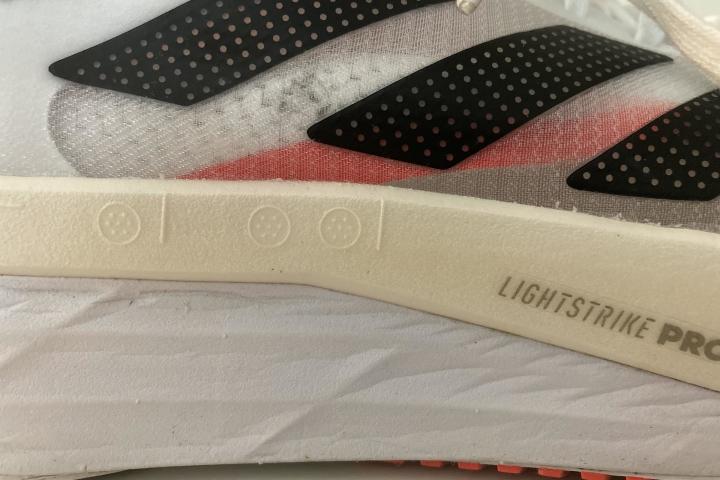 The Adizero Boston 10 is narrow
Compared to the Brooks Ghost model, the Adizero Boston 10 is a much narrower shoe, especially in the midfoot. The ride on the Ghost 13 is much smoother than the Adizero Boston 10.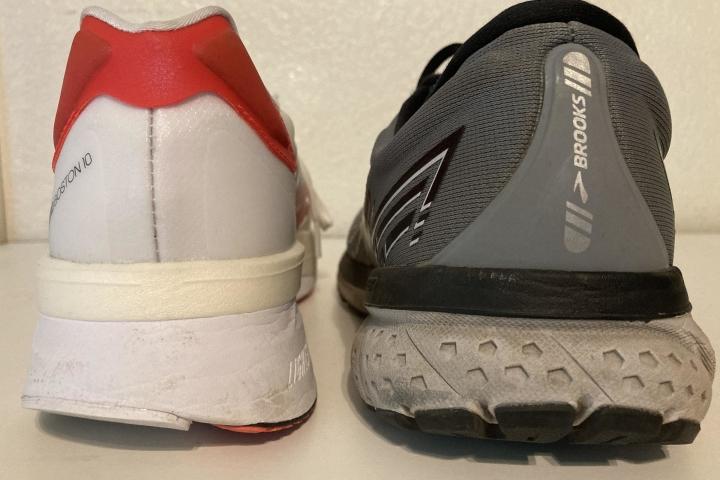 It provides a secure midfoot lockdown
The gusseted tongue provides good midfoot stability, similar to the Saucony Kinvara. Overall, it runs true-to-size or a little small. Although the tongue is thin, you don't feel the lightweight laces on the top of your foot. The ankle collar is nicely padded.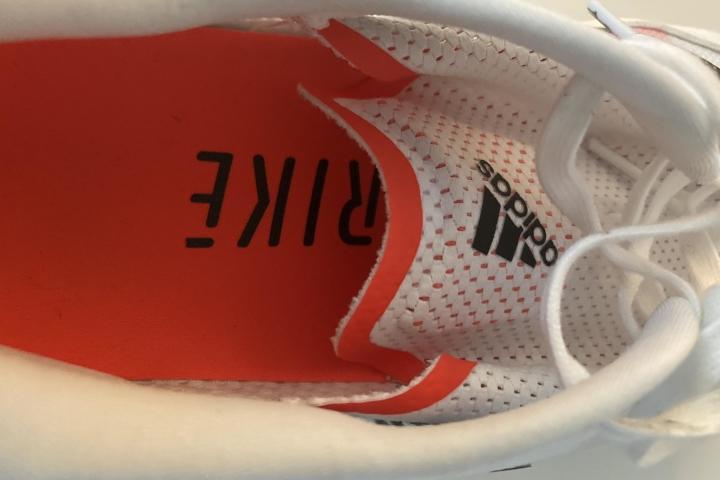 The Adizero Boston 10 is stylish
The Adizero Boston 10 is fashionable and pleasing to the eye, and more stylish than most running shoes. In addition to training with it, you can easily use this as an everyday shoe.
The upper runs warm and attracts dirt
The upper includes a mix of materials, including a thin mesh that does not breathe well. The forefoot has a ring of soft suede that attracts dirt, even if you stay on the road and avoid trails. This shoe will not stay white very long.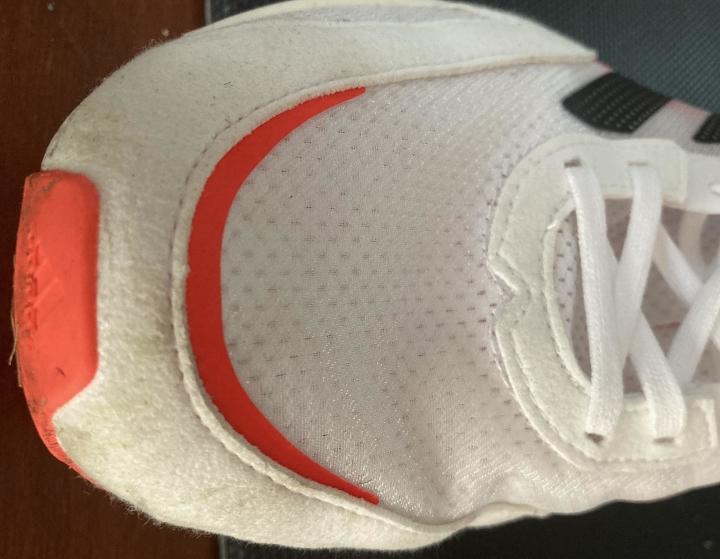 Poor quality laces
Compared to other brands such as Hoka and Skechers, the Adidas Adizero Boston 10 has very lightweight laces that are thinner and feel like they are not durable.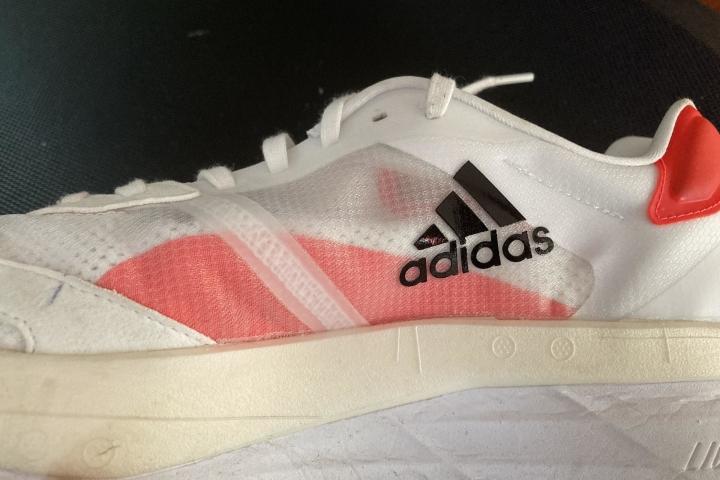 The Adizero Boston 10 needs time to break-in
Out of the box, the Adizero Boston 10 is very rigid and inflexible. If you remove the sock liner, the Adizero Boston 10 has a very hard interior surface. When you combine this with a firm midsole, you get a responsive ride with very little cushion. The midsole foam slowly softens up over time.
The outsole is durable, but can be noisy
The Adizero Boston 10 has a full-length Continental rubber outsole that has the feel of a basketball shoe. While it is very durable, it can make noise when you run on harder surfaces. The outer heel is made of white rubber that immediately gets very dirty, but does not wear down.