Verdict from 8 experts and 100+ user reviews
6 reasons to buy
A majority of consumers lauded the Nike Metcon Repper DSX for being a very comfortable all-around trainer.
Most of the reviewers found the shoe to be true to size.
The sole received a lot of praises for being flexible and cushiony enough for jogging and cardio workouts.
Training enthusiasts stated that the footwear offered a stable platform for lifting weights.
The design and colorways were favored by many buyers.
The price was deemed affordable for a Metcon shoe.
2 reasons not to buy
The most pressing issue buyers had with the Metcon Repper DSX was its durability as the seams ripped after a few months of use.
Some stated that it sat too low and dug into their ankle.
Bottom line
Training aficionados were pleased that the shoe performed well for all sorts of activities, from running to lifting. It also delivered excellent quality for its price and became the go-to cross-training shoe for droves of people.
Tip: see the best crossfit training shoes.
Our reviews
Like most shoes, the difference between good and great is almost always dependent on how you feel when you are performing. Are you slipping, are your feet sore and are you suffering from no support?
The Nike Metcon Repper has a wide base, great traction, and cushion. Even with prolonged workouts, I forget I have them on and love the flexibility around my feet.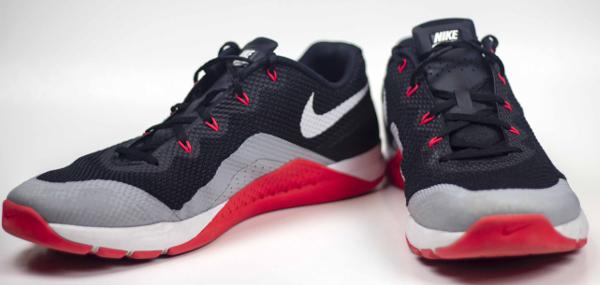 Traction
Speed and agility is fast movement, quick steps, and explosiveness. The traction on the Repper DSX is really good and bites exactly how I like.
I can slightly slide my feet in movements if I want or apply pressure to stop at will. The sole has a hexagonal pattern which displaces and distributes my weight evenly. These are a good option for training, they really are.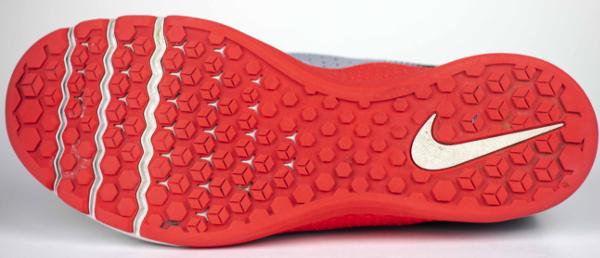 Fit
Nothing really necessary or excessive with the way this shoe fits. It feels like a typical sneaker and is nice enough to wear for a long walk, etc. Not too tight, has some flexibility and it breathes. Problem areas usually associated with shoes you train in are the toe and sides of the foot.
The toe area usually when jumping can throw you off your concentration if you have any discomfort. The toes of the Repper DSX contain my toes and they don't wiggle excessively.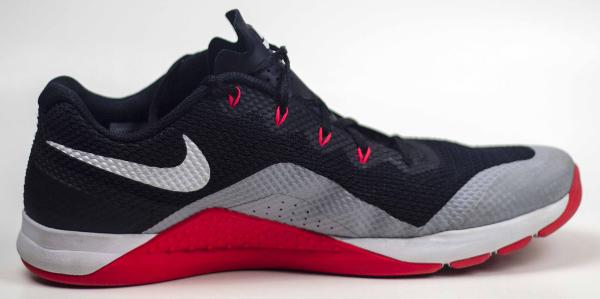 The sides of my foot have never been too tight either. I've had some shoes that were so tight that I almost had a cramp as well as discomfort. The sides flare out enough and flex that they are forgiving. Just how I like!
Weight
Again, the purpose of this shoe does not really require it to be super light weight. It is not heavy by any means.
From a kneeling position rising, or from a squat and jumping movement, the shoe does not have any drag, weight or clunkiness in my opinion. No complaints on the weight.
Materials
Not sure how to describe the materials. It has a flexible rubber mesh and it transitions straight into a piece of fabric from the toe. If that fabric went all the way to the toe, it would be bad news. So some strategic thought went into the toe protection and I like it.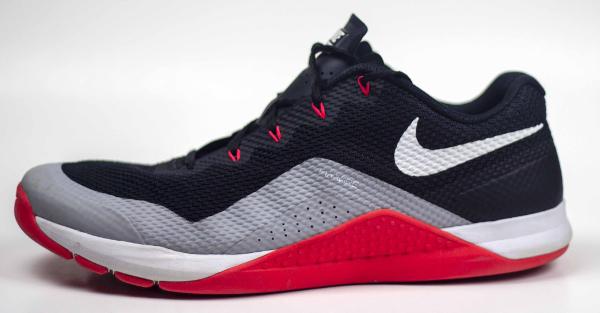 Keep in mind that in using dumbbells or weights, these do not offer any toe protection, so be careful.
If you do mistakenly kick a box when jumping doing plyo or even long jumps, that rubber type toe holds nice. I seriously think unless you like to leave these outside, that they may last forever. LOL.
Cushion
Just enough, is what I'd have to say. There are not any Nike air-sole units or anything like that. The sole is flat and minimal, which is what you want when lifting. I would say that walking a long distance is cool but you would not run in these daily.
I do 1/4 mile sprints in these and my feet feel fine. I have not tried running a distance in these. There is nothing fancy transitioning from the outsole to midsole. Being comfortable yet stable is key.
Support
I don't lace these super tight so my opinion on support is relative to my heel being locked in only. Stability when doing ladder drills, hurdles, box jumps and most all typical speed and agility drills are great in these.
For those using these primarily for weightlifting, you will also appreciate the support for the same reasons. The base of the sole is wide and the area behind my heel has support to keep me set when I squat, lunge or transition in a deadlift.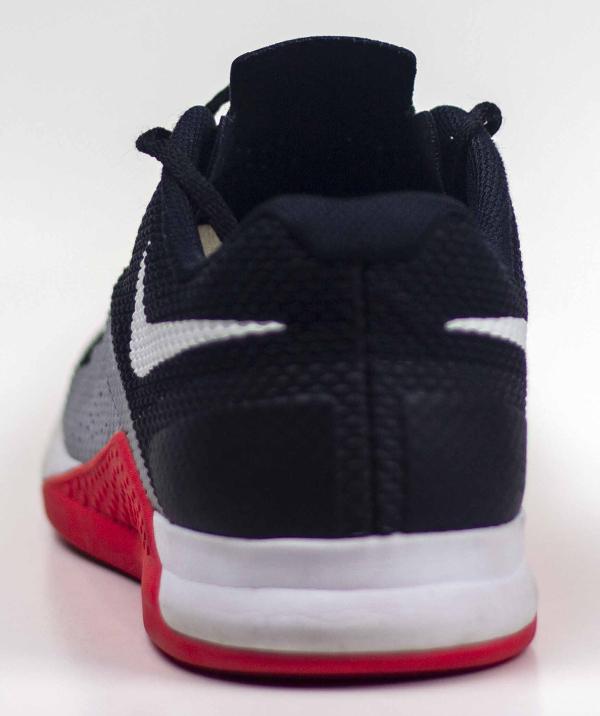 Final thoughts
Some people hoop and train in the same shoes. I like these because most of my hoop shoes in my rotation do cover my ankle.
Since I've started wearing these, I easily transition drill to drill. And most of all, I do not put any additional wear on my regular hoop shoes doing crazy jumps and other drills.
Good to know
The types of training which involve metabolic conditioning have gained considerable popularity over the past few years. As one of the largest athletic brands, Nike could not stay behind and has released a series of training shoes, known as the Metcons, dedicated to that specific purpose.
The Nike Metcon Repper DSX was constructed with running and jumping in mind. It is reflected in the "DSX" abbreviation of the shoe's name which stands for "Distance. Stamina. Cross-training." Thus, it offers a bit more cushioning than the popular Metcon 4.
The outsole is made of a solid, sticky rubber that delivers traction. It also protects the midsole from the potentially damaging effects of continued use.
Flex grooves are present in the forefoot area to facilitate movement. They essentially accommodate the natural bending of the toes as the foot prepares to lift off the ground.
The heel part of the Metcon Repper DSX is flat to provide stability while lifting weights.
The Nike Metcon Repper DSX features a Phylon midsole, which is a type of cushion made from ethylene-vinyl acetate foam. This material undergoes a series of changes as a result of compression, heat treatment, and cooling. EVA is a popular choice for shoes because it is lightweight, durable and flexible.
The outer midfoot of the shoe has a textured rubber overlay that assists during rope climbs.
The upper of the Metcon Repper DSX is made from mesh which is both breathable and lightweight. It has a padded tongue and collar that secures the foot.
Its flat laces keep the plush tongue in place via a small slot on top. It passes through the eyelet where it connects with the Flywire cables in the midfoot area.
Flywire is a cable made from Vectran, a type of material created from a liquid-crystal polymer which is extremely strong and flexible. Pulling on the laces tightens the Flywire and locks the foot down. It also delivers support during lateral movements.
It has thermoplastic polyurethane overlays present at the toe box for protection and at the heel to keep the foot in place. A combination of hard plastic and soft silicone, TPU is elastic, resistant to abrasion, and oil or grease.
Rankings
How Nike Metcon Repper DSX ranks compared to all other shoes
Popularity
The current trend of Nike Metcon Repper DSX.