7 Best Nike Gym Shoes in 2023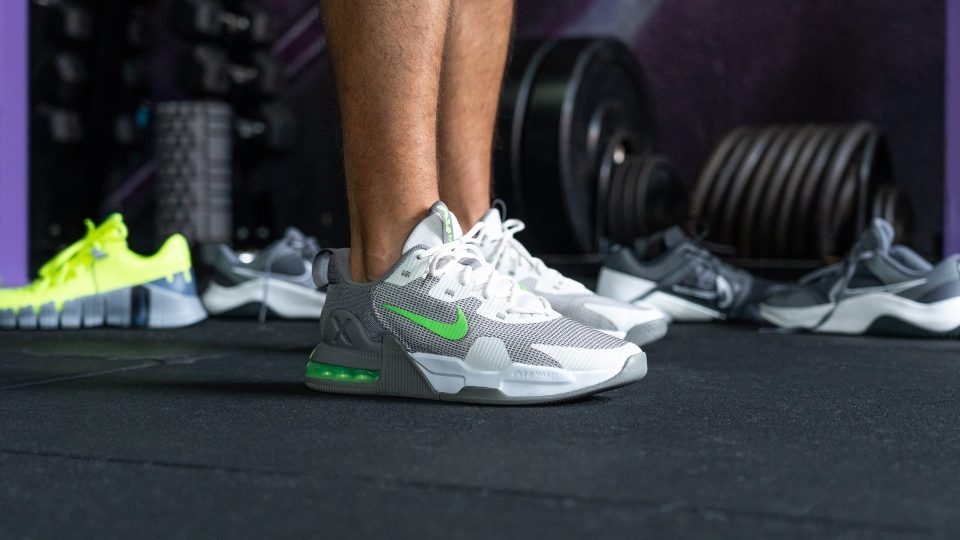 We earn affiliate commissions at no extra cost to you when you buy through us. Why trust us
Having the right gym shoes is a key foundation to achieve your fitness goals. Whether you're building muscles with weightlifting routines or executing a CrossFit workout of the day, the ideal footwear will provide the support, comfort, and stability you need for a range of movements.
To help you find the perfect pair, we offer our highly recommended Nike training shoes for different types of workouts. Whatever style and specific training needs you have, there's a pair of Nike gym shoes that are suitable for the way you like to train.
It's important for us that you choose your gym shoe well. To help you do that, we've purchased and scrutinized 40+ of the best Nike gym shoes out there. After testing them all, we've picked our top recommendations in different categories.
Comparison of the 7 best Nike gym shoes
| | | | | | | | | |
| --- | --- | --- | --- | --- | --- | --- | --- | --- |
| Best | | | | | | | | |
| CoreScore | | | | | | | | |
| Users rating | | | | | | | | |
| Experts | | | | | | | | |
| Best price | | | | | | | | |
| Ranking | | | | | | | | |
| Popularity | | | | | | | | |
| # of colorways | | | | | | | | |
How to find the best Nike gym shoes
Nike shoes regularly top gym shoe popularity polls. Their widespread appeal is due to a number of factors, including their strong brand image, marketing campaigns, proprietary technology, variety of styles, comfort, and durability. Let's dig a little deeper to help you find the best Nike shoe to meet your unique gym training needs.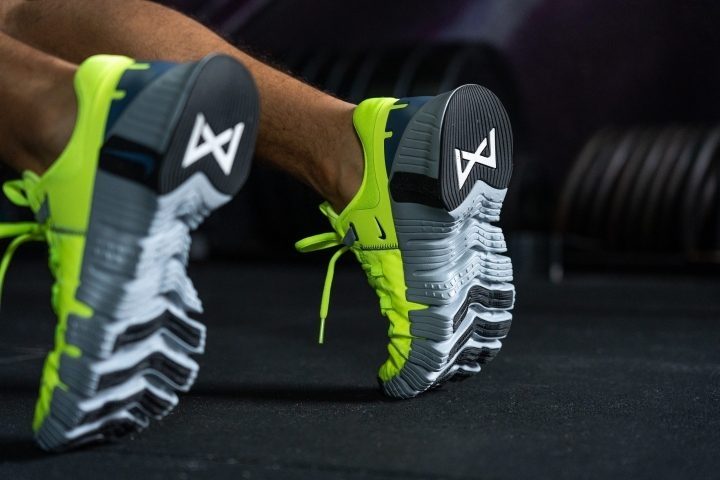 Picking the right gym shoe is crucial for maximum performance and injury prevention.
Nike gym shoes at a glance
Your type of workout determines what Nike shoe will suit you the best. Here are the most popular Nike gym shoes and what they are intended for:
| | |
| --- | --- |
| Nike Metcon | The Nike Metcon is an adaptable training shoe created for a variety of exercises, such as lifting, jogging, and jumping. It has a sturdy upper that offers support during vigorous exercise and a flat, firm outsole for stability. |
| Nike Free Metcon | The Nike Free is a flexible, lightweight running shoe that's meant to simulate training barefoot. A flexible outsole and simplistic design enable natural movement and a variety of exercises. |
| Nike Metcon Turbo | This shoe blends the cushioning and responsiveness of Nike React foam with the stability of the Metcon. With the added Zoom Air unit in the forefoot, it is more suitable for fast-paced and agile workouts. |
| Nike Air Zoom SuperRep | With a lightweight, breathable upper and a supportive, solid outsole, the Nike Air Zoom SuperRep is specifically made for high-intensity exercise. The split sole design on this shoe promotes flexible, natural movement. |
| Nike Romaleos | The Nike Romaleos is a weightlifting shoe that offers a secure foundation for difficult lifts. It has a flat, durable outsole and a supportive top in order to hold the foot in position when performing squats and other lifts. |
Choosing the right cushioning in Nike gym shoes
When performing high-impact exercises like plyometrics, shoes with good cushioning can help absorb shock and lessen the strain on your joints. Yet, too much cushioning can also compromise stability when performing workouts like weightlifting or other ones that need a solid foundation.
Thickness
The amount of shock absorption and impact protection might vary depending on the cushioning's thickness. Shoes with thinner cushioning are better for weightlifting or other exercises that call for a stable base, while shoes with more cushioning are frequently more comfortable for high-impact exercises.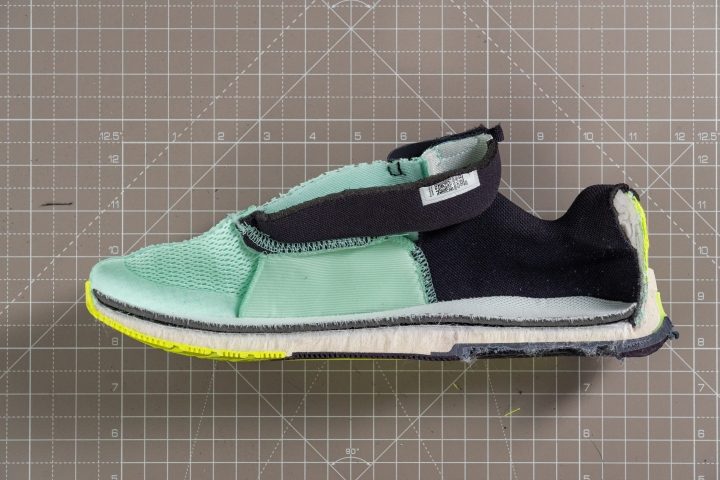 Heel height: 21.8 mm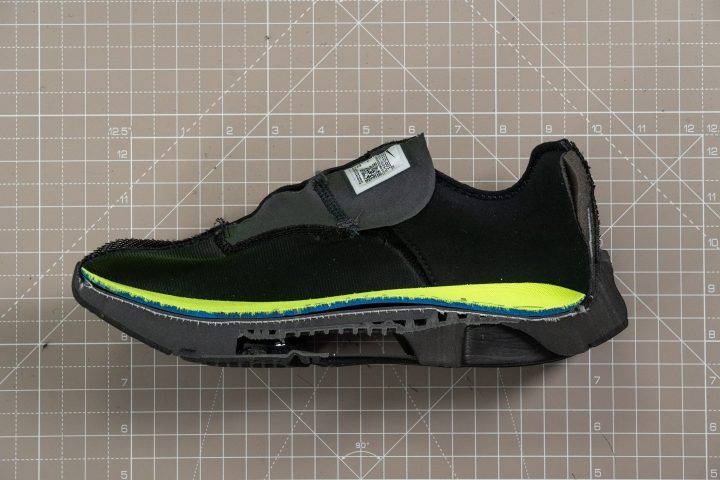 Heel height: 31.7 mm
Type of cushioning
Nike offers a variety of cushioning options in its athletic footwear. Here is a brief overview:
Nike React is the most common foam in the brand's training shoes. Firm and supportive, it provides a fine balance between cushioning and stability for all types of workouts.
Zoom Air is a high-rebound unit added under the balls of the foot for extra bounce. Perfect for HIIT, cardio, and other fast-paced workouts with a lot of jumps.
Consider the weight
Heavy cushioning can make shoes heavier, which might have an impact on performance. A shoe with a thin sole is ideal for speed or agility training where you need minimum weight. The lightest gym shoes from Nike are the Free Metcons.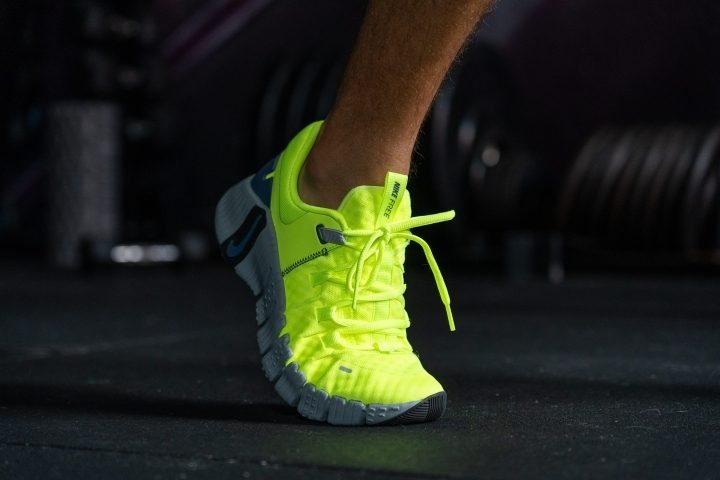 Durability is very important
A quality gym shoe ought to be able to handle repeated workouts without losing its integrity. Look for footwear that is made of sturdy materials.
We use a Dremel to test each Nike shoe's abrasion resistance in the toebox, in the heel padding, and in the outsole.
Here is a comparison of the flagship Nike Metcon 8 (left) and the budget-friendly Nike Flex Control 4 (right) after the same durability test. The Dremel was applied for 12 seconds at the same force and speed to both shoes.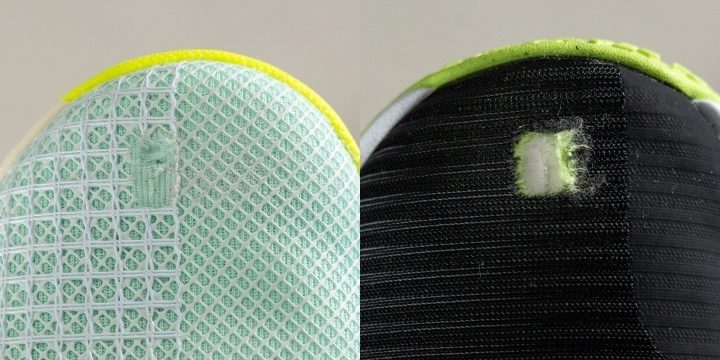 We put a piece of white material inside the shoe to make the contrast more visible.
Choose the best fit
A good workout shoe should be snug but not too tight. It should have enough room for your feet to gradually enlarge while you work out and allow your toes to move around freely.
To achieve a decent fit, make sure to try on your shoes while wearing the socks you want to use during your workout.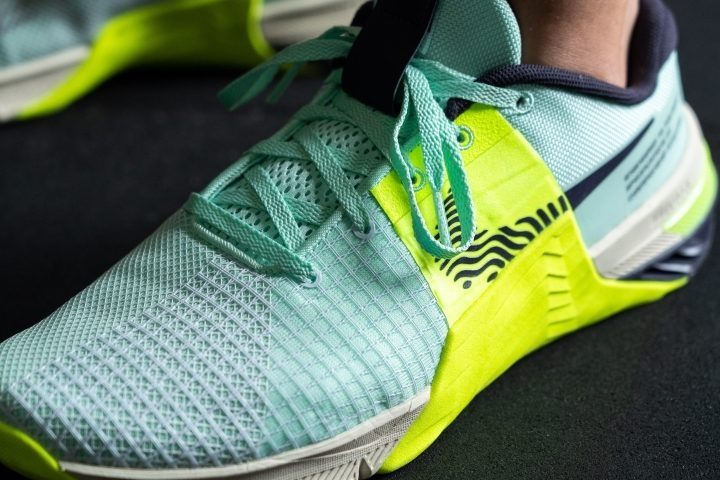 How we test training shoes
Ranking all the Nike gym shoes in the database requires serious hours of performance tests. We put in the work in the gym to see how each model performs in the real world. We carefully examine the essential parameters of the shoes before coming up with our assessments.
To ensure the objectivity of our reviews, we do the following:
Purchase the Nike gym shoes for our wear tests. We spend our own money on this to avoid any brand loyalty.
Go to the gym for a broad range of fitness activities, from high-intensity workouts, lifting weights, deep stretches, burpees, or 30 minutes on the treadmill.
Dive deeper into each of the shoes by slicing them up. We measure 30+ parameters of the shoes and analyze the results by correlating to our own experience plus comparing them to average values. We write our 100% honest reviews based on the gathered data from both wear and lab test sessions.