7 Best Gym Shoes For Women in 2023
We earn affiliate commissions at no extra cost to you when you buy through us. Why trust us
Wearing the right workout shoes is a fitness game changer. Just like you simply don't want to go to the gym without wearing the right sports bra, going to your workout session without the right gym shoes can make or break your daily fitness goals.
Whatever your favorite workout routine is, there's a pair of Cinderella-perfect gym shoes for you. From Altra's Solstice XT series to the futuristic Nike Air Zoom SuperRep models, there are plenty of great choices designed to deliver the right balance and support for your training needs.
To get you started, HEAD on below to find a list of women's gym shoes that are highly recommended by our team of wear testers at RunRepeat. Trust us, what you're going to find here is the best of the best for your next sweat sesh.
How we test training shoes
To provide you with 100% no-BS reviews, we've vetted 200+ gym shoes for women for all kinds of workouts and cardio activities, from squatting and heavy lifting to leisurely pacing the treadmill. We also include what to look for when browsing for workout shoes online.
Our selection process includes:
Purchasing the gym shoes for women using our own funds. We specifically do this to avoid brand loyalty and bias.
Writing in-depth reviews about shoes that we've thoroughly tested ourselves. We use the shoes for real-world tests doing a variety of workout routines to determine the actual performance, fit, and comfort of the shoes.
Putting in around 20 hours of wear tests in the gym before giving our final assessments.
We also consider the feedback from reputable experts and regular gym goers.
We conclude the process by ranking all the women's gym shoes in our repertoire. Based on our collected data above, each model is assigned a final rating (from 0-100) reflected on the CoreScore system. We then feature our favorite picks in different categories.
Comparison of the 7 best gym shoes for women
| | | | | | | | | |
| --- | --- | --- | --- | --- | --- | --- | --- | --- |
| Best | | | | | | | | |
| CoreScore | | | | | | | | |
| Users rating | | | | | | | | |
| Experts | | | | | | | | |
| Best price | | | | | | | | |
| Ranking | | | | | | | | |
| Popularity | | | | | | | | |
| # of colorways | | | | | | | | |
As a female workout warrior, you know how important the right footwear is. You want a pair of gym kicks that are both fashionable and functional. But with so many choices, and new styles flooding the market on a regular basis, how do you separate the best from the rest?
By reading our handy best women's gym shoes guide, of course!
What are women's gym shoes
Women's gym shoes are specifically made to meet the needs of women as they exercise at the gym. These shoes are made to offer stability, cushioning, and support. There are three main subcategories of women's gym shoes:
Cross-training
Weightlifting
HIIT
Cross-training shoes: These shoes are made for a variety of exercises done in the gym, such as weightlifting, cardiovascular activity, and functional training. They provide a harmony of stability, comfort, and flexibility that accommodates a variety of exercises. Cross-training shoes are frequently light and breathable, which makes them perfect for vigorous exercise.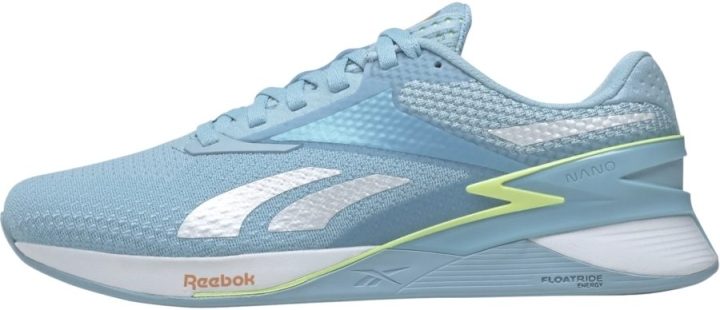 Weightlifting shoes: These shoes provide a stable foundation for lifting weight thanks to their flat, sturdy sole. They have a raised heel that enhances ankle mobility and promotes proper form when performing squats.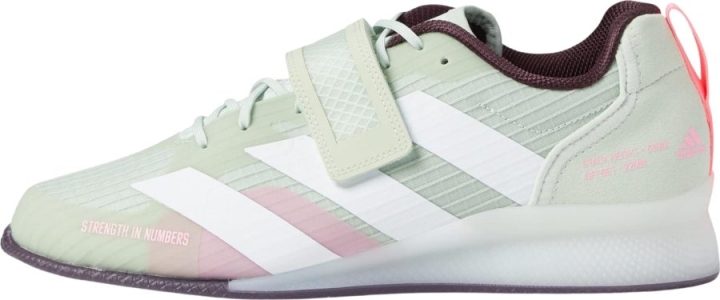 HIIT shoes: High-Intensity Interval Training calls for quick, explosive motions, requiring shoes with strong support and stability. The design of HIIT shoes incorporates elements of both cross-training and weightlifting footwear, including a flat sole for stability, a raised heel for ankle support, and cushioning for shock absorption.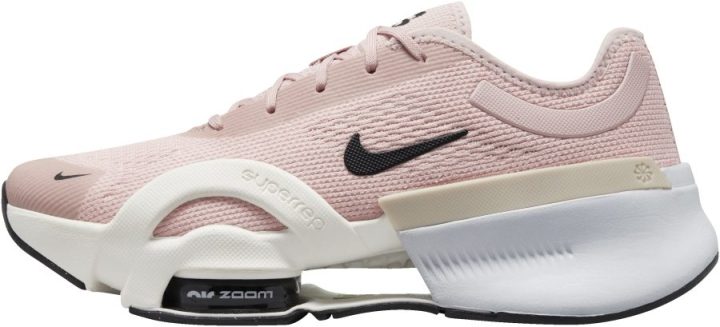 Factors to consider when buying women's gym shoes
Getting the right gym shoe to optimize your training experience starts with knowing what to look for when you enter the market. It's easy to get overwhelmed by the brands, the marketing, and the stylish designs.
Here are 5 factors that will keep you focused on what's important:
Shoe weight
Heel height and cushioning
Heel counter
Stability vs. flexibility
Breathability
Shoe weight
The weight of your gym shoes can have a big impact on how comfortable you are during your workout and how well you perform. Heavy footwear can be uncomfortable and exhausting, especially when participating in high-impact sports training. Lighter, more comfortable shoes allow you to move more freely and comfortably.
When you're wearing heavy shoes, your body has to use more effort to lift and move your feet. Lighter shoes allow you to exert more effort for longer periods of time while using less energy and feeling less worn out.
Wearing heavy footwear may also increase your chance of experiencing injuries, particularly to your knees, ankles, and feet. Wearing heavy shoes regularly can worsen joint stress, leading to overuse injuries.
Here's what to look for to get a lightweight shoe:
Material: Look for lightweight materials, such as mesh, synthetic textiles, or lightweight foam.
Sole: Choose footwear with a flexible, lightweight sole that nonetheless gives you the necessary support for your activity without adding bulk to your frame. A smart choice for a light workout shoe is one with a thin sole composed of materials like EVA or Phylon.
Design: Look for shoes with a sleek look and no excess bulk.
Heel height and cushioning
The heel height will affect the comfort and effectiveness of your workout. Choose a heel height that suits your needs based on the types of workouts you plan to perform:
Higher heels can help you keep proper form while performing squats or lunges.
For activities like deadlifts or box jumps, lower heels or flat shoes may be more comfortable and offer more stability.
| | |
| --- | --- |
| Exercises | Best heel height |
| Cardio, aerobics, running | Higher heel (25+ mm) |
| Box jumps, agility training, Crossfit | Lower heel (<25 mm) |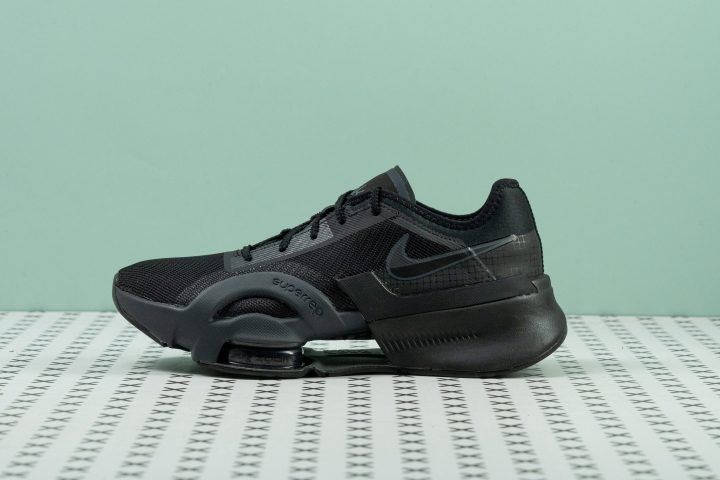 Nike Air Zoom SuperRep 3 (high heel, 32 mm)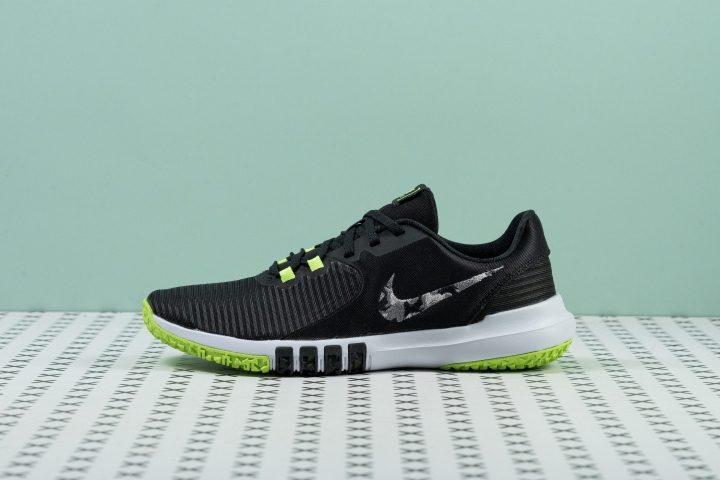 Nike Flex Control 4 (low heel, 19 mm)
The amount of cushioning in your workout shoes will affect your comfort and safety. Too much cushioning can prevent shoes from offering adequate support and stability, while too little cushioning might lead to pain or damage. Look for footwear with medium cushioning that will support your foot adequately and absorb shock during high-impact activities.
| | |
| --- | --- |
| Exercises | Best heel height |
| Weightlifting: squats, cleans, jerks | Higher heel (19+ mm) |
| Weightlifting: deadlifts | Lower heel (<19 mm) |
Heel counter
A heel counter is a support structure that encircles the heel and ankle of the shoe. It is a crucial part of the overall support system of the shoe and is essential for preserving good foot alignment when exercising.
Example of a solid heel counter (3 out of 5 stiffness) on the Reebok Nano X1
Example of a flexible heel counter (1 out of 5 stiffness) on the NOBULL Trainer
Injuries like ankle sprains or twists can happen if the foot and ankle are not adequately supported during side-to-side movements. A heel counter helps to minimize these injuries:
prevents excessive ankle rolling inwards (overpronation) and outwards (supination)
supports lateral movements during cross-training and HIIT exercises
Look for a solid, supportive heel counter that isn't overly hard or uncomfortable.
Stability vs. flexibility
A flexible shoe is important for natural foot movement and improved balance, especially in the forefoot.
A stable shoe means a lower risk of injuries, slips, and falls, as well as improved performance in general.
Depending on your training regimen, you will need either more stability, more flexibility, or a balance of both.
Choose a more flexible shoe if you don't lift heavy loads but rather focus on fast-paced bodyweight exercises with a lot of movement.
Example of a highly flexible shoe: Nike Free Metcon 4 (stiffness level 1 out of 5)
Example of a balanced shoe: NOBULL Trainer+ (stiffness level 3 out of 5)
Breathability
Sweaty, overheated feet during your workout can cause discomfort and raise the possibility of blisters and other foot issues. Breathable shoes can help avoid this. By wicking sweat away from your skin, shoes with moisture-wicking characteristics will keep your feet dry and pleasant.
This is how much breathability can vary in women's gym shoes depending on the upper material
Sweat can also serve as a breeding ground for bacteria and fungi, increasing the risk of diseases like athlete's foot and producing unpleasant odors. This can be avoided with the use of breathable and moisture-wicking footwear, which keeps your feet dry and inhibits the development of bacteria and fungus.
To get the most airflow around your feet, look for footwear with mesh or perforated uppers. Moisture-wicking insoles or liners to keep your feet dry while exercising. Look for footwear with a breathable construction that enables air to freely flow around your feet.
Avoid buying shoes made of rubber or other non-breathable materials since they might trap heat and sweat.
How women's gym shoes differ from men's
Fit adjusted to female feet
Women's gym shoes are often smaller and made with a different foot shape in mind than men's gym shoes. This is due to the fact that women's feet often have a higher arch and are narrower than men's. As a result, gym shoes made for women usually have a wider forefoot and a narrower heel.
Women's workout shoes are frequently made with more feminine colors and designs in mind. They may feature brighter hues and patterns. In contrast, men's gym shoes typically have more subtle color schemes and designs.
Women's gym shoes may have greater cushioning than men's shoes, particularly in the forefoot. Women often have less foot muscle mass, so they might need additional padding to withstand impact during activity.
Women's gym shoes are typically lighter in weight than men's shoes. Since women often have less overall muscle mass than men do, so may find heavier shoes to be uncomfortable.
Frequently asked questions about women's gym shoes
How should women's gym shoes fit?
Make sure there's enough room for your toes to wiggle about and that the shoe is not excessively tight or loose. If you're going to be doing high-impact exercise workouts, such as HIIT or Plyo, look for a shoe with good foot and ankle support.
When it comes to shoe size, we recommend trying on half sizes around your usual size to get just the right fit. It's best to try on shoes at the end of the day when your feet are at their largest.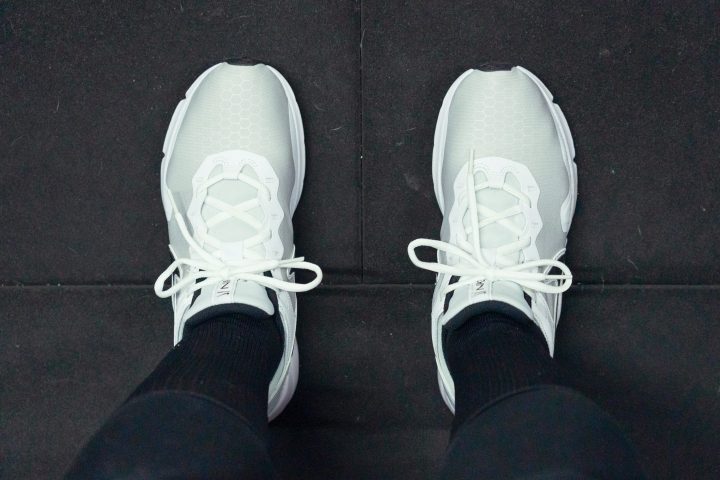 Can I use the same gym shoes for weightlifting and cardio?
If you want to use just one pair of gym shoes for both weightlifting and cardio, go for Crossfit shoes. This footwear type fuses the best of both worlds: a solid, non-compressible sole for lifting and enough cushioning to reduce impact from running and jumping.
How do I maintain my women's gym shoes?
Here are some tips to get the best life out of your gym shoes and keep them looking new:
Clean your gym shoes frequently. Wipe them with a damp cloth after every workout to remove sweat and grime. If they are in need of it, clean them with a soft-bristled brush and a light soap.
Air dry your gym shoes rather than putting them in a dryer.
Have a second pair so you can rotate your shoes each workout.
Store your gym shoes in a cool, dry location that is not in direct sunlight. Avoid humid, moist environments which could promote mold growth.
Replace your women's gym shoes when they start to show signs of severe wear and damage.