7 Best Gym Shoes in 2023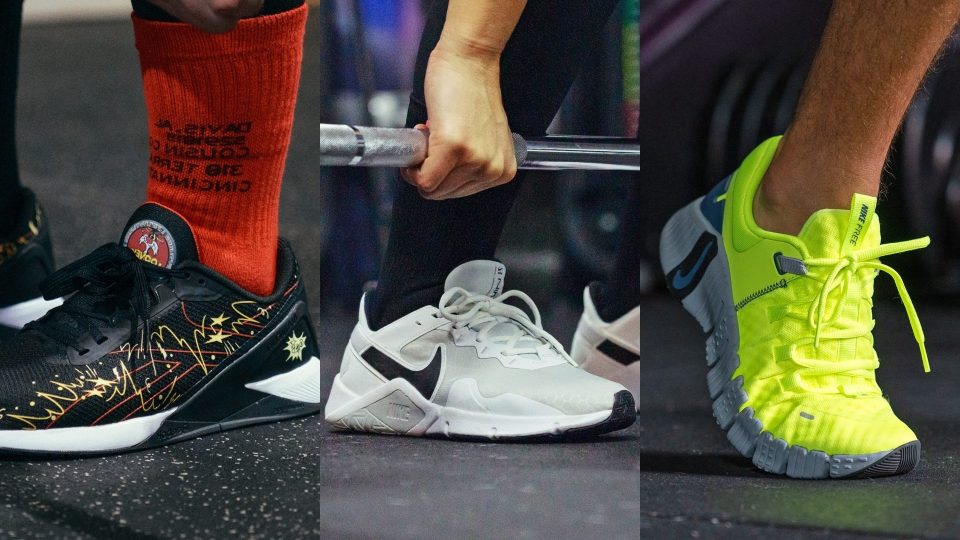 We earn affiliate commissions at no extra cost to you when you buy through us. Why trust us
Wearing the right shoes for gym workouts is a game-changer. A running shoe with plenty of cushioning may not be a wise choice for lifting heavier weights or CrossFit training. So be sure to pick the ideal pair of gym shoes that's more targeted to the type of workout routine you'll be doing.
Popular gym shoe brands include Nike, Reebok, and Adidas. But we've also added to our repertoire pretty good brands that deliver similar high-level performance such as Altra, Under Armour, ASICS, Inov-8, and New Balance.
Whatever types of workout routines you have on your calendar, we have a perfect pair for your gym footwear needs. To help you save time when searching for the right fit, we've tested and reviewed 100+ of the best gym shoes available in the market. Check out our top picks.
Comparison of the 7 best gym shoes
| | | | | | | | | |
| --- | --- | --- | --- | --- | --- | --- | --- | --- |
| Best | | | | | | | | |
| CoreScore | | | | | | | | |
| Users rating | | | | | | | | |
| Experts | | | | | | | | |
| Best price | | | | | | | | |
| Ranking | | | | | | | | |
| Popularity | | | | | | | | |
| # of colorways | | | | | | | | |
If you take your workouts seriously, you simply cannot afford to compromise when it comes to your gym shoes. Wearing the wrong shoes not only impedes your performance but also increases your chance of injury.
With so many brands and models, though, finding the right gym shoe for you can be a pretty daunting task. That's why we've broken down everything you need to know to make the smartest buying decision. Read on for your complete guide to buying gym shoes.
What are gym shoes?
The gym shoe category is an all-encompassing one that covers a range of different types of athletic shoes. They offer the support, cushioning, and stability needed for a variety of activities.
The following specific types of training shoes come under the gym shoe umbrella:
Cross-training shoes: Also referred to as cross-trainers, are made for all-day wear and are appropriate for a variety of workouts, including aerobic, weightlifting, and cross-training. Their enhanced level of cushioning, support, and traction allows you to carry out a variety of workouts comfortably and safely.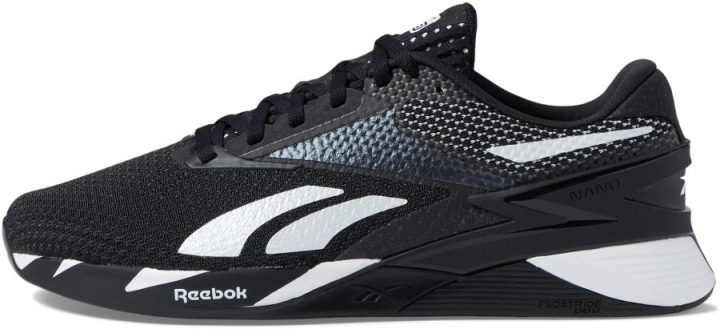 Weightlifting shoes: Weightlifting shoes offer a firm, steady foundation because they are made exclusively for weightlifting.  Common features include a raised heel, a hard sole, and straps that tightly secure your feet are common features. These features can help improve your lifting technique and lower the chance of injury.
Crossfit shoes: Crossfit shoes are created for workouts that combine weightlifting, cardio, and gymnastics-type movements. They offer the stability and support needed for lifting, as well as flexibility and cushioning for plyometric and agility training.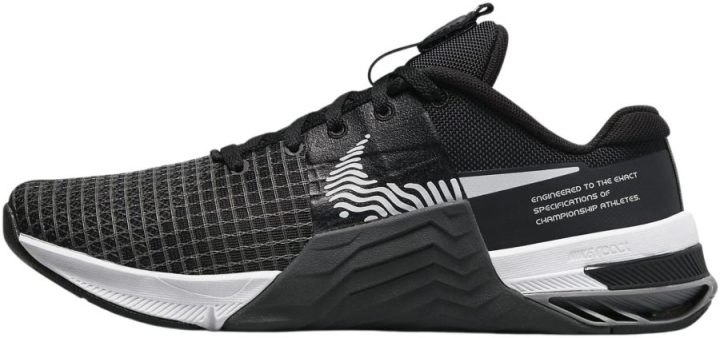 Factors to consider before buying gym shoes
With the abundance of choices on the market, finding the ideal gym shoe for your workouts can be quite overwhelming.  Fortunately, there are a number of things you can take into account to help you reduce your options and locate the ideal pair of gym shoes for your needs:
Type of shoe
Preferred heel height
Amount of cushioning
Balance of flex and stability
Level of breathability
Fit of the shoe
Types of gym shoes
The first step is to match your search to the type of training you'll be doing. Here are the four main types of gym shoes, along with their differentiating features:
Cross-training shoes
The most versatile in the bunch, cross-training shoes are designed to be adaptable enough for a wide range of workout types. They provide support and cushioning for various exercises like lifting weights, plyometrics, and running.
Cross-training shoes are equipped with:
shock-absorbing cushioning
support for side-to-side motions
flexibility to do lunges and similar moves
durability for high-intensity workouts
traction for stability while training
Cross-training shoes include Crossfit shoes.
Crossfit shoes
CrossFit shoes are specifically made to accommodate CrossFit training, which may encompass lifting, running, jumping, and more.
Shoes made for Crossfit have very similar features to cross-training shoes, such as:
flexibility for various exercises
lateral assistance for side-to-side motions
sturdy design to handle demanding workouts
traction to enhance stability for lifting and jumping
Here is what makes Crossfit shoes different:
less cushioning
lower heel-to-toe drop (0-5 mm) for a more grounded feel
added protection for rope climbs
Weightlifting shoes
Weightlifting shoes are made to keep your feet secure and supported when you lift.
They've got the following attributes:
elevated heel (15-21 mm) for improved squatting depth and form
strong, non-compressible sole for enhanced power transfer and a stable foundation
velcro straps to ensure a snug fit and prevent slippage
minimal padding to enhance stable bases
robust design to withstand heavy use
Heel height in gym shoes
The heel of your gym shoes is a crucial factor to take into account when making your purchase because it can influence your overall comfort and workout performance.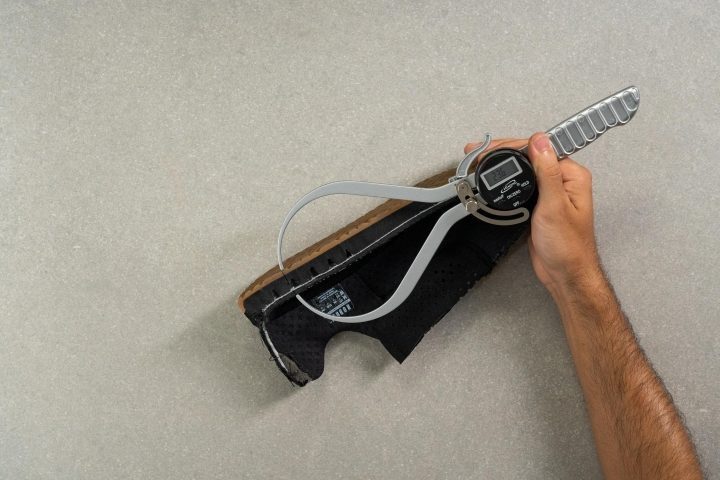 Here are the key considerations to take into account:
Heel height
The heel heights of gym shoes range from absolutely flat to several inches high. Your personal tastes and the kind of training you do will determine the appropriate heel height for you.
Lower heel
Higher heel
creates a more grounded platform for Crossfit, deadlifting, or any other exercises that call for a stable basis
offers more support and impact protection if you're engaging in lots of jumping or running

in lifting shoes translates to a more efficient posture when squatting and lifting heavy

beginners choose lower heels
higher heels are favoured by seasoned athletes
Heel-to-toe drop
The distance between the heel and the toe of a shoe is referred to as the heel-to-toe drop. A shoe with a higher drop may feel more sturdy and supportive, whereas one with a lesser drop may feel more flexible and natural.
Heel drop is NOT the same as heel height
For example, NOBULL Trainer and NOBULL Trainer+ have the same heel-to-toe drop - 4 mm. However, the heel height is different:
Trainer: 18.6 mm
Trainer+: 23.6 mm
The added cushioning in the Trainer+ gives more impact protection for jumps and runs as well as comfort for daily wear.
Heel counter
The portion of the shoe that wraps around the rear of the foot and offers support and stability is known as the heel counter. You want a strong, well-constructed heel counter that is snug without being too tight. A good heel counter will help avoid ankle injuries and offer a firmer foundation for workouts requiring balance and lateral motions.
Amount of cushioning
The amount of cushioning in the midsole can influence how comfortable a shoe is.
Too little cushioning can make the shoe feel stiff and uncomfortable. Excessive cushioning can make the sole seem shaky and make it difficult to feel the ground or other objects beneath your feet, which will impair your balance and stability.
The optimal amount of cushioning will vary depending on your own tastes and the kind of workouts you intend to do.
You might want a shoe with greater padding to absorb shock if you're doing high-impact exercises like jogging or leaping. More cushioning also helps to relieve strain on the joints and lowers the risk of injury.
Balance of flex and stability
The sole needs to be flexible and adaptable enough to let your feet naturally move. Additionally, it should bend where your foot naturally flexes to give you the best possible mobility and comfort.
Exercises like lunges, squats, and others call for a full range of motion in your feet. This is provided by a flexible sole.
Weightlifting, on the other hand, calls for a stiffer sole. Too much bending will make you feel shaky under heavy loads.
The midsole needs to offer enough support for your feet to shift laterally or alter course. A sturdy midsole can also help prevent ankle injuries by lessening the possibility of your foot moving inward or outward during exercise.
That's why, in top-rated cross-trainers, you often see the following setup:
firm and stable heel
supportive sidewalls in the midfoot
flexible forefoot
Level of breathability
Look for gym shoes with a breathable upper to keep your feet dry and cool while exercising.
For breathability, knit or mesh uppers are fantastic choices because they enable air to flow freely. A permeable upper also helps lessen bacterial growth and reduce foot odour.
Fit of the shoe
A gym shoe's upper should be comfortable on your foot without being too tight. Look for footwear with a wide toe box and sufficient area for your foot to flex freely. The upper should also provide enough support during lateral movements or changes in direction.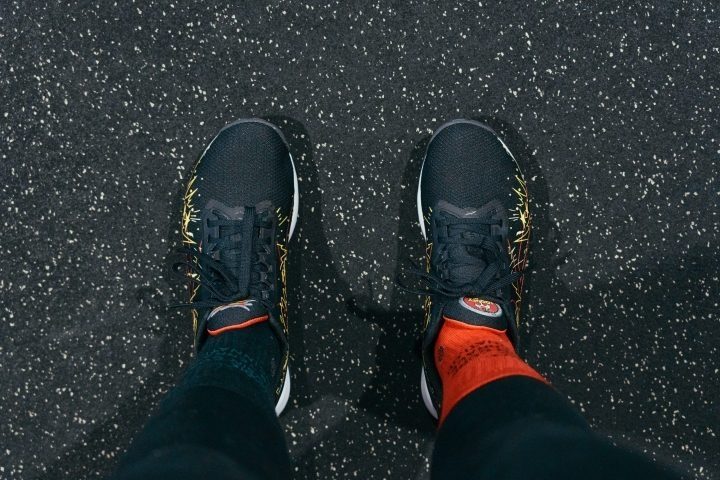 The toebox width in training shoes ranges from 96 mm to 106 mm in the widest part of the forefoot. Nike Metcons and Reebok Nanos top this range with their 100+ mm toeboxes.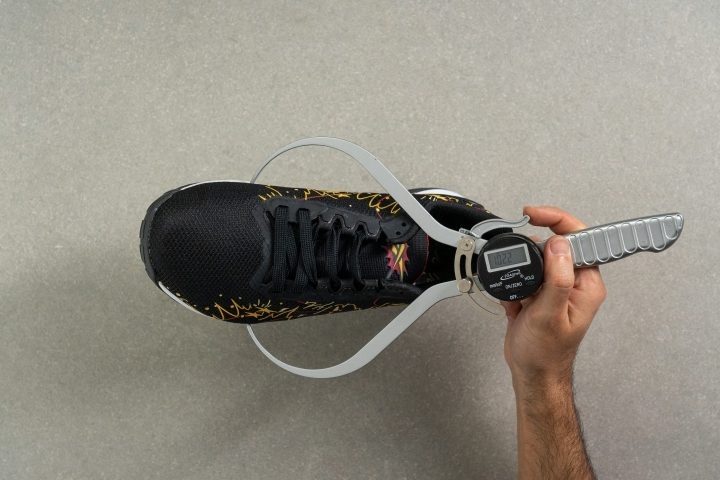 Frequently asked questions about gym shoes
How frequently should I buy new gym shoes?
Gym shoes have different lifespans depending on usage, the intensity of activity, and shoe quality. A reasonable rule of thumb, though, is to switch out your gym shoes every six to twelve months, or if you detect substantial wear and tear, a loss of support, or discomfort.
Can I work out at the gym in running shoes?
While gym shoes and running shoes may have a similar appearance, they are made for different forms of activity. Running shoes may not offer the support and stability required for lateral movements or weightlifting because they are designed solely for forward motion.
It is much better (and safer!) to select exercise footwear made specifically for the workout you intend to perform.
Can I wear my gym shoes outside of the gym?
Yes, as long as they are comfortable and acceptable for the situation, you can wear your gym shoes outside of the gym. Just keep in mind that repeated wear on hard surfaces like concrete will hasten wear and tear. Some gym shoes might not be appropriate for activities like hiking or trail running.
How we test training shoes
Identifying the gym shoes that truly deliver genuine value requires a serious data-driven selection process. That means spending hours of wear testing the shoes for specific workout routines. We also check and analyse the materials or technologies used in the shoes.
To ensure the 100% objectivity of our assessment, we perform the following:
Buy the shoes using our own money for wear tests.
Make an in-depth review of the shoes that we've tested ourselves. We wear the shoes going to the gym and executing actual workouts such as lifting weights, skipping rope, squatting, or running on the treadmill. Okay, you get the idea: we base all our reviews on real-life performance tests that include CrossFit workout sessions.
Finally, we subject the shoes to various lab tests for us to bring you the shoes' features and functions that are concluded from the lab results.
In the end, after writing the qualitative descriptions of each shoe, we feature our favourite picks in various categories.