14 best On running shoes
Updated (May 2018)
Based on 1,799 reviews
Loading please wait...
Keeping up with major shoe brands is a challenge that ON Running brand faces head-on. This Swiss performance brand manufactures shoes that have speedy and comfortable profiles, making them pretty popular for fitness enthusiasts and casual runners. The brand competes in the minimalist niche, but it also has the appropriate shoe styles for various runners, such over pronators, neutral pronators and supinators. Despite being a new player in the performance industry, the men/ women's ON running shoes are already receiving awards and high rankings from the active community. This is because the brand's array of products is constantly innovated to fit the needs of the runner, from the upper to the outsole.
ON Running Shoes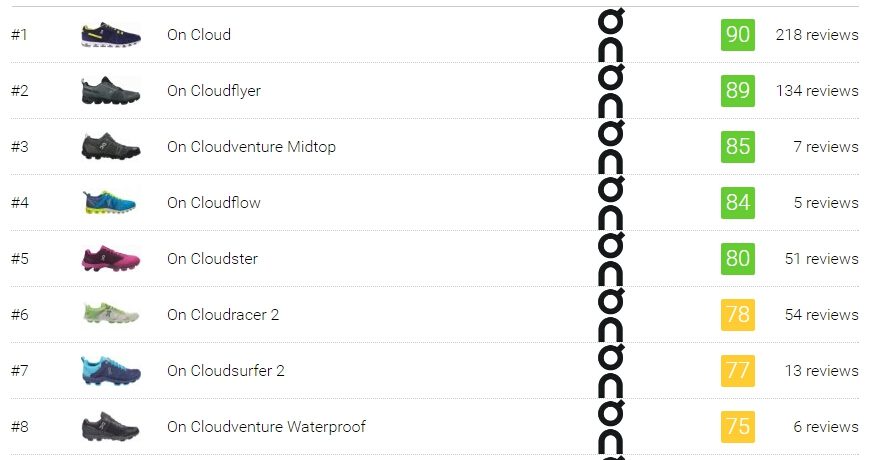 There are only a few ON running shoes in the market, but some of them are considered the best in the neutral running niche. Some of the ON running shoes that have garnered high ratings and top-rated reviews are the ON the Cloud Shoes, ON Cloudrunner, ON Cloudracer, ON Cloudster and ON Cloudsurfer among others. These shoes can either be for training or competition, but versatile models are also for sale to cater to cross-country running, cross training and casual wear. Based on shoe reviews, the great thing about ON running shoes is that they are color-customizable. Runners can finally make a statement based on their color preferences.
The On Company was established in the year 2010. It is a company that specializes on providing shoes that have very distinct innovations infused within them. The people at On gives runners a unique running experience by assuring them of cushioned landings, yet firm takeoffs. It's an amazing schematic that is now available to all who would like a smoother ride and a graceful bound. Runners from all over the world comment of On's innovation in over 100, 000 reviews.
How can the best On shoes make you a more effective runner?
Though On has just emerged into the footwear business, it has immediately taken the world by storm with countless innovations that would definitely help maintain the stability of runners' feet.
The best On shoes are created specifically to bring the ultimate level of comfort to the runner. They have made various engineering advancements and tweaks so that the normal running shoes with the best technologies would rise skyward in the area of performance.
The purpose of On's innovations is to help runners take a more natural way of running. The add-ons in every On shoe serve as trainers and sources of optimal comfort in terms of walking, running and even standing.
The best On shoes encourage runners to land softly on their feet with minimal impact and then push off the ground with added springiness and lift. The lightweight form of these shoes and the proprietary cushioning technology that are installed in each of them elevate the level of performance of every running while maintaining a smoother ride.
On also desires to help people who have painful spikes during their running sprees by providing products that will neutralize these sources of pain through proper cushioning, foot support and overall balance and stability.
Why should you consider the best On running shoes?
Popularity. Since its inception in 2010, the On Company has increased its popularity because of their people taking interest and benefiting from their innovations. Their products are now all over the world, helping various types of runners perform their best while preventing foot injuries. An On shoe prototype even won the international ISPO Brand-new Award for innovation in sports. Since then, various sports celebrities have become ambassadors for the brand.
Shoe technologies. The best way to describe On is to say that it is the leading brand in shoe innovation. Their engineers placed cushioning systems in their shoe soles. Coined as Clouds, these breakthrough rubber elements give users full cushioning only when they need it. The Clouds also help in pushing the foot when the runner initiates a lift. When standing, the runner doesn't feel any pressure on their feet and legs because stabilize the feet for maximum comfort. These shoes also have high-grade mesh, intelligent net fabrics and secure linings.
Price. The On brand is top-notch in its desire to innovate and provide the best to people all around. Their prices range from 120$ to 150$. These are really reasonable and affordable rates, in light of all the advancements they made with each of their shoes.
This shoe has recently been added to RunRepeat. There are still not enough reviews for us to assign it a
Corescore
.
Corescore
A score from 1 to 100 that summarizes opinions from users and experts. The average Corescore is 78.
More...