Verdict from 25 experts and 100+ user reviews
9 reasons to buy
Many runners considered the Cloud X to be the best shoe yet from On, because of its outstanding performance and the on-foot experience it brought.
The midsole has been incredibly light yet responsive, according to a user.
The shoe was extremely comfortable even from the first use, a wearer commented.
One athlete remarked that the shoe provided relief for their bunions.
The Cloud X allowed complete freedom of movement, no matter the activity, an impressed user said.
There was exceptional lateral support from the midsole, wrote a reviewer.
A buyer praised the superb cushioning that was present during high-intensity interval training (HIIT).
The open toe box allowed the foot to spread naturally during medium-paced runs, a runner observed.
The foot lockdown supplied by the midfoot area was effective in preventing slippage, as stated by a wearer.
3 reasons not to buy
The outsole was quite challenging to clean, according to a user.
Some runners felt that the sole unit was far too firm to be used as a daily runner.
A couple of reviewers thought the laces were too long.
Bottom line
The Cloud X from On Running managed to get high marks from consumers. Many users commended the shoe's construction and the effectiveness of its features. It received very little criticism, but the consumers believe there is still room for improvement for the Cloud X. Overall, as a lot of people considered the Cloud X to be versatile and supportive, it is safe to say that it was a winning shoe.
Tip: see the best running shoes.
Our reviews
For many years, I ran mostly with minimalist shoes or racing shoes for longer and tempo runs. This year, I finally decided to train for a marathon requiring longer runs.
However, minimalist shoes and longer runs was not a great combination. It puts tension in my calves and pain in my Achilles' tendons.
Thus, I went to a specialized running store, relayed my running story, and asked for help in finding the perfect shoes for my longer runs.
The guy in the store told me that I just needed something neutral with a bit of cushion and asked me to try different shoes. When he showed me the On Cloud X, I was a bit skeptical.
I was somehow anchored to the idea that the simpler the shoe, the better. And, that these cloud things on the bottom of the shoes are only for snobbish people who do not know how to run.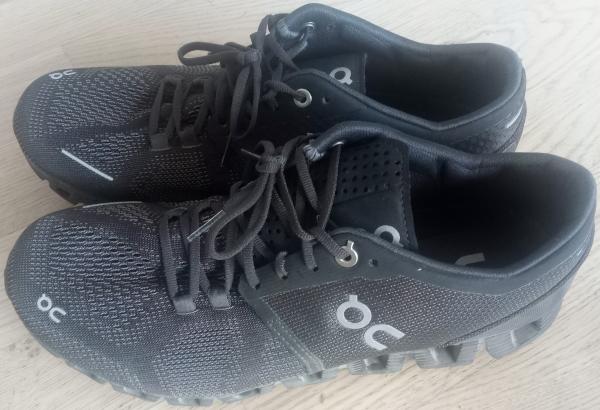 In my opinion, these people only like to invest a lot of money in their gear.
Anyway, I still tried them on, and the first impression is that they felt really comfortable and lightweight. I ran and sprinted a few meters with them, and it felt ok.
I did not feel the clouds. It felt as if I was wearing regular shoes.
Among all the shoes that I tried that day, the On Cloud X were the ones that felt the best, so I bought a pair.
Design
The pair that I bought are black. It has a neutral design with a lot of little details, such as the tiny Swiss flag on their side. This flag makes them look good if you pay close attention to them.
I am still not a big fan of how the "Clouds" on the sole of the shoes look like, but I'm getting used to them.
Comfort
They fit perfectly. It is really nice to wear them. The only thing I miss is feeling the different textures of the floor that I can do with minimalist shoes. I can't feel those textures with these ones.
Performance
Easy runs
Easy runs with these shoes are even easier, running easily with these shoes is super comfortable.
Even when I am tired and sore from previous days, I always feel like doing some small sprints with these during easy runs.
Long runs
I ran on these shoes for my longest run ever so far, which was of 33km. It was an easy long run. I changed my pace a few times during the run, and I felt very comfortable the whole time.
I completely forgot about the shoes, which I think is one of the best indications of a good running shoe.
Tempo runs and fartlek
Even with extra cushion, it still feels pretty responsive and fast. It is easy to switch gears with it and stay running at a hard pace for a while. These are not the fastest shoes on the market.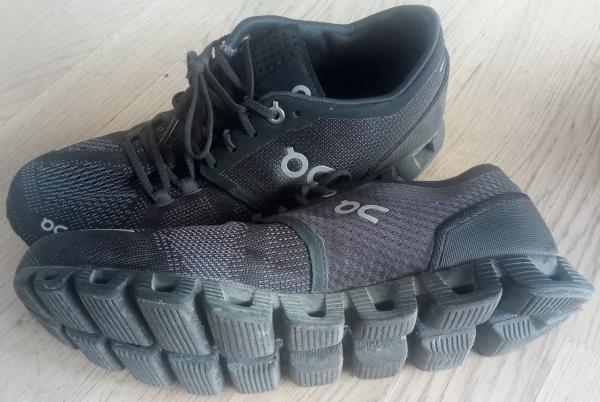 However, it is fun to sprint with these shoes.
Surfaces
I have run with them on the pavement, track, and a bit of cross country, and they seem to work pretty well.
Durability
It is still too soon to judge these when it comes to durability. But, after 150km, they still look and feel like new.
Conclusion
It is hard to admit it after being a big fan of minimalist shoes, but I really enjoy running in these shoes. It is definitely easier to run in them than with minimalist shoes.
They are very comfortable and responsive. Moreover, I can definitely feel less stress on my calves and Achilles' tendons after wearing them.
Positive points
Lightweight
Comfortable
Relatively Fast
Negative points
Good to know
On Running introduces the Cloud X, which boldly declares itself to be the world's lightest fully-cushioned running shoe. The shoe is marketed towards athletes who do running mixed with other types of workouts.
The Cloud X pays attention to the minute details: With its dual-density sock liner and seamless tongue, the shoe provides comfort unlike any other.
Using a high-quality engineered mesh, the upper promises optimum performance while also providing breathability. It aims to support the foot without restricting its movements.
The shoe features a CloudTec® sole built from the latest-evolution Zero-Gravity foam, thus enabling movements that are natural yet flawless. It is aided by Speedboard, their very own cushioning pad technology that gives a precise fit while keeping the foot in place.
The outsole of the Cloud X comprises On's patented CloudTec® outsole. Like the other running shoes from on, the Cloud X's outsole is engineered to provide cushioning that adapts to any activity, whether all-day wear or active training time. The On Cloud running shoe also features this technology.
CloudTec® uses Zero-Gravity foam, which works under the concept of support without pressure, resulting in a shoe that feels almost weightless. This technology allows for an efficient full-speed run, such as races.
Similar to previous releases from On, the Cloud X also uses CloudTec Elements, the brand's midsole technology that comes in the form of pods with hollow channels in the middle. These pods work by deflecting under pressure to help the shoe flex and give the foot a stable push-off from the ground. The CloudTec Elements are recognized in the ability to provide a springy ride, as the pods add bounce to each step and distribute impact during the landing phase.
On top of the CloudTec Elements is the Speedboard, a full-length synthetic plate that flexes to enable a smooth transition and a soft landing. The Speedboard is designed to work on various aspects – flexibility, energy distribution, torsion guidance, and dynamics; thus, the foot achieves a more efficient running gait and maximum performance.
The upper of the Cloud X uses a soft outer material made of engineered mesh and an inner mesh layer. With this two-layer upper system, the foot is wrapped snugly and comfortably while ensuring breathability and dynamic movement.
There is an external heel counter that offers support to the area, as well as reinforces and keeps the foot fitted in a variety of 360-degree movements.
The Cloud X uses a traditional lacing system to promote a more accessible yet more secure way of tightening the shoe.
Rankings
How On Cloud X ranks compared to all other shoes
Popularity
The current trend of On Cloud X.