I am a little unclear on whether the Cloudswift is a running shoe, a gym trainer, or just a sexy sneaker? But I did find this On shoe to be exceptionally durable, grippy, and protective. It delivers unrivaled impact absorption in each step! If you want a daily trainer that will handle your slow, short runs and gym sessions with ease and style, pick the Cloudswift.
Pros
Durable
Flawless grip
Wow looks
Great for the gym
Excellent laces
Feels like a slip-on
Laces stay tight
Cons
Weird lockdown
Lacks cushioning underfoot
Not so breathable
Who should buy
Buy the On Cloudswift 2.0 if you're looking for a:
daily trainer for light, short jogs around town
head-turning training shoe with a completely different look than most running shoes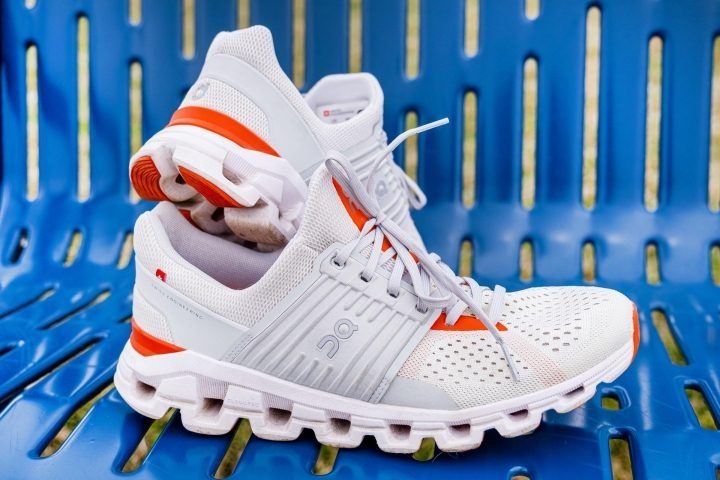 Who should NOT buy
Don't buy this shoe if you want a high-performance, cushioned daily trainer. There's a vast array of other daily trainers out there that perform better, weigh less, and fit properly compared to these.
Check out the Brooks Glycerin 20, Saucony Triumph 21, Hoka Bondi 8, or a myriad of others.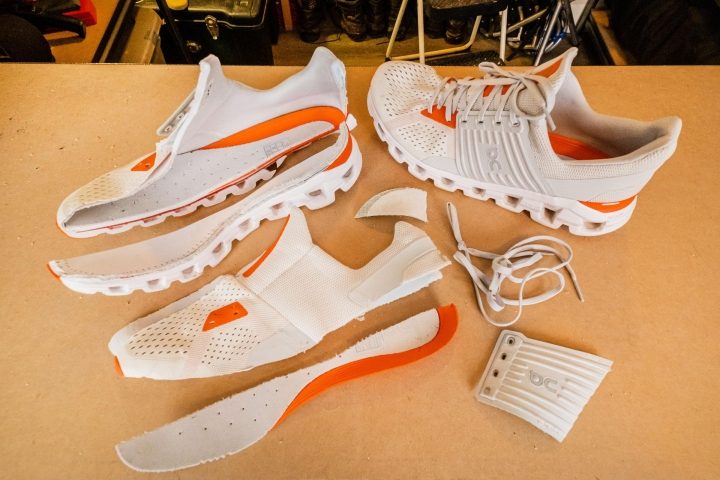 This shoe has a dense upper made from thick foam and mesh. It felt nicely cushioned around my foot, but it did run warm and I fear that mid-summer this will be noticeable.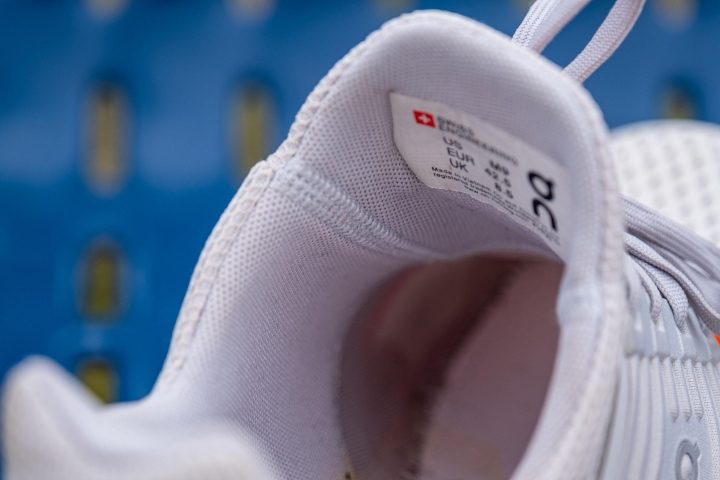 Unfortunately, ventilation holes throughout the upper do very little to help the ventilation.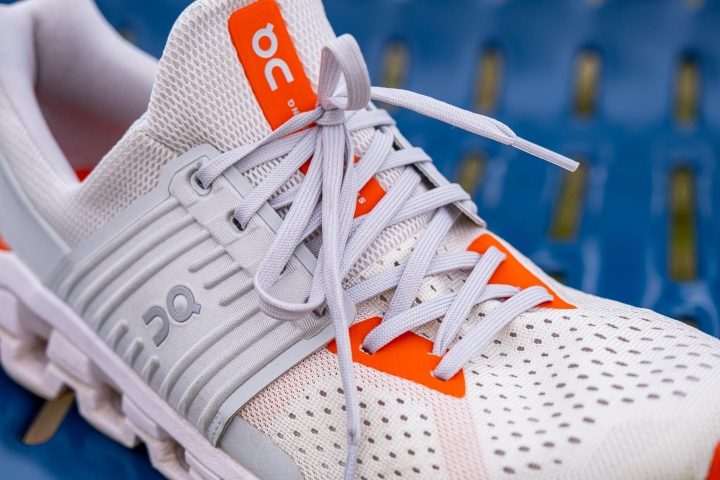 Outsole durability
I do think these shoes will have plenty of life. The shoe features a pretty stiff rubber outsole to protect the highest wear areas.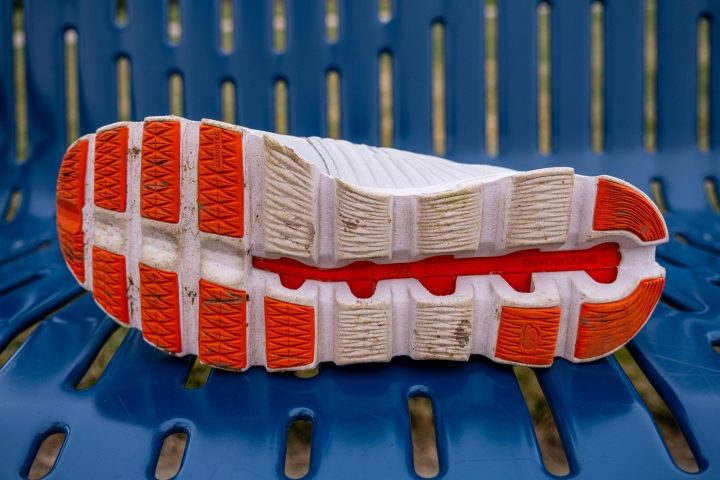 Rocks get stuck in Cloudswift 2.0
One issue where durability may be a concern is getting rocks stuck in the "clouds" and tearing them up a bit.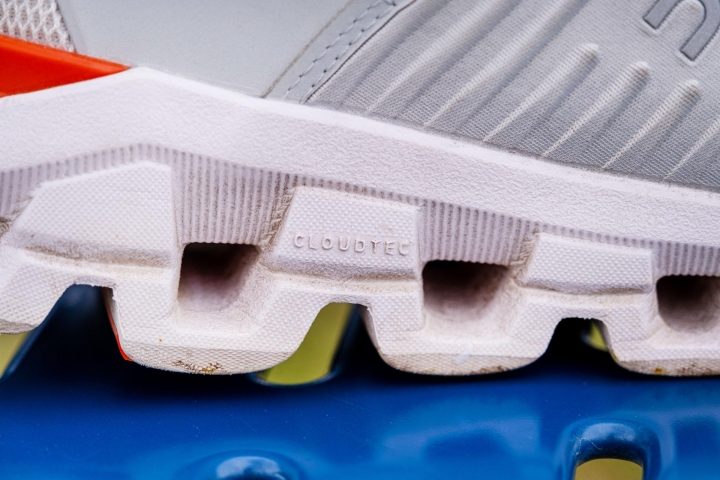 On my very first run in these, this happened and I got a small tear in one, I don't know if it will spread, but if it did, and a whole cloud ripped off that would create a very unstable shoe.
I don't want to keep tearing these asunder, but they are also billed as "light and swift" trainers.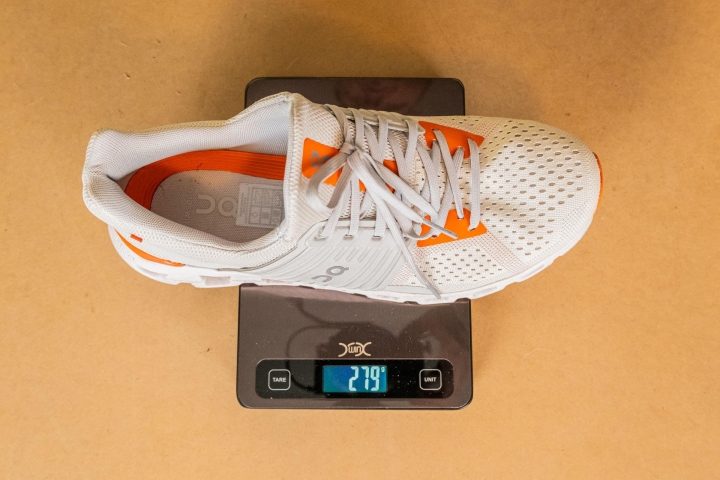 At nearly 10 ounces (actually 9.9 ounces/281g) these are solidly in the middle ground when it comes to heft.
The average shoe is around 9.5 ounces.
Lightweight shoes that get my praise start around 7 ounces.
Test results
| | |
| --- | --- |
| Cloudswift | 9.91 oz (281g) |
| Average (208 running shoes) | NaN oz (NaNg) |
Compared to 208 running shoes
6.03 oz (171g)
Weight
12.56 oz (356g)
Number of shoes
Drop
On says this is a 7 mm drop shoe, but man did it feel steep. So I measured it.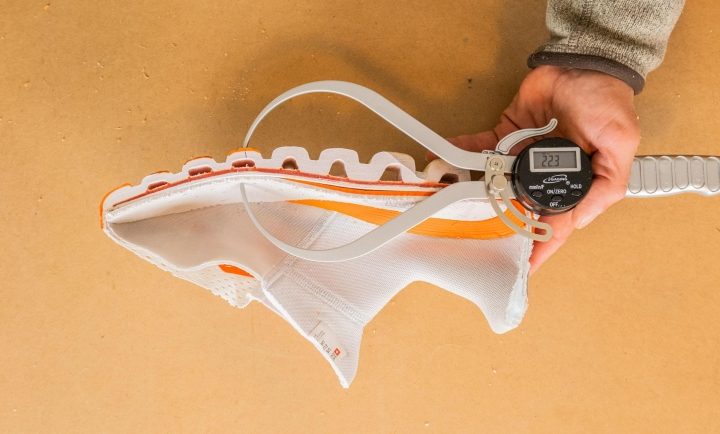 We cut these shoes in half to get as exact as possible, and my measurements (and trust me I did this task over and over figuring I was wrong) put this shoe at 11.6mm of drop from heel to forefoot (Heel stack of 33.9 mm and forefoot stack of 22.3 mm).
On the bright side, if you like high-stack shoes that are stiff, this could be an enjoyable trainer. To me, this shoe fits better in the gym, lifting weights, than out on the roads running around.
Test results
| | |
| --- | --- |
| Cloudswift | 11.6 mm |
| Average (207 running shoes) | NaN mm |
Compared to 207 running shoes
Number of shoes
Midsole softness
Note: a low durometer measurement equals a soft material, whereas a high measure means it's firm.
The Helion superfoam used for the midsole is pretty dang firm. At 37.2 HA on the durometer, it's 45% firmer than the average shoe.
Test results
| | |
| --- | --- |
| Cloudswift | 37.2 HA |
| Average (208 running shoes) | NaN HA |
We use an average of four tests. The photo shows one of those tests.
Compared to 208 running shoes
6.5 HA
Midsole softness (soft to firm)
52.5 HA
Number of shoes
Ride
This is kinda where On lost me. I have been drooling over their design for a while, assuming their innovative midsole design (they call each of these round, hollow lugs "clouds") was springy, responsive, and plush.
They literally call them clouds! And this shoe excited me mostly because I assumed it would be fast and pillowy, with springy toe-off and great shock absorption, but to my dismay, these just felt stiff and dull.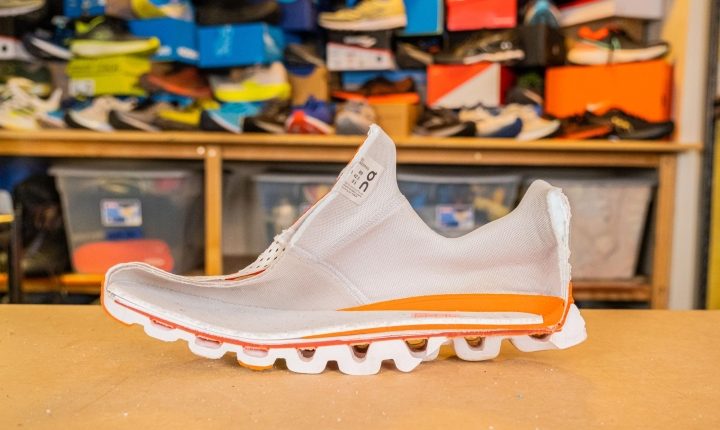 My feet were cramping up, and it felt like there was no cushioning underfoot.
I found out why they felt like there was no cushioning.
There's a full-length, 3.5 mm plastic shank under the sockliner that makes up the base of this shoe. I get it, they have to stiffen this shoe up somehow, hollow foam isn't going to provide enough support, but there's almost no cushioning atop this piece of plastic.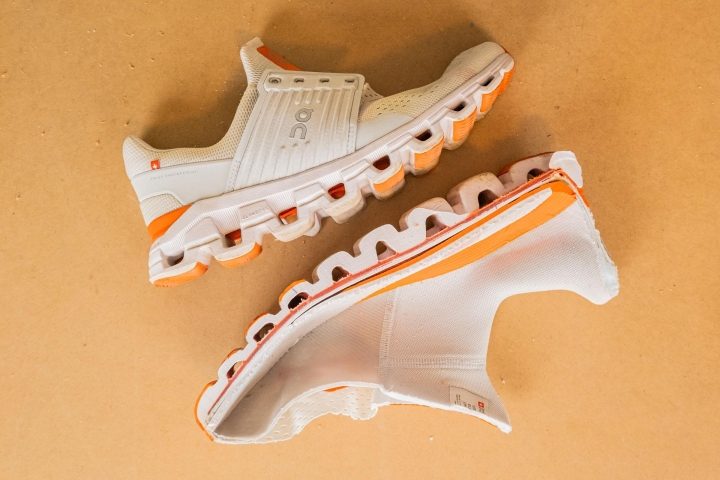 Most shoes that have a nylon or carbon shank, bury it in the middle of plush, luscious, bouncy foam (check out the ASICS MetaSpeed Sky) which solves this issue of comfort and response.
The Cloudswift 2.0 leaves you with a dinky dual-density foam insole that's just not enough for the "Urban" abuse.
Stiffness
It took 31.4N of force to bend the shoe to a 90-degree angle. Just about the sane as it takes on average.
Test results
| | |
| --- | --- |
| Cloudswift | 31.4N |
| Average (209 running shoes) | NaNN |
We use an average of four tests. The video shows one of those tests.
Compared to 209 running shoes
Number of shoes
Grip / Traction
As for grip and terrain, I had no issues with grip and ran them on concrete, asphalt, and in the gym on the treadmill. They performed best on the treadmill where I had a little extra flex from the machine's deck.
Lockdown
I'll elaborate on each one.
Heel slips.
No tongue leads to midfoot lockdown challenges.
Loose lacing system.
No extra lace hole.
I struggled with the fit of these. For one the heel pocket feels shallow.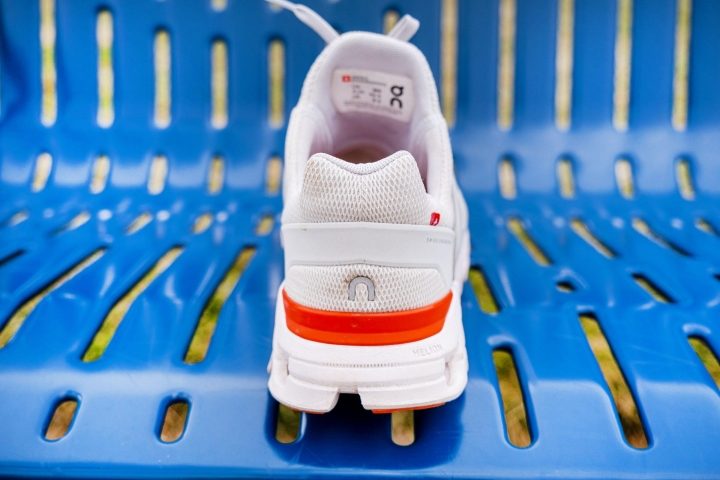 I like a deeper heel cup, it tends to feel secure, and shallow ones just feel loose. This leads me to my main complaint, there's a ton of heel slip.
The shoe has a sock-like construction, it's more like a slip-on than a lace up, lacking a proper tongue. This makes the shoe difficult to get on, but also harder to lockdown.
The lacing structure is designed out of stiff, sew-on external overlays, and I hate this method. The Adidas Ultraboost 21 had these as well and I complained then too.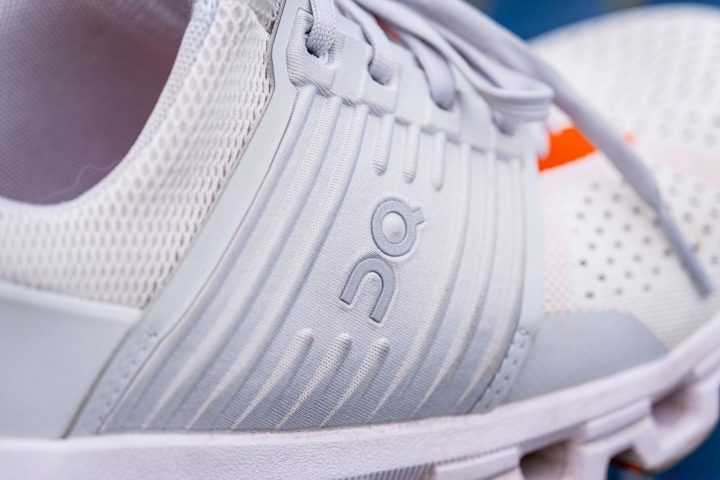 The Cloudswift 2.0 doesn't have an additional upper lace hole, and these overlays allow the lace to slip easily, so every time you try to tie them tighter, you inevitably lose some of that tightness as you're tying your knot. Annoying!
Lacing
Other than the heel, the lockdown across the midfoot was actually decent and although I couldn't easily get the laces as tight as I normally like, once tied they stayed tight.
The laces are very lightweight and thin, but they had excellent staying power, taking 39.7N on average to untie, compared to 30N from the average shoe.
Overall impressions
Cloudswift 2.0 is a daily trainer that is fitting for an "urban" setting. I'm not 100% sure what that means, but I assumed it meant heavily cushioned for hard surfaces. It's a cool-looking shoe that grabs your attention and is best suited for running around town or hitting the gym.
I have to admit, I've been really excited to try these since I gawked at the On display last year at The Running Event (a giant running trade show in Austin). I was really impressed with their branding and the design of their shoes. Every time I passed their booth I was drawn in.
The On Cloudswift 2.0 has epic branding and marketing, but the hype of a "Swiss Engineered" shoe leaves me wanting. It's not my handy childhood pocket knife that could do it all.