Verdict from 18 experts and 100+ user reviews
9 reasons to buy
Majority of the testers declare that the traction of the Nike Kobe AD Mid is just beastly. It sticks to the floor incredibly well.
Nearly all reviewers claim that the cushioning is super comfortable. It's lightweight and responsive, offering the right amount of court feel and impact protection. The same can be said about the 2018 version of the Kobe AD.
Despite having basic support features, these Kobe Bryant basketball shoes provide solid support and stability according to most players.
Some users are satisfied with the lockdown and containment. They are saying that there is no internal movement of any kind.
A few buyers are happy with the Kobe AD Mid's fit.
The materials feel good and are relatively durable, a handful of users comment.
Like the the third Nike PG, more than a handful of wearers notice that the Nike Kobe AD Mid feels light in hand and on feet.
One purchaser is very satisfied with these Nike basketball shoes that he uses it for running. He claims that these basketball sneakers are very comfortable and allows him to sprint for an extended amount of time.
More than a handful of buyers appreciate the rich hues and detailing of these Kobe basketball shoes.
5 reasons not to buy
Many testers do not recommend the Nike Kobe AD Mid for outdoor use. The rubber outsole is super soft and will wear down quickly.
A good number of wearers are disappointed with the shoe's lack of ventilation.
Because of the non-existent ventilation, most users are complaining that it gets really wet inside the shoe.
Several are complaining that the moisture causes awful blisters and calluses.
According to a significant number of players, the traction does not hold up well on dusty courts. Frequent wiping is recommended.
Bottom line
The Nike Kobe AD Mid is a great performance basketball shoe if you can get it at a discount. It presents a great deal of improvement from the previous Nike Kobe A.D. model, but its negatives just don't make it a must-cop at its full retail price.
Tip: see the best basketball shoes.
Our reviews
The popularity of the Kobe Bryant shoe line is surely noted among players who have played basketball at any level for a decent amount of time. Pulling up at any basketball court, it is unsurprising to see any of his original series starting from the Kobe 4 being rocked. Yes, over a decade worth of signature kicks still making their routine appearances.
In my opinion, they are the most sacred signature line in the hoops world. Credits to their clean design, innovative lightweight tech specs, and exclusivity (they are often among the most expensive performance sneakers released each year with limited supply).
Last year, I finally decided to pull the trigger and get my first Kobes. Growing up, I had typically opted for team models like the Hyperdunk and Hyperfuse chains due to Kobes being a good deal higher in price, but I caught these on retail for $70 and had to cop!
I loved their simplistic mid-cut design and also noted their popularity among many favorite NBA stars.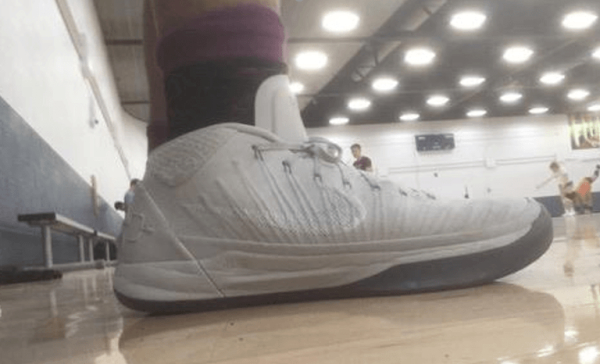 Traction
I found the traction on these to be very strong on clean courts, with a consistent reliable grab. When playing on dusty courts, they did collect dust pretty quickly. So, be prepared to wipe frequently, but they will still do a good job.
I do want to note the traction needed no time to break in for me and were beastly out of the box.
One unfortunate aspect to note is their durability. After about fifteen or so long indoor pickup sessions, you can see some minor heel drag and upper traction wear. So, I wouldn't grab these as the sole option for a long season and I definitely would not recommend them for outdoor play.
The rubber is quite soft but should serve any weekend warrior for a good satisfactory time.
Cushioning
I loved the cushion on these! Full Lunarlon was pleasantly felt, and this was the perfect ratio of softness to fitness for me; soft enough where you felt good to support for landings but firm enough to not feel like you're sinking into your shoe. Had the traction been a bit more firm or responsive, this would have been the perfect setup for me.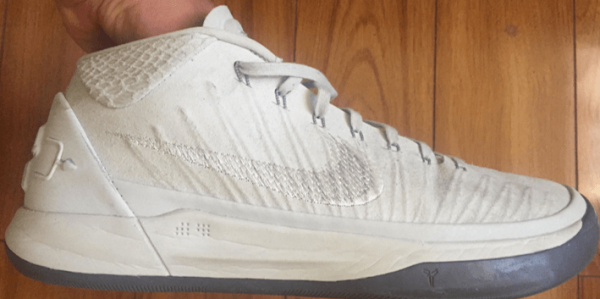 Fit/support
I went true to size as a wide footer and it was a good call. These did fit very snugly, and during the first 1-2 hooping sessions, there was some discomfort with too much tightness. However, this disappeared after these initial usages.
Once broken in, I really really enjoyed the fit—super snug, where I felt minimal dead space and that the shoe was completely locked in with no wiggle.
Support was also sound. This is a typical good coverage from a mid-cut basketball shoe—noticeable wrap without being restrictive or uncomfortable. I felt a stable ride in the midsole and didn't feel any glaring deficiencies anywhere.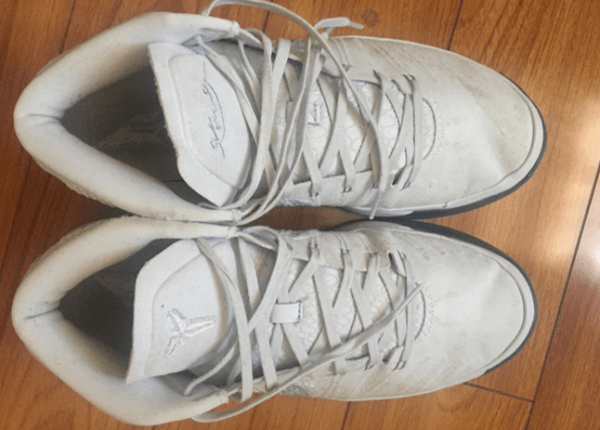 Materials and breathability
A standard synthetic mesh upper with a very thin tongue and soft rubber outsoles. As someone who doesn't give too much attention to materials, I thought these are fine.
My one complaint is that while the materials performed well overall, both the outsole and upper could use an upgrade in terms of durability after seeing noticeable wear after less than 2 months of usage.
The breathability score for the Kobe AD Mid is very low, as you may have guessed from the pictures of it. The mesh material doesn't really offer any areas of ventilation.
For some occasions, I could notice the sweat after playing. Luckily, this never led to any blisters that some players experience with sweaty shoes.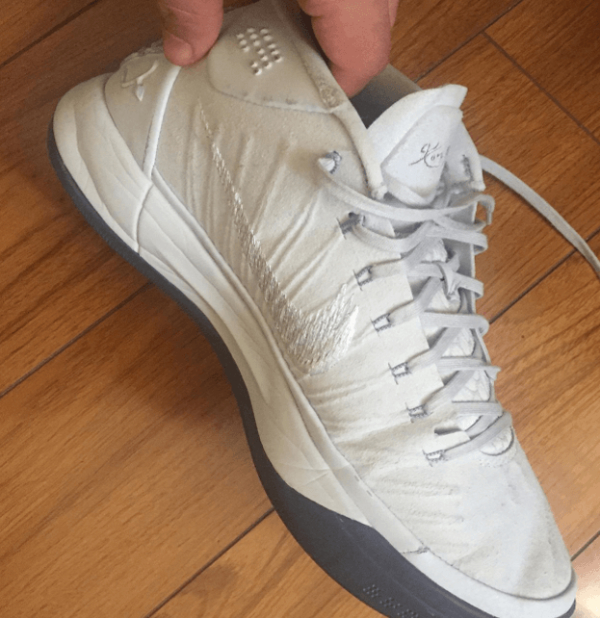 Conclusion
Kobe Bryant not only left a legendary legacy on the basketball world but also in the hoop sneakers culture. I'm thankful after his retirement and closure of the Kobe 1-11 line that Nike decided to continue releasing high-performing sneakers in his likeness. My only complaint is that the durability was not super strong, otherwise, I would have strongly considered stocking up on another pair or two.
Although breathability was also not strong, it's a factor I give much less importance, compared to other aspects. If it's something you strongly care about, I would consider thinking twice about these.
I'd recommend this shoe to anyone ranging from explosive point guards to agile post players. For players doing a lot of crashing in the post, I'd recommend something with slightly more cushioning.
These are one of my top performers of all time and I want to shout out they were my shoe of choice for gameday in all the competitive leagues I played in for many months last year!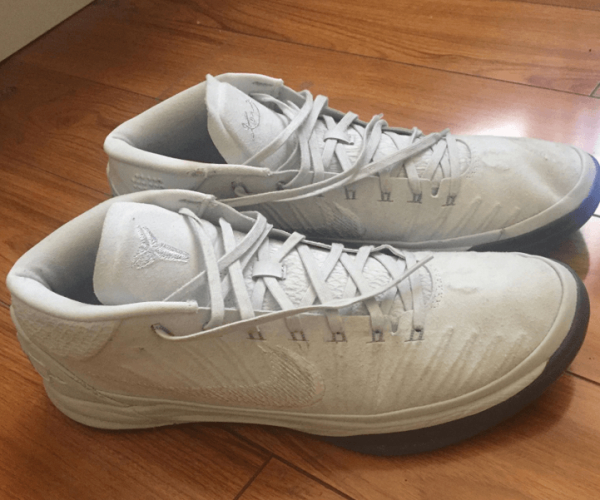 Good to know
The Nike Kobe AD is back and better than ever. These Nike basketball shoes will help propel your game to a whole new level. Whether you are playing lockdown defense or sprinting for a fast break, these basketball shoes provide the agility and speed that you need to dominate your competition.
The Nike Kobe AD Mid features a multi-layer upper and a Lunarlon foam midsole embedded with a Zoom Air unit to provide you with lightweight support and responsive cushioning. Push past your potential and channel Kobe Bryant's killer instinct with the Nike Kobe AD Mid.
Cushion. To keep you comfortable on the court, the Nike Kobe AD Mid is built on a full-length Lunarlon midsole with an embedded Nike Zoom Air unit in the heel.
The Lunarlon foam offers a plush and responsive feel underfoot. It is also equipped with micro flex grooves to enhance overall flexibility, allowing your foot to move more naturally.
Embedded in the heel is a soft and responsive Zoom Air unit that provides impact protection as it cushions hard landings.
Traction. The rubber outsole of the Nike Kobe AD Mid has a micro-blade traction pattern that delivers excellent multidirectional grip.
The engineered tread is designed to provide ultimate traction to help you cut and move quickly in any direction.
Length and Width. The Nike Kobe AD Mid runs true to size. However, these basketball shoes are a bit narrow according to most testers. Wide-footers are advised to try these sneakers in-store if they can; if they can't, going up half a size is their best option.
Lockdown. The Nike Kobe AD Mid has a forefoot cleatie construction that is designed to offer a comfortable one-to-one fit.
Inserted in the upper are Flywire cables for increased support and containment. These cables also help lock the foot in place.
As an added support feature, these Nike basketball shoes also have a midfoot shank for torsional rigidity.
The Nike Kobe AD Mid is made with a multi-layer mesh upper for lightweight durability. The breathable mesh upper is reinforced with Flywire cables for support. The upper also has molded foam details that adds cushioning.
Nike and Kobe Bryant released the Kobe A.D. to signify a year of transformation and growth after his retirement in 2016. The Nike Kobe AD Mid continues his legacy with a refreshed design that is dedicated to his post-basketball supremacy.
The all-new Nike Kobe AD Mid launches in a five-sneaker collection that illuminates the origins and depths of his Mamba Mentality. The five colorways show his interest in the psychology of colors. It expresses the correlation between attitude, color, and emotion.
Releasing in blue, red, purple, yellow, and grey, each colorway has its unique detail and meaning. Blue for trust and dependability, red for passion, purple for overcoming challenges, yellow for positivity, and grey for calm neutrality.
Aside from the launch colorways, Nike released several other color combinations as well as seven team hues.
Black/Anthracite/White/Metallic Gold
Black/Gum Light Brown/Sail 'Black Gum'
Black (Team)
Chrome/Habanero Red-Circuit Orange 'Grey Snake'
Green (Team)
Grey (Team)
Navy (Team)
Obsidian/White-Mega Blue 'Rise'
Port Wine
Pure Platinum
Red (Team)
Royal (Team)
White/Black/Court Purple 'Baseline'
White/Gum
White/Ice/Metallic Silver
White (Team)
Nike Kobe AD Mid 'Black Mamba'
This Lakers-inspired colorway is dressed in predominantly black with university gold accents. A unique "Black" and "Mamba" branding is seen on each tongue.
Nike Kobe AD Mid 'DeRozan' PE
Nike rewarded the current face of the Kobe line with his very own colorway. The Nike Kobe AD Mid 'DeRozan' PE is dressed in shades of light and dark blue. This PE colorway features a snake-like pattern that pays tribute to the Black Mamba.
Another highlight of this shoe is a unique graphic printed on the insoles. The insoles show the image of Kobe Bryant wearing his Olympic jersey next to DeMar DeRozan in his Raptors jersey. This graphic is meant to explain the "10/10" mark seen on the heel counter.
A white midsole and translucent outsole complete the silhouette.
Nike Kobe AD Mid 'Mamba Mentality' Pack
The Nike Kobe AD Mid "Mamba Mentality" pack comes in five different hues. Each colorway is finished off with special detailing and has its own meaning. Blue for trust and dependability, red for passion, purple for overcoming challenges, yellow for positivity, and grey for calm neutrality.
Blue 'Honesty'
Grey 'Detached'
Purple 'Fearless'
Red 'Passion'
Yellow 'Optimism'
Nike Kobe AD Mid 'March Madness'
In honor of the yearly NCAA tournament, Nike dropped a special collection that includes the Nike Kobe AD Mid. The 'March Madness' colorway features a black nubuck upper finished off with iridescent Swooshes. Completing the theme is a multicolored outsole. The colorful speckling represents the confetti being dropped from the rafters after a champion is crowned.
Rankings
How Nike Kobe AD Mid ranks compared to all other shoes
Popularity
The current trend of Nike Kobe AD Mid.