3 Best Nike Lebron Basketball Shoes in 2023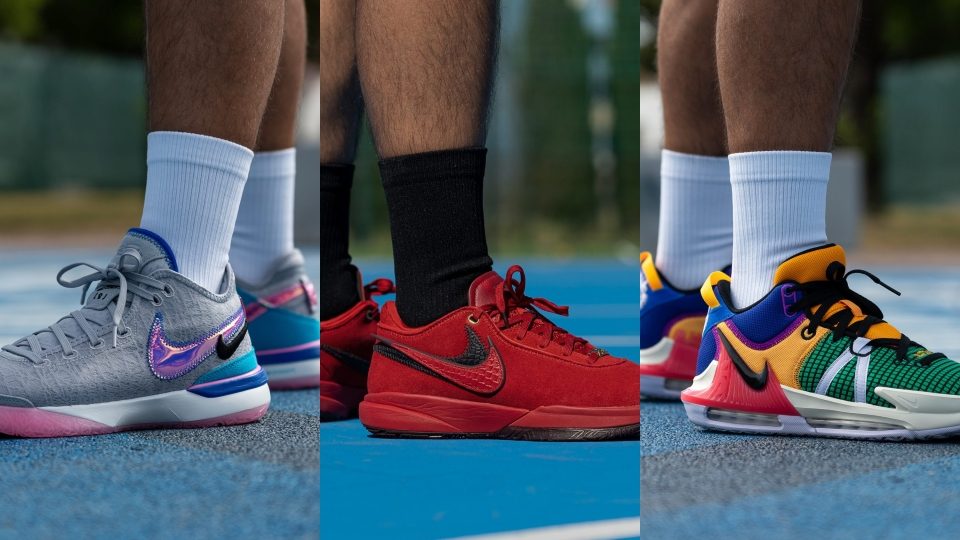 We earn affiliate commissions at no extra cost to you when you buy through us. Why trust us
LeBron James isn't called 'The King' for nothing. His signature basketball shoes dominate the market as much as he dominates the court.
With lots of LeBron models available on the market, we have reviewed them all to select the best. We brought them to our lab and did a number of tests. Whether you are after a low-top, a shoe for playing outdoors, or a more budget-friendly signature shoe, we have selected the top picks in each of these categories.
To learn more about LeBron James and his basketball shoe collections, check out our guide sections.
Best Nike LeBron basketball shoes overall





























What makes it the best?
The Nike LeBron 20 surely did not disappoint. It even exceeded our expectations. It's heel-to-toe drop, in particular, ensured a nice balance between plushness and more natural feel. This marks the rare instance when a LeBron shoe did not sacrifice court feel to make way for cushioning. Also, stability was quite big with this one. Its traction afforded us a standout advantage, as well. Hence, it truly deserves its place as the King of all Nike LeBron shoes.
Our caliper measurements pegged the heel-to-toe drop at 4.4 mm. Because of the balanced cushioning that this basketball shoe afforded us, we got both impact protection and agility whenever we needed it. There really was no need to choose one when you could have both.
Much of the stability we owed to the twist-resistant base. After manual assessments in the lab, the LeBron 20 got a perfect 5 for torsional rigidity. We never had to worry about sudden ankle twists, even when we assumed peculiar positions just to snatch away or protect the ball.
Traction was another standout benefit of the LeBron 20. The sole just stuck like glue regardless of the direction of our sprints or the orientation of our steps. Not even dust was able to jeopardize its bite on the court surface!
It's just too regrettable that this shoe doesn't really have the best ventilation. After going through a breathability test, where we pump the smoke into the shoe to see how quickly and where it escapes, this shoe only got a score of 2 out of 5.
Pros
Amazing overall performance
Great traction
Tremendous impact protection
Pronounced court feel
Dependable bounciness
Comfortable upper
Incredible foot containment
Stylishly streamlined looks
Cons
Not for outdoors
Has to be broken in
Full review of Nike Lebron 20
Today's best price








Finish Line
Free shipping & returns
Champs Sports
Free shipping & returns
Best lightweight Nike LeBron basketball shoes
































What makes it the best?
Ladies, and gentlemen, please welcome the lightest LeBron shoe to date!
LeBron shoes have always been known for being heavy. For context, this shoe's predecessor the LeBron 20 weighs a staggering 14.67 oz or 416g. But the LeBron NXXT GEN just changed that trend. At 13.12 oz or 372g, it's even lighter than the average shoe that weighs 13.65 oz or 387g!
As far as we can remember, the NXXT GEN is also the first time that a LeBron shoe sported a firm midsole. Our HA durometer gave it a softness rating of 30.6 when the average is only 27.9. The firmer-than-usual setup gave us some springiness that made us run much faster and more confidently.
We also used this shoe outdoors, and we loved just how hard the sole felt. Our HC durometer in the lab confirmed this observation. The device gave it a rating of 84.5 while the average is only 80.3.
The shoe's width also surprised us, but in a not so good way. While the widest part of the toebox does not deviate much from the average (98.9 mm vs 99.9 mm), the toebox's width at the big toe gave us too much of a cinch. The caliper showed that it's only 74.9 mm wide when the average is 77.4 mm.
Pros
Top-notch traction
Lightest LeBron shoe (as of 2023)
Nice bounce in the forefoot
A fine balance of court feel and impact protection
Effective foot containment
Very comfortable wraparound feel
Quality materials
Standout design and colors
Cons
Surprisingly not for wide feet
Still kinda expensive
Full review of Nike Lebron NXXT GEN
Today's best price






Finish Line
Free shipping & returns
Champs Sports
Free shipping & returns
Amazon
Prime & free shipping
Best budget Nike LeBron basketball shoes





































What makes it the best?
Up to a certain extent, the LeBron Witness 7 is practically just the
Nike LeBron 20
made less pricey and more suitable for outdoor use. From aspects that are truly important such as traction and cushioning down to matters that are only peripherally valuable such as looks, you can count on the LeBron Witness 7 to deliver.
Pros
Highly effective traction
Impressive impact protection
Optimum comfort
Breathable upper
Reliable heel lockdown
Good lateral stability
Great outdoor option
Fashionable design
Cons
Lacks court feel
Poor upper durability
No outriggers on the sole
Full review of Nike Lebron Witness 7
Today's best price








Amazon
Prime & free shipping
Finish Line
Free shipping & returns
Champs Sports
Free shipping & returns
Designer Shoe Warehouse
Free shipping
Comparison of the 3 best Nike Lebron basketball shoes
| | | | | |
| --- | --- | --- | --- | --- |
| Best | | | | |
| CoreScore | | | | |
| Users rating | | | | |
| Experts | | | | |
| Best price | | | | |
| Ranking | | | | |
| Popularity | | | | |
| # of colorways | | | | |
Are LeBron shoes right for you?
Signature shoes are designed to suit the very specific needs of the players that they are named after. Consequently, Nike LeBron shoes are perfect for you if you have LeBron James's physical characteristics and playing style.
Player profile
Tall and huge, James is easily among the league's most standout players:
| | |
| --- | --- |
| Height | 6'8" |
| Weight | 250 lbs |
| Position Played | SF/PF/SG/PG |
Playing style
In spite of his size, James is still quite flexible on the court. He assumes positions normally occupied by smaller players such as Stephen Curry. Yet, his playing style is much more aggressive, mowing down defenders rather than gliding through them. This requires much more brute force, and less of the shiftiness and agility common in smaller players.
The different Nike LeBron collections
James has at least three lines of Nike signature shoes available in the United States.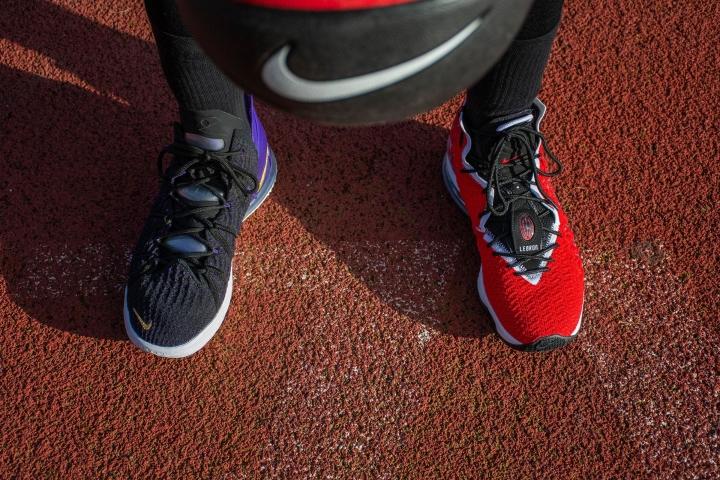 Collection

Description

Key Characteristics

LeBron James's main line; every release usually bears a new Nike technology

Heavy
Technologically up-to-date
Premium materials
Pricey

Nike LeBron Soldier

A line of LeBron shoes that focus on lockdown and support.

Heavy
Supportive
Usually with strap
Slightly cheaper than the Nike LeBrons

Nike LeBron Witness

This is LeBron James's line of more affordable takedown models

Lighter
Cheaper than all other LeBron shoes
Styling with the best LeBron shoes
Nike LeBron basketball shoes are as pretty as they are high-performing. They are of use even when you are off the court.
Low, mid, or high? Pick what you want.
James is usually seen donning high-tops or mid-tops on the court. Even if he does not wear them in his games, Nike LeBrons are still available in low-top versions. In fact, some of his other shoes debuted as among the league's most anticipated low-tops.
Know your color
LeBron shoes are available in hundreds if not thousands of colorways. However, there are a few that regularly get referenced:
Black History Month. James is known for his activism. His signature lines pay homage to the triumphs of people of color through the Black History Month (BHM) colorways. Shoes for Kyrie Irving, James Harden, and Paul George are also given the BHM treatment.
St. Vincent-St. Mary High School. James regularly pays his respects to his alma mater through green SVSM iterations.
James's current team. The NBA team that James plays for automatically gets a special colorway, which usually features that team's characteristic hues.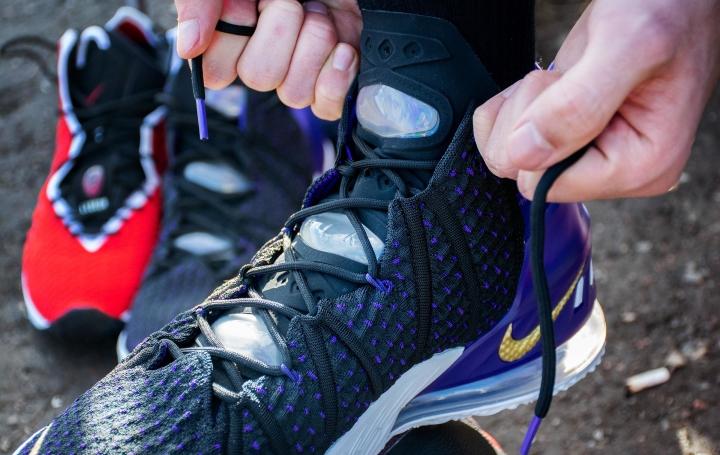 LeBron shoes: Are they worth their price?
It's no secret that the best LeBron shoes are also among the priciest basketball shoes in the market. They are up there with Michael Jordan's sneakers.
So that buyers get their money's worth when they get LeBron's shoes, Nike makes sure that it is equipped with highly advanced shoe technologies. Some of these techs are used only on LeBron sneakers.
Techs used only on LeBron basketball shoes

Battleknit

Innovated from Flyknit, Battleknit becomes increasingly stiff at the midfoot where stability is most needed. This is used in the LeBron 15.

Battleknit 2.0

For the LeBron 16, Battleknit gets an upgrade. Its tensile strength is increased to provide even more lateral support.

Knitposite

First used on the LeBron 17, Knitposite is basically Flyknit infused with heat-molded yarn that makes it more durable and supportive.
How we test basketball shoes
The best Nike Lebron basketball shoes are reviewed based on all the wear and lab tests we do. You can expect most of our top picks to be chosen based on the following methods:
Sneaker shopping using our own funds. We review each shoe by being factual only. No clowning around, no sponsorships.

Wear and playtesting. We wear the Nike Lebron basketball shoes for several days, or even weeks, in our games of basketball indoors and outdoors. We record every little detail that we feel and observe while in them.

Testing of the shoes in our private lab. We measure the various parameters of the shoes. One way to accurately fulfill this is by chopping up the shoes into pieces.