Do you have a low arch, flat feet or overpronate?
If unsure, visit your local running store, fitness trainer, or podiatrist to gain knowledge.
If you're like me and require extra support, New Balance 860 V6 will help conquer your running, regardless of how far you run!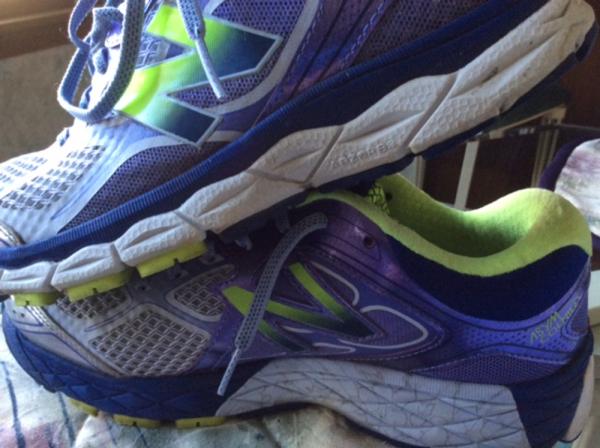 Arch
Take a close look and check out their extra build-up in the arch. What an incredible design, but more importantly is how these running shoes feel.
I can usually tell if the shoes meet my demands because if they don't, I want to take them off as soon as possible.
With this pair, however, I just want to keep on running because they feel so good!
Cushioning
Not only are they light weight at 10.2 ounces, but they are cushiony and super comfy.
Perhaps, the number one reason I highly recommend New Balance because I've experienced no blisters and breaking them in was effortless.
It's always a great feeling when you "WANT" to lace up because you absolutely love your running shoes.
However, it's taken me years to find true running shoe satisfaction. Either it's in our nature to try different brands, or the advertising industry does a great job persuading us!
Plus we all know how us runners are just super picky when it comes to our shoes. Whichever the case may be, I've learned the hard way, and hope to save you a lot of aggravation, time, and money.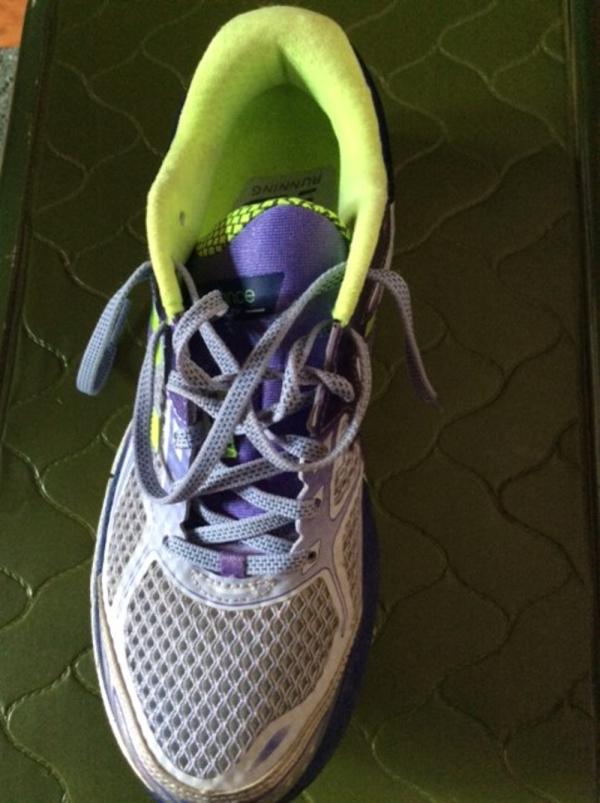 Once you find New Balance's stability works best for your foot, REMAIN LOYAL! Otherwise, you'll be disappointed and return to New Balance in the end anyway.
I know, this picture is a whole lot of purple! It did take awhile to feel confident walking around the gym, but truthfully it wasn't because of the color, it was because of the brand. Now I'm not a name brand queen, but I see how other runners check out my shoes and visa versa.
So, who the heck wears New Balance? Older people for sure, right? Not sure where my stereotyping came from, but bam there it was staring me in the face, trying to decide between two brands at the running store.
Oftentimes, it feels like a toss up, and we buy the wrong brand. Money down the drain and I so hate it when that happens!
Support & Stability
I confidently purchased New Balance based strictly on comfort, support, stability, and feel. I knew our local podiatrist recommended New Balance, so cha-ching ring me up!
It was Mother's Day and these running shoes were a gift to myself. I remember, the look on my son's face when I proudly debuted my new shoes!
Oh well, I'm doing my own thing just like he taught me to run my own race.
Performance
Alter 307 miles of hitting the hard pavement I have no regrets. In fact, these 860 v6's almost feel brand new except for the outer heels running down.
Unfortunately, I do this with all my running shoes. Regardless, these shoes are definitely standing the test of time.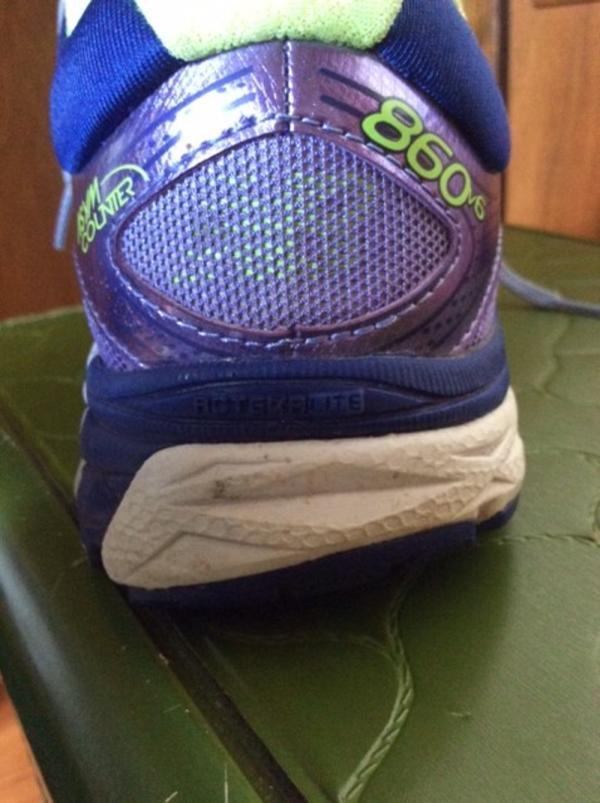 Padding & Lining
The inside padding and lining isn't fraying one tiny bit. In fact, the material still looks and feels new and super cushiony. This includes the entire tongue portion too!
Toe Box
Some say the toe box is narrow, but I say it's perfect. I always order a size 9 even though I normally wear a 7-1/2 dress shoe. This extra room allows for movement, flexibility, and foot swelling and I've never lost a toenail. YET!!!
My toes haven't poked through the toe box and the mesh is strong and durable without feeling heavy and bulky. I run half marathons and marathons in them because I am way too attached to trade in for a racing flat.
Trust me, during long runs, these shoes feel amazingly lightweight without compromising arch support or foot stability.
There's nothing worse than rolling out on one side of your running shoe.So ditch hard orthotics or insoles and feel the love! Aaaaaaaa, feels so good!
Why New Balance?
After blowing through many shoe brands and discussing running shoes with way too many people, I always go back to the best advise a girls track coach said, "Running shoes should fit like a glove!"
WALA! When you slip your foot into the New Balance 860's this is exactly how they feel!
So guess which brand I proudly displayed to my son yesterday? Yup! New Balance 860 V7 debuting with a whole lot of aqua!
Stay tuned for a New Balance 860 V6 versus 860 V7. Until then, Happy RUNNING!