This shoe is exactly what it's supposed to be, light, fast and responsive.
I am accustomed to the more robust Brooks Adrenaline GTS and Asics GT 2000, but the transition to the lighter Brooks Launch 4 was easier than you might think.
With a 10mm heel-to-toe offset, it was easier than transitioning to a zero drop shoe, and the lightness could be felt immediately. Runs were simply easier and faster, but at the cost of some comfort.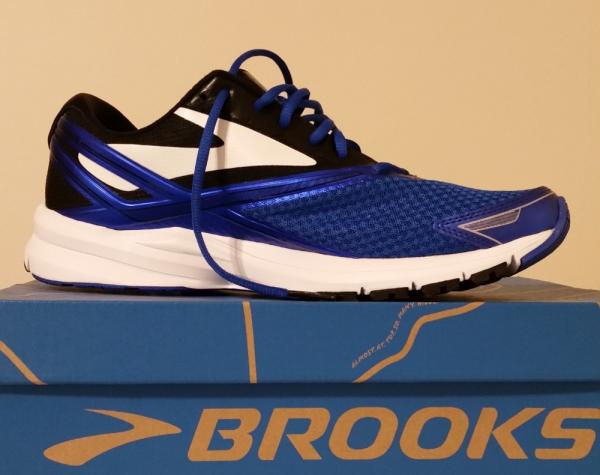 Construction/Quality
Not a lot of unnecessary material used in this shoe, just enough to get the job done. The quality of materials and workmanship are all high. The forefoot uppers have no overlays of any sort, just a well-stitched toe box.
This shoe does have a full-length outer sole of rubber, however, the rubber is far thicker in the front and much thinner in the rear. This may make these shoes last about half as long for heel strikers than for the rest of us. The shoelace keeper is offset to one side, easily keeping the tongue place.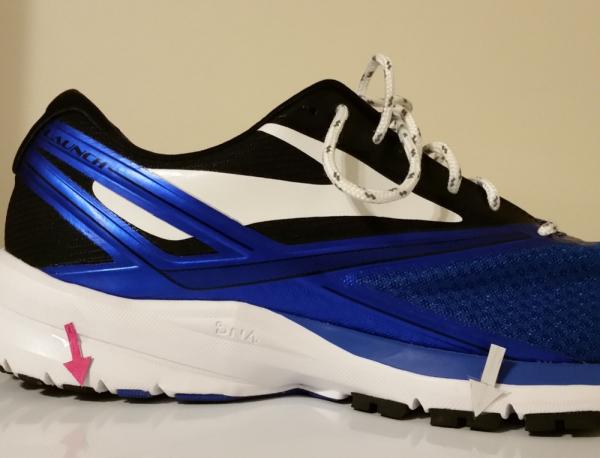 Brooks DNA
I do not think the claims that Brooks DNA offers 33% more cushioning than Gel or EVA are based on fact, however, the DNA added to the midsole seems to make some difference.
In my non-scientific analysis, I would say that the Brooks DNA provides excellent responsiveness that the runner can actually feel.
As I change my running gait from a slow jogger to me "imagining" myself finishing a big city Marathon with world-class runners on either side of me, these shoes actually seem to come alive, it must be the DNA at work, the shoe's DNA not mine.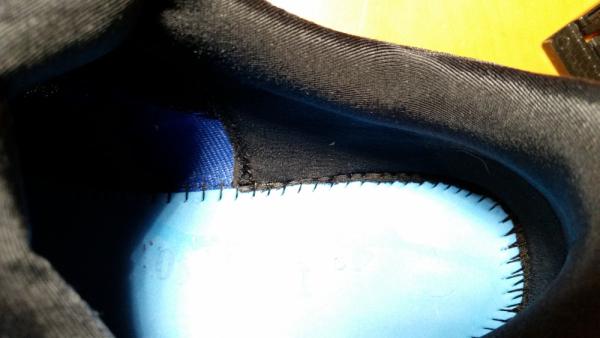 Comfort/Fit/Ride
It would not be any more fair to compare this shoe to the Asics GT 2000 or the Brooks Adrenaline as comparing a Formula One car to a 4 door Mercedes.
The uppers are form fitting and about as wide as expected for a medium D width.
Toe box is high enough to comfortably use with thicker winter socks unless you opt for a thicker liner for more cushioning as well.
Weight
301 grams per shoe size 12 US, 46 Europe and 11UK with original sock liners.
Safety
Good grip on any road surface, great reflectorization only from directly behind. No reflectors up front, there are designs at the front of the shoes that look a little like reflectors, they are only graphics providing no reflector safety for the night runner.
Bring your reflective shoelaces.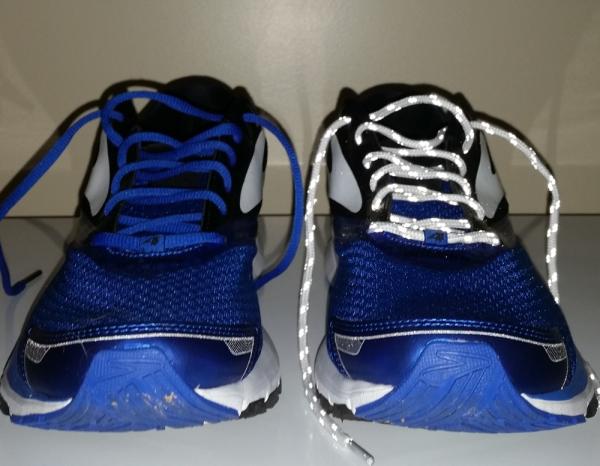 Pros
Light weight
Fabulous Colors
Fairly quiet on pavement
Form-fitting uppers
Durable ( except for the heel strikers )
Cons
No front reflectors
Thin outer soles under the heel
Not enough cushioning in the forefoot
Conclusion
More cushioning?
These shoes are fun for a little while, then after a few runs, I start to miss my old Asics GT, Ghosts and Vomeros and begin to wonder if the Launch 4 is better left to race day or short runs.
I am going to add a thin foam layer under the Brooks sock liner and I think this will add just enough cushioning to make this my new Half Marathon training and racing shoe.
This has been my third pair of Launch shoes. I am looking forward to getting in some long miles and reporting back about how they hold up after 200 or 300 miles. The more I think about it, these shoes are about perfect, it could be the 5 pounds I gained over the winter months.
I hope Brooks does not drastically change next year's Launch.
Historical Nugget
Back in 2007, a young woman working for Brooks in Seattle, Washington, USA, was struck by a car while out running and tragically died. In her honor, a shoe, the Brooks Defyance carries her initials "LD" to this day.
Run Happy! Run Safe!