Verdict from 36 experts and 100+ user reviews
9 reasons to buy
The Brooks Ghost 11 has a nice cushion that enabled an excellent transition with adequate bounce, according to an impressed user.
Several wearers commended the shoe for its roomy interiors.
The shoe is very accommodating towards heel strikers, some runners observed.
The shoe's minimal weight allowed for an effortless and comfortable run, a number of users commented.
An athlete commended the Ghost 11 for being the most comfortable daily running shoe they have used. Another wearer said it gave the best arch support among other neutral running shoes.
The shoe felt softer and more flexible compared to its previous versions, said a reviewer.
The adequate cushioning of the midsole prevented foot pain and muscle stiffness, according to a wearer.
One buyer compared wearing the shoe to "wrapping the foot in a cloud."
Like any iteration of the Brooks Ghost, it is suitable for both walking and running, a user claimed.
3 reasons not to buy
One reviewer attributed the shoe's bulky and uncomfortable feel to its high heel-to-toe drop.
The shoelaces are a bit short, a user supposed.
The mesh upper does not look like a durable as it claims, a doubtful buyer stated.
Bottom line
Many users have found themselves considering buying the Brooks Ghost 11 for a second or third time, while others were very expressive of their satisfaction as they switched from a different shoe – that's how great they believe it is. With many praises about the shoe's features and functionality, it is no surprise that wearers would regard the Ghost 11 as one of the best running shoes on the market.
Tip: see the best running shoes.
Our reviews
The Brooks Ghost 11 is a fantastically comfortable neutral running shoe. Improvements to the look of the shoe are combined with tweaks in the midsole to offer even greater cushioning under the heel as well as a smoother transition and greater responsiveness for faster tempo sessions and even for racing.
Leaves your feet feeling as fresh at the end of a run than when you started. I'd have no hesitation in recommending this shoe.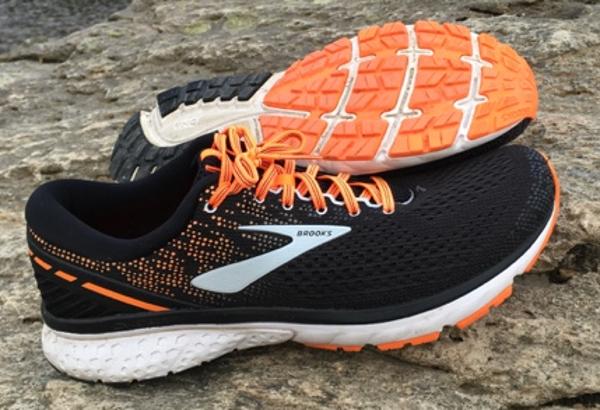 Pros
Extremely comfortable
Improved Cushioning
Secure fit and hold
Breathable Upper
Roomy Toe Box
Cons
High ride height may not suit everyone
Introduction
Last year, I reviewed the Brooks Ghost 10 – the first time I'd worn any Brooks shoe, let alone their ever-popular prime cushioned shoe. I was immediately impressed by its comfort and versatility, and went on to describe it as being "Built for Comfort and for Speed".
Almost a year on, my 10s had over 800 miles on the clock, but still remained my go-to choice for long, easy runs. Needless to say, I eagerly awaited the delivery of my Ghost 11s, which goes some way to explain why this review contains no pictures of shiny new shoes fresh out of the box. The day after they arrived, I laced them up and headed out the door for a 10 mile run at marathon pace.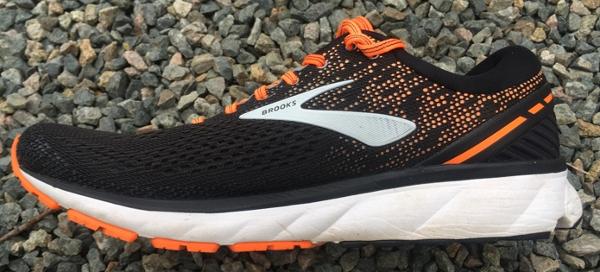 Eight weeks later, I've run approximately 350 miles in these shoes, including most of my longer marathon-training runs, but also a fast trail 5k which resulted in a Parkrun PB. Training has also included faster interval sessions, as well as easy recovery runs, and I'm happy to say that the whilst there have been some changes, the Ghost 11 impresses just as much as its older brother.
Throughout this review, I will inevitably make comparisons with the Ghost 10; apologies if you haven't worn the previous version of the shoe, but I felt it necessary to describe the evolution of the shoe and recognize that many readers will have previously worn the Ghost 10. I have tried however to make sure that the review stands on its own.
Appearance
The Ghost 11 is available in four of five colorways in both men's and women's shoes, including a plain black for the understated look. You can judge for yourself whether my choice of "Black-with-a-hint-of-orange" (not the official colorway name) was the best choice, but I liked it!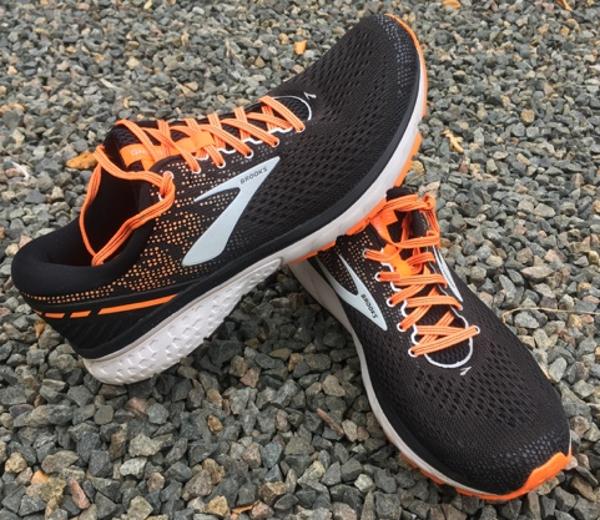 Even more than its predecessor, the Ghost 11 feels like a premium, well-designed shoe from the moment that you take it out of the box. Many of the midfoot overlays present on the 10 have been removed, together with the vinyl toe bumper, and plasticky looking trim around the lace holes and the ankle.
The result is a much simpler, fresher looking upper comprised of engineered mesh, with "overlays" reduced to colored dots which seem to improve structural support around the midfoot as well as the toe bumper. The shoe is also more breathable than its predecessor.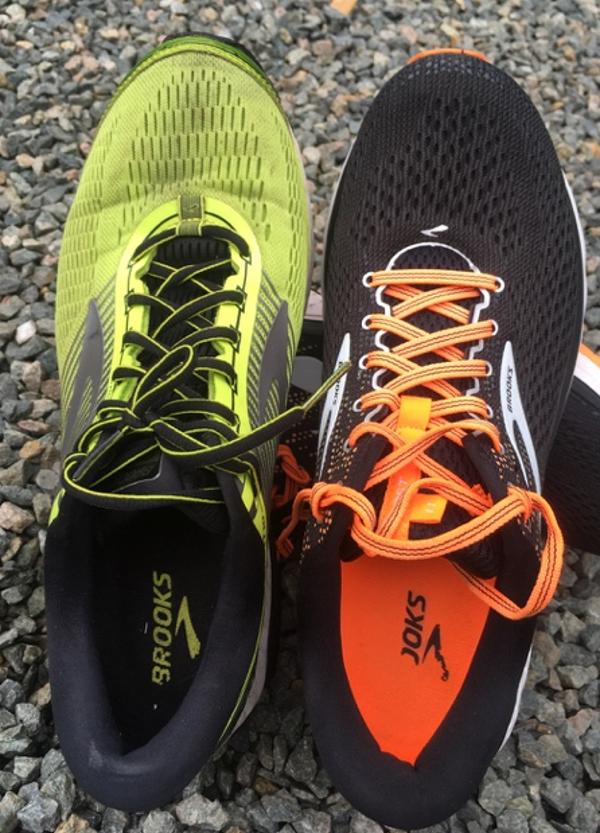 Brooks has increased the reflective detail in the Ghost 11; the small tab on the back of the heel remains reflective and is joined by the larger logo on the sides of the shoe as well as the detail around the eyelets. This is a welcome improvement as we head towards darker mornings and evenings.
The Ghost is not a budget shoe, but with a price point of around £120, and with some savings often to be found, it is cheaper than many premium cushioned shoes on the market. Its feel and appearance, however, are easily comparable to many pricier shoes, with its new style combined with materials and construction of the highest quality.
A slightly lower, external heel cup has replaced the one used in the 10. Despite this, the heel still feels well locked in, as does the midfoot. This provides a good feeling of security without the foot feeling confined, and is especially apparent when running over uneven surfaces, or taking steep downhill sections at speed (when lesser shoes can allow the foot to move sufficiently) for the toes to hit the front of the shoe.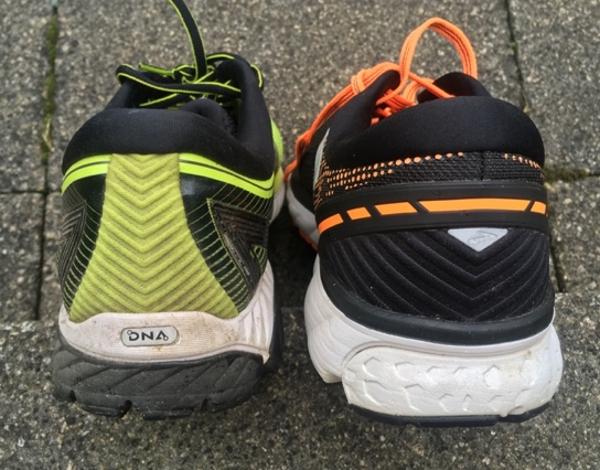 The lower heel cup seems to allow for even more cushioning around the top of the heel and continuing around to the front of the ankle, where it meets the well-padded tongue.
The midsole of the shoe appears substantial, and the knitted mesh provides sufficient stretch to lock in the foot as mentioned above.
The weight
The Brooks Ghost 11 is listed at 309g, which is a little heavier than its predecessor (295g), though not significantly (the Ghost 9 was listed at 305g which suggests that the Ghost fluctuates a little around the 300g mark). Once again, the Ghost isn't trying to be a light racing shoe and compares favorably with premium cushioned shoes from other manufacturers such as the New Balance 1080 v8 which is listed at 314g.
As expected, my UK 13 (14.0 US) shoe weighed in heavier at 369g, compared to the Ghost 10 at 361g and New Balance 1080 v8 at 381g. Most importantly, the Ghost 11 does not feel like a heavy shoe, even towards the end of a long run.
Fit
I found the Brooks Ghost 11 to be true to size and not surprisingly, almost identical in fit to the Ghost 10. That is, I wore a UK 13 (US 14) which is what I'd wear in a normal, everyday shoe, and in an ASICS or Inov-8 shoe. For comparison purposes, in shoes from New Balance, Hokas, and Salomon I'd generally need to go for a ½ size larger (UK 13 ½).
The shoe felt very comfortable right out of the box. As mentioned above, my first outing in the shoe was a ten-mile run, with the option to cut it short if the shoe caused any issues; there was no need for the backup plan!
My foot was held securely and comfortably throughout, but with plenty of room in the toe-box. If anything, the toe box feels marginally smaller than the Ghost 10, but there's still more than sufficient room for movement, which is especially important as I have a tendency for an ongoing Morton's Neuroma issue to flare up where toe room is limited.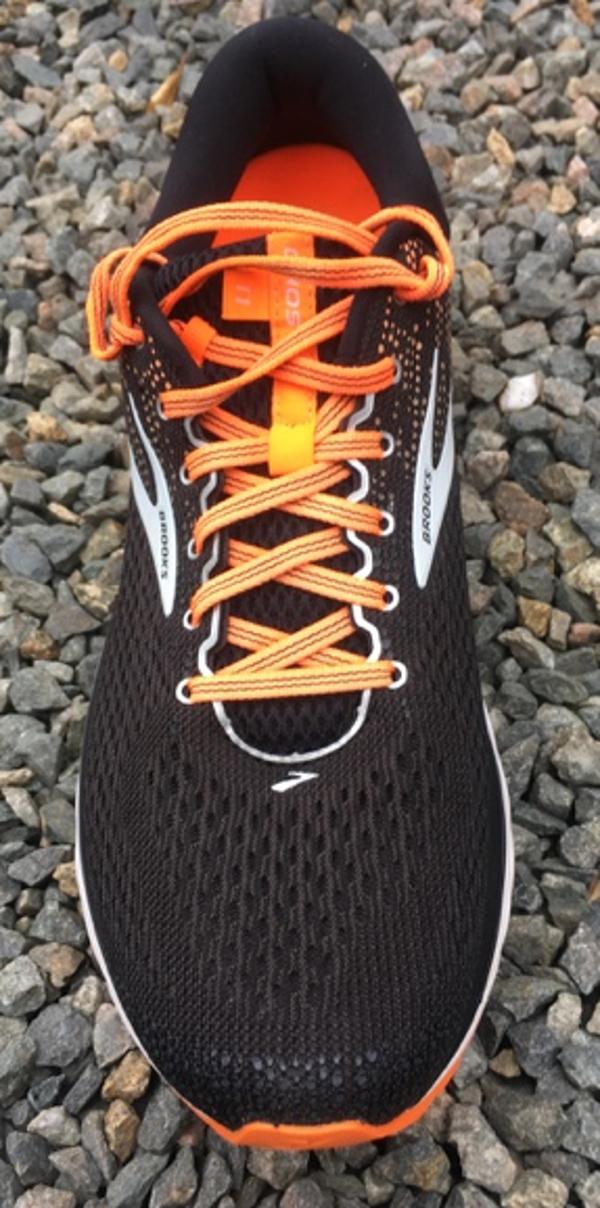 As with the previous Ghost 10, I'd again have no hesitation in recommending the shoe to triathletes and other runners prefer running sock-free with its seam-free, comfortable inner.
Construction
Upper
As mentioned above, Brooks has ditched the overlays used in the v10, claiming that by "placing stretch and structure where you need it most, the newly engineered mesh upper practically disappears on your foot".
I'm not sure about the "practically disappears" bit, but I really like the new, simple upper, which does seem to provide all the support needed in a neutral shoe, and I've already mentioned above that the foot is held comfortably and securely. Furthermore, the new upper does allow the foot to breathe far more effectively than the Ghost 10.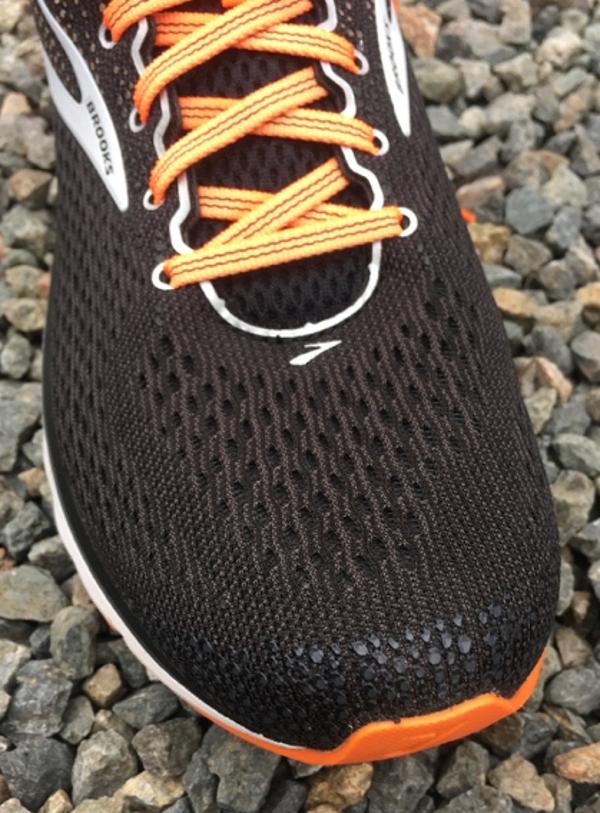 At the front end of the shoe, is a double layer of mesh. The inside layer is tightly woven, whilst the outer has larger holes, which in this case are a little more open than the 10.
These layers move independently of each other, allowing sufficient movement of the foot during the various components of each stride. The external vinyl toe bumper is replaced with a little internal strengthening, together with the overlaid dots to provide more than sufficient protection, with greater flexibility (and an improved look).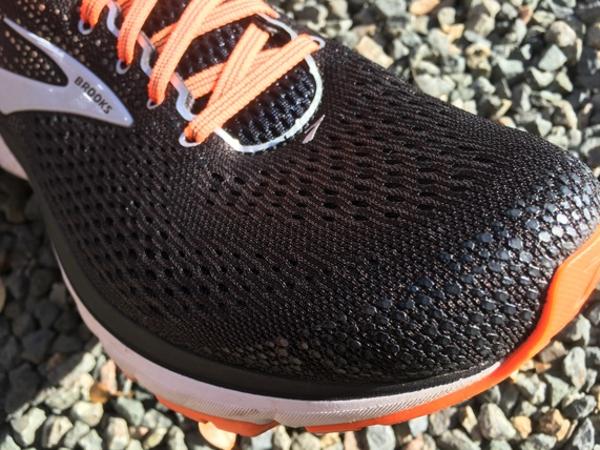 Moving towards the back, the lace loop at the front has been eliminated, which seems to make little difference, and then the mesh becomes more dense, with the overlaid dots, as and the inner layer becomes more cushioned around the midfoot which is held well. Being a neutral shoe, there is little arch support although the shoe liner supplied does provide a little.
The dense mesh and cushioning continues around the ankle and to the back of the shoe where it meets the external heel cup mentioned above. Once again, there is a generous level of cushioning around the ankle, and a well-cushioned tongue (the Ghost 11 opts for a single lace loop at the top of the tongue, but there's never any danger of the tongue moving).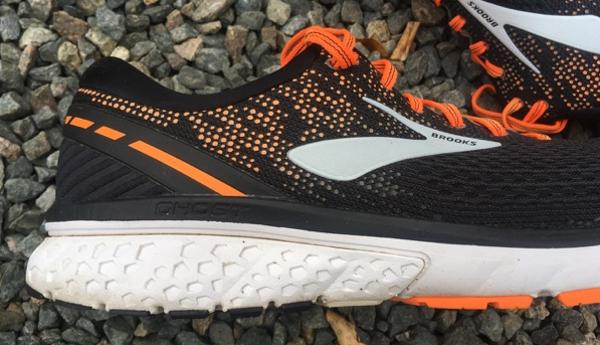 The laces themselves are flatter than in the Ghost 10. I'm really not too sure of the significance; as previously, you lace them up and they stay tied, which does the job by my book.
Once again then, the latest incarnation of the Ghost has provided a supremely comfortable shoe that I always looked forward to putting on ahead of any run.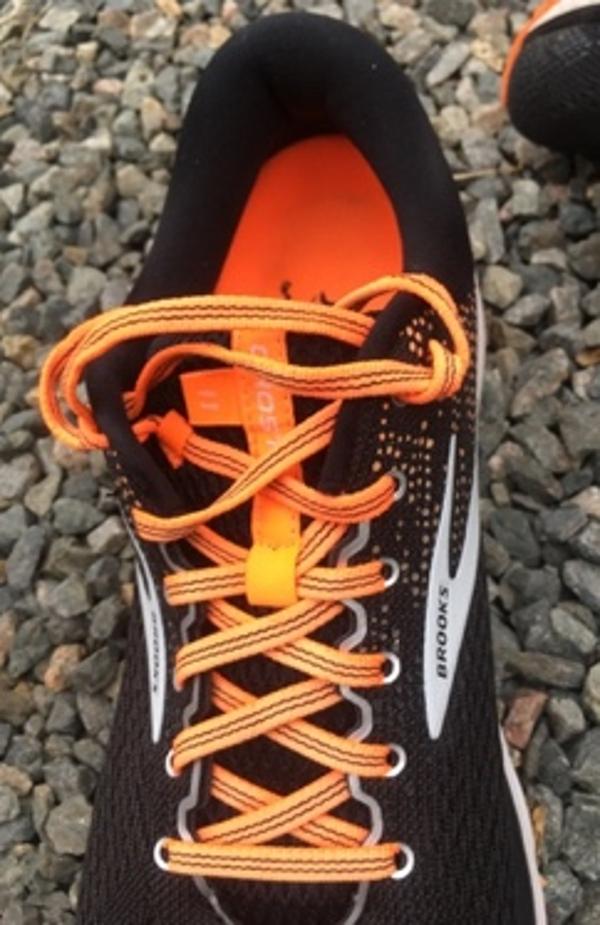 Sole
The sole of the Brooks Ghost 11 again provides 12mm heel to toe drop, from a heel height of 29 mm. I'm sure I'm not alone in the fact that this is the largest drop of any of my running shoes, but after experiencing the Ghost 10, I had no concerns.
Once again, the shoe feels great to run in; it certainly doesn't feel like a 12mm drop, and I had no issues switching between these and my Zantes (6mm) or any of my zero-drop fell shoes.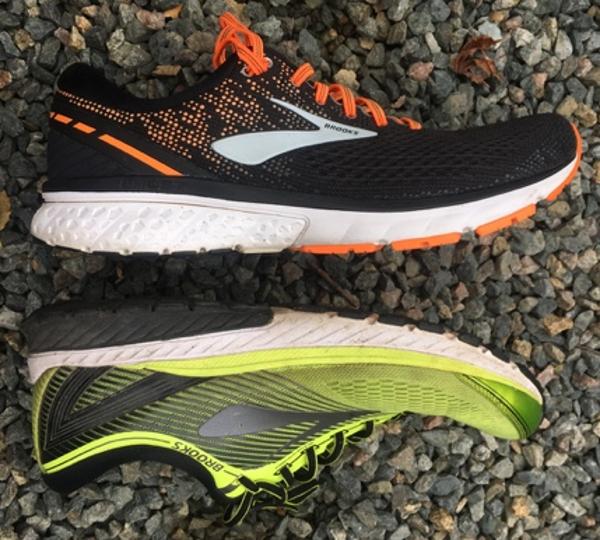 If you have any concern, I do suggest trying out the Ghost 11 at your local running store rather than dismissing them because of the higher-than-usual drop. My own view is that in this shoe in particular, the additional heel-toe drop has little real significance.
Midsole
Most of the midsole cushioning is provided again by Brooks' BioMoGo DNA foam to provide what Brooks described as "just-right softness underfoot".
The big difference with the Ghost 11 is that it incorporates an improved crash pad made of DNA Loft Foam to the lateral side of each heel.
The location of this crash pad is indicated by the pattern of pentagons on the side wall (the remainder of the midsole is standard BioMoGo DNA Foam). The DNA Loft Foam used in the crash pad was introduced earlier this year in the more expensive Glycerin 16. It is designed to provide even greater cushioning for a smoother landing, and improved transitions, but crucially to do so without any increase in weight, utilizing a butilizingVA, rubber, and air.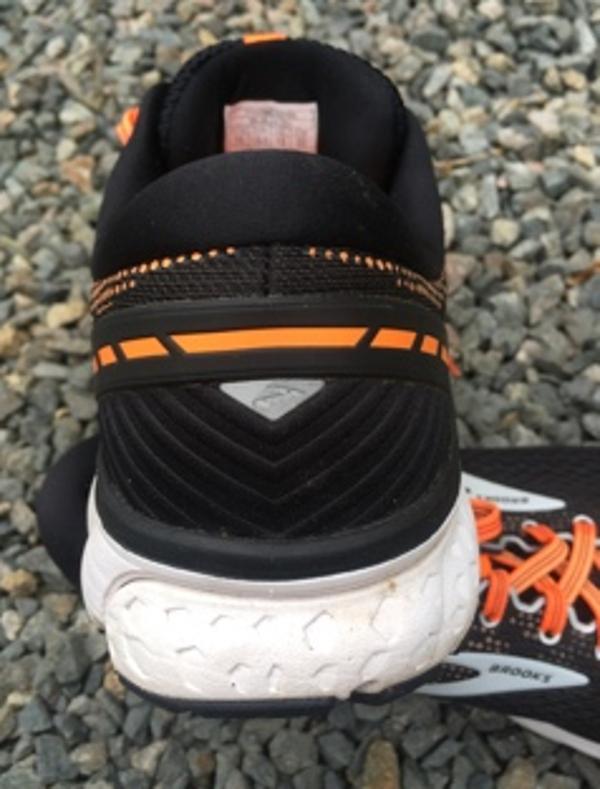 So what does that mean?
In a nutshell, the Ghost 11 offers even better cushioning than the 10 for heel-strikers such as myself. This will become more important on longer reruns as research suggests a tendency for a greater proportion of runners to heel strike as they become fatigued on longer runs.
The Loft Foam in the crash pad will protect the legs and feet from repeated landings and helps to ensure that the foot feels just as comfortable, and the stride as smooth at the end of a long run as at the beginning (if only the legs did), while also helping with faster transitions during when it's time to increase the pace.
Outsole
The outsole of the Ghost 11 is very similar to the Ghost 10, although there are some minor changes. The outsole is broken up into fewer segments which increases the contact between the sole and the ground (it may be difficult to see in the picture as Brooks used black foam beneath the crash pad in the 10 shown). Other than that, there appears to be very little change.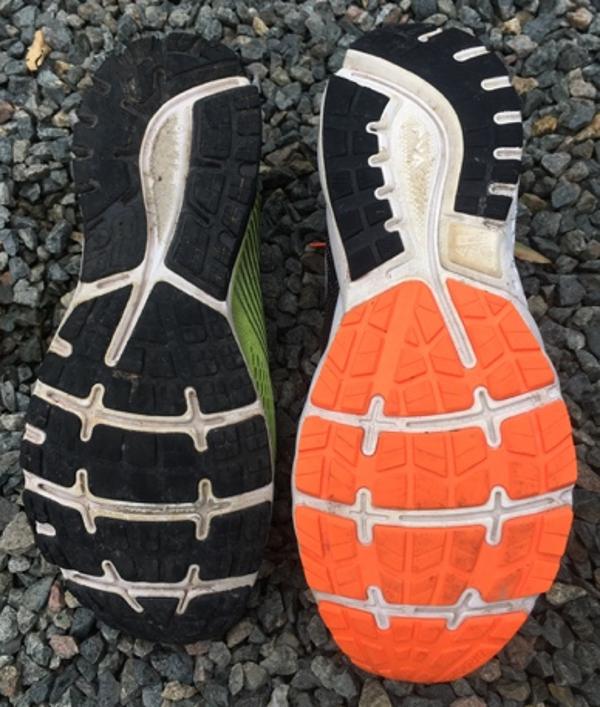 Whilst the Ghost 11 is essentially a road shoe, the structure and design of the outsole do lend itself to an element of trail running (and in one case for me, even a short trot up a mountain partway through a long run).
It's obviously not going to be suitable for technical stuff, but it'll easily handle those part-road/part-trail runs and races.
Durability
The outsole is again formed of blown rubber below the forefoot, and a harder carbon rubber under the heel.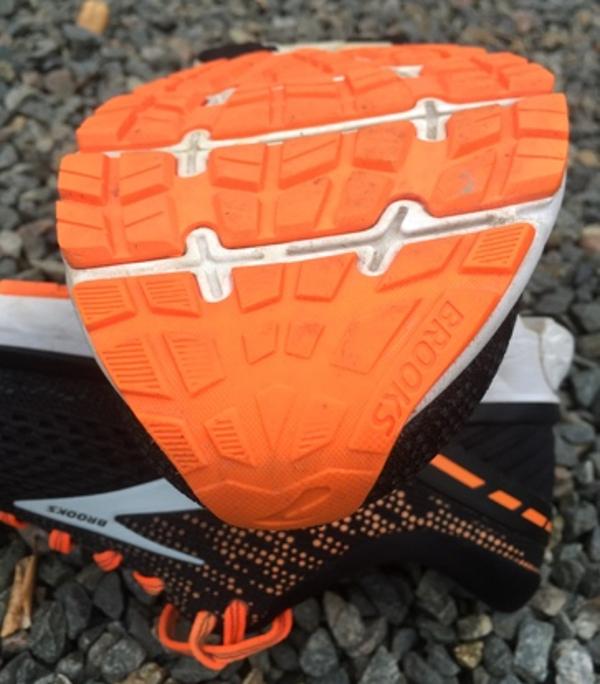 This is a very durable combination, and whilst the Ghost 11 is to be showing some heel wear at the 350 miles mark, this was fairly similar to the wear pattern experienced with the 10s. I'm confident that I'll be wearing the shoes well beyond the 600-mile mark, and if the 10s are anything to go by, they'll retain the cushioning as the miles tick over.
Lighter runners and those without such a pronounced heel strike should see the shoes last even longer than mine.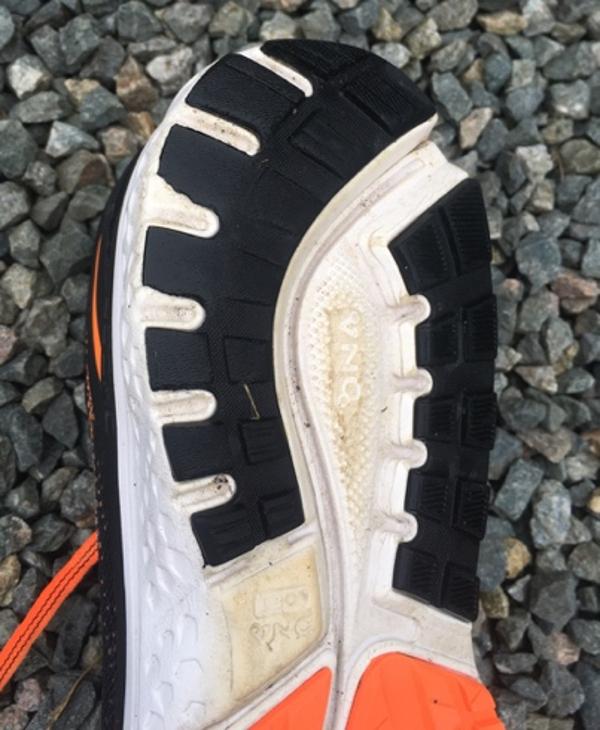 Performance
My experience of shoe performance should always be balanced against my own characteristics, so I should mention at this stage that I don't fit the stereotypical image of a lithe, sleek runner.
Just for the record, I'm 47, about 6'2", approx. 87kg (190lbs), running 50-60 miles pw.
I've been using the Ghost 11s in training for my next marathon where I'm chasing a 3:10 goal and the Parkrun described below was completed sub 19'. In light of this, I can't really comment on the performance of these shoes for the elite but hopefully, this can be of use to most runners.
I'll put my cards on the table at the beginning: I loved the Ghost 10. I described it as being able to run in your most comfortable pair of shoes or slippers. What's more, they're a go-to shoe for almost any training run. So unless Brooks had completely redesigned the Ghost, it was pretty well a sure thing that I'd love the Ghost 11s too.
I wasn't disappointed. The shoe has the comfort I'd appreciated in the 10, as well as the opportunity to turn up the pace during an interval session. The improvements that Brooks have brought to the Ghost have further enhanced the experience. The DNA Loft Foam provides a welcome extra little bit of cushioning to the heel. As you transition forward the front of the shoe feels marginally firmer contributing to a slightly more responsive take-off.
For marathon training, the shoe has been fantastic. I've used it for pounding out the miles on a long slow run, stepping up to marathon pace, and for all of the faster interval sessions with which anyone training for a marathon will be familiar. I'm not sure yet whether I'll wear them for the race itself but would have no qualms about doing so.
The only "race" I've done in them to date was a local Parkrun (okay, it's not a race, but you know…). It was a new Parkrun, so all I knew was that it was on a mix of hard-packed trail, sand and forest tracks. I figured that the Ghost 11 would cope with the terrain and off I went. I was amazed to finish with a new 5k PB despite the terrain and really pleased with the feel and responsiveness of the Ghost 11s throughout the run.
Comparison
The Brooks Ghost 11 compares exceptionally well with other neutral cushioned shoe such as the New Balance 1080 v8 (pictured), or the Hoka Clifton which has a similar ride height and will appeal to the same market.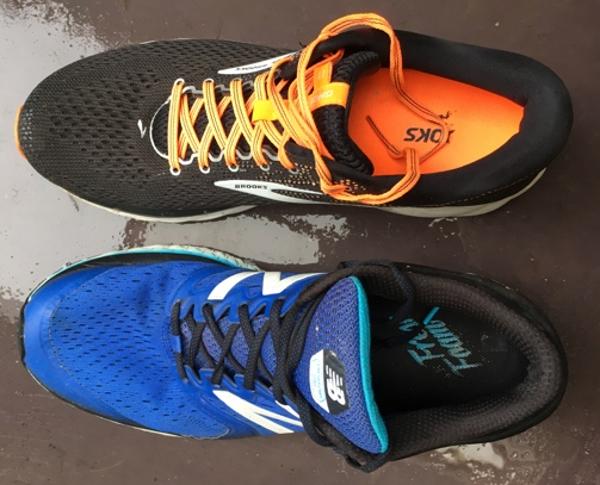 The Ghost 11 would be my first choice over each of these shoes, as I found it more comfortable and responsive than either of the other shoes, leading to the improved performance at all paces.
Summary
In Ghost 11, Brooks has again managed to make an everyday running shoe that you'll look forward to wearing for almost any training run. The shoe will look after your feet for you and leave you to concentrate on pace, form, traffic or simply to enjoy the view.
I would recommend this shoe to any runner looking for a neutral, cushioned shoe, for both daily trainings and for racing anything from 5k to marathons and beyond.
In my own opinion, it is especially suited to higher mileage runners, and its superior cushioning makes it ideal for the heavier runner too.
Did you ever notice runners become loyal to certain name brand shoes? Occasionally, an encounter may encourage a switch. For instance, Brooks Running recently won over many athletes after Desiree Linden won the 2018 Boston Marathon in a pair of Brooks prototype.
Brooks doesn't make prototypes for us non-elites, but they do examine and try to improve upon their shoes. For example, the Ghost model has the 11th version already! Best of all, however, is the wide assortment of colors Brooks made available to consumers.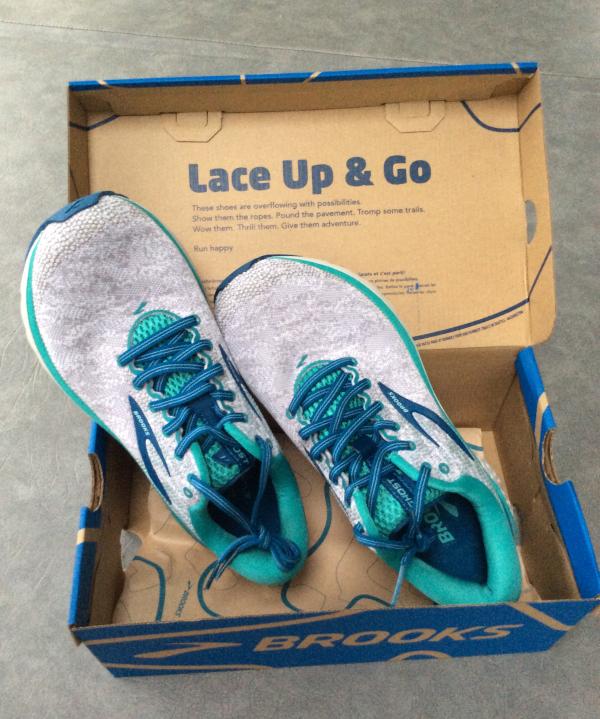 Brooks created 13 color variations for women and 11 for men's. Honestly, Brooks Ghost 11 has the best color selection I've ever seen! These "White, Grey, and Latigo" is just one of many!
Heel to toe drop
Ghost 11 provides neutral support with a 12mm midsole drop. In other words, "the heel sits 12mm higher off the ground than the forefoot".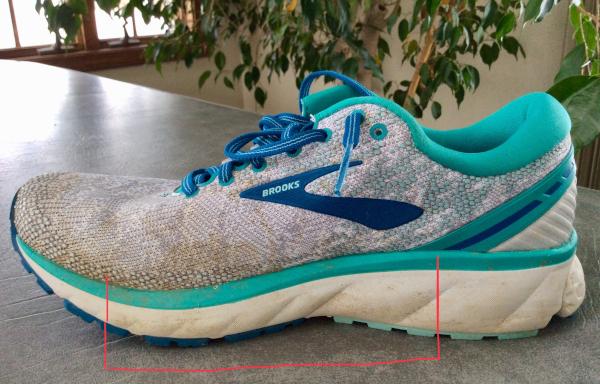 According to Scott Douglas's Runners World article titled, "Does a shoes heel-to-toe drop matter?" A 12mm drop is recommended for runners with plantar fasciitis, Achilles, or posterior tibial tendonitis. Truthfully, this 12mm is the highest I've ever owned and takes some getting used to.
Weight
Women = 9.5 oz.
Men = 10.9 oz.
Sound heavy? In my opinion, Ghost 11 does feel bulky and therefore will never be my racing shoe. However, they make an ideal daily trainer and helps to prevent injuries.
Arch
Ghost 11 has "medium-high" arch support. The majority of runners require good arch support especially if they pronate or are prone to injury. After recent knee pain, I put my old Ghost 10's back into my weekly rotation.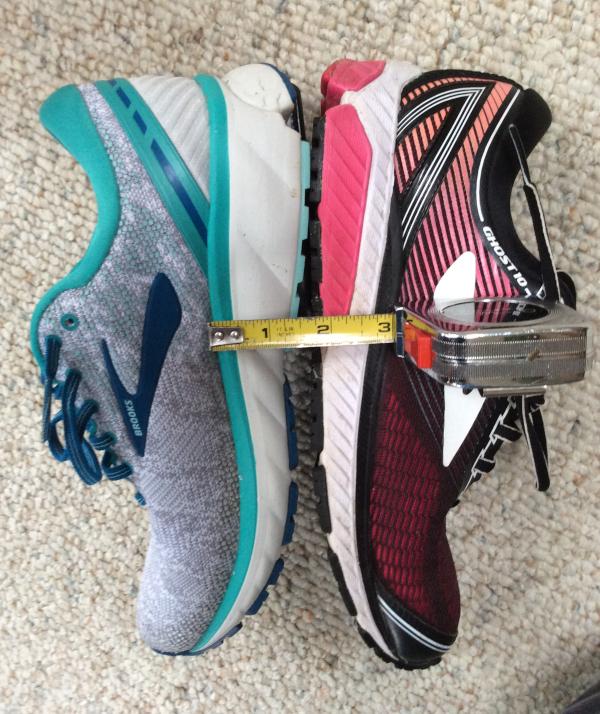 Even though they had 400+ miles on them, Ghost still did the trick! I'm confident Ghost 11 will do the same for many other runners.
Upper
Ghost made noticeable changes to the upper shoe portion:
The breathable mesh was replaced with a more dense, durable, pitted fabric
A wider, more roomy toe box provides room for swelling and foot expansion
Overlays were scaled down and kept to a minimum
The upper material is great for winters snow and ice. Oftentimes, I felt icy cold water soak in but noticed how quickly it whisked away. Surprisingly, I found good road traction in spite of icy conditions. In fact, I even gained the confidence to run faster.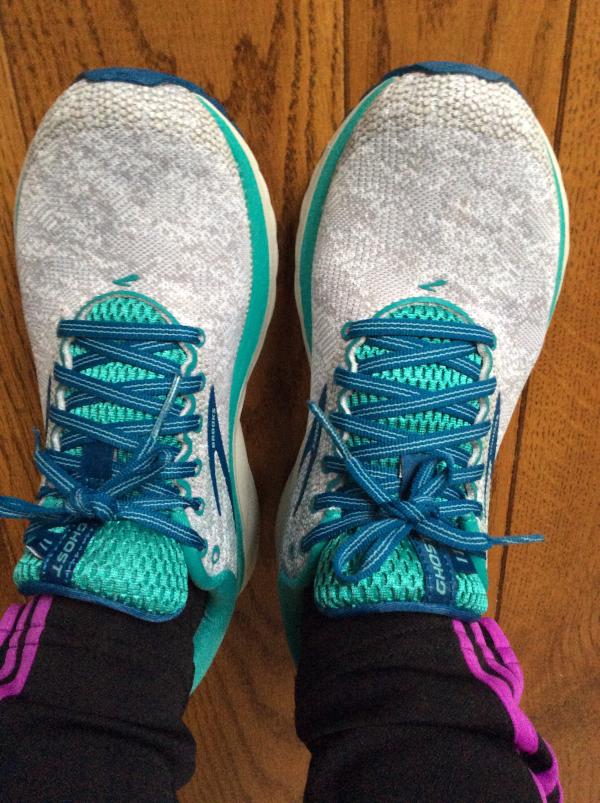 Long 10 mile runs usually felt good on my knees. Unfortunately, when a 13-mile run was cut short to 11 miles with a blood blister, I knew Ghost 11 were not going with me to the City of Palms Fort Myers Half Marathon. Instead, they will be reserved for 10 miles under homebound training runs.
The upper material never conformed to my upper foot so don't expect a glove-like fit. I noticed the slight foot movement from side to side probably created the friction on my longer runs. Overall, the upper will protect your feet nicely and provide ample room.
Heel counter & tongue
Ghost 11's heel counters are made so strong that runners will instantly feel extra foot stability. Truthfully, Brooks does fit like a glove, but it's in the cupped heels.
Even though these shoes felt like I needed a 1/2 size smaller, there was absolutely no slippage while running. I did learn however, it's important to try on new versions prior to online shopping.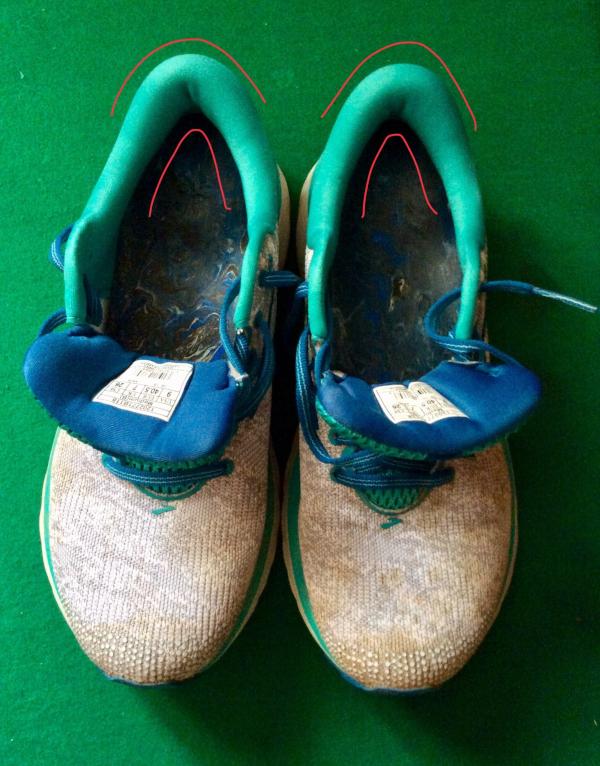 Extra thick, plush cushioning is also carried throughout the tongues. I appreciate the wider tongue width and how flat and comfortable they lay against my forefoot. I noticed they're stitched in well too because I roughly yank and pull when in a hurry.
I'd have to say Brooks Ghost shoes are built for a true "comfort," runners come to depend on. Overall, Ghost 11 displays high-quality manufacturing throughout. Runners will easily get 400 miles out of these shoes not only because they're made to perform but mainly because they're built to last and hold up.
Within a month, I became accustomed to their improved heel design and heavier weight. After 100+ miles you can see the heel counter intact with no visible stress or breakdown.
Outsole
Ghost 11's outsole is constructed with an enhanced heel to prevent heel striking. Even though I'm a big heel striker, I did not notice the improved outsole while running. However, examine closely after 300-400 miles, and you can visibly see the benefits.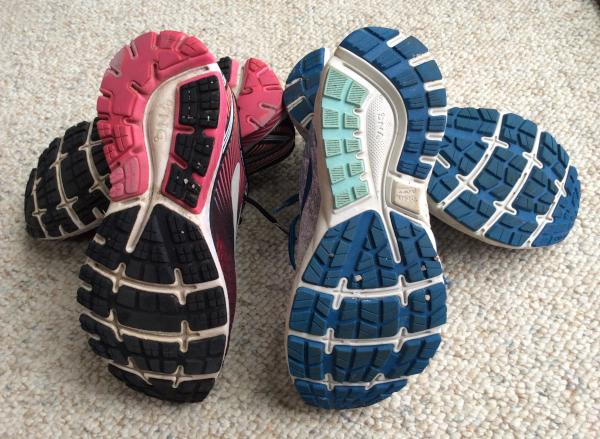 Another benefit is Brooks redesigned the outsole tread. Today I ran a snowy, icy trail and found Ghost 11's grabbed the pavement well and never once did I slip or fall. Now that is impressive!
I can confidently report, Brooks Ghost shoes definitely have longevity! If you don't like to spend money and want long lasting running shoes like most of my friends, Ghost is the model for you!
Take a look at my former Ghost 10 after 400+ miles compared to Ghost 11 at 100+ miles. The blue Ghost 11's outsole still looks brand. On the other hand, the pink Ghost 10 heels are finally showing some wear and tear.
Actually, this is minimal compared to my former Newton Distance 7's outsole heels barely survived 300 miles. Companies can be sure I'll give their outsoles a run for their money.
Midsole
The cushy layer between the upper and outer is the midsole. Brooks claims a BioMoGo DNA plus DNA Loft Cushioning. Does this mean running shoes now have DNA? Ha-Ha!
Obviously, running companies create their own lingo to sound sophisticated and truthfully, midsole layers are complicated because they do most of the shock absorption.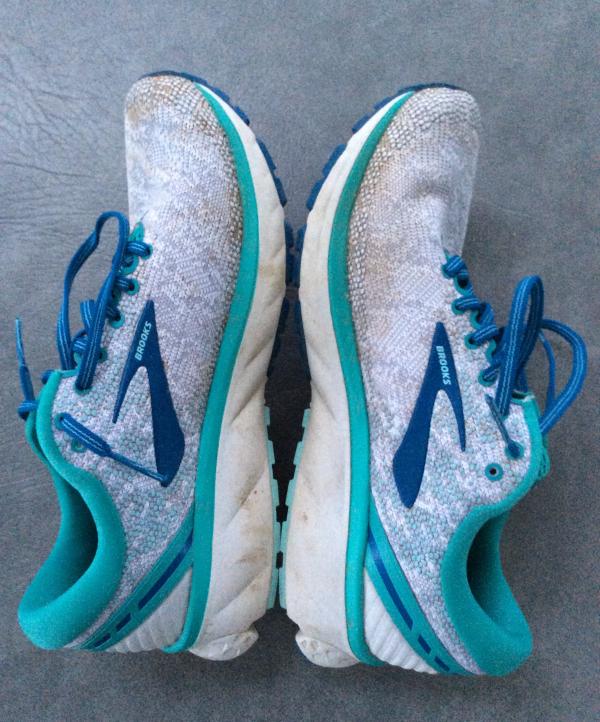 Every foot strike creates an impact against the ground. If continuous pounding is not redistributed nicely, then I'm prone to injury. Whatever is in Ghost DNA, works because I run smoothly with an even stride. Most important, my back doesn't feel jolted around afterward.
The midsole materials are firm, yet supportive of discouraging foot pronation. Despite their heavier weight, I still felt good energy return for faster foot turnover.
Ghost became my first choice for long runs between eight to ten miles because my knees felt great afterward. However, I'd never wear my Ghost 11 for racing, but maybe they'll lighten up their next version, who knows?
Laces
Ghost 11 shoelaces have a cool design. The first thing I noticed, however, was the switch to flat laces instead of Ghost 10's former round.
The length is the same standard which I feel is barely long enough to double knot. Sometimes, I had the tendency to skip double knotting because of time and effort, but all runners know that's not an option. Bottom line, there's not a lot of excess shoelace leftover, but it's adequate.
.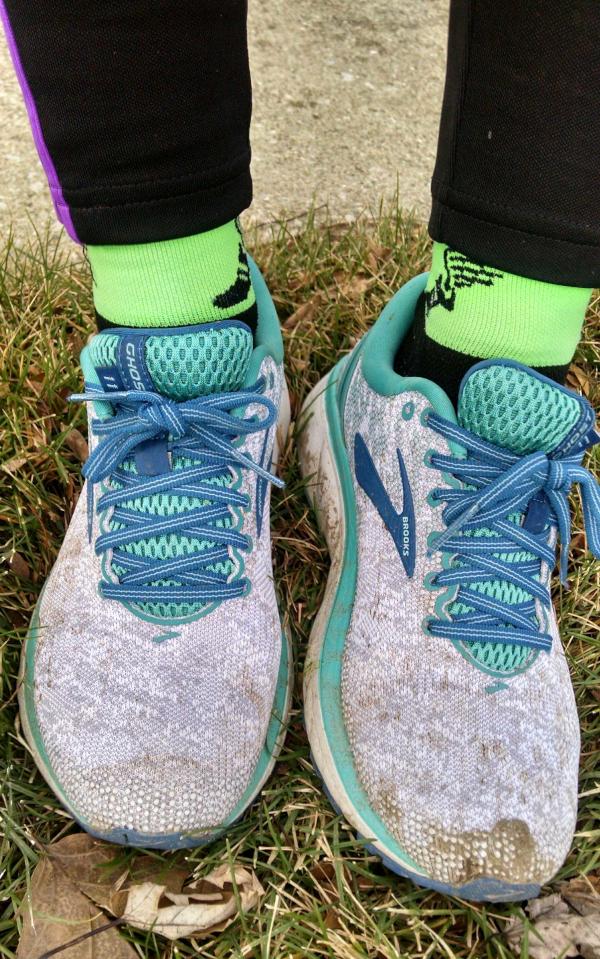 Perhaps Brooks spent a lot of money constructing with a little left over for shoelaces. Personally, I prefer round, longer and stretchy, but then again, shoelaces are not my first priority to make or break a sale, and it shouldn't be yours either!
Conclusion
In conclusion, when shoe shopping this year, definitely pull Ghost 11 off the shelf. It won't hurt to try on and compare to other training shoes. While a runner may not race in Ghost 11, they will still get their money's worth through longevity.
Remember, picking the perfect running shoe brings three questions to mind:
Do I remain loyal to my favorite brand?
Do I try today's most popular brand seen at road races?
Do I gamble and try a new name brand on the market?
Whichever you choose, definitely do your research beforehand. I can tell you this: Brooks Ghost recently received its seventh Runner's World Editor's Choice Award. Brooks also has a "True Blue Guarantee" which allows a 90-day trial period.
If still not completely satisfied, consumers may return free of charge. Now ask yourself, "What do I have to lose?"
Happy Running!
The Brooks Ghost 11 comes in tons of colorways, so much so that I'm not even going to bother listing all of them. Just know that there is most definitely a colorway of the Ghost 11 that you're going to like.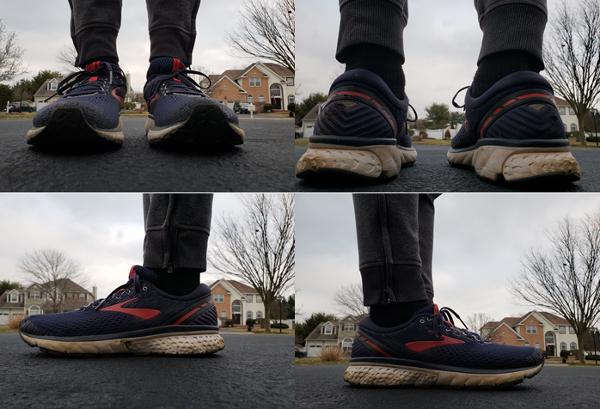 The shape of the shoe looks pretty good too. It's not too sharp looking while also not having a box look. It has that athletic look that I find pleasing. There's not really much to say, it looks like a running shoe.
Technology
DNA – Brook's adaptive cushioning that reacts to the amount of force placed by the foot to disperse pressure evenly.
DNA Loft – A lightweight and soft cushion made of a blend of EVA, rubber, and air.
BioMoGo DNA – Brook's combination of the long-lasting cushion of MoGo with DNA that also is more ecologically friendly because it is fifty times more biodegradable than traditional EVA.
Gore-Tex® Upper – A breathable and somewhat waterproof upper.
Comfort
The Brooks Ghost 11 was one of the more comfortable shoes that I've worn. It fit true to size and had nice sock-like fit. The upper gave my foot a snug feel without feeling like my midfoot or toes were being squeezed too much. The level of comfort was comparable to the Mizuno Waveknit R2 which I also found very comfortable.
The upper is made by Gore-Tex®, which is a company that makes fabrics that repel liquids while also allowing water vapor to pass through the fabric. Brooks says that the upper is waterproof but in my experience, the shoe is still going to get soaked if you're running in the pouring rain.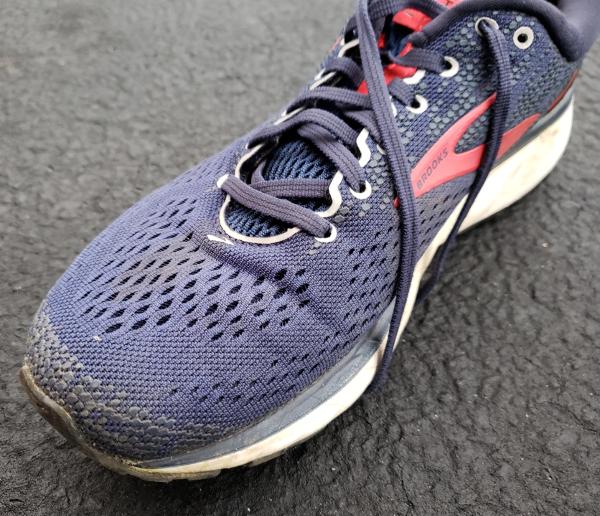 While running in a drizzle or on wet surfaces I had a better experience with the "waterproof" fabric. While running in those types of conditions barely any moisture made it to my foot. So while not waterproof the fabric is still going to help in wet conditions.
Brooks didn't mention the tongue of the shoe but it's a pretty awesome part of the shoe. I frequently tie my shoes too tight causing an uncomfortable feeling while running.
In over a hundred miles I've run in this shoe I never had that choking feeling of tying my shoes too tight. I'm pretty sure I didn't magically stop being an idiot so the only explanation is that the tongue saved me from myself tying the shoes too tight.
My only complaint about the comfort of the Brooks Ghost 11 is that the heel. On longer runs, I start to notice that the heel is rubbing my Achilles which started to cause pain for me.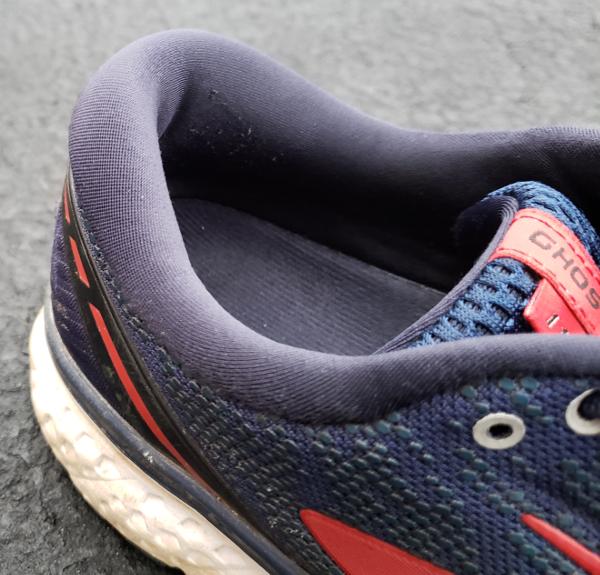 Durability
So far I've logged a little over a hundred miles in the Brooks Ghost 11 using it every day for every workout since I first started using it.
The entire outsole is covered in rubber so besides the small little part that isn't covered on the outsole I haven't seen any sign of wear. I sprayed the outsole with some water and it pretty much looked brand new.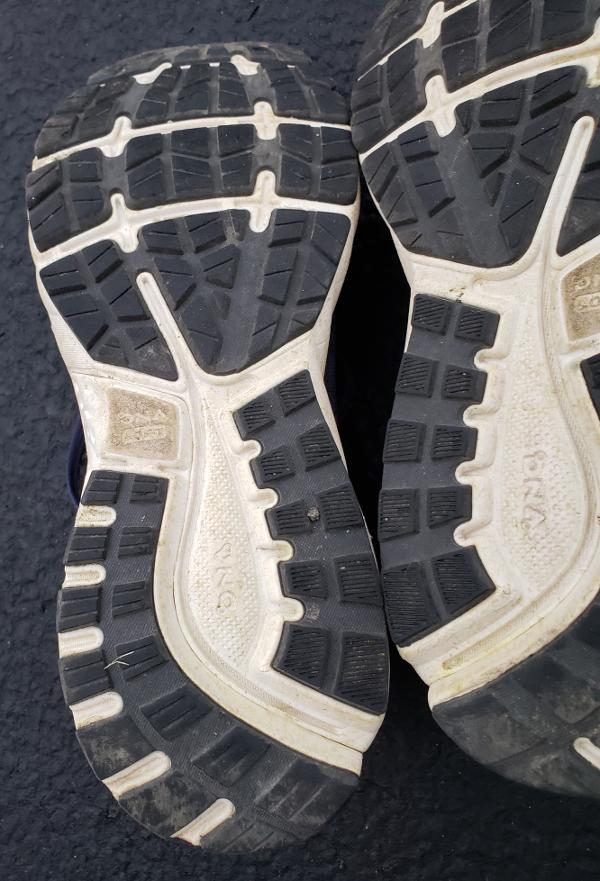 The upper also hasn't shown any signs of wear either. Using in shoes with the mesh or knit-like upper there's a hole that starts to pop up around my toe area. So far nothing has ripped or split on the upper.
I haven't rotated the shoe either so I've been using it nonstop. Despite this, the midsole still feels good.
Performance
I've been using the Brooks Ghost 11 for everything involved in my track training, so that includes long runs, easy runs, tempos, and intervals. I would say that if you had to choose one pair of shoes to do everything, the Ghost 11 would be it.
On distance runs the DNA cushioning was nice and soft without feeling mushy. I could appreciate the soft feeling without feeling like the shoe was sapping all my energy.

There wasn't a really a noticeable responsive feeling but when I picked up the pace I could felt a smooth pop off feeling.
I land on my midfoot so I'm not feeling the full effects of the Segmented Crash Pad, but even then I'm still feeling a smooth pop feeling. That feeling is nice but it's not really noticeable if you're running slow.
I used Ghost 11 for my track intervals and while it's not my first choice, it'll still work. The shoes weigh almost eleven ounces which is heavy but not the worst thing in the world and like mentioned above you'll still feel fast because of the crash pad.
If you're doing interval work on the track I would just switch out for a pair of flats or spikes but the Ghost 11 is still perfectly capable of handling track work. Likewise, it's the same thing for tempo runs.
And to end it off, the traction on the Ghost 11 is stellar. While running on the wet road, grass, and a little bit of mud I didn't have any extreme slipping issues. Where I did have issues were while running on a wet track.
While I was trying to sprint on the wet track, the shoes started slipping and I basically sprayed everyone behind me. But I'm pretty sure that happens with every shoe so it's not really a big deal. While the traction is awesome I would still just stick to running on the road and other firm surfaces.
Pros
Comfortable
Slightly water repellent
Tongue prevents tying shoes too tight
Durable
The same price as a Nike Pegasus 35 but has better features!
Cons
Final thoughts
The Brooks Ghost 11 is an awesome pair of trainers that can handle all types of daily training. It only weighs 11 ounces while providing a soft, comfortable ride. The shoes also provide a water repellent upper that helps you run in more adverse conditions.
It's also priced around the same price as the Pegasus line from Nike and because of that, the Brooks Ghost 11 has replaced the Nike Pegasus 34 as my favorite shoe of all time.
The Brooks Ghost 11 is a favorite amongst the running community and for good reason.
I was extremely impressed with the Brooks Ravenna 9. (The Ravenna has a touch more stability and slightly less cushion than the Ghost.)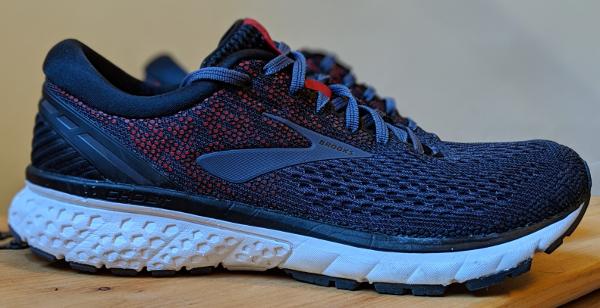 In fact, many of the characteristics that I liked about the Ravenna 9 are prevalent with Ghost 11: do-it-all capabilities, responsive cushioning, and a smooth transition between strides.
Apart from a few minor faults—minor heel slippage, 12mm heel-toe offset, and long length—the Ghost 11 is a shoe that should work well for nearly any runner, from beginner to professional. After 55+ miles, I highly recommend it.
Fit
I felt a little concerned when I first put the Ghost 11 on. The heel collar sits relatively low and has a very rounded, soft shape that did not quite grip my heel.
I had to use the top eyelets and lace the shoe tightly in order to lessen the heel slip. As someone that has narrow heels, this likely will not be the case for everyone, and I did not notice the slippage on the runs.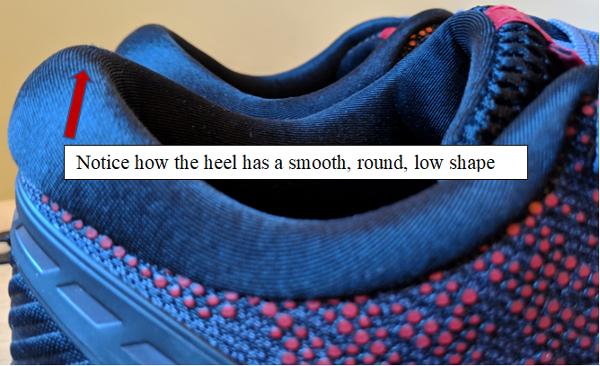 Forefoot
The Ghost 11 in a D width had plenty of room for my average-width feet up front.
I never felt constrained or bothered before, during, or after the runs. The top of my toes did not hit against the upper. The shoe did not irritate my feet whatsoever.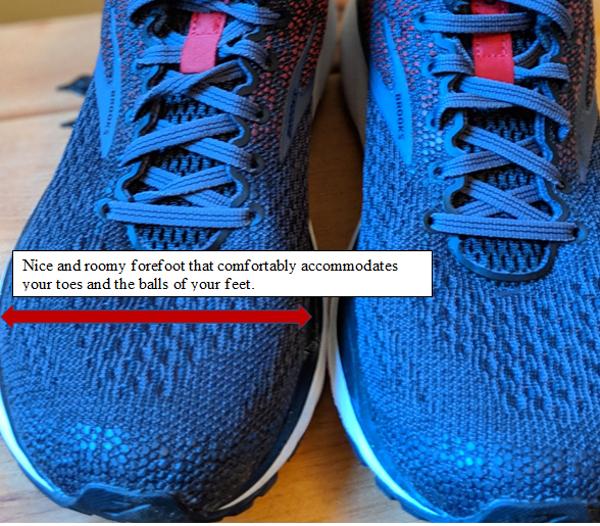 Sizing
The shoes fit true-to-size but felt slightly long compared to other shoes. I had about one full thumb-width (a little more than 0.5") between my longest toe and the end of the shoe. I usually prefer the width of a thumbnail (Right at 0.5").
I would not recommend that someone size down, but it's something to keep in mind. Apart from this and the minor heel slippage, the shoe fits well with no major concerns.
Feel
The new DNA Loft foam in the heel felt fantastic. I typically land with a very-slight heel strike and this foam felt nice, soft, and then springy.
The foam allowed for a seamless transition into the rest of my stride. It felt like I could quickly rebound stride after stride, and it still feels this way after a few weeks of use (55+ miles).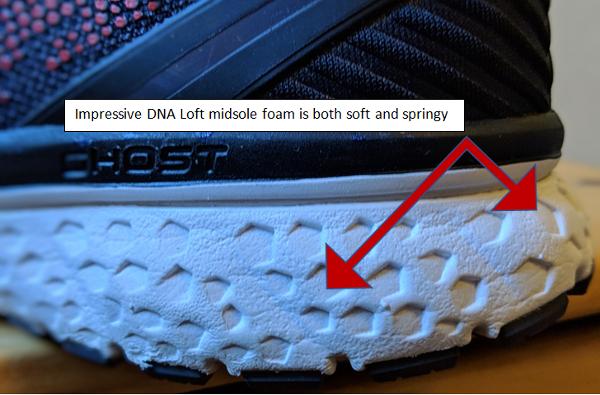 With regard to the heel, I prefer a 6-10mm heel-toe offset. The 12 mm drop occasionally felt like it would get in the way of my stride when my legs were fatigued, but overall, I did not notice it too much. It did not bother me as much as the rigid heel and 12mm drop on the Mizuno Waveknit R2.
Ride
The forefoot, comprised of Brooks' BioMoGo DNA midsole foam, Omega Flex Grooves, and a Segmented Crashpad, offers a stable and responsive ride.
The technologies that Brooks markets do not feel exciting like BOOST from Adidas or EVERUN from Saucony.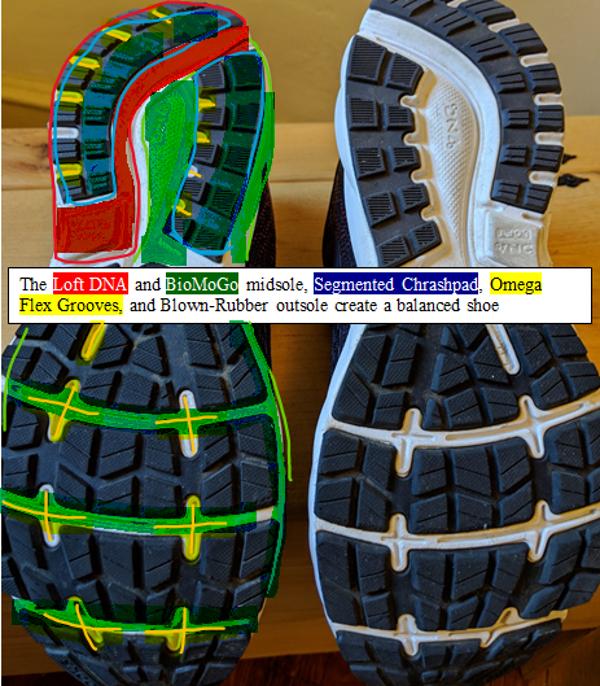 However, Ghost 11 has an outsole and midsole that work very well together.
Each time I laced the Ghosts up, the shoe quickly disappeared on my foot and let me focus on the miles ahead. The balance creates a feeling of stability and reliability that other shoes may not be able to offer. Ghost 11 is a balanced shoe that all runners can count on.
Materials
The engineered mesh upper is sleek and made of high-quality materials. The mesh feels soft and flexible.
It holds its shape well. Thus far, I have not noticed any areas of breakdown. Apart from the heel counter (that has some small reflective details), and logo, the upper is left clean and simple.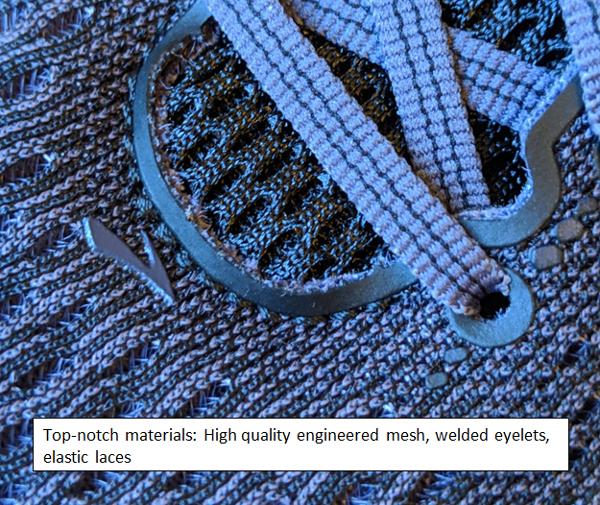 The outsole is made of blown rubber that has shown minimal to no signs of wear. The laces are elastic and a perfect length. The quality is exactly what you would expect in the $120 range.
Looks
Personally, I like when a shoe looks somewhat creative. For example, I loved the look of the Ravenna 9s in the yellow and blue colorway.
The Ghost 11—in the black/graystone colorway that I received—is somewhat dull, but I think that matches its consistent, get-the-job-done characteristics.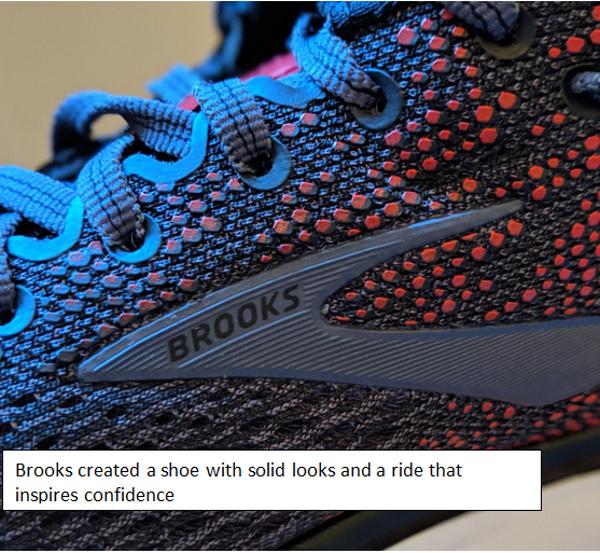 (As a side note, after a short run that I did on the treadmill at the gym during a winter storm, I stopped by the basketball courts for a few games of a pickup, and two strangers said that they really liked my shoes and asked where I got them. Usually, I'm the only one without NBA signature kicks on the court; therefore, it was a nice surprise to get some compliments on a pair of running shoes!)
Pros
Very comfortable
Can do it all
Stable, Inspires confidence
Durable
DNA LOFT midsole cushioning
Cons
Minor heel slippage
12mm heel-toe offset
Ran slightly long
Summary
The Brooks Ghost 11 is a do-it-all shoe that prioritizes comfort and a consistent, reliable ride that will disappear on your feet.
If you are new to the sport or a veteran, I think that you will love how Ghost 11 allows you to run, without interruption.
The Brooks Ghost 11, is a super reliable, consistent, neutral daily trainer or race shoe. It is lightweight, responsive, and has cushioning that pushes you forward with a 12mm heel to toe drop!
Details
Weight: 10.9oz for a US Men's Size 9.5
Hell-toe drop: 12.0mm
Blown rubber outsole with decent grip
"DNA Loft" technology for smooth transition in heel and midsole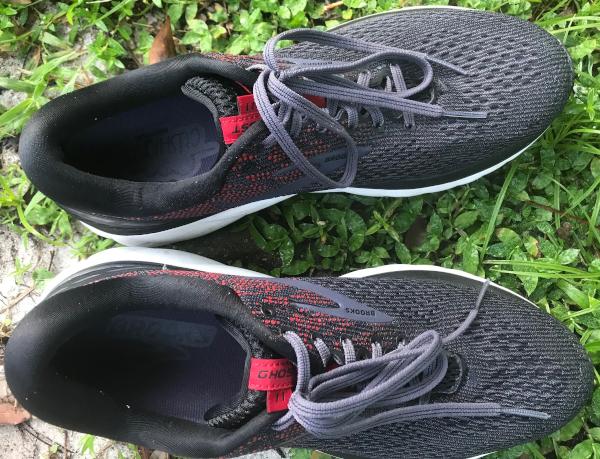 The Brooks Ghost 11 has become my go-to shoe for speedwork, hill work, shorter relaxed training runs and recovery runs, and that 5k-10k sweet spot for racing.
I am a marathon/half-marathon competitor and trail runner. Normally, I run in Hoka or New Balance's more "cushiony" models, especially when training for longer races.
Some of these models are the Clifton, Napali, and NB 1080. I was reluctant to try what seemed to be a "faster" shoe for fear of injury or knee pain, but I was pleasantly surprised.
My first thoughts trying it on for a short run was how comfortable they were right out of the box. It also kept me leaning forward, improving my form.
At my first run, it definitely felt more "racey" and fast due to the 12 mm drop and midsole design. They are light and offered enough cushion so that I wasn't completely out of my element.
Upper and sizing
The upper is super breathable and feels very sleek. It has a combination of mesh and soft plastic reinforced heel that visually appears to be all one piece.
This model has one of the narrower fitting shoes that Brooks offers. Runners that typically have a B width may fit into it well as I have.
Despite the slim fit, it offers a more roomy toe box than many Asics or Nike models of this same class.
Stride and cushion
Given the amount of cushion through the heel and mid-foot, I was expecting a slower ride with less responsiveness. However, they felt very fast and responsive.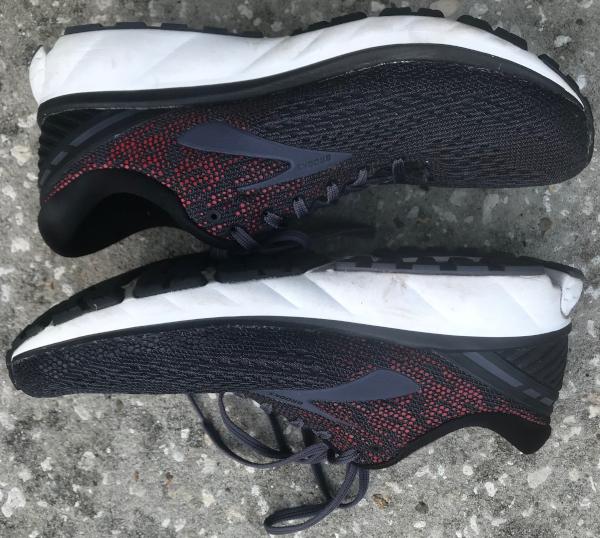 On roads and hard-packed trails, they still felt supportive enough. Moreover, they gave me a much better "feel" for the terrain I was running across than other cushioned shoes.
I enjoyed this as I do not often get the same feeling on trails in my Hokas.
The transition through the stride was excellent, ideal for heel strikers to mid-foot runners, myself being in the latter category. I am not sure how a forefoot runner would feel in them.
Nonetheless, for me, the transition was incredibly smooth on tempo, hills, and recovery runs.
Performance & Stability
As mentioned, this is now my go-to shoe for speed work and 5k-10k races. I am a big believer in alternating shoes.
But, if I were to recommend only one shoe to my high school/college runners in 2019, this would be it.
Stability was very good for a neutral shoe. I have run in several shoes marketed as "stability shoes" for the past several years.
I feel that the DNA & DNA Loft material used in these modern Brooks are supportive enough for mild pronation. These also helped with my form, as mentioned above.
I have done two treadmill tests using this shoe and had no significant pronation. The extra heel padding and the overall snug fit to support the lower ankle, helping to prevent sliding in the shoe.
I have heard from many runners that also wear it that they have decreased fatigue and increased speed. Injuries and causes are varied and are hard to predict.
Nonetheless, I have heard of very few injuries in transitioning to this shoe, compared to other shoes.
Sole
Brooks has a blown foam and lugged traction on the sole, in the pattern as seen below. The Ghost's outsole provided excellent grip on wet roads, dirt roads and hard-packed trails.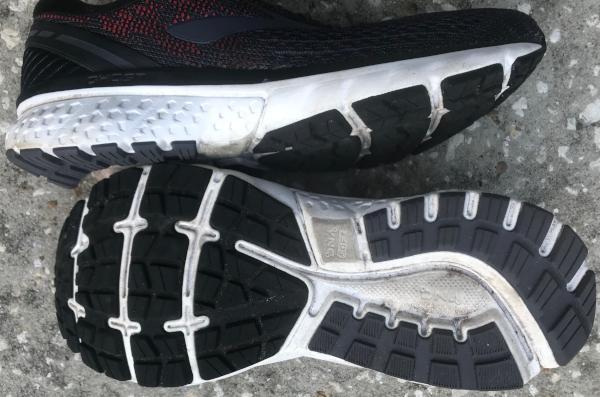 Brooks has managed to keep a lot of flexibility in this sole with a decent amount of traction as well. It made runs on hills and doing speed work enjoyable.
These qualities, combined with the 12mm drop, propelled me forward more than usual, thus improving my form a bit as well.
After 200+ miles
In a nutshell, they have held up phenomenally. Having won these shoes for a first place finish at a local 5K race this past spring, I also have an emotional attachment to them.
I continue to love taking them on "grassy runs", as well as packed trails and shorter pavement runs/recovery runs.
After nearly five months of consistent running, I see minimal signs of wear, such as even tread wear on the bottom (pictured above). There have been no upper degrading or tears.
The soles are also not peeling away from the shoe fabric, which I often experience with some of my other shoes after longer distances.
My favorite thing about this shoe, I discovered over time, is that it looked cool and felt good for gym workout or to wear travelling.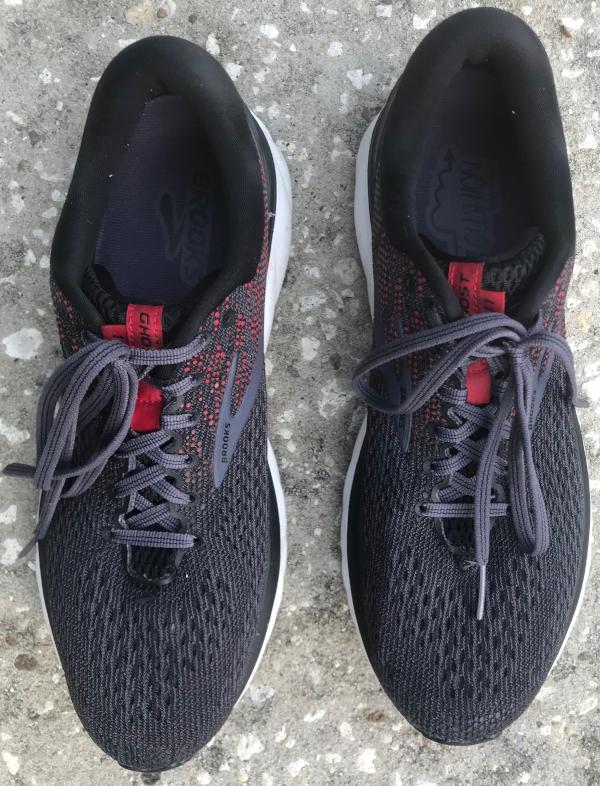 I often have to make difficult decisions about which shoes to bring with me on a trip, so this was great. My feet did not get tired, and I felt relaxed standing on them for long periods.
Daily, I could wear them for a warm-up runs before hitting the gym, do my strength training and cross-training, and run home.
This is not the case with most of my running shoes. Most of my shoes would look odd and feel bulky on some of the equipment at the gym.
Overall verdict
I have to say that the Brooks Ghost 11 is a fantastic shoe. It is really fast as well as supportive to run in. It has a "fun feeling" that I have not connected with a shoe in a long time.
As mentioned, I am used to cushioned shoes, and this one feels lighter and faster and much more versatile (gym-road-light trails). I have yet to find any significant flaws in them.
I look forward to the Ghost 12 not changing much (fingers crossed).
All of the colors offered are great (I have just bought an extra pair in blue/silver just in case the Ghost 12s are not up to par), and make me feel good in an airport, mall or cross-training.
The upper, as well as the outsole, is well-ventilated and durable. They are probably the best all-around shoe that I have had the opportunity to run in the past decade. Well done, Brooks!
Pros
Responsive yet supportive cushion and arch
Light, breathable upper
Great traction and durability on outsole
All-around shoe (gym, cross-training)
Cons
None that I can see
*Note: If you have a wider foot, you may find it too narrow
If you have to pick just one shoe to train in for your next half marathon, strongly consider the Brooks Ghost 11. The Ghost offers a locked in and comfortable ride which is especially noticeable when moving downhill.
At 11 ounces (men's), the shoe provides a perfect balance between overall weight and a cushioned ride. This shoe really shines on long runs or easy paced runs where comfort comes first.
This is not a particularly fast shoe but never feels heavy or clunky. This shoe can handle tons of mileage and is a great choice for marathon runners, beginning runners, and heavier runners as a shoe that finds a very nice balance between support and performance.
Fit
I find the Ghost 11 to fit true to size and don't need to go a half size up. It has a snug fit overall but not nearly as snug as something like the Brooks Launch 6. The toe-box is adequate, but I wouldn't say it's roomy.
There is room for the toes to splay naturally, but I should mention that as I put more miles on them, they started to rub on the outside of my pinky toe. With that said, this was my main shoe for nearly 300 miles, and it never became a major issue for me.
The heel cup secures the foot in place which seems to bother some runners. However, I had no issues and found it to be very comfortable, especially for runs over 7 miles.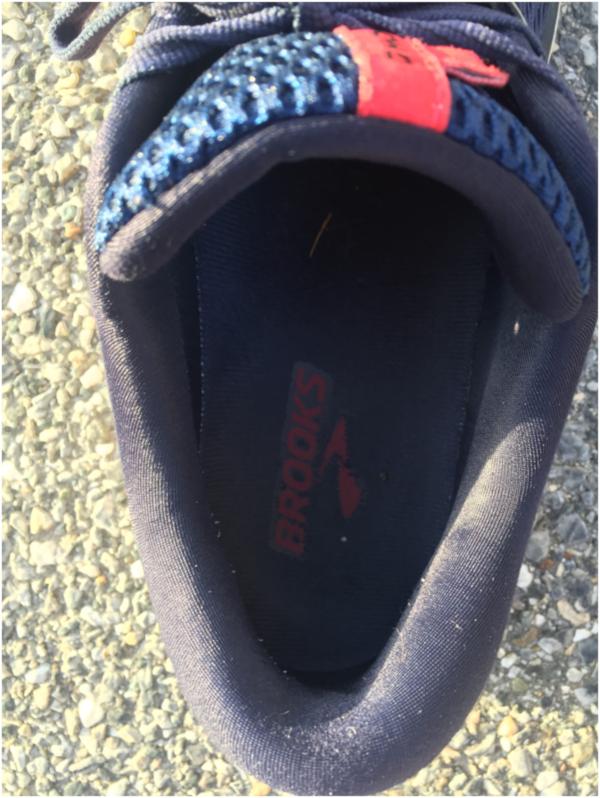 Durability
This shoe is extremely durable, and I wore it nearly every day while training for a half marathon with no complaints. I have logged almost 300 miles on my current pair, and while they are now starting to show signs of wear, I feel like they have at least another 100+ miles on them.
I am also a heavier runner (180 pounds down from 205), so I find this to be a very reliable everyday trainer. The Ghost 11 is easy to clean, and the upper is high quality. However, it is definitely not waterproof.
Every run I have done in the rain has resulted in soaked feet. However, I didn't buy these thinking they were waterproof at all, so any protection is appreciated.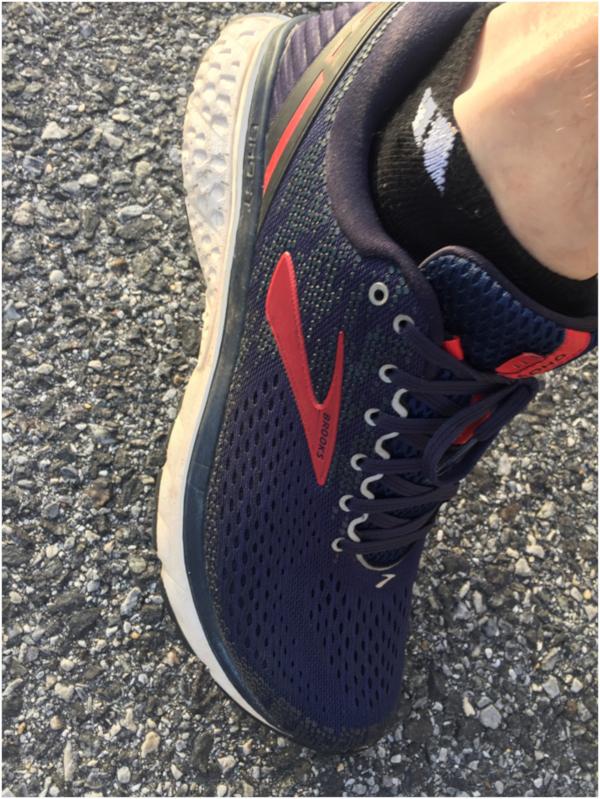 Performance
I used the Brooks Ghost 11 for all of my training runs for a recent half marathon PR which included tempo runs, long runs, easy runs, track intervals, and race day. This shoe can handle it all.
I think this is what makes the Ghost 11 such an excellent shoe overall and a great choice for new runners. This is simply an extremely versatile trainer. I have even done some trail runs in my Ghost's, and the outsole performs decently and doesn't slide much.
If I had to pick only one shoe to do all of my training in, the Brooks Ghost 11 would be my first choice because it is so versatile.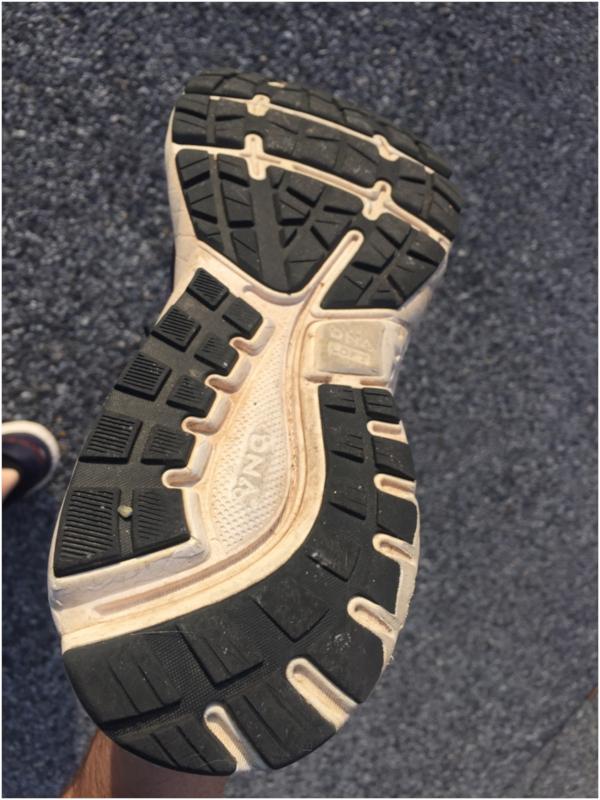 Ride
The DNA cushioning is soft without losing the ability to feel the ground. The ride is cushioned but responsive and is neutral with decent overall flexibility. The shoe feels slightly more firm through the midfoot and more cushioned at the heel.
The 12mm drop makes this the highest riding pair of shoes that I own, but I find the ride to be extremely comfortable. I find that my calves can sometimes be sore from the higher ride.
The heel cup also makes this a great shoe for handling hill work or courses with lots of downhill sections. For a 5K shoe or track intervals, I would generally recommend something lighter and with slightly less drop to get more on the midfoot.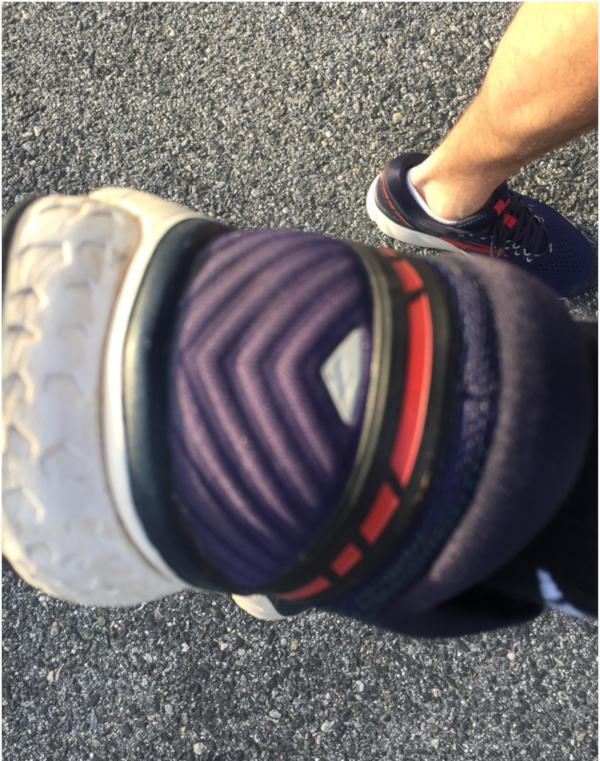 Pros
Very comfortable for long runs
Can handle lots of miles
Looks good, lots of colors
DNA Technology is cushioned but remains responsive
Very durable shoe
Heel cup locks the foot in place, great for hills
Cons
The heel cup is uncomfortable for some runners
Toe box is not particularly roomy
High ride height can burn out calves
Final thoughts
The Brooks Ghost 11 is a great daily running shoe, and at 11 ounces (men's) it strikes a nice balance between weight and a cushioned ride. This shoe really excels on long runs and for handling high mileage weeks.
Ghost 11 can handle all types of different runs and excels at being an effective, versatile training shoe. Also, a friendly reminder that Brooks offers the True Blue Guarantee which lets you return shoes within 90 days no questions asked, which makes Brooks amazing.
I would definitely recommend giving these a try for your next long run.
This shoe comes out of the box looking every bit an athletic shoe, Brooks made no attempt to make it look casual or fashionable so that you can throw it on with your jeans and still look cool. Instead, they've made a shoe that looks like it means business! From the second I put it on, I felt like it means business too.
Each component of the shoe works in the complete symphony, its true strength, however, is the midsole, Brooks DNA + BioMoGo with DNA Loft heel crash pad. This midsole combination makes the aptly named Ghost feel supernatural.
Upper
Engineered air mesh warp knit upper. This multi-layered upper hugs my foot and feels secure throughout with absolutely no pressure spots that feel uncomfortable. My longest run to date in these shoes was 10km through the Adelaide Hills on a warm sunny day, the mesh was breathable and snug from start to finish.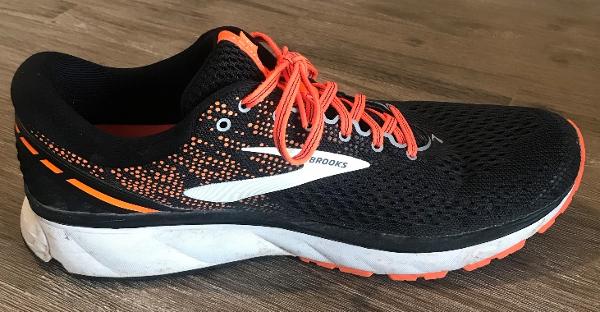 The cool looking snakeskin scales around the toe cap, the seam where the mesh joins the midsole and around the ankle area reinforcing material that toughens the upper in key areas of stress.
The upper of this shoe delivers width and depth, enough depth in fact for a good thickness orthotic even with a reasonably high instep. They have a nice deep toe box and are a generous D fit, not so much that they feel too wide but wide enough that if the foot is a little wider they will not be constricting. I also love the quality of the laces Brooks uses in these shoes.
Midsole
Brooks DNA + BioMoGo with DNA Loft heel crash pad certainly is a mouthful but each component is relevant and worth a mention. The base being the iconic Brooks DNA claims to be improved cushion but still responsive and it delivers in spades.
Almost difficult to describe but as I stride I can feel the slight give followed by the springy return feel, it's not so soft that it feels like my energy is being drained by the shoe but not so hard that it jars my knees, it's literally just right.
The BioMoGo element is an addition to the composite that allows the midsole to degrade swiftly in an active landfill, just like its namesake the Ghost fades into the night without a trace!
The Loft Crash-pad gives us heel strikers a blissful landing, giving just enough but still explosively driving that heel off the ground ready for the next stride. Running downhill in these shoes is incredible, even downhill and off-road. This midsole acts like a firm suspension system that absorbs shock and drives me forward.
It's firm enough to facilitate the body's own suspension system through the joints (which evidence has found midsoles that are too soft don't allow due to how unstable they can be) and soft enough to absorb any unpleasant shock keeping the sole of my feet feeling relaxed and protected. This shoe is a neutral base meaning they're still a fantastic choice if you wear orthotics.
Heel counter
The heel counter is a firm cup helping to keep that heel locked squarely over the midsole, it provides me with great support on the medial and lateral side (inside and outside of the foot).
It is comprised of an internal rigid C shape brace with an external component around the top edge for additional support. The Brooks heel collar that sits between the Achilles tendon and the heel counter is my favourite of all brands; it is plush, thick and beautifully hugs the foot just above the ankle.
Outsole
The Ghost 11 sports a segmented blown rubber crash pad with Omega grooves around the lateral heel and a plush transition zone through the mid to forefoot.
The blown rubber durability is unquestionable, I've run 120km in these so far and I'm over 90kg, there is no sign of wear on the outsole or anywhere on the shoe for that matter.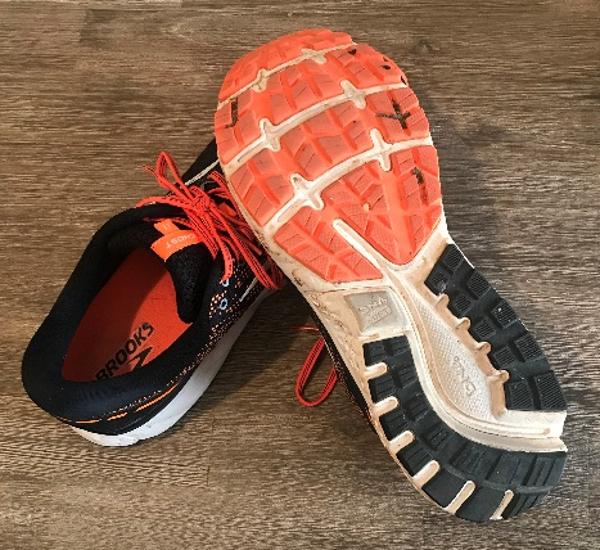 Heel striking and midfoot striking running is blissful, I'm not an adept toe striker so I cannot say regarding that but I'm confident they'd be great for those of you capable of such a feat.
The ground-feel is sensational, I get a good sense of what is going on without feeling every stone and crack, I've run on road, mud, light gravel and medium gravel up to 20mm rocks and the grip holds beautifully, any larger and I'd be suggesting a dedicated trail shoe anyway.
Even running down steep hills on gravel feels great between the midsole and the outsole I feel stable and comfortable with enough energy return to drive forward and really pick up the pace. The outsole transitions smoothly from heel strike to toe off and the segmented crash pads are a generous thickness comprised of a rubber that is dense and durable.
Inner lining
The inner lining is seamless and smooth even on bare feet. My foot feels snug, secure and supported throughout, the lining of the upper around the hindfoot is lightly padded giving lightweight comfort without excessive weight.
The tongue is nicely padded and protects the foot from inclement conditions and from the laces, it is not a gusset style which means that if you have a high instep it doesn't constrict the midfoot.
It is nice and broad and wraps around the top of the foot thus having the same advantages as a gusset, unlike some of the more traditional style tongues it does not collapse around the side of the foot.
Overall
The first feel of this modern athletic running shoe is smooth, crisp and supportive, it delivers seamless comfort and propulsion throughout my run on every surface wet or dry.
Weighing in at 309g and with a comfortable 12mm drop, I highly recommend this shoe for running any distance and for a runner of any size or weight.
The upper offers generous depth for a high instep or a thick orthotic, neither of which I have but I have sold many of these to customers who have. The Brooks Ghost like its' namesake needs to be seen to be believed.
My primary training shoe is the Brooks Ghost 11. I purchased a pair after initially going to buy a pair of the Hoka Clifton 5 which seemed like the natural progression after using the Hoka Clifton 4.
My first thoughts in the shop were that they looked amazing. The black and orange colorway catches your eye and makes the shoe look as fast as it is! When I picked them up, I was pleased with how light they felt considering the amount of cushioning they are said to provide.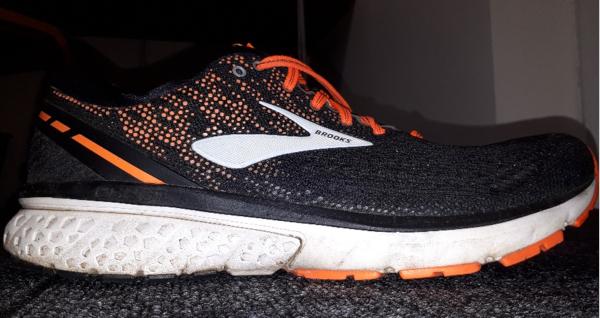 Upper & Cushioning
After taking them for a quick spin on the treadmill, I was eager to get home and test them out. The first thing that I noticed when I put the shoe on was how well it fit my feet.
The toe box is roomy yet still fits snug once laced up. I have struggled in previous shoes with blisters on the inside of the balls of my feet. However, the Ghosts have not given me a single blister during the 400 miles that I have run in them.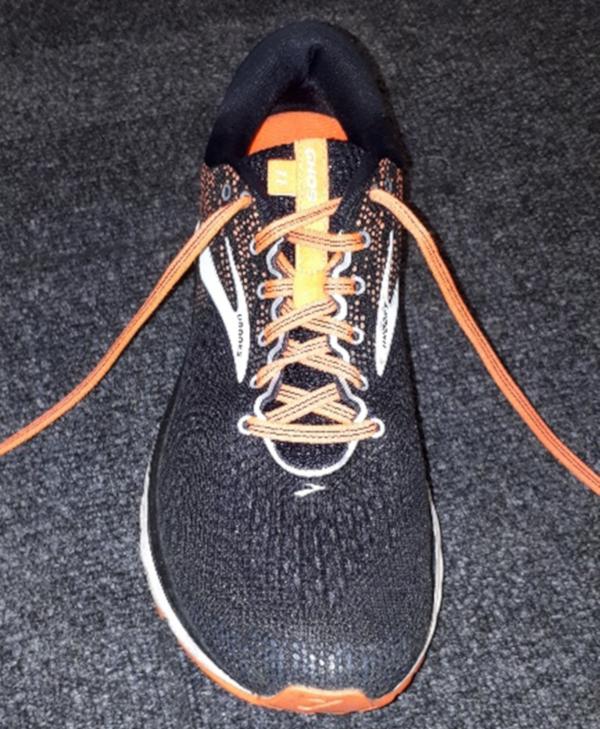 Another thing I noticed was how fast they felt. Even though I was only doing a slower run, the shoes felt light and responsive while still providing ample amounts of cushioning to protect your legs from the impact of the road.
The transition through the stride provided by the Ghosts suits both heel strikers and forefoot runners. The transition is smooth, and I have found it to be beneficial in both recovery runs, and when running at a tempo pace.
Performance
After running 100 miles in the Ghosts, I loved them even more.
During the first 100 miles, I put them through a range of different tests. In the long runs (mainly on-road) the shoes absorbed the road impact, and I was able to complete the races with very minimal amounts of fatigue in my legs.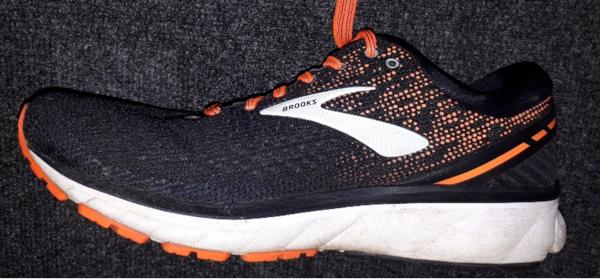 The transition through the stride also helped with this as the shoes encourage you to keep a good cadence, meaning your contact time with the ground is minimized, thus improving both form and recovery.
Outsole
The outsole of the Ghosts provided excellent grip on wet roads and showed no signs of wear after 100 miles. I also used this shoe for a tempo run, 20 minutes at around 5:30 per mile, and found that the shoe excelled at these faster speeds.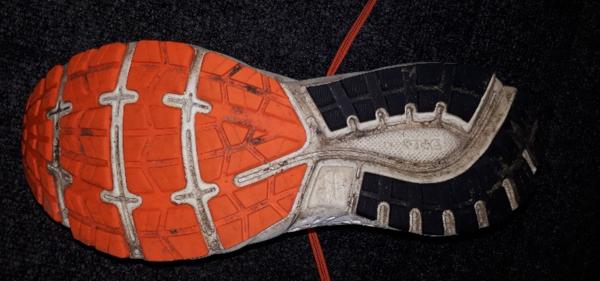 Despite having far more cushioning than I would usually use for any faster runs, I found this shoe performed just as well as a racing flat due to its weight and the responsiveness that Brooks has managed to keep even with the cushioning. I found that by doing a tempo in this shoe, my legs felt much fresher afterward.
I now do over half of my tempo runs in the Ghosts as a result. I also know a few runners who use this shoe for speed sessions due to its responsiveness, weight and the cushioning that it offers.
Stability
Another key feature that I enjoyed was the support and stability that the shoe offers.
Your feet feel well secured in the shoe, and the stability that the shoe offers further helps with running form. The heel is well padded around the lower ankle, and this helps to secure your foot as well as helping to prevent blisters in this area.
I also tested the Brooks on some local grass trails. On these, I found that the shoe was slightly sluggish due to the soft cushioning as well as the soft ground. However, I experienced no problems with the traction provided by the outsole of the Ghosts.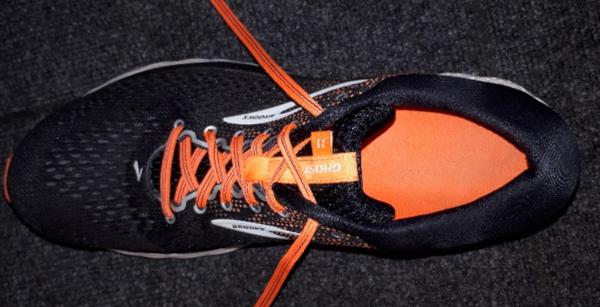 Impressions after 400 Miles
After running 400 miles in the Ghosts, I still struggle to find any significant flaws in them.
Having purchased the shoes in August, I have run in a variety of heats and conditions in them and have not experienced any significant issues. The well ventilated upper ensures that even on the warmest runs my feet don't overheat.
In addition to this, the upper shows no signs of wear, not even the usual holes at the side that most shoes experience. Despite running roughly 90% of the 400 miles on the road, the cushioning remains just as plush when I first ran in the shoe.
The only minor sign of wear is on the outsole where the tread has started to wear away. However, this does not impact the shoe's performance.
Since I started using the shoe, I have been able to increase both my mileage and intensity. Despite this, I have not felt any niggles at all. Obviously, this is not purely down to the shoe; however, I believe that the Ghosts played an essential role in helping with this.
Overall Verdict
The Brooks Ghost 11 is a fantastic shoe. I have run in several different cushioned shoes. However, none have been as versatile as this. It has 'cushioning' support to rival any shoe, combined this with a weight that allows the runner to perform any kind of training in them.
The colorways on offer are certainly eye-catching and look as fast as the shoes feel. The upper and tongue are both well ventilated and are very durable.
The outsole is grippy and well-wearing while the cushioning provided in the DNA Loft midsole absorbs all impact. The heel-to-toe drop helps to maintain a good cadence without forcing runners onto their toes and offers a crisp transition through the stride.
The Ghosts are a versatile shoe for both competitive and recreational runners alike and are probably the best shoe that I have had the pleasure of running in. Get yourself a pair!!
The Brooks Ghost 11 is a popular shoe that has gone through a number of updates. I have worn earlier versions of this shoe and the 11th iteration has many of the features expected in contemporary running shoes.
There are a number of plusses associated with the latest update to the Brooks Ghost. However, the shoe departs from past versions in noticeable ways.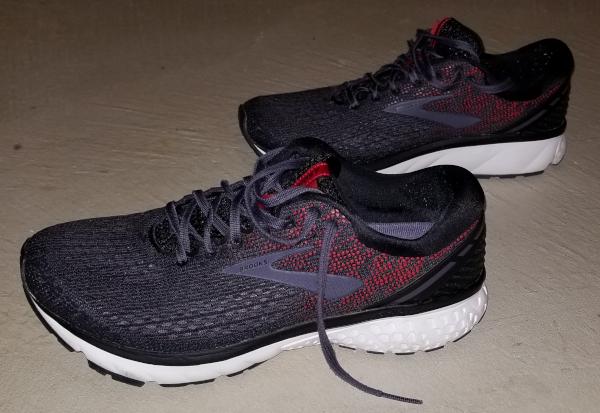 Overall, it is a solid shoe for daily mid-distance runs. I have run in these shoes for about 60 miles so far. On the plus side, Ghost 11 is relatively lightweight, and the upper is well constructed and comfortable.
My main peeve about the shoe is that the foam cushioning is on the stiff side, particularly in the midsole. This is why I would recommend it as a mid-distance as opposed to a long-distance running shoe.
The upper
The upper of the Ghost 11 is breathable and stays cool on runs. The heel gives good support. The shoe locks in and had good padding.
The tongue has the optimal amount of padding. The lacing system is snug, and the flat laces are greatly appreciated.
The upper also has no stitching, so there are no spots on the upper that rub or cause blistering. As far as the upper goes, I would say that it is an "A".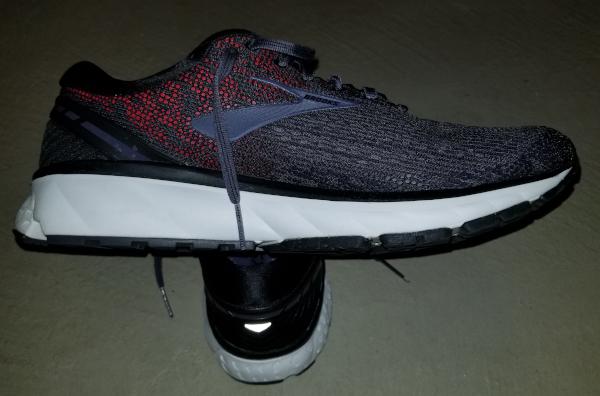 I couldn't ask for much more in the construction of the upper. The one shortcoming of the upper is the toe box. It is a bit on the long side and a little narrow. Although the shoe is true to size in other respects, there is a little extra length at the tip of the toe box, while the forefoot is a little snug on the sides.
This inhibits one from achieving a natural toe spread on push-off and landing. Instead, there is a tendency for the toes to move forward into the empty space at the tip of the shoe. Instead of a natural toe spread, your toes scrunch forward.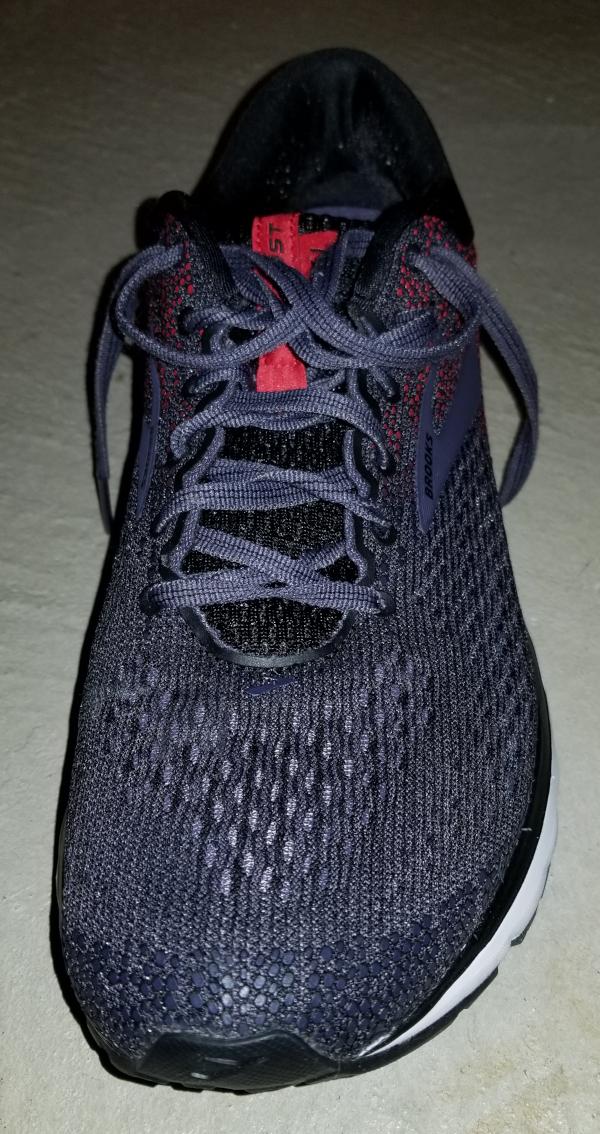 Midsole and cushioning
The midsole of the Ghost 11 was the biggest disappointment for me. I was looking forward to trying out the DNA foam, but on runs, it felt too stiff. This was especially true in the forefoot. In addition to the stiffness, the arch support was lacking a bit.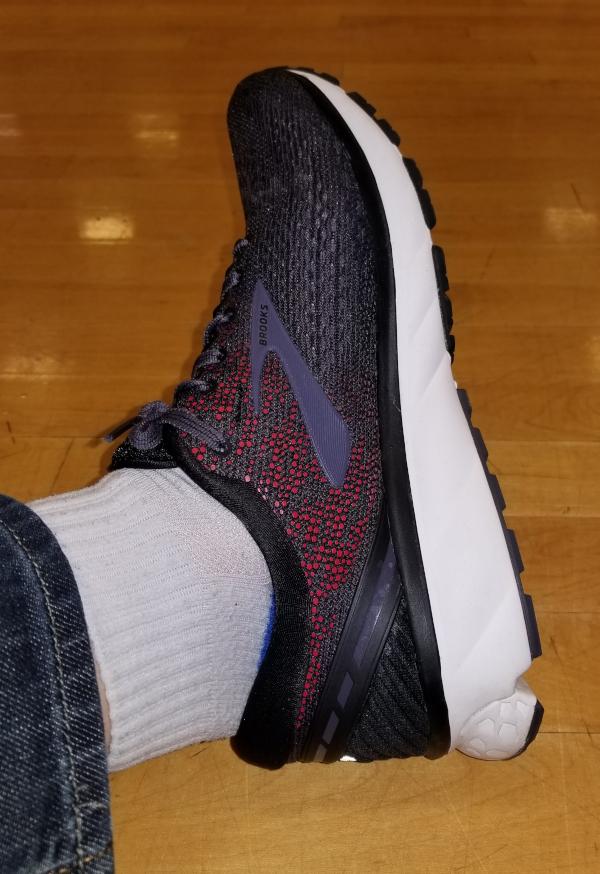 Ghost 11 would benefit from more cushioning and slightly higher arches.
Because of those two short cummings, your dogs and joints get a pretty good pounding on longer runs. In the next iteration of the shoe, Brooks should pay particular attention to cushioning in the forefoot.
Outsole and durability
The outsole of the Ghost 11 is very durable and the tread design grips the road well. I think Brooks hit a homerun with the outsole.

I mainly run on a treadmill, but I wore these shoes outside for fast-paced walking in the winter and had no issues with gripping the pavement or slipping on icy surfaces. The outsole is a solid design for versatile road work.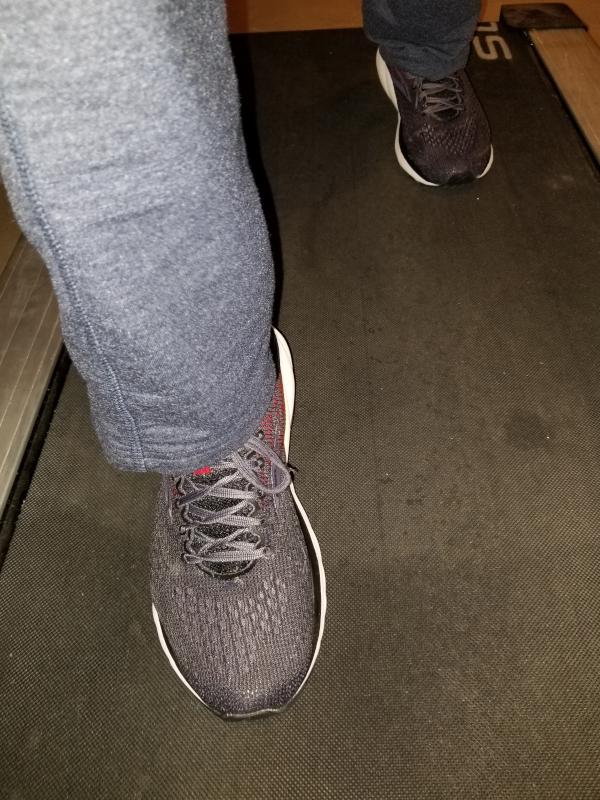 Colors and style
The shoes I am wearing are black with red highlights. In terms of styling, Brooks hit another homerun.
The shoes are modern and stylish. I looked at the Brooks website and they offer a variety of colors. Brooks got this right. A lot of shoe companies drop the ball on styling.
Comparison to other shoes I've worn recently
I recently reviewed the Mizuno Wave Sky 2 and there are clear distinctions between it and the Brooks Ghost 11. The Wave Sky 2 beat the Ghost 11 hands down in terms of cushioning and the shape of the toe box. In all other ways, the Ghost 11 is preferable.
Another shoe I have worn recently is the Adidas Aerobounce 2. It is a lot like the Ghost 11, but it has a little more cushioning and flexibility in the forefoot.
The toe box also allows for a more natural toe spread on landing and push-off. In addition, it has better arch support. In all other ways, the Ghost outshines the Aerobounce 2.
In the Brooks family, I have worn earlier versions of the Brooks Launch. There are a lot of similarities between the Launch and the new Ghost 11. Overall, Ghost 11 is a step up from the Launch, but the Launch beats it in terms of flexibility and forefoot cushioning.
How does it perform as a cross trainer?
In addition to running in the Ghost 11, I dabbled with these shoes for cross-training. As a general gym shoe for weightlifting and fitness, they work well.
The upper and outsole give good support and traction for cross-training. They can also transition to different surfaces indoors and outdoors.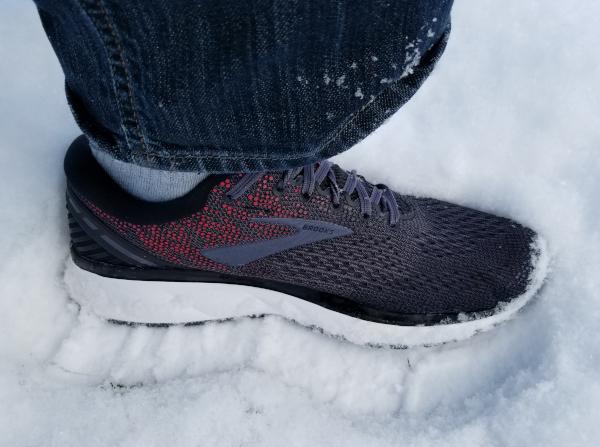 However, the stiffness of the foam was noticeable. I wore them for 12 to 15 hours on an elliptical machine and the stiffness of the shoe and its cushioning was less than optimal.
With that qualification, the Ghost 11 is a good option for cross-training. It works well for short-distance and mid-distance runs, circuit training, and other types of general fitness activity.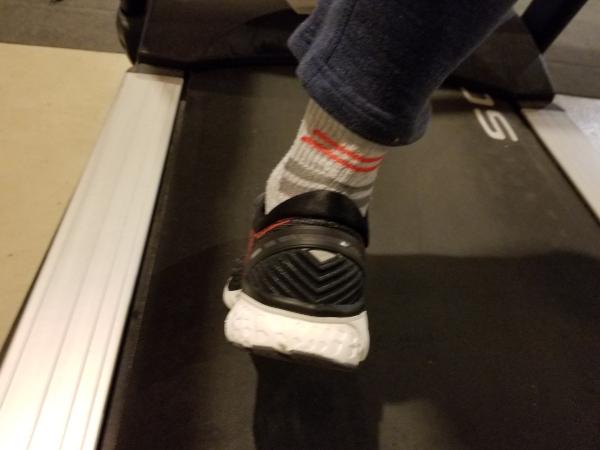 What I liked about the Ghost 11
Relatively lightweight
Near perfect upper
Well executed and durable outsole
Modern and stylish look
Good price point
What I do not like about the Ghost 11
The forefoot is too stiff and needs more cushioning
The shoe could use added arch support
The toe box is a bit narrow and comes to a slight point
Conclusion
The Brooks Ghost 11 has a superior upper and an excellent outsole. But the midsole can use a higher arch and a better cushioning system, especially in the forefoot.
Because of those two issues, the shoe is best for short-distance and mid-distance runs. It works well for circuit training, as a cross-trainer, and as a general fitness shoe.
In the next iteration of the Ghost, Brooks should consider reshaping the toe box to allow for a more natural toe spread, add some arch support, and create a more flexible and cushioned forefoot. Those three tweaks would result in arguably one of the best running shoes on the market at this price point.
I love Brooks as a brand. They have demonstrated time and time again why they should be considered a top of the line, daily running shoe. I have high expectations for Brooks.. and ultimately, was a little disappointed with the 11 after running in them after a month.
The Ghost 11 has made some improvements over its predecessor. However, I found myself going back and purchasing another pair of Ghost 10 which are some of the most comfortable shoes out there.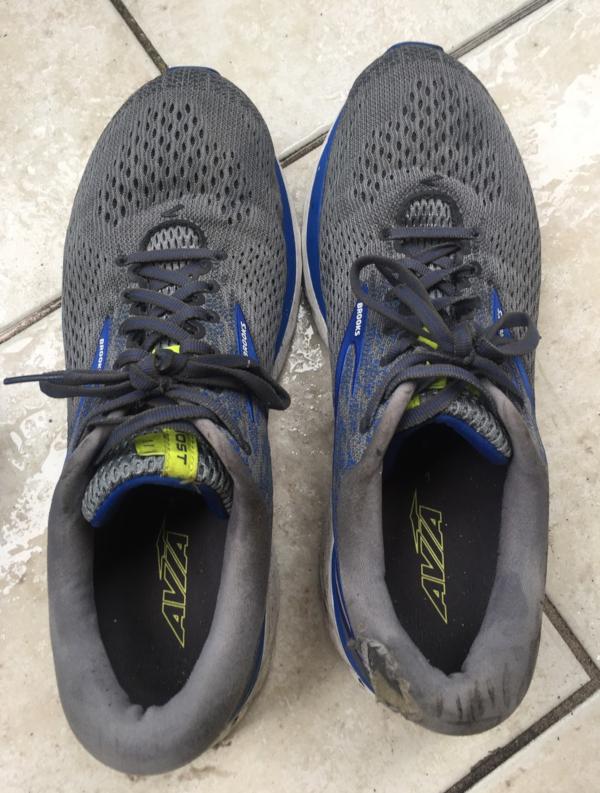 I have been a big fan of their models for some time now, specifically, because they cater to my wide feet, and long distance running needs. They are not too heavy, and feel as lightweight for a neutral supporting shoe, and provides solid cushioning.
Comfort & fit
Brooks is incredibly comfortable for daily use and long runs. They are also true to size. All of my shoes I use Brooks sizing as my standard (11.5) and this model fits exactly as it should.
The comfort of the entire shoe was great but developed issues with the upper sole over time. The lacing system became burdensome.
Grip & traction
This shoe is great for daily road running, and the traction is good even in wet conditions or the humid weather in SE Florida. It stood the test of water, sand, and gravel.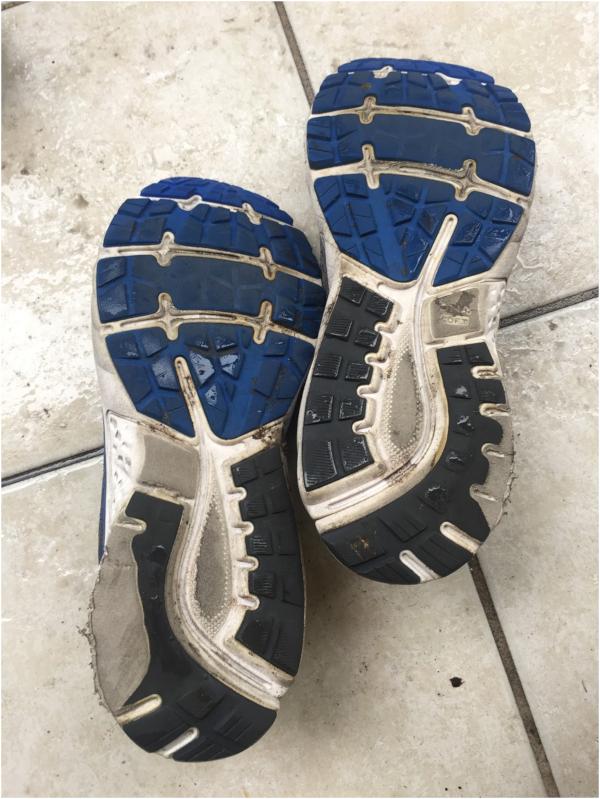 Durability
This model didn't last as long as it should. Typically, Brooks last longer and are great for knocking out longer runs and providing support along the way. But once I hit 100 miles, they went downhill fast!
The 11 has improved breathability as I used to sweat a lot more in Ghost 10. So I'm very happy about the upgrade breathing system.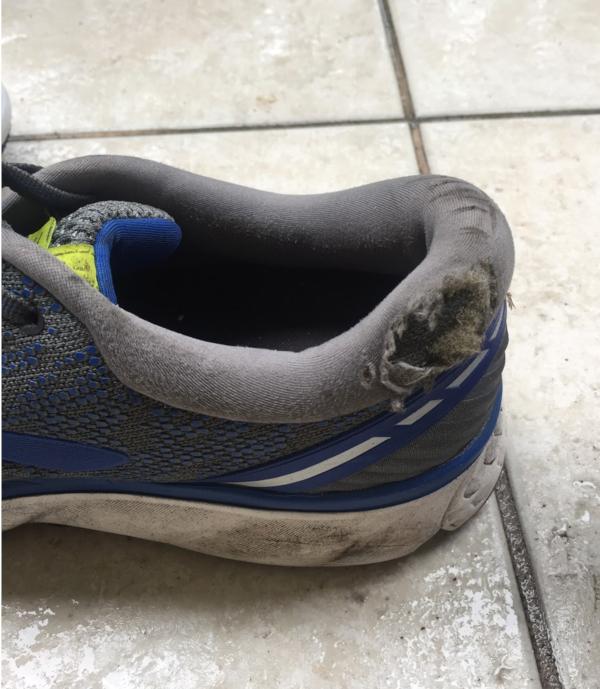 Aesthetics
Compared to other cushioned shoes on the market, the Brooks 11 had a wide variety of colors and options. They are cushioned shoe but much more stylish than anticipated. The rubber sole compared to a Hoka isn't as noticeable.
Upper
The different lacing system on the Ghost 11 vs.10 is welcomed, but over time I prefer the older system. I could feel the actual knots in/through the well-cushioned tongue lacing on the top of my foot, and couldn't find the right tie to alleviate this nuisance.
This is not a deal breaker for me, but it's annoying. Also, constantly running and rubbing led to deterioration on the outside of the heel.
Midsole
The midsole is the best part of the shoe, and it holds up better than the front and back. I love the accountability in Brooks Ghost, and it holds up as it should.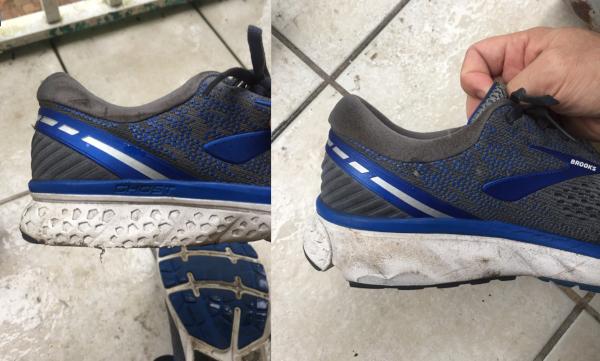 Outsole
Basically the same as the Ghost 10, which "ain't broke so why fix it?" Initially, I loved the outsole. But shortly after using, there was noticeable wear and tear on the rubber sole, especially the inner sole and forefront.
This was a deal breaker for me. As I mentioned, I count on the cushion up front for long runs and once it lost its "cush," it was gone!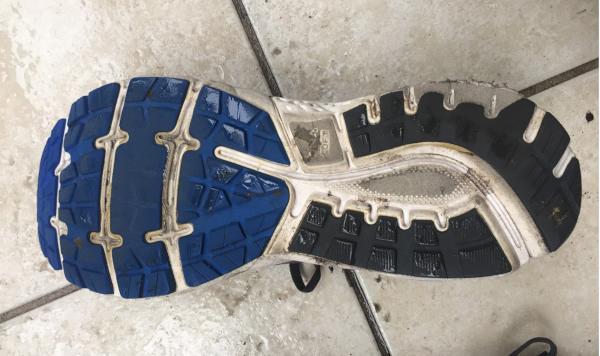 Pros
Good mileage shoe
Comfortable and true to fit
No "break in" time needed - they're good to go out the box (huge bonus)
No blisters or other foot issues after 50 miles
Aesthetically, many more options and color scheme
I was happy to see that an 11 1/2 wide had more choices than the previous versions of the go shoe so aesthetically glad to see they were improving
I sweat copious amounts, and one notable difference versus the 10 that I experienced is the improved breathability
This shoe did a much better job of drying and avoiding that sweaty smell that accumulates over time
Cons
Squeaky - you can hear me from a mile away, and this sound never stopped, it was very annoying
Once I hit about 100 miles the shoe declined and declined quickly especially in the forefront of the shoe where I need to support the most; I found myself going back to the Brooks 10 and switching between the 10 and 11 every day for two weeks before abandoning the 11 altogether
The upper sole/lacing system never got the same level of comfort welcomed in Ghost 10
Summary
I wanted to love this shoe, but couldn't. I found myself going back to the 10, which just fit, felt and worked better for a forefoot strike.
I suffer in the metatarsal area and need the support up front. While initially there in the 11, it quickly went downhill. This is from a daily running perspective.
An average user, walker, or everyday use, I would strongly recommend this for daily activities, as it both looks and feels great!
I have been running now for around five years. When I first started running, I didn't understand what benefits you could get from "running trainers". I wrongly assumed that the trainers were suitable.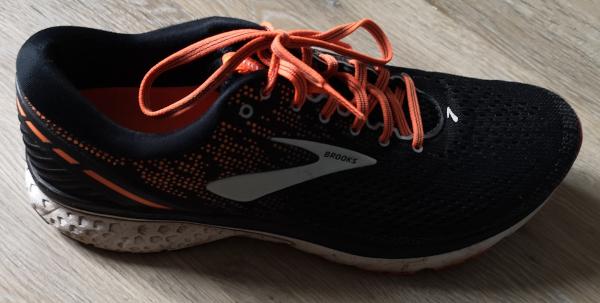 Five years down the line, I now see the benefits of investing in a good pair of trainers.
Why Ghost 11?
After running in several 5k, 10k, and a couple of half marathons, I applied for the London Marathon and thankfully got a place via the ballot.
I needed to invest in some trainers that would see me through training and the event. I was aware that being 6'5 and over 100kg, I would be putting a lot more on the trainers than your "average" runner.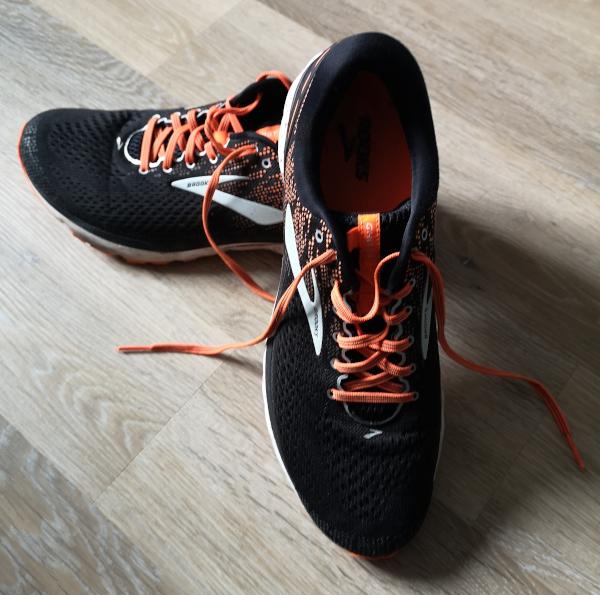 I went to a local running shop, and they recommended the Brooks Ghost. The sales assistant explained that the trainer would be good for the longer distances, offered great comfort, and would have a lot of mileage in them.
First thoughts
Nothing particularly stands out about the trainer, simple style and design. The nice colour combination of the black fabric with orange made it stand out a little, but nothing too "in your face".
There appears to be a lot of support on the base of the shoe, as well as on the ankle. When first putting on the shoe, it was pleasing at how comfortable they were in comparison to some of the trainers I had previously been wearing.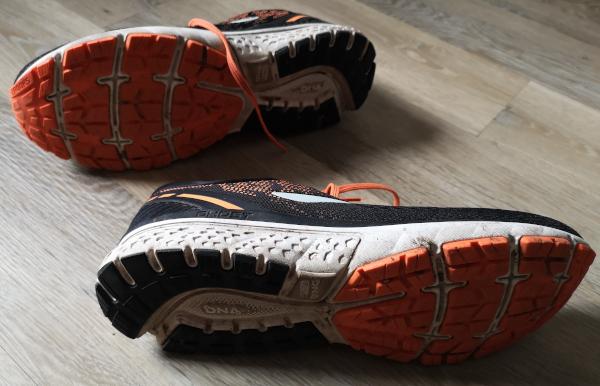 The shoe was true to size (UK Size 13), offering enough space for the foot to "swell" on the longer runs. I have a wider than average foot. Thus, I had struggled in the past with some trainers. But, Ghost 11's width was an ideal fit.
Training runs
Throughout my training, I started with the lower mileage and increased up to around 13miles. Yet, I had not experienced any discomfort with the trainers.
Previously I have suffered from IT band syndrome. I cannot put this solely down to footwear, but through exercises recommended via a physio and purchasing my Ghosts, I have been pain-free.
I have not suffered from blistering during running in any trainer I have worn. And, I can confirm this is still the case with the Ghosts.
Final thoughts
Around 150Miles have been put onto my Ghosts so far, and they are still going strong. There is very little wear on the outsole, thus, still offering a lot of comfort and support as there were on the very first run.
During training, I have been sharing my runs between Ghost 11 and Saucony Kinvara. I was always opting for the Ghosts on my longer runs, using the Kinvara on my shorter quicker runs. This choice is due to the greater comfort in the Ghosts.
One thing I had seen in previous trainers was that the support around the heel of the shoe would be wearing by now and the fabric starting to break up.
As you can see from the image, it doesn't appear to have any wear within the part of the trainer, which is extremely pleasing.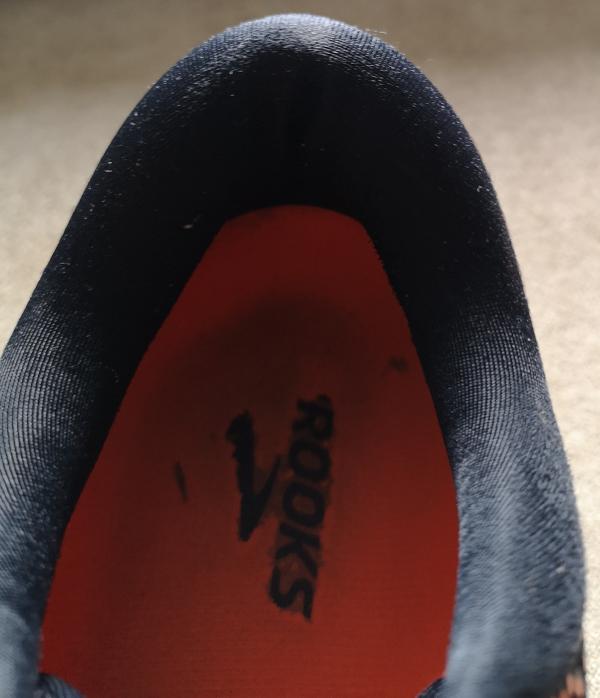 I had been getting around 100-150 miles out of older trainers. I had to put these down to being heavier and therefore putting more onto the trainer than other runners.
But, the Ghost has so far outshone any trainer I have previously had. As I continue with my training and putting miles onto the trainers I currently own, I have just invested in another pair of Brooks, the Glycerin 16. I shall review these in a couple of months after they have a few miles on them.
Overall score
I am extremely pleased with how the Ghost has performed and would highly recommend it. As mentioned above, I have confidence in Brooks, so much so I have bought my second pair.
If you are the type of runner who strikes with their heel, the Brooks Ghost 11 may be the shoe for you.
The generous 29 mm stack height in the heel consists of DNA Loft technology which is effective at taking the impact of landing and rolling you forward.
However, if you are not a heel strike runner, this shoe may not check the boxes that would make this a top choice shoe for any distance.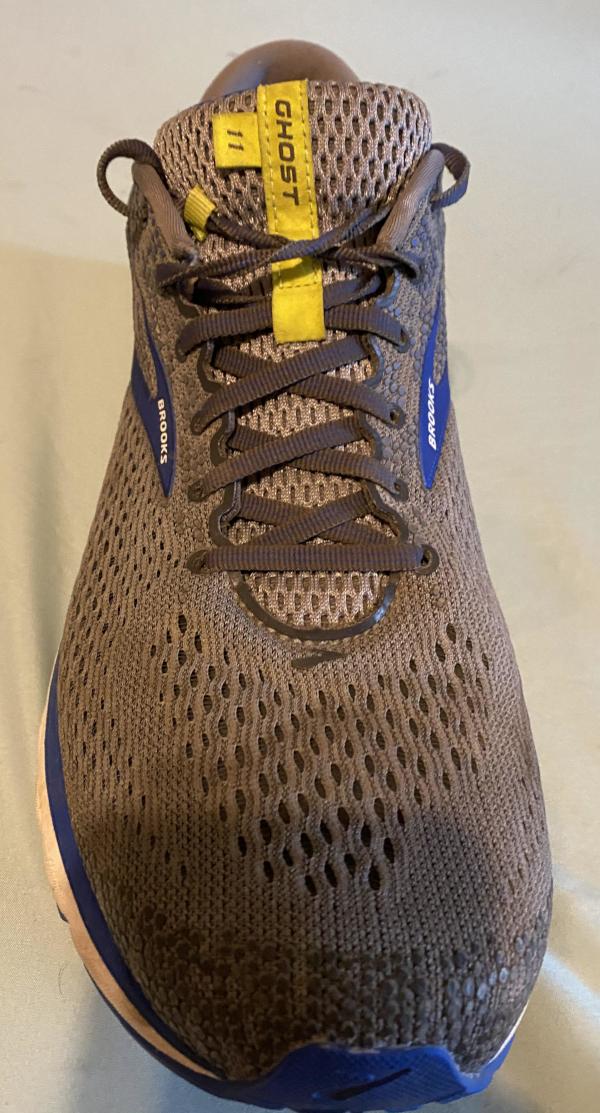 Background
I am a 6'4", 255 lb midfoot strike runner. I have logged approximately 150 miles in the Brooks Ghost 11. I stopped road running with this shoe after approximately 100 miles, with the remaining miles being done on indoor and outdoor tracks.
Weight
The shoe is 10.9 ounces. This is by no means a light weight shoe. While some shoes are weighed down by thick midsoles, this shoe is just altogether heavy for a shorter distance road running shoe.
Upper
The Ghost 11 upper is constructed of an engineered mesh. The forefoot section appears to be the one area of this shoe where an attempt to save weight was made.
The wide mesh pattern at the forefoot saves weight while giving this area of the shoe an excellent amount of breathability.
From the midfoot back, the mesh pattern becomes finer, covering a high amount of padding that covers the heel and lower ankle. When this padding becomes wet, the moisture stays, making an already heavy road shoe even heavier.
The tongue is non-gusseted, but the lacing system that includes the tongue kept it from bunching up and moving around.
This shoe does provide a locked-down feeling during runs.
Midsole
The stack height measures 29mm in the heel and 17mm in the forefoot for a 12mm heel-to-toe drop.
The midsole is comprised of DNA cushioning, which is advertised by Brooks as becoming stiffer when a greater force is applied and that heavier runners will experience a firmer ride.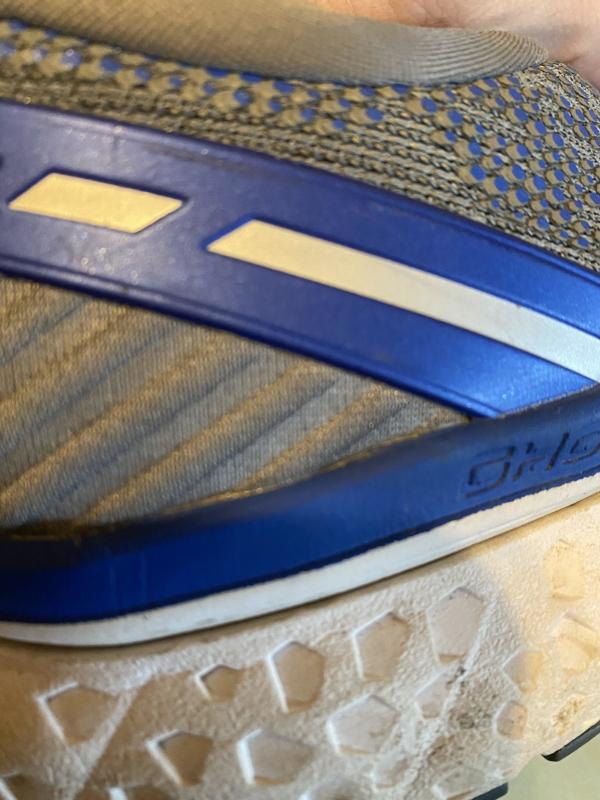 Given that I am a midfoot striker, the already low 17mm of cushioning combined with technology that makes the cushioning firmer for heavier runners, my legs took an absolute pounding with this shoe.
The cushioning is extremely stiff, which while this allows for a high level of energy return, robs most of the comfort. This was a very comfortable shoe for me, until the moment I would begin running.
Outsole
The outsole of this shoe is a combination of blown and carbon rubber and exposed foam. It has proven sufficient on both wet and dry surfaces while resisting wear and tear.
The forefoot area has blown rubber, which offers responsiveness, durability, and flexibility, all useful qualities during the toe-off phase. Meanwhile, the heel area has a carbon rubber, which is known for its strong and robust characteristics.
The carbon rubber gives that particular section the resilience it needs for a longer lifespan and a long-lasting performance.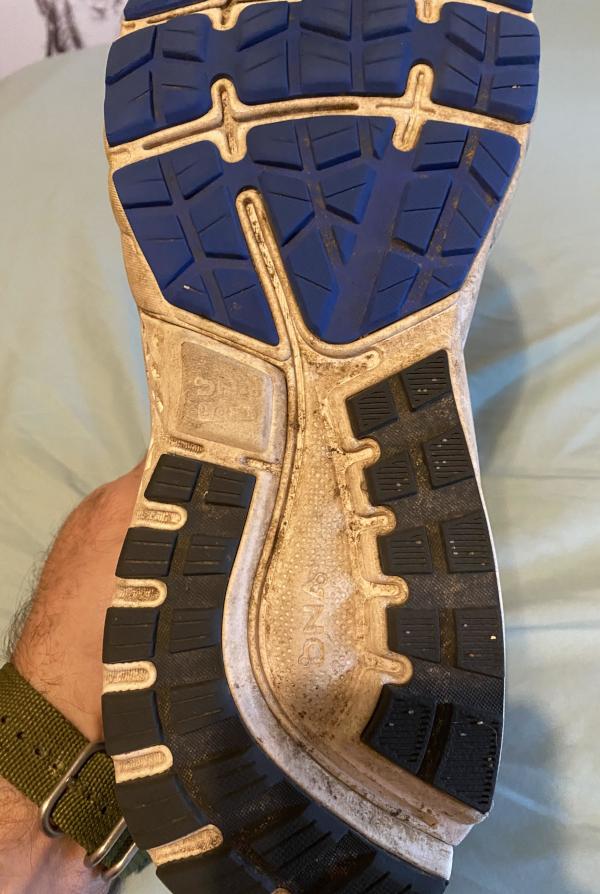 Performance
The landing provided by the cushioning is stiff. There is some pop with regard to energy return, but this is at the expense of underfoot comfort.
Design/appearance
The Brooks Ghost 11 is a great looking shoe. The color scheme really pops and the jacquard mesh upper makes this a sleek looking shoe.
Fit/comfort
This shoe is a comfortable shoe for causal walking around and everyday life. However, the second I start running in this shoe, this comfort ends underfoot.
Breathability
The jacquard upper makes this a very cool ride in higher temps.
Durability
While this shoe has many shortcomings, it is built like a tank. I would see this shoe making it over 500 miles. At over 150 miles, this shoe has shown very little wear.
Overview
This is a heavy running shoe that provides stiff mid/forefoot cushioning for a harsh underfoot experience. From this, if you want a casual walking shoe, this shoe delivers high breathability, a sleek appearance, and high durability.
Alternative Brooks neutral running shoe for fore/midfoot strikers - Brooks Glycerin. This shoe delivers a softer ride with DNA Loft technology throughout the midsole.
Coming from running in Asics, these shoes were felt much lighter, and I decided to buy them just for my short runs to alternate.
However, this quickly failed as I found myself running all my runs in them. After 500km+, they are still going strong, and I plan on using them for my next two upcoming half-marathons at least before the Ghost 12 likely replace them.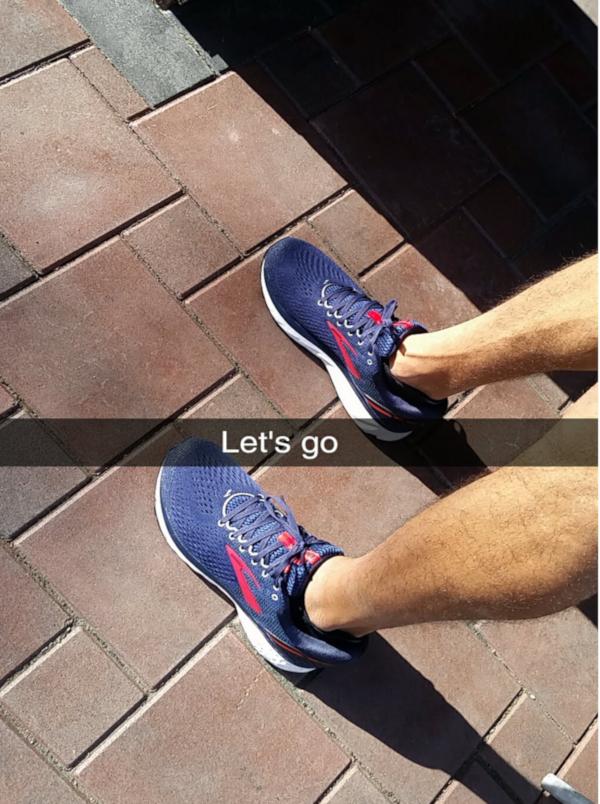 Who are these shoes good for?
The Brooks DNA cushioning along with the 12mm drop provides a comfy ride that allows new runners to fall in love with the support. Experienced runners will appreciate the comfort during long efforts.
Further, most of the mileage I accumulated came on gravel and dirt trails (not road), so being able to hold up so well speaks to the dependable construction and overall value of the these "mid-tier" priced shoes.
Potential issues
As someone who falls in between 10.5-11, I went with the 10.5. For the first 50-100km, my right toes would rub the front of the toe box. Brooks offered to replace the shoes as part of their Run Happy guarantee.
However, this issue resolved itself, and in hindsight, sizing up would have likely helped. The 12mm drop also may not be preferred but is less noticeable than one might think.
What I put them through
Running in the Vancouver area involves a lot of rain which leads to muddy trails. Much like my plan for using these for short tempo runs, I was not planning on using these for my trail running, but one good run led to another and so on.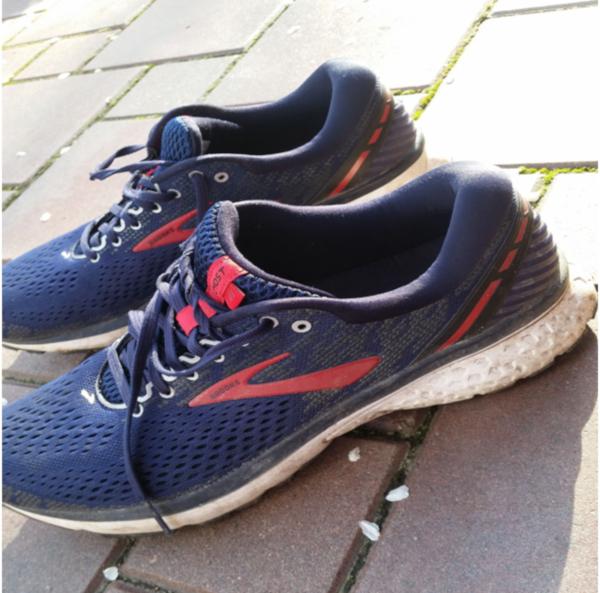 With 500km+ in the pair, these shoes show no sign of breaking down. The outsole held up really well despite eating gravel. The midsole still has most of that bounce comfort.
The insole shows no indentation or footprint. The mesh upper remained comfortable and is more of a pleasure for summer running as the shoe remains breathable on long efforts.
This led to the occasional smacking to shake the dirt out of them, and this care kept my feet happy which meant my mind often was free of worries.
Favorite bits of the shoe
My favorite part of the shoe was that it did not do the "flick." I am sure there is a more technical term, but runners with the front toe curved a certain way will flick water toward the shoe which leads to wet toes and feet.
I was ecstatic to discover that my feet remained dry when the ground was not. For those who enjoy running in the rain, there is a Gore-tex version of the shoe as well.
Additionally, these shoes deserve much credit for their lacing. I often overthink lacing and never have had an easier time. I tied them snug, but not tight, and my heel stayed well placed throughout my run.
Pictured here, you'll notice how well the pair has held up. There's even a little pebble stuck from my last run on that durable rubber outsole.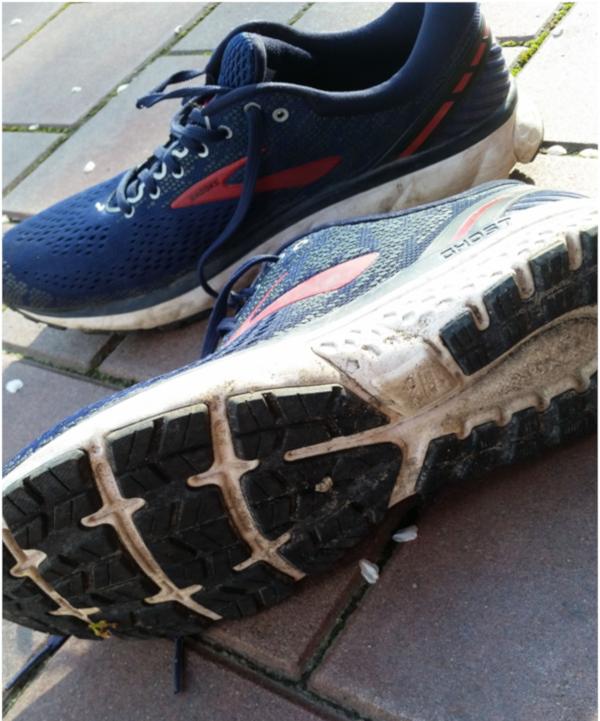 Most would not guess that these two have been through 500km+ of trails, but they have. The bang for your buck is also highlighted as the stitching/glue has held up really well.
The cushioning shows no signs of separation while the upper heel has held its shape to maintain that important heel lock feel leading to smooth, natural feeling transitions.
Conclusion
Overall, the pair continues to shine through the beating I gave them and will continue to provide. Writing this, I am still surprised at how well the pair has held up.
This pair took me from recovering from an IT band injury to transitioning to marathon training which is more than I can ever ask of a pair to do. I am excited to see what Brooks will bring to the Brooks Ghost 12 later this year.
Good to know
The latest iteration of the Brooks Ghost is a much softer and lighter shoe that promises a smoother ride than ever before. This neutral road-running shoe allows for an optimized foot flexibility beneath an exterior that is breathable and irritation-free.
The updated engineered mesh upper provides a lightweight feel that is like a second skin. Now with improved components, the mesh is more structured and stretchable, which allows for a delicate and almost-invisible sensation.
The sole unit is comprised of BioMoGo DNA and DNA Loft cushioning technologies that work together to deliver the sufficient level of softness, but not at the expense of responsiveness and durability. The DNA Loft is a new feature introduced in the Ghost 11; it is a crash pad that promotes softer landings. The midsole sits on a newly-designed outsole that presents a new lug pattern and an improved flexibility.
The Brooks Ghost 11 guarantees a fit that is true-to-size, in terms of length and width. The shoe also comes in a number of size options. Runners of varying foot volumes are sure to find their perfect fit as the Ghost 11 is available in several width profiles: narrow, medium, wide, and extra wide for the men, and narrow, medium, and wide for the women.
Two types of rubber make up the outsole of the Brooks Ghost 11. The forefoot area has blown rubber, which offers responsiveness, durability, and flexibility, all useful qualities during the toe-off phase. Meanwhile, the heel area has a carbon rubber, which is known for its strong and robust characteristics. The carbon rubber gives that particular section the resilience it needs for a longer lifespan and a long-lasting performance.
The BioMoGo DNA from Brooks is a tried-and-tested midsole material that effectively produces a customized ride that is fully-responsive. It promises the runner an adaptable running experience with the Ghost 11, as it adjusts accordingly, which is achieved thanks to the components of the technology. This midsole foam has also been used in other Brooks road running shoes like the Ravenna.
The DNA cushioning is made from a gel base, which allows it to quickly form and mold according to the force it receives. For instance, a greater force will result in a base that is stiffer. This means that runners on the heavier side would yield a firmer cushioning, and faster paces would produce more energy return.
On the other hand, the BioMoGo compound complements the DNA midsole by giving it an adaptive and environment-friendly quality.
There are three flex grooves along either side of the forefoot, called the Omega Flex Grooves. They give the Ghost 11 just the right amount of litheness for a smooth transition.
Two separate units of crash pads are present within the sole unit of the Ghost 11. First is the all-new DNA Loft. This material is a piece of firm foam placed in the heel. It delivers a plush and luxurious coverage that enables a soft landing, favoring the underfoot. The DNA Loft has a unique construction that allows it to be responsive and durable, yet ultra-lightweight.
The second unit is the classic segmented crash pad, which gives the midsole independent impact-reception points. This design evenly disperses the impact of foot strike and guides the foot towards a more efficient toe-off.
The engineered mesh upper of the Brooks Ghost 11 equips the shoe with a lightweight and breathable top-foot coverage. Compared to its predecessor, the mesh of this shoe's version is smoother, softer, and more stretchable, which permits it to wrap around the foot with zero-irritation and zero-hassle.
The mesh has a sleek finish that supplies the Ghost 11 with not only a contemporary aesthetic, but also a precise fit, no matter the shape of the foot.
At the heel area is an external counter made from synthetic material. It is stitched on the shoe like an overlay, as it holds the foot in place and avoids unnecessary movements.
Despite the spooky connotation of the name behind this running shoe series, the inception of the Brooks Ghost comes after a pleasant history. A Brooks executive was well-known for his stellar record as a collegiate and professional runner. Nobody has ever seen him training, which made people wonder how he has managed to stay in good shape. As it turns out, this person did his workouts and running practices at night. This nocturnal activity has earned him the "Ghost" nickname, which later inspired a running shoe.
The Brooks Ghost series would eventually go on to produce running shoes that claim to "defy gravity." In the Ghost 11, the brand presents a running shoe that gives the smoothest ride ever. Previous versions of the Ghost were also successful in providing technologies that contribute to faster, longer, and more enjoyable runs. With each new release of the Ghost shoe, Brooks strives to deliver a perfect combination of technology and art.
One would think that after many iterations of a running shoe series there is no more room for improvement. The Brooks Ghost series disproves this idea. In the Ghost 11, the brand has managed to make the already soft DNA Loft foam even better, providing a more comfortable and more flexible ride. The improved DNA Loft Technology also brings a leveled-up transition and more ground feel.
Meanwhile, the upper has also made some changes since the Ghost 10. With the aim of providing a softer and more luxurious feel, the Brooks Ghost 11 utilizes new materials that give a stretchable structure. The shoe, however, retains the level of breathability and the seamless, true-to-size fit that has been present in the previous version.
Reviews of the Ghost 11 included observations regarding the similarities of the fit and feel with the Ghost 10. The Ghost series has always managed to deliver a balance between a cushy, responsive ride and a soft, lightweight structure. The only difference between the two iterations is that the Ghost 11 gives the runner a closer-to-ground feel and more flexibility during the transition phase.
Another notable improvement in the eleventh version of the Ghost is the crash pad. In the Ghost 11, a new platform design helps in dispersing impact for a smooth roll into the next stride. This update is particularly appealing to heel-strikers, as they gain more speed while transitioning from heel to toe.
Because of the structure and technologies of the Brooks Ghost 11, it is only natural for potential users to compare the shoe to similar running shoes. The Ghost 11 is a neutral running shoe that is comparable to the following models:
Nike Air Zoom Pegasus. This running shoe is one of Nike's most popular running shoes and is their flagship model that delivers both agility and comfort. The Brooks Ghost 11 has a firmer underfoot structure when compared to the Air Zoom Pegasus 35, which is the latest iteration of the model. The Ghost 11 is more suitable for runners who are after more ground feel, which is provided by this shoe because of its firmer sole.
Asics Nimbus. Named after the thick cloud that projects a dark and soft appearance, the Asics Nimbus is known for its maximum cushioning and comfortable bounce. The Brooks Ghost 11 offers the same but on the softer side of things. The Asics Gel Nimbus 21 features a Heel Clutching System that some runners might find restrictive, which the Ghost 11 does not have. The Ghost 11 also has fewer overlays, which makes the upper more flexible.
Nike Revolution. The Revolution series from Nike is well-known for its flexible and responsive ride, as well as its uniquely designed upper that delivers maximum breathability. Compared to the Ghost 11, the Nike Revolution 4 has fewer shoe technologies. Therefore, it is less expensive compared to the Brooks Ghost 11. Both shoes, however, feature a versatile yet contoured cushioning that provides the least restricted underfoot experience.
Saucony Ride ISO. The Brooks Ghost 11 has been reviewed by users to be softer when compared to the Saucony Ride ISO. Further, the Ghost 11 presents a luxurious feel both in the upper and midsole, which translates to a comfortable ride. In terms of weight, the Ghost 11 has been reported to be lighter than the Ride ISO, but the latter has proved to supply more toe room, which was appealing to runners with larger foot volumes.
Brooks Glycerin 16. Both hailing from the same brand, the Brooks Glycerin 16 and Brooks Ghost 11 both utilize the DNA Loft Technology to provide a midsole structure that is soft and comfortable, yet also bouncy and durable. The Brooks Glycerin 16 packs more technology and more midsole material, which means a higher stack height. All these factors make the Glycerin 16 more expensive than the Ghost 11. Runners who are budget-conscious might find the Ghost 11 to be the more practical buy.
As of this writing, the Brooks Ghost 11 retails for $120. Although it might seem expensive because it is above the 100-dollar mark, the price is not that bad, especially considering that there are a lot of higher-priced running shoes from the brand. Many reviewers have felt that $120 price tag is just right as it effectively combines high-quality design and performance.
To a majority of users, the Brooks Ghost 11 is a smart investment because it is durable enough to withstand daily wear. The shoe also provides a decent amount of arch support while also ensuring flexibility.
Another proof of the shoe's value is the award it had received. The Runner's World Editor's Choice Award has recognized the Brooks Ghost 11 for its exceptional appeal and comfortable cushioning. Aside from that, veteran runners have continually praised the shoe for its ability to endure high-mileage runs while providing a smooth and quick ride.
As if that is not enough to convince potential users, the Brooks Ghost series is actually a record-holder of getting seven Editor's Choice awards. The Brooks Ghost does not disappoint when it comes to offering an above-average level of cushion, comfort, and protection. This eleventh version further cements the fact that the series is a consistent provider of both appeal and quality. The Brooks Ghost 11 just shows that the shoe series is here to stay, and it only gets better each time.
Rankings
How Brooks Ghost 11 ranks compared to all other shoes
Popularity
The current trend of Brooks Ghost 11.