I am going to conduct a 50-mile long road review of the new Brooks Ghost 10.
This will allow me the time to get to know these shoes fairly well and to run a variety of roads and distance, including some surprisingly steep Southern Indiana hills.
There are no mountains on the map, but they are there if you're on a bicycle or running.
The Brooks Ghost 10
The Brooks Ghost 10 falls into the neutral/cushioned category of a road shoe.
The new Ghost is of medium weight and has terrific forefoot and heel cushioning. Adding to this already great cushioning is a well-shaped toe box that does not mock or tortures the shape of the human foot.
This my third go around with the Brooks Ghost versions over the past 7 years, and I would say the best version to date.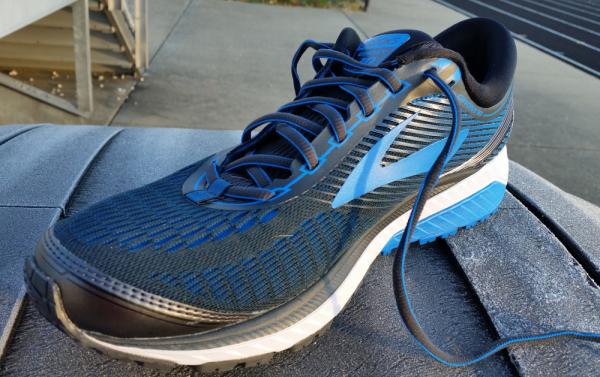 Outsole
To begin, there is the HPR Plus, a very durable rubber compound in the heel area, while a blown rubber compound is used in other areas of the outsole, providing excellent cushioning and some very effective noise damping.
The heel is segmented, helping to cushion the landing of heel strikers. There are deeply cut grooves in the outer sole, helping with flexibility and making for a smooth heel-to-toe transition.
The Ghost 10 has an excellent footprint, helping to provide good traction. As with every Ghost version, they are the quietest shoe ever.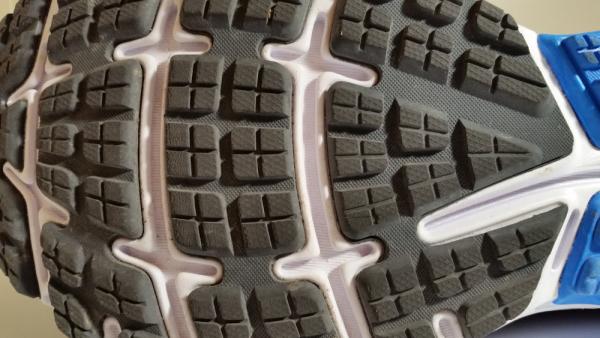 Midsole
This area is where the Brooks scientists seem to have been the busiest, dreaming up things like DNA and BioMoGo, two great innovations.
BioMoGo is a Brooks foam that provides excellent cushioning, as most quality foams do, but the BioMoGo is designed to break down in landfills much sooner than most other foams, this makes the BioMoGo's material very earth friendly. Most EVA foams last thousands of years in landfills.
DNA is another component of the midsole, this material adapts to your pace, providing a firmer platform when you're running hard and softer as you slow.
Brooks refers to their DNA as a non-Newtonian material.
The way in which all of these midsole components work together, produce a light, responsive and cushioned shoe.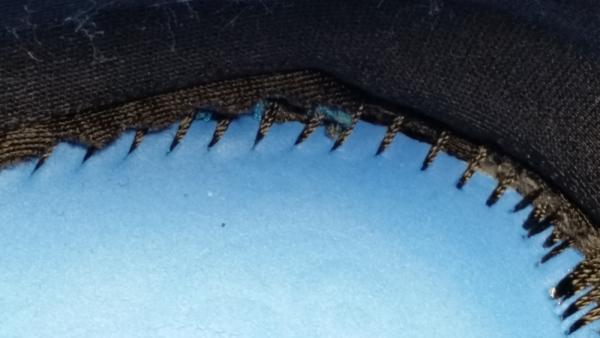 Upper
The Ghost 10 uppers are made out of an engineered mesh with high-density printed layers called 3D Stretch Print. These "strips" of material do a good job of giving the shoe a bit of structure.
This Brooks model was built using the highest quality materials at a time when many shoes are beginning to suffer from cost-cutting decisions. The Ghost, happily remains a high-quality shoe, with materials that stand out in the crowd.
While the previous model, the Ghost 9 rubbed me wrong in the area just behind of my big toe, the version 10 does not. The toe box is well secured with stitches but you have to look hard to find any other stitches on these shoes.
Tongue, Collar, Laces
In this year's Ghost, a second lace-stay was added to keep the tongue in place, this worked extremely well.
The tongue and collar are also very well padded, and provide excellent comfort. The laces are flat and somewhat elastic, adding to a comfortable fit, I would say that the laces are about 25% elastic.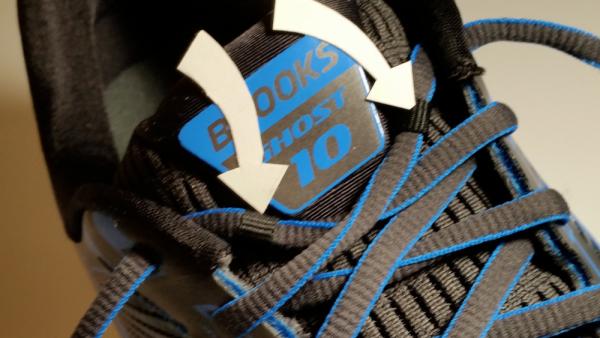 Specifications
Size: 44 E.U. (12 U.S.)
Weight: 332gr.
Arch Type: Medium-High.
Support: Neutral-Cushioning
Ankle Clearance: Yes.
Flexibility: Medium.
Heel-Toe Offset: 12mm.
Above Toe Clearance: Medium-High.
Toe Box Width: Medium.
Miles Tested: 80 km / 50 mi.
Tester's Weight: 61 kgs / 146 lbs.
Reflectors: Rear only.
Cost: $ 120. USD
Pros
Smooth and silent transition
Cushioning in forefoot and heel
Innovative design and materials
Cons
Poor quality control on upper mesh placement-positioning
Running in the Ghost
These shoes did not hamper my running, they helped me along by not fighting my every step with stiffness or with worry about losing more toenails in tight toe boxes.
My first outing was a dark and early morning 8k at -3 degrees C. The chances of being struck by a deer at that hour are greater than being hit by a car in this area of Southern, Indiana. You tend to think of things when you run, this morning I thought " It's no wonder I got my best half-marathon time wearing the Ghost."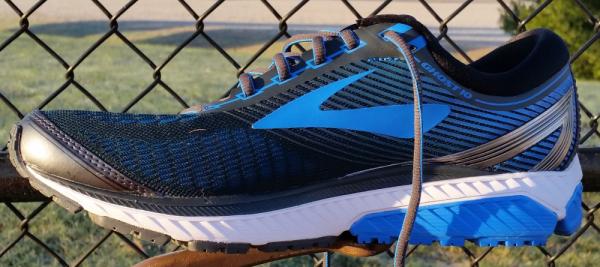 Like the new Brooks Adrenaline GTS 18, this shoe simply sails along as effortless as can be, it is a real smooth and quiet roadster, well suited for half or full marathons.
The Brooks products are entering a period that may very well be their finest hour. Everything about this Ghost says "Relax, Cruise, and Enjoy".
The Ghost is one of those rare shoes that bring out your best and actually makes running easier. You don't need to be at you best every day with the Ghost, just put them on and head out the door.
There was no visible wear at 25 miles and, only slight noticeable wear after 50 miles.
Compared to last year's Version 9
The previous version 9 is a tough act to follow, it is such a good shoe.
The Ghost version10 is 26 grams lighter than the Version 9 while being slightly more flexible and having a more compliant-comfortable upper.
I dare compare the Asics, a stability shoe with the Ghost, a neutral-cushioned shoe because they are so similar. The Asics GT2000-5 is stiffer and much noisier than the Ghost, it is nearly impossible to run silently with the Asics.
The Asics Gel cushions your impact while sending the energy outward before bouncing you back up, the Brooks DNA cushions your impact but then stiffens as a reaction to your gait-pace-effort.
The Asics has better cushioning for me, however, a faster runner interested more in speed than comfort might prefer the reactive Brooks DNA.
Quality
I would rather have a shoe of mediocre parts expertly assembled that the world's best components simply thrown together in a haphazard manner.
The engineered mesh over the forefoot of each shoe was misaligned, making these shoes clearly defective. Haphazard construction is a failure in quality control, but more importantly a failure in pride.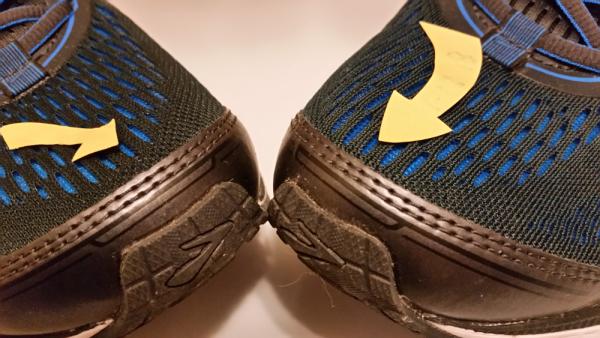 Summary
Brooks could have done a better job than with the Ghost 10 assembly.
The Ghost 10 is comfortable, well cushioned, good looking and durable and is well suited for any distance you care to run. This is the perfect half marathon or longer shoe that is suited for nearly everyone!