Those who needed stability and support were generally happy with the performance of the Asics Gel Kayano 22. A cloud-like underfoot experience was described by quite a number of testers. For them, it gave a solid time on the asphalt. But there are caveats associated with this, including an apparently narrow toe box, a flimsy inner lining, and a rather bland design.
---
Verdict from 19 experts and 100+ user reviews
7 reasons to buy
Wearers appreciated the adaptive stretchable mesh used in the upper unit of the Asics Gel Kayano 22 because it covered their feet securely.
Several users wrote that they were able to get compliments because of the colorful design of the upper.
Some testers observed that the mid-sole unit didn't break down easily, even after many uses.
Those with narrow foot-dimensions and slim feet in general felt welcome when they wore this shoe.
A runner stated that dirt came off easily from the external façade when it was cleaned.
Most runners commended the excellent blend of cushioning and stability found in the underfoot platform.
The platform felt like 'clouds' to several reviewers; they felt that it was responsive and springy.
4 reasons not to buy
There were testers who complained that the upper unit—particularly the toe box—felt uncomfortably narrow and tight.
A reviewer thought that the cushioning wasn't very efficient because they began to notice some knee pain after two weeks of use.
The inner fabric used in the heel area wore off on several runners. It caused skin irritation and, eventually, blistering
The overall design of this model didn't seem very appealing to some consumers.
Bottom line
Those who needed stability and support were generally happy with the performance of the Asics Gel Kayano 22. A cloud-like underfoot experience was described by quite a number of testers. For them, it gave a solid time on the asphalt. But there are caveats associated with this, including an apparently narrow toe box, a flimsy inner lining, and a rather bland design.
Best price from 50 shops
We earn affiliate commissions at no extra cost to you when you buy through us.
79% say it's true to size.

Our reviews
A year ago when I was about to make my decision to purchase a new shoe, Asics Gel Kayano 22 was the runner-up on my list.
After a year or so, finally, I am introduced to the Asics' Gel world.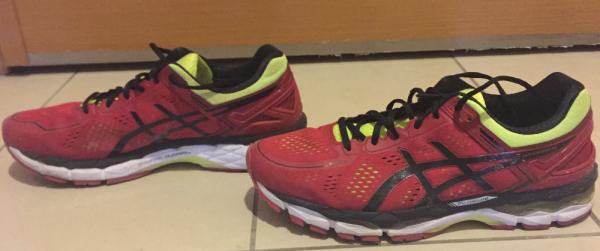 While using my primary shoe for any distances, I was advised to use a secondary shoe for long distance. A shoe which provides more comfort and which can last longer. Without a lot of confusion, I picked Asics Gel Kayano 22.
The first reason was it was about to be discontinued which creates some price advantage over other models I was considering. Since it would be a secondary shoe, the budget has more importance in my decision process.
Secondary I heard about the comfort level of the shoe and wanted to experience it. In the end, I ended up looking forward to my long runs with the Gel Kayano 22. The shoe weighs around 350g which is not light. However, the weight comes with additional cushioning provided by FluidRide technology that Asics applied.
In general, its support system reduces over pronation and while you are running it is easy to feel it.
User Experience
As I mentioned, Gel Kayano 22 is my pick for my secondary shoe for long runs. As long runs I'm meaning any distance between 10K to 25K. I mainly use it on asphalt and I can say that traction is pretty strong even in rainy days.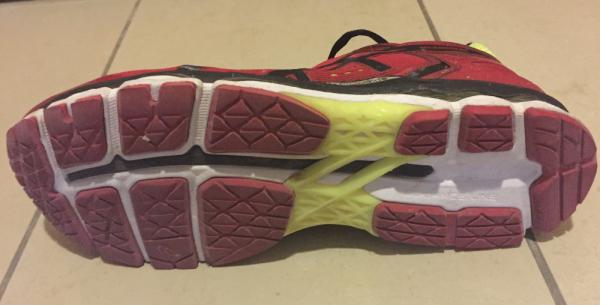 My only concern is, due to gel cushioning, the shoe can't be washed in a washer which creates an additional need to clean after muddy runs. I should say that the shoe fits 1 size smaller, so you have to pick a bigger number you're used to.
This decision will add additional weight to the shoe which is already considered mid to high weighted one. I believe that with its strong support for overpronation, extra weight will only help for necessary muscle groups.
You really feel the weight especially while running with negative splits and trying to reach your maximum pace at the end of a long run. Toe box fits narrowly even with the selection of 1 size larger, and it can cause some small bruises after long runs. However, I never experienced a serious problem which lasts longer than two days (in general wearing dress shoes during weekdays).
The Look
I know that most of us are looking for an effective running shoe which can respond to our needs and look nice as well.
The color scheme which I bought was Red Pepper/Black/Flash Yellow. Its bright red surely attract some attention and with its black coloring, you can even match the shoe with your more sporty daily outfits.
I used them during one of my travel as "travel day shoe" and they paired quite nicely with my jeans. As an improvement, yellow plastic part in the bottom of the shoe could have been upgraded for more quality material. Since it's not visible in most cases anyway, an additional benefit would be very limited.
The Verdict
The stability shoes category. With this version, I experienced how well deserved its position is.
The shoe provides stability in a way that the runner grows in confidence on the shoe for longer distances and/or faster pace.
I strongly suggest Kayano 22 as a secondary shoe for long distances. With its discounted price, its cost/benefit ratio have skyrocketed and it definitely deserves a place in your shoe shelf.
Updates to Asics Gel Kayano 22
The Asics Gel Kayano 22 comes with an enhanced cushioning. The upper midsole and the foam lasting are softer than the previous version. The shoe also comes with a deeper guidance line that delivers a a soft underheel cushioning.
The upper construction of the Kayano 22 was also improved. The shoe comes with a new and enhances mesh with no-sew synthetic overlays. It also comes with more reflectivity as compared to the previous version.
The fit of the shoe was also enhanced. It comes with a shallower toe-box ceiling, wider forefoot and a more roomy midfoot area.
The Kayano 22 is 18 grams heavier as compared to the previous version. This is due to the enhanced construction of the shoe. The Kayano 22 is 5mm longer than the Asics Gel Kayano 21.
Size and fit
The fit of this Asics running shoe was great enhanced. It has an increased width in the forefoot and the midfoot delivers a more relaxed environment, giving a comfortable fit to a wide range of runners. This shoe is available in standard medium width for both men and women.
Outsole
The Asics Gel Kayano 22 features the notable Asics High Abrasion Rubber (ASHAR) that provides exceptional durability, added cushioning and flexibility. The rear foot crash pad also reduces the rate of pronation. It is designed to deliver a smoother heel to toe transition.
Midsole
The shoe features the brand's notable Rearfoot and Forefoot Gel Cushioning system that is designed to delivers a more responsive ride, absorbing shock during landing and delivering great energy return for a powerful toe-offs.
The FluidRide midsole technology, which has been used in other Kayano versions like the Gel Kayano 25, delivers a responsive cushioning and added durability in the midsole without giving added weight.
The shoe also features the Dynamic DuoMax Support System that is designed to reduce over pronation. It works perfectly by controlling the movement of the foot while running to achieve a smoother heel to toe transition.
The shoe also comes with a gender-specific forefoot cushioning that is designed to give added comfort and protection.
Upper
The upper of the Kayano 22 features the redesigned mesh that delivers lightweight and durable breathability. Together with the FluidFit technology, this shoe provides a glove-like, personalized fit.
The two layer memory foam lining strategically located in the heel collar provides an enhanced comfortable and personalized fit while the reinforced vamp gives added durability through the seamless overlay.
The discrete eyelets are also designed to disperse tension while giving added comfort when running.
Rankings
How Asics Gel Kayano 22 ranks compared to all other shoes
Popularity
The current trend of Asics Gel Kayano 22.