The Asics Dynamis is an exceptional running shoe that delivers lightweight support and an excellent fit. Many runners were satisfied with their time with it, and others were impressed with the technologies that were implemented. This shoe is a good option for runners who are looking for a reliable and supportive road shoe.
---
Verdict from 9 experts and 100+ user reviews
7 reasons to buy
One reviewer appreciated how the improved breathability of the shoe did not sacrifice a secure fit.
Many runners agreed that the Dynamis had very comfortable cushioning for a stability shoe.
The Mono-Sock fit system worked well in providing a soft and seamless wrap to the foot, according to a tester.
Most users found the shoe to be lightweight and that it was easy to use.
A user observed that their foot stayed cool and dry even when running during hot and humid weather.
A lot of buyers praised the BOA® system and how it made wearing the shoe a lot easier.
The outsole proved to be durable enough for daily running activities, as stated by a runner.
2 reasons not to buy
A reviewer relayed that the thin laces caused too much pressure and friction to the top of the foot, and the lack of tongue further aggravated it.
Many runners thought that the heel cup did not deliver the expected snug fit.
Bottom line
The Asics Dynamis is an exceptional running shoe that delivers lightweight support and an excellent fit. Many runners were satisfied with their time with it, and others were impressed with the technologies that were implemented. This shoe is a good option for runners who are looking for a reliable and supportive road shoe.
Best price from 50 shops
We earn affiliate commissions at no extra cost to you when you buy through us.
78% say it's true to size.


Overview of this review
Our reviews
The Asics Dynamis is a great pair of lightweight support shoes that feature the BOA lacing system and a comfortable, cushioned feel without limiting agility. This is my first experience with the BOA lacing system, and I've been impressed so far.
They deliver such micro-adjustments to the tightness, leaving you feeling secure in the knowledge that whatever tightness you've set, will secure your entire race and triathlons. They also cut down your transition time without sacrificing the feel you're used to in training.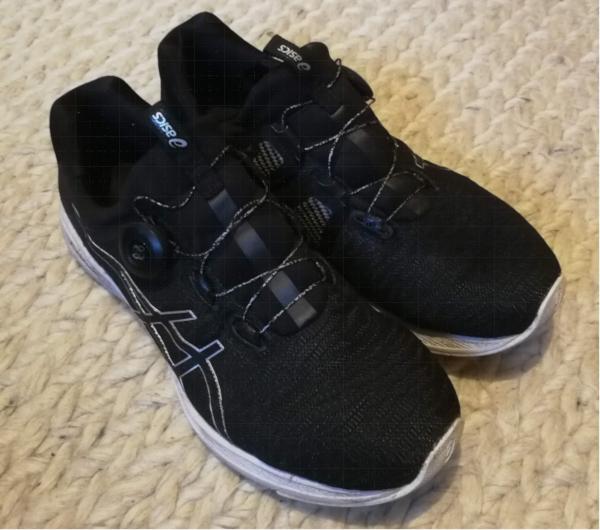 Pros
BOA lacing system
Lightweight
Sizing
Comfort
Agility
Cons
Breathability
Not as much support as other shoes
Socks needed
Lack of drainage
Upper
BOA lacing system is a revelation. Unlike some elastic laces, it keeps your shoes tight which gives you great security over your runs without the concern of having to re-lace in mid-run.
It can also make such small adjustments to the tightness. Meaning, you really can create a fit that's perfect for your feet.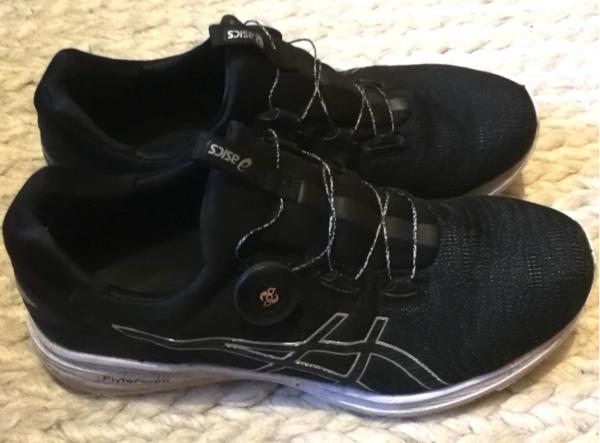 I will say that initially, the lacing system does cause some tightness at the top of the foot. It feels a bit unusual and takes some time to get used to. But once you are on it, it just feels secure.
They aren't the most breathable pair of running shoes unlike some of the other Asics range where they feature air holes or a pattern that allows for circulation. The upper on the Dynamis doesn't feature these.
After trying to wear these with no socks on a 10K, I won't be doing it again. Unfortunately, there were a fair few hot spots, especially along the arch. I will say I'm particularly susceptible to blisters, so this might not be the case for you.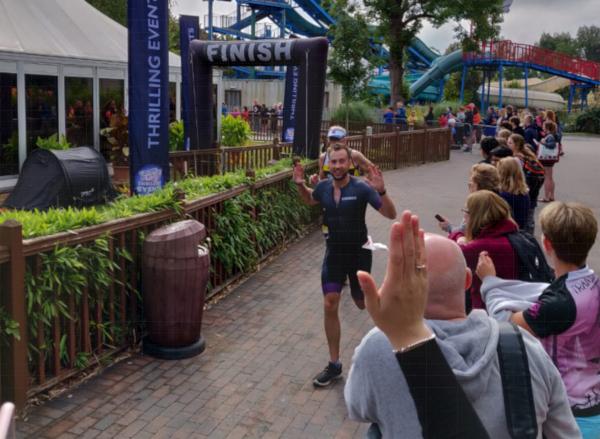 Midsole
For a support shoe, these are lightweight coming in at around 270 grams. This means they are pretty comfortable for pushing a faster pace.
Even at this lighter weight, they still feature enough cushioning to feel comfortable over mid distances. I haven't tried them over a half marathon yet, but they are great up to that distance.
Although these are pitched as a support shoe, the support isn't as great compared to other shoes offered by Asics. They feature the guidance line in the sole, a bit of arch support and a side panel that aims to reduce pronation (but not a huge amount). If this is a concern, I'd suggest adding an insole.
Outsole
One of the greatest features of Asics Dynamis is the outsole. Aside from being durable, they are also created in a way that "moving quickly" in different directions is a breeze. These give the confidence to stop suddenly or dodge a branch on a trail.
On the other hand, take note that they aren't amazing in wet slippery conditions.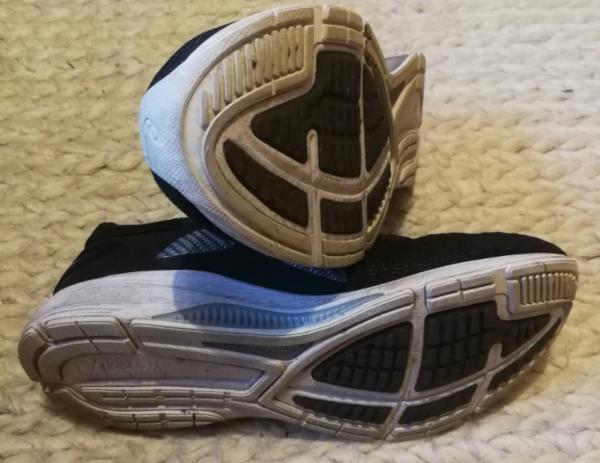 Also, there is no great amount of drainage in this shoe. If you plan on using these for triathlons, be aware that the drainage isn't as good as the Noosa Tri. You might end up with a couple of blisters.
Sizing
Size-wise, these are perfect! They come up bang on what I would expect and have experienced from other Asics shoes.
If the shoes don't feel tight enough after initially doing them up, try moving around a bit, wiggle your foot or jump around a few times.
Conclusion
In summary, if you're looking for a pair of lightweight running shoes that requires some support, these will treat you well. The Asics Dynamis is perfect, especially for fast shorter races and for triathlons.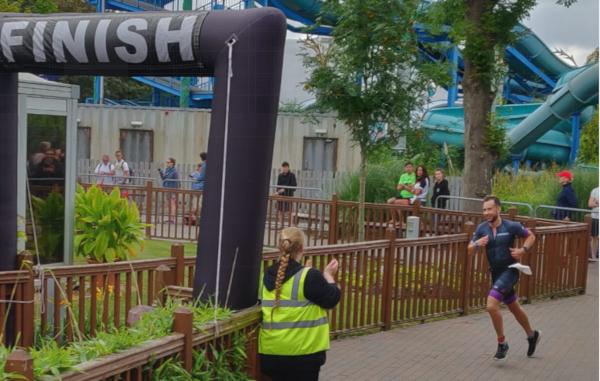 The lacing system is a revelation allowing for micro-changes at a pace which will certainly help with transitions.
Overall, I've enjoyed running in this shoe and will be using it for shorter tempo or interval workout along with any future triathlons.
Updates to Asics Dynamis
The Asics Dynamis is a durable, lightweight shoe that promises to improve speed and road performance. It is ideal for neutral to overpronators. The various features allow it to excel in treadmill sessions and long-distance road-running.
The upper is constructed using seamless materials to lessen the chances of skin irritation and friction. It also makes use of the Mono-Sock® Fit System for a more accurate and secure fit. Meanwhile, the DynaPanel™ overlays target a stable ride.
Featuring FlyteFoam® technology, the midsole assures responsiveness no matter the distance. An AHAR® outsole supports the midsole as it aims to deliver an improved durability while the Guidance Line® technology makes use of a vertical flex groove for an enhanced gait efficiency.
Size and fit
The Asics Dynamis has a standard running shoe length. Runners should expect a comfortable fit in a shoe that is true to size. The toe box is constructed with an adequate width to promote a natural toe splay. The width profile available is medium for both men's and women's versions.
Outsole
Using Asics' High-Abrasion Rubber or AHAR®, the outsole of this shoe becomes similar to car tires, thus ensuring an optimal level of durability. The AHAR® claims to be two times more efficient than ordinary rubber when it comes to abrasion resistance. This notable outsole material has been used in other road shoes like the Cumulus 20.
The Trusstic® System offers stability by installing a reinforced midfoot area that averts the foot from twisting. On top of the Trusstic® system is the DynaTruss™ technology, which works in preventing compression by minimizing the amount of foam.
The Dynamis construction also includes the Guidance Line®, a vertical flex groove that runs from the forefoot to the heel of the outsole. Located in the lateral area, it promotes the most efficient and most repeatable stride and decreases the risk of fatigue and injury by ensuring a consistent load from heel strike to toe-off.
Midsole
The Dynamis makes use of Asics' premier midsole foam, the FlyteFoam®, which is 55% lighter than the standard EVA foam. The highly-resilient fibers in the foam enable it to bounce back to its original shape with each stride, making it an adaptive cushioning. The FlyteFoam® is also more durable and claims to have a longer lifespan compared to standard EVA.
The goal of the removable Ortholite® X-40 sock liner is to be responsive while also providing moisture management and breathability. Both these features aid in keeping the foot dry and away from bacteria.
The SpevaFoam® 45 Lasting works by making the midsole softer and more accommodating, thus enhancing the shoe's cushioning and comfort.
Upper
With a seamless construction, the upper of the Dynamis offers breathability while also working to reduce friction caused by traditional stitches and seams. It is made from a soft fabric.
The DynaPanels™ are thick overlays that serve as a support structure for the medial arch. They ensure adaptive stability, making it suitable for overpronators and those who just want the extra snugness. The BOA® laces that go through these overlays allow the shoe to be worn with just a turn of a dial, thus resulting in a more supportive and more accurate fit.
A Mono-Sock® fit system is also in place, which means that instead of a conventional tongue, there is an internal sleeve that provides an elastic, sock-like fit.
Rankings
How Asics Dynamis ranks compared to all other shoes
Popularity
The current trend of Asics Dynamis.