Nike Air Zoom Terra Kiger 5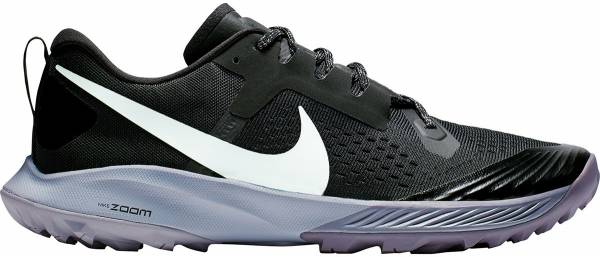 The Nike Air Zoom Terra Kiger 5 is a lightweight trail running shoe designed for neutral pronators. It is considered by most users as a successful update to the Terra Kiger line. Positive reviews were given to the shoe's overall design, ride quality, and comfort. Though a few were also disappointed because it is expensive and some structural elements have issues. In summary, the Terra Kiger 5 is a functional trail shoe loved by the majority.
---
Verdict from 17 experts and 100+ user reviews
7 reasons to buy
According to most users, the Nike Air Zoom Terra Kiger 5 has great cushioning for short distance runs.
This trail shoe feels lighter and faster than the older version, said a couple of users.
Majority of the buyers were satisfied with how durable the Terra Kiger 5 is.
Several runners said that the shoe is very comfortable.
Many users noted that the traction of this running shoe is very reliable, especially on dry trail surfaces.
The 5th version of the Nike Air Zoom Terra Kiger delivers a great fit from the heel to the forefoot.
A few lauded the casual look of the shoe. They said they received a lot of compliments while wearing it.
2 reasons not to buy
The shoe is slightly expensive.
A couple of users mentioned that the heel collar is too high and stiff.
Bottom line
The Nike Air Zoom Terra Kiger 5 is
a lightweight trail running shoe
designed for neutral pronators. It is considered by most users as a successful update to the Terra Kiger line. Positive reviews were given to the shoe's overall design, ride quality, and comfort. Though a few were also disappointed because it is expensive and some structural elements have issues. In summary, the Terra Kiger 5 is a functional trail shoe loved by the majority.
Best price from 32 shops
We earn affiliate commissions at no extra cost to you when you buy through us.
82% say it's true to size.



Our reviews
TLDR: The most stylish trail running shoe on the market has plenty of bounce, but Nike Air Zoom Terra Kiger 5's low ceiling and narrow fit aren't for everyone.
Fit
This narrow trail shoe, with plush heel support and a breathable upper, begs you to cruise out to your nearest trail to put them to the test. If your feet are relatively narrow, you're in for a treat.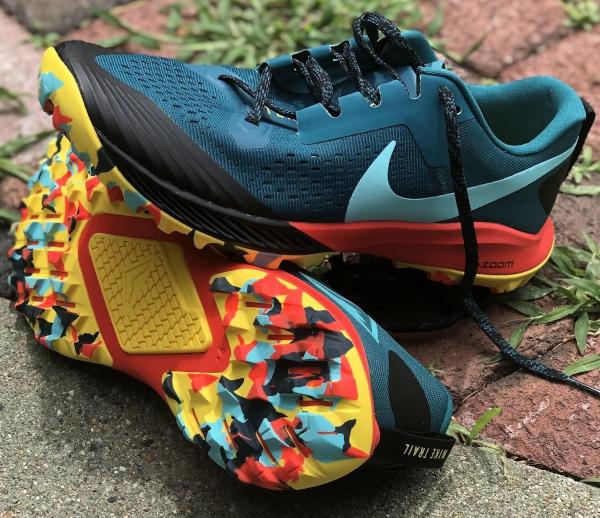 But, if you have high arches or prioritize a roomy toe box, these probably aren't for you.
Support
Nike has all kinds of slick marketing lingo for its cushioning and support: Zoom, React, Air, etc. But even a cynic has to admit that these are pretty bouncy and have a comfortable cushion underfoot.
Performance
The lightweight and snug fit gives you the impression that you're moving even faster than you are. The bounce from the midsole makes it a fun shoe to run in.
Traction from the outsole is nice, but not quite up to the standard of similarly priced trail shoes from Topo, Arc'teryx, or Altra.
Looks
You won't find a better-looking shoe. The colorways, materials, and Nike Trail Running logo (comes with a free bumper sticker) reinforce why Nike is one of the best-marketed brands in the world.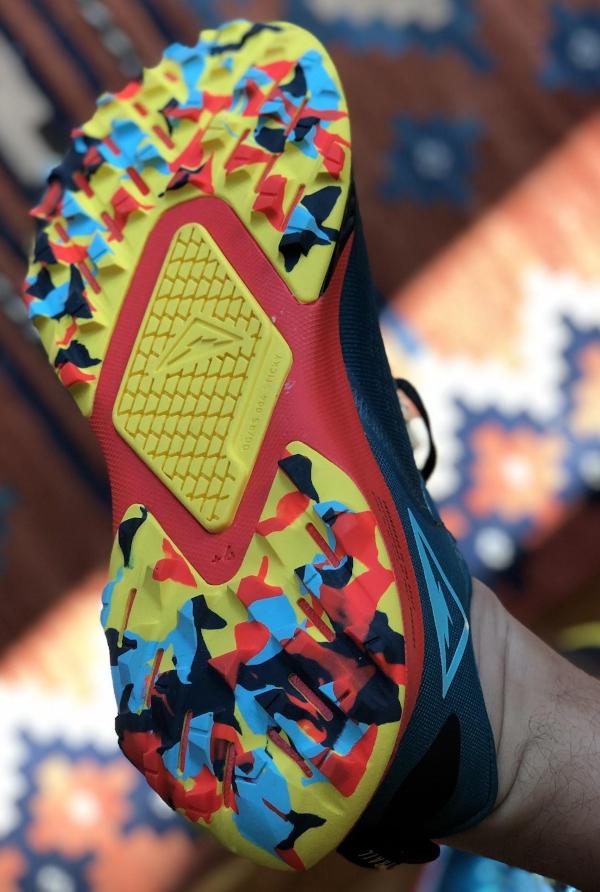 The confetti-like color splash on the lugs reminds you that this isn't just a trail shoe, but a fun trail shoe.
Test Run
Distance: 5 Miles | Terrain: Moderate Trails
Location: New England | Season: Summer | Conditions: 78F and Cloudy
Warm Up
About a half-mile of paved road from the nearest trail, I set off on the cement. No problem. Nike is primarily known for its road running shoes. Clearly, they've brought that expertise to this trail shoe.
The lugs are barely noticeable against the road and almost feel like additional padding. It makes me wonder how well they'll handle technical trails.
First Impressions
This shoe fits snug, which can be a positive on technical trails. But for me, it is most pronounced in the toe box, where the ceiling feels incredibly low.
Imagine if your living room had 7-foot drop ceilings. This is the type of claustrophobia I was feeling. Looking down at my feet, I could see my big toe pressed against the top of the shoe. Not ideal.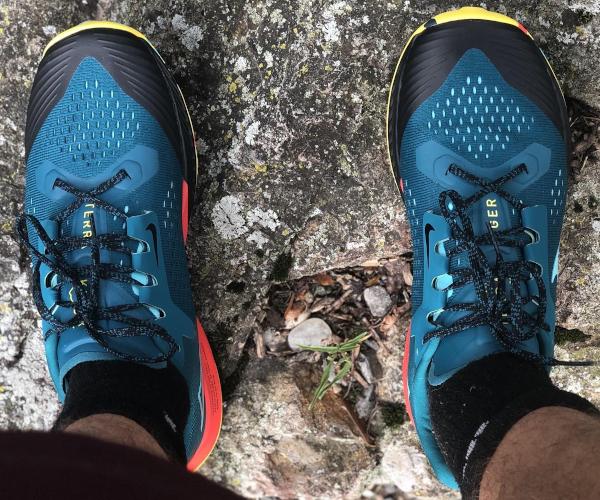 My feet tend to be slightly wider than a standard "D" fit, and just bit higher than a typical shoe. Nikes don't typically fit me for this reason, but I couldn't resist the design of this specific shoe.
Hitting the trail
The trails feel surprisingly similar to the road, which is a testament to the hybrid quality of this shoe. The lugs provide traction, but not in the same way a rugged trail-specific line of the shoe does.
As I start to cover some rockier ground, I can feel the pebbles beneath my feet. These shoes definitely feel protective. But, I still have a sonar-like sense of the earth beneath my feet.
I hit my first rocky ascent and enjoy the added traction the lugs give me.
Downhill
Downhill, these shoes still have traction. But, again, it doesn't give me the confidence that a pair of dedicated trail shoes ought to give me.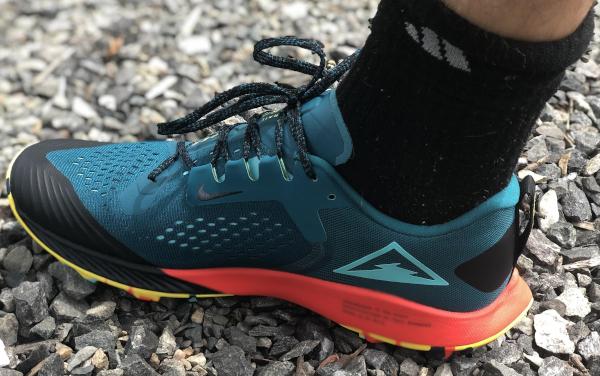 My foot wobbles a little as I hit a loose patch of pebbles on my descent. That said, these shoes fit snug and at no point do I feel that my ankles have nothing other than the best support.
Conclusions
These are really fun, incredibly stylish, trail shoes. I would even wear these around when I'm not running. Nike has a way of creating shoes with multi-level appeal, and these are no exception.
The support on trails is very good, but not quite great. This is fine considering that they're lightweight and perfect on roads as well. The final straw for me was the narrow fit and low toe box.
My toes pressed against the ceiling of these shoes from the beginning to the end. If I had narrower feet, I would love them. But I don't, so I'll look for a shoe with a roomier toe box.
If you like to run trails or have even thought about adding more trail runs to your running plan, you need to try the Nike Air Zoom Terra Kiger 5. This is a lightweight (9.9oz size 10), ridiculously comfortable shoe that handles all kinds of different surfaces.
The lightweight Nike Flymesh upper joins Nike React foam for a notably smooth and comfortable ride. If you like to run fast on a variety of surfaces, you are going to love the Terra Kiger 5.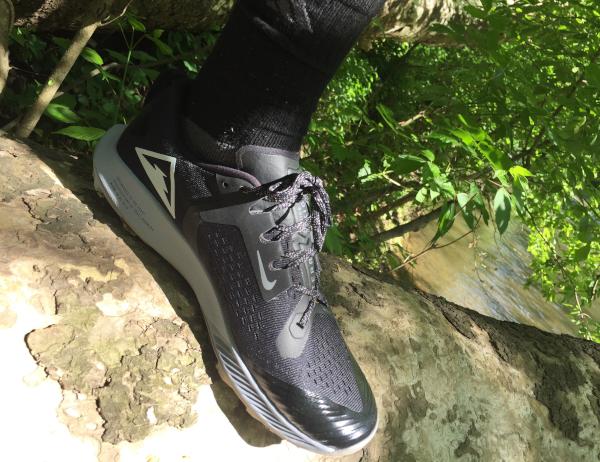 Quick background on myself
I am a distance track and cross country coach in Wilmington, Delaware, and I have run 4 half marathons. I am training for the Chicago Marathon and started adding more trail runs to my plan as I am doing more doubles to build up my weekly mileage.
I tried this shoe on in the running store I work at and immediately loved the fit. I ended up buying a pair of these as a reward for finishing up my track season!
If you can't tell already, I love these shoes. OK - back to subject at hand, the incredible Nike Terra Kiger 5.
Tech specs
The sticky rubber outside gives multi-directional traction on any surface you can throw at it. The triangular lug patterns can handle everything from crushed gravel to technical, rocky trails.
The sharp, crisp pattern of the multi-directional lugs creates a grippy and locked in running experience. The High-abrasion rubber heel in a rugged waffle pattern provides multi-surface traction and durability.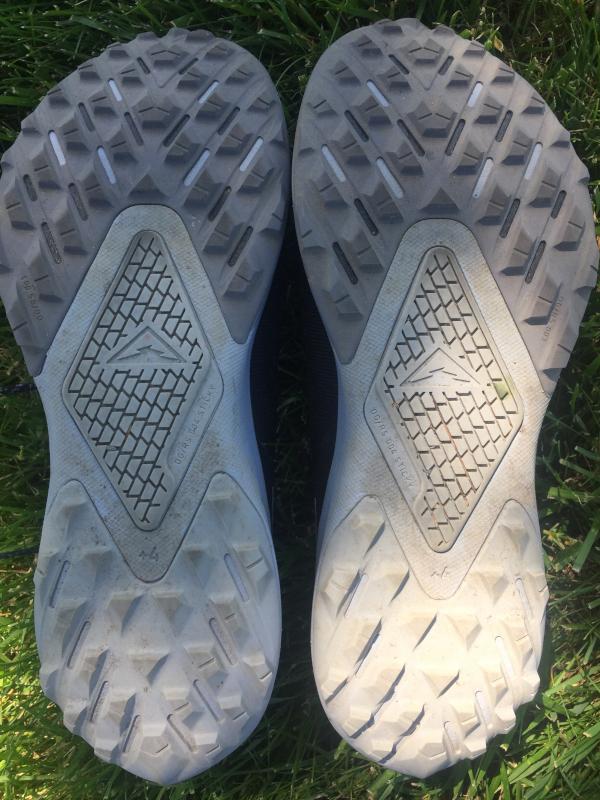 Bouncy ride for all surfaces
The Zoom Air unit in the heel provides plenty of cushion while remaining extremely responsive. The perforated mesh and synthetic upper drains water and optimizes breathability.
Sticky rubber pods on the outsole deliver wet-surface traction. There is even a segmented rock plate in the forefoot which helps shield your foot on rough terrain. If you live on the East Coast as I do, you will be very thankful for this.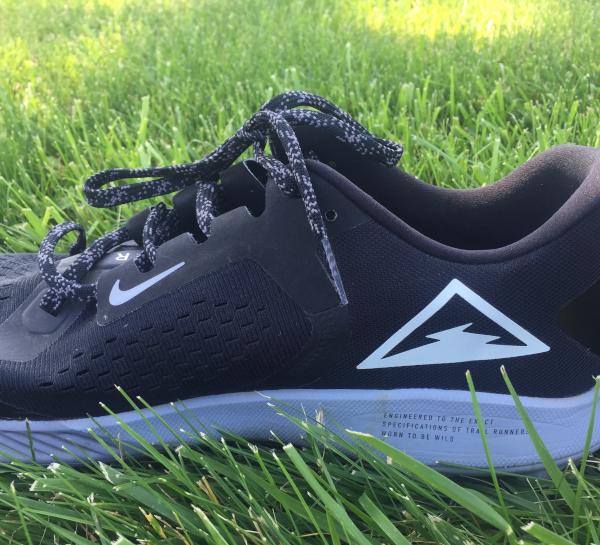 Racer-like fit
Surprisingly, the lacing system is one of my favorite parts about this shoe. The unique lacing system creates a locked in, sock-like fit.
The shoe feels like it disappears once fully laced and allows the ankles to bend and rotate naturally. The padded tongue helps relieve pressure on the forefoot while creating a snug racer like fit.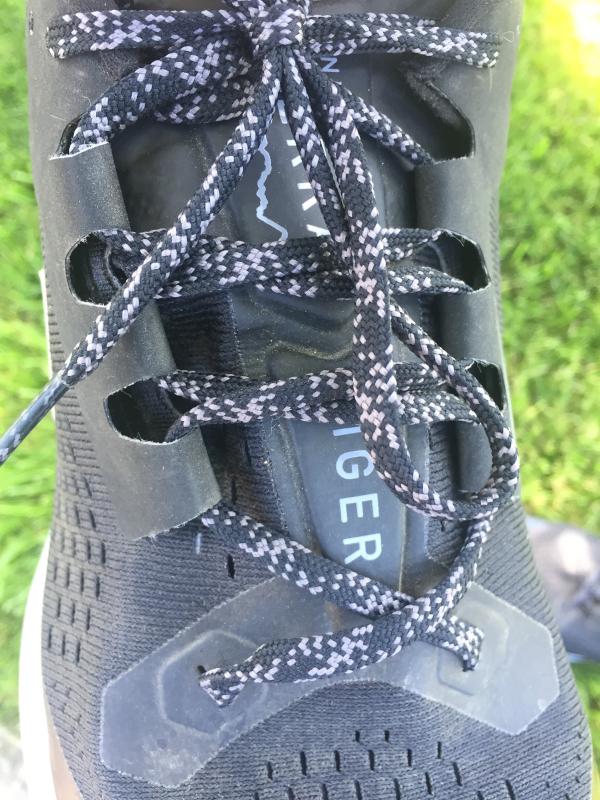 The tongue is thin; it actually reminds me of the NB 1400v7 racer. This is a shoe that is so comfortable I don't even want to take it off when I'm done on the trails.
Sizing
A couple of notes on sizing: at the running store I work at, Nike generally provides a "love it or hate it" fit. Meaning, the relatively narrow fit through the mid-foot works great for some, while being too narrow for others.
I normally wear a size 11 in my daily trainer (Brooks Ghost 11) and wear this shoe in size 11.5; with that said, I generally wear my trail shoes a half size up so I would say these fit true to size.
The toe-box is certainly adequate, and roomier than other trail shoes I have tried such as the Hoka Speedgoat 2. The toe-box is not as roomy as the Altra LonePeak 3.5 but provides ample room for the toes to splay naturally while moving downhill.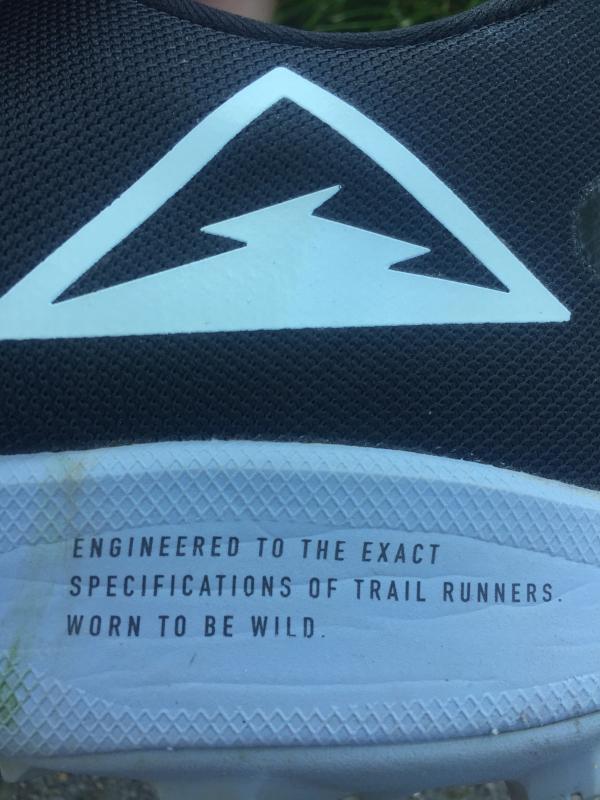 Final thoughts
Simply, this is my new favorite shoe! The Nike Terra Kiger 5 is so comfortable, lightweight, and bouncy that I find myself running trails more than I ever have before.
As someone who has run primarily on roads for the past few years, I am finding this transition to be incredibly enjoyable.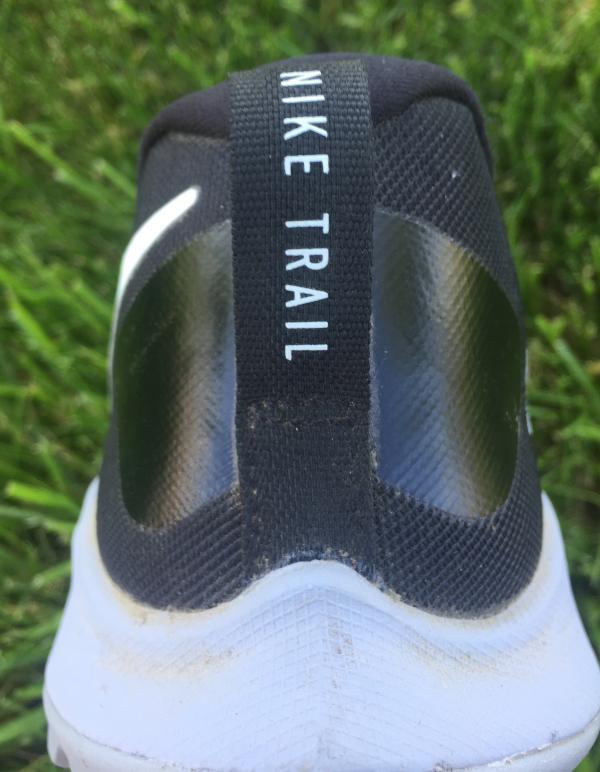 These shoes help me feel comfortable on all kinds of technical trails as a relatively new trail runner. To my road runner friends: give this shoe a try.
Listen to the sounds of the trail, and enjoy the crunchy sounds of your new Nike Terra Kiger 5. Next thing you know, you might just be an official trail runner. You won't regret it.
Highly recommend!
Good to know
The Nike Air Zoom Terra Kiger 5 features a completely new design and looks. It has been modified from the upper to the outer sole to give runners a more satisfying performance on the roads.
The shoe has a new seamless upper coverage that aims to deliver a smooth in-shoe feel without compromising breathability and durability.
Another significant update is the use of the Nike React foam. This midsole technology replaces the full-length Phylon foam used in the previous version. The React foam is designed to deliver a responsive and energized running experience.
A durable rock plate has also been used in the Nike Terra Kiger 5. It is placed in between the midsole and outsole to provide underfoot protection on rough running surfaces.
A sticky rubber pod is also placed in the midfoot for added traction. This rubber pod also delivers added durability to the outer sole.
In the outsole of the Nike Air Zoom Terra Kiger 5 is the high-abrasion rubber that is placed in the forefoot to the heel area. This rubber compound offers sturdiness and grip on varied trail running conditions.
The presence of the multi-directional lugs delivers impressive traction on both wet and dry surfaces. The lugs won't disappoint on uphill and downhill runs.
Aside from the fresher look of the outsole, the shoe also uses a sticky rubber pod which is strategically placed in the midfoot area. This material adds grip, especially on wet surfaces.
The Phylon foam has been replaced by the well-known Nike React foam. This midsole material offers a soft and long-lasting cushioning. It aims to give responsiveness and high-energy return throughout the gait. The React foam is also lightweight and efficiently absorbs shock during impact.
Along with the React foam is the notable Nike Zoom Air unit that is strategically placed in the heel section. The Zoom Air is composed of pressurized air pockets that further enhances underfoot cushioning without compromising flexibility and comfort.
A new addition to the midsole is the segmented rock plate. It offers added foot protection against sharp rocks and pointed trail debris. The rock plate does not affect flexibility and ground contact.
In the upper of the Nike Terra Kiger 5 is the new perforated mesh material in a seamless construction. This upper material gives the foot a breathable and flexible wrap. It is also designed to survive the harsh nature of the trail.
Along with the mesh are the skin overlays which are designed to deliver a comfortable and durable on-foot experience.
The lacing system of this Nike trail shoe is designed to give runners a snugger fit in the midfoot area. It also efficiently secures the foot while running.
The shoe also features the Dynamic Fit system which is meant to provide a comfortable and secure fit in the midfoot.
Rankings
How Nike Air Zoom Terra Kiger 5 ranks compared to all other shoes
Popularity
The current trend of Nike Air Zoom Terra Kiger 5.