Overall ranking lists
Similar ranking lists
A lightweight running shoe defined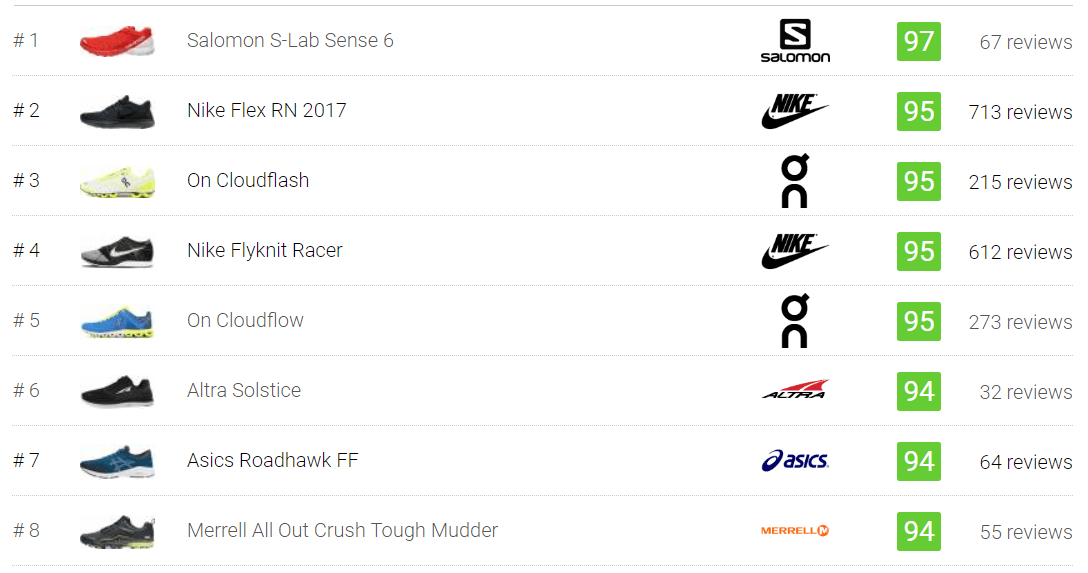 As the name implies, a lightweight running shoe is a type of footwear that has a significantly lesser weight compared to traditional running shoes. A lightweight running shoe could be built through various methods. Some running shoes have minimal bulk due to the elimination or reduction of specific structural components, while others make use of unique technologies.
Some running shoes are intentionally lightweight to serve a specific purpose. Primarily, these shoes are meant to promote a faster running speed or endurance to go longer distances. No matter the reason, lightweight running shoes certainly deliver a whole new experience that is unlike those with regular running shoes.
How to identify a lightweight running shoe
Running experts and enthusiasts alike have differing opinions on what qualifies as a lightweight running shoe. There is no official or standard weight that makes a running shoe "lightweight," but, generally speaking, any shoe that weighs less than 10 ounces (around 283 grams) is considered lightweight. Of course, specific factors are weighed in, such as the gender version or the size of the shoe.
While others might argue that a 2- or 3-ounce difference is hardly noticeable, the significance is felt by the runner once the shoe is worn. The effects of wearing a lightweight running shoe are also notable after using it.
Ultimately, the lightness of a running shoe is relative and will be determined by the user. The wearer's preferences and sensory experience come into play when considering what running shoe is lightweight.
Types of lightweight running shoes
A lightweight running shoe is designed to achieve varying objectives and to cater to different users. Listed below are a few kinds of lightning running shoes available in the market.
Racing shoes
Racing shoes are a type of lightweight running shoe that is typically flat. Regular running shoes have a substantial heel, which racing flats do not have. These shoes are designed as such to encourage runners to use their natural foot strength and proprioception to sprint.
The usual racing shoes have an offset ranging from 4 to 10 mm, and weight ranging from 2 to 8 ounces (approximately 70 to 230 grams). With its unique structure, these lightweight shoes are not recommended for beginner runners because the shoes have different areas of pressure, which might not be handled well by runners who are still lacking in leg and foot strength.
A perfect example of a racing shoe would be the Nike Zoom Vaporfly 4%, a uniquely designed footwear that allows the user to run 4% more efficiently compared to typical running shoes, a fact that is both scientifically tested by Nike and confirmed by numerous runners. At 186 grams (6.5 ounces), the Zoom Vaporfly 4% is definitely a lightweight running shoe. Many users admired the shoe for its smart design and for the unique sensation it brought.
Barefoot shoes
Runners may consider the barefoot shoes as the lightest of all lightweight running shoes. This is because the barefoot running shoe has almost to no cushioning underfoot, with the aim of giving a landing sensation that is just comparable to running on bare feet – while still covering the foot.
Runners may prefer to use barefoot shoes if they want to strengthen their foot, advance their running endurance or overall moving performance. Some of the barefoot shoes on the market are lightweight running footwear that is designed with toe pockets, targeting an improvement in balance and providing better ground feedback.
The Vibram FiveFingers V-Trail gives the runner a balance between proprioception and protection, which is even more important when running on trail surfaces. Wearers would be surprised at the level of security and stability provided by the shoe, considering its design and structure. Expert reviewers have recommended the Vibram FiveFingers V-Trail for beginner runners who would like to try and experience a barefoot running shoe. Weighing only 181 grams (6.4 ounces) and having a 7 mm stack height, the Vibram FiveFingers V-Trail brings a subtle amount of cushioning that does not take away the barefoot sensation.
Minimalist shoes
Some racing shoes also fall under the category of minimalist shoes, but not all minimalist shoes are for racing. In essence, a minimalist shoe can be considered as a hybrid of barefoot shoes and traditional running shoes. Compared to the traditional ones, these lightweight running shoes usually have less cushioning and thinner soles to allow more sensory contact of the foot to the ground. However, they are not the same as barefoot running shoes, since minimalist running shoes do not necessarily have zero cushioning.
Minimalist shoes are scientifically proven to enhance foot strength and arch function because of the minimal interference between the foot, and the ground demands more muscle work and more excellent use of the spring-like functions of the longitudinal arch.
With a stack height of just 3 mm, the Vivobarefoot Stealth II is one of the few shoes that manages to provide the closest-to-ground feel while maintaining a layer of protection underfoot. With its comfort and flexibility, this lightweight running shoe makes barefoot running a comfortable and enjoyable activity. Despite its small construction, the shoe boasts of an adequate foot environment that enables natural movement.
The target market for lightweight running shoes
If you have just started the search for lightweight running shoes, and you are unsure of whether a pair is for you, below are some of the suggested or intended users of the lightweight running footwear available in the market:
Running enthusiasts who are not professional athletes but want to feel a working experience that mimics race-day may go for lightweight running shoes with a zero or low heel-to-toe offset. With a lower drop compared to traditional running gear, these lightweight running shoes encourage a midfoot or a forefoot landing, which, in turn, gives a similar sensation to running in racing flats.
Competitive runners who are in training stage may opt for a lightweight running shoe that is not quite a full-blown racing flat. During training, racers require a durable shoe that is still lightweight, so that they can put in as much stress on the shoe without the worry of it breaking apart, but also providing the same in-shoe feel as their race-day shoe.
Meanwhile, those who run as often as competitive racers but are not in the professional level can still purchase their own lightweight running shoe. If you are continuously building up your running arsenal, a lightweight footwear for running is an excellent item to have as part of your gear. Not only will you have an extra shoe that you can use in rotation, but you will also be able to experience running in a range of footwear with varying constructions, features, and functionalities.
Runners who are lightweight themselves are the most compatible users of lightweight running shoes. Scientific research has shown that runners weighing more than 187 pounds (85 kilograms) are three times more likely to sustain injuries while wearing lightweight running shoes, as compared to lighter runners.
Factors to consider in finding lightweight running shoes for the road
If you have identified yourself as a runner who frequents the streets, and would like to purchase a lightweight running shoe, here are some aspects to ponder on beforehand:
Expertise level
If you are a beginner runner, it is not recommended that you get a low-drop shoe right away. Fortunately, there are lightweight running shoes on the market that are suitable for your build or your running skill. Likewise, if you are an expert runner or a professional athlete, there are shoes built ideally for you, which are also lightweight.
Pronation
There are running shoes intended for a specific type of pronation, and with lightweight running shoes, this factor is worth noting, as some of these footwears work more efficiently with neutral pronators only. Although there are lightweight athletic shoes for overpronators, they are not as common because of the idea that stability shoes need to have a firm, full-length cushioning.
Mileage
For those who aim for running longer distances, a lightweight running shoe is highly recommended. With minimal design and weight, these shoes enable the runner to keep a steady, speedy pace while also providing a comfortable in-shoe environment for the foot.
Factors to consider in finding lightweight running shoes for the trail
It is worth noting that lightweight running shoes for outdoors are also available. Despite the misconception that trail running shoes should be dense and clunky to be efficient, a lightweight footwear could also prove to be just as functional. The pointers above are only as relevant, but here are some more tips you can consider for the trails:
Terrain
An important aspect of trail running is correctly identifying and preparing for the terrain and surroundings you will be running on. You should base your lightweight running shoe purchase on whether the ground is rocky, muddy, wet, or sloping, as there is specific footwear that is ideal for each type of surface.
Fit
A good-fitting shoe is essential in trail running because you would want to keep your foot secure, in order to prevent injuries caused by slipping or sliding. Various lightweight running shoes are available in the market that are also endorsed as having a snug fit.
Protection
Most consumers in search of lightweight running shoes sometimes assume that minimalist also means minimal protection. Fortunately, there are trail running shoes that provide the necessary coverage and shield while remaining lightweight and flexible.
Advantages of lightweight running shoes
Less fatigue
Because of its featherweight, almost sheer quality, lightweight running shoes create less impact when interacting with the ground. Less impact would mean less stress on the foot, which, in turn, makes for a quicker recovery period. This benefit is essential for runners who are training for races or marathons and would need all the energy they can get.
More miles
Running in lightweight footwear also encourages going for longer distances because the shoe's weight allows for a more effortless stride and a faster turnover rate. Some lightweight running shoes also promote a smooth transition to give the runner a seamless, harmonious feel.
More natural gait
There are lightweight running shoes that are built with a low heel-to-toe drop, encouraging either a midfoot or a forefoot strike. Both running types result in a more natural gait cycle, in which the footstrike happens very lightly and closer to the ball of the foot. A natural gait cycle would mean better-utilized foot muscles and, therefore, more efficient running.
Stronger leg muscles
Over time, as your feet are further familiarized with the structure and sensation of a lightweight running shoe, certain areas such as the legs and core are strengthened. As the feet get a better grasp of the ground, the legs adjust to a more proper running stance.
More airflow
Lightweight running shoes permit better ventilation, compared to other running shoes that are more cumbersome. Factors such as fewer materials used, thinner sole construction all contribute to better airflow in and around the shoe. With a more breathable in-shoe environment, moisture and odor are controlled, and foot hygiene is boosted.
Disadvantages of lightweight running shoes
Requires adjustment period
Especially if you are used to cushioned or maximalist shoes, introducing lightweight running shoes into your gear needs ample time for adjustment, so that your feet get familiarized with the fit and feel of a shoe with a different structure. Some runners might experience sore muscles in their feet, calves, and Achilles during the transition period of using lightweight running shoes.
Risk of injury
Switching to minimalist shoes may pose a threat of harm to some runners, especially those who have biomechanical issues or are experiencing muscle imbalance. Aside from that, changing your footwear abruptly without a proper transition period increases the hazard of tendonitis or metatarsal fractures. Runners who have not introduced lightweight running shoes in their routine slowly and gradually risk developing bone marrow edema in their feet.
Another injury-causing factor of some lightweight running shoes is the lack of protective components. With the aim of minimizing bulk and weight, protection and coverage are compromised, which tend to cause discomfort while running.
Not for everyone
Considering the physical stress and adjustments associated with transitioning to a new footwear, a lightweight running shoe may not be ideal for some individuals. Minimalist shoes require a certain level of flexibility, strength, and body awareness, and for people who have not yet fully developed these traits, it is advised that they hold off using lightweight running shoes until they are physically ready for them.
Some examples of lightweight running shoes
With today's shoe technologies and construction techniques, it has been easy for most running shoe manufacturers to create lightweight running shoes. If you are selective towards a brand of running shoe, then you may check out the list below (ranked in no particular order) to see if your preferred brand offers lightweight running shoes.
Lightweight running shoes for men
Lightweight running shoes for women
Frequently asked questions
What is the lightest running shoe on the market?
For perspective, the most lightweight running shoe with a traditional design (e.g., not considering barefoot running shoes) that was ever released was the Nike Flyknit Racer in 2012, which weighed at 5.6 ounces (160 grams) for a size 9 shoe. Its upper was a one-piece structure that weighed only 1.2 ounces (32 grams). The Nike Flyknit Racer was well-received by runners for its precise fit, durable materials, and comfortable experience.
The record holder for the lightest running shoe presently available on the market is the Adidas Adizero Sub 2. Weighing approximately the same as the Nike Flyknit Racer, the Adizero Sub 2 is the current most lightweight running shoe available for purchase. The shoe features a new, significantly lighter version of their proprietary boost™ midsole, as well as a single-layer ultra-thin upper.
Will I be able to wear my lightweight running shoe with a sock?
The answer depends on the type of lightweight running shoe you have. Most racing shoes, low-drop shoes, and other minimalist running shoes could accommodate your foot even when you wear a sock. On the other hand, barefoot running shoes provide the best experience if you wear them without socks, although there are unique socks that are designed primarily for barefoot running shoes.
Can I use my lightweight running shoe for walking?
Yes. In fact, runners who are transitioning from fully-cushioned shoes to lightweight, minimalist shoes are recommended to use them first in walking around the house or while doing errands. This technique helps the user adjust to the new sensation brought by wearing a lightweight running shoe. It also helps prevent injuries that might result from running in shoes that the feet have not acclimated to yet.
Do lightweight running shoes have a shorter lifespan?
It is a common misconception that lightweight running shoes are not as durable as traditional running shoes because of their flimsy appearance and minimal structure, but such is not the case at all. In fact, because lightweight running shoes are sometimes intended for specific purposes, such as races, they are made to withstand the stresses that they may possibly encounter. With that said, lightweight running shoes do not have a shorter lifespan than other running shoes. They will last just the same as your regular running pair, when treated well and cared for correctly.
How do I care for my lightweight running shoe?
To maximize the usefulness of your lightweight running shoe, you should observe proper care and maintenance steps. Below is a list of some guidelines to help you make your lightweight running footwear last longer and to help them give you the most enjoyable running experience possible:
Use them properly. Lightweight running shoes could fall under various categories. It can be a racing flat, a daily runner, or a trail running shoe. No matter what type, your lightweight footwear should only be worn for its intended purpose. Using and abusing your pair will lead to it getting worn out quicker than expected.
Clean them properly. If you need to clean your lightweight running shoes, the washing machine and clothes dryer should both be avoided, as the shoes have delicate materials that could possibly be damaged by the machines. You can clean the shoes by hand using a scrub brush, mild soap, and cold water.
Put them on and off correctly. Because of the featherweight quality and the minimalistic design of lightweight running shoes, you might be drawn to wearing or taking them off in a rush. Forcing your foot in and out of the shoe without undoing the laces tends to bend the collar, tongue, and other parts of the upper. These actions might lead to unnecessary stress on the shoe's stitching and glue that hold the components together.
Dry them properly. Getting shoes wet is an inevitable part of the running experience, especially if you frequent the trails. If your lightweight running shoes get wet, it is advisable to let them air dry instead of placing them on direct heat, which might damage the structure. Before leaving the shoes to dry, take out the sockliner and the laces first to let them dry separately. You may also put crumpled newspapers inside the shoe to speed up the drying process by absorbing the moisture.
Store them properly. With lightweight running shoes, you are at an advantage because their compact structure takes up less space than the usual pair. Still, it is a valuable idea that you give your shoes a cool and dry spot when not in use so that they can air out appropriately.
Use more than one pair. One reason that running shoes get worn out quicker is being used more frequently than is ideal. This factor is especially real with lightweight running shoes because they have thinner soles and fewer materials compared to regular running shoes. If you are a long-distance runner, or if you run every day, it is recommended that you rotate two or more pairs to let each one "rest," or dry and decompress in between your activities.
Final Note
Lightweight running shoes provide a whole new experience that entails a boost in agility, speed, and adrenaline. Wearing a footwear that is lighter than traditional running shoes allows the runner to be less dependent on running gear while encouraging them to activate and use dormant muscles around the foot, ankle, calves, and hamstrings. The result is a fast and efficient run even with the least amount of support.
With the extensive range of running shoes on the market today, it may be difficult to accurately determine what qualifies as a lightweight running footwear. Although there are no standards regarding weight or other structural components, running shoes also consider the gender and size before being categorized as a lightweight running shoe. What makes them remarkable are the effects they bring to the user and the differences they make in the running experience.
The lightweight running shoe category can be further classified as either racing shoes, minimalist shoes, or barefoot shoes. Each of these types delivers a unique performance and offer different functions and benefits.
Lightweight running shoes are not recommended for everybody. Although it is meant to be a fun and functional addition to your running arsenal, if you are not compatible with them, lightweight running shoes might end up doing you more harm than good. Thus, it is important to know right away if this type of footwear is for you.
Before you purchase your lightweight running shoe, it should first and foremost be clear where you will be using the pair. For road running shoes, you may want to consider your expertise level, pronation, and mileage, while trail running lists terrain, fit, and protection as essential considerations.
Like any other footwear, lightweight running shoes have their pros and cons. As a smart consumer, you must consider first both sides before committing to a purchase. It is also advisable to research information about the products and check out the reviews from buyers and experts before making your decision.
Once you get your pair of lightweight running shoes, it is vital that you take all the necessary steps associated with caring for and using them correctly. Not only will this prolong the lifespan of your shoes, but it will also give you the optimum performance because they are at their best.
This shoe has recently been added to RunRepeat. There are still not enough reviews for us to assign it a
Corescore
.
Corescore
A score from 1 to 100 that summarizes opinions from users and experts. The average Corescore is 78.
More...