157 best lightweight running shoes
Updated May 2018
Based on 21,628 reviews
Loading please wait...
What is a lightweight running shoe?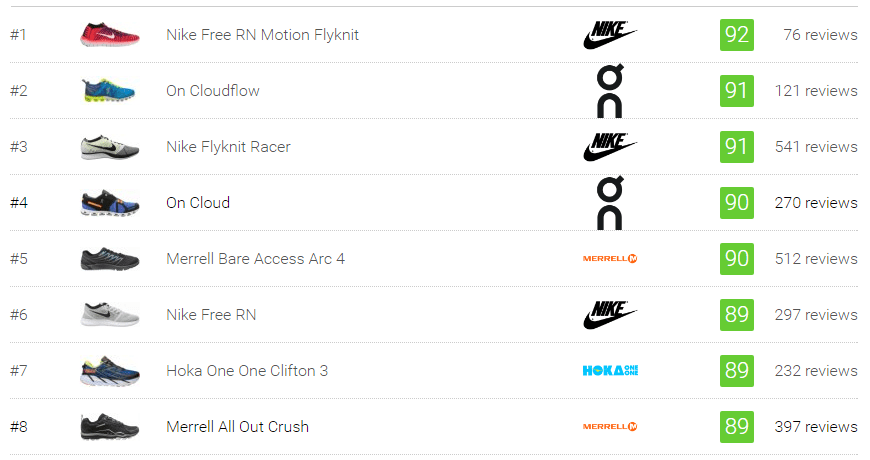 By definition alone, it is a shoe that should encourage the runner to go fast while still able to pile on considerable mileage. It normally bridges the gap between traditional trainers and racing flats or the purely minimalist shoes.
These shoes are also referred or mentioned as such:
Elite runners often use lightweight shoes with decent cushioning to prepare for races as they can go at a fast clip without really punishing their body before race day comes. The added bit of foam in the midsole helps soften the impact when going for long distance runs.
These running shoes are by no means limited as trainers or as transition shoes. More and more runners, especially long distance enthusiasts, do their racing in them instead of racing flats.
Is there an "official" weight where one can call a running shoe as light?
Most experts have different opinions about how "light" is light for a shoe to be considered as lightweight.
Depending on size and gender, the shoe may vary from 6.5 to 10.5 ounces or roughly 184 grams to 298 grams.
Additionally, the numbers do not always tell the full tale. Almost any recreational runner (more so with elite runners) can tell that the shoe surprisingly runs lighter than what the numbers indicate on the scale.
In some sense, it is the runner's call when considering his or her preference for this type of shoe.
What are the types of lightweight shoes in the market today?
The advancements in material and technology have allowed shoe manufacturers to cater to the needs of different runners under the lightweight category.
Some of these type of shoes are built with thin soles or less cushioning while there are those with more than adequate cushioning that are still sub 10.5 ounces or 298 grams.
Who needs what with these two types of lightweight running shoes?
The variety of options means that runners have a well-supplied market that can accommodate their specific needs. It means that:
Thinly-soled running shoes – preferred by those who want to mimic the feel of race day running.
Well-cushioned running shoes – preferred by runners who train for ultra-marathons or marathons.
In most cases, serious runners have a deep arsenal where they both have less cushioned and adequately cushioned shoes. The variety helps strengthen different sets of muscles and keeps the body from injuries associated with over repetition.
Is it true that additional weight drags down the runner?
Logically, this is very true. And, studies have shown that what is sensible can also be proven through hard facts. Tests done by researchers point out that runners who run in shoes that weigh at least two ounces more than their competitors significantly lagged behind.
This is particularly more evident during half or full marathons as the shoe (because of the continuous poundings and subsequent loss of form) feels heavier with time and distance. One can also test their heart rates and see the difference when running in heavier shoes.
When it requires less energy and effort to run a specific distance, the runner is not as beat up. Hence, recovering from such runs should be a little easier.
Is there a specific brand that produces the best light shoes?
Most of the major brands have a wide selection of feather-like shoes for runners to choose from. As the running community is trending towards lightweight shoes, as opposed to full-blown minimalist and the traditional trainers, the market has never been more favourable to the runner.
Is there a period of adjustment required when switching from built-up traditional trainers to lightweight shoes?
Runners switching to a lower drop lightweight shoe from the normal heel differential of traditional trainers may need to adjust a bit. The muscles and biomechanics have to be retrained after years of traditional trainers.
Moving from a 12mm heel differential to a 4mm drop necessitates sensible caution. Normally, experts would recommend an adjustment period of 2 to 4 weeks. The key is to keep it easy and short, both in time and distance, to avoid possible injuries.
A helpful tip for any kind of change is to wear the shoe around the house or when running errands. It helps the neuromuscular system and the feet to adjust to the lighter structure and feel of the new running shoe.
If the shift entails no more than 2mm difference in heel drop, the change or adjustment period should not take too long or require serious effort from the runner.
For those who maintain the same kind of drop, but a far lighter shoe than previously utilized, the adjustment may come from how the upper moves with the foot or how flexible the shoe is.
Shoes of this kind generally have less overall upper support and more flexible than traditional trainers, so this could also mean a bit of familiarization.
Are lightweight shoes for the efficient or neutral runner only?
Over pronators, supinators, and biomechanically inefficient runners also have their deep assortment of options with this kind of shoe.
The innovations in running technology have made it possible for shoe brands to cater to the needs of all types of runners.
That being said, most of these shoes are a little less structured than the usual traditional trainer, which is why runners may have to acclimatize themselves fully before doing races or doing their usual routines.
Do trail runners get their fair share of options?
Trail-specific shoes are normally more built-up than their road counterparts to provide better durability, support, and protection when running on rugged and uneven terrain. However trail shoes under the 10.5 ounce limit are also in abundance.
What is the best lightweight shoe?
The best agile, nimble, and feather-like shoe is one that suits the needs of the specific runner.
Whether it is for the trails, the road, for someone who rolls inward or outward, or a runner with less than ideal gait, there is always a chance of finding the best lightweight shoe.
This shoe has recently been added to RunRepeat. There are still not enough reviews for us to assign it a
Corescore
.
Corescore
A score from 1 to 100 that summarizes opinions from users and experts. The average Corescore is 78.
More...