7 Best Lightweight Running Shoes in 2023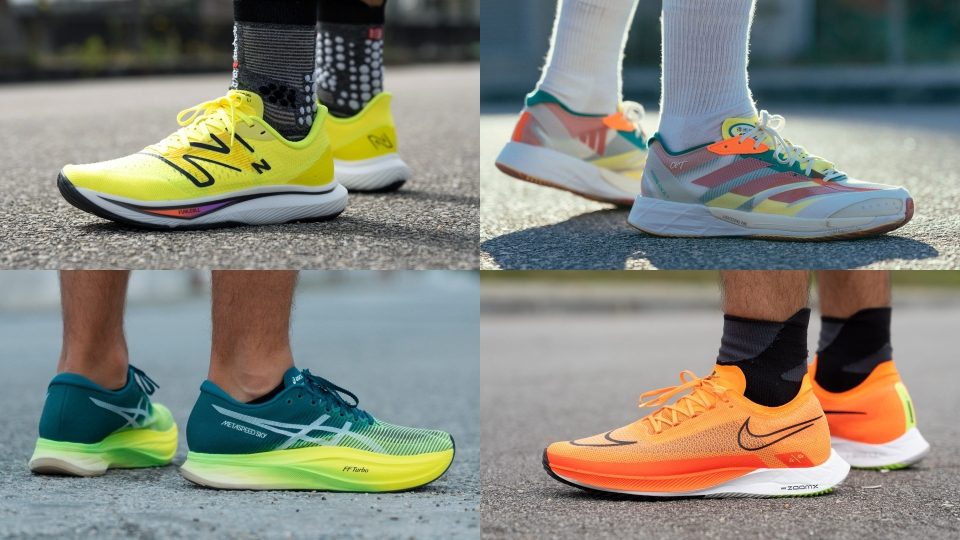 We earn affiliate commissions at no extra cost to you when you buy through us. Why trust us
With lightweight running shoes, you want to feel like you're not wearing any shoes but still get the needed protection and support. Be it a daily workhorse, a racing flat, or a minimalist trainer, we gathered the best to help you achieve your personal bests.
We have tested over 100 light running shoes, so we know what makes a truly outstanding option.
Since the meaning of 'lightweight' varies depending on the category (a light daily trainer could mean a heavy race shoe), we have selected our top picks in different categories.
Comparison of the 7 best lightweight running shoes
| | | | | | | | | |
| --- | --- | --- | --- | --- | --- | --- | --- | --- |
| Best | | | | | | | | |
| CoreScore | | | | | | | | |
| Users rating | | | | | | | | |
| Experts | | | | | | | | |
| Best price | | | | | | | | |
| Ranking | | | | | | | | |
| Popularity | | | | | | | | |
| # of colorways | | | | | | | | |
What makes a lightweight running shoe
How light is "lightweight"? You can't really put a finger on it as it depends on the category:
light racing flat: 3.5 to 5.5 oz (100 to 155 g)
light daily trainer: 8 to 9 oz (230 to 250 g)
Rule of thumb: the shorter the distance, the lighter the shoe.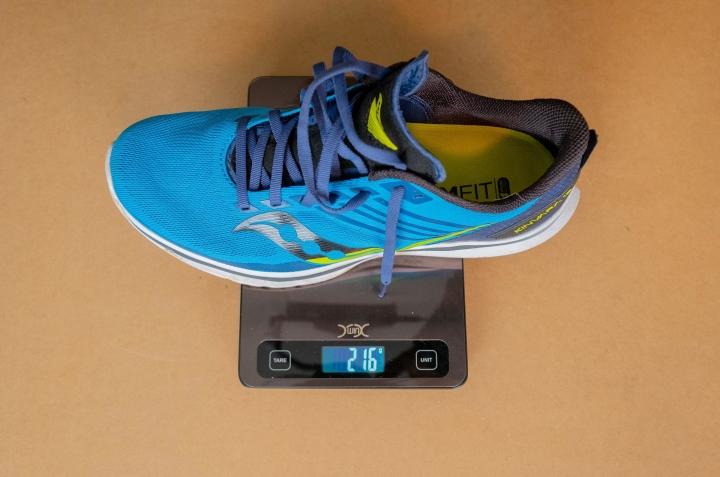 Saucony Kinvara is among the lightest daily running shoes (7.6 oz / 216 g)
Associated with a slightly higher running economy and speed benefits [sources: 1, 2], lightweight running shoes do help you feel more nimble.
But lighter may not always mean better. With reduced weight, there may come a trade-off in cushioning, support, durability, or price. In addition, the type of running, terrain, and runner's body also dictate the appropriate weight range of shoes.
Learn more in our in-depth research on shoe weight and how it affects speed and comfort.
Types of lightweight running shoes for every activity
The primary factors to consider when choosing a pair of running shoes are the speed and distance of your runs.
Daily running / training

speed: easy to moderate

distance: up to a marathon

weight: 6.5 to 9 oz (185 to 255 g)

durability: 5/5

cushioning: 5/5

comfort: 5/5
See a full list of lightweight daily running shoes
Competition / race day

speed: moderate to fast

distance: up to a marathon

weight: 3.5 to 9 oz (100 to 250 g)

durability: 3/5

cushioning: 3/5

comfort: 3/5
Trail running
speed: easy to fast

distance: up to a marathon

weight: 6 to 9 oz (185 to 250 g)

durability: 3/5

cushioning: 3/5

comfort: 3/5
NOTE: Lightweight trail shoes also lack the protection of average-weight trail shoes (i.e. rock plates, durable overlays, gaiters, etc.). This is all in favor of shedding weight to increase speed.
See lightweight trail running shoes
Barefoot-like running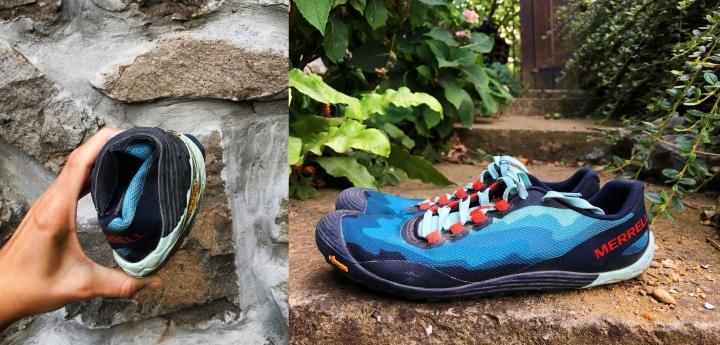 speed: easy to moderate

distance: up to a marathon

weight: 4 to 7 oz (115 to 200 g)

durability: 3/5

cushioning: 1/5

comfort: 1/5
See barefoot/minimalist running shoes
Why beginners should think twice before buying lightweight running shoes
Unnecessary bells and whistles. Premium race shoes are equipped with cutting-edge technologies like propulsion plates (made of carbon or nylon), rocker soles, etc. These not only hit hard on the wallet but are also likely to malfunction for entry-level runners. They only work with forefoot striking and faster speeds.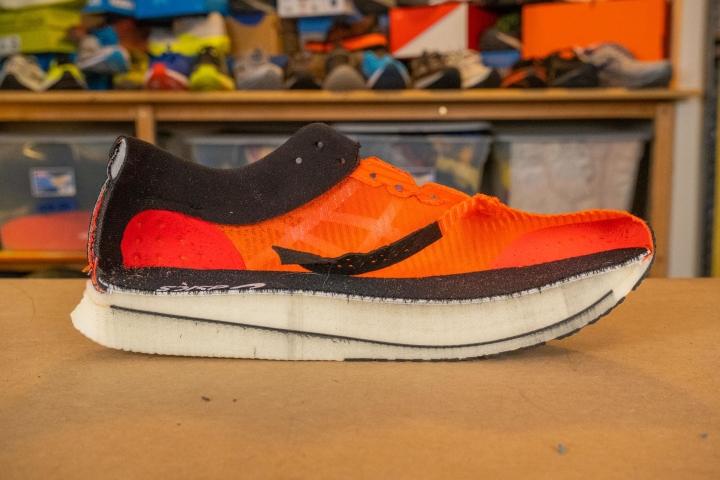 The black line going through the white midsole is the carbon-fiber plate on the ASICS MetaSpeed Sky. The upturned forefoot, or rocker, means that the shoe rolls forward like a rocking chair.
Too little support. Paper-thin racing flats and minimalist shoes require an adaptation period especially if you are used to generously cushioned footwear.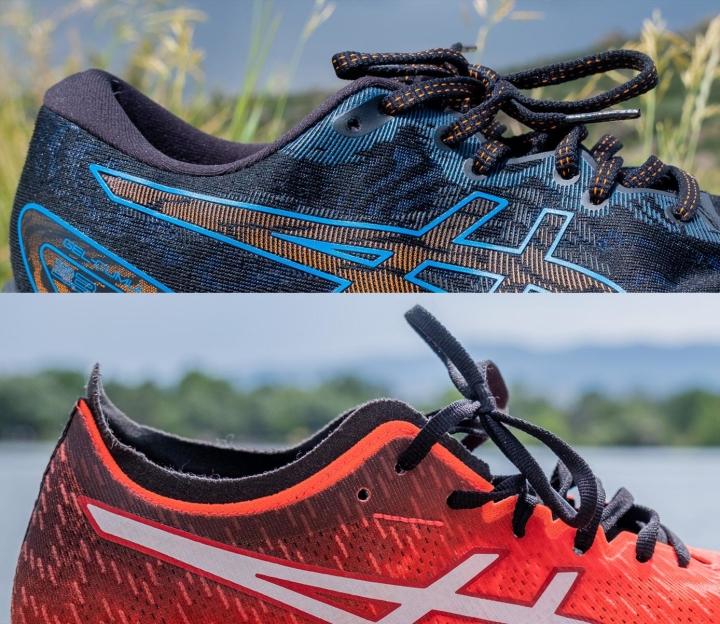 Tongue and collar padding on regular trainers (top) vs. on light racing shoes (bottom)
Higher injury risk. Injuries are inevitable and you might come to a point (especially if you read "Born to run") that you want the lightest shoe out there. Maybe even the minimalist or barefoot one. But runners should keep in mind that while there are some injuries that would benefit from lighter shoes (especially hip injuries), they should not overdo it. And if they decide to move to less supported/cushioned shoes, always start slowly.
Find out if lighter running shoes will work well for your body in the section below.
Lightweight running shoes and your body needs
It surely feels good to be light and free with nothing dragging your feet down.
But it feels just as good when your feet and body receive the needed amount of comfort and support. Here are a few things to be mindful of:
Pronation: do you need additional support and stability?
Your weight: how much cushioning and impact protection do you need?
Wide feet: is there enough space to accommodate your toes?
Plantar fasciitis and other foot conditions: how not to aggravate these?
Pronation
Most lightweight running shoes are designed with the minimum amount of materials and technologies and are suitable for neutral pronation.
But if you've ever noticed your ankle rolling inwards more than it feels right or if your shoes wear out faster on the inner side, chances are that you have overpronation. In this case, it's better to get a light shoe with stability components.
You can also learn more about pronation in our in-depth guide on the topic.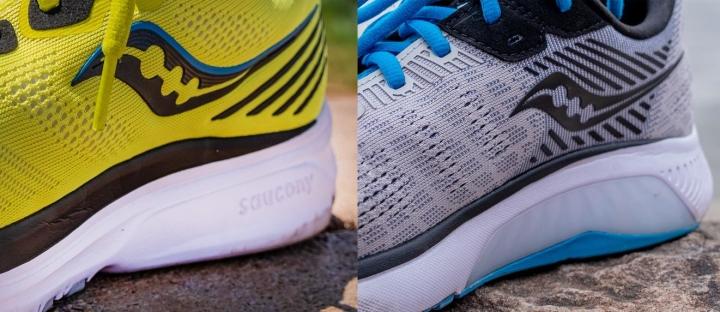 neutral shoe (no added support) vs. stability shoe (comes with arch support on the inner side)
Your weight
Runners over 90 kg (250 lbs) should be careful about choosing lightweight, minimally cushioned running shoes. As the pressure on the feet increases, you want to make sure there is enough underfoot and side support to keep you comfortable.
So, it is advisable to choose footwear with a thicker and firmer midsole or have a look at the more generously cushioned shoes for heavy runners.
Foot width
If you suspect that your toes or feet overall need a little more room to have fun and wiggle, consider lightweight shoes with a more accommodating fit:
Wide (2E) width running shoes
Plantar fasciitis and other foot conditions
Lightweight running shoes are typically not recommended for people with severe plantar fasciitis or other painful conditions. These cases require shoes with ample cushioning, stability, and support to prevent aggravation.
Although none of the shoes from this ranking is recommended, you can have a look at our special selection for plantar fasciitis. The lightest shoes in this category start from 9 oz (255 g).
How we test running shoes
Any shoe that's available on the market and weighs less than 250 grams (8.8 oz) in a men's US size 9 makes it to our selection of light running shoes. Numbering 100+ models from 30 brands, including Nike, ASICS, Adidas, and more, we take each shoe through a thorough serious testing process:
We buy running shoes with our own funds to prevent bias.
We take each shoe on a series of runs with a total distance of 30-50 miles to provide in-depth feedback on its performance.
We use our RunRepeat lab to measure 30+ data points and evaluate each shoe's cushioning, flexibility, breathability, and more. We even chop up the shoes.