In summary, the Nike Metcon 5 is a solid trainer that will be effective for a variety of workouts that fall under the "cross-training" category. The shoe's high price will probably make it most suitable for dedicated athletes or those involved in such structured programs as CrossFit.
Pros
Exceptionally stable
Fits true to size
Secure foothold
Wide toebox
Sufficient cushioning for jumps
Solid grip
Adequate outsole flexibility
No break-in period
Durable
Very breathable
Contemporary style
Cons
A bit pricey for newbies and occasional users
Overly bulky insole
Nike Metcon 5 review
The Nike Metcon 5 is a versatile training shoe that can be used for moderate to high-intensity workouts. The shoe supports the foot through weightlifting workouts and interval or circuit training. It is competitive with other CrossFit-friendly shoe models such as the Reebok CrossFit Nano line.
Who should buy the cross-trainer
The shoe is recommended for:
experienced, dedicated athletes who need lots of lateral stability and support
those who want a stylish cross-training shoe
Who should NOT buy it
Consider other models if you are looking for an affordable training shoe for occasional workouts (in this case, consider the Nike Legend and Nike Renew).
How I tested the Nike Metcon 5
Here is a detailed look at the activities on which I tested my pair of Nike Metcon 5. I perform at least some of the following exercises, on a rotating basis, during my workouts:
Lower body: Kettlebell squats, bodyweight squats, kettlebell swings, hip raises, weighted or unweighted lunges, wall-sits, jump-squats, and deadlifts.
Upper body: Chest press, shoulder raises/overheads, lat pulls, bicep curls, pull-ups, farmer's carry, kettlebell shoulder raises.
Full body: Jumping jacks, burpees, push-ups, planks, ab-roller, medicine-ball crunches.
The Nike Metcon 5 offers solid support
Given that the Nike Metcon 5 is a training and not a running shoe, I am mainly concerned with the stability that the shoe provides rather than its cushioning or bounceback. The Nike Metcon 5 does indeed feel exceptionally stable. This stability allows my feet to feel firmly grounded for everything from deadlifts to shoulder raises.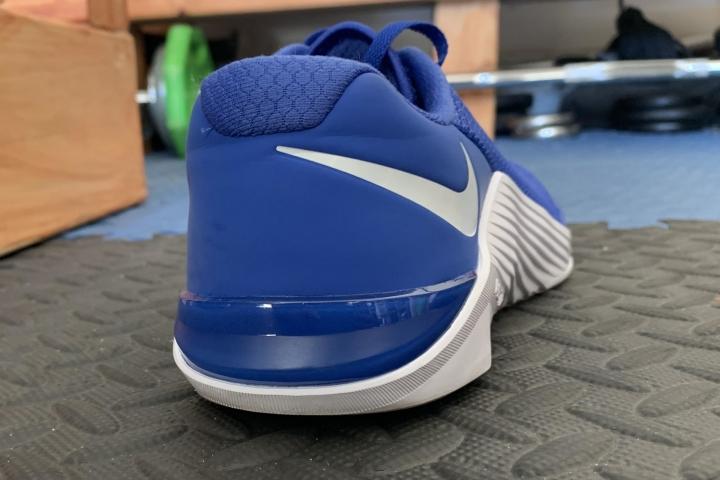 The heel area of the Nike Metcon 5 is low, wide, and flat, with a firm heel cup and a slightly triangular outsole design that secures the feet.
Great cushioning for all types of training
This Nike trainer provides sufficient cushioning for activities like jumping jacks, jump squats, or burpees.
The Nike Metcon 5 fits true to size
The Nike Metcon 5 appears true to size. I am a standard 9/9.5 (medium width) on a Brannock device, and the Nike Metcon 5 fits just as I would expect in a 9.5.
Provides stable and secure lockdown
The lacing cage provides a secure lock-down, aided by rubber bumpers that extend up the side of the shoe to provide excellent lateral support. The fit of this shoe is exactly as I would have hoped and expected for a cross-training shoe.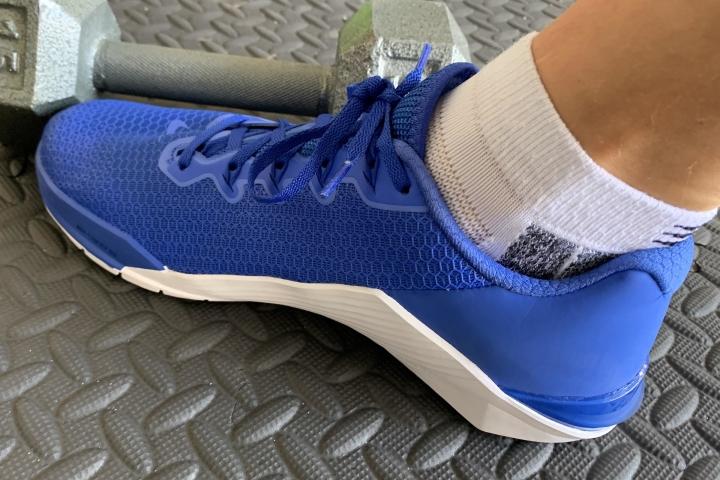 Wide toebox
The toebox of the Nike Metcon 5 is built with a bit of extra width to promote toe splay while lifting. This feature does indeed help with stability. I also have noticed that the heel cup secures my feet to prevent any unwanted movement within the shoe.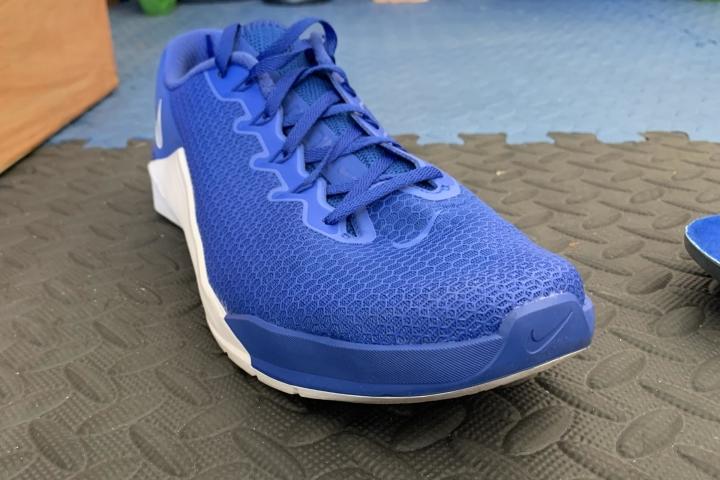 The thick and bulky insole is not for everyone
My initial comfort issue with this shoe concerned the factory insole that was included standard in the Nike Metcon 5. The insole is extremely thick and bulky, pushing my heels too high in the shoe for me to feel stable. The shape of the insole places pressure on my heels, causing some pain in my midfoot area. I am guessing that the insole is designed to provide extra cushioning in this model.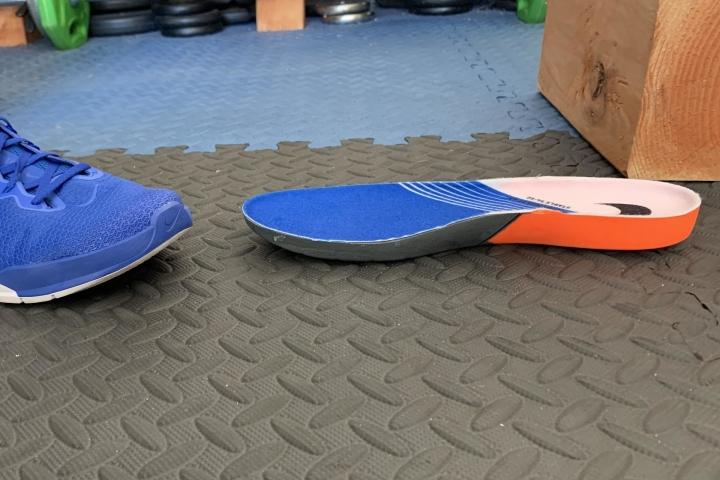 The design of the insole is not very contoured to the natural shape of the foot. I would have preferred a deeper heel cup and raised arch rather than a sloped foam wedge. Fortunately, it was simple for me to remove the factory insole and replace it with my podiatrist-prescribed orthotics. After that, the Nike Metcon 5 became exceptionally comfortable!
The Metcon 5 required no break-in period
The Nike Metcon 5 needed no adaptation once I added my doctor-prescribed orthotic insoles. The shoe is ready for a workout from minute one. There were no parts of the shoe that needed to "wear in" for greater comfort.
Feels nice and light
The Nike Metcon 5, weighing 13.2 oz (375g), does not seem overly heavy for a cross-trainer. Unlike traditional bulky trainers from the 1980s and 1990s, the Metcon is a sleek and light model that won't weigh you down. The Nike Metcon 5 is anything but a brick.
The shoe works much better for most types of workouts than, for example, a more traditional trainer like the Nike Monarch IV.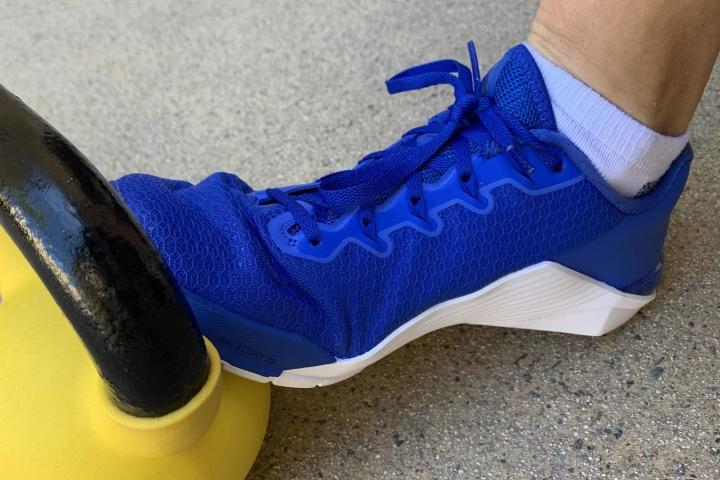 The Nike Metcon 5 is durable
Although I have only owned the Nike Metcon 5 for a month, the shoe held up very well so far and appears durable. The materials have not come unstitched despite some challenging workouts. The outsoles are not worn down even though some of my workouts have taken place on rough pavement. I expect that the Nike Metcon 5 will last me for quite some time.
Provides a solid grip
Admittedly, I don't do rope climbing as part of my workouts! But for my purposes, the sole of the Nike Metcon 5 appears just grippy enough to add to the feeling of stability in the shoe. At no point did I feel like I might slip and fall in this footwear.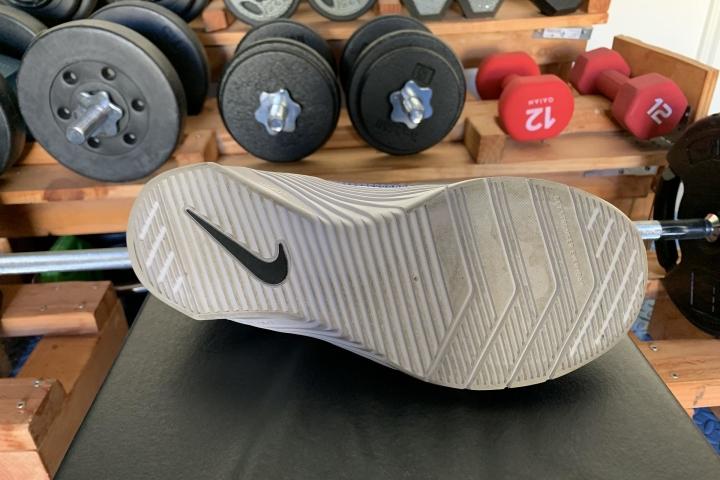 Adequate outsole flexibility
The outsoles also flex and bend just the right amount to allow my feet to feel close to the ground, which is critical for squats and deadlifts.
Very breathable
The Nike Metcon 5 is a very breathable shoe, with a perforated synthetic upper covering most of the foot. My feet never felt overheated during even the most intense workouts.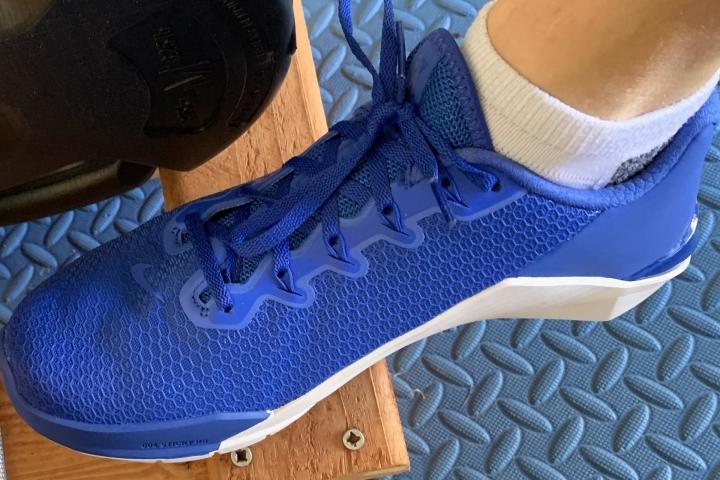 The Nike Metcon 5 is pricey for beginners
At $130, the Nike Metcon 5 seems to be priced to appeal to people who consider themselves to be dedicated athletes. Although the shoe's performance features are solid, and it is very versatile, plenty of very good training shoes exist at far lower prices. Given the high price of the shoe, I would probably recommend the Metcon 5 for those for whom training is a regular event.
People just starting up with a training routine would be better advised to start with cheap training shoes and then move to this higher-priced model if the routine sticks.
Sleek, modern style
The style of the Nike Metcon 5 is similar to other CrossFit trainers like the Reebok CrossFit Nano. The shoe is sleek, with a low profile and flatter sole. I imagine that it would be popular in CrossFit gyms and weight rooms. The shoe is a far cry from the bulky leather cross-trainers of old. It looks very contemporary.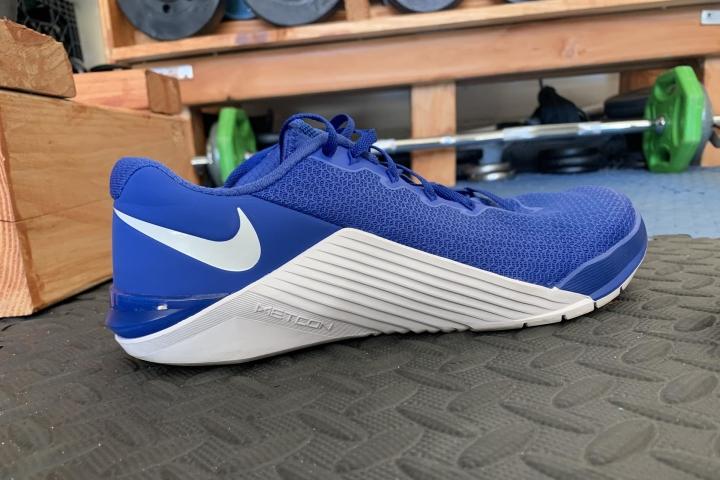 Comes with heel wedges for certain workouts
One additional feature of the Nike Metcon 5 is a pair of orange heel wedges that are included with the shoe. These wedges can be inserted under the insole to raise the heel for certain types of heavier lifts like back squats, or dynamic exercises like wall-ball.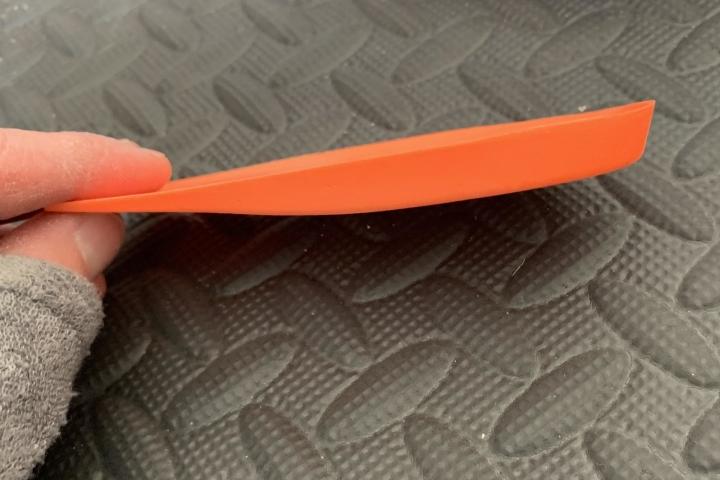 I did not test this feature because I prefer a flat platform for lifting. However, for those who like a raised platform, the inclusion of the heel wedges is a nice feature that adds to the shoe's versatility.
Conclusion
For those of us who train regularly, the Nike Metcon 5 offers great training-specific features that can help optimize our workouts. I most enjoyed the low, flat heel and solid grippy outsole. I always felt stable and grounded through everything from lifting to jumping. I very much recommend the Nike Metcon 5 if you plan to train more than a few times per week.