We highly appreciate the Nano X3 trainer because of its versatility: it can seamlessly transition from lifting to cardiovascular exercises. It's also stylish and comfortable enough to be worn in non-training contexts. Getting this shoe means having multiple shoes for the price of just one.
Pros
Awesome fit
Extremely comfortable upper
Cloud-like cushioning
Good stability for moderate lifting
Nice bounce for jumps
Great for rope climbing
Scene-stealing appearance
Cons
Break-in needed
Heavier than average
Not for heavier weightlifting
Who should buy the Reebok Nano X3
The 13th shoe from the Reebok Nano line is a good match for the following people:
athletes with versatile workout regimens
practical folks looking for trainers that they can also wear out and about
fashion-savvy fitness enthusiasts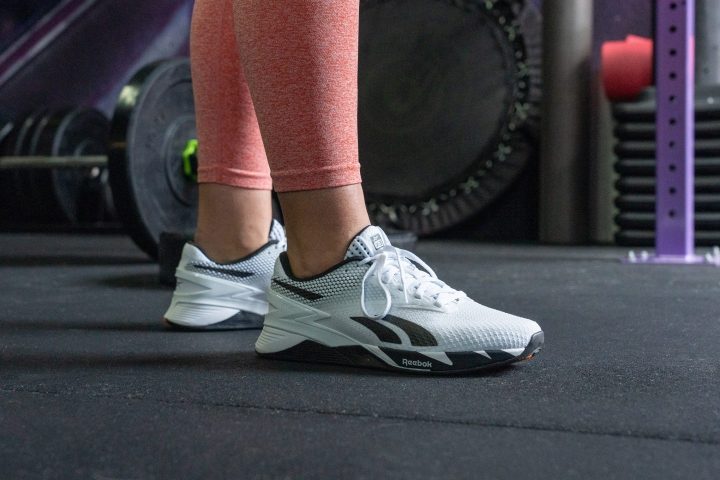 Who should NOT buy this training shoe from Reebok
The Nano X3 is among the heaviest training shoes we've ever tested. If you prefer something light and nimble on your feet, consider the NOBULL Trainer of the Nike Free Metcon 4 instead.
While it's stable enough for light to moderate lifting, the Reebok Nano X3 is still not the best pick for Olympic-style cleans and jerks. The Reebok Legacy Lifter II is a better shoe for such demands.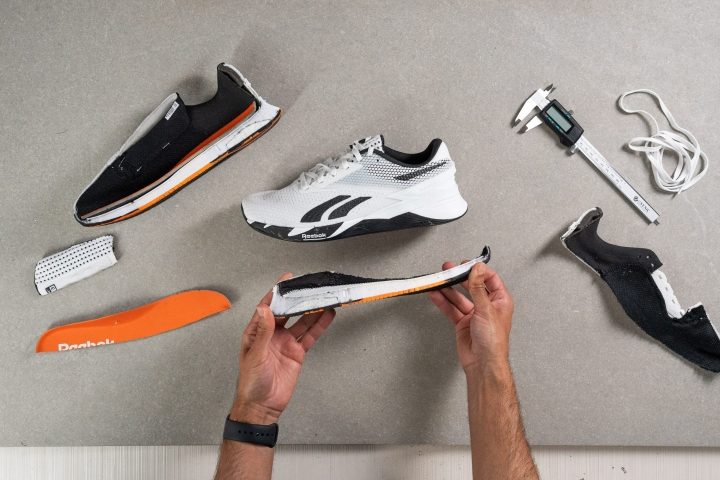 The Reebok Nano X3: A good all-around trainer
We found that this training shoe is an excellent choice because it satisfactorily delivers everything most gym-goers need: from a stable base and comfortable footbed up to a comfortable upper and nice-looking skin.
Fits great
We love just how the Nano X3 wraps around our feet.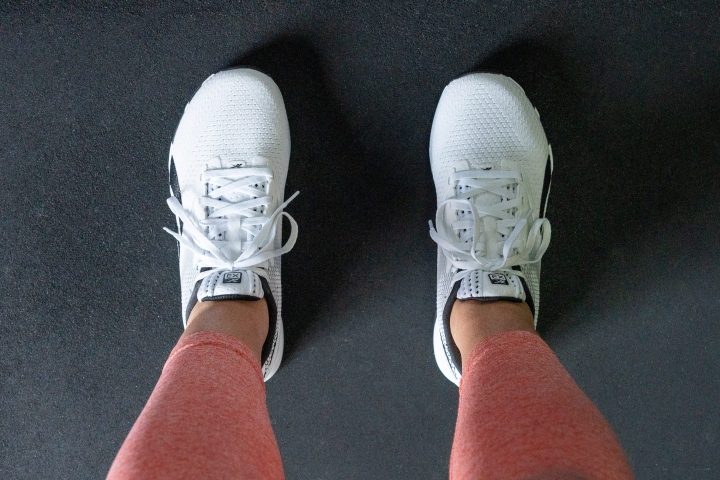 This fits awesome and it's one of the best-fitting Nano we have put on our feet. With this, we suggest new buyers just go for their usual Reebok sizes and they are already good to go.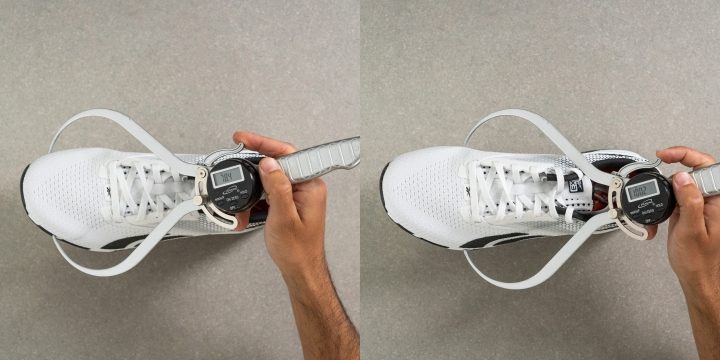 Looking at the shoe's toebox space, it remains consistently wide, just like the Nano X2, which is a few millimeters wider than average.
It's comfort like no other
The main reasons why we feel like we had a greatly comfortable experience in this shoe are its soft footbed, breathable upper material, and nice-feeling inner sleeve.
Hot gyms won't be a problem for this Nano - it is indeed a highly breathable shoe! The shoe passed our smoke test with flying colors, receiving a solid 4 out of 5 (where 5 is the most breathable).
This may come as a surprise because, at first glance, the upper on this Reebok shoe doesn't seem so transparent.
Add in lush cushioning, too!
We commend the shoe's underfoot support. We didn't feel any pain even after wearing this shoe for a whole day at work or fitness training.
We thought that the Reebok Nano X3 is also a good partner for short high-power sprints. Not only does it provide a great spring back, but it also provides enough cushioning that allows us to feel incredible underfoot.
This is thanks to the generous amount of cushioning and its relatively soft nature.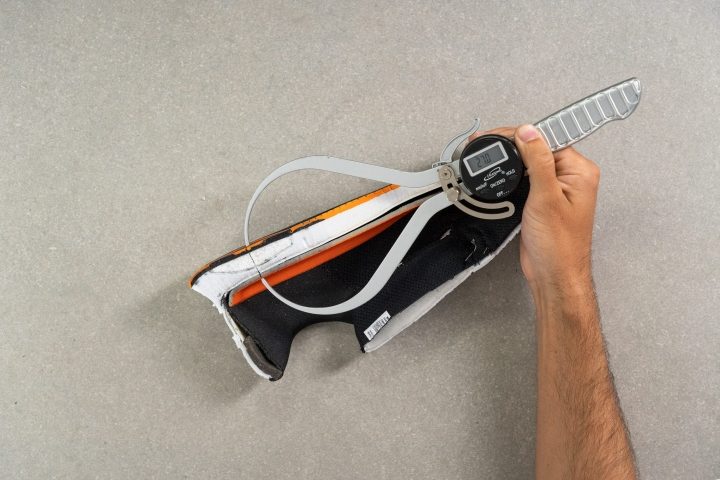 We used a pair of calipers to measure the heel and forefoot thickness. There is 27 mm of stack in the heel, which is thicker than the average 24.7 mm. And in the forefoot (19.4 mm), it is fairly average.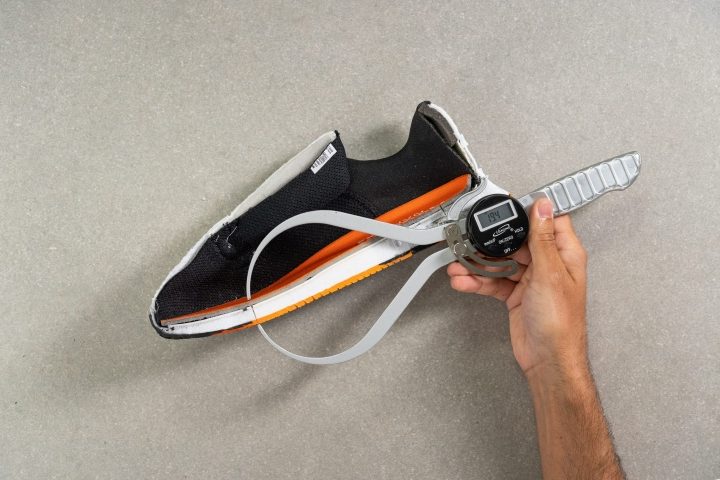 Disclaimer: We always include the insole in our stack measurements. In the Reebok Nano X3, it is 4 mm thick.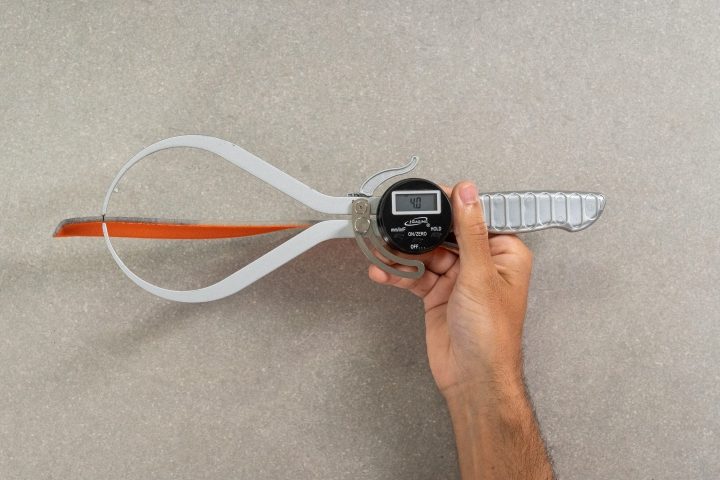 The difference in height gives us a heel-to-toe drop of 7.6 mm. This is almost true to what the brand states on the official product page - 7 mm.
But it's not just the thickness itself. The Nano X3 turns out to be plusher than its cross-training counterparts.
We are talking 33% softer than average in the heel!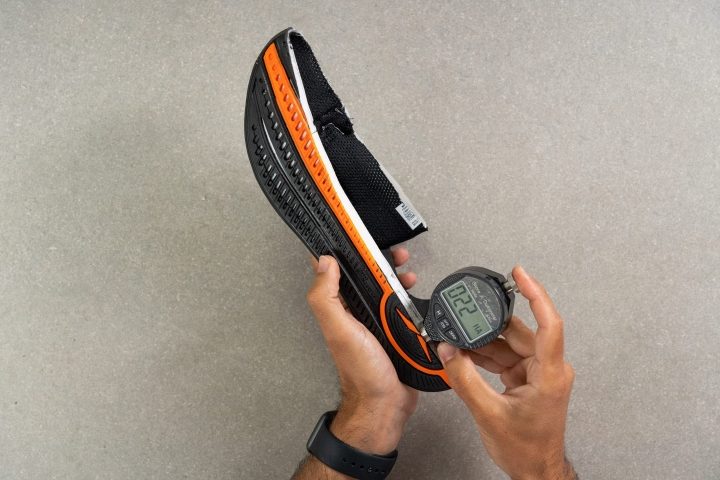 Disclaimer: We take four measurements with the durometer and then calculate the average. The photo above shows just one of these measurements.
However, in the forefoot, the foam is actually firmer than average by 5%. This is curious because normally, cross-trainers are firmer in the heel and softer in the forefoot.
But looking inside the shoe's cushioning unit, you can see a different type of foam under the heel. It looks like a distant relative of the Adidas Boost.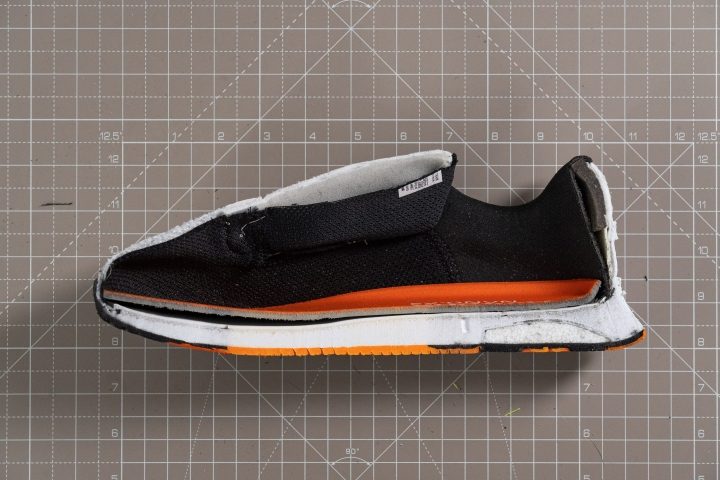 Break-in is needed, though
It must be noted here that the shoe's full comfort potential is only experienced after a break-in period, which fortunately we found not long even though it was very stiff on day 1.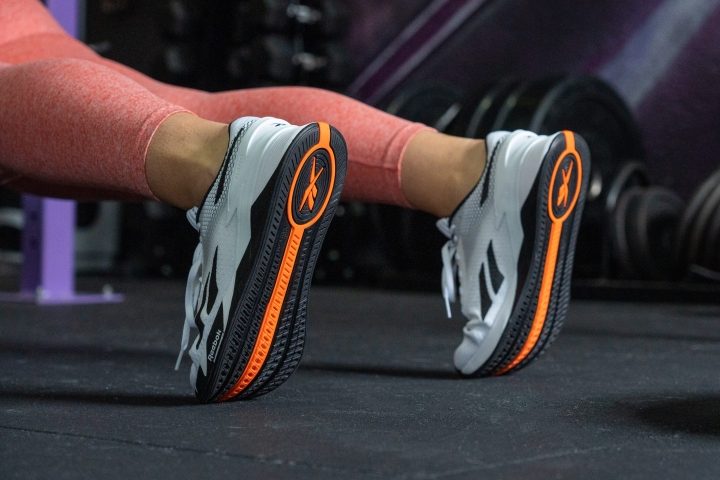 Quite bendy once broken in
The photo above makes it look like the Nano X3 is stiff af. However, once broken in, this Reebok shoe offers a pretty good level of flex for lunges, burpees, and the like.
Trying to bend and twist the shoe, it feels moderately flexible. On a 1-5 scale where 5 is the stiffest, we rated its longitudinal flexibility as 2 out of 5 and its torsional flex as 3 out of 5.
Bending the shoe forward to a 90-degree angle, we actually found it to be more flexible than training shoes on average. The resistance gauge shows 15% less resistance in the Nano X3 (=bends more easily).
Disclaimer: We repeat the gauge measurement four times and note down the average. The video shows just one of the measurements.
Bounce and stability? Get them both from the Nano X3
We are happy that an innovation added by Reebok works as it should: ensure stability for lifting without compromising its capacity for energy returns. We noticed that wobbliness when lifting is avoided and that box jumps and other verticals are sufficiently fueled.
Notice how much effort it takes to shift the ankle even slightly in the Reebok Nano X3.
In addition. the shoe's got a fairly stiff heel counter. It definitely plays its part in securing the heel and ankle in place. We rated it as 4 out of 5, where 5 is the stiffest.
Good for lifting, but only up to a certain extent
While the Reebok Nano X3 does a pretty good job with dumbells and plates, it still falls short when it comes to more serious lifting, especially in instances where the weights have to be brought overhead.
Rope climbs, anyone?
Just like its predecessor the Nano X2, we realized that the X3 is also an OK pick for rope climbing. The outsole is textured enough that it provides the necessary grip for this quite challenging exercise.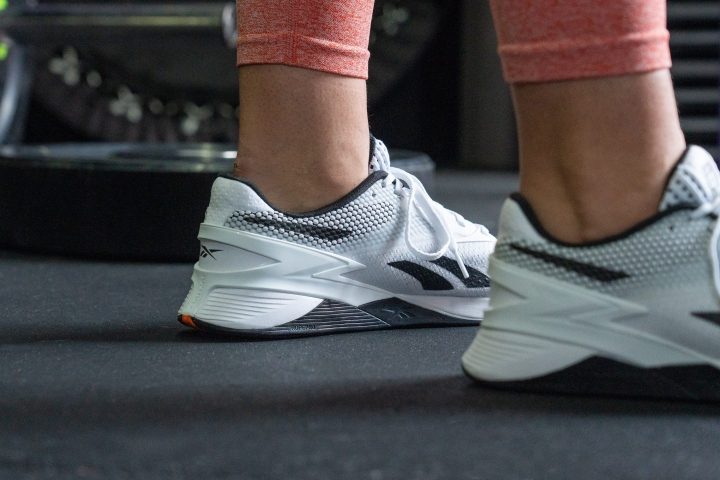 You might as well forget about burning holes in your upper when sliding down the rope. Just like its predecessors, the Nano X3 features an incredibly wear-resistant upper material.
We went as far as putting a Dremel against the fabric for 12 seconds at 10000 RMP speed. And look! Compared to a typical mesh upper, the knit of the Nano X3 has stood up to the test.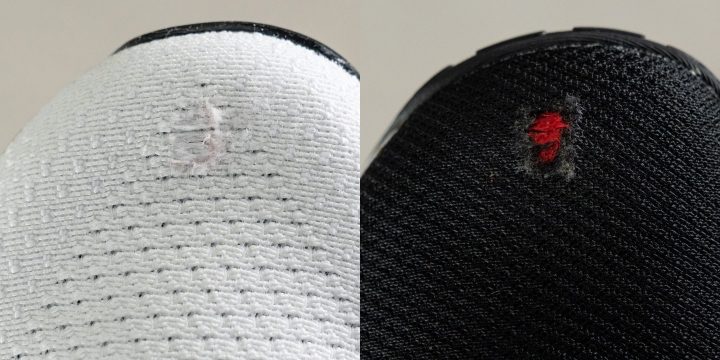 Reebok Nano X3 (left) vs. Reebok Nano X1 (right)
Taking a close-up shot of the fabric under the microscope, you can see how incredibly tight-woven the threads are.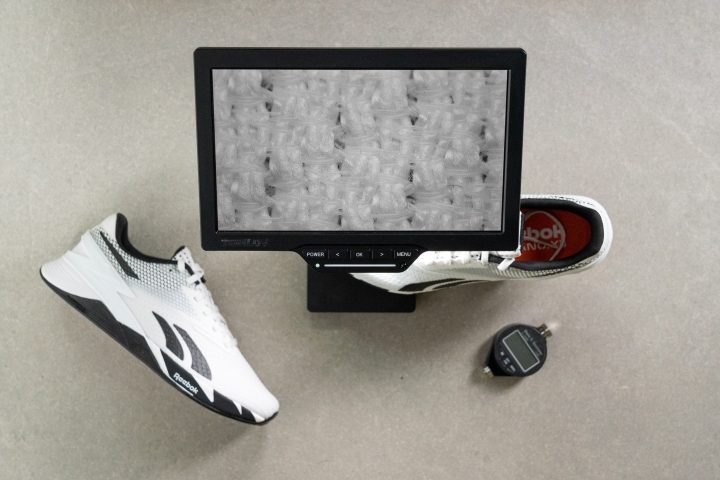 The grip on gym floors is great, too!
If a shoe has the power to bite ropes well, then you can just imagine how strong its grip on gym floors is! Its bite on different types of floor materials is what we appreciated in the Reebok Nano X3.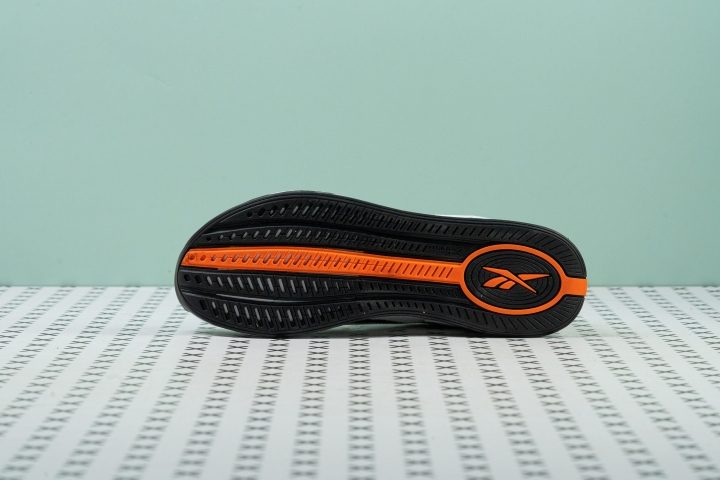 Interesting that instead of protruding lugs, Reebok went for the "suction-cup" effect.
Wondering how durable it is? It is one of the most long-lasting outsoles on the market for sure.
We measured the outsole thickness of the Nano X3 at 4.6 mm, whereas the average is 3.9 mm. It is as thick as some of the trail shoes out there!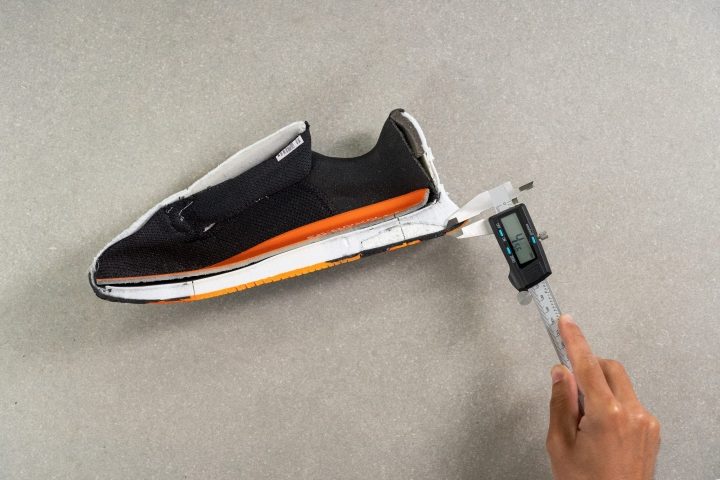 Heavy in performance, also in weight
When it comes to weight, the Reebok Nano X3 is quite a stunner, too. At 352 grams, this one is a lot heavier than average, which is only at around 312 grams.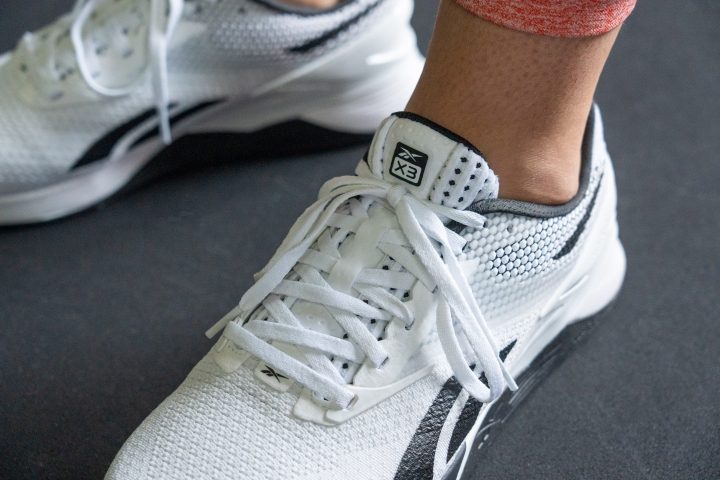 The shoe got notably heavier than the preceding Nano X2 (307g) and the Nano X1 (312g).
Reebok Nano X3: Mean and strong
We found this training shoe really awesome because it looks both durable and aggressive. Given this, it is safe to say that this shoe is quite a scene-stealing presence and is definitely not for those who want a more streamlined and subdued look.