The Nano X1 lives up to the level of quality we expected from the Nano series but strays away from its predecessors' Crossfit-centeredness. Reebok now describes it as the shoe for "ultimate fitness." We found that it is great for people who love to train hard and don't want to be limited by just one type of workout.
Pros
Versatile, less Crossfit-specific
Upper hugs the foot
Lighter than Nike Metcons
Cushioned for short runs
Great traction on gym floors
Secure lockdown
Plenty of toe space
Very breathable
Stylish for casual wear
Cons
Collar rubs the heel
Tongue slides a bit
Not the best for weightlifting
Who should buy the Reebok Nano X1
The Nano X1 is THE ultimate cross-trainer from Reebok. Get it if you:
want that top-notch, premium trainer from one of the leading fitness brands
need a shoe that can handle all of your daily workouts
value style and want your gym footwear to double for casual use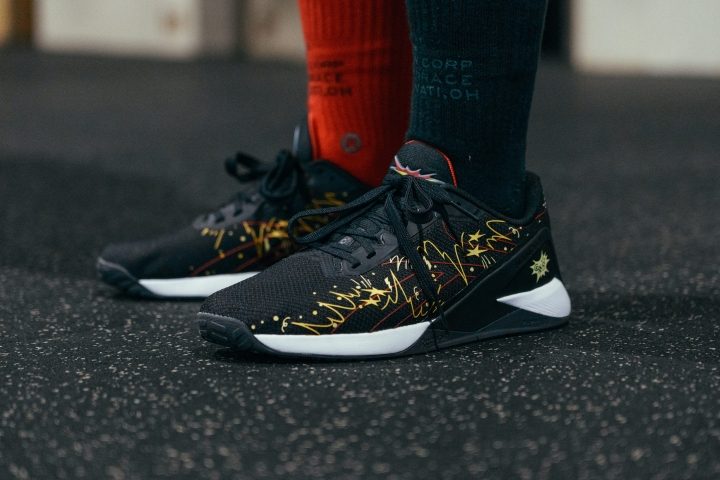 Who should NOT buy the trainer
If you aren't aiming for a high-class option and want a more reasonably priced yet well-performing gym shoe, consider the Nike Air Max Alpha Trainer 5 or Nike Legend Essential 2.
The shoe's flexibility is not the best for more serious weightlifting. It feels like it wants to rock you forward. For heavy lifting, see Reebok's dedicated lifting shoes.
And if you aren't fixated on the brand, we have nitpicked the best 10 cross-trainers from nearly 300 options to help you find the right match.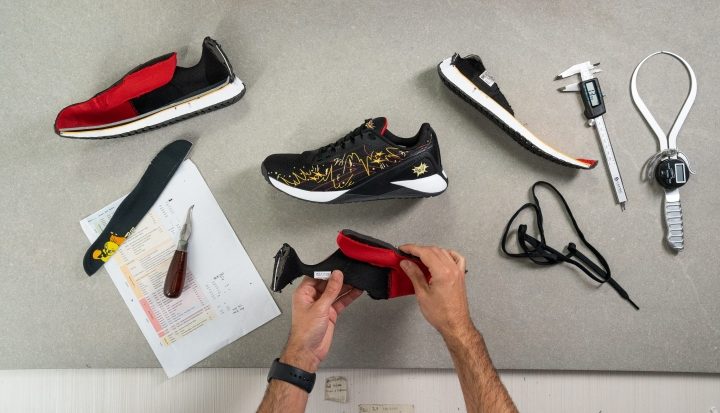 Reebok Nano X1 vs. Nano X
Here are the key updates in the Nano X1:
It is no longer marketed as a CrossFit shoe but is meant for more versatile use.
It is significantly lighter (12 oz) compared to the Nano X (14 oz).
The brand says that the heel drop is increased from 4 to 7 mm to give more heel cushioning for jumping. However, based on our measurements, the heel-to-toe drop even got as high as 8.8 mm.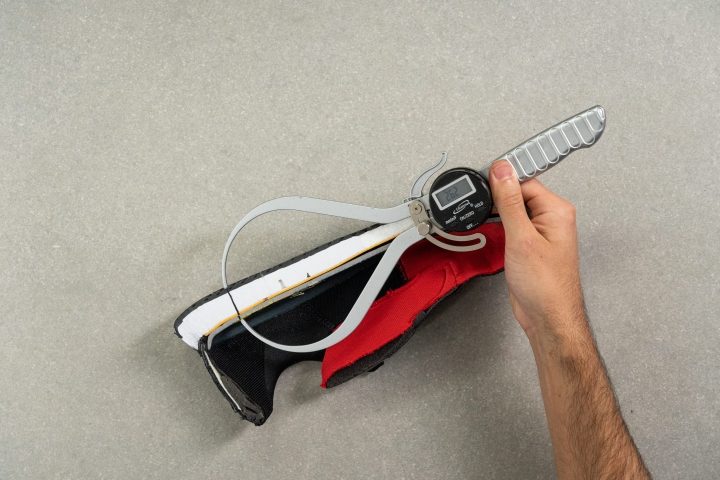 Running-oriented Floatride Energy Foam makes the shoe more running-friendly. In fact, we discovered that the cushioning foam of this Reebok Nano is 10% softer than the average for training shoes.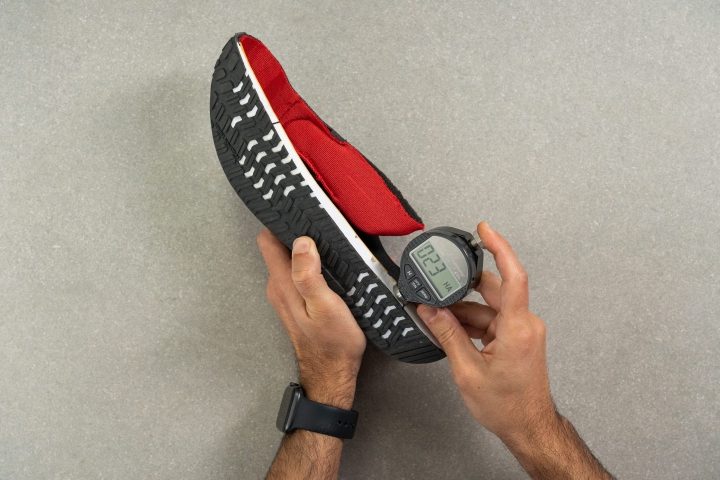 Functional all around
Our minds are blown by the shoe's all-around functionality. It is efficient for WODs that involve cardio, strength training, and running.
From sprints to burpees and squats to split jumps, we found that the Reebok Nano X1 is a monster when it comes to comfort, lightness, support, and versatile functionality. It builds on the company's decade-long successful Nano collection.
Breathable through and through
The knit mesh upper on the Reebok Nano X1 keeps our feet blissfully refreshed even during the most intense training sessions. Hot gyms are not a problem for this ultra-breathable trainer.
The transparency test below is able to visualize the most breathable parts of the upper.
This is very surprising given the shoe's generously padded 8.8 mm thick tongue.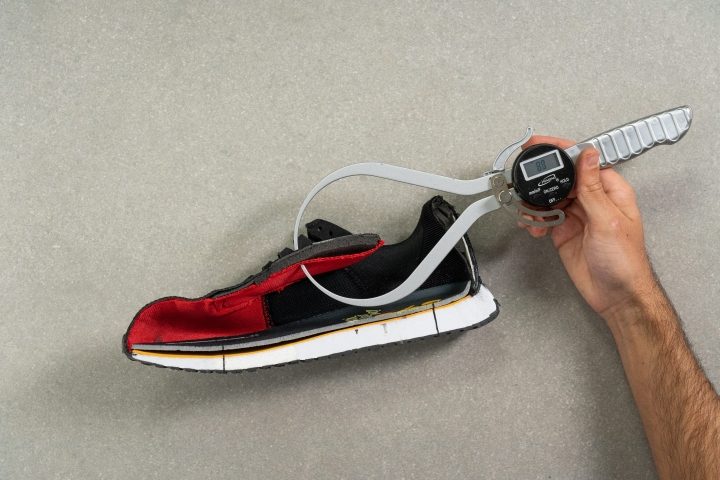 Short runs are also made possible with this Reebok trainer
We observed that compared to most training shoes, we could run a couple of miles in this shoe and feel great after. That is thanks to the use of the same foam that is employed in Reebok running shoes.
Reebok Nano X1 moves away from a solid lifting shoe
With its softer foam, higher heel drop, and narrower platform, we do not recommend the X1 edition of the Nano for heavy weightlifting.
The footprint of the Reebok Nano X1 is also noticeably narrower than that of its rival Nike Metcon 8. It is 108.6 mm in the forefoot (1.1 mm narrower than Nike) and 85.1 mm in the heel (4.8 mm less).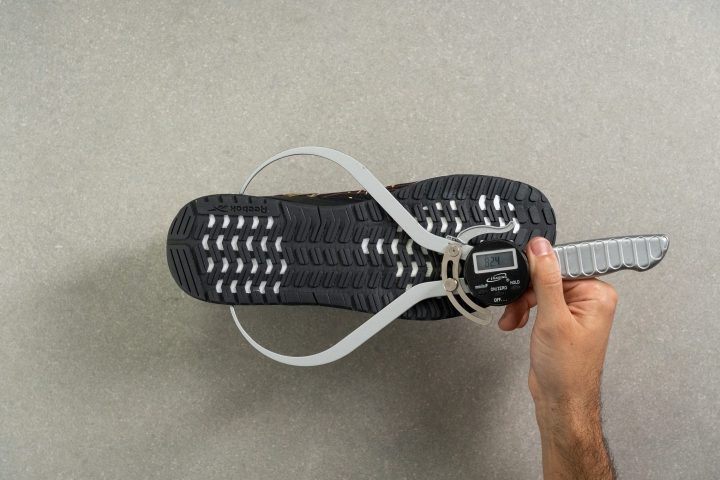 There is a good amount of flex
Doing lunges, burpees, planks, and many other exercises involving foot bending wasn't a problem for us with the shoe's flexible sole.
The Nano X1 is 25% more flexible than training shoes on average based on our measurements.
Upon manual flexibility check, we rated this Reebok shoe 2 out of 5 on both torsional and longitudinal flexibility, where 1 refers to the most flexible.
Your feet stay comfortably hugged
We are delighted with the comfort that comes from both the shoe's soft knit upper and the moderately cushy sole. This duo allows for a supportive yet adaptive feel.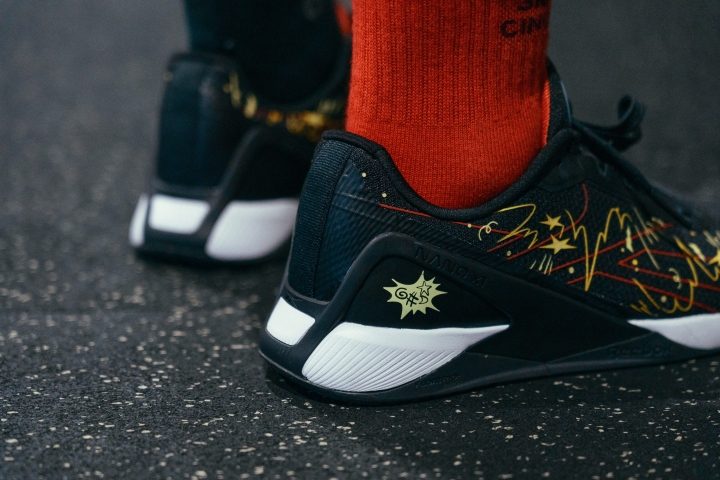 We found that the tongue slips onto one side. However, we would like to emphasize that it isn't terrible, just a bit annoying.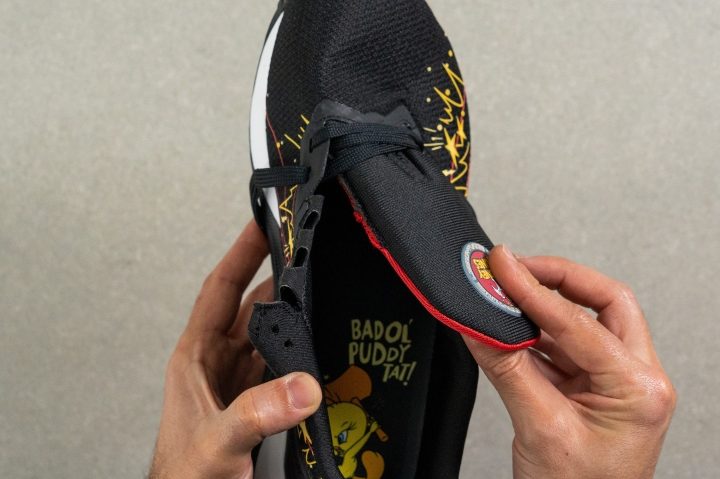 Taller socks may be needed to avoid blisters
Despite the overall comfort, some of us, testers, still experienced heel rubbing in the Reebok Nano X1. We felt that the collar is high and hard, causing a blister when wearing no-show socks.
The Nano X1 keeps the foot in place
We encountered no heel slips. The shoe provides a perfect foothold thanks to its tall collar and lace-up closure.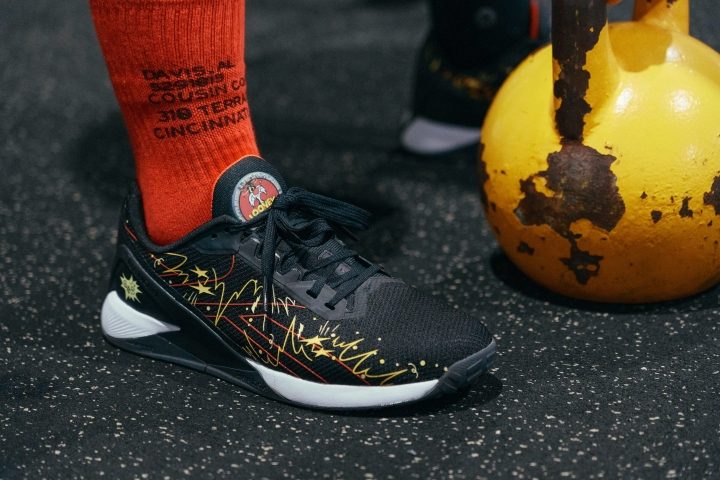 Your toes will have plenty of space
Despite its new tapered look, the Nano X1 still features a wide, spacious toebox. This allows natural toe splay and improves comfort.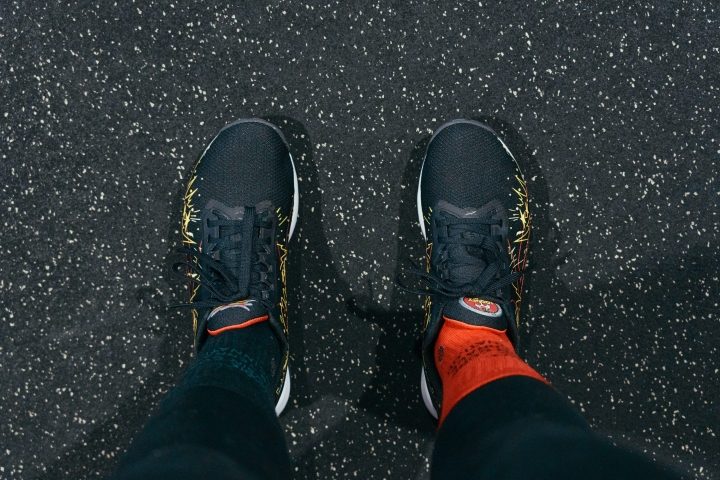 Inside the trainer's toebox is a generous space measuring 102.2 mm in its widest part. For reference, the average forefoot width across training shoes is 100.1 mm.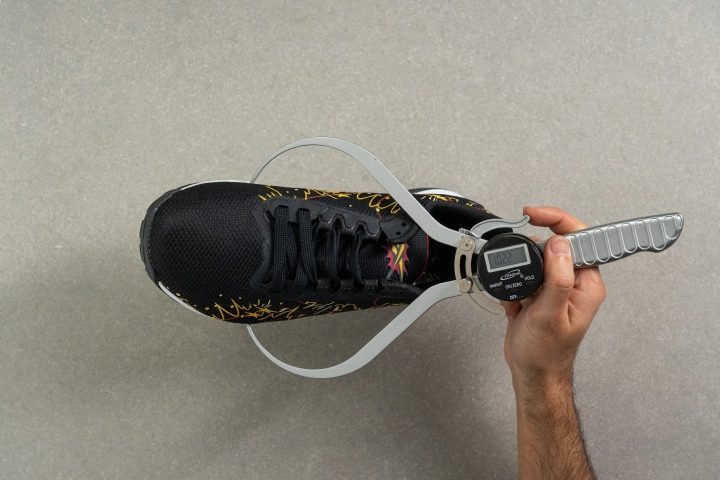 No slipping on gym floors
We noticed that the Nano X1's outsole grip has improved compared to the Nano X.
You can rest assured that you won't slip even when the gym floor gets a bit wet.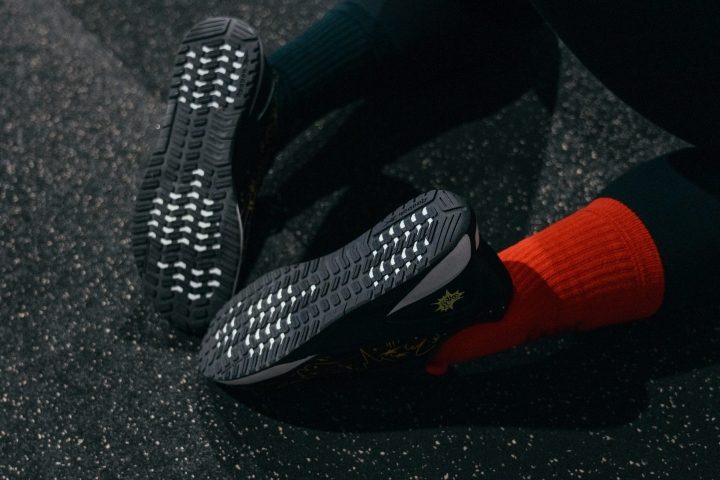 Nano X1 is a bit lighter than Nike Metcons
With the shoe's knit construction and a few more tweaks, the Nano X1 (12 oz / 340 g) ends up slightly lighter than its direct competitors, the Metcons from Nike (average weight: 12.3 oz / 350 g).
Wear this Reebok Nano anywhere
From pastel peach to acid orange and classic black-gum combo, we love that the shoe's sleek design is offered in an array of colorways. This way, we can wear it while running errands around town.