Verdict from 3 experts and 100+ user reviews
8 reasons to buy
Many satisfied users mentioned that Nike Downshifter 9 is comfortable.
A lot of people appreciated the shoe's lightweight structure.
Some purchasers said that this running companion is supportive.
The shoe is very flexible, according to several commenters.
A few consumers confirmed that this running shoe is breathable.
Buyers are happy that the price for a pair of the Downshifter 9 is affordable.
Numerous reviewers commented that this shoe is stylish.
This running partner is also suitable for workouts and casual wear, based on reviews.
3 reasons not to buy
A handful of wearers complained that the Nike Downshifter 9 does not offer enough cushioning.
The upper of the shoe is not durable enough for regular running, said a couple of runners.
A few testers reported that this shoe felt a bit narrow for them.
Bottom line
The
Nike Downshifter series
belongs to Nike's best value-for-money performance running shoes. The 9th iteration features a simple yet stylish design that works for light runs, workouts, and everyday wear. It is a basic,
neutral running shoe
that that doesn't break the bank.
Tip: see the best running shoes.
Our reviews
Let's get down to business. What writer has not started with that line before? Well, at least the writers I know of. But in this review, the business is about to get real—sort of, I guess. You will have to decide for yourself.
What I am talking about is the Nike Downshifter 9. When looking at it from afar, it will hit you, like any other running shoe. It's nothing fancy, just a shoe. Or is it because what I can tell you is that the Downshifter 9 is something out of its class.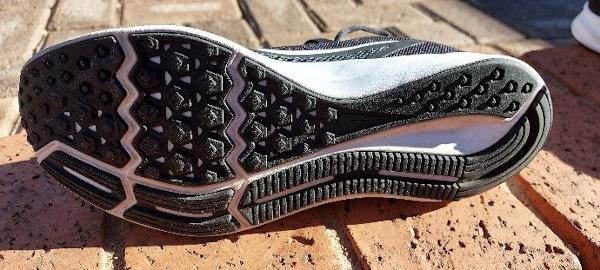 Take, for instance, its outsole and midsole. Durable is the best way to describe it. In the last five months that I have had the shoe, wear and tear are next to nothing. Apart from the few stretch marks left from running, there really is nothing else to complain about.
What is also a plus is that the Downshifter's colourways also make space for different colours for the mid- and outsole's, which is unusual for such a budget running shoe. I like the black and white scheme. There are other funkier colour options, but my choice had a reason.
The reason for my colour choice was that I could still wear the shoe to work. (I am working as a Marketing Networker). The shoe still fits good into everyday life—even at home watching Netflix or in my case, going to work with it.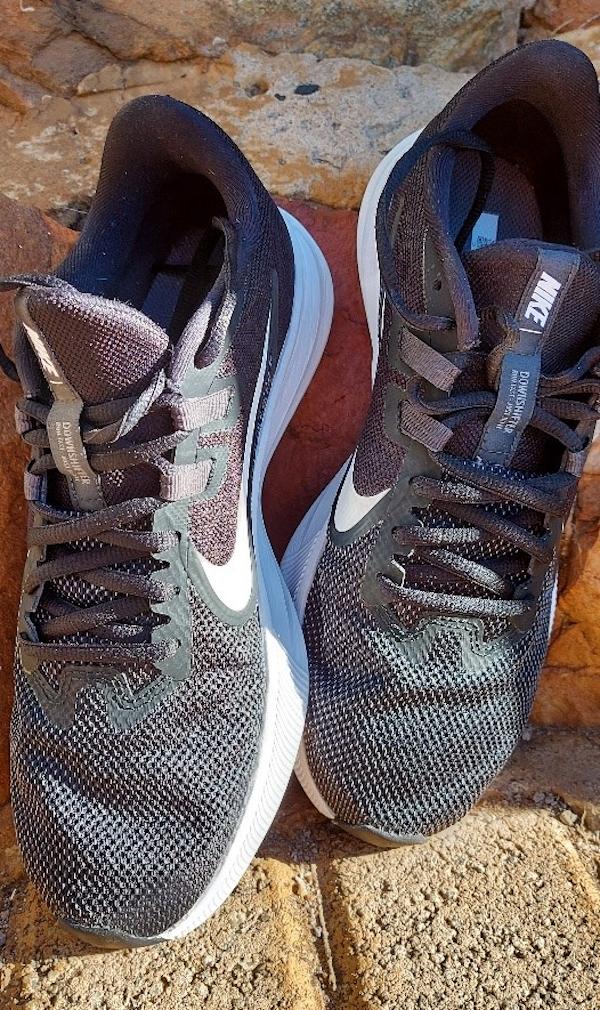 Therefore, I stated that the shoe could be more like multipurpose shoe rather than just a normal running shoe. The amounts of compliments I got from clients were amazing. This also shows the current trend people are leaning towards. People are tending to go more towards a business casual look, still looking professional.
Moving on, I used the Downshifter 9 for my running activities as well. Even in the time of COVID-19 lockdown, I found myself running up and down our driveway.
The break-in period was about a week. I could really feel how the shoe was adjusting to my feet, to the way I was running.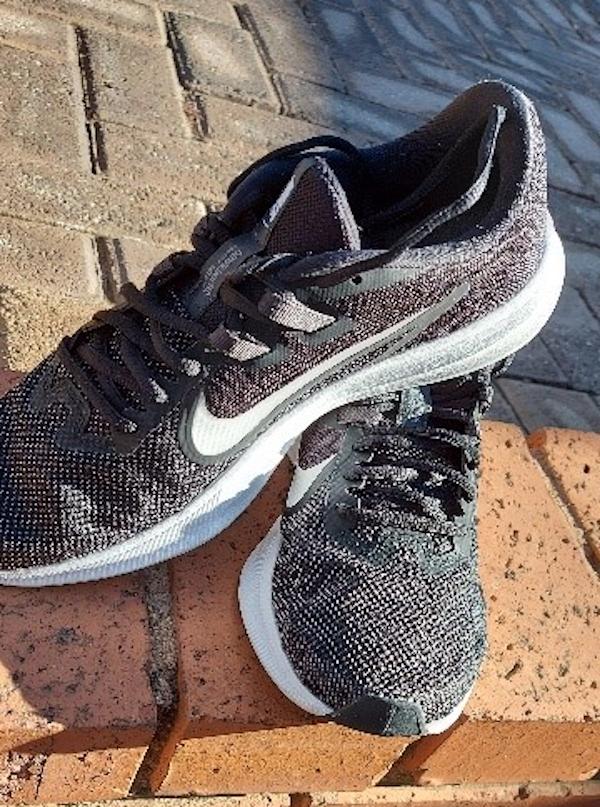 Cleaning the Nike Downshifter 9 is also not that difficult. The shoe is mostly nylon and rubber. So, it can go through mud, and only a wet cloth can get the dirt off again.
I do, however, suggest that everyone should thoroughly clean their shoes after any mud or trail running as they can improve their shoes' lifespan.
Nike really went out and about to make this a budget shoe but also one that can last. This was a great move because people today want something they can trust in and not break the bank buying it.
I really applaud the comfort of the shoe. Your feet are really secured, so you can even use these shoes for pretty much anything.
My uncle lives on a farm, and just before lockdown began, we went for a visit. Now to explain in short, the farm is pretty much one big trail run. Gravel and rock paths are everywhere. But, the Downshifter 9 conquered it all.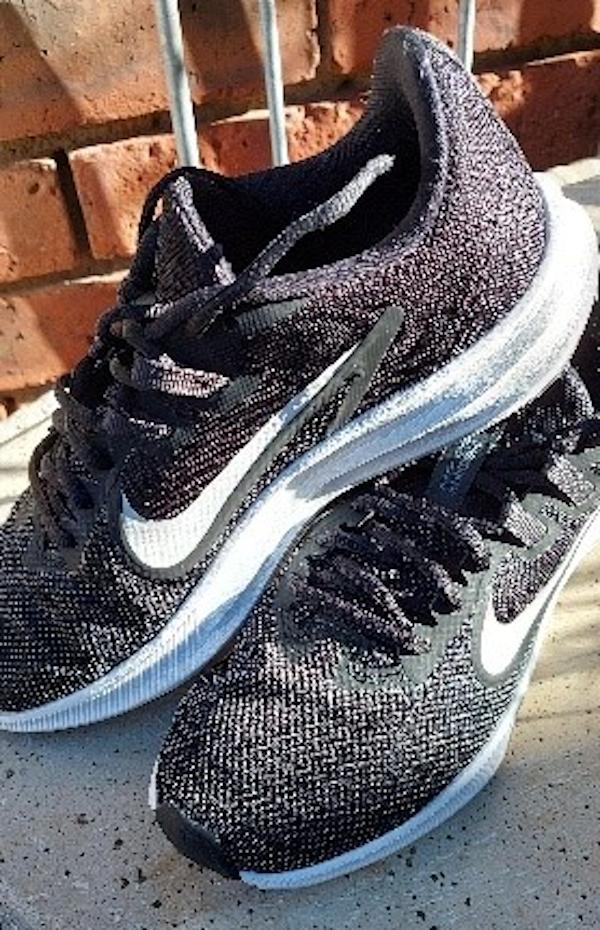 My girlfriend liked my shoes so much, she went out and bought a pair herself. Hers is just a bit more fashionable, with totally white design and the Nike iconic logo decorated with floral patterns and designs.
In all respect and dignity, I can say the Nike Downshifter 9 is something everyone should have in their sneaker collection—not for just a running shoe but also an everyday sneaker.
Good to know
Featuring a minimalist yet stylish design, the Nike Downshifter 9 is an affordable running shoe that is intended for neutral runners or those who do not overpronate. This road running shoe is also perfect for running on the treadmill, gym sessions, and casual wear.
The Downshifter 9 is designed to give an even softer ride compared to its previous versions. This is made possible with the utilization of the improved Phylon midsole. This midsole technology offers excellent cushioning while keeping the sole lightweight. A new two-tone mesh top is also utilized for combined breathability and structure. The open mesh permits continuous ventilation while the closed mesh helps maintain structural integrity.
To continue providing reliable protection, the designers still incorporate the same outsole material that is featured in its processors. The rubber outsole does not only boost the platform's durability but also supplies flexibility and a firm grip in different conditions.
The Nike Downshifter 9 is constructed with a standard shoe length. Runners are welcome to get a pair in their usual sizing preferences. However, it is worth noting that there are a couple of users who highlighted that this running companion is a bit narrow for them. It is recommended to try the shoe in-store or utilize the general feedback of users about sizing before making a purchase decision.
The technical components that directly affect the fit of this lightweight running shoe include the traditional lacing system. The shoelaces are used to provide a secure and personalized fit. Other elements are the cushioned insole and tongue that help provide a snugger and softer in-shoe feel.
The outsole of this Nike running shoe utilizes a highly durable rubber material that made the shoe even more hard-wearing. This element protects the foot and the rest of the platform from all abrasive elements. The rubber outsole also helps absorb impact and enhance the shoe's cushioning performance.
The rubber outsole is coupled with deep flex grooves, which provide reliable traction on various surfaces. The flex grooves are also responsible for providing flexibility. It allows the shoe to move and bend naturally with the foot.
The manufacturers incorporated a full-length articulated Phylon midsole into the Nike Downshifter 9. This cushioning material is created using the compression molding process. It is composed of ethylene vinyl acetate or EVA foam pellets, which are compressed, heat expanded, and cooled in a molder. Compared to other rubber midsoles, the Phylon cushioning is way softer and more flexible. It delivers excellent shock absorption for a smooth and comfortable ride.
A molded foam footbed is positioned above the Phylon midsole. The cushioned footbed is included to help absorb shock and provide added underfoot protection. It gives a high level of comfort that lasts mile after mile.
The two-tone upper combines open and closed mesh for structure and breathability. The open mesh at the forefoot area offers optimal ventilation. It allows the cool air to permeate inside the shoe while forcing the hot air out to provide a healthier environment for the foot. It is paired with a breathable fabric lining for a cooler and softer in-shoe feel.
The closed mesh can be seen through the midfoot and heel area. This element provides structured support and added durability to the platform. It helps secure the foot during all-out sprints for a more stable ride.
Synthetic overlays are integrated into the upper to provide added support and durability. The designers also included Nike's signature Swoosh™ on both sides of the upper. This element enhances the shoe's overall aesthetics.
Providing a secure fit around the top of the foot is the traditional lacing system. This component allows for a snug and customized in-shoe feel. A plush tongue is added to protect the foot from getting pinched by the shoelaces. A padded collar is also utilized to give comfort around the heel.
Nike Downshifter 7
The Nike Downshifter 7, a prior version of the Nike Downshifter 9, is a neutral running shoe that is ideal for those who want to take the roads with ease and confidence. This running shoe also features a clean, yet stylish design that is perfect for everyday wear.
The Nike Downshifter 9 and Nike Downshifter 7 has a lot of similarities. This includes the rubber outsole that enhances grip and durability and the open mesh that promotes breathability. Other common elements are the lace-up closure, padded tongue, and cushioned insole, which are used to deliver a snug fit and lasting comfort.
Just like the Downshifter 9, the Downshifter 7 also incorporates the lightweight Phylon material. However, the Phylon cushioning that is featured in the 9th edition of the Nike Downshifter has been improved to give an even softer and smoother ride. Aside from a softer platform, the Downshifter 9 is also equipped to provide better support with the help of the closed mesh around the heel and midfoot sections.
Adidas Duramo 9
Similar to the Nike Downshifter 9, the Adidas Duramo 9 is categorized as a neutral running shoe that is intended for running on roads and paved surfaces. This Adidas running shoe also utilizes an abrasion-resistant rubber outsole with a strategic set of flex grooves that offer reliable traction and flexibility. This quality allows the shoe to move and bend naturally with the foot.
The Adidas Duramo 9 makes use of the Cloudfoam midsole that aims to deliver maximum cushioning and support. Just like the Phylon midsole featured in the Downshifter 9, the Cloudfoam midsole is also composed of ethylene-vinyl acetate or EVA compound. This rubber compound made these shoes lightweight and soft without sacrificing durability.
The Nike Downshifter 9 uses a single-layer mesh for enhanced breathability and support. The Adidas Duramo 9, on the other hand, utilizes a combination of dual-layer mesh and textile materials for ventilation and durability. This is one of the reasons why the Duramo 9 looks bulkier and weighs a bit heavier compared to the Downshifter 9.
Rankings
How Nike Downshifter 9 ranks compared to all other shoes
Popularity
The current trend of Nike Downshifter 9.