The shoe is very attractive and stylish. On the performance side, it could use improvement but it's runnable as a low-cost entry-level shoe. Runners with wider feet might find that another model would best suit them. I would recommend this shoe for beginners, particularly with narrower feet. The shoe also makes an attractive gym shoe.
Pros
Ground feel
Lightweight
Breathable
Looks/Style
Affordable
Cons
Narrow toebox
Flimsy upper
Poor traction on wet surfaces
Nike Downshifter 9 review
The Nike Downshifter 9 running shoe is a neutral support shoe with some cushioning. It is for runners who want an affordable entry-level shoe with lots of styles. If high mileage and top-end performance are required, I would move up to one of the high-performance models from Nike.
During my test, I ran on pavement for approximately 75% and hard gravel trail for 25%. The runs were typically 10K. The pace varied: 5 to 6 minutes per kilometer. The Nike Downshifter 9 felt light but lacked cushioning.
Who should buy it
The Nike Downshifter 9 is recommended for runners who:
want an affordable, entry-level shoe
need a lightweight, daily training shoe
Who should NOT buy it
Consider other models if you:
want a running shoe that is fast (the Nike Air Zoom Tempo Next% is praised for being fast, bouncy and responsive)
prefer more cushioning for long-distance runs (in this case, consider the Pegasus 40).
Go half or full size up
The Nike Downshifter 9 fits between half a size to a full size small. My 10.5 size felt slightly short with my big toe touching the end.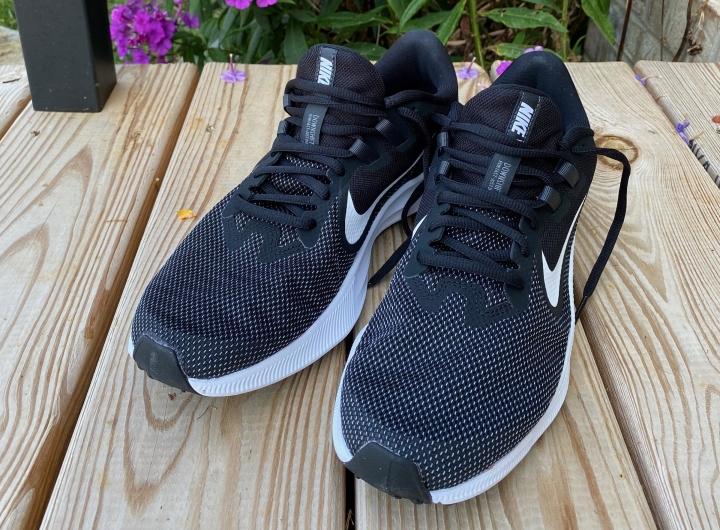 The upper of the Downshifter 9 could be improved
The Nike Downshifter 9 is not as roomy as I like particularly in width. The upper feels flimsy and fits really snugly pushing my toes together. The top of the heel dug slightly into my Achilles tendon.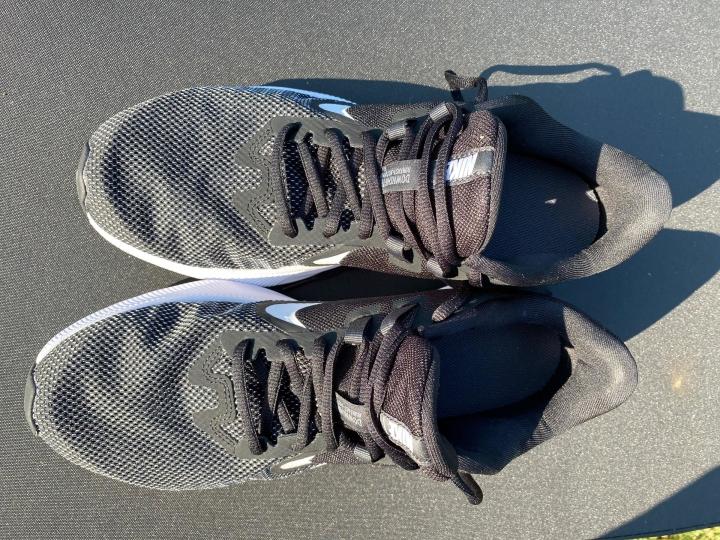 The tongue is padded adequately, however could use a little more. The tongue lacks the side flaps and had a tendency to creep to the right or left under the laces.
The Nike Downshifter 9 rides like a minimalist shoe
Energy return is adequate but cushioning feels a lot more minimal. If you are a lighter runner who strikes lightly then these entry-level shoes may be for you.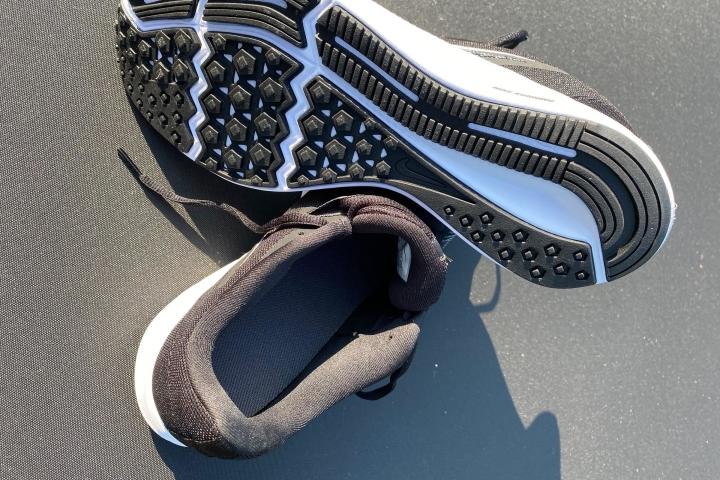 Needs to get used to the low-profile cushioning
I found myself trying to minimize the impact as much as possible because the cushioning is minimal. After 2 or 3 runs I was used to how I needed to modify my gait, primarily being sure to mid-foot strike.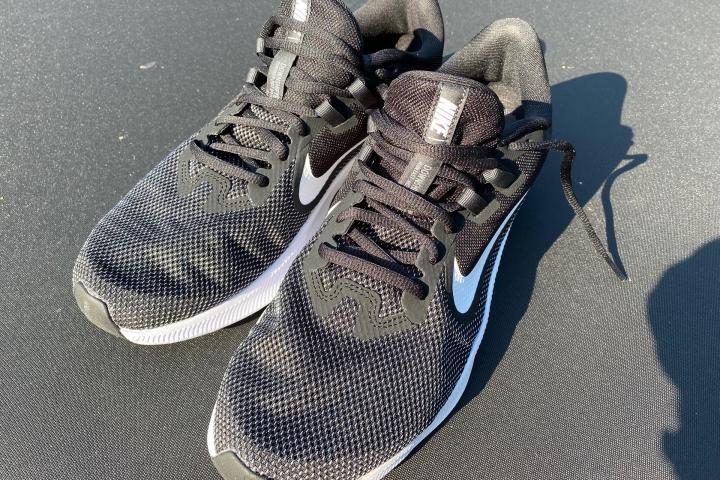 Not for wet surfaces and sharp bend
The Nike Downshifter 9 felt like there was a tendency to slip if the roads were wet due to fresh rain. It didn't feel slippery like ice, but perhaps a little slip particularly running around a sharp bend.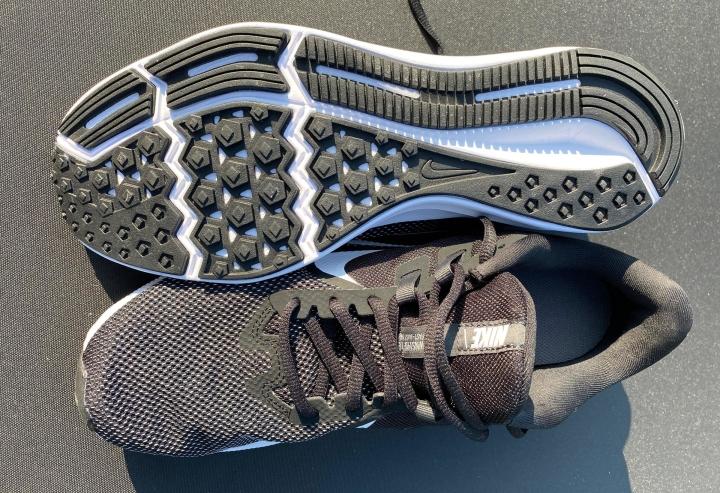 Breathability is not an issue
The Nike Downshifter 9 has a very thin and flexible mesh upper and has excellent breathability.
Thin, flimsy upper of the Downshifter 9
While I really like the round laces, I found that the upper, in general, is a little thin and flimsy. Perhaps the idea is to reduce hot spots and blisters, but the reality I found was it didn't have much shapes to it so whether I tied the laces tightly or loosely, I felt like my toes were squeezed together. This sort of squeeze can result in toe blisters.