The Nike Air Winflo comes back with its 9th edition and it's a worthy update. Now with a better upper, softer midsole, and more precise fit, it confirms to be an honest daily trainer for beginners. With its attractive price point, it's perfect for those looking for an affordable alternative to the (many) expensive shoes on the market.
Pros
Comfortable, soft ride
Excellent padding
Breathable upper
Grippy and durable outsole
Secure fit
Budget-friendly
Doubles as a gym shoe
Cons
Not very responsive
Upper and midsole feel cheap
Who should buy Nike Air Winflo 9
Get it if you want to save some money, have just started with running and want a shoe for training 2-3 times per week, or for gym workouts. Experts suggest not to use it for long runs, it's best suited for 3-5 miles efforts, at an easy pace.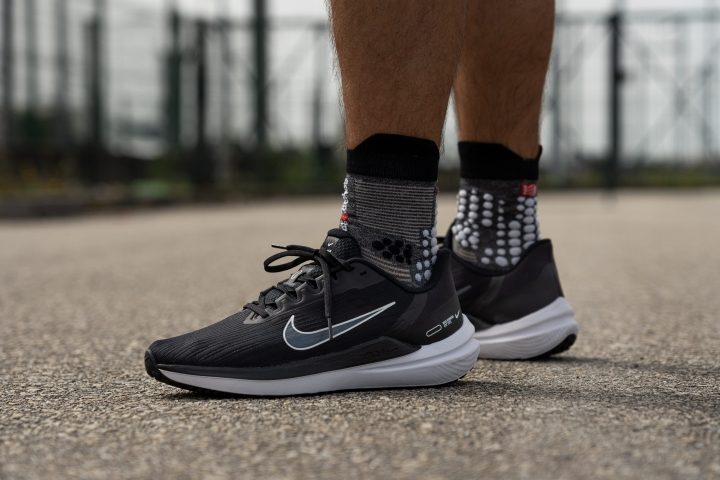 Who should not buy it
Don't buy this shoe if you:
The upper hits the sweet spot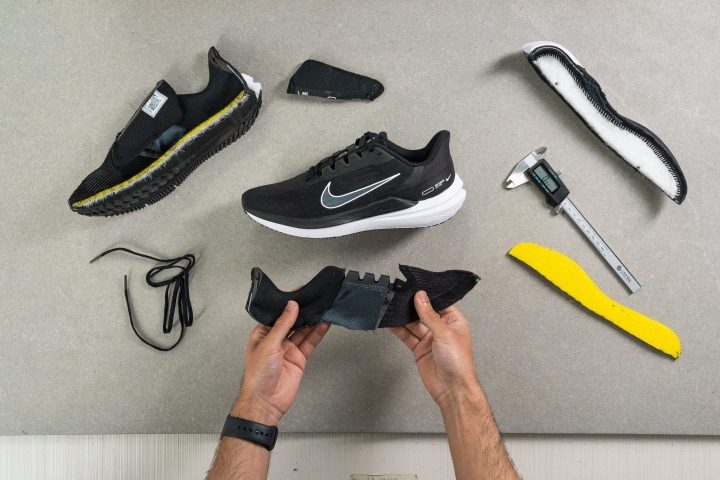 Those who tested the shoe appreciated how the upper is filled with plenty of padding, is flexible, and rather breathable. A tester pointed out that it's great for "hot summer asphalt, nice and cool."
Fact check
We verified the positive vibes about breathability with our signature test. The Winflo scored 4-out-of-5!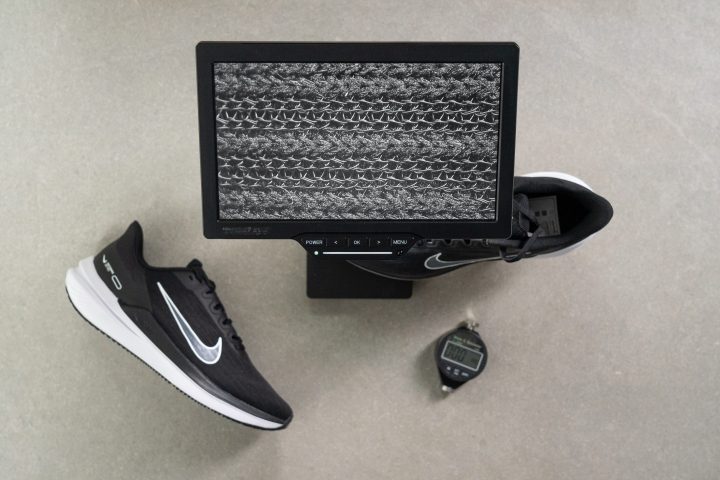 Eager for more evidence, we turned to the microscope. It revealed Nike's smart strategy of alternating super-thin mesh with thicker sections in an effort to nail the right balance between breathability and durability.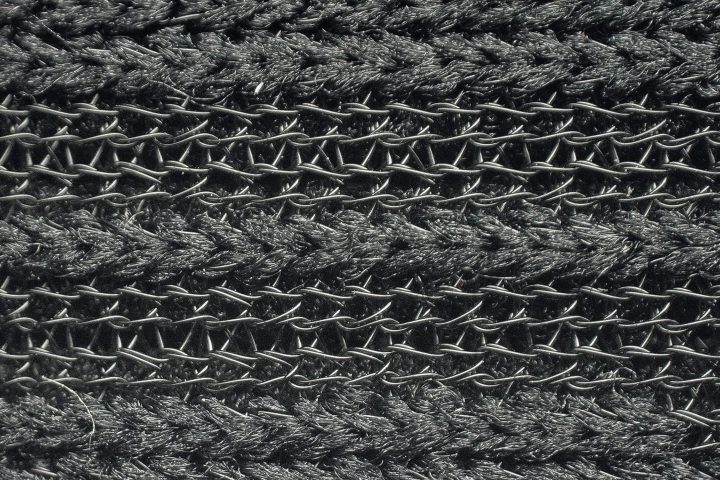 The light test also revealed a highly breathable toe box, as it should be in a running shoe. Can you disguise the alternating patterns?
The shoe becomes less breathable in the heel and midfoot area. Nevertheless, there are enough ventilation openings to ensure adequate airflow.
As pointed out by an expert, there's "plenty of foam and comfort around the heel," the tongue provides a good amount of cushioning and no issues were reported regarding rubbing or blisters. An experienced runner summed it up very well: "its such a comfy shoe, comfiest Winflo to date."
Fact check
Upon closer inspection, we have to say that there are not many $100 shoes with such a super-confortable upper.
But, is it durable?
A tester shared some doubts regarding the mesh and the midsole's durability. According to him, the upper feels "like you can rip through it quite easily," and the impression is that the midsole, which feels "pory," might start to fall apart soon.
The level of damage caused by our tool is significant, but it is also expected when you attempt to create a lightweight and breathable upper for a running shoe. There is nothing to be overly concerned about.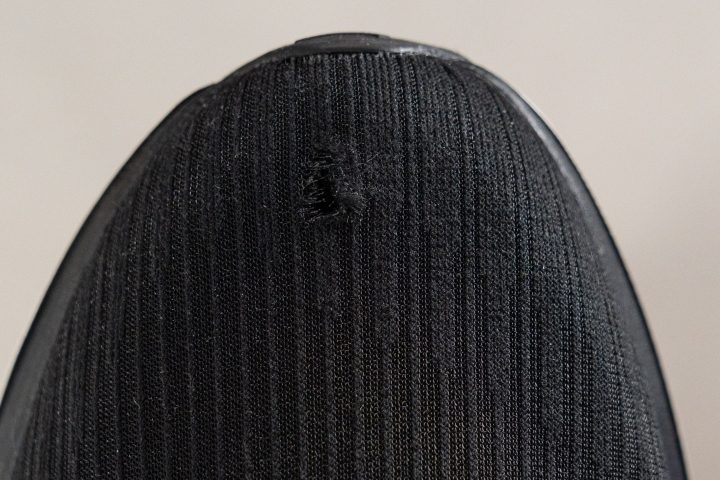 A very comfortable experience
As noticed by testers, this shoe offers plenty of cushioning underfoot and a relatively soft ride. As they put it, it's:
a "nice stepping feel"
a "very comfortable place to be"
like "walking on air."
Nike is shifting its strategy when it comes to their pocket-friendly shoes. They used to be quite firm and stiff, but that's no longer the case.
Fact check
We confirmed the testers' claims about softness when we measured the midsole at 18.4 HC in our lab. That's softer than the
Nike Air Zoom Alphafly Next% 2
!
This shoe is 35% more flexible than the median of running shoes in our force test, where we measure the amount of force required to bend the shoe up to 90º.
However, during our manual assessment, it appeared to be a little bit firmer and fairly average in terms of stiffness. We rated it 3 out of 5, which places it in the middle range.
The Winflo 9 also features a Nike Air unit under the forefoot, although is smaller than the ones found in the Pegasus saga.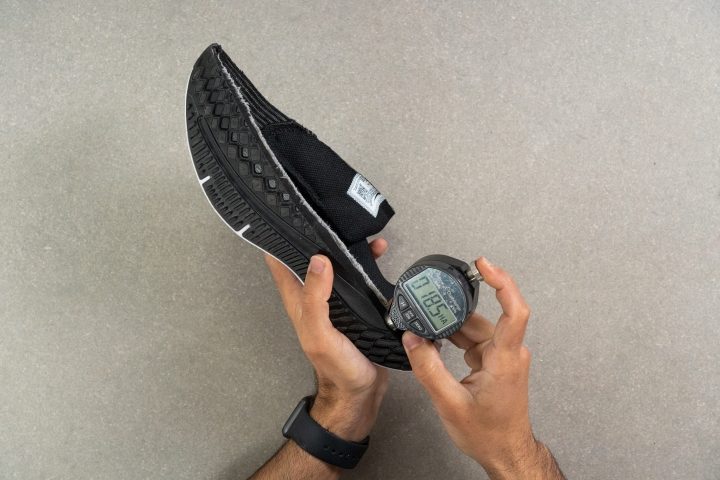 Disclaimer: We take an average of 4 measurements and eliminate any outliers. This image portrays only one of our four measurements.
This shoe is undoubtedly part of the high-stack club. With a generous 35.0 mm in the heel and 24.2 mm in the forefoot, it features a height nearly identical to the Nike ZoomX Invincible Run 2.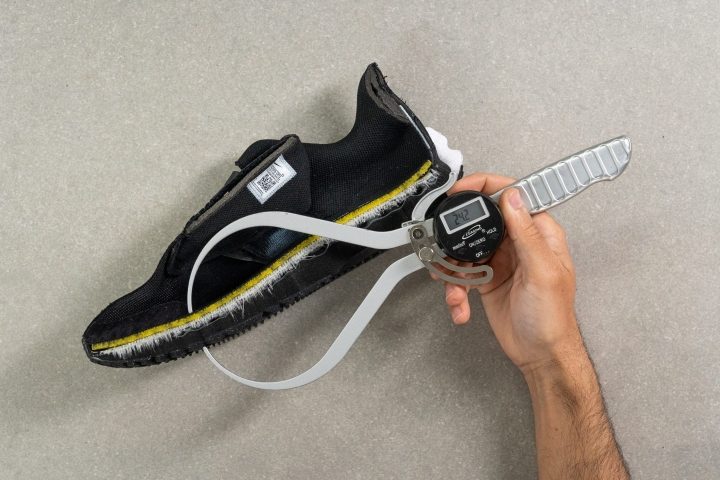 Disclaimer: We always measure stack with the insole included.
Our measurements reveal a 10.2-mm heel-to-toe drop, making it a fantastic choice for those seeking some relief for their Achilles tendon.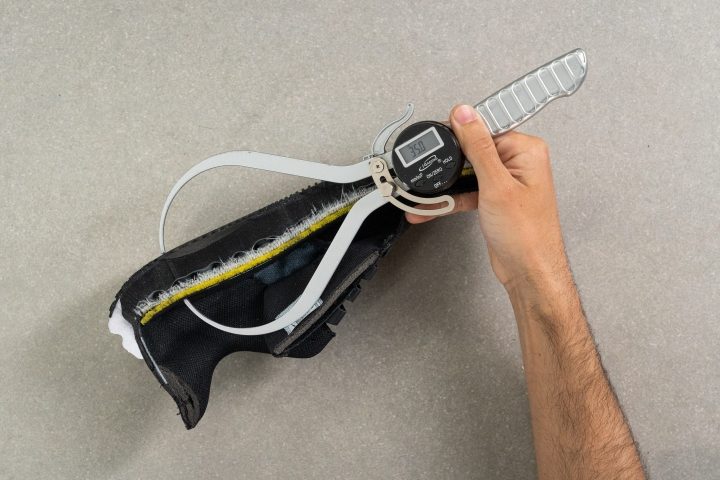 Disclaimer: We always measure stack with the insole included.
Responsiveness is not its best trait
In the Winflo 9 the softness takes its toll and the ride is not particularly lively. Judging by the comments from users and testers, the shoe could use some improvements on this aspect.
As with life, you can't have it all without paying the price. At $100, you're not going to get the bouncy ride and energy return you might want. That's why the Winflo features a low-cost EVA-based foam, which is suitable for most runners but falls short in performance when compared to React and, especially, ZoomX.
The icy truth: underwhelming in cold temperatures
We just mentioned that this shoe is based on EVA—that's bad news for winter running. As we explained in our guide about temperatures and running shoes, you should expect that EVA-based foams will become noticeably stiffer and harder in cold weather.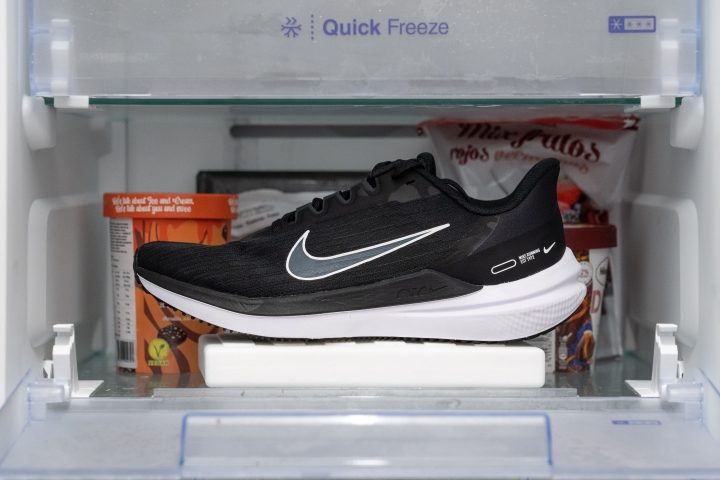 Fact check
That's precisely what happens with the Winflo 9. After exposing it to freezing temperatures for 20 minutes, the midsole becomes 59.6% harder, and the shoe gets an out-of-this-world 87.8% stiffer. By comparison, the Pebax-based
Invincible 3
hardens by 21.8% and stiffens by 27.2%, respectively.
Same old, great traction
The outsole hasn't changed much from the previous iteration, and according to the reviewers, this is a good thing. The rubber covers almost the entire surface and provides reliable traction in most conditions. As a runner quite simply said, "the outsole is great" and "it's going to last you ages."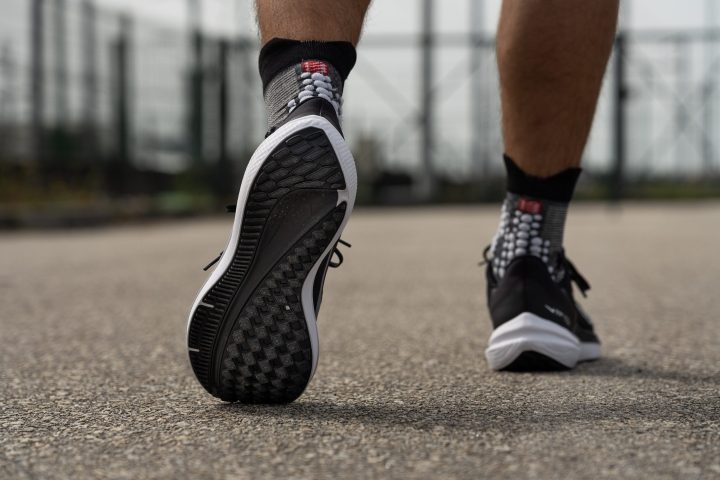 As an entry-level Nike shoe, the focus is on durability, so we anticipated a high hardness measurement. However, we were blown away when we measured 92.8 HC hardness in the outsole. This number is the HIGHEST ever scored by a shoe in our lab, out of over 200 pairs.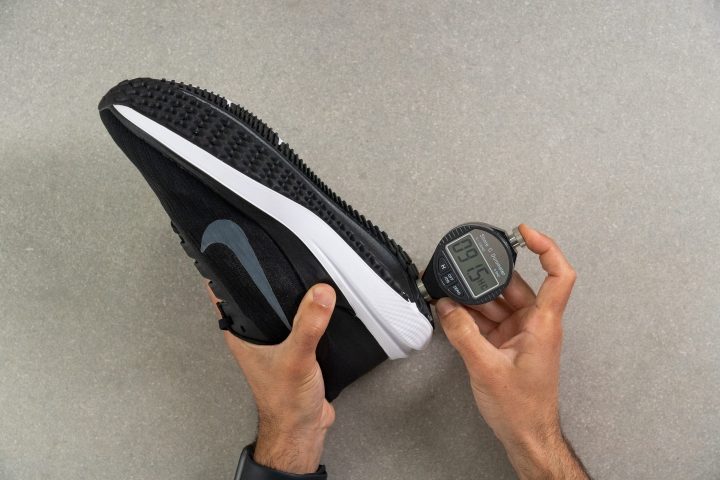 Disclaimer: We take an average of 4 measurements and exclude any outliers. This image shows just one of our measurements.
Fact check
We have to admit that the grip on this shoe can be a bit of a letdown. With today's tech, it's just not possible to create a super-hard rubber that's as grippy as a softer one. But if you're on the hunt for a crazy-durable outsole, this is THE ONE.
To make up for the noticeable lack of grip due to its hardness, Nike designed a Pegasus-inspired waffle pattern.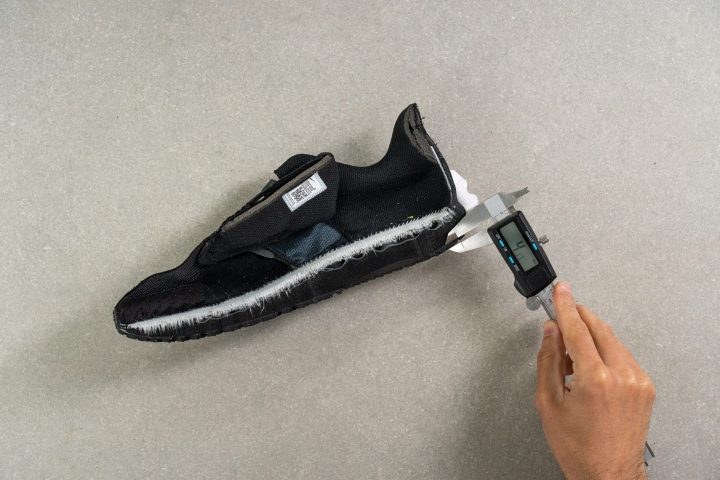 To complement the hard compound used in the outsole, it's also quite thick! In fact, at 4.2 mm, it's 24% thicker than the average for road running shoes.
Embrace stiffness for a really solid fit
A running expert praised the lockdown. She stated that the heel counter "hugs your heel in the right places and give you a locked-in feel."
Fact check
If you're a fan of stiff heel counters, you're in luck because we gave this one a 4 out of 5, being 5 the stiffest. Additionally, we verified that the heel collar is softly padded and it works wonders when it comes to prevent heel slippage.
The bands on the sides help adjust the shoe and an expert noticed that "it feels secure without being clunky." Overall, "a great mix of comfort and security."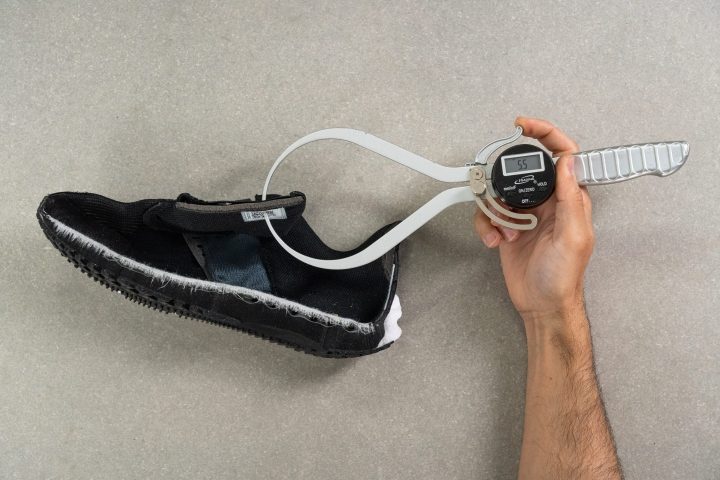 Fact check
Although the tongue is comfortable with its nearly-average 5 mm thickness, we found that it's non-gusseted—meaning it's not attached to the sides. This allows the tongue to move freely while you run, which can lead to less secure lockdown compared to gusseted options.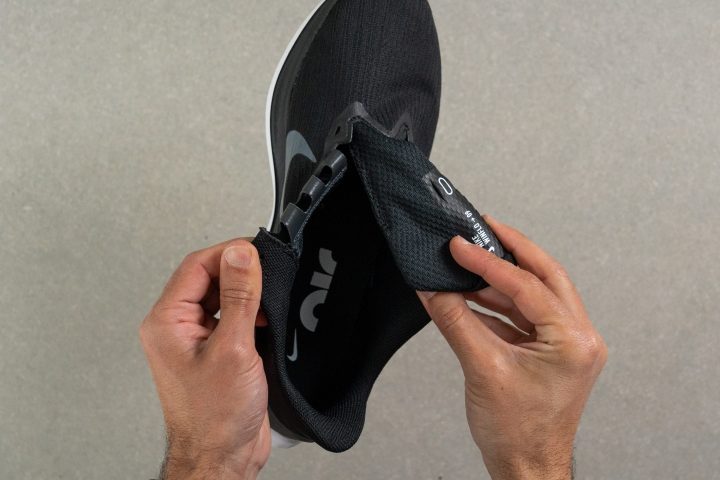 We also discovered that there's plenty of room for your toes in the Winflo 9. Now, it's not exactly a super-wide shoe (let's be real, this is Nike we're talking about, fellas), but the 9th edition of the Winflo offers a nicely roomy toe box.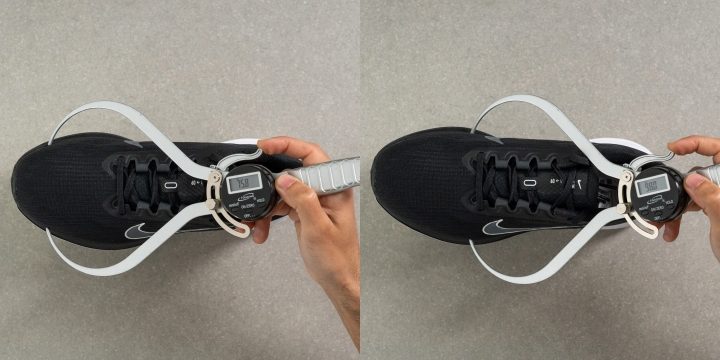 Keep it short with the Winflo 9
According to the reviewers, the Winflo 9 is ideal as a daily trainer and for short runs, up to 5 miles. That's where the shoe gives its best in terms of comfort and performance. Beyond that, it starts to be a little bit uncomfortable as it seems to lose some softness.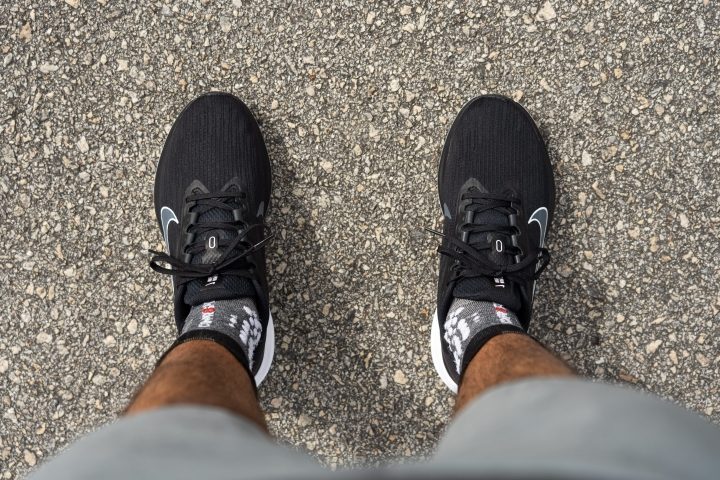 Runners also noticed that this shoe can be a good choice for gym workouts too.
Better choice than Pegasus for heel strikers
Some Nike models have narrow heels which makes them less suitable for heel strikers. Luckily, that's not an issue with the Air Winflo 9.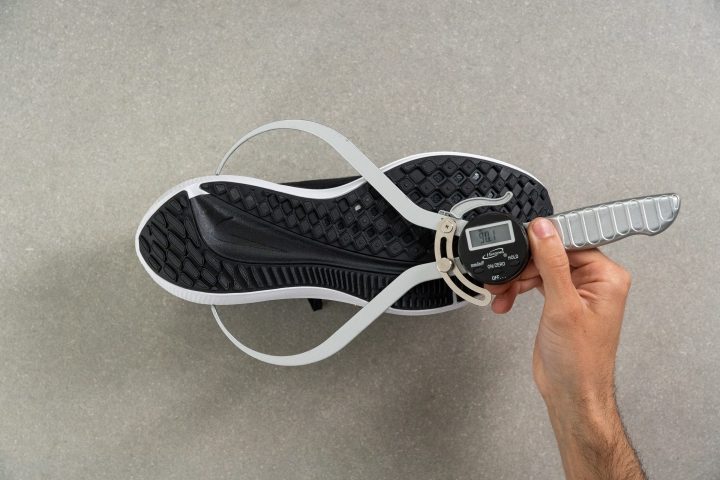 Fact check
The heel in the ninth edition of the Winflo measures a solid 90.1 mm, which is already wider than the average shoe. In fact, it's 8% wider than the
Pegasus 40
and a whooping 17% wider than the
Nike ZoomX Streakfly
. That's a lot!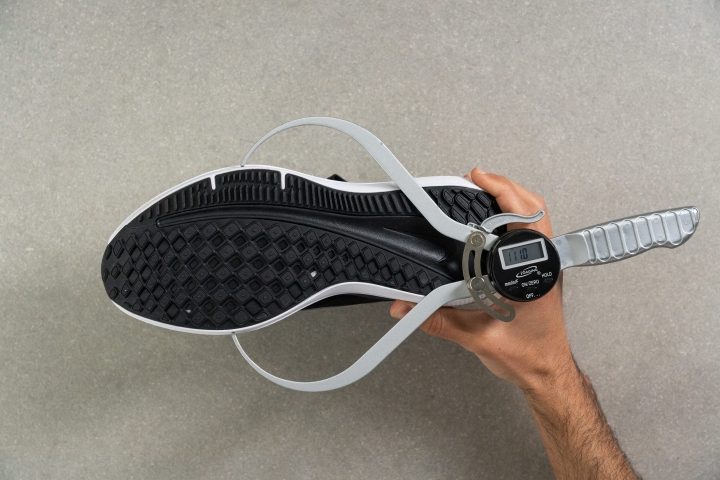 The shoe is also stable enough for midfoot-to-forefoot strikers, boasting the now-classic Nike width of 111.0 mm.
Why do we say classic? Well, Nike has used those exact dimensions for three of its latest models: the Pegasus Turbo, the also budget-friendly Downshifter 12, and now the Winflo 9.
Nike Air Winflo 9 is great for your wallet
At $100 the Winflo 9 is definitely an affordable choice, given that the average price for a road running shoe is around $123. As a runner pointed out, "what a price for what-a-pair!"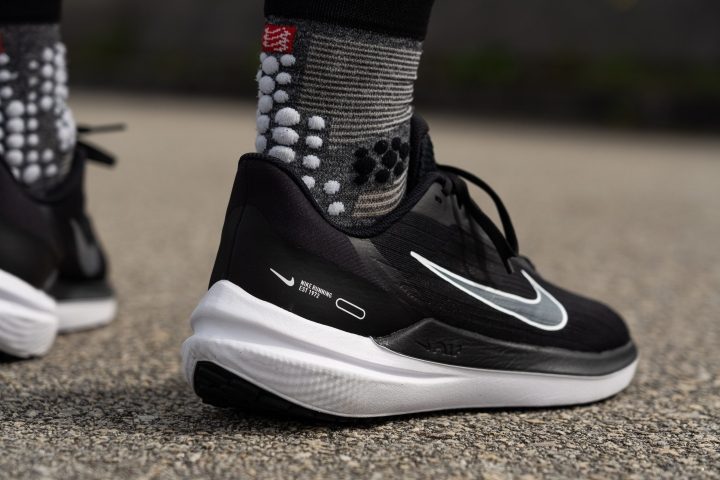 Not just for working out
A tester noticed that this shoe can be worn casually too, because its look and the softness of the midsole make it a nice and comfortable sneaker to use in any situations.