Verdict from 17 experts and 100+ user reviews
9 reasons to buy
Many runners appreciated the general durability of the New Balance Vazee Pace v2, saying that it lasted through many running sessions and training.
A good number of consumers felt that it was suitably lightweight.
Based on the feedback of some testers, this version did not look awkwardly bulky.
The toe box gained some fans because, for them, it was roomy enough to accommodate natural toe splay.
The appearance of this version gained praise from those who stated that they received compliments and inquiries while wearing it.
The underfoot cushioning was reliable and responsive, according to reviewers.
A lot of commenters have used the word 'comfortable' as a means of describing this running shoe.
A reviewer reported that their lower back and knees loved the mid-sole because it staved off pain and discomfort.
According to a runner, the outsole tread worked well on concrete and asphalt; it didn't allow them to slip or fall on the ground.
4 reasons not to buy
It felt narrow, according to the reports of some consumers.
The upper fabric didn't satisfy a consumer because, for him, it looked thin and cheaply made.
The heel of a disgruntled runner kept slipping off the shoe, no matter how tight he laced it.
There were those who still noted that the fit was too tight, even when they have chosen the wider width variant (2E).
Bottom line
A lot of runners acclimated well to the New Balance Vazee Pace v2. They were receptive to its components and features. They wrote that it was great for running and training and that it stayed intact throughout such potentially abrasive activities. The only gripes were about its apparently inconsistent width and fit schemes. Still, this neutral road shoe was able to satisfy.
Tip: see the best running shoes.
Our reviews
Weighing in at 7.8oz (for men's size 9) and boasting a modest 6 mm heel-to-toe drop, the New Balance Vazee Pace v2 is a sleek running shoe that is lightweight enough for shorter and faster road races while also providing enough support and cushioning for longer road races.
Reasons why I gave the NB Vazee Pace v2 a try
As a big fan of minimalist and low-stack height running shoes, I was looking for a fast shoe that could meet these criteria and protect my knees for miles on end. The lower stack height of the NB Vazee Paces made it easy to maintain a forefoot-midfoot strike with every step.
As a college student, I don't have the budget to buy the most expensive running shoe models especially when good shoes are out there at better prices.
They came in EE (extra wide), which is something that not a lot of shoe models can claim. As someone with wider feet relative to my shoe size, getting EE is a must.
All that said, I expected a solid shoe, but not anything I would particularly fall in love with—and as a result, I ended up pleasantly surprised.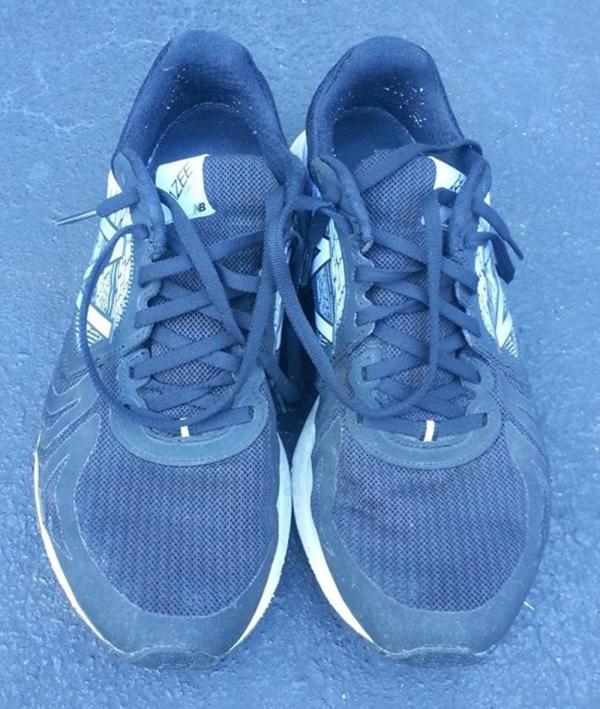 Fit & Comfort
I know I'm not the first to say that the Vazee Pace v2 fits like a glove. The upper's smooth mesh-like material lets the shape of your foot set the boundaries, and then wraps lightly around the foot; not too tight, not too loose.
The material is also highly breathable. The shoe's tongue is plush and soft (vs. the thin, flat style of some other running shoes' tongues) but does not feel heavy or obstructive.
The only potential drawback is sometimes it was possible to tie the shoes too tightly, resulting in some discomfort at the top of the foot from the pressure of the shoes' flat laces. However, I also had to be careful not to be too lenient on the tightness or else my heels felt like they were slipping out just a teeny bit.
On another note, these were some of the best shoelaces I've ever had on a running shoe in terms of knotting. I don't think in all the miles I ran, they ever came untied once (single-knotted!).
Midsole & Cushioning
New Balance's highly-praised RevLite material—basically a kind of rubber that is designed to provide lightweight cushioning and responsiveness.
Based on the 350+ miles I ran in the pair, I can attest that RevLite is extremely durable, and even avoids showing signs of any notable wear even after the cushioning has been worn past its life. I believe the RevLite midsole material is what allows the shoes to function so effectively as racing flats.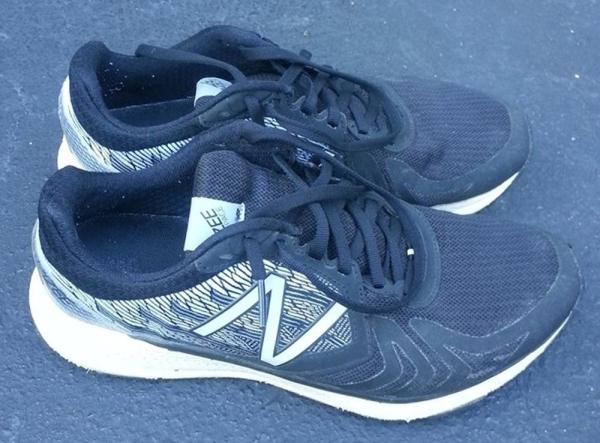 Outsole
The outsole features a thin-but-mighty layer of blown rubber that also holds up against miles and miles of paved road running. In addition, it provides excellent traction, even on wet surfaces.
I ran a half-marathon in the rain in these shoes, and although my feet were wet (but thankfully lubricated), my footing remained stable. Together the midsole and outsole provide a flexible base for the shoe that allows your foot to bend and move comfortably without restrictions.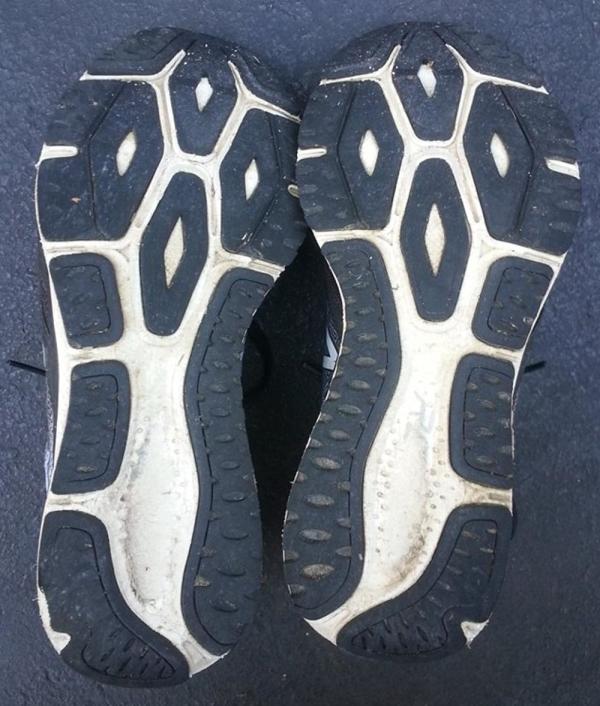 Final Comments
New Balance's racing flats, and it is easily one of my favorite running shoes. They are no-frills and are designed for repeated, effective performance on race day.
It was the amazing comfort from this pair of shoes that actually made me realize that I should have been buying EE width running shoes (or equivalents) all this time. I will likely look to NB for racing flats again in the future.
Good to know
The New Balance Vazee Pace v2 is a companion meant for running and training. It features a set of components that provide comfort and security to the wearer's foot. Colorful designs make the façade more appealing. But the modern look isn't the only upside to this model; its functionality is also agreeable because of the presence of high-quality materials. They're not a lot, but the ones that are present here are efficient.
The upper unit of this lightweight running shoe makes use of lightweight synthetic materials. These fabrics & articles cover the foot snugly and securely. Breathability is a feature present in this section of the shoe. Air is enabled to enter the foot chamber in order to keep the runner cool and dry during the running session. The coverage is also non-irritating because of a no-sew and smooth construction.
The midsole unit of the New Balance Vazee Pace v2 has a full-length foam that's responsible for keeping the foot well-cushioned. It doesn't feel stiff or unwieldy. It even energizes the foot and launches it forward with reactive springiness. Covering this foam material is the blown rubber material. It acts as a shield that staves off wear and tear. It is also a source of additional cushioning because of its soft and pliable nature.
The New Balance Vazee Pace v2 has a standard running shoe length. It comes in sizes that follow the regular measurements. The available widths for both the men and women's versions are medium and wide. It has a semi-curved shape, which adheres nicely to the average curve of the human foot.
The New Balance Vazee Pace v2 uses blown rubber as the layer that protects the mid-sole foam. It aptly staves off wear and tear, essentially preserving the structure and integrity of the platform above it. Its responsive and flexible nature slightly enhances cushioning. This outsole material is also used in the New Balance 860 v9.
Flex grooves make the platform more flexible, which is helpful in achieving natural movement as the runner goes through the gait cycle.
The RevLite is a full-length foam unit that's responsible for carrying the foot and keeping it comfortable throughout the running session. It doesn't have a heavy disposition, so it won't make the runner feel like they're being dragged down by the platform. Rather, it has a springy and responsive nature.
A traditional sock liner is placed above the main foam unit of the New Balance Vazee Pace v2. It provides more cushioning to the underfoot. It's soft and is responsive to the movements of the foot.
The upper unit features a lightweight and smooth mesh material. It wraps around the foot securely, but it won't limit its movements. It also accommodates airflow, which is helpful in keeping the foot cool and dry.
Textile and thin synthetic overlays assist the main mesh material in providing a snug, but customizable fit. Connected to the lacing system, they adjust accordingly in conjunction with the tightening or loosening of the shoelaces.
The no-sew cleatie construction ensures running experiences that are free from irritation. It basically allows the wearer to use the New Balance Vazee Pace v2 even without socks.
Rankings
How New Balance Vazee Pace v2 ranks compared to all other shoes
Popularity
The current trend of New Balance Vazee Pace v2.