Verdict from 8 experts and 100+ user reviews
5 reasons to buy
Offers nice aesthetics with cool highlights and bright colors.
A comfortable running shoe that keeps the runners' feet dry and cool while running, according to several testers.
The upper mesh of the New Balance 860 v6 perfectly molds the foot that result in a snug-like fit.
With the presence of the ABZORB crash pad, a higher-density EVA foam and ACTEVA lite, this road running shoe provides great shock-absorbing features.
Some runners love the 6th version of the New Balance 860 for long mileage.
3 reasons not to buy
The New Balance 860 v6 is a bulky running shoe, which may not look good in runners who have slender feet.
A couple of runners experience having blisters with this shoe during their first few uses.
According to many runners, they had issues with the shoe's sizing.
Bottom line
The New Balance 860 v6 is a stability running shoe that casual runners can consider, especially those with moderate overpronation. Though it received positive and negative comments, some users still considered the shoe as a worthy investment. This shoe is designed for terrains such as roads and works extremely well as a sturdy training partner.
Tip: see the best running shoes.
Our reviews
It's easy to lose your way amongst the New Balance range with its increasingly odd naming system, faced with decisions like Vongo vs. Vazee. It's no wonder punters feel confused.
Thankfully New Balance is still producing their numbered range and has recently resurrected the 890; the 800 series indicating moderate cushioning, the 90 suffix indicating support - easy.
Now in its 6th version, the 890 rightly claims it's place as one of the better fast, light stability trainers. New Balance is on a winning streak with this and the Beacon being two of my favorite shoes in 2018.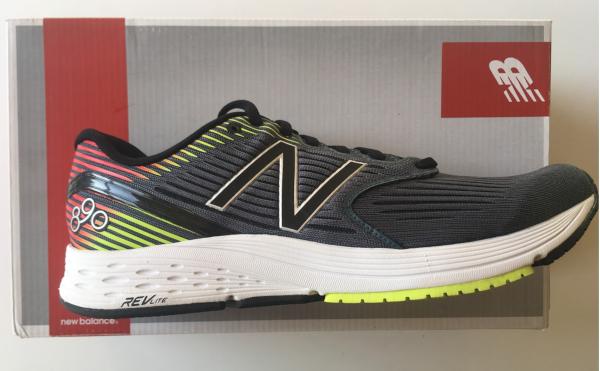 Upper & fit
The 890 has a roomier fitting than others in the New Balance canon. The toe box is especially generous with plenty of room both vertically and horizontally.
The upper is an engineered mesh, the cutaways within it running the length of the shoe provides additional stretch. Nevertheless, the bootie construction still gives a secure, locked down fit especially in the midfoot.
There's a moderately firm heel counter with additional support from two overlays. The heel collar is modestly padded, and while just enough for this type of shoe might dissuade you from running longer distances if you like plush comfort.
There are six lacing rows plus the heel lock option. The lacing is tightly spaced and starts reasonably far back up the shoe and is extremely comfortable with nice flat, stretchy laces. The tongue is stitched into the bootie and this construction, along with a lace loop, eliminates slippage entirely.
New Balance has done a great job on the design, the upper on my pair is a restrained dark grey with a few accents of brighter bolder colors. This makes for a shoe that can transition into casual wear without looking like you have just stepped off the track.
There are a limited edition London line and various other versions in similarly muted shades of grey and blue. My only complaint is the upper does tend to become a little waterlogged on wet days.
Midsole & outsole
The midsole is New Balance's in house Revlite Foam. This is also found in, most notably, the 1400 and 1500 shoes, as well as a few oddities such as the Minimus trail shoe and the seldom seen Strobe (both great shoes by the way).
In my opinion, the Revlite is underused and balances a firmer response with good energy return, all in a lightweight package. The fact it's used in the much-lauded New Balance 1400 and 1500, should reassure you of its pedigree.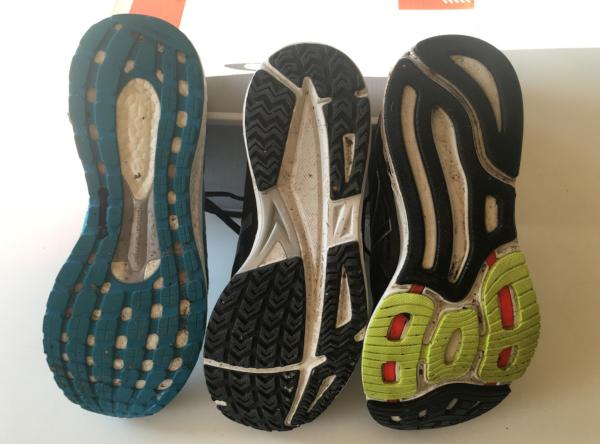 The outsole is an interesting combination of 4 separate pieces of harder injection rubber. The spacing between the sections is large enough to prevent stones from becoming lodged.
This lends the advantage of each being able to articulate independently and keeps the weight down to some extent although you do wonder if this could even be cut down further.
Ride
It's what lies beneath this outsole that really helps this shoe shine. There are two strips of a firm but flexible TPU plastic running both medially and laterally from the distal metatarsal region towards the toe.
These aren't as firm as the torsion system in say the Adidas Tempo or indeed the more rigid plastic 'T Beam' insert in the New Balance Strobe. Nonetheless, this seems to add some stability and provides a 'spring forward' during the toe-off.
Additional support is provided by the flared midsole which lends a planted feel in the forefoot. Neutral runners shouldn't be put off by these 'stability' features, they are subtle at best and not at all intrusive.
The shoe feels light on the foot weighing in at 262g for my UK size 9, considerably less than other stability shoes in the New Balance range such as the Vongo or the New Balance 1260, making it a viable option for over-pronators who don't require quite as much motion control.
The shoe is relatively firm and responsive to run on. It is more cushioned than the New Balance 1400 or New Balance1500 but has a similar fit, and of course, both share a RevLite midsole making them ideal rotation partners for mid distances and faster tempo runs. Add in the Beacon for easy runs, and you have New Balance hat-trick.
Traction is great on pavement and gravel alike, even in wetter weather there's no slippage on smooth surfaces. The pictures show the shoes when new (right) compared to approximately 80km (left). The outsole is wearing extremely well, and the upper is in great shape, there has been a little stretch in the upper mesh, but it still fits snugly.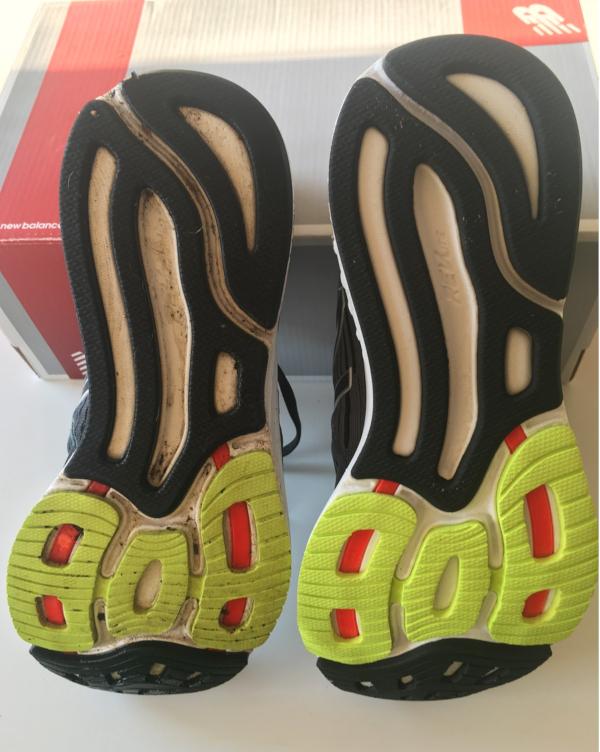 Conclusion
The New Balance 890 v6 demands your attention if you are looking for a fast shoe with good cushioning and a bit of extra support. I look forward to running in this shoe day after day, and it's easily earned a place in my rotation.
The 860 is ideal for shorter to mid distances; I ran a half marathon in it lately and felt great, if I was running further I'd possibly prefer some more cushioning but may be suitable for more efficient runners. The price point is fair for a shoe that will get a lot of use.
Do you have a low arch, flat feet or overpronate?
If unsure, visit your local running store, fitness trainer, or podiatrist to gain knowledge. If you're like me and require extra support, New Balance 860 V6 will help conquer your running, regardless of how far you run!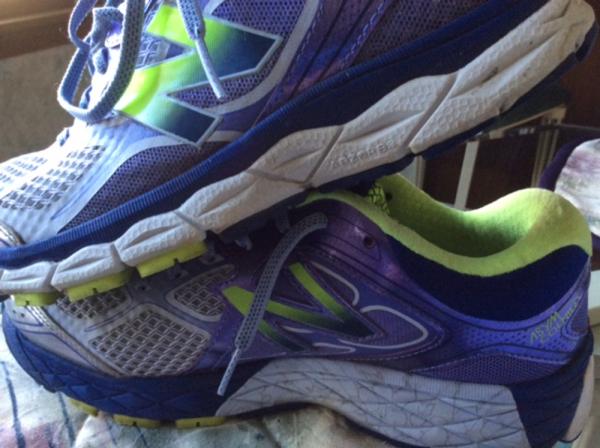 Arch
Take a close look and check out their extra build-up in the arch. What an incredible design, but more importantly is how these running shoes feel.
I can usually tell if the shoes meet my demands because if they don't, I want to take them off as soon as possible. With this pair, however, I just want to keep on running because they feel so good!
Cushioning
Not only are they lightweight at 10.2 ounces, but they are cushiony and super comfy.
Perhaps, the number one reason I highly recommend New Balance because I've experienced no blisters and breaking them in was effortless.
It's always a great feeling when you "WANT" to lace up because you absolutely love your running shoes.
However, it's taken me years to find true running shoe satisfaction. Either it's in our nature to try different brands, or the advertising industry does a great job persuading us!
Plus we all know how us runners are just super picky when it comes to our shoes. Whichever the case may be, I've learned the hard way, and hope to save you a lot of aggravation, time, and money.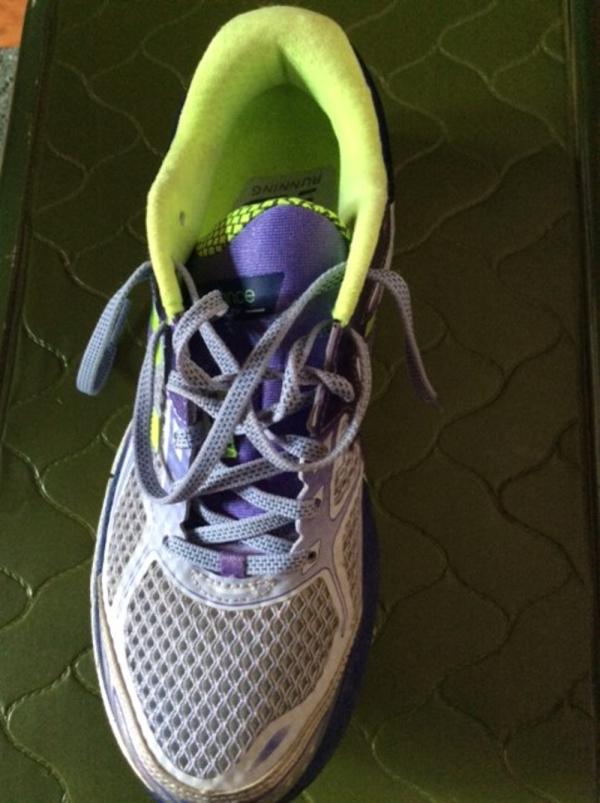 Once you find New Balance's stability works best for your foot, REMAIN LOYAL! Otherwise, you'll be disappointed and return to New Balance in the end anyway.
I know, this picture is a whole lot of purple! It did take a while to feel confident walking around the gym, but truthfully it wasn't because of the color, it was because of the brand. Now I'm not a name brand queen, but I see how other runners check out my shoes and visa versa.
So, who the heck wears New Balance? Older people for sure, right? Not sure where my stereotyping came from, but bam there it was staring me in the face, trying to decide between two brands at the running store.
Oftentimes, it feels like a toss-up, and we buy the wrong brand. Money down the drain and I so hate it when that happens!
Support & Stability
I confidently purchased New Balance based strictly on comfort, support, stability, and feel. I knew our local podiatrist recommended New Balance, so cha-ching ring me up!
It was Mother's Day and these running shoes were a gift to myself. I remember, the look on my son's face when I proudly debuted my new shoes!
Oh well, I'm doing my own thing just like he taught me to run my own race.
Performance
Alter 307 miles of hitting the hard pavement I have no regrets. In fact, these 860 v6's almost feel brand new except for the outer heels running down.
Unfortunately, I do this with all my running shoes. Regardless, these shoes are definitely standing the test of time.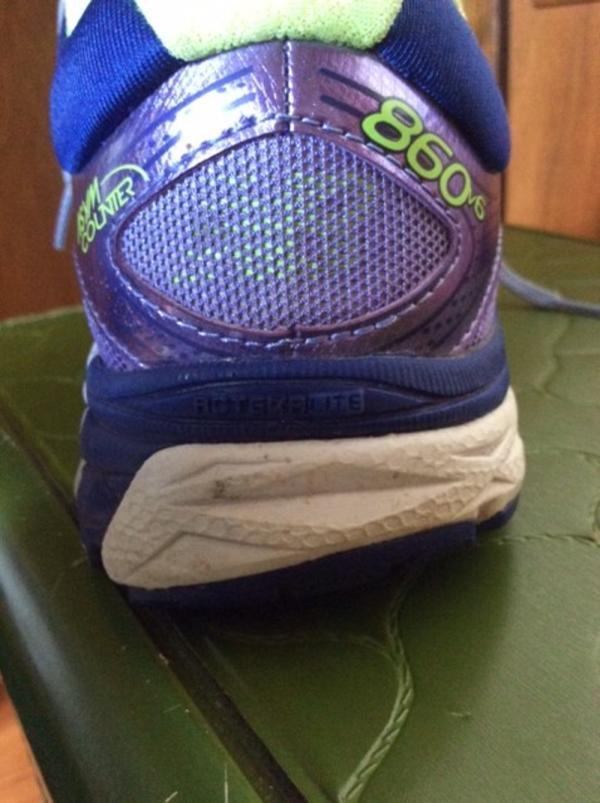 Padding & Lining
The inside padding and lining aren't fraying one tiny bit. In fact, the material still looks and feels new and super cushiony. This includes the entire tongue portion too!
Toe Box
Some say the toe box is narrow, but I say it's perfect. I always order a size 9 even though I normally wear a 7-1/2 dress shoe. This extra room allows for movement, flexibility, and foot swelling and I've never lost a toenail. YET!!!
My toes haven't poked through the toe box and the mesh is strong and durable without feeling heavy and bulky. I run half marathons and marathons in them because I am way too attached to trade in for a racing flat.
Trust me, during long runs, these shoes feel amazingly lightweight without compromising arch support or foot stability.
There's nothing worse than rolling out on one side of your running shoe. So ditch hard orthotics or insoles and feel the love! Aaaaaaaa, feels so good!
Why New Balance?
After blowing through many shoe brands and discussing running shoes with way too many people, I always go back to the best advise girls track coach said, "Running shoes should fit like a glove!"
WALA! When you slip your foot into the New Balance 860's this is exactly how they feel!
So guess which brand I proudly displayed to my son yesterday? Yup! New Balance 860 V7 debuting with a whole lot of aqua!
Stay tuned for a 860 V7. Until then, Happy RUNNING!
Good to know
The 6th version of the New Balance 860 features an updated upper. It comes with an improved padded neoprene tongue that holds the lace in place while giving addition support and comfort. The midfoot and forefoot is a lot wider, giving a roomy toe box.
The forefoot was also enhanced to increase toe spring. It also has added cushioning and improved dual density post for stability and support in the early stages of the running gait.
The New Balance 860 v6 has a standard running shoe length. The midfoot, heel and forefoot are of standard measurements, just like the New Balance 860 v9 running shoe. This shoe is also available in both narrow and extra wide widths, accommodating a wide range of feet.
The outsole unit utilizes the brand's Ndurance Carbon Rubber technology that delivers reliable traction on both wet and dry surfaces while giving added cushioning and responsiveness. This carbon rubber is highly reliable and offers optimal durability in high wear areas.
This New Balance shoe uses the ACTEVA LITE midsole foam that is extended to the entire midsole, giving a durable underfoot cushioning. This works impressively well with the shoe's Medial Post that is strategically placed in the midfoot to correct overpronation.
The ABZORB Crash Pad is another midsole foam that delivers great durability and additional cushioning needed during heel strike. It efficiently absorbs impact for a more stable ride.
The upper of the New Balance 860 v6 uses an open mesh that is breathable and lightweight. It performs efficiently together with the TPU Skin Upper that gives second-skin fit while securing the foot for a much better performance.
The shoe uses the traditional sockliner that gives more underfoot cushioning while the Asymmetrical Heel Counter offers heel lockdown and aids in addressing overpronation.
Rankings
How New Balance 860 v6 ranks compared to all other shoes
Popularity
The current trend of New Balance 860 v6.