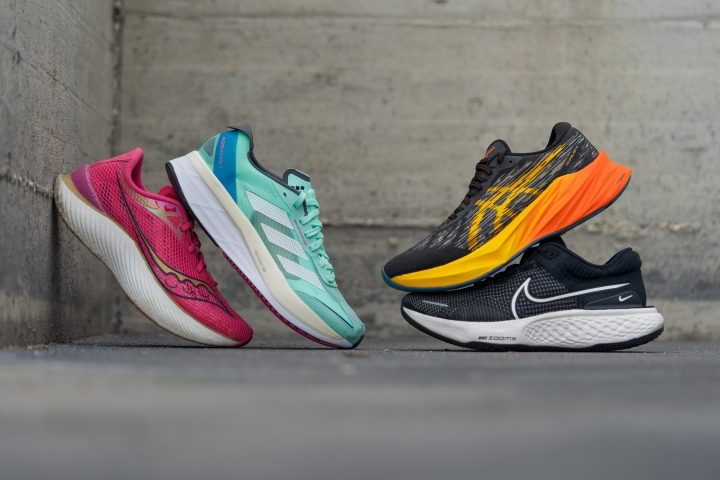 Men's and women's shoes have different features. Though each aims to offer foot comfort and protection during runs, significant design and fit adaptations have been made over time to cater to the anatomical differences across genders.
By understanding these variations, ranging from sizing nuances to alterations in width and shape, you can make informed decisions when choosing running shoes built to your unique requirements.
Decision chart: How to make the right choice
Okay, let's suppose you're a man or a woman who is seriously contemplating the idea of trying out a running shoe from the opposite gender. In such a situation, this chart will assist you in making an informed decision.
| | | | | |
| --- | --- | --- | --- | --- |
| | Men's shoe - standard width (D) | Men's shoe - wide size (2E) | Women's shoe - standard width (B) | Women's shoe - wide size (D) |
| Man with standard feet | Best choice | Only if the toe box is on the narrow side | Only if the toe box is on the wide side | Good option especially if you have narrow heels |
| Woman with standard feet | Only if the toe box is on the narrow side | Not recommended | Best choice | Only if the toe box is on the narrow side |
| Man with wide feet | Only if the toe box is on the wide side | Best choice | Absolutely not | Only if the toe box is on the wide side |
| Woman with wide feet | Good option especially if you have wide heels | Not recommended | Only in wide shoes | Best choice |
| Man with narrow feet | Recommended | Not recommended | Good option especially if you have narrow heels | Absolutely not |
| Woman with narrow feet | Not recommended | Absolutely not | Best choice | Not recommended |
If you find that shoes designed for the opposite gender may suit you well, the next step is to select the appropriate size.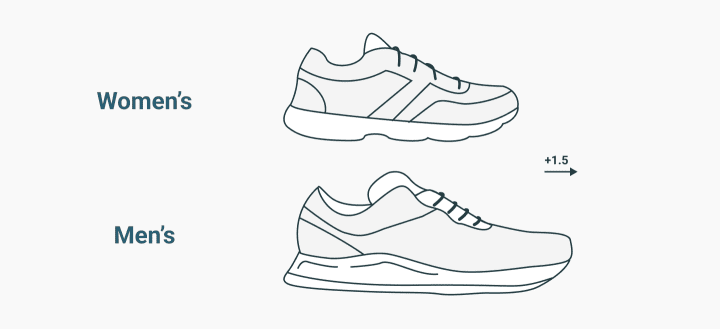 As a rule of thumb, the difference between men's and women's shoe sizes is 1.5 sizes. In other words, you would need to either size up or down by 1.5, depending on whether you're transitioning from men's to women's sizes or vice versa.
| | |
| --- | --- |
| Men's US | Women's US |
| 5 | 6.5 |
| 5.5 | 7 |
| 6 | 7.5 |
| 6.5 | 8 |
| 7 | 8.5 |
| 7.5 | 9 |
| 8 | 9.5 |
| 8.5 | 10 |
| 9 | 10.5 |
| 9.5 | 11 |
| 10 | 11.5 |
| 10.5 | 12 |
| 11 | 12.5 |
| 11.5 | 13 |
| 12 | 13.5 |
| 12.5 | 14 |
| 13 | 14.5 |
Certain brands, such as Adidas, deviate from the general rule of a 1.5 size difference between genders, instead displaying a discrepancy of only 1 size. Therefore, it becomes even more critical to familiarize yourself with the specific sizing conventions used by different manufacturers, especially if you're in between sizes.
At RunRepeat, we assist you in this process by providing running shoe sizing charts for virtually every brand available on the market. We strongly encourage you to consult these charts!
What are the differences between men's and women's shoes?
Men's and women's shoes can vary greatly in design, but they can also be strikingly similar. This diversity isn't confined to different brands; it extends to individual models within the same brand as well.
The good news for those who want to buy the opposite gender's shoe is that a recent study conducted in 2022 indicates that the specific design of shoes based on gender has minimal impact on running biomechanics and physiology. As a result, you can confidently try out shoes that are designed for the opposite gender, but there are some major caveats. Ready to jump?
These are the 4 main differences that you can find between men's and women's shoes.
Width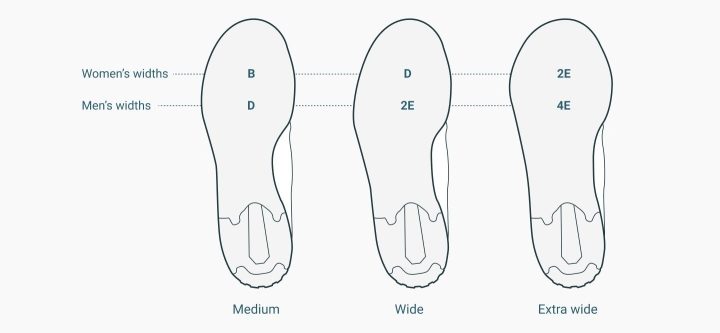 The most frequent sizes for running shoes.
The most significant distinction between gender-specific shoes lies in width. Men's shoes typically have a "D" width, while women's shoes are "B" width.
Some people may not realize how important this difference is, but it's actually quite significant. In fact, as a rule of thumb, you can consider a difference of 0.2 inches or 5 mm in width between sizes. This explains why many running shoe brands provide wide size options for different models.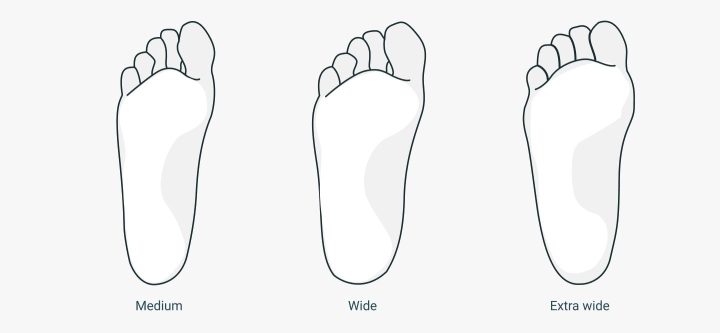 Runners have different widths of feet.
For this reason, if you happen to be a man with narrow feet or a woman with wide feet, you can try the opposite gender's model instead of opting for a different size. This approach can be more cost-effective and provide a broader range of colorway options, but keep in mind that running brands also modify other parameters in their gender-specific shoes.
Let's talk about the rest.
Drop and cushioning
While not as common as the differences in width, some brands alter the heel-to-toe drop between women's and men's shoes in an effort to try to benefit both genders. These are two examples of wildly-popular running shoes:
*Official drop measurements provided by brands.
These two major brands take contrasting approaches. ASICS opts for a steeper shoe design for women, whereas Nike does just the opposite by lowering the drop.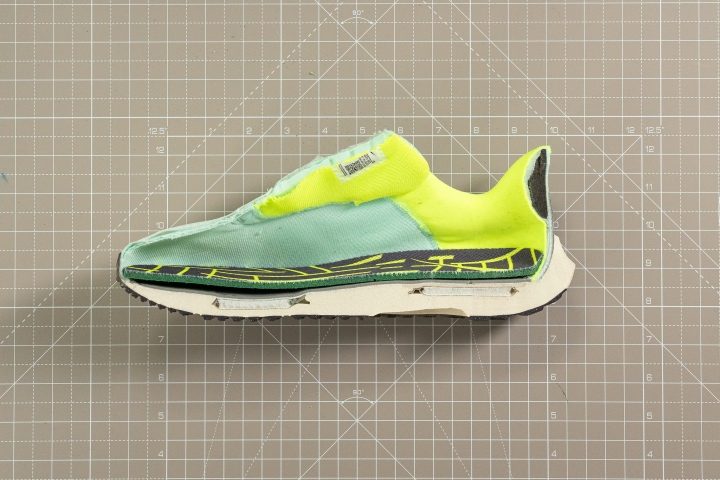 But it's not just about the difference in height between the heel and the toe. Major brands like Nike also make specific adjustments to the cushioning.
Take the popular Nike Pegasus 39 as an example. This shoe model features two Air Zoom units. However, the pressure levels differ in the men's version, at 20 psi, and the women's version, at 15 psi. This is because men usually weigh more. It's like a car—brands consistently advise increasing the tire pressure when carrying more passengers.
Shape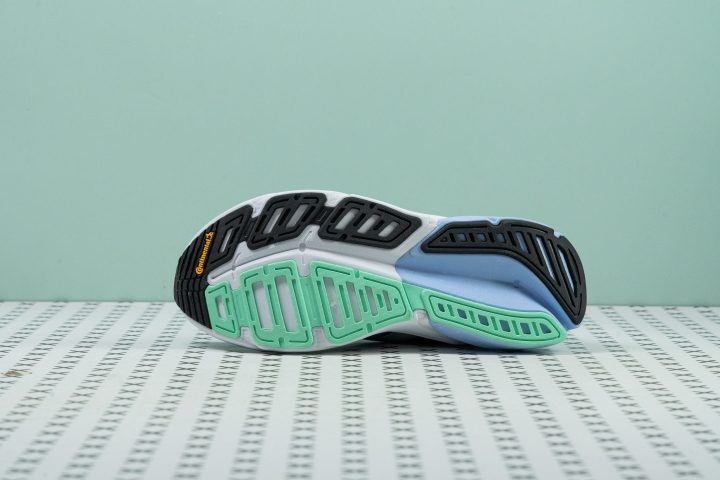 The construction of a shoe, particularly its foot-shaped molds called "lasts," plays a pivotal role in ensuring an appropriate fit. Currently, brands utilize one of three different lasts when creating a running shoe: women's, men's, or unisex.
One might assume that all women's shoes are built using a women-specific last. Well, this isn't always the case. Some brands opt to create certain models of women's shoes based on a men's last, simply altering the colorway. This approach is a cost-saving measure, as it is considerably cheaper than developing two different lasts.
As a consequence of this practice, some women's shoes may not provide an ideal fit for men with narrow heels.
Colorways
In recent years, there has been a trend in which brands are offering an increasing number of gender-neutral running shoe designs. Some brands are even making colorways traditionally associated with women—like light blue or pink—exclusively available to men. This has made it increasingly common for both women and men to embrace color combinations traditionally associated with the opposite gender.
The appearance of the shoe has absolutely no impact on the functionality for your feet, but it definitely holds tremendous importance for most buyers. In fact, it's such a crucial factor that brands go crazy to offer dozens of colorways in their best-selling models, like the ASICS Nimbus 25.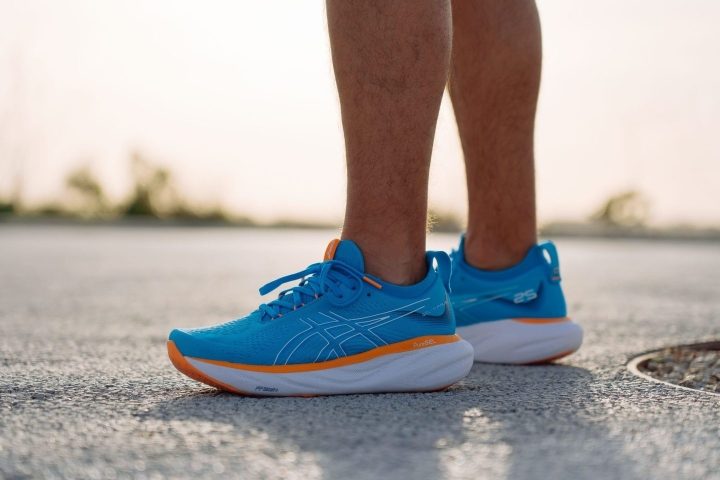 Can I purchase women's shoes as a man?
Yes, it is possible to wear women-specific running shoes being a man, but there are some important considerations to keep in mind.
We understand that bright, attractive colors, usually found only in women's shoes, can make people want to buy them just for their beautiful look. However, there may be a disparity in the shape of the shoes, even when comparing a women's "D" width to a men's "D" width in the same model.
If a colorway is exclusive to women, it indicates that the shoe model is likely not intended for unisex use, which has certain implications. The most significant consequence for you is that women's standard width is typically labeled as "B", not "D", meaning the shoe might fit quite snugly.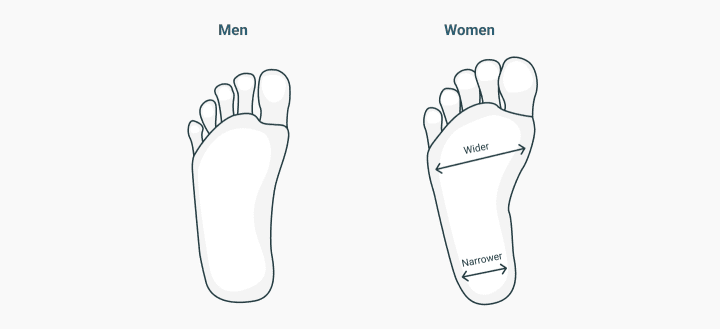 Furthermore, most running shoe brands employ gender-specific shapes in the construction of men's and women's footwear. As mentioned earlier in this guide, women typically have narrower heels and wider forefoot areas like this study proved, resulting in a shoe shape that may feel uncomfortable for most men.
As a woman, can I purchase men's shoes?
Yes, you can certainly do that as well. As you may have already guessed, the situation is just the opposite of the previous scenario. Now, you would need to have a foot shape that aligns with men's shoes, which are generally wider overall and particularly in the heel.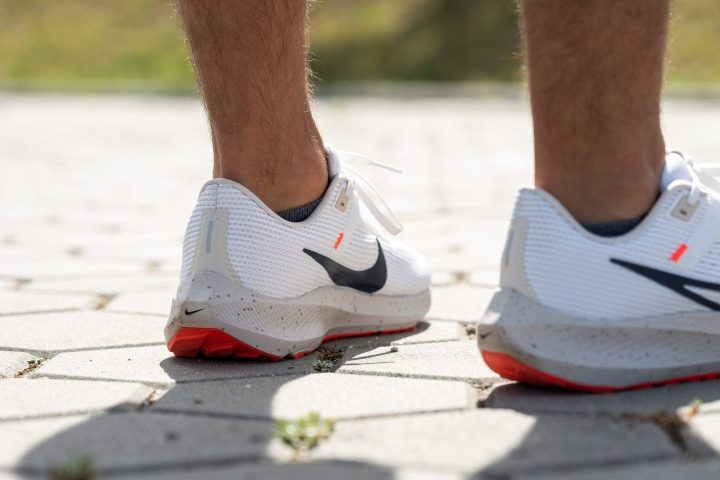 Having said that, it is more common for women to be able to comfortably wear men's running shoes than the other way around. This is especially true for taller and heavier women who often require larger shoe sizes.
It's important to emphasize that in both cases, if you proceed with the purchase, you should be mindful of any minor discomfort or issues. If you feel good and enjoy your runs without any problems, there is no issue with continuing to use those shoes. However, if you sense that something is not quite right, it would be advisable to stop using them.
Finally, here's a quick tip for women runners: if a men's shoe seems to fit well but feels too spacious inside—even at the standard size—you might want to put in an extra insole over the one that came with the shoe, and/or wearing thicker socks in order to fill up any extra room.
Be cautious, unisex running shoes are not the same as men's running shoes
Unisex shoes aim to strike a balance between the needs of both men and women, serving both demographics at the same time—and cutting costs. However, in doing so, brands understand that certain compromises must be made to accommodate both genders.
As a man, it is likely that unisex shoes will fit you well, particularly if you are seeking racing shoes. On the other hand, if you have wider feet and are in search of daily training shoes, a shoe with a unisex shape may not be the most suitable choice for you in standard size.
Conversely, as a woman, you might find unisex shoes to be wider than expected. Remember that their standard width is "D", not "B".
Identifying men's, women's, and unisex shoes
Distinguishing between gender-specific shoes is convenient. When making online purchases, it's really easy as you can easily apply filters for "Men" or "Women," ensuring you find the right category, like in our full catalog. Regardless of whether you choose "Men" or "Women" in your search, unisex models will always appear. Once you open the shoe details, you'll find "Unisex" listed next to the size options.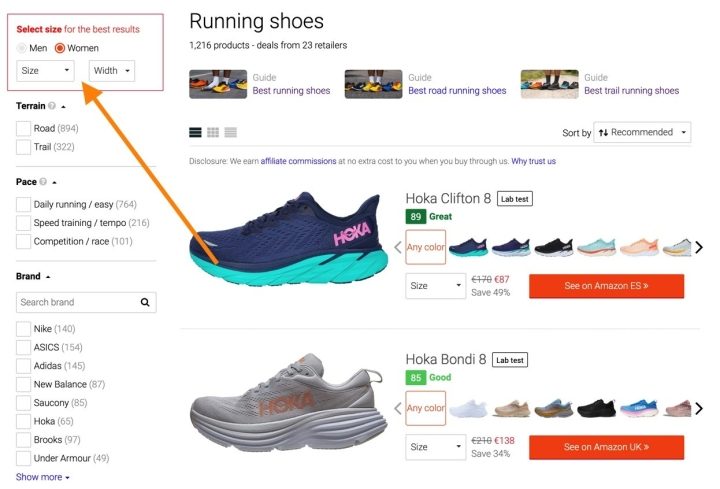 Alternatively, whether you're inspecting your shoes at home, purchasing in a secondhand app or just buying in a brick-and-mortar store, a brief look at the model tag displayed on the shoebox will provide you with the necessary information.
How to identify women-specific shoes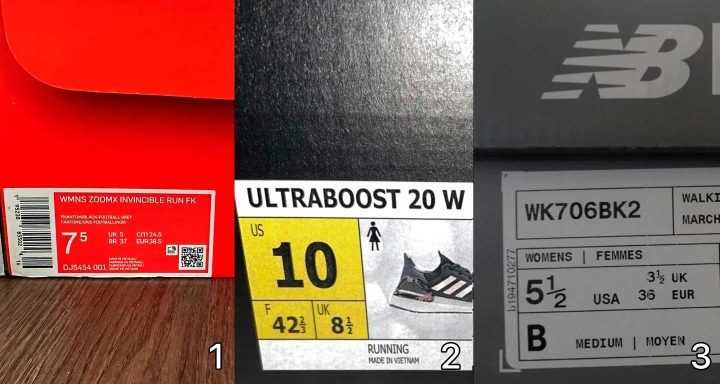 When identifying gender-specific footwear, keep an eye out for certain indicators. These can include "W" or "WMNS" appearing before or after the model name, the woman symbol, or a clear "Woman" tag displayed below the model name. These markings act as useful cues to determine the appropriate footwear for specific gender preferences.
Now, let's analyze these three shoes:
In the first example, you can see that "WMNS" is shown before the model name, accompanied by the corresponding size.
Adidas incorporates the woman's symbol and adds a "W" at the end of the model name.
In this particular case, the presence of "WOMENS | FEMMES" clearly signifies the gender of the shoe. Moreover, New Balance indicates the standard width for women's shoes, which is "B," differing from the "D" typically found in men's shoes.
How to identify unisex shoes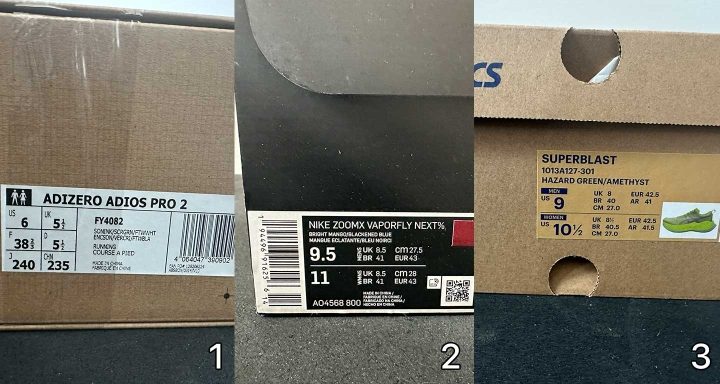 In order to identify unisex shoes, there are two key cues that you can rely on. The first and most important cue is to check if the shoe box provides sizing options for both genders, as most brands show both in the tag. On the contrary, some—like Adidas—only show one size even in unisex shoes.
Furthermore, you may come across additional clues, such as the presence of the word "UNISEX" or a symbol featuring a man and a woman together. These extra indicators can assist you in confirming the unisex nature of the shoe. Let's explore these examples:
The unisex symbol is displayed in the top left corner of the tag, but it doesn't show women-specific sizing.
The tag shows sizing options for both genders.
The tag also shows sizing options for both men and women.
How to identify men's shoes
When it comes to men's shoes, you can typically find either a clear "MEN" tag/symbol or men's sizing indicated. However, unlike women's models that often feature a "WMNS" or "W" before the model name, you won't typically see an "M" at the start of Nike's tags for men's shoes.
The absence of symbols or labels and the presence of only the men's size indicate that it's a men's shoe.
The tag prominently displays "MEN," leaving no ambiguity at all.
The situation remains consistent with the first example, making it easy to identify as a men's shoe.
Women's shoes enjoy better offers compared to men's shoes
We have reviewed the prices of eight highly popular running shoes from the past two years, ensuring an ample selection of colorways and deals.
The methodology was straightforward: we compared the lowest available price for each shoe in both genders—focusing on the most affordable colorway. Here are our findings as of the time of writing:
In our analysis of eight different shoes, we observed that two shared the same price point, whereas the women's model of the remaining six pairs was comparatively less expensive. In contrast, we did not encounter any cases where a shoe was cheaper when it featured a colorway specific to men.
However, purchasing decisions hinge on more than just color preference; price also plays a substantial role for most runners. Securing a discount of 28%, as seen in the case of the women's Pegasus 39, could be a motivation to choose a women's model. This bargain, however, may come with the potential downside of a less-than-optimal fit.
Therefore, it's crucial to ensure compatibility with shoes designed for the opposite gender, as stated in this guide. Or at least purchasing from a retailer with a favorable return policy.
The issues of running in the opposite gender shoes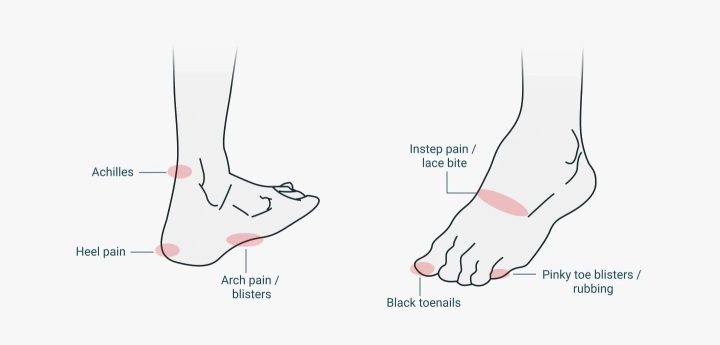 When it comes to running in shoes designed for the opposite gender, several problems can arise. Let's talk about the most common ones.
| | |
| --- | --- |
| Problem | Possible cause |
| Blisters or pain in the arch | Often occurs when women try to wear men's shoes that are wider in the arch area, leading to a loose fit. |
| Achilles issues | Certain brands adjust the heel-to-toe drop in their gender-specific running shoes. The pair you are currently using may have a heel-to-toe drop that does not align with your specific needs, either being too high or too low. |
| Heel pain | For men, arch pain can occur when wearing women's running shoes with a narrow heel. Conversely, women may often face arch pain due to excessive space in that area of the shoe. One possible solution is to try different lacing techniques as an option to tackle this problem. |
| Instep pain | Certain shoes designed for women have a smaller volume compared to their men's equivalents in similar sizes, which can result in discomfort in the instep area. |
| Pinky toe rubbing | Men often encounter pinky toe rubbing when they wear women's shoes that are too narrow. This tight fit can lead to discomfort and irritation. |
| Black toenails | In most cases, this problem can be resolved by adjusting the shoe size. If necessary, consider increasing the size by half a size. |
Hey, women are more than just scaled-down men!
Women typically possess wider hips and a lower center of gravity, factors that significantly influence their distinct running gait compared to men. This structural variance can contribute to a larger Q-angle (the angle between the quadriceps muscle and the patellar tendon), consequently increasing the risk of knee and overuse injuries (comprehensive study on this topic).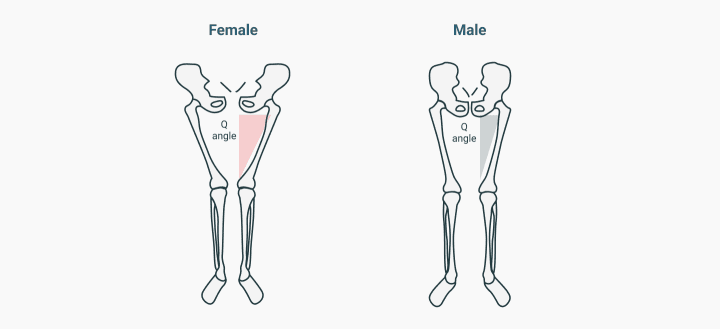 Moreover, women tend to pronate more when they run because of the larger Q-angle mentioned earlier and a higher chance of having flat feet. Additionally, hormonal changes can intensify joint and ligament flexibility, making pronation even worse.
This is why we usually suggest that women runners wear shoes made for women or unisex styles. Men's shoes should only be worn in certain cases, by women with narrow hips and a masculine body structure. And even in those cases, it may be interesting to try stability running shoes first.