A shoe that gave our feet all the impact dampening they could ask for - the ASICS Gel Nimbus 23! It runs smooth and stable, and above all, it keeps the feet free from pain from every pound on the pavement. It's a neutral daily trainer we'd recommend any day for those who want comfort in all their runs. But be warned, with all the protection and cush you get, a sacrifice on lightness is made.
Pros
really comfortable
good lockdown
plush feel
soft yet lively ride
best for heel strikers
wide feet friendly
kayano feel
durable outsole
stable for a neutral shoe
Cons
lacks breathability
on the heavy side
ASICS Gel Nimbus 23 review
The ASICS Gel Nimbus 23 is a neutral daily trainer with an extremely soft landing. There are loads of Gel in this shoe and it drives like a Cadillac—smooth and reliable.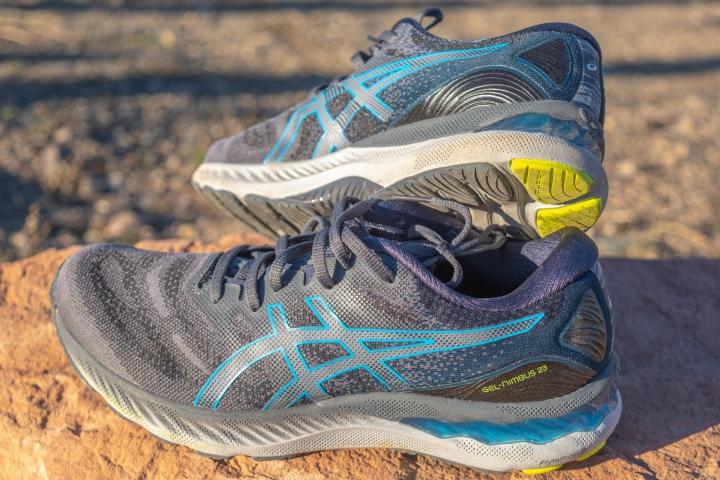 Updates to the Nimbus 23
A bit more Gel in the heel
A bit more stability underfoot
Softer upper
More recycled materials
Just a quick note, men's and women's versions have slight differences because they have gender-specific designs.
Things to love about ASICS Nimbus 23
Cozy upper
The stretchy engineered mesh upper hugs the foot, while the tongue's gussets ensure midfoot lockdown but give enough to keep the shoe flexible. Meanwhile, the padded tongue and collar give the foot a very plush feel.
There's no lace pass through the tongue. I'm not saying it's necessary but it's noticeable.
Lacing system
Nothing really fancy here, but they're very flexible and soft. They feel really nice in your hand.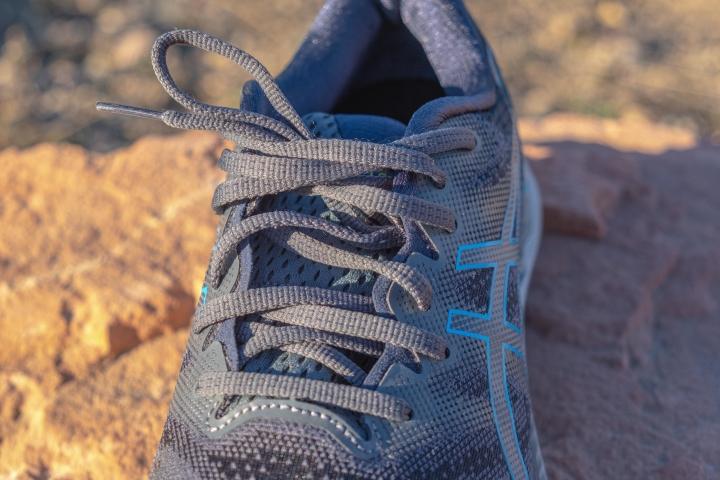 Soft cushioning
The midsole is comprised of a really soft FlyteFoam Propel cushioning, ensuring a really smooth ride and soft landing. It feels lively though, and not mushy, which is a major plus. There's also the famous Gel heel padding.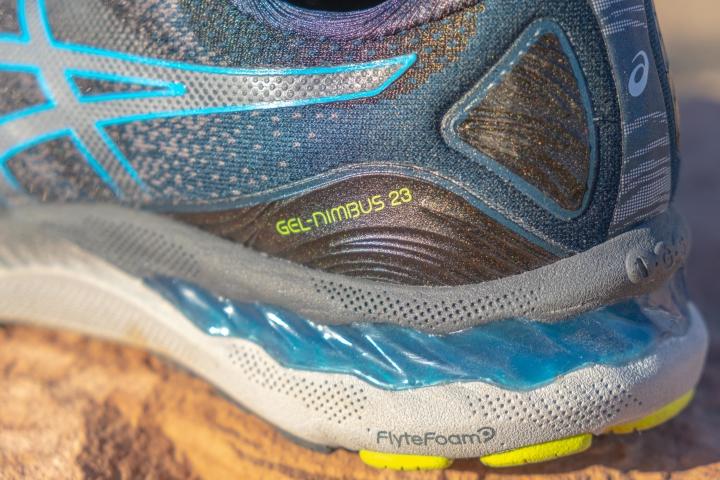 Although this shoe is designed as a max-cushioning shoe, it doesn't have the crazy stack height which is what you normally see in this category.
ASICS' acclaimed outsole
The Gel Nimbus 23 is made of ASICS' high-abrasion rubber (AHAR) outsole. It has lots of flex, allowing the shoe to bend with your foot.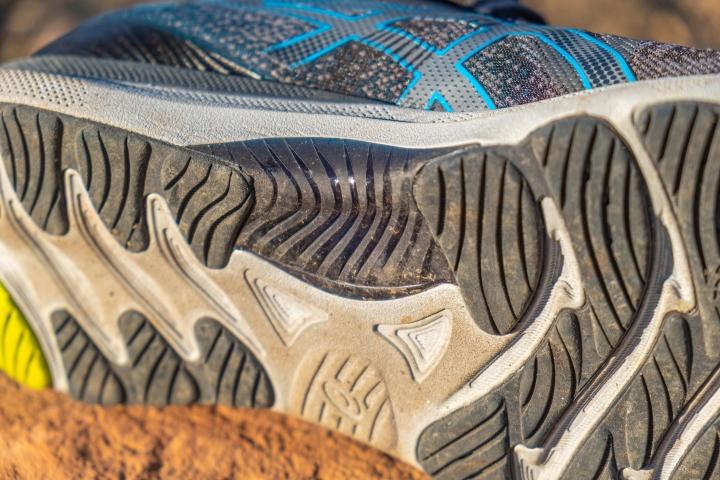 Issues with the Gel Nimbus 23
Not for hot weather
There's not a ton of venting holes in the upper, but it passes the light test. I tested it in cool weather, and just a warning: it could run hot in the summer.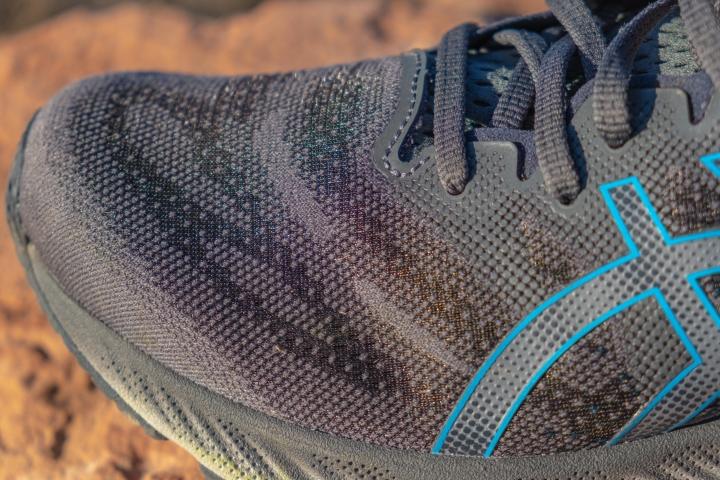 Tongue
It has a little overly padded top portion, which barely touches the ankle. I'm not sure if the added weight is necessary.
Heel counter
It's not as robust as the Kayanos, but it's close. It has medium stiffness with some welded overlays to firm up the edges of the heel.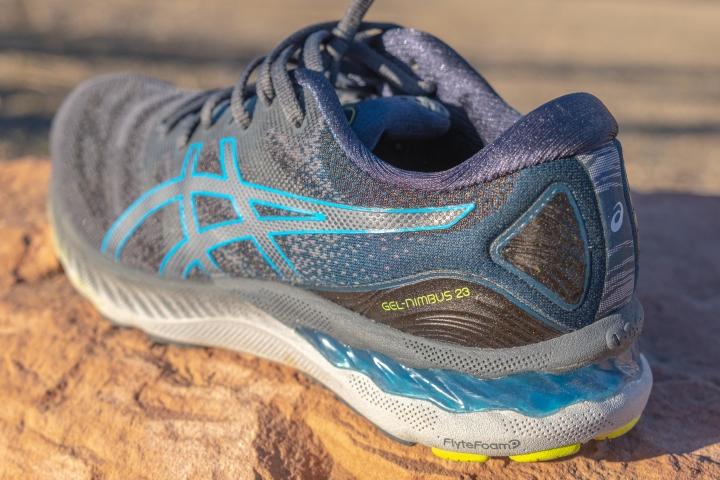 Midsole
Because it's really soft, it may pack out prematurely.
Outsole
The heel rubber is much stiffer than the rest of the shoe. It's great for heel strikers, but I'm not so sure if this will help midfoot and forefoot strikers.
Other things to consider about the ASICS Gel Nimbus 23
Fit
It fits great; the mesh upper is soft and pliable, and it hugs the foot nicely. I didn't experience any heel slip, as well. In terms of width, I had no issues with the D width and my wide foot.
Comfort
The ride of the ASICS Gel Nimbus 23 is reminiscent of the Clifton 7's, which I loved. It's really nice underfoot and with tons of impact absorption.
Although this is a neutral shoe, it very much feels like a Kayano. You can feel that arch support because of the plastic medial post, which I don't particularly like.
Weight
It weighs 11.1 oz, which should be trimmed down by 2-3 oz, in my opinion.
Drop/stack
Durability
ASICS shoes don't really have durability issues, so this should go the distance. My only hang-up is how soft the midsole is. Only time will tell, but I think this would hurt its longevity.
Looks
It has a typical ASICS running shoe look. I like that the logo is a welded overlay and not a patch of plastic, but it doesn't get me all that excited.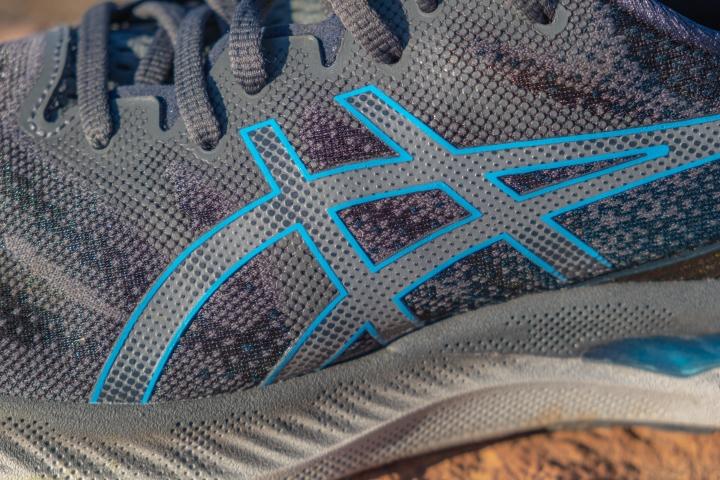 Price
It retails for $150, which is a bit high for a neutral trainer that's over 11 oz.
Overall conclusion
I think that there are better options out there in this category for less money and with lesser weight. With that said, it's really soft underfoot, which made me think about the Clifton which was one of my favorite rides of the year.