Facts
Update:
Asics Gel Nimbus 22
Terrain:
Road

|

Treadmill
Arch support:
Neutral
Weight:

Men: 10.9oz

|

Women: 9oz

Heel to toe drop:

Men: 10mm

|

Women: 13mm

Fit:
Medium forefoot

,

Medium heel

,

Medium toe box
Pronation:
Neutral Pronation
Arch type:
High arch
Use:
All-day wear

|

Jogging
Material:
Mesh upper

,

Rubber sole
Features:
Breathable

|

Orthotic friendly

|

Cushioned

|

Comfortable

|

Removable insole
Strike Pattern:
Heel strike
Foot Condition:
Plantar fasciitis
Distance:
Daily running

|

Long distance

|

Marathon
Technology:
AHAR

,

Flyte Foam

,

Gel
Heel height:

Men: 23mm

|

Women: 25mm

Forefoot height:

Men: 13mm

|

Women: 12mm

Release date:

Jan 2019

Brand:
Asics
Type:
Heavy

|

Big guy
Width:

Narrow

,

Normal

,

Wide

,

X-Wide

|

Normal

,

Wide

,

X-Wide

Price:

$150

Colorways:
Black

,

Blue

,

Green

,

Grey

,

Pink

,

Purple

,

Silver

,

White

,

Yellow
Special editions:
SKUs:

1011A169001

,

1011A169002

,

1011A169003

,

1011A169004

,

1011A169100

,

1011A169400

,

1011A169750

,

1012A155020

,

1012A156400

,

1012A235001
Verdict from 8.1 hours of research from the internet
91
Great!
20240 users: 4.5 / 5
17 experts: 85 / 100
8 reasons to buy
Most users admired the overall structure of the Asics Gel Nimbus 21 because it is durable.
A few wearers noted that the cushioning of the Nimbus 21 feels lighter and more responsive compared to its predecessor.
The shoe has a great fit, according to some reviews.
A couple of users lauded the nice looking design of the shoe.
Several buyers mentioned that the toe-box fits wider than expected.
The Asics Gel Nimbus 21 has a breathable upper, said some comments.
According to some runners, the shoe is very comfortable; the feel is consistent even on long distance runs.
This running shoe offers good heel support, based on a few user reviews.
1 reasons not to buy
It is very expensive compared to other road running shoes.
Bottom line
Majority of the users were welcoming and happy about the Asics Gel Nimbus 21. The shoe obtained a winning spot to many consumers because of its breathability, responsive cushioning, and impressive fit. Though the shoe is expensive, its comfort level and durability were more significant. Overall, the Nimbus 21 is indeed a successful update.
Tip: see the best running shoes.
Our reviews
I'm a tall, medium build, fore-midfoot striker and I train mostly in barefoot/minimal shoes. But I'll try anything once!
Getting the chance to test out the newest addition to the famed Nimbus line was a chance I couldn't pass up! I love the idea of the dual-foam midsole technology. One to absorb the shock and one to put a spring in your step.
Let's see how these every day running shoes are on first impressions.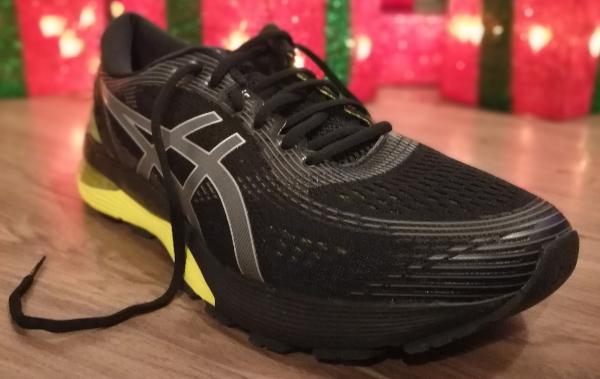 Tech Specs
Weight - 375g (UK11, US12) as weighed by me!
AHAR® outsole - Acronym for ASICS High Abrasion Rubber. Placed in critical areas of the outsole for exceptional durability.
Flytefoam® Proper technology - ASICS energetic foam formulation that provides supreme bounce thanks to a unique elastomer compound.
Reflectivity - Contains reflective materials designed to enhance visibility during low light hours.
Flytefoam Lyte Technology - Asics lightest weight midsole formulation that provides continuous cushion thanks to organic nanofibers.
Heel clutching system™ technology - Exoskeletal heel counter provides improved support and creates improved heel fitting environment.
Rearfoot and forefoot gel® technology cushioning system - Attenuates shock during impact and toe-off phases, and allows movement in multiple planes as the foot transitions through the gait cycle.
I.G.S® (Impact Guide System) technology -ASICS design philosophy that employs linked componentry to enhance the foot's natural gait from heel strike to toe-off.
Guidance Trussic System™ Technology - This Trusstic System® Technology integrates Guidance Line® construction for enhanced gait efficiency while providing midfoot structural integrity.
Guidance line ® midsole technology - Vertical flex groove decouples the tooling along the line of progression for enhanced gait efficiency.
Spevafoam™ 45 Lasting - Employs 45-degree full-length SpevaFoam™ 45 lasting material for a soft platform feel and improved comfort.
Ortholite® X-40 Sockliner - This premium sockliner features higher rebound properties while providing excellent moisture management and a high-level of breathability (Ortholite is a registered trademark of ATP Manufacturing LLC.)
Design overview
Looks-wise I think these are horrible. They're like something straight out of the '90s! I don't really have much else to say really, I'm just not a fan of the styling here.
With a heel 23mm high and a forefoot 13mm high there is a relatively standard heel to toe drop with the Nimbus. They feel really high up compared to other shoes of a similar sole height, I'm not entirely sure why that is but I definitely notice the heel height on these more than usual. Initially, this worried me because the last thing I want is to feel as though I'm wearing high heels whilst I'm running.
Upper
The upper on the Nimbus 21 is a two-layer jacquard mesh design. It's meant to be flexible but I really don't think it's got much give in it. I am much more a fan of knit uppers since my testing of the Nike Epic React Flyknit.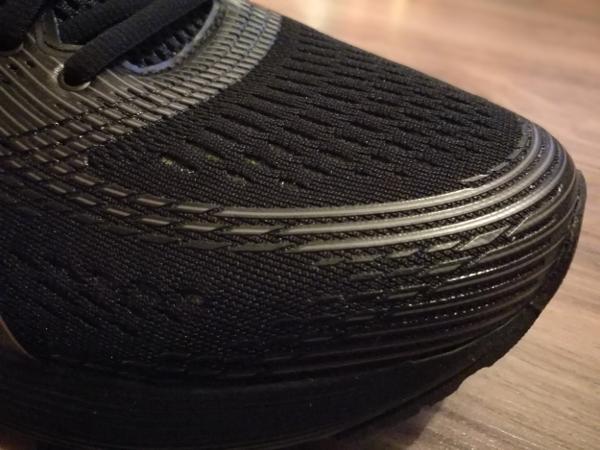 The upper on the Nimbus is very similar to that of the Dynaflyte and that too is a little unforgiving.
Laces
The laces on these road shoes feel quite cheap but they are very soft and seem to grip quite well, though certainly not the best I've come across.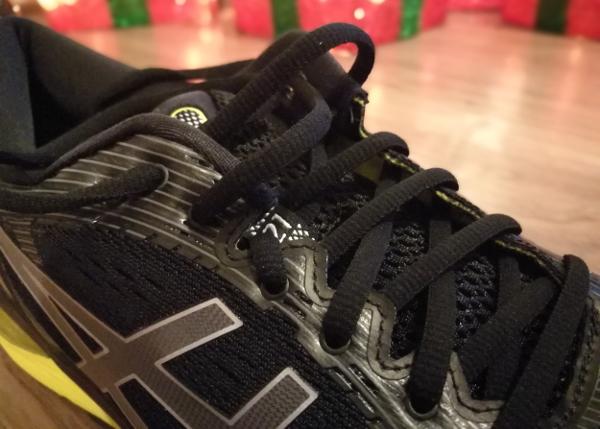 Heel counter
The heel counter on these shoes is very hard, heavy and stiff. It's very close to the style of the one of the Dynaflyte and I have to say as much as I dislike it for its lack of flexibility and the weight it adds it really works well to hold my foot in place.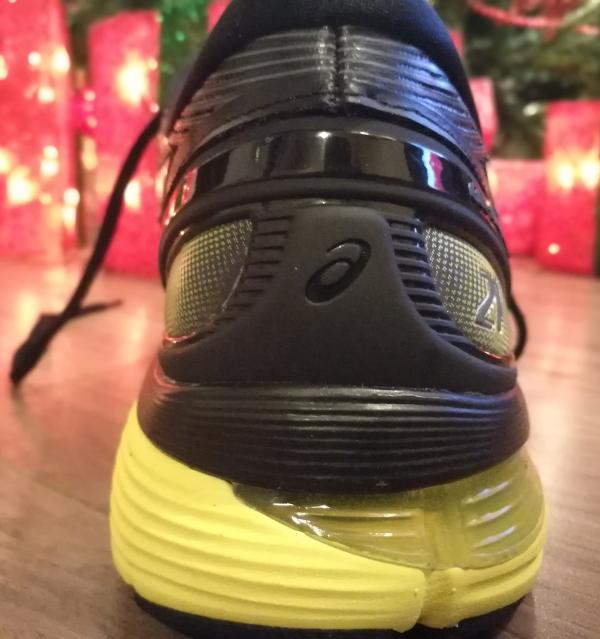 Collar
What can I say about this thing? I mean, it's all just too much. I know that every shoe can't always be minimal but I really don't see the need for some to be so extreme.
Yes, it's soft and comfortable but with them on I couldn't honestly say the massive collar makes them any more comfortable than my Vibram FiveFingers that have no padding at all!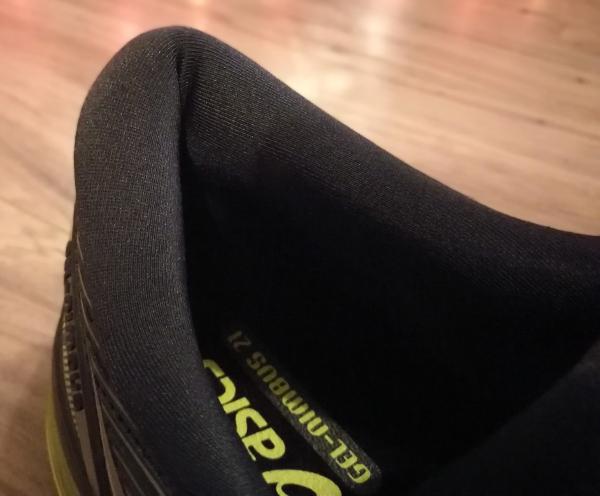 Tongue
There's nothing special going on here tongue-wise. It's a bit padded but not too much. I've only done one run in these so far but nothing found its way in past it, so I suppose that's a mini victory.
Safety
There are reflective strips on the sides of the Nimbus.
Anyone who's read any of my reviews before will know that I don't see the point in reflective strips. Thankfully although there are a lot of them on these road shoes they don't work very well! Hah!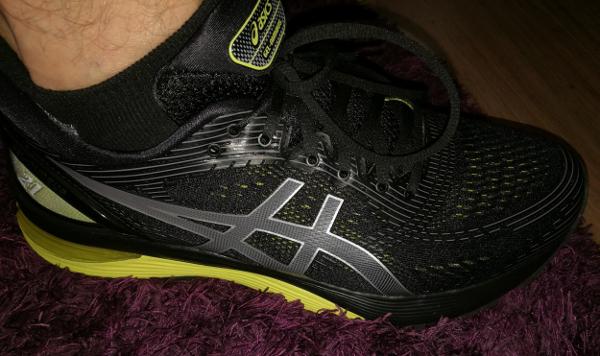 Sole
Now usually I don't really like running shoes with more than a 4mm heel to toe drop but I really, really like the sole on the Nimbus. ASICS have done a great job on this shoe.
The Nimbus has a dual foam midsole that consists of a soft, light foam that is predominantly at the heel for shock absorption and a more responsive, rubbery foam that is mostly at the forefoot.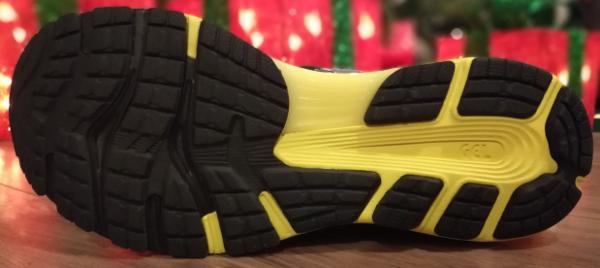 I love this idea. It means that this shoe works for both heel strikers and forefoot strikers. Being the latter, I can only really attest to how well they work for people who land on their forefoot.
I love how responsive these feel. They have just enough cushioning that they absorb the shock of impact but they also have great energy return so I didn't once feel as though they were killing my momentum.
Another plus point to these road shoes is that because of how responsive they are, they actually feel lighter to run in than the Dynaflyte do. Even though they're almost 100g heavier and aren't even designed to be fast like the Dynaflyte is. Another win for the Nimbus.
I almost forgot to add that there's some gel in the sole somewhere too. I'm not sure what it's meant to do or what it does do but it's there.
Support
The arch on these comfortable road runners isn't very noticeable. I really like this about the Nimbus 21.
I'm not a fan of intrusive aches digging into the soles of my feet. But because my feet can act a bit more naturally this actually adds support. My feet are able to adjust better to the ground.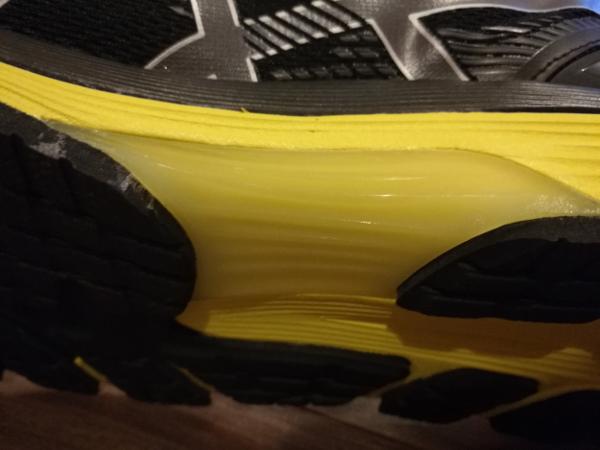 The heel also adds to the support value here. It really locks my foot in place with little to no slippage whilst running.
There is a plastic 'trusstic' on the sole that is meant to add some support. So far I can't confirm nor deny that it does anything positive. I have a bit of a hunch that it could just be more of a novelty selling point than any actual use.
Flexibility
Considering the thickness of the sole on the Nimbus the toe feels reasonably flexible.
What's interesting is that on the Dynaflyte if I flex the shoe in hand it feels more flexible than the Nimbus does. But with them on the Nimbus feels much more supple. I think it might have something to do with the Flytefoam Propel part of the sole on the Nimbus.
Tread
The tread on these shoes is decent. It's aggressive enough that it's suitable for a lot of different surfaces. It can handle a little trail but nothing crazy.
Because the sole is so soft it's great over hard ground and even some rocky terrain. I definitely wouldn't advise running in mud, but I think that kinda goes without saying (even though I just said it).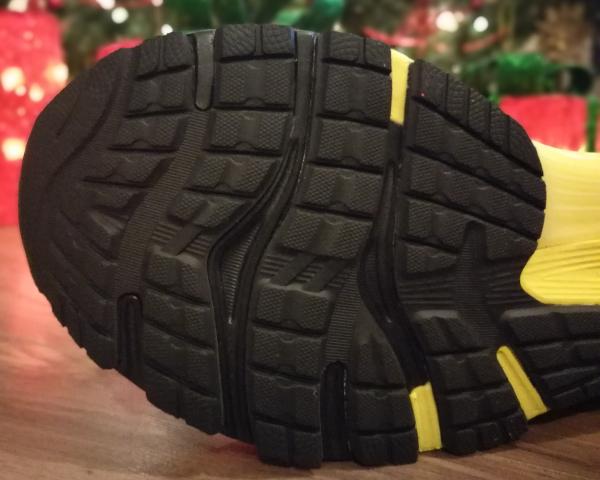 Grip
The grip is great! I mean really really good! Once I got passed the new sole rubber slippy-ness stage (you know what I'm talking about), they really impressed me.
The rubber is incredibly soft, possibly too soft but time will tell. I have worn the sole down quite a lot already and I've only done one 7.5 mile run in these so far.
Fit & comfort
Despite Asics saying that the Nimbus run true to size but they definitely don't. My toes touch at the end of the shoes. I definitely could have done with a half a size or even a size bigger.
Toe box
Again ASICS have it all wrong. They say the Nimbus 21 has more toe room than the Nimbus 20 did to allow room for toes to splay.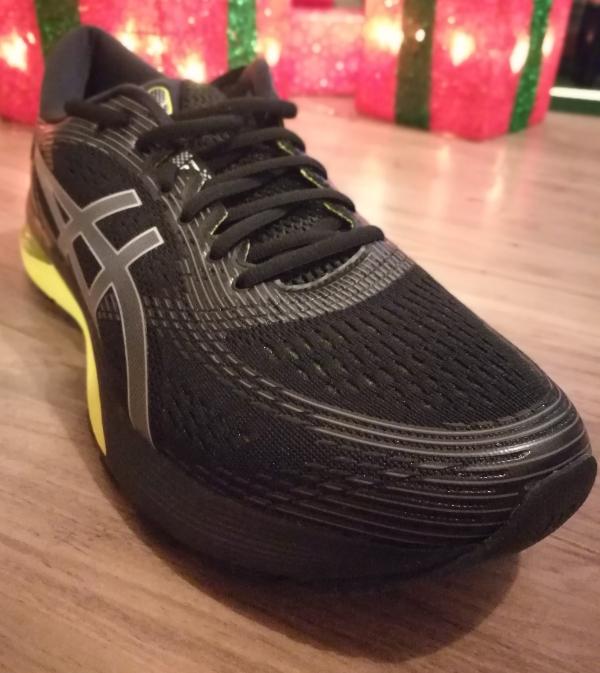 I can categorically state that my feet have nowhere near enough room for my toes to do anything. I have no idea how tight the Nimbus 20 must have been!! It's a real shame and along with the sizing issue is the one major flaw to these shoes.
Heel
The heel fits so snug. It's a tight fit but I really love that about these shoes. It's also very comfortable. Yes, it's weighty and stiff but heck, my feet ain't complaining!
Performance
The highlight of these shoes so far! I am really impressed. On my 7.5 mile run, I did 4 miles at a reasonable pace and the rest at a steadier pace. I threw in some groomed trail as well as some wet sand and plenty of ups and downs.
The Nimbus was brilliant at both paces and over each surface. From the moment I set off running, I was surprised at how springy these shoes feel. Having just finished reviewing the Dynaflyte I can't believe how much faster these are than they were!!
I'm actually looking forward to smashing a lot more miles in these, despite the lack of toe room! I think that says a lot!
Summary
As I'm sure you can tell the Nimbus 21 has made a serious first impression!
I wasn't sure how well I'd get on with these but I'm so glad I decided to take on the challenge! The sole technology is brilliant! I need more Flytefoam Propel in my life! It's almost as good as Nikes React foam and that stuff is basically too good!
I'm looking forward to seeing how well these get on over the next 42.5 miles before I write my final thoughts on them.
This 21st iteration of Asics' premium neutral cushioned shoe comes loaded with features, including, but not limited to:
Rear and fore-foot Gel cushioning for impact absorption
Two variants of FlyteFoam – Propel for elastomer compound bounce and Lyte with organic nano fibres for cushioning
Trussic system integrating Guidance technology for improved gait efficiency
SPeVA 45 lasting – Full-length SPeVA foam lasting for soft feel, rebound, and durability
Ortholite X-40 sockliner for higher rebound and better moisture management
Asics calls the shoe "re-engineered" and this I suppose is merited given the use of two different types of FlyteFoam (Lyte and Propel: first time in Nimbus although already introduced earlier this year to Gel-Kayano 25 and Gel-Cumulus 20) in addition to a new, wider last and lateral full-contact outsole.
Unboxing the new Asics Gel Nimbus 21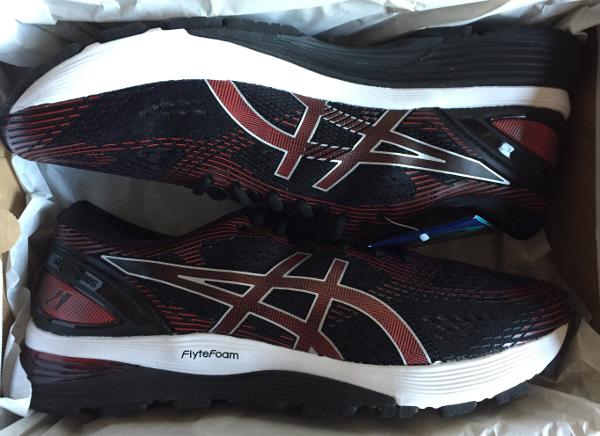 First look
The upper features two-layered jacquard material, new for Gel-Nimbus but again seen first on Gel-Kayano 25. Use of premium material throughout is evident and the shoe is immediately comfortable.
Two-layered jacquard up close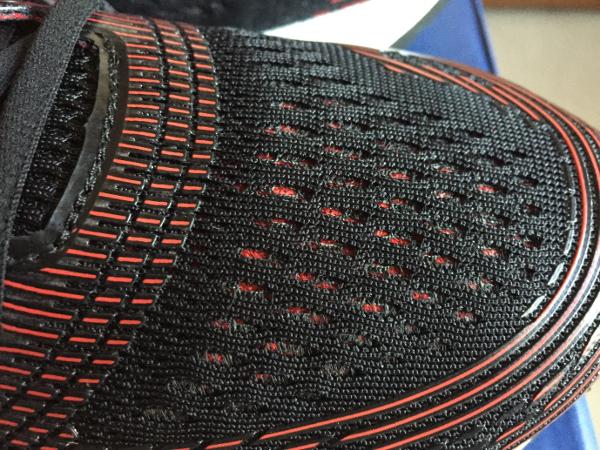 With toe stack at 13mm and heel stack at 23mm, the shoe comes with 10mm drop which Asics considers so optimal to running that they've given it a name – HG10MM.
At 310 grams stated weight (my US 10.5 comes in at 336 grams) Gel-Nimbus 25 adds 5 grams to the previous iteration.
The look of my Black/Classic Red colorway is best described as "retro." Despite laden with the latest technology and innovation, the shoe manages to retain that familiarity. I'm sure long-time fans would not disagree.
A feature described on the website refers to use of reflective material in upper to enhance night time visibility but, try as I may, I other than the reflective patches on the heel, I didn't notice anything else.
Retro: love it or not. I'm not yet sure which!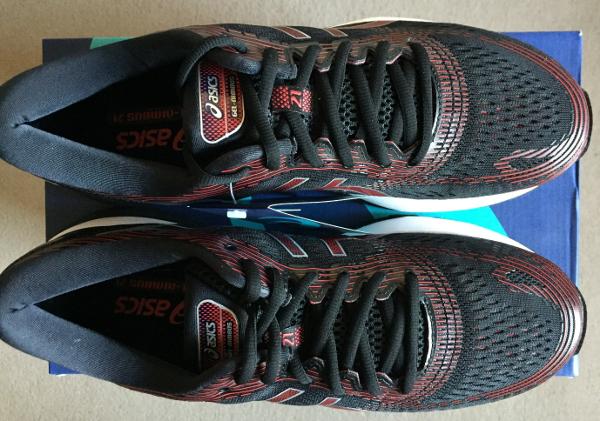 I have to think that a good chunk of that additional weight versus version 20 is due to the outsole. The outsole is indeed full-length, and visibly chunky.
Both the Guidance Line and the Trussic system, interestingly, are subtle, at least over previous versions. "Lateral full-contact outsole" I take to mean basically a wider foot-print.
Barely-there Guidance Line and Trussic system and wide foot-print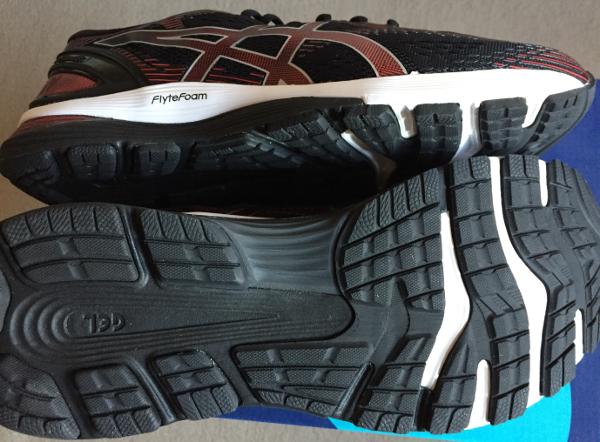 There is a modest external heel counter, but a much more substantial one within.
The use of Ortholite collar sponge should go a long way towards comfort, unlike in, say, Gel-Cumulus 20 where I found the collar too intrusive.
External heel counter, Gel, FlyteFoam Propel (white) and FlyteFoam Lyte (black)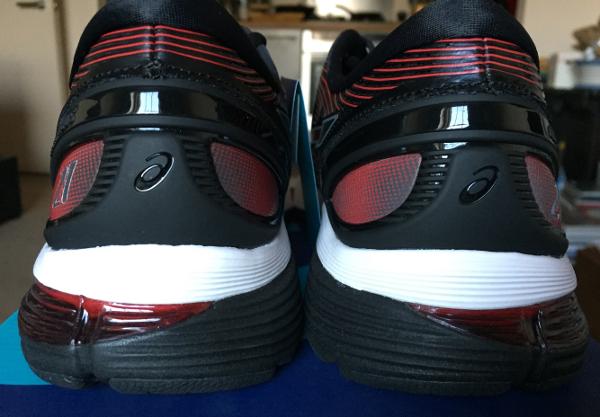 First impressions
The shoes are immediately comfortable. While the new supposedly wider last is not noticeably wider than, say, Gel-Kayano 25, it is a much better fit than Gel-Cumulus 20, which I found too tight.
It is a good fit without being too roomy or loose, perhaps attributable to the forgiving but supportive nature of jacquard mesh. For Gel-Cumulus 21 I went with my usual US 10.5 (UK 9.5, EUR 44.5), which worked well for Gel-Kayano 25 but proved perhaps ½ size small for Gel-Cumulus 20.
Over 3 runs totaling 16 miles, I observe the following:
The ride is plush and smooth, especially at slower speeds
Cushioning is on the softer side (compared, say, to Gel-Cumulus 20) but not too soft and still manages to be responsive
Forefoot cushioning is particularly noticeable (in a nice way)
Outsole traction in wet surface is excellent and reassuring
The wider foot-print feels a bit cumbersome and particularly noticeable when cornering
Upper remains comfortable and supportive throughout
While a full review in due course after much more extensive testing will no doubt flesh out above points (perhaps even overturn them?) initial impressions are that Gel-Nimbus 21 is well suited for the long slow distance runs, for daily training, and for marathon distance racing.
I believe the additional stability offered by wider full-contact outsole favours the heavier runner (and at 174cm and 71kgs I don't believe I am one) who do not require support to the extent available through Gel-Kayano 25.
I like the use of high-quality materials and resulting comfort and plushness but I'm undecided regarding styling and not a fan of the wider outsole. Watch this space for a full review!
This is an early review for the brand new Asics Gel Nimbus 21 running shoes. I have tried several Asics shoes in the past but none of the previous versions of the Gel Nimbus so I did not really know what to expect.
The pair I am testing came in what seems to be this year's favourite colour combination of black and white. Although I usually like my running shoes to be brightly coloured so I can be seen, the black and white combination here looks really good.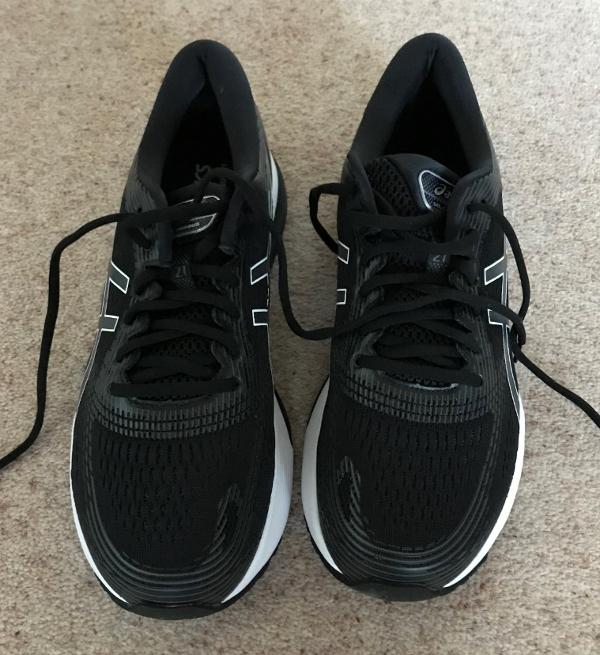 The first thing that stands out is that the Nimbus, especially the sole, is quite a wide shoe.
This makes them look well-proportioned especially in larger sizes which can look a bit long and thin in other styles. They could happily double up as casual as well as running shoes.
Different design
The design here is a mixture of modern and classic. The mesh upper is very modern and the white on black sole is striking with a hint of the casual trainers that are popular these days.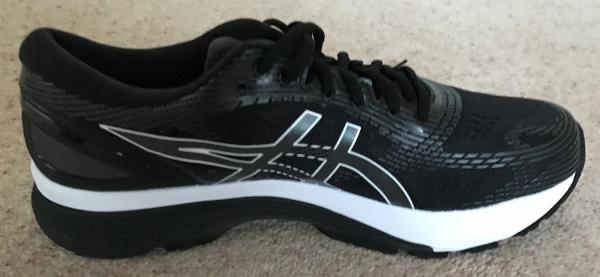 The old school Asics logo fits in well but has a definite retro feel. Everything else is modern with a padded collar and tongue and plenty of reflective markings to make sure you stand out at night.
How do they feel?
The Nimbus was comfortable straight out of the box and sizing was exactly as expected. The padded collar and tongue cosset your ankles and add to the comfort levels. The sock-like mesh upper stretches with your feet and does not feel tight or have any pinch points.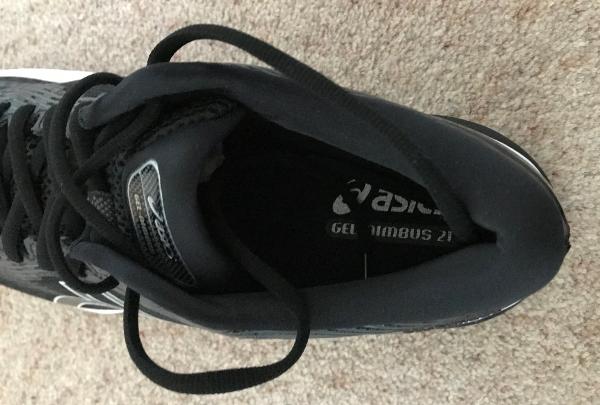 The stretch adds to the breathability keeping your feet cool. The toe box was roomy in terms of length and width and I could happily wear them all day.
The heel guard was not as tight as other Asics shoes I have tried and I did have to tie the laces tightly to make my sure my feet did not move around. If you have found other Asics shoes a bit tight these could be perfect but if the reverse is true it would be worth trying the Nimbus carefully before buying.
A small surprise was that whilst the thickness of the Nimbus' sole looks like the ride is going to be very soft, it is firmer than expected. I don't mean stripped down racing shoe firm but supportive and thin enough to give you feedback on the surface below.
The Nimbus' were still super comfortable just not quite as pillow-like as they look. They also felt a bit stiff initially but I expect flexibility will probably increase with time.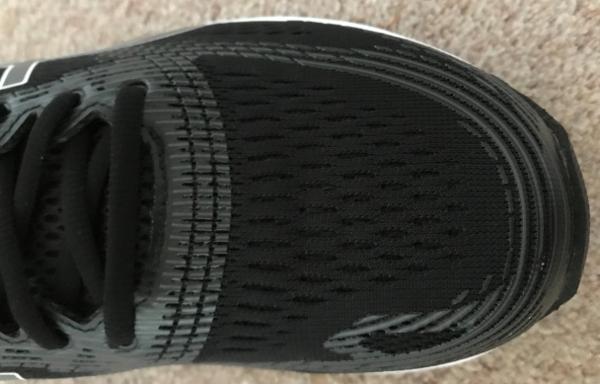 What about underneath?
The thing that strikes me about the Nimbus' sole is the surface area. It looks bigger than most of my other running shoes and seems to spread out from under the shoe. Not a bad thing as they feel stable but not as nimble or as good at quick direction changes as some shoes.
Otherwise the sole is fairly standard with all the tread around the outside of the heel and a support bar beneath the instep. I have been out on wet pavements and the grip was fine without any slipping or loss of confidence.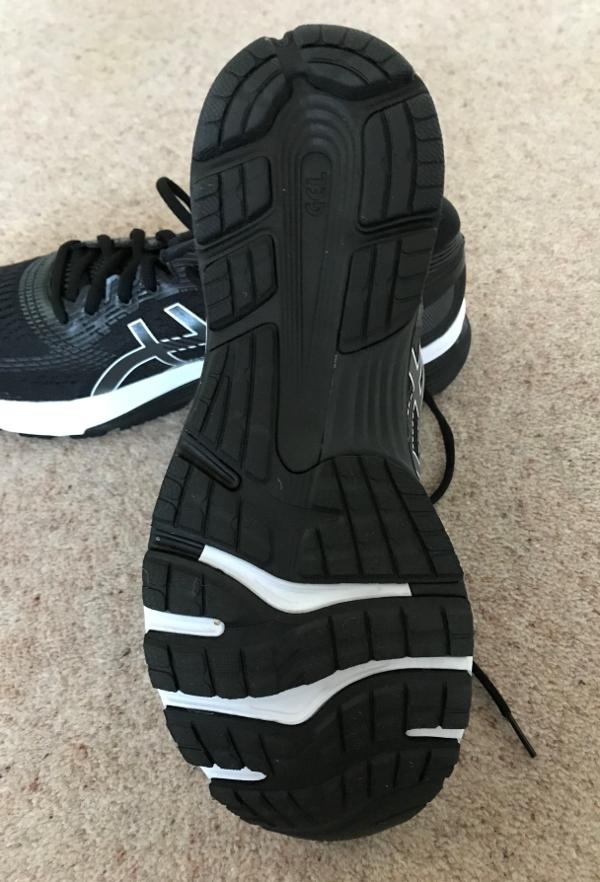 There is plenty of protection as the sole curls up around the toe at the front and the heel guard is firm. I would not take them off road, partly due to the shallow lugs, but also because the wide sole is not suited to the directional changes needed off-road.
Performance
To me, the Nimbus is a super comfortable training or long distance shoe. They are lighter than I expected and feel exceptionally well-made. They really feel like an upmarket, high-quality shoe.
You can feel the quality the moment you put them on and they have never felt anything other than well cushioned. The dual Flytefoam sole contributes to the lightweight and gives cushioning at the heel and push off from the forefoot.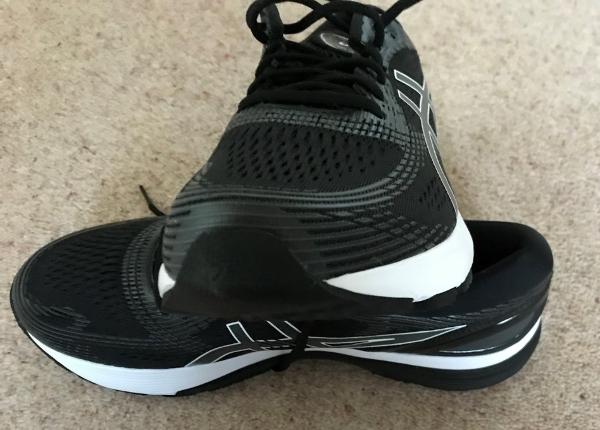 As you can see the thickness of the sole makes sure there is plenty of shock absorption where it's needed for lengthy road runs. Despite this, they feel a lot lighter than they look. There is good support beneath the instep to stop any rollover and they felt very stable throughout the run.
The mesh upper is breathable and my feet stayed cool though I have only tried them in cooler weather so far. These would not be a winter workhouse as I think the mesh would let in too much water but for rest of the year, they should be perfect for all but the fastest runs.
Conclusion
If you are looking for a comfortable and well-made mid to long distance running shoe, the Nimbus will not disappoint. They are lighter than they look and have excellent cushioning from the Flytefoam midsole so aches from long runs should not be an issue.
The design is subtle enough to wear them casually and the build quality makes you think they will last for years. The Nimbus will suit runners of all shapes and sizes and provide subtle pronation support to those who need it without bothering those who don't.
These are a great pair of shoes that won't disappoint just be sure to try before you buy as the sizing is slightly different to previous Asics.
Designed for neutral runners who are looking for a soft and plush ride, the Asics Gel Nimbus 21 features several exciting updates from top to bottom. No matter what the distance, the shoe will give a comfortable fit, from start to finish.
One of the significant updates is the updated upper design. The shoe uses a new engineered mesh with a look that is totally different from the past version. The upper mesh aims to provide breathability and added support.
The Nimbus 21 features two updated midsole technologies - the FlyteFoam Lyte and FlyteFoam Propel. The new midsole design offers lightweight cushioning with lively forefoot bounce.
The notable Rearfoot and Forefoot Gel Cushioning is still part of the midsole, but for the latest version of the Asics Nimbus, the gel in the forefoot section is invisible. It is no longer visible from outside but it still offers the right amount of forefoot flexibility.
The Asics Gel Nimbus 21 now has a much wider toe-box compared to the Nimbus 20. It allows the toes to spread naturally whenever needed. The forefoot also has a wider width than the 20th version.
The shoe also features a new outsole design. The new lateral full-ground contact outsole encourages a smoother heel-to-toe transition.
The Asics Gel Nimbus 21 runs true to size. It uses a new last, which gives more room in the forefoot section. The heel and midfoot areas offer a snug fit. The shoe is offered in standard medium and wide widths for both the men's and women's versions.
In the outsole of the Gel Nimbus 21 is the ASICS High Abrasion Rubber (AHAR) material. Asics has been using this outsole material in some of its running shoes. It has proven to give shoes longevity.
The AHAR material found in the Nimbus 21 is designed to give the shoe exceptional durability on varied paved surfaces. It allows the outsole to withstand wear and damages. Aside from outsole sturdiness, the AHAR also delivers impressive traction on dry and slippery surfaces.
The new lateral full-ground contact outsole design offers a smoother ride, from heel strike to toe-off.
For a more energetic and lighter run, Asics makes use of the innovative FlyteFoam Lyte and FlyteFoam Propel technologies. The combination of these two midsole technologies creates a bouncy and lively feel while running. Aside from the Nimbus 21, these midsole technologies are already used in other Asics running shoes like the Kayano 25 and Roadhawk FF 2.
The FlyteFoam Propel is a lightweight midsole foam with elastomer compound. It is also formulated to deliver a high-energy return for a powerful toe-off. The lightweight design aims to encourage fast and effortless movement.
The FlyteFoam Lyte, which is made of organic nano-fibers, offers midsole durability. It is 55% lighter than the standard midsole foam and offers continuous cushioning no matter the distance.
The famous Rearfoot and Forefoot Gel cushioning helps in attenuating shock during landing and toe-off. The gel cushioning, as a shock absorber, aims to provide a smoother heel-to-toe transition without affecting forefoot flexibility and overall comfort.
The Guidance Line midsole technology is also used. The vertical flex groove is strategically placed in the midsole to enhance gait efficiency for a better running experience.
The Guidance Trusstic System Technology works well with the Guidance Line. It helps to further enhance gait efficiency while also improving structural integrity.
Lastly, the midsole employs a moulded EVA Sockliner. It helps in reducing moisture while also providing additional underfoot cushioning.
The upper of the Asics Gel Nimbus 21 makes use of a two-layer jacquard mesh material. The material is lightweight and stretchable. It adapts to the natural shape of the foot, giving it a comfortable wrap. It also gives the foot breathability, keeping the foot cool and sweat-free even on warm running conditions.
Reflective details are also incorporated into the shoe's upper. The reflective materials are designed to increase visibility during low-light runs.
The External Heel Clutching System secures the heel in place. This plastic material also provides support without adding too much weight.
The padded tongue and the presence of the Ortholite Collar Sponge deliver added comfort while improving the overall fit. These materials do not give the foot a constricting feel, rather it further enhances foot lockdown, especially in the heel areas.
The shoe has a lace-up closure just like the older Nimbus versions. The laces are easy to adjust and they are very durable. The laces stay in place while running and the extra eyelets allow the runners to further secure the ankle area.
With the release of the Nimbus 21, Asics promises to give runners a more comfortable and more responsive running shoe. Here's how the Gel Nimbus 21 perform in terms of cushioning, fit, durability, and comfort.
Cushioning. Aside from the Gel cushioning, the Nimbus 21 features new midsole technologies - FlyteFoam Propel and FlyteFoam Lyte. These technologies are formulated to deliver bounce and responsiveness. These midsole materials come in a lightweight yet durable design. Compared to the Nimbus 20, the 21st version is slightly more responsive, soft, and flexible.
Fit. The new Gel Nimbus features an enhanced fit, from the heel to the forefoot. It also has a wider toe-box for a roomy environment. Thanks also to the heel clutching system that holds the foot securely without compromising the snug fit.
Durability. Asics is a brand also known for its durable and cheap running shoes. The Asics Gel Nimbus 21 is not as affordable as other road running shoes but it is guaranteed to be as durable as the Nimbus. The shoe is made from premium materials that can withstand the damaging elements of the road.
Comfort. The Asics Gel Nimbus 21 is a comfortable running shoe, more comfortable than then old Nimbus 20. This is made possible by the engineered mesh upper, soft cushioning, and overall design of the shoe. It wraps and holds the foot securely and comfortably.
The performance of the Asics Nimbus 21 is as impressive as the older version. Overall, it is a reliable shoe for long distance runs and training sessions.
The Gel Nimbus, Kayano, and Cumulus models are popular Asics running shoes. These shoes make use of the notable Asics Gel cushioning which was first released in 1987. When the technology was created, the main focus was to deliver maximum comfort. More than 30 years after its creation, the Gel cushioning still aims to deliver reliable shock absorption and comfortable underfoot protection.
The first ever Asics Gel Nimbus was released in 1999. The shoe name `Nimbus` is a Latin word which simply means `cloud`. The main objective of Asics for creating the Gel Nimbus is to provide runners with light and comfortable running shoe, allowing runners to feel like they're running on a cloud.
The Asics Gel Nimbus 20 is a very special version since it is the 20th-anniversary release. According to Asics, the Nimbus 20 is the lightest version in the Nimbus history. The shoe also features a few newly-formulated shoe technologies including the FlyteFoam midsole cushioning.
More than 20 years of history, the Asics Gel Nimbus has managed to provide runners what they exactly expected and help them achieve the best running performance possible. To provide against runners' highest expectations, Asics continues to innovate and improve the Nimbus series every year.
Asics considers the Nimbus series as the brand's best long-distance running shoe. The shoes are designed for runners of all levels - from beginners to professional racers. Latest versions, including Nimbus 20 and Nimbus 21, provide runners with superior cushioning without adding too much weight.
The 21st version of the Gel Nimbus has received a Lite-Show treatment. The running shoe features the same technologies and materials found in the Gel Nimbus 21 shoe, but it comes with reflective details. The main purpose of the Lite-Show version is to make runners visible especially when running on low light condition.
The Nimbus 21 Lite-Show has reflective panels on the back, front, and sides. Depending on the design, these reflective panels are sometimes colorful. It gives 360-degree running at night or dawn.
Other running shoes included in the Asics Lite-Show collection are the Kayano 25, GT 2000 6, and DynaFLyte 3. The reflective element is also present in some Asics apparel.
Size and fit
True to size
based on 833 user votes
How Gel Nimbus 21 compares
Corescore: 54-57
1 shoes (0.11% of shoes)
Corescore: 58-62
3 shoes (0.33% of shoes)
Corescore: 63-66
7 shoes (0.76% of shoes)
Corescore: 67-71
27 shoes (3% of shoes)
Corescore: 72-75
52 shoes (6% of shoes)
Corescore: 76-79
62 shoes (7% of shoes)
Corescore: 80-84
153 shoes (17% of shoes)
Corescore: 85-88
248 shoes (27% of shoes)
Corescore: 89-93
308 shoes (34% of shoes)
Corescore: 94-98
56 shoes (6% of shoes)